After carefully testing and reviewing 16 Mac cleaning apps, we believe that CleanMyMac X is the best mac cleaner software & utility tool for most people, as it offers a great combination of useful features with a super sleek interface. You can use it to get rid of system junk and unneeded language files.
It uninstalls applications and clears up extra unneeded files they leave behind. But it doesn't stop there: You can also use the app to optimize startup items, remove web browser extensions, duplicate finder, and a lot more. In addition to that we have also selected a list of best Mac cleaning solutions around clean, optimize, and maintain Macs that are available in 2021.
13 Best Mac Cleaner Software in 2021 (Free and Premium Versions)
#1. CleanMyMac X + Gemini 2 (Overall Best)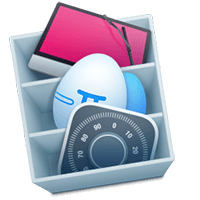 CleanMyMac X has a number of cleaning utilities that are helpful in getting rid of system junk, while Gemini 2 shows its power in detecting and removing duplicate files, cache files, and photos.
Both cleaner apps are developed by the same company, MacPaw Inc., and they are extremely easy to use. To be frank, I really wished that MacPaw integrated Gemini's features into CleanMyMac X. I emailed their team my feedback, but it seems they don't have a plan to do this at the moment.
That's why I recommend this cleaning bundle as the best mac cleaner software — you can get both CleanMyMac X and Gemini. Of course, you can choose to get them separately. I suggest you try out the free version, before committing to the app or the bundle.
I've thoroughly tested almost every feature of both these Mac cleaner apps. You can read our detailed review of CleanMyMac X and the full review of Gemini here. For the sake of time, I'll highlight a few key features I like and explain what they mean to you. I'll also point out the things I dislike so you can better understand whether or not it's right for you.
New update: the following screenshots are based on CleanMyMac 3 cleaning software. MacPaw recently released a new version called CleanMyMac X, you can read our new review written by my teammate Adrian.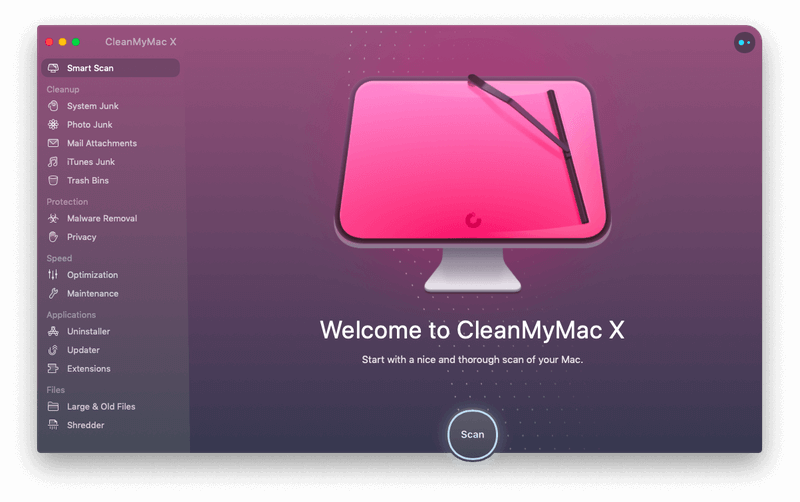 CleanMyMac X all comes down to convenience, and the feature I like most is Smart Scan, which you can see in the screenshot above. It took less than a minute for the app to scan my Mac (which has a 500GB solid-state drive), and it found 5.79GB junk that was safe to remove. Please note that I run the app regularly and the last scan was just two weeks ago. If it's your first time using this app, you'll probably find a lot more junk. Do try out the free version!
#2. Drive Genius (Also Great)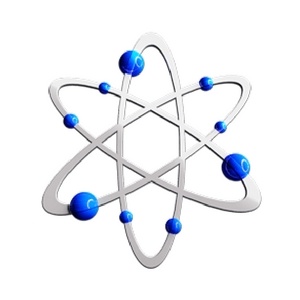 If you're willing to pay a bit more for a Mac cleaning software in order to get some enhanced security and optimization, Drive Genius 5 from Prosoft Engineering is the tool to beat.
The app includes every feature a cleaner app has to offer, plus additional protection against viruses and malware which helps protect your investment from any malicious software.
The best part? Drive Genius is also used and recommended by the tech geeks at the Apple Genius Bar.
$79 from Prosoft (one-time fee)
Do Macs also get viruses? The answer is yes, even if Apple says otherwise (watch this old Apple commercial ad). You can read about several examples of Mac malware compiled in Macworld. The article also mentions that there's been a 230% increase in malware in 2017, and that scam software is coming to Mac App Store — once a small issue, especially when compared to PCs.
#3. Parallels Toolbox (Honorable Mention)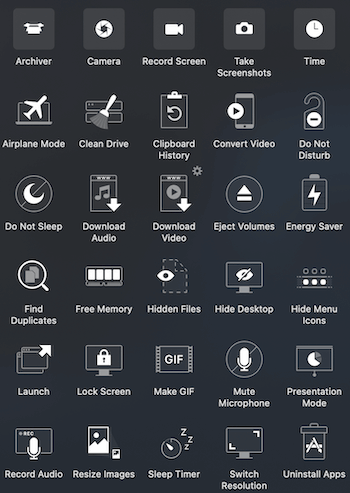 Parallels Toolbox for Mac is a product developed by Parallels Inc., a company most famous for its virtual machine software – Parallels Desktop. This toolbox caught my attention while I was browsing their official website and found that the app offers a lot more features than most of its competition, and I instantly felt the app developer's ambition. This is a good thing for Mac users who are looking for a good cleaning software because we have another good all-in-one cleanup tool, though Parallels Toolbox's Clean Drive still has room for improvements while compared to that of CleanMyMac.
#4. MacClean
iMobie MacClean wants to be the all-in-one cleaning suite for Macs. At first glance, it's a combination of CleanMyMac and Gemini, but even more powerful because the app claims it can clean malicious software, cookies, junk files, cache files, and scan your Mac's Applications and Downloads folders for potential security risks. The cleaning software looks attractive and is simple to use, as you can see from its main navigation panel on the left part of the main interface.
#5. MacBooster
MacBooster is neck-and-neck with CleanMyMac in terms of features, though MacBooster has added several features that CleanMyMac doesn't offer including Defragment, Duplicate Finder (i.e duplicate files), and Photo Sweeper. All of those features are categorized into four main modules as you can see from the main interface above: System Risks, Cleaner, Booster, and Tools. The program looks attractive, with three main dashboards clearly laid out in the center, resembling a car dashboard.
#6. DaisyDisk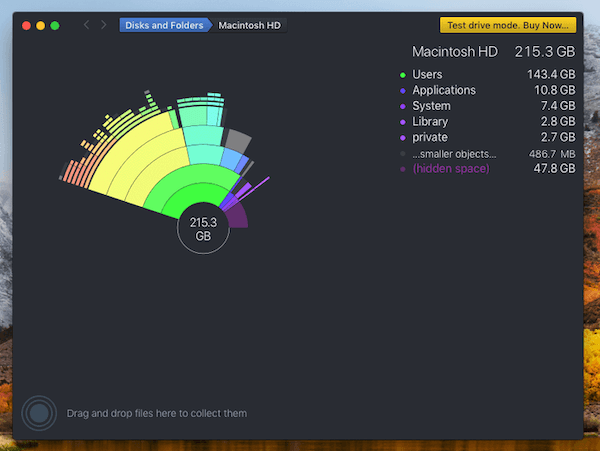 DaisyDisk is a beautiful yet different disk space analyzer that allows you to quickly find what's taking up the most storage on your Mac disk usage. A quick scan showed me that 215 GB had been used. The funniest part is that DaisyDisk shows those files in a sunburst diagram. If you hover your cursor over each block, it will blink and further file details in that "block" will show up. You can then move the junk files to the collector (located on the bottom left corner), or directly drag and drop them there. Unfortunately, deleting files or applications from the collector is restricted in the free version (as you can see from this popup warning). You'll need to buy a license, which costs $9.99, either from the official website or Mac App Store.
#7. MacFly Pro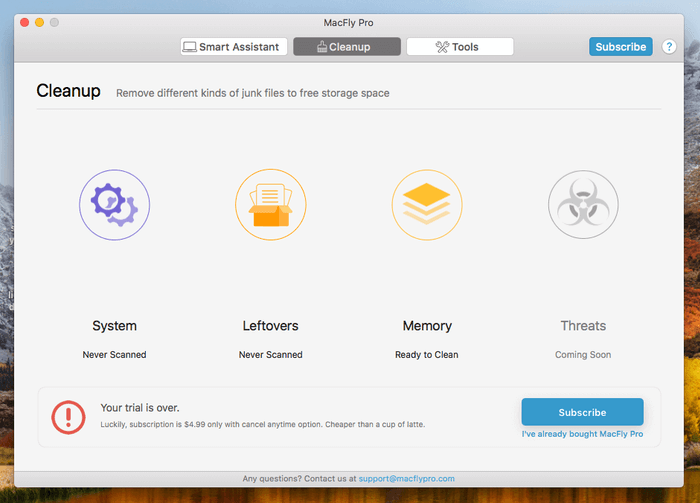 MacFly Pro is a new player in the Mac cleaning app market. Initially, it appeared on ProductHunt about three months ago, branding itself as "a simple-yet-powerful tool to keep your Mac's drive sparkling clean and junk-free…with a clean and intuitive interface, without irritating pop-ups or needless permission requests", as its maker, Tomasz Jesko, posted in the discussion. I installed and ran the app on my High Sierra-based Mac without any problem. After a quick system scan, I was surprised to see that the app discovered 2.69 GB junk files on my Mac, while CleanMyMac could only locate 1.39 GB.
#8. CCleaner Free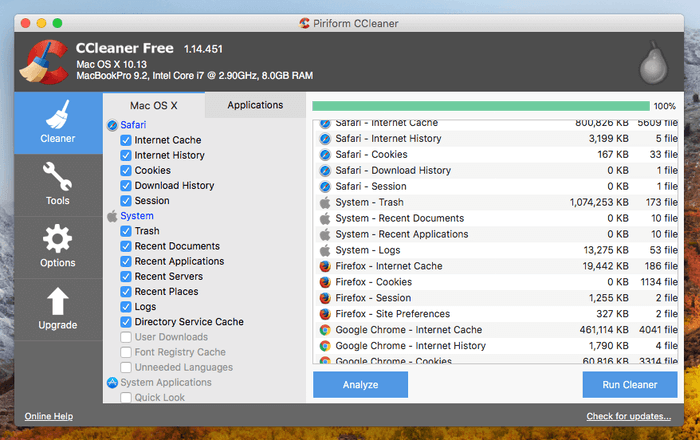 CCleaner Free – CCleaner has racked up millions of downloads from PC users, and Piriform definitely wanted to replicate its success on Mac. I've used the app on both my HP laptop and MacBook Pro. The interface and feature set on both the Windows and macOS versions are almost the same, except that the Windows version has a registry cleaner feature. macOS doesn't have a registry (learn more about the reason from this Quora discussion), so no registry cleaner is needed.
#9. OnyX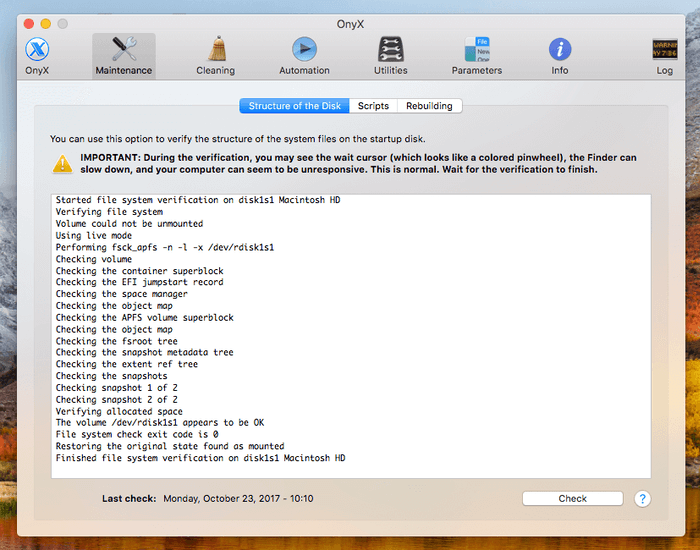 OnyX – OnyX is one of the free mac cleaners that gets lots of love in the Apple community. Personally, I feel it's best for power users and techies. Unlike cleaning software primarily designed for non-tech users, you'll probably have a hard time using OnyX. Its user interface looks quite different from the other Mac cleaner apps reviewed here, with lots of checkboxes and buttons to click. It's powerful, can do the job for you, and offers a number of other utilities; however, I find it's not best for me.
#10. AppCleaner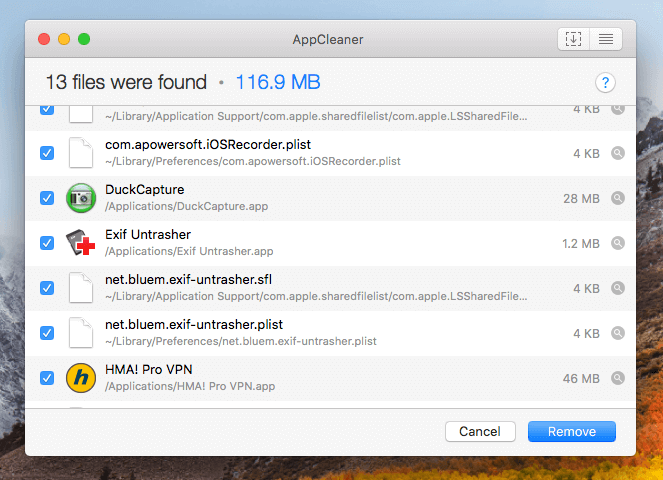 AppCleaner – As its name indicates, AppCleaner is a utility and cleaning software specially designed to help users clean unwanted apps and related files associated with those apps. It's quite similar to the "Uninstaller" feature in CleanMyMac; however, CleanMyMac shows you a complete list of apps installed on your Mac, while this free Mac cleaner doesn't.

Pro tip: AppCleaner supports batch operations, meaning you can drag multiple unwanted apps and drop them into the main zone. I found this very efficient (see the screenshot above): You first open AppCleaner and drag the app to the left part of your screen. Then, just open Applications and select those third-party apps you want to remove, and drag them into AppCleaner. The apps and their associated files will be removed immediately. I really like this small utility; it's simple and well-designed. If you are an "app junkie" who has installed scores (if not hundreds) of third-party cleaner apps on your Mac, AppCleaner is definitely a go-to tool — and it's free.
#11. Disk Inventory X
Disk Inventory X – This app, developed by Tjark Derlien, claims it can scan your disk usage and show the sizes of all files and folders in visualized "treemaps". In this sense, it's similar to DaisyDisk — both Mac cleaner apps give you a colorful overview of your Mac files. I almost gave up on Disk Inventory X because it took about five minutes to fully load the content on my startup disk with 180.3 GB used (as you see from this screenshot). During this process, it seemed like the cleaning software would stay in the loading process forever. I even had a hunch that the cleaning app isn't fully optimized for scanning an APFS-based drive.
#12. Monolingual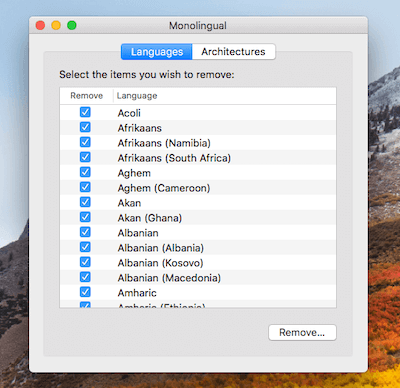 Monolingual – This is an app for deleting unnecessary language files built into Apple macOS by default. By utilizing this app, you can free up several hundred megabytes, or a little over 1 gigabyte in space. Simply open the app, select those languages you don't want to keep and click the "Remove" button. Note: Monolingual auto-selects all other languages (except the ones you regularly use like English). It's worth double-checking just to ensure you only remove those unwanted language packs. I choose to keep those languages on my MacBook Pro, mainly because it currently has about 50% free storage space, and some language files may be useful for an international friend just in case he/she borrows my Mac.
#13. dupeGuru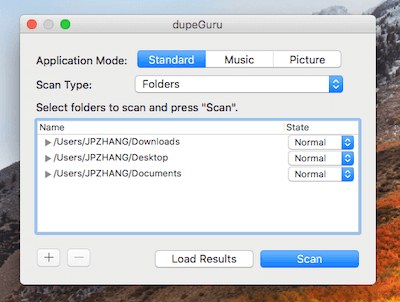 dupeGuru – dupeGuru is an app that finds duplicate files on your Mac; in that vein, it's similar to Gemini 2. As you see on the main screen below, it has three modes (Standard, Music, and Picture) for you to choose from depending on what kind of files you want to scan. You can also define a specific "Scan Type" under each mode. For example, for Standard, you can scan by contents or by file names, whereas Music allows you to scan by tags as well. I used it to check my Downloads and Desktop folders for duplicate files.
Who Should Get a Mac Cleaner App
The main value proposition of a Mac cleaning software is that it should reclaim storage space while spending little time achieving it in the process. Therefore, you should consider using a cleaning app in the following situations:
If your Mac is running out of disk space, especially if you get that "Your disk is almost full" warning.
You are relatively new to macOS and uncomfortable handling technical stuff, though you can definitely learn how to deal with the matter on your own.
You know how to clean your Mac manually, but it's not worth your time.
You probably won't benefit from a Mac cleaner app if you are using an old Mac and it is running super slow, keeps freezing, or has general performance issues. You'd be better off simply upgrading your computer.
How We Picked and Tested
We have hand-tested and used each of the above best mac cleaner software. We also reached out to some of the software developers' support team for product-related questions. Below are the key points we looked at when evaluating these Mac cleaner apps:
The app's core functions must include cleaning.
How effectively does the app clean your Mac?
Is the app easy to use?
How much does the app cost?
How good is the developer's customer service?
Is the app compatible with the latest macOS version?
FAQs
Are Mac cleaning apps really needed?
No, they are not necessary. You can clean your Mac manually, such as by deleting unused apps, clearing off browsing history and cache files, etc.
Will Mac cleaner software make my Mac faster?
There are no industry tests or scientific research showing that cleaning a Mac will directly speed up your computer's performance. The main use case of Mac cleaning software is to free up more disk space.
What is the best free mac cleaner?
OnyX and AppCleaner are two popular options that are completely free to download and use. You can find more free Mac cleaners from our list above.
Do I need to clean up the registry on Mac?
No, you don't. Unlike the Windows operating system which uses registries, macOS doesn't have a registry and there isn't such a registry cleaner out there.
Fair Disclosure: Some of the links on this page are affiliate links, meaning that if you click on one of them and decide to buy the app, I may get a commission (at no additional cost to you). If you do not feel comfortable with this, you can do a quick Google search, enter the app developer's official website, and get to it that way. I'd appreciate it if you would support my work and buy from my affiliate links. By doing so, you're helping me create more thorough, unbiased software reviews on SoftwareHow (without putting any flash ads on the site). Again, please note the price you pay will be no different, and you won't be charged any extra cost. Thanks!
Update History:
dupeGuru is no longer maintained by Hardcoded Software and thus changed its homepage.
Drive Genius 5 decreased the price from $99 to $79.
Removed Dr. Cleaner as the app was caught stealing users' data.