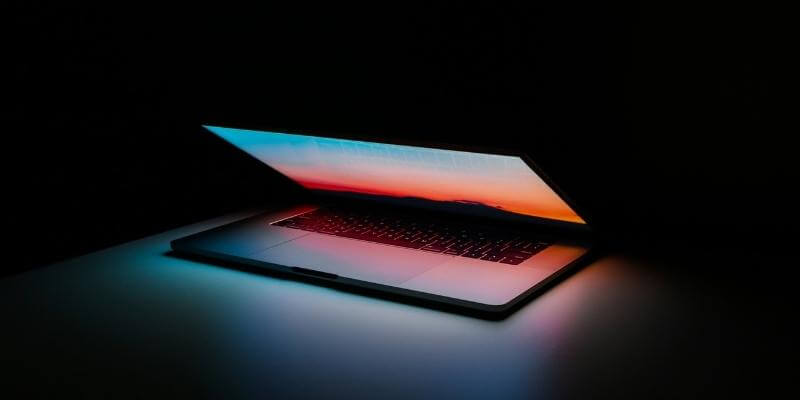 These days photos and videos can take a huge amount of space, and a new MacBook with 512 GB of storage can be filled up quickly. That means you'll see this "your disk is almost full" message sooner than later. It's important to keep your Mac drive clean (not outside, but inside) to make the most of every gigabyte.
However, cleaning a Mac isn't as easy as it sounds. That's why you are looking for a Mac cleaner app, right? Well, the truth is – this market is loaded with many marketing hypes and lies. Some apps are good, some are just so-so, while others are terrible.
In this review guide, I'm going to show you the real best Mac cleaner software, who should (and should not) use them, how I tested and compared them, along with some other findings that I think you should know.
Key Takeaways
The main benefit of a Mac cleaner is to free up disk space, they will (probably) not make your Mac run faster. In fact, some apps can actually slow down your Mac while running.
You don't need a third-party cleaner app, macOS' built-in cleaner is good enough to identify large files and by deleting them you can re-gain a decent amount of disk space.
CleanMyMac X is the best paid Mac cleaner for most people. If you are looking for a free Mac cleaner, try CCleaner Free.
There are also a few apps that you should absolutely avoid because they either don't work as they claim or are not compatible with macOS Monterey.
Does Apple macOS have a free built-in cleaner?
Yes, the latest macOS has a cleaning tool you can use to get a quick overview of what items are taking a lot of storage. You can find it via About This Mac > Storage > Manage, then click Recommendations to learn more.
Are Mac cleaning software safe?
It depends on how you define "safe". All the software and apps I tested are free of viruses or malware, but when it comes to deleting files the apps suggest you do, better be careful as you might delete the wrong files.
Will Mac cleaner apps make my Mac faster?
There are no industry tests or scientific research showing that cleaning a Mac will directly speed up your computer's performance. The main use case of Mac cleaning is to free up more disk space.
Are Mac cleaning software worth it?
If your Mac is relatively new, you don't need it. If you are a power Mac user, you probably don't need it. For those who are not into tech, Mac cleaner software can save you some time or hassles cleaning your Mac.
Do You Need a Cleaning App for Mac?
In my opinion, the main value proposition of a Mac cleaning app is to help you reclaim more storage on your Mac while spending less time achieving it in the process. Therefore, you can consider using a cleaning app in the following situations:
Your Mac machine is running out of disk space, especially when you get this "your disk is almost full" warning.
You are relatively new to Mac or are not so comfortable with navigating macOS to manually check and remove unneeded files. Or you are a power Mac user who knows how to clean your Mac manually, but it's not worth your time.
On the other hand, you probably won't benefit from a Mac cleaner app if you are using an old Mac that is running super slow, keeps freezing now and then, or has other performance issues. You'd be better off simply upgrading your Mac.
Case in point: I had a mid-2012 MacBook Pro and I managed to replace the internal HDD (a Hitachi hard disk drive) with a new solid-state drive from Crucial, and the performance boost absolutely blew my mind. Initially, my MacBook needed at least 30 seconds to fully start up. After the upgrade, it only took ten seconds or so. Plus, it's much quieter thanks to the new SSD.
Remember, a Mac cleaner app will (probably) not make your Mac faster. There is no convincing evidence that a Mac with more available storage will be faster than one with less available storage. At least I don't see such benchmark tests as of this writing.
It's also common knowledge that whether a computer runs fast or slow largely depends on its hardware configuration and the software programs it's processing. You can't rely on a third-party app to boost the performance of your computer, it's just unrealistic.
Why Trust Me for This Review?
First off – I've been using Mac computers for 10 years. Previously I had a mid-2012 MacBook Pro and now I use a 15-inch MacBook Pro (2017 model). I love exploring all kinds of software and apps and figuring out what they have to offer to improve my productivity.
One of the problems I had to deal with my MacBook is that sometimes the hard drive filled up quickly, and I had to transfer important files to an external drive, clean up unnecessary files, remove duplicate items, etc., I'm sure you can resonate with me on this if you've used your Mac for some time.
During the process, I got to know some third-party Mac cleaning apps. After using a few of them, I found something interesting. Many merchants position their products to be a Mac "speed-up" tool instead of a cleaning tool which is supposed to be the true core feature of their products.
If you read their product pages, you'll notice some marketing hypes and myths that are way off the line, you can read the "Common Misconceptions about Mac Cleaning" section below to learn more.
Out of curiosity, I decided to test those popular Mac cleaners and see how they'd perform. In total, I've tried 20+ such apps and you can find my detailed findings in this review.
Common Misconceptions about Mac Cleaning
During my research, I found a few hypes and myths about Mac cleaning because there isn't convincing evidence to back them up.
Your Mac gets "dirty" over time.
This is a general misconception among new Mac users who switch over from Windows PCs. Windows users are "taught" to run a registry cleaner program due to accumulated web browser caches and system junk files, leading to a belief that your PC is dirty.
It's important to understand that macOS and Windows are two different operating systems that work differently. In general, Macs don't need the same level of system maintenance thanks to their Unix heritage. You can learn more about the subject here.
Cleaning the macOS system will make your Mac machine run faster.
You probably have come across some marketing campaigns that developers or merchants claim their apps can speed up your Mac, boost your Mac performance, etc.
These are generally misleading because there is no research or benchmark tests directly proving that cleaning a Mac system can help speed it up, though HDD-based Macs could gain a bit of performance increase from defragmentation. If your Mac has a built-in SSD (most likely you do), you don't need to defrag.
Also, in the Mac community, there's a general consensus that you should keep at least 10% (some say 20%) free disk space in order for your machine to run smoothly.
You can't clean macOS manually, you have to use an app.
This is a false statement that some advertisers take advantage of to help sell their paid products. The truth is, there are many ways to clean your Mac manually without using any utilities or apps.
For example, all web browsers (e.g. Safari, Chrome, Firefox, etc.) allow you to clear the cache, browsing history, and unused extensions. Apple's macOS also makes it easy to disable startup apps, and you can uninstall most applications with a simple drag-and-drop to Trash. All these tasks can be done manually without using any third-party apps.
How We Picked and Tested These Mac Cleaners
It's hard to compare different products with the same criteria. These days, app developers understand how to compete by differentiating their products over aspects like features, pricing, and support.
Therefore, the goal of conducting this review and comparison is to help you make wiser decisions and find your desired Mac cleaner app. I have no intention to rank these products in the current order.
Also, I've hand-tested and used each of the software apps. For some of them, I also reached out to the developers' support team for product-related questions. In doing this, I strive to fully understand what an app has to offer and evaluate the support quality of its developer.
Below are the key points I looked at when evaluating these apps.
The app's core features must include cleaning
Your goal is to make room for your Mac, not to install a number of third-party utilities that eat up more storage. Ideally, the best cleaner app is cleaning-focused, meaning it should aim to help users remove unneeded files and applications.
I understand that in reality, it's hard to find and compare apps that offer exactly the same features without any differentiation. Therefore, I expanded the level of consideration a little bit. As long as one of the app's core features is cleaning, I put it to the test.
How effectively does the app clean your Mac?
When it comes to reviewing a piece of software, the primary factor I always evaluate is effectiveness. This is important because apps should do what they claim to offer.
In this case, it's freeing up a decent amount of disk space by cleaning system junk, identifying and deleting useless items like old iOS backups, finding duplicated or similar photos, and uninstalling third-party apps and their remnants, etc.
Software is designed for humans, and we expect a well-developed cleaning app to be simple to use. It doesn't have to be equipped with a fancy or sleek user interface (if it does, that's definitely better), but the features, navigation buttons, and text instructions must be clear and easily understood.
Also, app crashes or file corruption may be unacceptable depending on how badly it hurts the user experience.
How much does the app cost?
Free apps are great and if they do the job they're even better. But a free app isn't necessarily the best app. I conducted these reviews from the perspective of what these apps offer — in other words, the value they provide, i.e, how much storage space they can free up on your Mac drive.
In general, paid apps tend to offer more features and values than free apps. Among those paid apps, pricing models also vary. For example, some apps charge based on subscription ($ per month or per year), while some others offer a one-time purchase option.
When it comes to evaluating whether a Mac cleaning app is worth it, we often take both its features and price into consideration.
How good is the developer's customer service?
When you have questions or encounter any technical issues related to an app, it's best that the developer can be reached out in a number of ways like email, live chat, or phone. If they have a knowledge base with FAQs and/or an actively moderated forum, that's even better.
Based on my observation, paid Mac cleaning apps usually offer higher-quality, more timely customer support than free apps. This is unfortunate but reasonable, as adding a new channel for support means extra cost to the developer.
Is the app compatible with the latest macOS version?
Apple launches a new major macOS version every year. As of this writing, the newest is macOS Monterey. Most Mac users will choose to update their machines to the latest version. Therefore, the best Mac cleaner app must support the latest macOS. It's ideal if it also covers some older versions.
Best Mac Cleaning Software: The Winners
Without further waiting, here's our list of recommended Mac cleaning software along with a detailed review of each of them.
Best Choice: CleanMyMac X + Gemini 2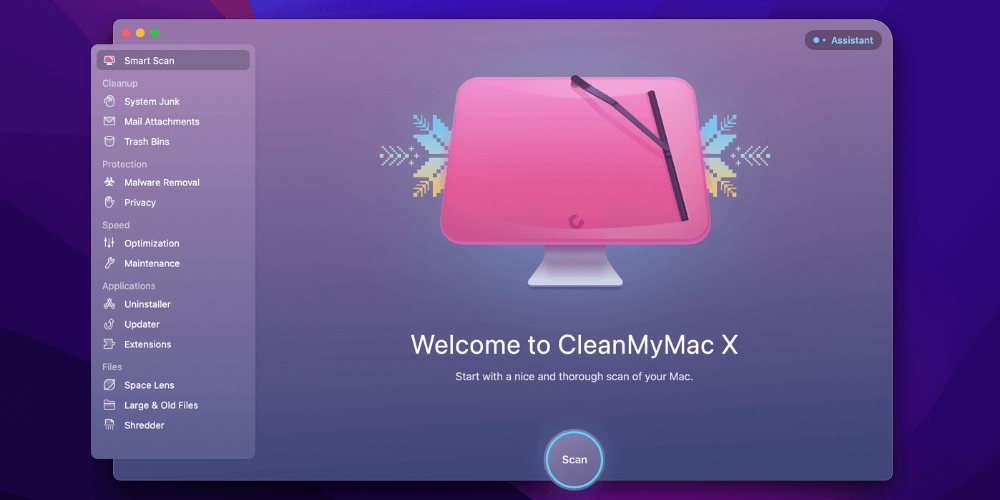 CleanMyMac X has a number of cleaning utilities that are helpful in getting rid of system junk, while Gemini 2 shows its power in detecting and removing duplicate photos and files.
Both apps are developed by the same company MacPaw Inc., and they are extremely easy to use. I really hope that MacPaw integrated Gemini's features into CleanMyMac. I emailed their team my feedback, but it seems they don't have a plan to do this at the moment.
That's why I recommend this cleaning bundle — you can get both CleanMyMac and Gemini. Of course, you can choose to get them separately. I suggest you try out the trial version, which is free, before committing to the app or the bundle.
I've thoroughly tested almost every feature of both apps. You can read our full CleanMyMac X review and Gemini 2 review for more. For the sake of time, I'll highlight a few key features I like and explain what they mean to you. I'll also point out the things I dislike so you can better understand whether or not it's right for you.
CleanMyMac all comes down to convenience, and the feature I like most is Smart Cleanup, which you can see in the screenshot above. It took less than a minute for the app to scan my Mac (which has a 500GB solid-state drive), and it found 5.79GB of junk that was safe to remove. Please note that I run the app regularly and the last scan was just two weeks ago. If it's your first time using this app, you'll probably find a lot more junk.
The second feature I really appreciate is Large & Old Files. A quick scan found 14 GB of files. CleanMyMac automatically puts them into different groups, sorting them by size from top to bottom. I found this helpful because I don't have to take the time to manually check up on every folder.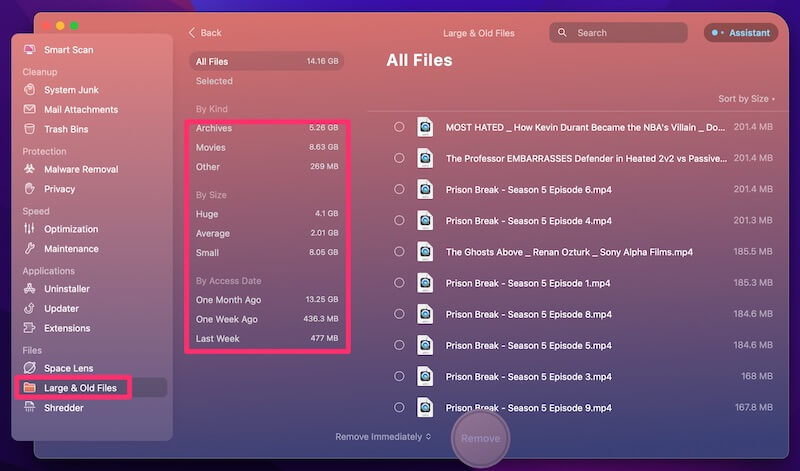 Pay attention, though! A file that's old and large doesn't mean it should be deleted. I highly encourage you to carefully review each item (by clicking the "Reveal in Finder" and "Quick Look" icons within the app) before removing them. For example, on my MacBook, CleanMyMac found a large disk copy of my Lexar flash drive stored in the Downloads folder.
After reviewing, the file turned out to be redundant as I've backed up my Lexar data to an external hard drive. So, I knew it was okay to delete. Once I selected this item and hit the "Remove" button,
You'll see several tools like Uninstaller, Maintenance, Privacy, Extensions, and Shredder. Those features are pretty self-explanatory and can be useful for many of you. However, don't use them that often because most of those tasks can be completed in other ways I'm already familiar with. For example, you can disable startup apps and services via Speed > Optimization.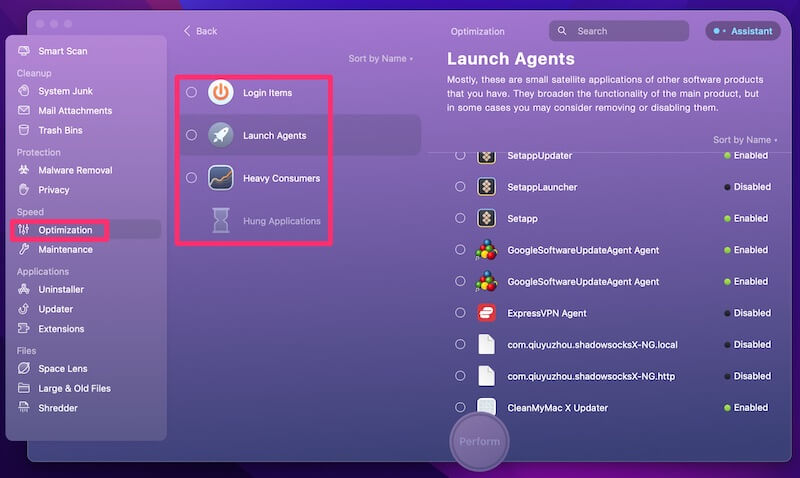 There are several other things about CleanMyMac that I'm not a fan of. For example, the app menu adds itself to the auto startup list once installed (though you can disable it in the preferences), and sometimes a scan causes my MacBook Pro to heat up quickly.
Overall, those issues are tolerable compared to the incredible amount of value CleanMyMac provides. As you can see, I managed to reclaim close to 38 GB in storage, and the whole process took less than ten minutes to complete. In this regard, CleanMyMac is a huge time-saver, and keeping it on my Mac is a no-brainer.
CleanMyMac is available to purchase for $39.95/year.
Next, we've got MacPaw Gemini 2, the intelligent duplicate finder app.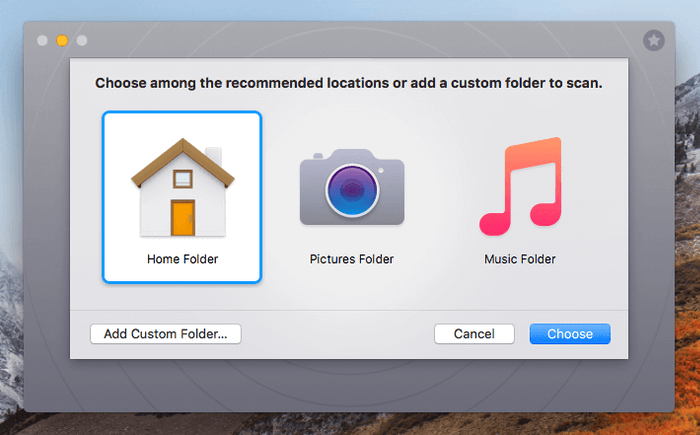 These days your Mac is probably the hub for everything. It's the place to save your backup files (or backup of your backups, like they say) and photos you shot on your iPhone or digital camera, etc. The tricky part is that those items can take up lots of disk space and can result in a lot of duplicates. This can especially be the case if you've used your Mac for a long time.
Manually checking and comparing those files to identify duplicates is unrealistic. Luckily, there are amazing apps like Gemini 2 that can help you quickly find and delete duplicate files. The best part? It's extremely easy to use. The latest version is also fully compatible with macOS Catalina.
For example, I selected a random folder on my Mac and let Gemini scan it. In about 30 seconds, it found 654 MB of similar files and some exact duplicates. A quick review revealed that they are mostly photos recently uploaded to my Mac, and I hadn't yet organized them. The number may not look exciting — but considering this is a random test, I was quite happy with the results I got.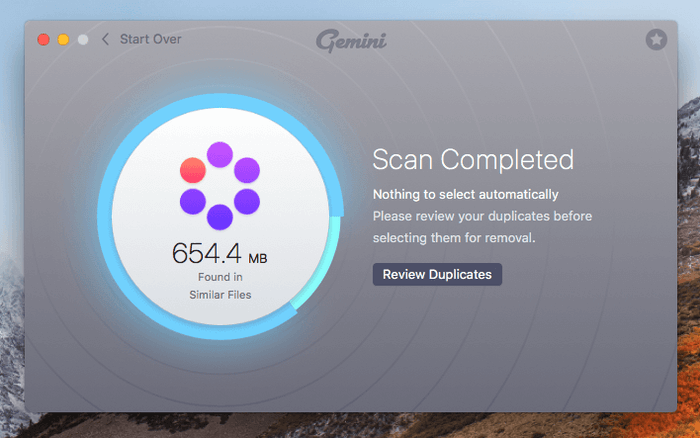 Previously, I tested an earlier version of the app and wrote a review based on my findings. That was a little over half a year ago. It found nearly 40 GB of duplicate files on my MacBook, and I ended up removing 10 GB within just a few minutes.
Gemini 2 is available to buy on Mac App Store at $19.99 USD, but I recommend you get it from the official MacPaw website because there's a free trial that you can test drive before paying. The price on their site is the same as on the App Store.
New update: now you can also get Gemini from Setapp, a Mac app subscription service that offers a 7-day free trial and includes access to a few hundred paid apps including CleanMyMac and Gemini. Read our detailed Setapp review for more.
The support for both CleanMyMac and Gemini is also amazing. MacPaw, the developer of these apps, offers a number of ways to take customer queries including email, phone calls, and social media channels. They're most active on Twitter.
Also Great: Drive Genius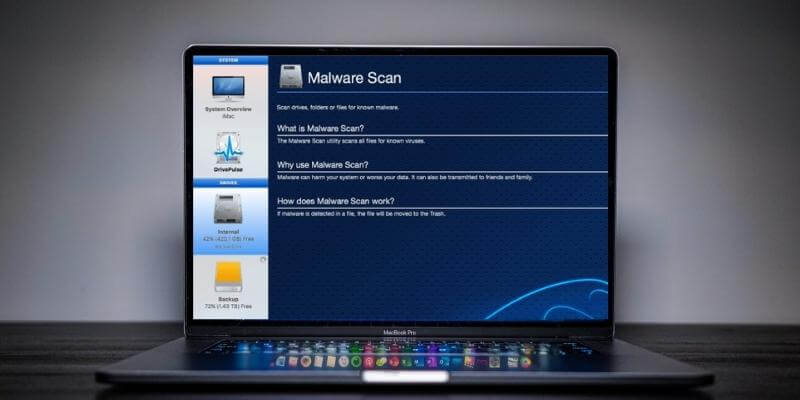 If you're willing to pay a bit more for a Mac cleaner in order to get some enhanced security and optimization, Drive Genius from Prosoft Engineering is the tool to beat. The app includes every feature a cleaner app has to offer, plus additional protection against viruses and malware which helps protect your investment from any threat.
The best part? Drive Genius is also used and recommended by the tech geeks at the Apple Genius Bar.
Do Macs also get viruses? The answer is yes, even if Apple says otherwise. You can read about several examples of Mac malware compiled in Macworld. The article also mentions that there's been a 230% increase in malware in 2017, and that scam software is coming to Mac App Store — once a small issue, especially when compared to PCs.
Just a couple of weeks ago, I chose to update my MacBook Pro to the latest macOS, only to find that a huge vulnerability was reported all over the world: Hackers could extract text passwords from Keychain. Although Apple quickly responded to this issue and launched a supplemental update, its once bulletproof reputation has yet to recover.
Drive Genius was originally developed to keep your Mac hard drive clean and safe from disk errors. The newest edition, 5, has added a comprehensive feature called Malware Scan, part of the automated DrivePulse utility which monitors your Mac for potential issues and viruses. On its main screen, you can get an idea of what the app offers. You can also read our full review of Drive Genius here.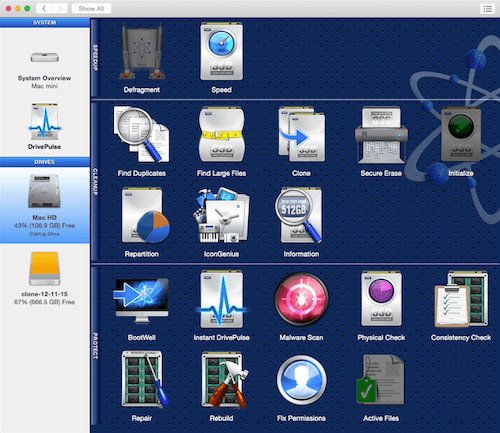 To clean and speed up your Mac, Drive Genius provides several tools. The first one I'd like to highlight is "Find Duplicates". It's pretty much like Gemini 2, which allows you to locate duplicate files and remove them to free up disk space.
The "Find Large Files" utility is similar to CleanMyMac's "Large & Old Files" feature, which is self-explanatory. Another feature I want to mention is "Defragment", which makes files stored on your Mac hard drive (HDD only) more organized through defragging. It can give a helpful speed boost, as my teammate Adrian Try pointed out in his reviews.
The customer support team from Prosoft Engineering offers phone and email support (Monday to Friday, 7 AM to 5 PM, PST). They also have lots of useful documentation to help users learn how to properly handle Drive Genius and tackle macOS-related problems. The latest version of Drive Genius is fully compatible macOS Monterey.
Honorable Mention: Parallels Toolbox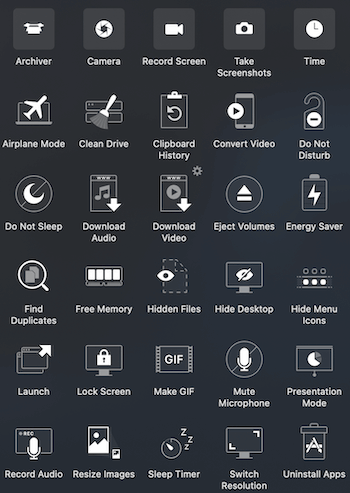 Parallels Toolbox for Mac is a product developed by Parallels Inc., a company most famous for its virtual machine software – Parallels Desktop.
This toolbox caught my attention while I was browsing their official website and found that the app offers a lot more features than most of its competition, and I instantly felt the app developer's ambition. This is a good thing for Mac users because we have another good all-in-one cleanup tool, though Parallels Toolbox's Clean Drive still has room for improvements compared to that of CleanMyMac.
The app is actually an all-in-one solution with over 30 tools built for macOS. One of the tools, Clean Drive, can detect and clean 9 types of files: log files, cache files, trash, browser data, Mail cache, mobile apps, iTunes temp files, iOS device backups, and old updates.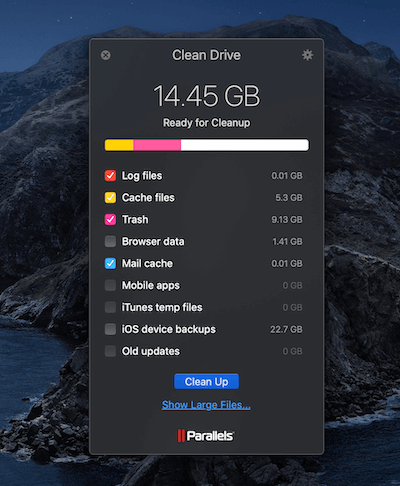 The file scanning process is very quick and in just a few seconds, the app found 14.45 GB files that are safe for removal. During my test, I also noticed that the app has this tool called Find Duplicates, which allows you to mass-select multiple duplicates for better total-size representation.
Parallels Toolbox offers a 7-day free trial without functional limitations. Once your free trial is over, you'll need to pay $19.99 per year to remain full access to all the tools.
Looking for more alternatives? Read on as I also found a few other good Mac cleanup apps.
Other Good Paid Mac Cleaning Apps
Here are some other popular Mac cleaner apps that also work. I'm going to quickly review them and compare them with the winners we selected above.
MacCleaner Pro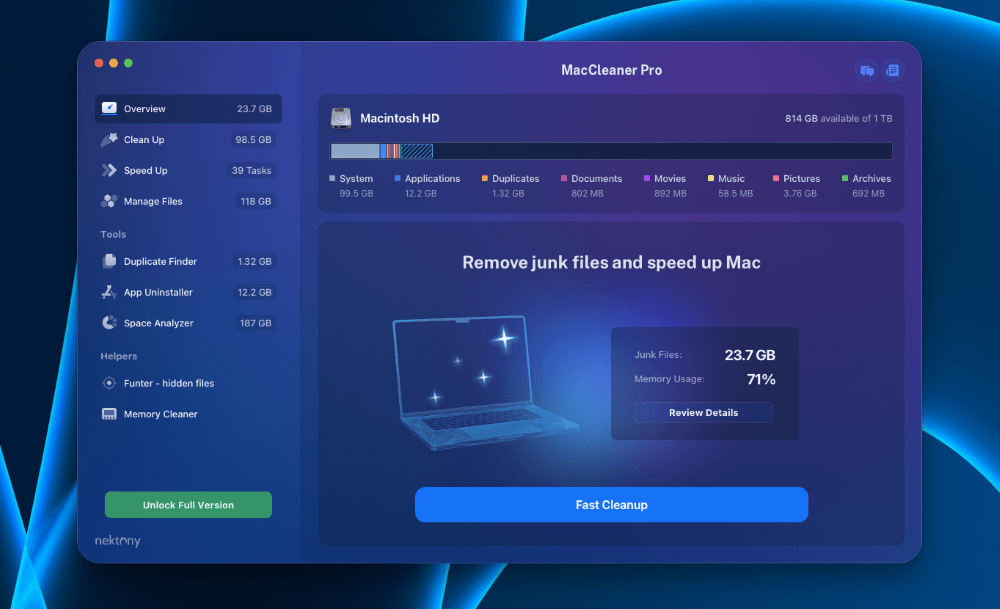 MacCleaner Pro is an intuitive application that lets you easily delete duplicate files, unused apps, old downloads, and more to clear up space on your Mac's hard drive and speed up your Mac. It does this with its five tools – Duplicate Finder, App Uninstaller, Space Analyzer, Funter – hidden files, and Memory Cleaner.
In our opinion, this app is a good option for Mac owners who want a quick and easy way to free up storage on their Macs. When you don't want to spend a few hours browsing through your Mac folders for old files, duplicates, and junk you don't need anymore, this app can help. However, it might not be for everyone. Some Mac owners may prefer to delete their files manually. Or they are diligent in keeping their Macs clutter-free.
On the downside, the subscription and one-time purchase fees for this app aren't cheap. For one license, MacCleaner Pro costs $14.95/month, $29.95/year, or $74.95 for a one-time purchase. You can read our full review to learn more.
iMobie MacClean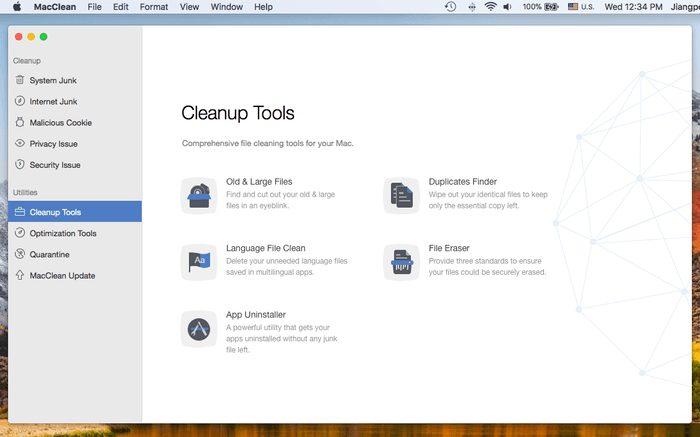 iMobie MacClean wants to be the all-in-one cleaning suite for Macs. At first glance, it's a combination of CleanMyMac and Gemini, but even more powerful because the app claims it can clean malicious cookies and scan your Mac's Applications and Downloads folders for potential security risks. The app looks attractive and is simple to use, as you can see from its main navigation panel on the left part of the main interface.
My teammate Adrian reviewed MacClean thoroughly and found that it was able to free up around 35 GB of storage from his MacBook Air with a 128 GB SSD drive. Most scans were quite fast, usually completed in seconds — very helpful, as Adrian said. However, the app definitely has room for improvement, as Adrian encountered several crashes, and failed to find some large files he hadn't used for a while.
That said, MacClean is well worth it considering as it costs only $29.99 for a personal license and $39.99 for a family license (which allows you to install the software on up to five Macs and earns you priority support). We gave it a 4-star rating in both Effectiveness and Support (they were responsive via email tickets).
MacBooster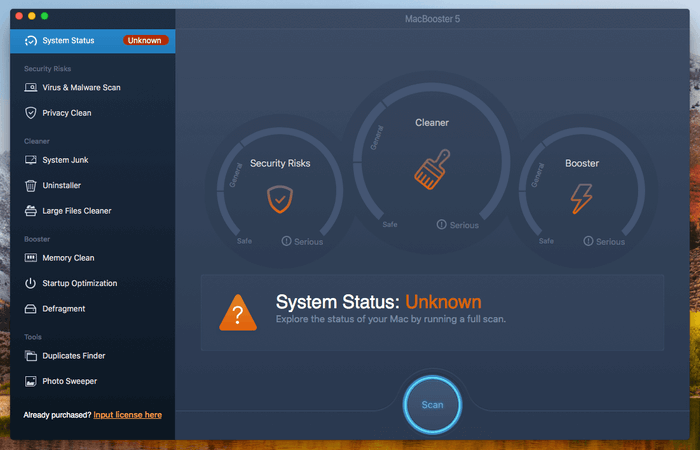 MacBooster is neck-and-neck with CleanMyMac in terms of features, though MacBooster has added several features that CleanMyMac doesn't offer including Defragment, Duplicates Finder, and Photo Sweeper. All of those features are categorized into four main modules as you can see from the main interface above: System Risks, Cleaner, Booster, and Tools. The program looks attractive, with three main dashboards clearly laid out in the center, resembling a car dashboard.
Under "System Status", a quick scan will show you all the "issues" on your Mac. Note that I use a quote here because I feel IObit, the maker of MacBooster, is a bit over-serious in making users believe those "issues" are problems that deserve attention. For example, after using the app to scan my Mac, it found close to ten thousand issues, and my system was marked as "Dangerous".
A closer examination revealed that most of those issues were privacy data e.g. cookies, browsing histories, etc. left behind in the Chrome browser. I view those as false reports. However, I do like the Duplicates Finder and Photo Sweeper features, which are quite similar to what Gemini 2 offers. Photo Sweeper is most useful for those who are used to sync photos across your mobile devices without cleaning them; you can use this feature to locate those duplicates or similar files and remove them safely. This should help you free up a decent amount of storage considering these days digital assets are larger in size.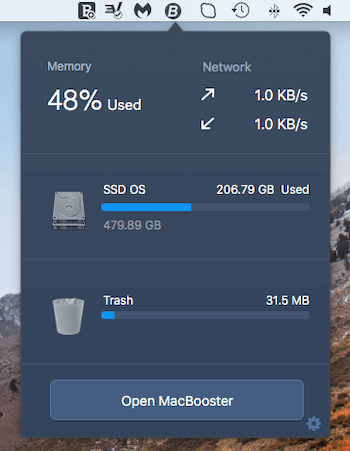 Similar to the CleanMyMac Menu which shows up as a shortcut in the menu bar, MacBooster Mini also allows you to get a quick overview of your Mac, e.g. how much memory has been used, your real-time network download or upload speed, and how many GBs are available to use for storage.
In general, MacBooster is a nice app that aims to clean and speed up a Mac machine. Its features are a combination of what CleanMyMac and Gemini offer, and even go beyond. However, choosing the best Mac cleaner software is not simply a game of comparing the number of features. Personally, I still prefer the user experience of CleanMyMac and Gemini, and recommend them because they are more lightweight in nature, as well as the way MacPaw markets their products.
MacBooster is priced at $39.95 for Lite (1Mac), $59.95 for Standard (3 Macs), and $89.95 for Premium (5 Macs). IObit offers support via email, and they have an active forum specifically dedicated to monitoring customer feedback.
DaisyDisk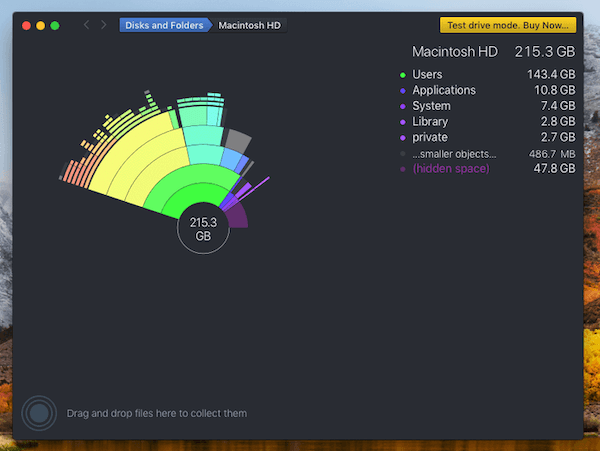 DaisyDisk is a beautiful yet different disk space analyzer that allows you to quickly find what's taking up the most storage on your Mac. A quick scan showed me that 215 GB had been used. The funniest part is that DaisyDisk shows those files in a sunburst diagram. If you hover your cursor over each block, it will blink and further file details in that "block" will show up. You can then move the unneeded files to the collector (located on the bottom left corner), or directly drag and drop them there.
Unfortunately, deleting files or applications from the collector is restricted in the free trial (as you can see from this popup warning). You'll need to buy a license, which costs $9.99, either from the official website or Mac App Store. I especially liked and appreciated the design of the app, which gives me a different and cool feeling. It's also inexpensive. Just save two cups of coffee per month and you get this beautiful app — totally worth it.

However, I'd like to point out that Apple has a built-in function that allows you to do pretty much the same thing. Click on the Apple logo on the top left, then About This Mac > Storage > Manage, here you'll get a detailed overview of your system storage information. For example, when I select Documents, macOS automatically sorts them based on size (from big to small). I can then remove those old large files to free up some space. If that's all that you want to do, you probably don't need to buy DaisyDisk. Again, it's a paid app ($9.99) and the developer offers email support for it.
MacFly Pro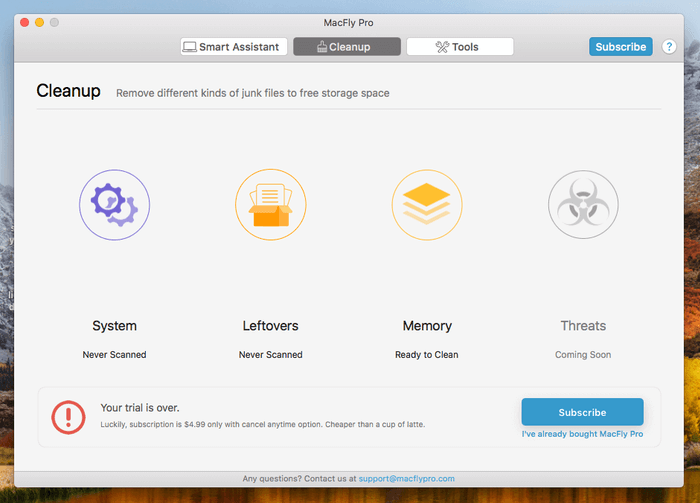 MacFly Pro is a new player in the Mac cleaning app market. Initially, it appeared on ProductHunt, branding itself as "a simple-yet-powerful tool to keep your Mac's drive sparkling clean and junk-free…with a clean and intuitive interface, without irritating pop-ups or needless permission requests", as its maker, Tomasz Jesko, posted in the discussion.
I installed and ran the app on my High Sierra-based Mac without any problem. After a quick system scan, I was surprised to see that the app discovered 2.69 GB of junk files on my Mac, while CleanMyMac could only locate 1.39 GB.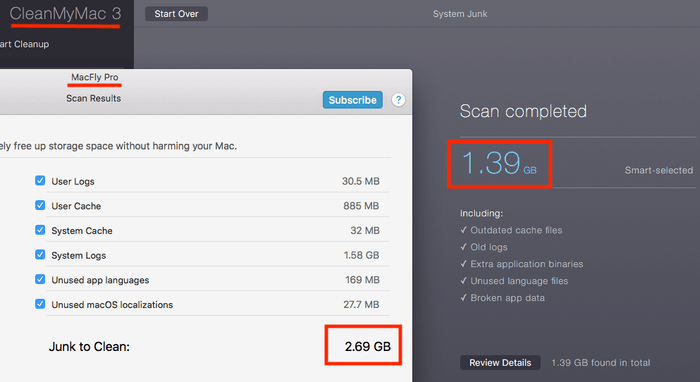 However, after carefully reviewing the results, I finally discovered MacFly counts the content in /private/var/folders as junk while CleanMyMac doesn't. Out of the 2.69 GB of junk it found, 1.45 GB was from this folder. You probably shouldn't delete files in this folder unless you know what you're doing, as you could break something or cause a problem with macOS. Currently, MacFly Pro offers a free 7-day trial; after that, it requires a $4.99/mo subscription.
Some Free Mac Cleaning Software
What about free apps? Here they are!
CCleaner Free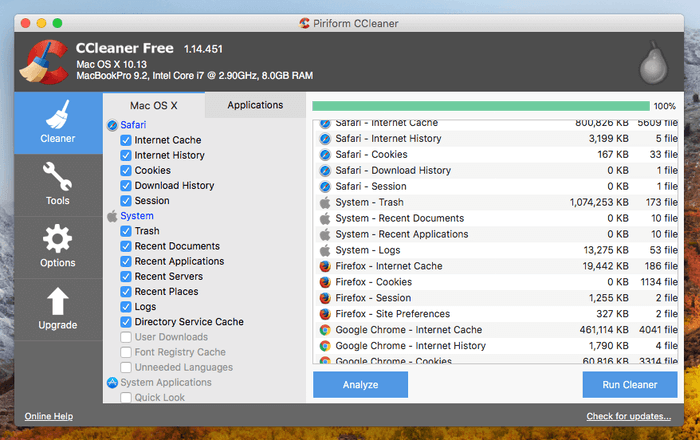 CCleaner Free – CCleaner has racked up millions of downloads from PC users, and Piriform definitely wanted to replicate its success on Mac. I've used the app on both my HP laptop and MacBook Pro. The interface and feature set on both the Windows and macOS versions are almost the same, except that the Windows version has a registry cleaner feature. macOS doesn't have a registry (learn more about the reason from this Quora discussion), so no registry cleaner is needed.
You can use CCleaner to quickly remove your web browser cache files, history, cookies, etc. It also offers a few utilities (mainly under the "Tools" section) that allow you to uninstall third-party apps, disable or remove startup items, and erase a whole disk volume (do so with extreme caution!).
The app is really good, but frankly, I still prefer CleanMyMac because it's way more powerful than CCleaner and much easier to use. If you have tried both apps, you'll probably agree that CCleaner Free is far behind in cleaning features, and the results (i.e. extra disk space) you get will be night and day. Another reason that might hold you back from considering CCleaner is the recent malware issue involved with the app. You can read more about that in this TechCrunch report; I covered the issue here as well.
OnyX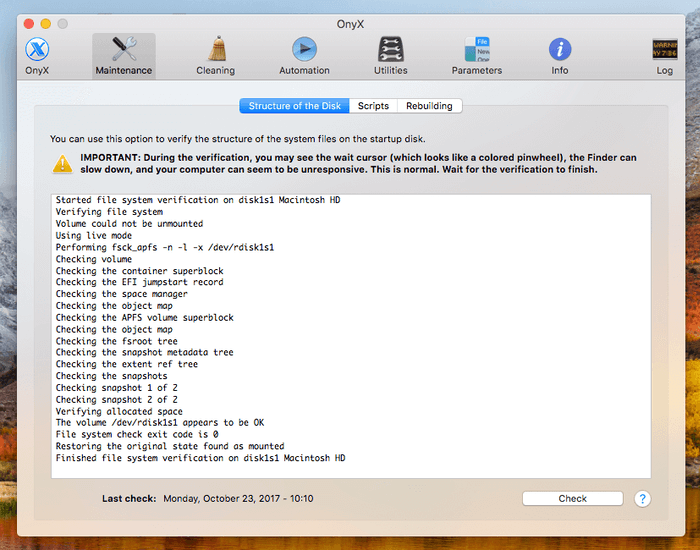 OnyX – OnyX is a freeware app that gets lots of love in the Apple community. Personally, I feel it's best for power users and techies. Unlike cleaning software primarily designed for non-tech users, you'll probably have a hard time using OnyX. Its user interface looks quite different from the other apps reviewed here, with lots of checkboxes and buttons to click. It's powerful, can do the job for you, and offers a number of other utilities; however, I find it's not best for me.
Just a side note: It definitely caught my nerve when my MacBook froze up for about ten seconds while the app verified my startup disk. During that time, I couldn't even move the cursor until a pop-up window said, "The disk has been verified, and the startup disk appears to be OK." Though OnyX had an important disclaimer about this freeze, users who don't carefully read the disclaimer might think the issue was permanent and give their Mac a hard reboot. OnyX supports all versions of OS X and macOS, including the latest Monterey.
AppCleaner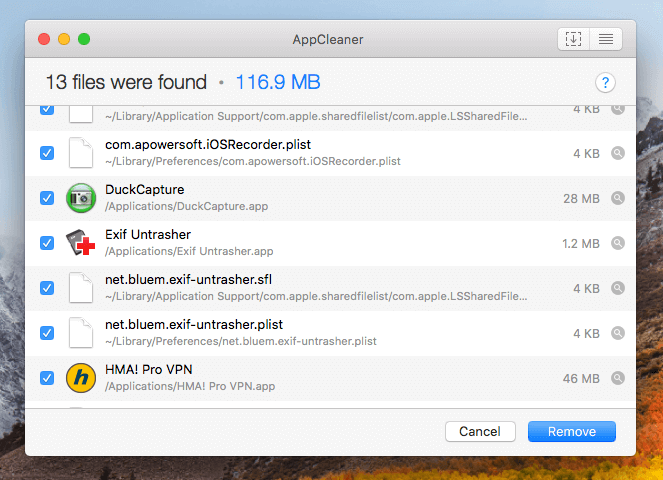 AppCleaner – As its name indicates, AppCleaner is a utility specially designed to help users clean unwanted apps and related files associated with those apps. It's quite similar to the "Uninstaller" feature in CleanMyMac; however, CleanMyMac shows you a complete list of apps installed on your Mac, while AppCleaner doesn't.

Pro tip: AppCleaner supports batch operations, meaning you can drag multiple unwanted apps and drop them into the main zone. I found this very efficient (see the screenshot above): You first open AppCleaner and drag the app to the left part of your screen. Then, just open Applications and select those third-party apps you want to remove, and drag them into AppCleaner. The apps and their associated files will be removed immediately. I really like this small utility; it's simple and well-designed. If you are an "app junkie" who has installed scores (if not hundreds) of third-party apps on your Mac, AppCleaner is definitely a go-to tool — and it's free.
Disk Inventory X
Disk Inventory X – This app claims it can scan a disk and show the sizes of all files and folders in visualized "treemaps". In this sense, it's similar to DaisyDisk — both apps give you a colorful overview of your Mac files. I almost gave up on Disk Inventory X because it took about five minutes to fully load the content on my startup disk with 180.3 GB used (as you see from this screenshot). During this process, it seemed like the app would stay in the loading process forever. I even had a hunch that the app isn't fully optimized for scanning an APFS-based drive.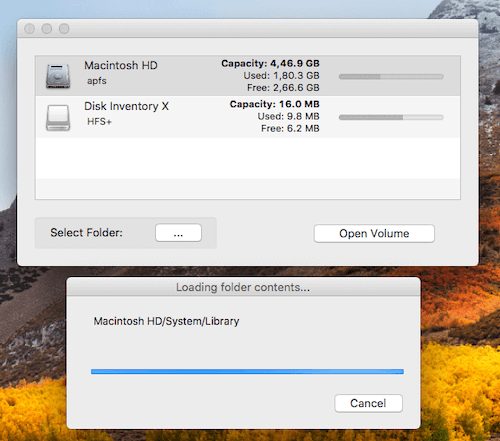 Luckily, the magical results showed up (patience is a virtue :-)) and I was able to navigate through the treemap to see what kind of files are taking up disk space. You can click "Reveal in Finder" for further review, or click "Move to Trash" to remove the content. In my opinion, Disk Inventory X offers some value, but I still prefer the "Manage Storage" overview as default in macOS.
Monolingual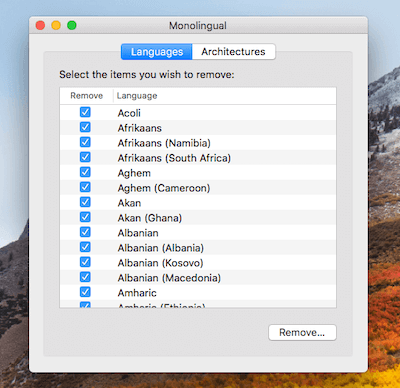 Monolingual – This is an app for deleting unnecessary language files built into Apple macOS by default. By utilizing this app, you can free up several hundred megabytes, or a little over 1 gigabyte in space. Simply open the app, select those languages you don't want to keep, and click the "Remove" button.
Note: Monolingual auto-selects all other languages (except the ones you regularly use like English). It's worth double-checking just to ensure you only remove those unwanted language packs. I choose to keep those languages on my MacBook Pro, mainly because it currently has about 50% free storage space, and some language files may be useful for an international friend just in case he/she borrows my Mac.
dupeGuru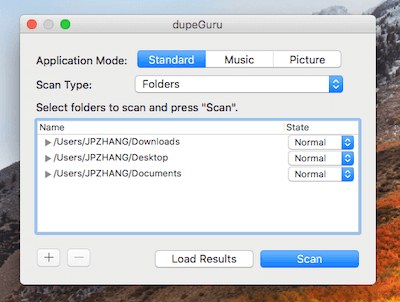 dupeGuru – dupeGuru is an app that finds duplicate files on your Mac; in that vein, it's similar to Gemini 2. As you see on the main screen below, it has three modes (Standard, Music, and Picture) for you to choose from depending on what kind of files you want to scan. You can also define a specific "Scan Type" under each mode.
For example, for Standard, you can scan by contents or by file names, whereas Music allows you to scan by tags as well. I used it to check my Downloads and Desktop folders for duplicates. The scan process was very quick. The results were clearly displayed like a table, and from there I was able to easily identify which ones are copies, as they are marked in blue. The app also shows you file size, which folders those files are stored in, and a match percentage (in my case, mostly 100%).
It's a great app, does what it does well, and is free. I don't believe dupeGuru is less powerful than Gemini 2. But in terms of user experience, Gemini 2 is definitely superior: It looks more attractive and has "Smart Selection" and "Smart Cleanup" buttons which allow you to select all duplicates and remove them in just one click.
Fair Disclosure: Some of the links on this page are affiliate links, meaning that if you click on one of them and decide to buy the app, I may get a commission (at no additional cost to you). If you do not feel comfortable with this, you can do a quick Google search, enter the app developer's official website, and get to it that way.
Any other good Mac cleaner software/apps that we missed to cover in this guide? Leave a comment and let me know.