Choosing the right font is essential for creating compelling content. But how do you find the preferred font if you have thousands of them? If you're a designer or someone who works with hundreds or even thousands of fonts, having a good font manager to organize font collections is essential.
There are different font apps, but the question is, how to choose the best manager for your work?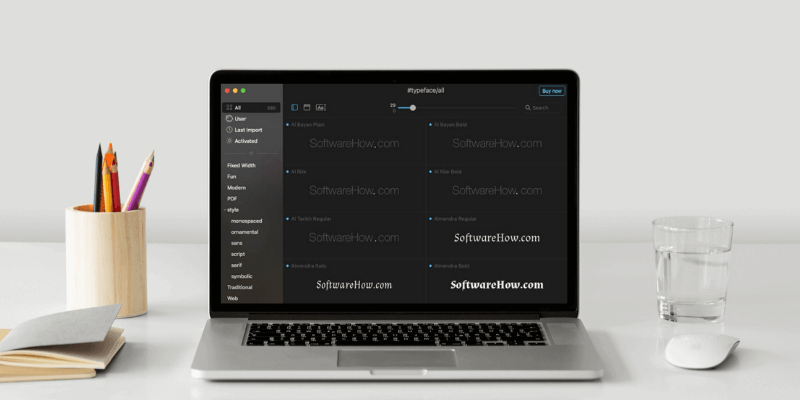 In this article, I'm going to show you some of the best font management apps for Mac and the key features of each font manager. I'll also include some useful information that can help you decide whether or not you need a font manager and decide which one to use.
Key Takeaways
Font managers are essential for heavy font users like designers and businesses that need to keep fonts organized and use a variety of fonts.
A Font manager is ideal for font users who want to save computer space, work with fonts in different apps, and speed up workflow.
Typeface is the best overall option for any font lovers, designers will love Connect Fonts for its creative app integrations, and if you're looking for a free option, FontBase is the go-to.
Wordmark can be a good option if you're looking for a web-based font manager.
Where are fonts stored on Mac?
Once you download and install a font, it'll be saved in the system library, known as Font Book. You can find it by going to Finder, holding the Option key, going to the overhead menu, and clicking Go > Library.
Note: you'll only see the Library option when you hold down the Option key.
How do I manage or preview my fonts on Mac? 
Is Font Book free on Mac?
Yes, Font Book is a free font management software pre-installed on Mac. You don't need any extra steps to download it. When you download and install a font, it'll automatically open the Font Book.
How do I find hidden fonts on my Mac?
If you see your hidden fonts greyed out in the Font Book, select the font, and click the Download button.
How do I turn off protected fonts on a Mac?
You can turn off protected fonts from Mac's pre-installed Font Book app. Right-click on the font and click the Delete font option.
What is a Font Manager and Do You Need One
A font manager is an app that allows you to organize and manage all the fonts installed on your computer. Some advanced font managers can even help organize your fonts from creative software.
If you work with creative projects, then yes, it's a good idea to use a font manager to organize your font collections or use cloud base fonts that can save up your space.
Of course, a font manager isn't only for designers, for example, it's good to organize your fonts for publishing and even presentations. In this case, you don't have to choose a fancy App. Being consistent with font and using the right font for different usage always add points to your professionalism.
It's true that we can memorize some font families by name, like Helvetica, Arial, or some of the frequently used fonts, but we can't memorize all. What if you want to find a font that you used a while ago for a new project?
Here is when an easy-in-use font manager comes especially in handy because you can quickly grab what you need without wasting time going through the font book or searching for the old document.
Apart from protecting system fonts from accidental deletion, the best font manager is also able to search, view, sort, and rename fonts as well as fix or uninstall corrupted ones.
When you're using fonts without a font manager, they're generally copied to your system fonts folder. Having tons of both significant and rarely used fonts stored in it leads to long app loading times (InDesign, Illustrator, Photoshop) and system performance errors.
What is excellent about the font manager is that it's designed for maintaining system stability. It can activate/deactivate a font or group of fonts manually or automatically only when required, without wasting system resources.
I know, Apple already has its own management app – Font Book, but it's pretty basic and has a limited set of features.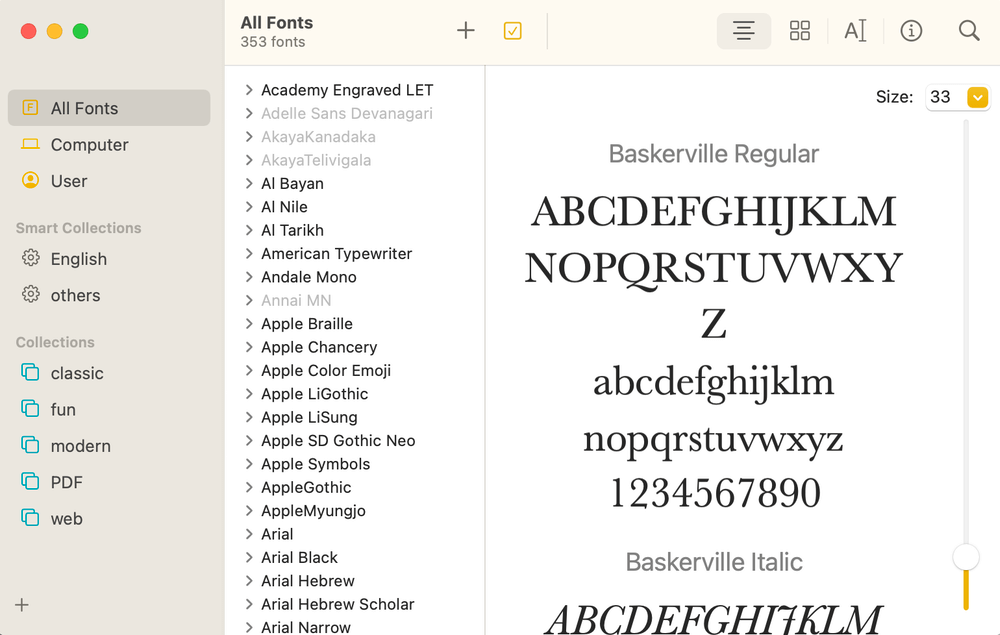 If you have a vast collection and use many fonts a day, the Font Book's basic features might not be enough. In the sections below, I'll show you how I test/use some of the best font managers and why I'm recommending them to you.
6 Best Font Manager for Mac: The Winners
If you finally decided to try out a font manager, here are six awesome options. Some are better for professional use, some are great for any users, some offer more advanced features, anyways, each one has its own best-for.
1. Typeface (Best Overall)
Pricing: 15-day trial, $35.99
Compatibility: macOS 10.12 (Sierra) or higher
Key features: preview fonts, organize collections, font comparison, active/deactivate fonts, integrates with Adobe Fonts and Google Fonts
Pros: Simple interface, fully customizable, advanced features
Cons: Expensive
Whether you're a professional designer or just a font lover, Typeface is suitable for everyone because of its simple UI and minimalistic design that allows you to quickly navigate and organize your fonts.
You can search for fonts by category or style/font family like sans, serif, script, monospaced, etc. You can also create your own font collection by categories or add tags like modern, retro, web, title, logo, summer vibe, etc, you name it!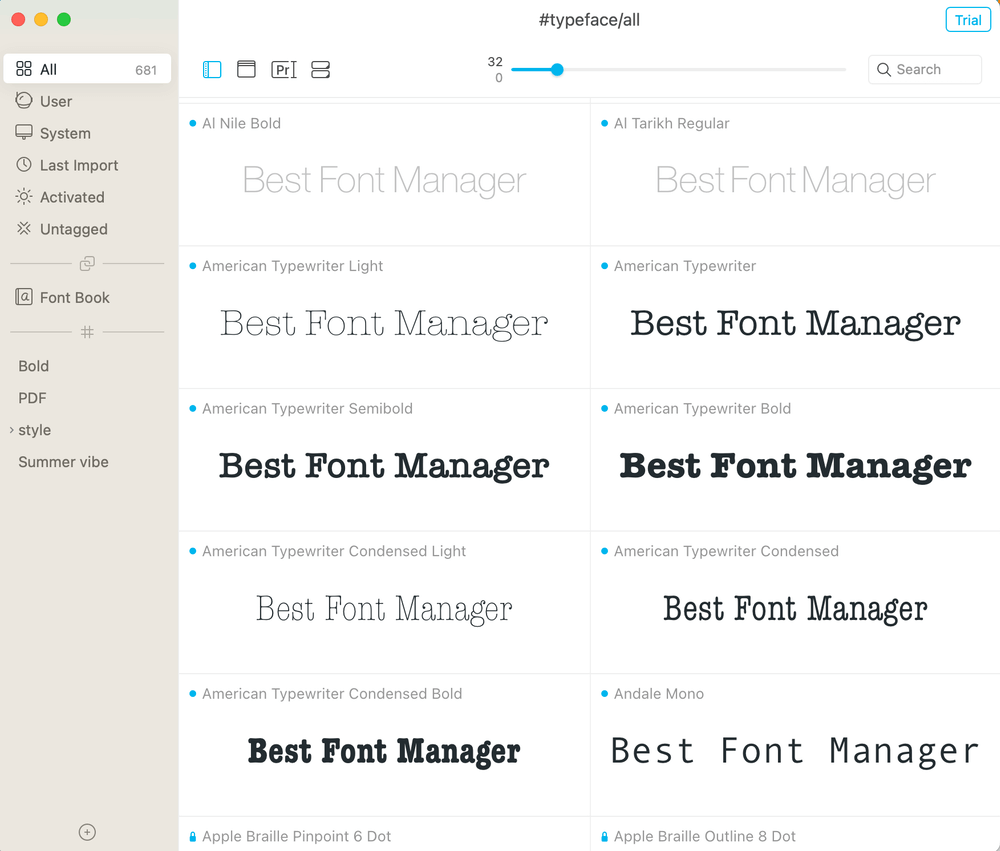 A cool feature Typeface has is the Toggle Font Compare which allows you to choose one font and compare it with other selected collections of fonts on top of each other.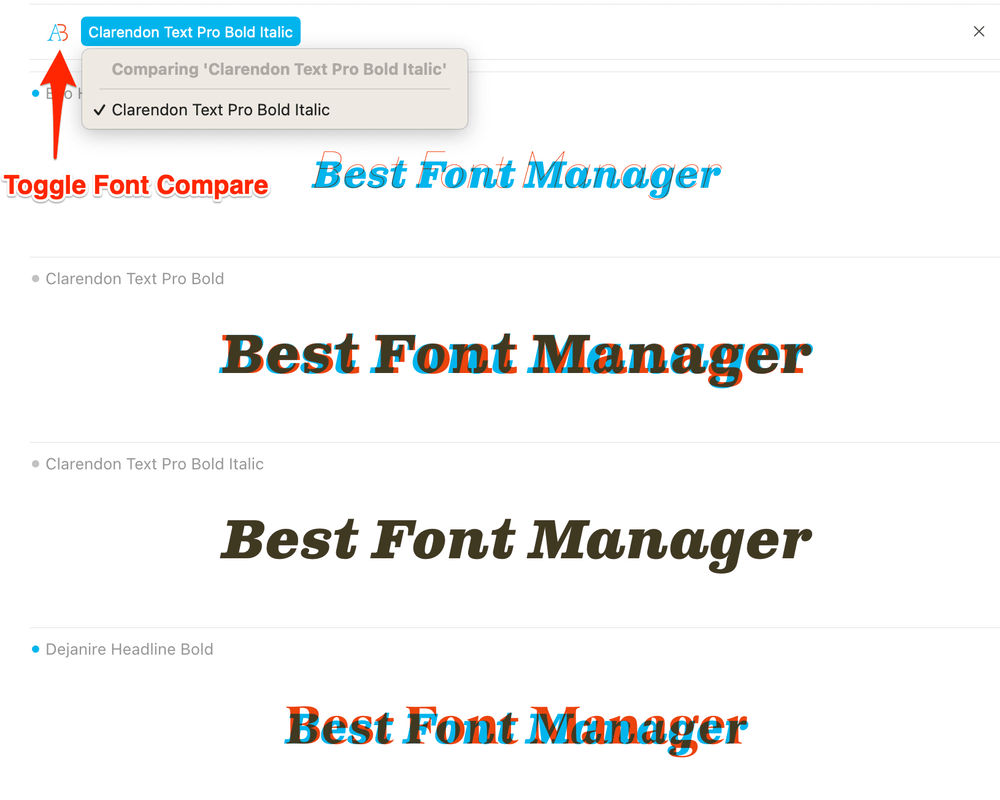 Another thing I really like about Typeface is its flexible viewing options. You can decide how many fonts are shown on a page, adjust the size, and see how the font looks in different styles of text content.
Typeface has many features that are not shown in the basic panel but you can easily find them from the overhead menu. For example, you can export Adobe font, and change the viewing mode.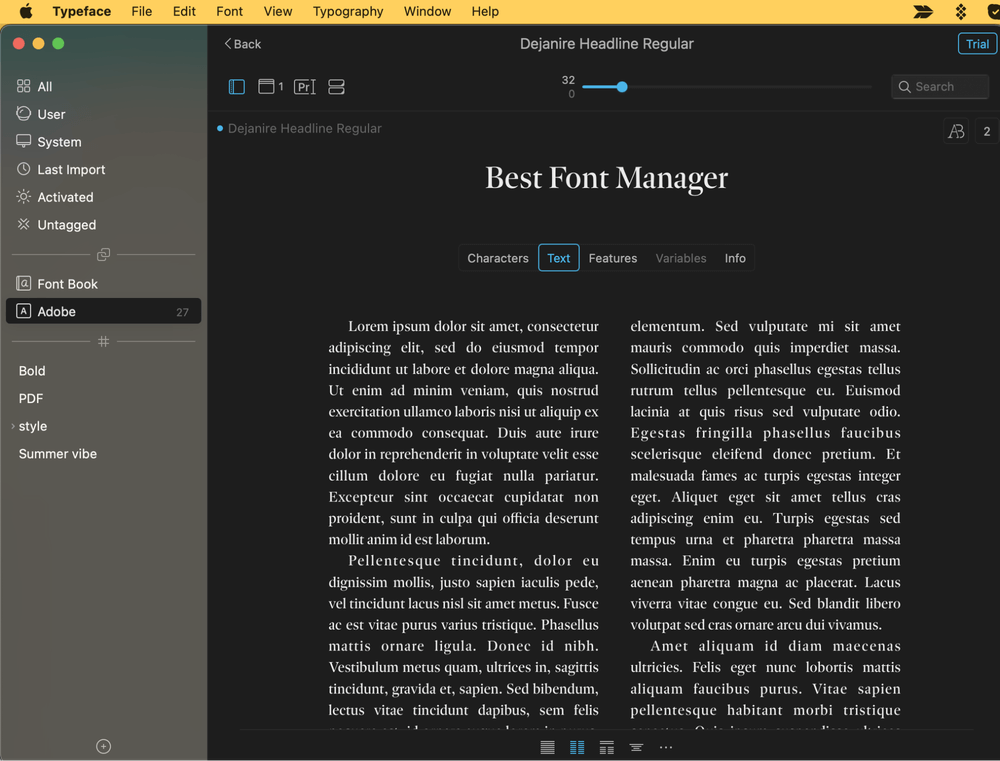 You can get Typeface App from the App Store for free, and after a 15-day trial, you can get it for $35.99. Or you can get it for free with a subscription on Setapp together with other commercial Mac apps.
2. FontBase (Best Free)
Pricing: free
Compatibility: macOS X 10.10 (Yosemite) or later
Key features: Seamless font organization, activate/deactivate fonts, access to Google fonts
Pros: Free, easy to use, affordable upgrade option
Cons: Nothing to complain about considering it's free 😉
FontBase is a free cross-platform font manager that has most of the necessary features, which makes it the top alternative to other paid font managers. Besides the pricing advantage, its intuitive interface and seamless font organization features let users choose and organize fonts easily.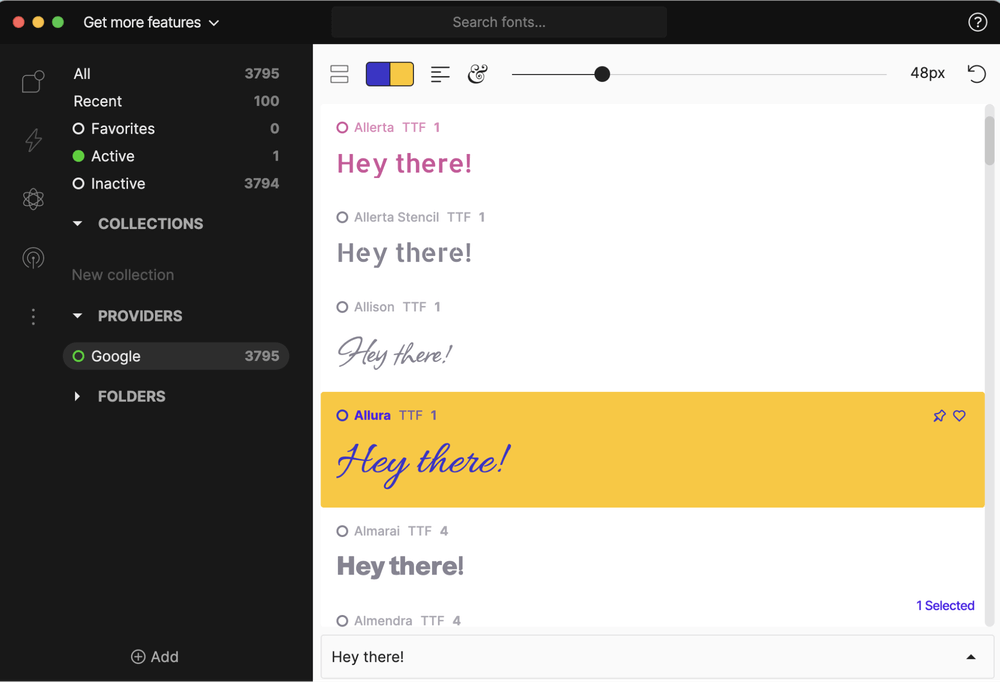 You'll find various categories, collections, folders, and other filters on the left sidebar. On the right, there is a list of fonts with previews.
You can change the font size and regulate how many options are shown on a page. Also, you can choose the preferred color both for fonts and background, which is great for previewing how your font will look in a project.
FontBase makes it easy to import/add fonts. You can drag and drop a folder (with or without subfolders) with fonts into the app or click the Add button and find the font from your computer.
FontBase runs smoothly when it comes to Google Fonts support. You can also sync your fonts across multiple desktops by moving the app's root folder to Dropbox or Google Drive.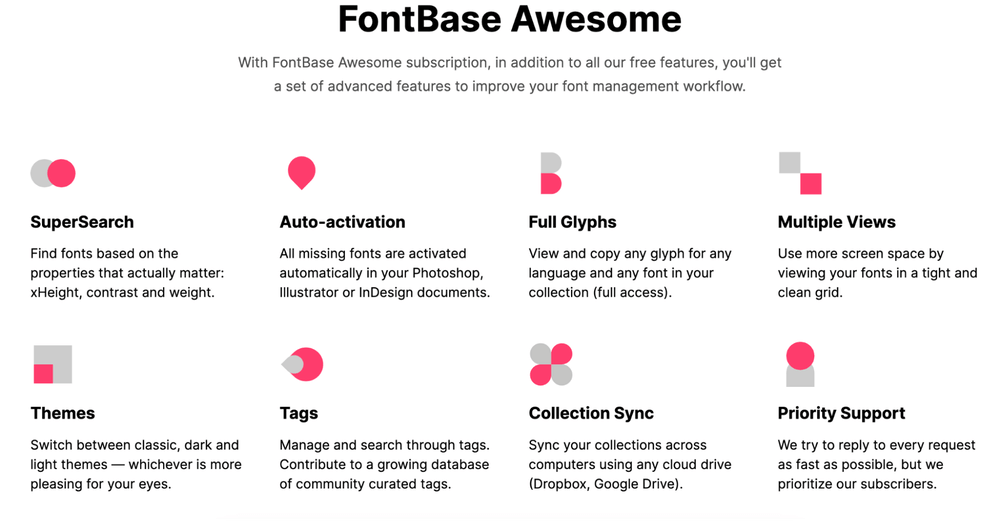 If you want to have access to more advanced features such as auto-activation, advanced font search, etc, you can always upgrade to FontBase Awesome at a reasonable price – $3/month, $29/year, or a $180 one-time purchase.
3. Connect Fonts (Best for Designers)
Pricing: 15-day free trial, annual plan $108
Compatibility: macOS 10.13.6 (High Sierra) or later
Key features: sync and organize fonts, integrates with many apps, detect fonts from software
Pros: Integrates with professional apps, cloud-based, good categorization
Cons: Expensive, complex user interface
Developed by Extensis, Connect Fonts is the new version of Suitcase Fusion. It's an advanced cloud-based font manager for organizing, finding, viewing, and using fonts within your workflow.
It's not the most intuitive font manager to use compared to other options. However, once you figure out the settings, you can easily sync font collection via the cloud, and make it accessible across devices. There is also a FontDoctor, a tool focused on font corruption detection and repair.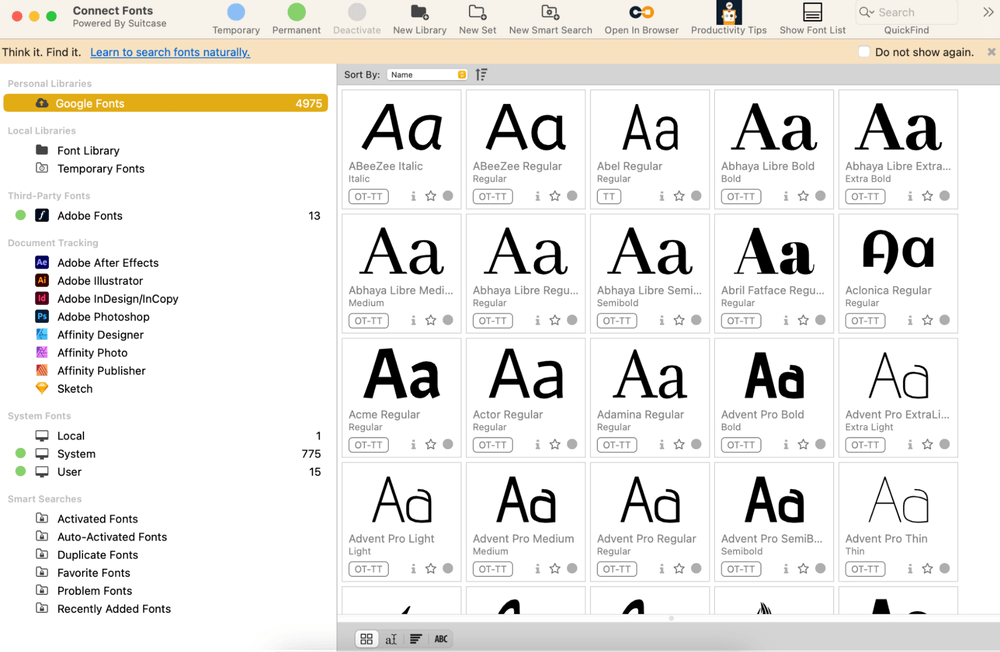 Connect Fonts works best for professional designers and developers who are looking for more advanced features and third-party integration. Connect Fonts plugins are available for design software like Photoshop, Adobe Illustrator, InDesign, and After Effects.
A cool feature I really like is that if you drag a design file into Connect Fonts, it can show you which fonts are used in the file (if the text in the original file isn't outlined).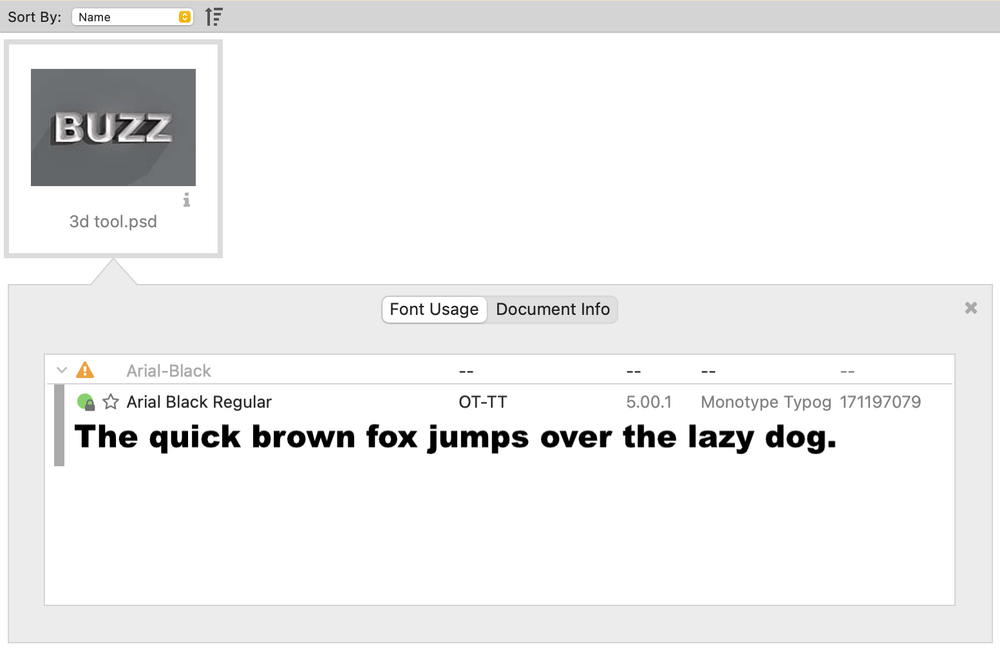 The only reason that would stop me from getting Connect Fonts is the cost and there's no one-time purchase option.
The annual plan is $108 (about $9/month), which I think is kind of pricey. It does offer a 15-day free trial, but the downloading process is quite tricky and you'll need to create an account for it. I still think it's worth a try though if budget isn't a concern.
Read my full review of Extensis Connect Fonts for more.
4. RightFont (Best for Pros)
Pricing: 15-day free trial, single license $59, team license from $94
Compatibility: macOS 10.13 (High Sierra) or later
Key features: Easy sync and share fonts, organize fonts, integrates with creative software and Google
Pros: Integrates with professional apps, advanced search options, good categorization
Cons: Not as intuitive as other font managers
RightFont is designed for professional designers and teams. Therefore, the app's user interface is slightly more complicated, meaning you don't see certain options at a glance. It can be confusing for some beginners who are not familiar with font managers.
RightFont is similar to Typeface and actually, it's one of Typeface's biggest competitors because of its awesome feature set and even more advanced options.
The font management features allow you can easily sync, import, and organize system fonts, or activate Google Fonts and Adobe Fonts. Most importantly, I like how it integrates with many creative apps such as Adobe CC, Sketch, Affinity Designer, and more.
As a designer myself, I find it handy to choose fonts for my project and share them with my team.
With your software open, if you hover on a font in RightFont, you can directly change the font of the text you're working on in the software.

If you're doing a team project, RightFont lets you sync your font library and share it with your team via Dropbox, iCloud, Google Drive, and other cloud services. So there won't be an issue having missing fonts, etc.
Besides the awesome features, I think RightFont offers a pretty reasonable price. You can get a single license for $59 for one device only, or a team license starting from $94 for two devices. Before any commitment, you can get a 15-day fully functional free trial.
5. WordMark (Easiest to Use)
Pricing: Free, or upgrade to WordMark Pro for $3.25/month
Compatibility: Web-based
Key features: Font preview, compare fonts
Pros: Free access, easy to use, browser-based (doesn't take up your computer space)
Cons: Few features with the free version
Wordmark is a browser-based tool that shows the font collections from your computer. You can preview text in different fonts by typing it on the browser without having to download any Apps, which is a huge advantage of Wordmark because, unlike other font managers, it doesn't take up any computer storage.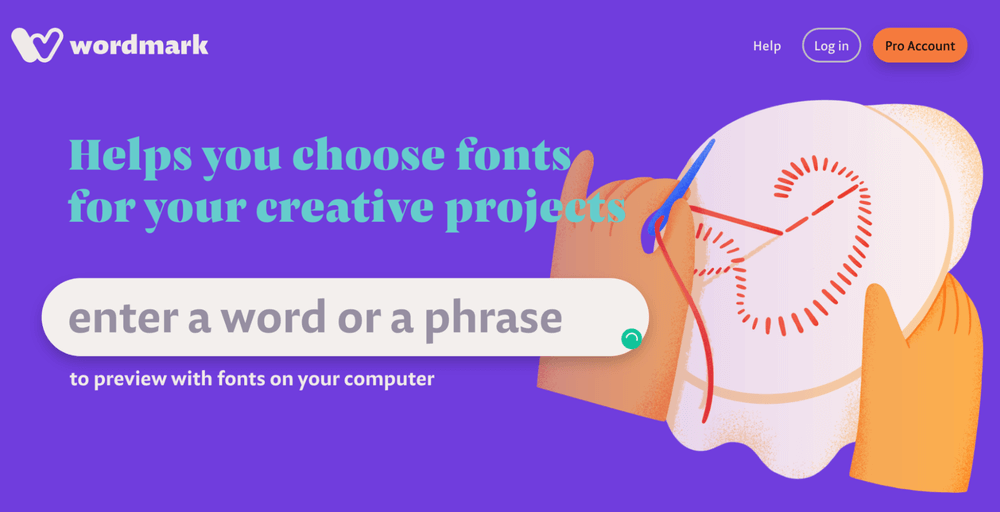 Wordmark searches users' hard drives for all the fonts and allows scrolling through the results to pick the best options. If you want to know which font it is, simply hover on the text and it'll show you the name of the font (as shown in the red box I drew).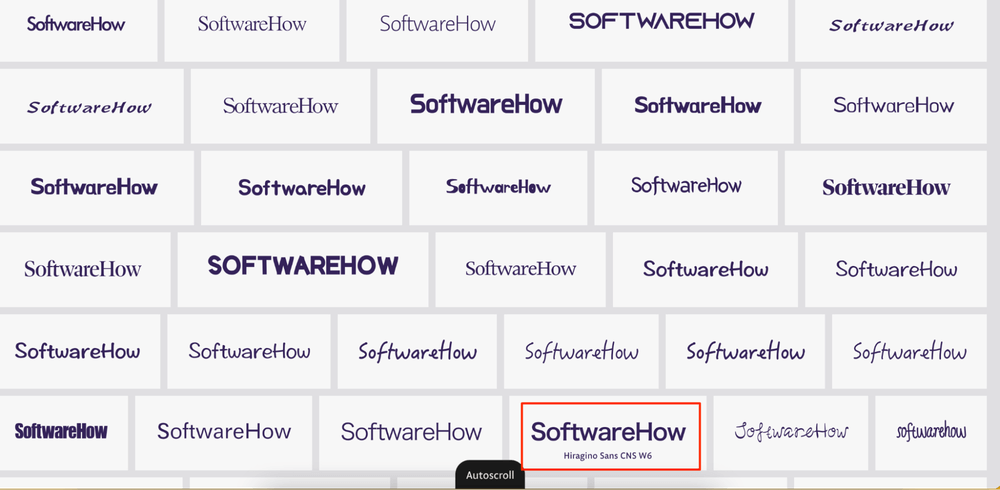 It's as simple as that! This tool is a perfect choice for casual users who are looking for font ideas for their new projects.
Compared to previously mentioned apps, Wordmark lacks some main features such as activation/deactivation of the fonts, and the free features are quite limited.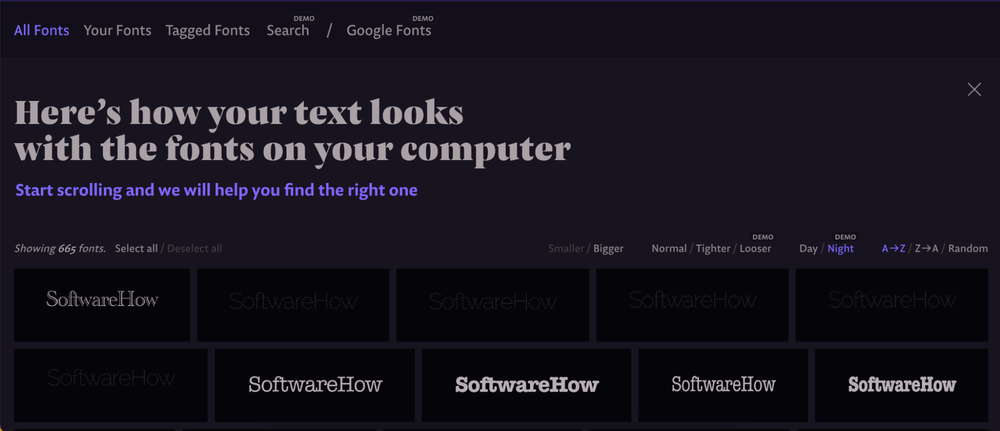 For instance, to unlock Google Fonts support, Tagging, Night mode, and other helpful features, you can upgrade to Wordmark Pro for as low as $3.25/month. However, you do get to try them for free for 24 hours.
6. Font Agent (Best for Businesses)
Pricing: 15-day free trial, annual plan as low as $59
Compatibility: macOS 10.11 (El Capitan) or above
Key features: preview fonts, share and organize fonts, smart font search
Pros: Powerful tools for enterprise needs, great sharing, and cooperation functionality
Cons: Old school interface, not beginner-friendly
I know I rated RightFont as the best font manager for professionals, but FontAgent is just a bit more powerful as this software is designed for businesses and enterprises for its sharing features that allow multiple users to manage the fonts.
Plus the latest version is optimized for Apple's M1 and M2 chips which makes it run smoothly on your Mac.
FontAgent has all the basic functions such as importing, syncing, adding tags, sharing, comparing fonts, app integrations, etc.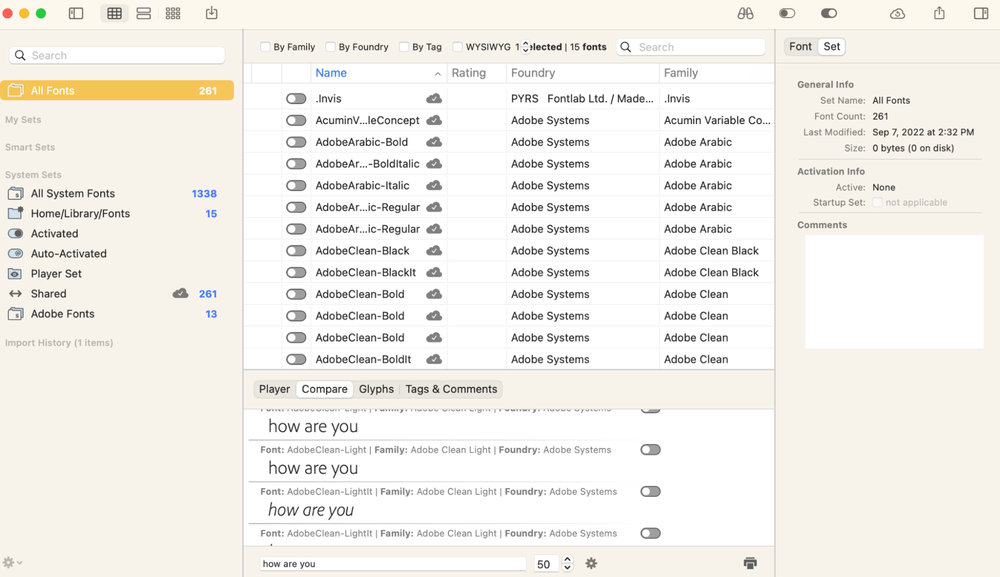 I like its advanced search feature, which is called Smart Search/Quick Search in FontAgent because I can quickly find the fonts by applying filters.

I'm not a fan of its user interface, but well, that's not the most important thing to consider if other functionalities work great. Well, I have to say that it's not the easiest app to get started with but you'll get it after a couple of times.
Generously, FontAgent offers a 30-day free trial for new users. If you like it, there are a couple of options depending on what you'll use it for. The basic version is $59, the standard version is $99, and if you're an existing user, you can upgrade the software for $65.
How We Picked and Tested These Mac Font Managers
The best font management software should come with multiple features to speed up your workflow, and it should be more advanced than the system default font book, Otherwise, why bother getting a font manager, right?
These font managers are tested and picked out based on their user interface/ease of use, organization features, integration/compatibility, and pricing.
I used MacBook Pro to test these apps and tried them with different design software like Adobe Illustrator and Photoshop.
Here's how I test each aspect of the font management software.
User interface/Ease of use
The best software lets you customize the viewing options and manage font collections, so we're looking for a font manager with an intuitive and easy-to-use interface that allows you to find the font you need right away.
Another important factor regarding the viewing options is that you should be able to compare fonts at a glance. For example, you can type in the text and see how it looks with different fonts at the same time from the viewing panel.
Organization features
A good font manager should allow you to create groups, categories, tags, or labels. You should also be able to activate and deactivate the fonts, filter them as you like, sort, print, export, and more with just a few clicks.
Integration/Compatibility
Support for cloud services such as Adobe CC, Adobe Fonts, Google Fonts, Dropbox, Google Drive, and SkyFonts will help you copy your font collection to every device you use as well as share it with others. Third-party software integration is a useful feature, especially for designers, teams, and agencies.
Pricing
The price tag of the software must be reasonable compared to the features it offers. If an app isn't free, the price should be fair and it should at least provide a free trial for you to check it out before purchasing.
Final Thoughts
Choosing the right font management software for you really depends on your workflow (and budget for some). Hope this guide can help you pick the best option that meets all your professional needs.
Have you tried another app that's worth being featured in this Mac font manager app review? Let us know in the comments below!
Have you tried anyone of the Mac font manager software/apps above? Did I miss any other good software/apps in this guide? Feel free to leave a comment and let me know.