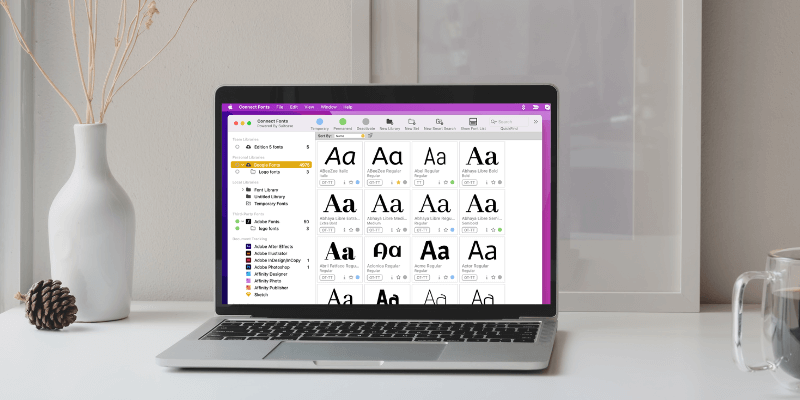 Connect Fonts
Features: Easy to sync fonts, awesome app integrations, but font panel is a bit confusing
Price: Expensive and doesn't offer a one-time purchase option
Ease of Use: Easy to learn all the features but not very intuitive
Support: Helpful support pages and quick response from the customer support team
Summary
Connect Fonts is a cloud-based font manager for organizing, finding, viewing, and using fonts. It can also track which fonts are used in creative software, which makes it a good option for designers.

In my opinion, Connect Fonts is great for teamwork, because you can use the desktop version to manage fonts, and the cloud-based browser version to share fonts with your team.

However, it might not be the best option for someone who only needs to categorize or search for fonts because the software itself is not necessarily beginner friendly, and it can be expensive if you don't need to use the advanced features.

What I Like: Easy font activation and synchronization, app integrations, and team sharing.

What I Dislike: The font library and set are quite confusing and it's not as straightforward to just create a font collection as other font managers.
What is Extensis Connect Fonts?
Extensis Connect Fonts powered by Suitcase is a desktop and web-based font management tool for creatives and teams. You can use it to handle all your font management needs such as organizing, sharing, and searching for fonts.
Is Suitcase Fusion still available?
Yes, you can still install Suitcase Fusion, however, Extensis announced that since March 2021 Suitcase Fusion is no longer eligible for support.
What is the Difference Between Suitcase Fusion and Connect Fonts?
Suitcase Fusion is replaced by Connect Fonts (Desktop version), so they are basically the same thing but Connect Fonts seem to develop even more features. Actually, the product name says it, "Connect Fonts Powered by Suitcase Fusion".
Why Can't I Add Fonts to Connect Fonts?
When you're using Connect Fonts browser, you won't be able to add Adobe Fonts from there. If you're trying to add Adobe Fonts to a different library using the desktop version, you also wouldn't be able to do it, because you can only move fonts within the same library.
Connect Fonts Browser vs Desktop: Which One to Use?
If you want to organize fonts, the desktop version has more features to do so. If you simply want to search for a font, then the browser will do the job and it's great because the cloud-based feature allows you to access the fonts from anywhere.
In short, the desktop version is better for managing fonts and the browser version is better for sharing and quick search/access to your fonts.
In this review, I'll show you my findings after testing Extensis Connect Fonts and hopefully, it can help you decide whether it's the right choice for your font management.
Why Trust Me for This Review
Hi! My name is June, and I'm a graphic designer. Font is a huge part of graphic design, so I've been working with fonts for over ten years now and I can't even count how many fonts I've used.
Originally I used Mac's pre-installed Font Book because it shows all my downloaded fonts, but since Google Fonts and Adobe Fonts were available, I switch my font search to cloud-based because I can simply activate the fonts and use them.
Eventually, I figured it would be nice to use a font manager to organize all my fonts from different sources together. I tried different font management software like FontBase, RightFont, and TypeFace, but then I saw a lot of people mention Suitcase Fusion, so I was curious to dig in a bit, which led me to Extensis Connect Fonts.
What attracted me the most was the creative app integration, so I decided to give it a try and started the free trial. It took me one week to test out the features and I reached out to the support team when I ran into issues to get help and test their responsiveness. You can see more from the "Reasons Behind My Ratings" section below.
Detailed Review of Connect Fonts
Connect Fonts powered by Suitcase is a font manager for creative individuals and teams. Besides the basic preview, search, and organize features, it can also detect fonts from creative software, which makes it an ideal choice for creative professionals.
Let's take a look at some of Connect Fonts' key features. I'll also share my personal opinion on each of them.
Sync and Activate Third-party Fonts
Besides syncing local fonts from your computer, Connect Fonts can also sync fonts from Google Fonts and Adobe Fonts. You can activate fonts temporarily (blue dot) or permanently (green dot). Temporary activation activates any font already in your library until the next time you restart or quit and reopen Connect Fonts.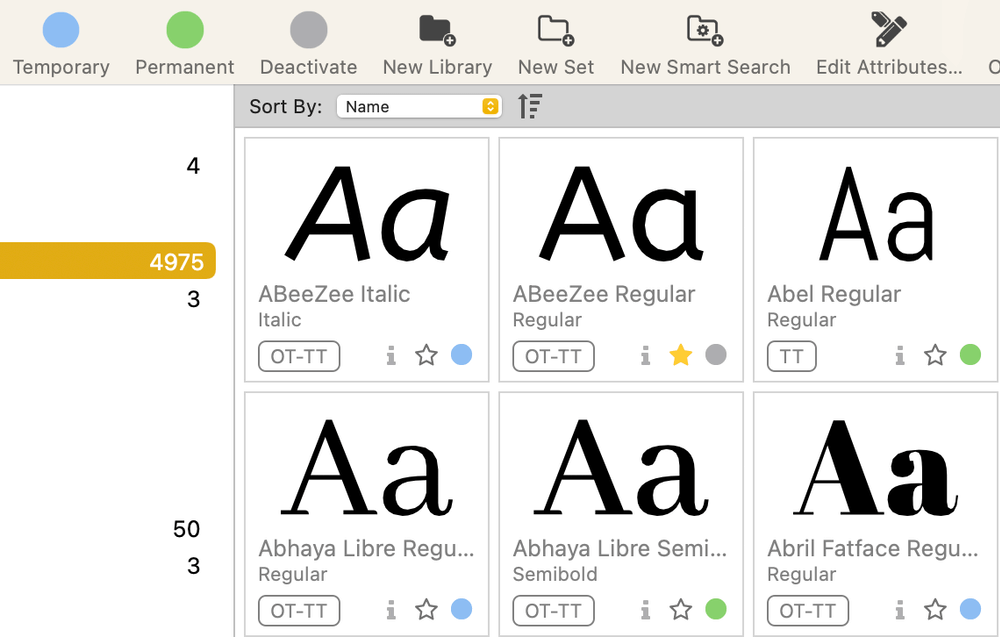 Both temporary and permanent activated fonts can be directly used in creative software and some macOS apps like Pages. If you don't want to show too many fonts in your software, you can Deactivate fonts that you're not using and activate them whenever you need to use them.
Note: Connect Fonts is only able to sync the Adobe fonts that are already activated in Adobe Fonts, and you do need an Adobe CC account to use Adobe Fonts for free.
My personal take: I like how I can activate and deactivate fonts quickly to keep my font list clean in the design software without having to go to Google Fonts or Adobe Fonts to do them separately. And the temporary font activation is definitely helpful when I need to use fonts for some quick projects.
Font Organization
Just like other font management software, Connect Fonts allows you to create your own font collections, but you can't mix fonts from different Libraries. Collection is referred to as Set in Connect Fonts.
For example, you can't add a font from Adobe Fonts to a Set under Google Fonts Library. If you want to make a logo font collection and you want to add fonts from Google Fonts and Adobe Fonts, you'll need to create two separate Sets under each font Library.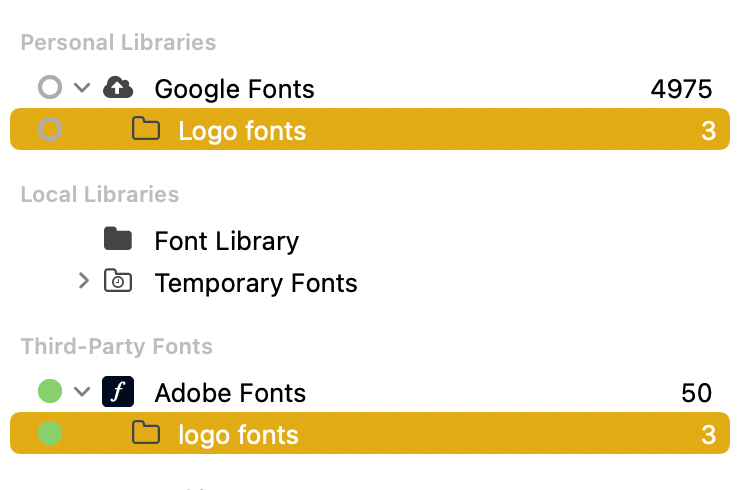 Another way to organize fonts is by adding tags (from the web version) or editing attributes to fonts so that you can find them easier.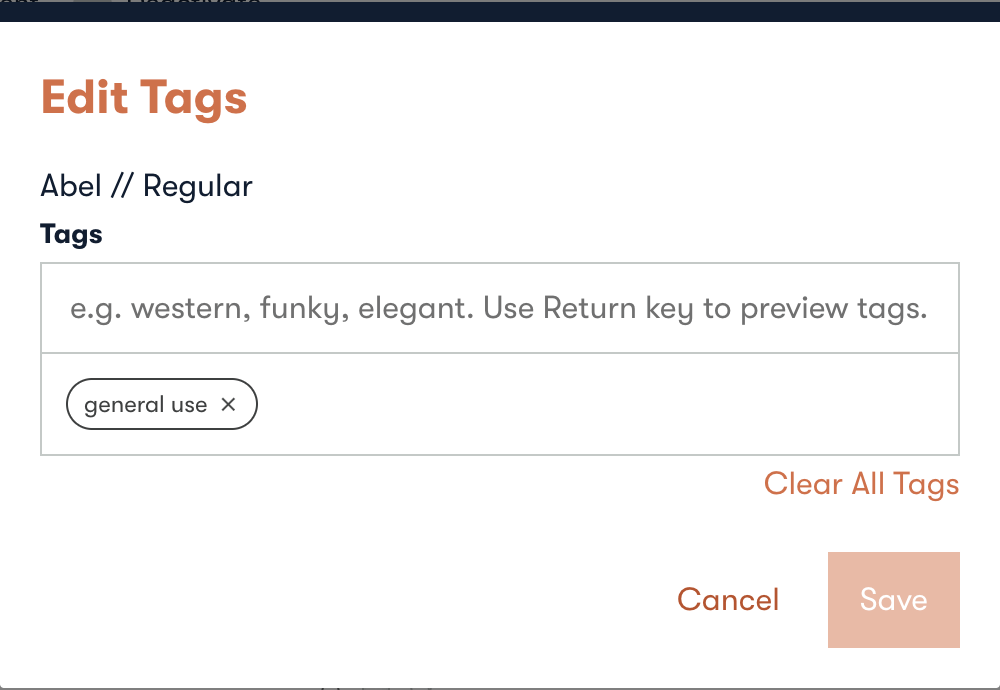 My personal take: Not a big fan of the font organization feature of Connect Fonts because I get so confused about its Library and Set, and the fact that I cannot put add fonts to my collections freely is somehow frustrating.
Preview Options
There are four font preview options available: Tile (previews font family), QuickType (previews fonts in a list), Waterfall (previews font in different sizes), and ABC123 which allows you to preview the font in the form of a letter, number, and glyphs.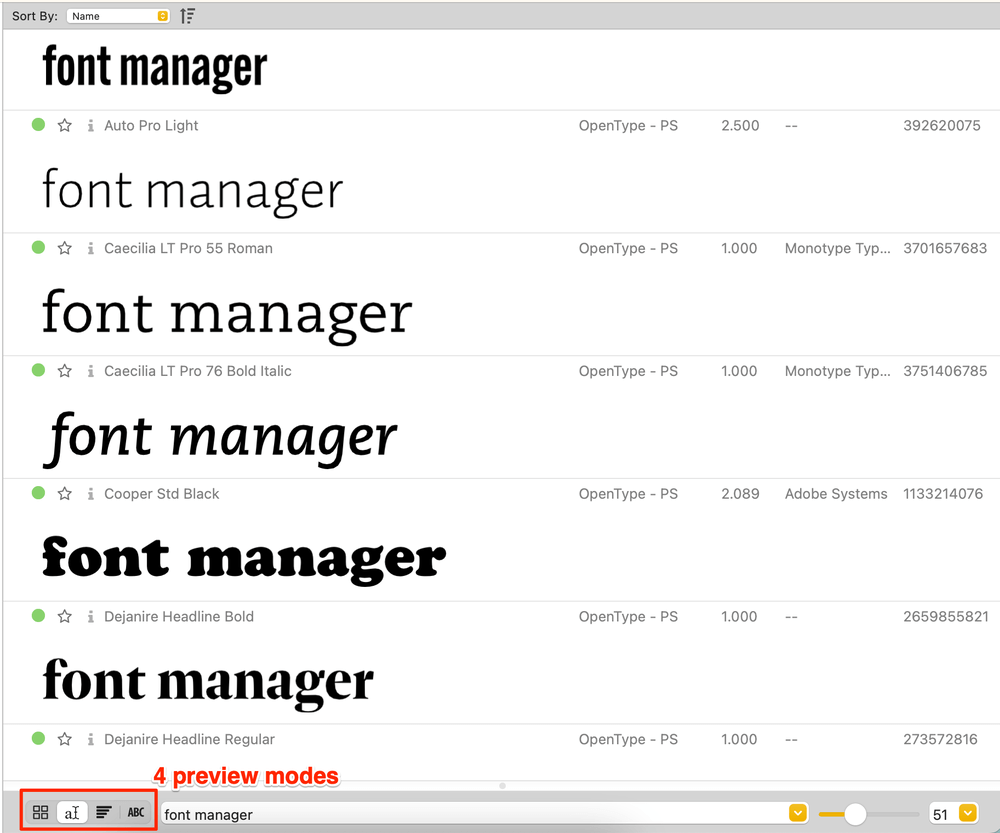 You can easily switch between the preview modes by clicking on the option. Additionally, you can also choose to show the font list as you preview the font. I use this feature when I want to compare several fonts because I can select the fonts from the list, and they will show in the preview window.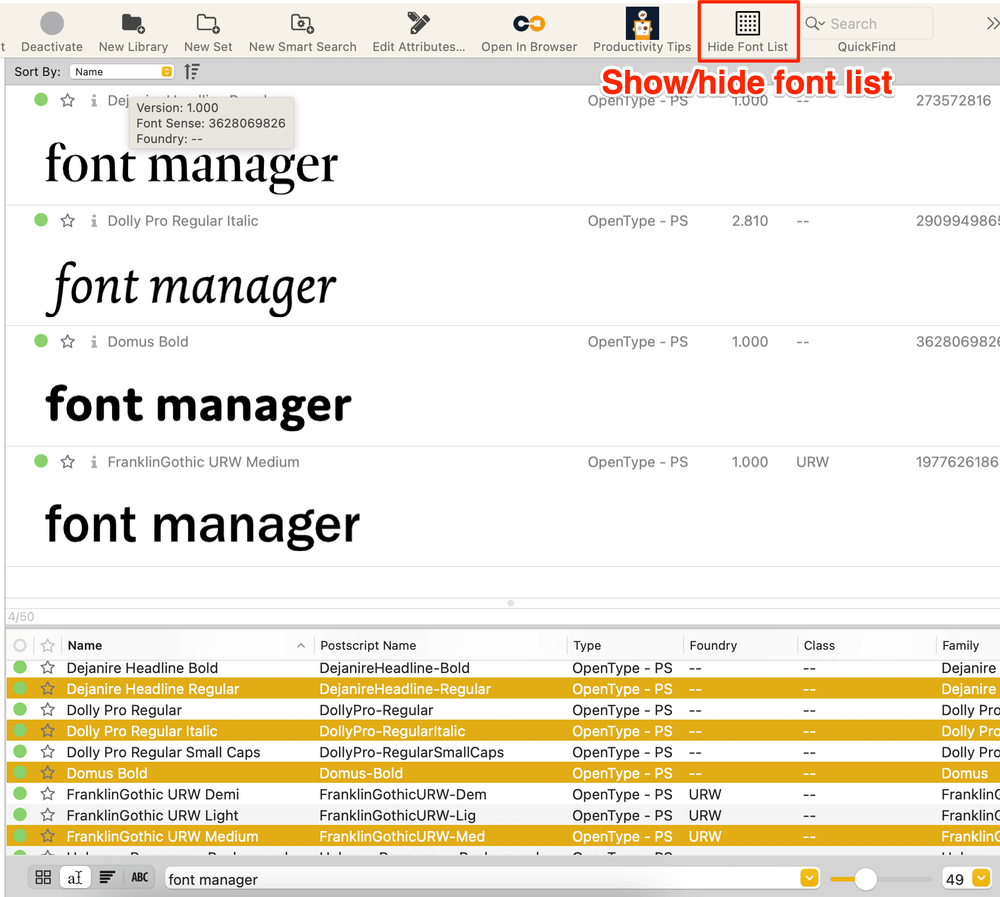 My personal take: Advertised as the font manager for creatives, I think there's one important preview feature missing – colors! It would be nice if there's a preview option to see fonts in colors and colored backgrounds like the feature that FontBase has.
Document Tracking
Connect Fonts can detect fonts from creative software like Adobe Illustrator, Photoshop, InDesign, Sketch, and more. For example, if you want to see which font you use in an InDesign file, click on the small info icon, and the Font Usage and Document Info will show.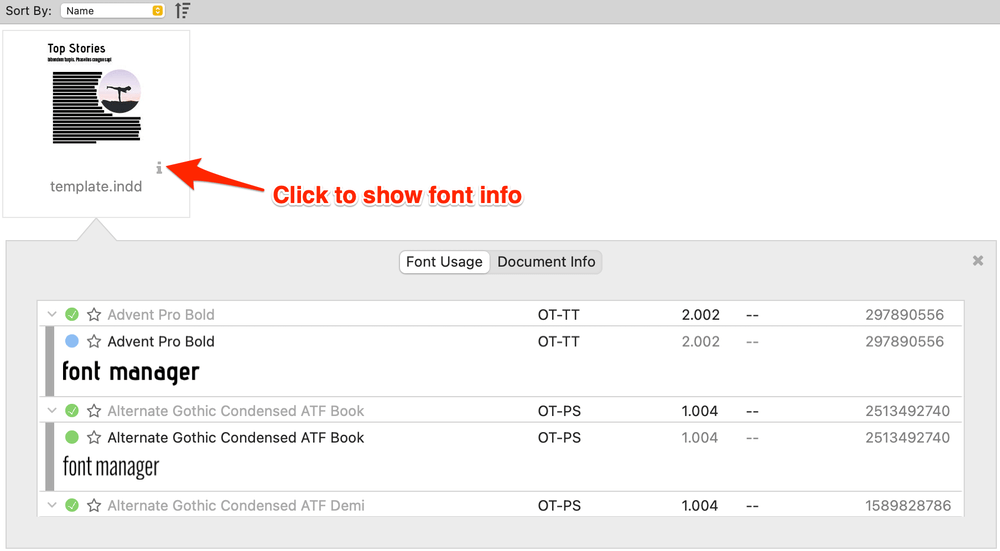 Once you find out the fonts, you can add attributes to the fonts for future use when working with similar projects.
This feature is also useful when you work on team projects, so when you share the file with your teammate, they'll know which fonts to use and can have access to the team libraries to edit the same design file to keep consistency.
My personal take: As a designer myself, this is an awesome feature to organize my font collections for projects because it allows me to quickly find fonts from previous projects so that I can make a font collection for similar projects in the future.
Cloud-based Team Sharing
You can create team libraries on Connect Fonts' web version and add team members to view, upload and collect fonts. It's a great feature for creative teams to keep the project visually consistent.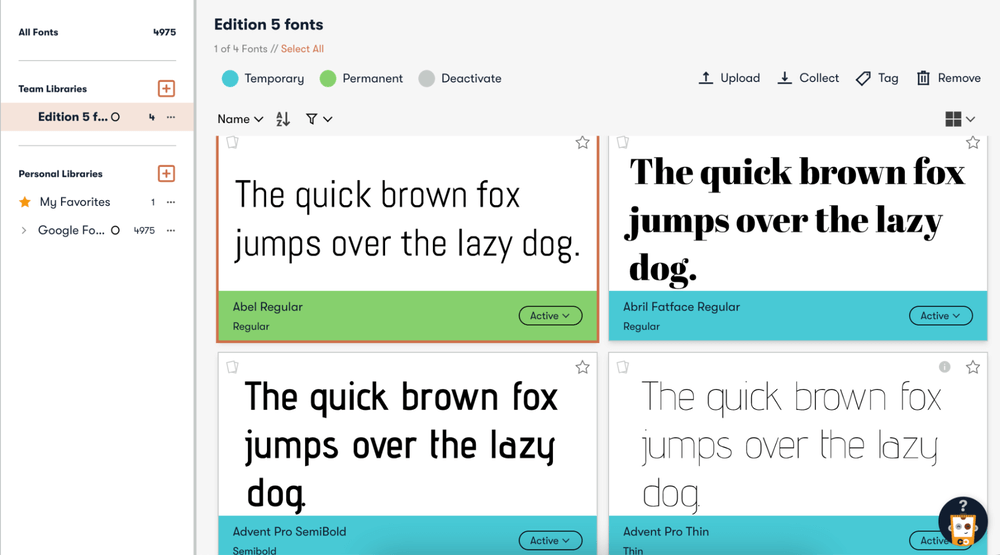 The team libraries you create will also show on the Connect Fonts' desktop version, so if you find it easier to organize fonts using the desktop version, you can do it from there, and the changes will automatically update on the web version.
My personal take: Having a cloud-based font library with a team is so convenient and it really saves a lot of time when my teammate can just edit on the same file. Also, there won't be font missing issues when everyone has the same fonts activated.
Reasons Behind My Ratings
Features: 4/5
Having both desktop and browser versions makes it easy to use the right tool for the right job. The simple cloud-based browser version is convenient when I want to access fonts from other devices and work on projects with others. (Remembered the old times when we had to share the font packs using USB? lol)
Another cool feature is document tracking. I find it useful to quickly find fonts for reference. Going through files to look for font just takes too much time and effort. This feature is perfect for designers who work on multiple projects in the long term.
However, I was a little bit disappointed by the lack of flexibility to organize fonts.
Pricing: 3.5/5
The annual plan is $108 (about $9/month), which I think is kind of pricey. The fact that there isn't a one-time purchase option makes the product quite expensive compared to other font managers.
Another reason I'm not 100% convinced about the price is that the font organization features can be improved. I still think it's worth a try though if budget isn't a concern. Anyway, it does offer a 15-day free trial so it's nice to find out whether it's worth it or not for your workflow.
If you can take advantage of most of the features, that's great. On the other hand, if you're only using the basic font management features, perhaps you can go for a more affordable option.
Ease of Use: 3.5/5
Connect Fonts is not the most intuitive font manager because of its complex user interface. Having so many options when you run the app, can be overwhelming, and having no clue where to start.
Some of the options can look confusing, such as permanent and temporary activation, if you are new to this, you might not know the difference. And its font panel was also a bit confusing to me. For example, I didn't understand why my local library was empty, how to use the temporary library, etc. To be honest, I had to look up some tutorials for some of the features.
But once you learn how to use the features, it's still pretty easy to handle your font management needs.
Support: 5/5
I'm pretty happy with Extensis customer support. As I mentioned above, I needed to learn how to use certain features, there weren't many video tutorials on YouTube yet, so I went to Extensis Connect Fonts' Support (Knowledge Base) page to get some help.
Luckily, I found all the information I needed and I have to say that Connect Fonts is doing a great job listing out most of the possible questions that might new users might have.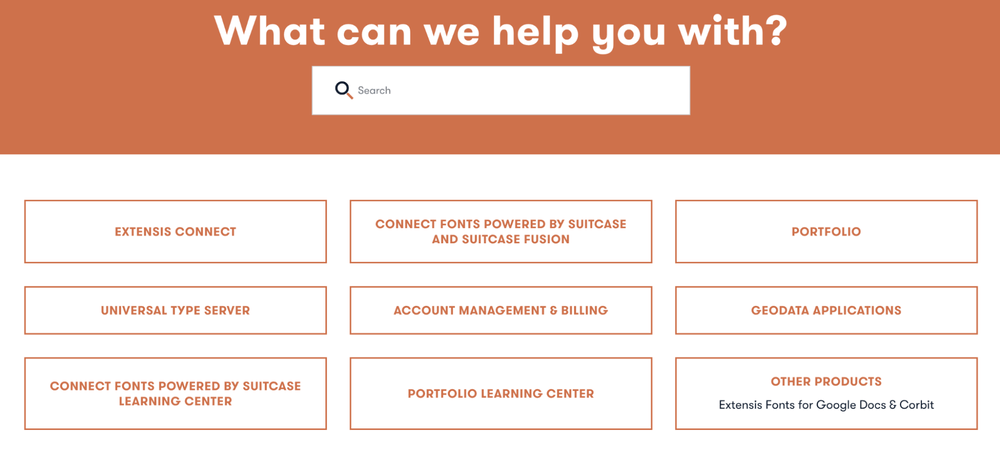 There were a couple of things I couldn't find so I submitted a request trying to get support from an actual person. I got a quick response (within a day) answering all the questions I asked and they also directed me to pages where I could learn more about the features.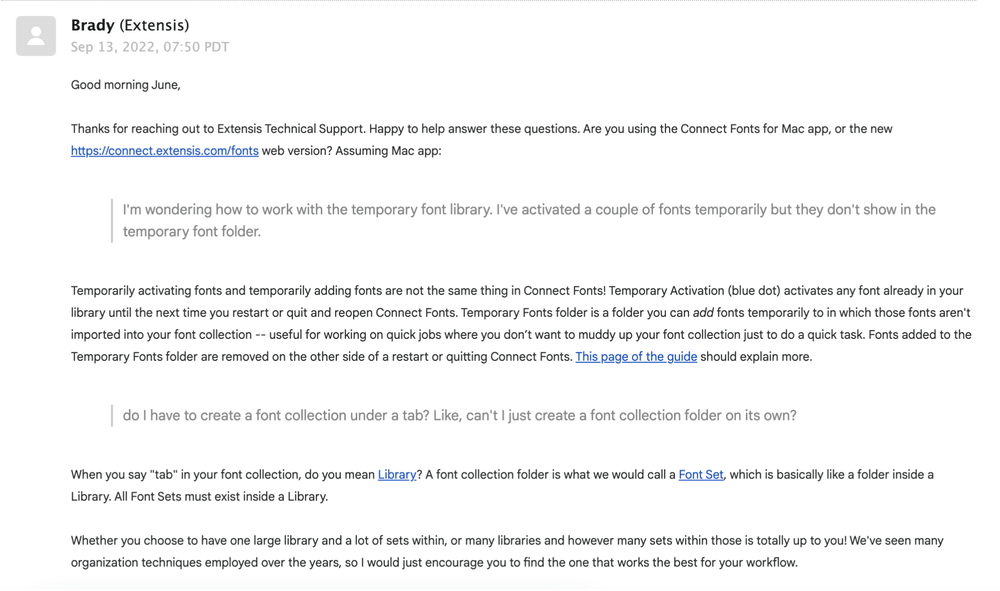 Connect Fonts Alternatives
If you think that Connect Fonts is not for you because you don't use advanced features, think it's too expensive, or for any other reasons, here are three Connect Fonts alternatives that might be a better fit for you.
1. FontBase
FontBase is a free cross-platform font manager that has most of the necessary features such as creating font collections and previewing fonts, and you can activate Google Fonts from FontBase.
Its intuitive interface and seamless font organization features let users choose and organize fonts easily. If you find the features limited, you do have the option to upgrade and get access to more advanced features at a reasonable price – $3/month, $29/year, or a $180 one-time purchase.
2. Typeface
Whether you're a professional designer or just a font lover, Typeface is suitable for everyone because of its simple UI and minimalistic design that allows you to quickly navigate and organize your fonts.
Typeface has an interesting feature called "Toggle Font Compare" which allows you to choose one font and compare it with other selected collections of fonts on top of each other. It's a cool feature to have if you work with typography often.
You can get Typeface App from the App Store for free, and after a 15-day trial, you can get it for $35.99. Or you can get it for free with a subscription on Setapp together with other commercial Mac apps.
3. RightFont
RightFont allows you can easily sync, import, and organize system fonts, or activate Google Fonts and Adobe Fonts. Most importantly, I like how it integrates with many creative apps such as Adobe CC, Sketch, Affinity Designer, and more.
An awesome feature for designers is that with your software open if you hover on a font in RightFont, you can directly change the font of the text you're working on in the software.
Besides the awesome features, I think RightFont offers a pretty reasonable price. You can get a single license for $59 for one device only, or a team license starting from $94 for two devices. Before any commitment, you can get a 15-day fully functional free trial.
Final Verdict
Is Connect Fonts worth it? In my opinion, Connect Fonts does have some advanced features and it works together with creative apps, which makes it a good option for creatives. However, I think it's not for everyone because if you're only using it for basic font organization, you can find better options at lower costs.
In short, Connect Fonts is worth it if you can take advantage of its advanced features like document tracking, and team-sharing besides the basic font organization feature.
Have you tried Extensis Connect Fonts? Which font manager do you use? Feel free to share and let me know in the comment below if you find this review helpful or would like to learn more about the software.