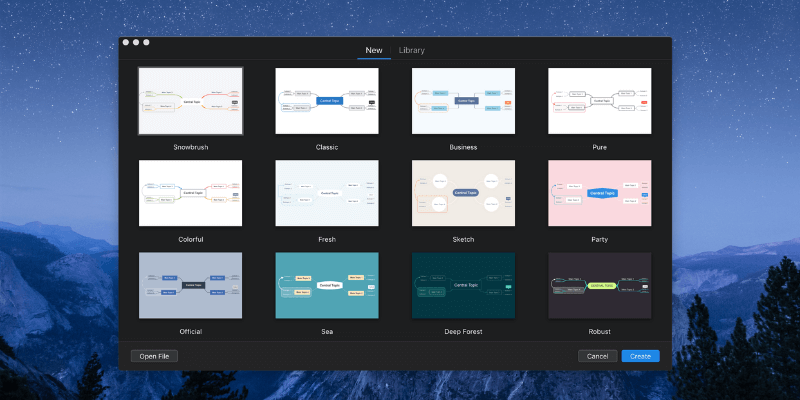 XMind
Features: Has most features you need to create, format and share mind maps
Pricing: free feature-limited trial available, $59.99 per year
Ease of Use: Simple to use and distraction-free
Support: Searchable articles, email support
Summary
Mind maps are like outlines that engage the creative right brain. By spreading ideas over the page rather than in a straight line, new relationships become apparent, aiding understanding.

XMind offers a smooth workflow, a responsive graphics engine, a distraction-free mode, and all the basic features you'll need to create and format mind maps. However, it is not substantially better than its competitors. There are more fully-featured apps (at a price) if you need them, and other alternatives offer similar features at a cheaper price but also include cloud sync.

I recommend you add it to your shortlist, then evaluate the trial versions of several apps to see which best meets your needs. You never know, XMind may offer the right balance of features and usability to sway you.

What I Like: Mind maps are easy to create using the keyboard. Mind maps are attractive. The app is responsive. A good range of export formats.

What I Don't Like: Subscription-based model won't suit everyone. No cloud sync between devices.
XMind is an award-winning mind mapping application available for macOS, Windows, and mobile. The new version aims "to make thinking a delight rather than a burden." It features a modern interface, a distraction-free mode, and quick entry to achieve that.
Yes, it is safe to use. I ran and installed XMind on my iMac. A scan using Bitdefender found no viruses or malicious code.
No, you need to pay a subscription to use the app, but a free, feature-limited trial is available so you can evaluate it. For ongoing use, a subscription will cost you $59.99/year to use it on 5 computers and 5 mobile devices.
What is a Mind Map and Why Use It
A mind map is a diagram with the central idea in the middle, and related ideas radiating out like a tree. Because it activates the right brain and makes it easy to show the relationships between ideas, it's a useful practice for note-taking, brainstorming, problem-solving, outlining writing projects, and more.
Diagrams have been used to visually organize information for centuries, and in the 1970s Tony Buzan coined the term "mind map". He popularized the concept in his book "Use Your Head".
Why Trust Me for This XMind Review
Around ten years ago, I discovered mind maps and realized how useful they are when planning and brainstorming. I started with the open-source app FreeMind, one of the only apps available at the time. I also found mind mapping on paper to be a quick way to get started on a new article or project.
Now I use mind mapping software on both my Mac and iPad. On the Mac, I like to get my ideas down quickly using the keyboard and use the mouse to move ideas around and create some structure. Using mind maps on the iPad is a more tactile experience, and works well, though adding thoughts can be slower.
Over the years I've used most of the major apps, including MindManager, MindMeister, XMind, iThoughts, and MindNode. I hadn't tried the new version of XMind before, so I downloaded the trial version to get to know it.
Detailed Review of XMind
XMind is all about mind mapping, and I'll list the app's features in the following five sections. In each subsection, I'll explore what the app offers and then share my personal take.
Note: the screenshots below were taken from XMind: ZEN, which was replaced with a newer version later on.
1. Create Mind Maps
When creating a mind map, you don't have to start from scratch. XMind gives you a choice of selecting a theme…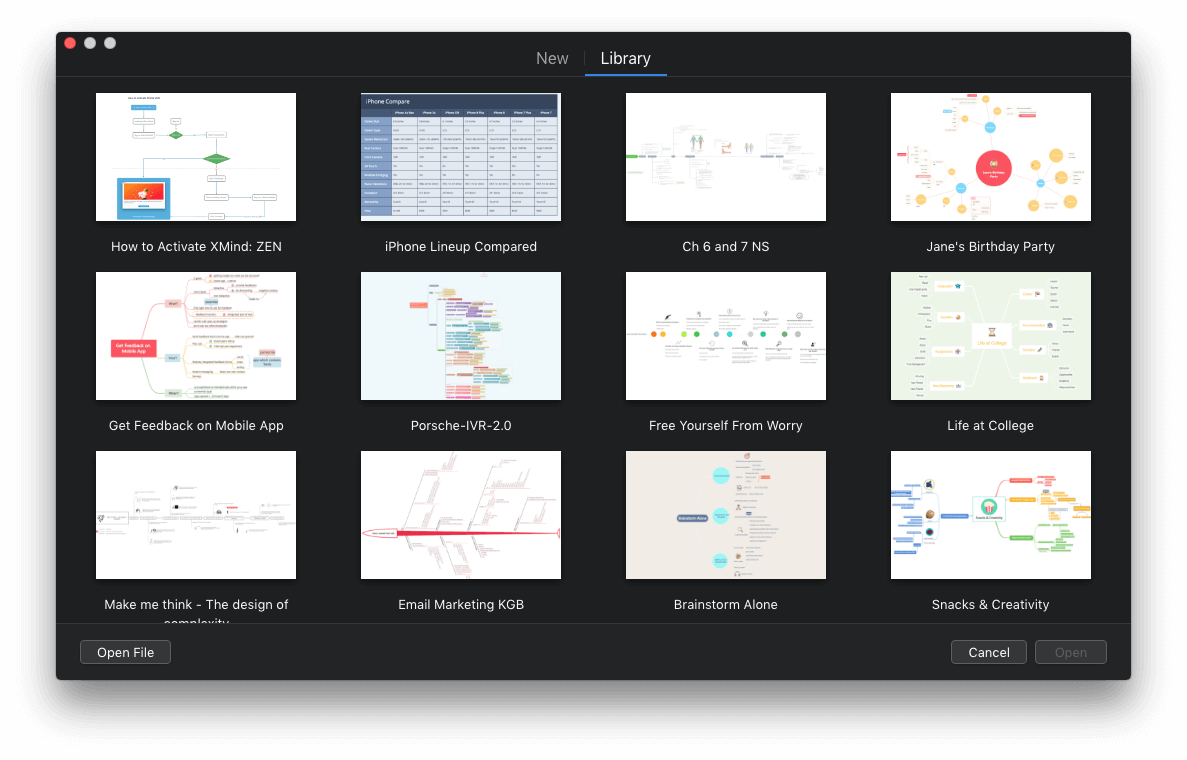 …or from a library of templates, where a sample mind map has already been created for you.
The templates are all quite different. For example, here is one that maps out the Porsche voicemail system.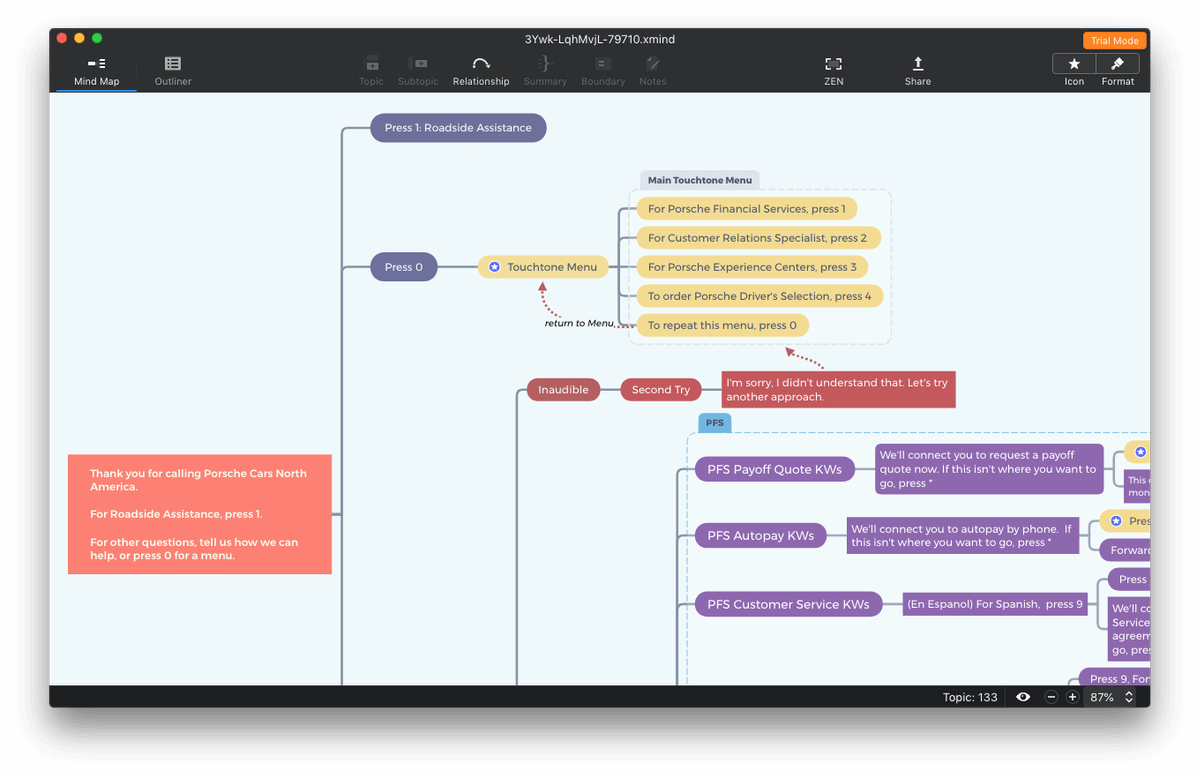 Another demonstrates how you can get creative with healthy snacks.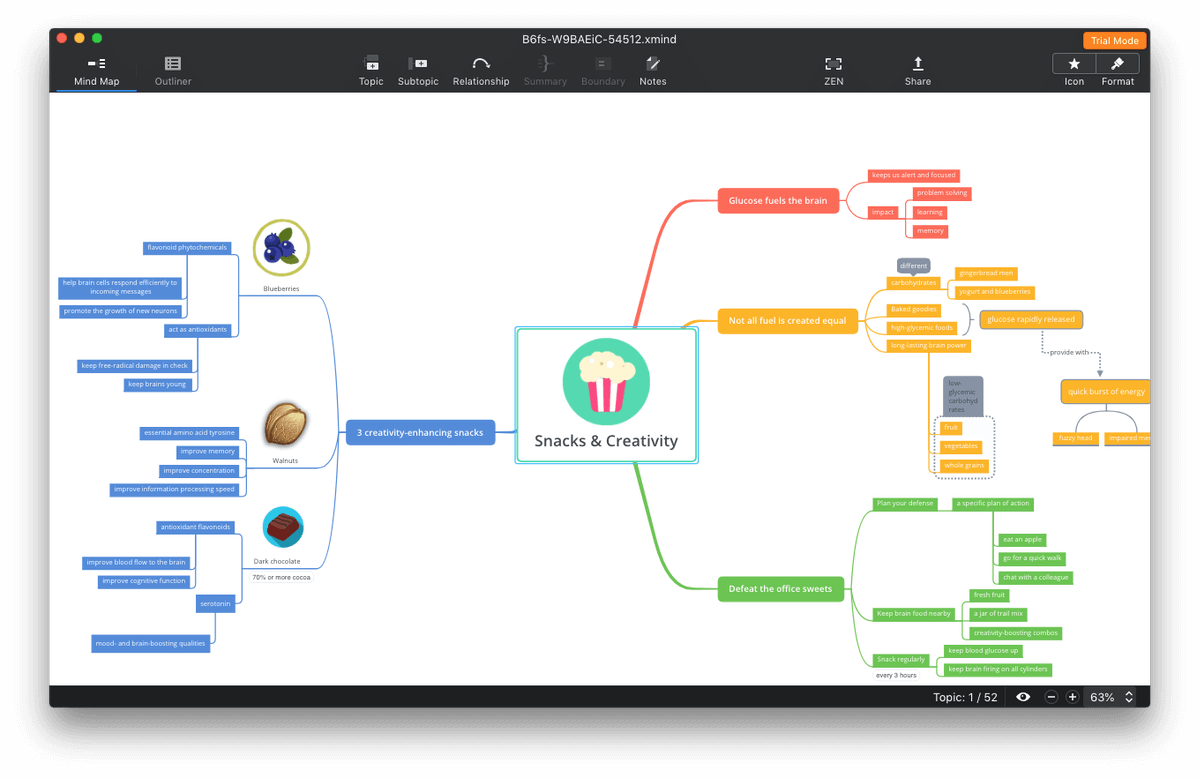 And another—that looks more like a table than a mind map—compares iPhone models.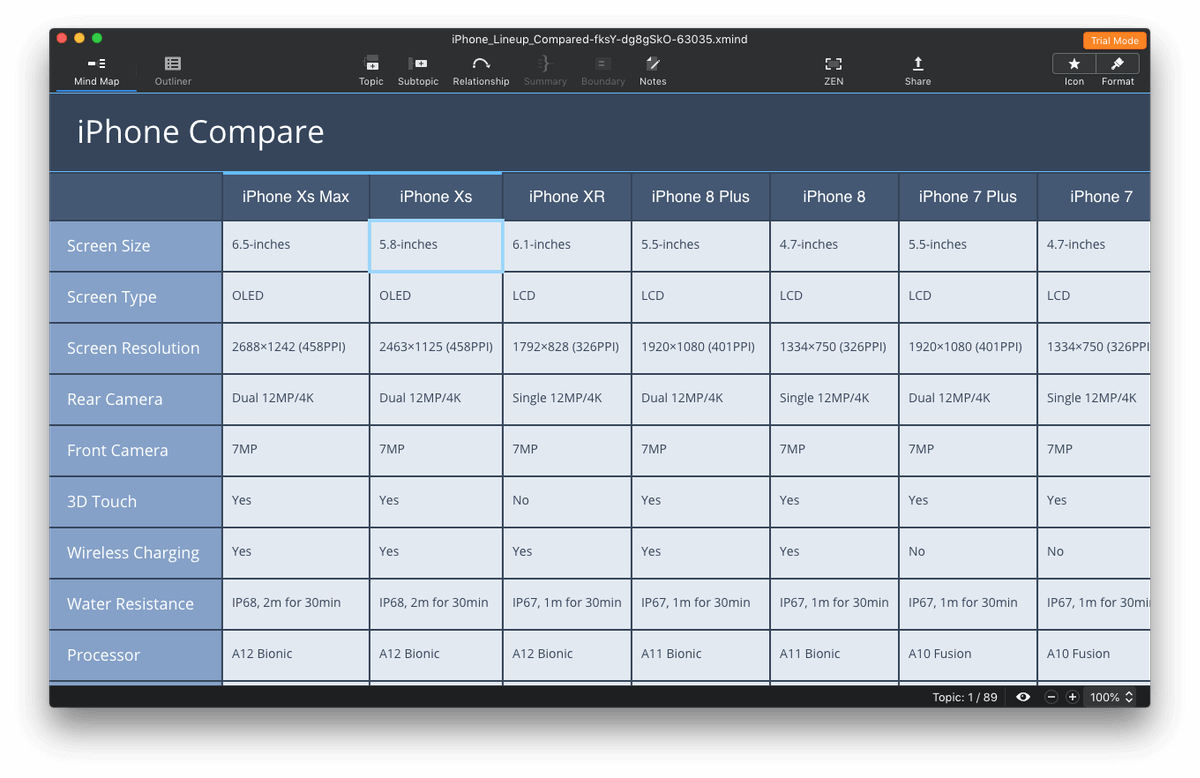 Typically, a mind map is structured with a central idea in the center, with related thoughts and topics branching out from there. Each piece of information is called a node. Your nodes can be structured in a hierarchy to show relationships.
Using the keyboard when beginning a new mind map allows you to get your ideas out of your head as quickly as possible, which is perfect for brainstorming. XMind: ZEN allows you to create new nodes without touching the mouse. For example, if I select "Main Topic 2" by clicking on it with the mouse, pressing Enter creates "Main Topic 3".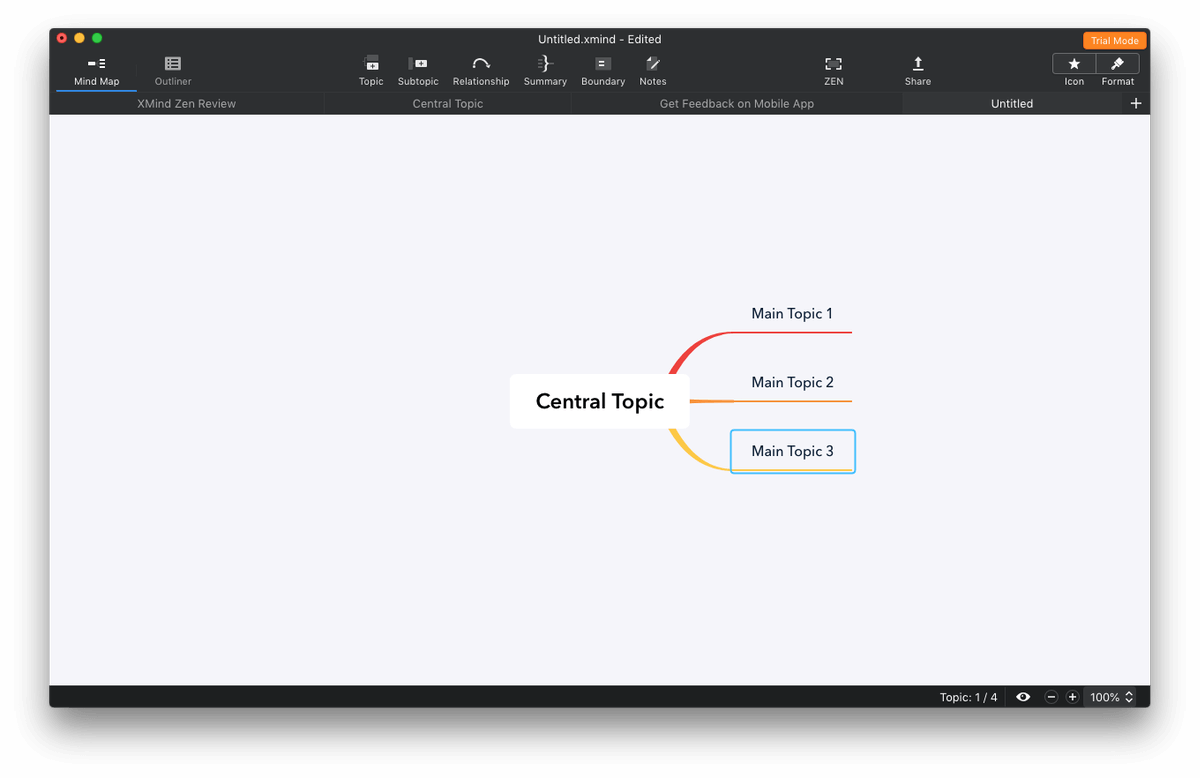 From there, I just need to start typing, and the text is replaced. To finish editing, I just press Enter. To create a child node, press Tab.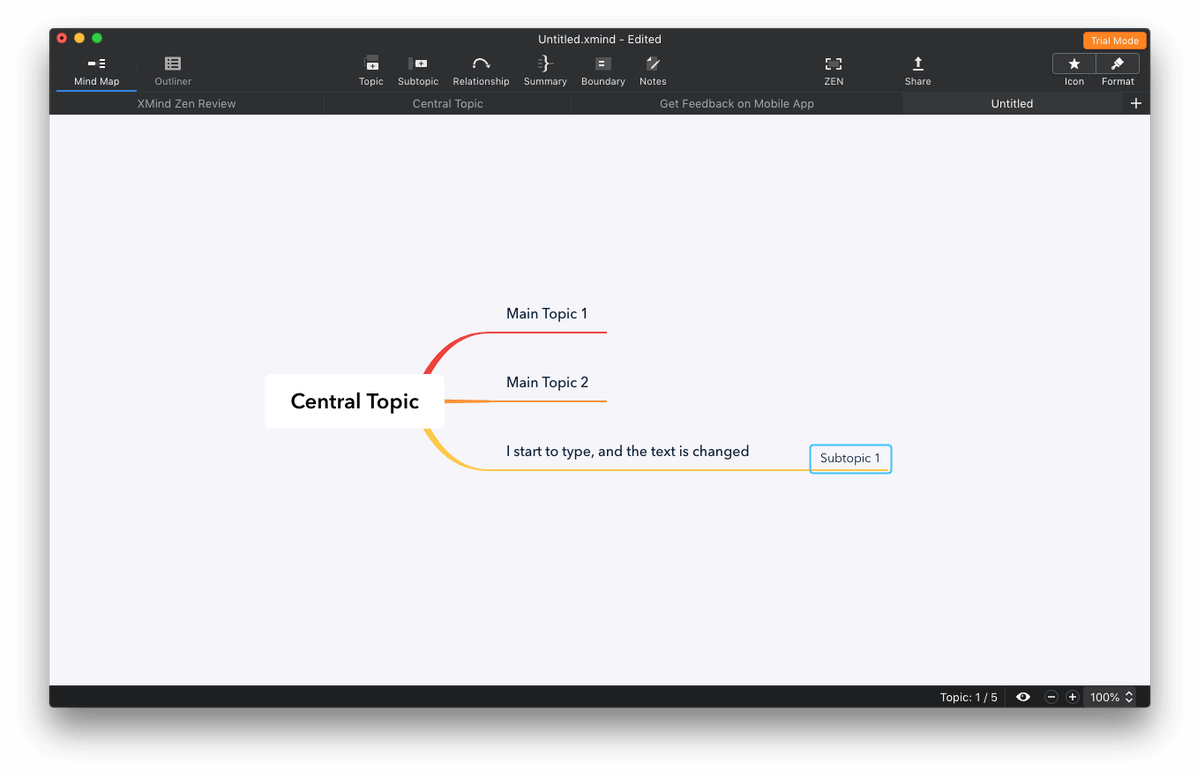 So creating mind maps with the keyboard is quite rapid with XMind. There are icons along the top for doing the same with the mouse, as well as a few additional tasks. For example, you can show a relationship between two nodes by selecting them both (using command-click), then clicking the Relationship icon.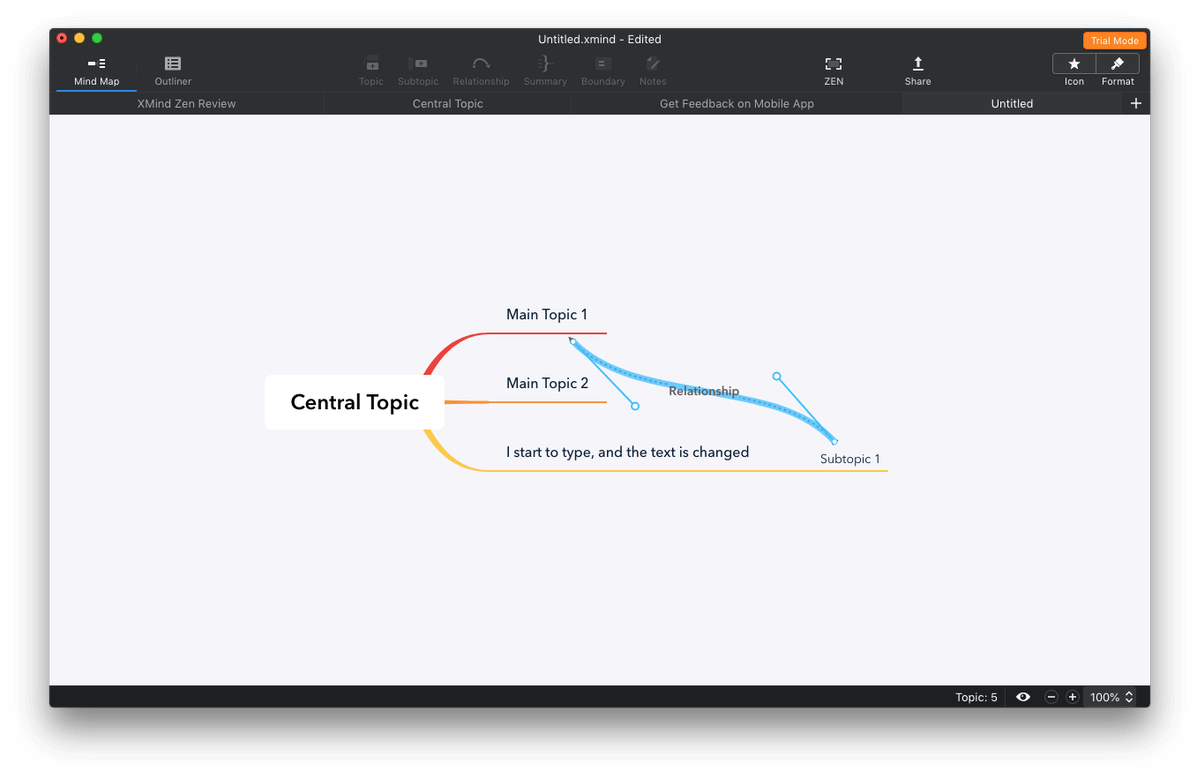 Using icons in the top right, you can open a pane to add icons and stickers to a node…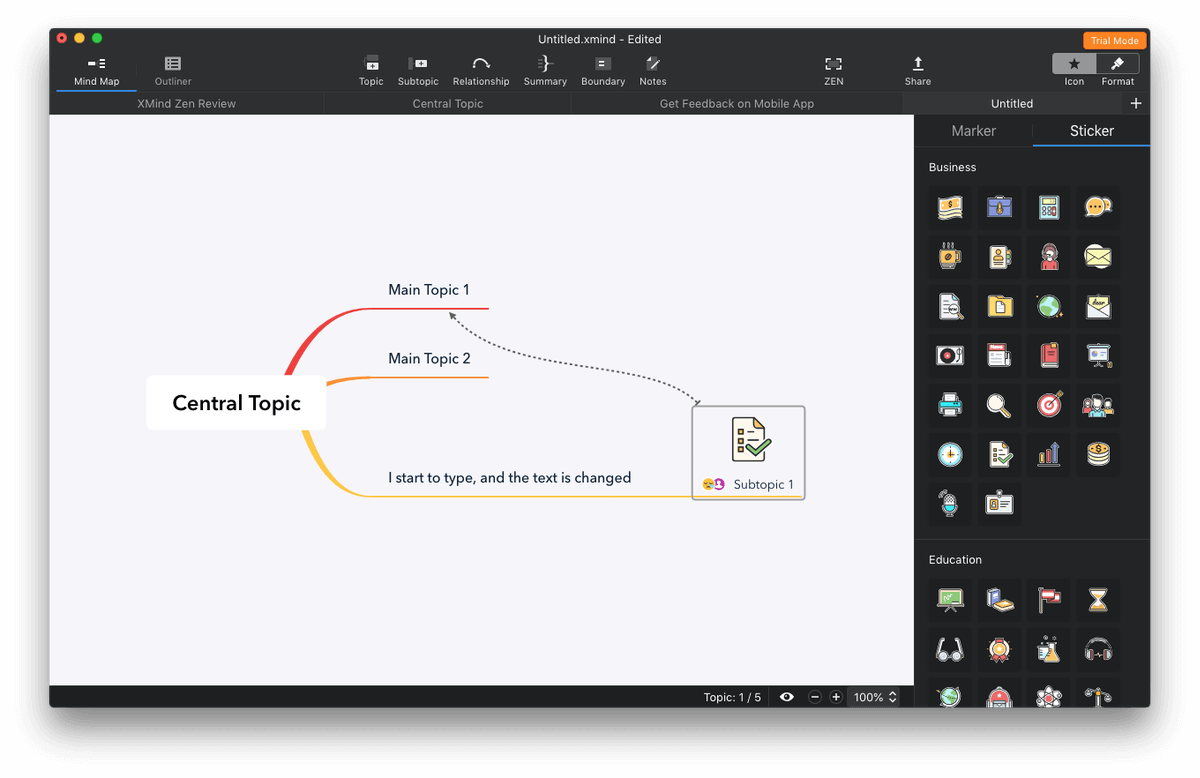 …or to format the mind map in various ways.
Even the structure of the mind map can be modified so that you can control where topics appear relative to the main idea.
That's a lot of flexibility. Here's a mind map I created when planning this XMind review.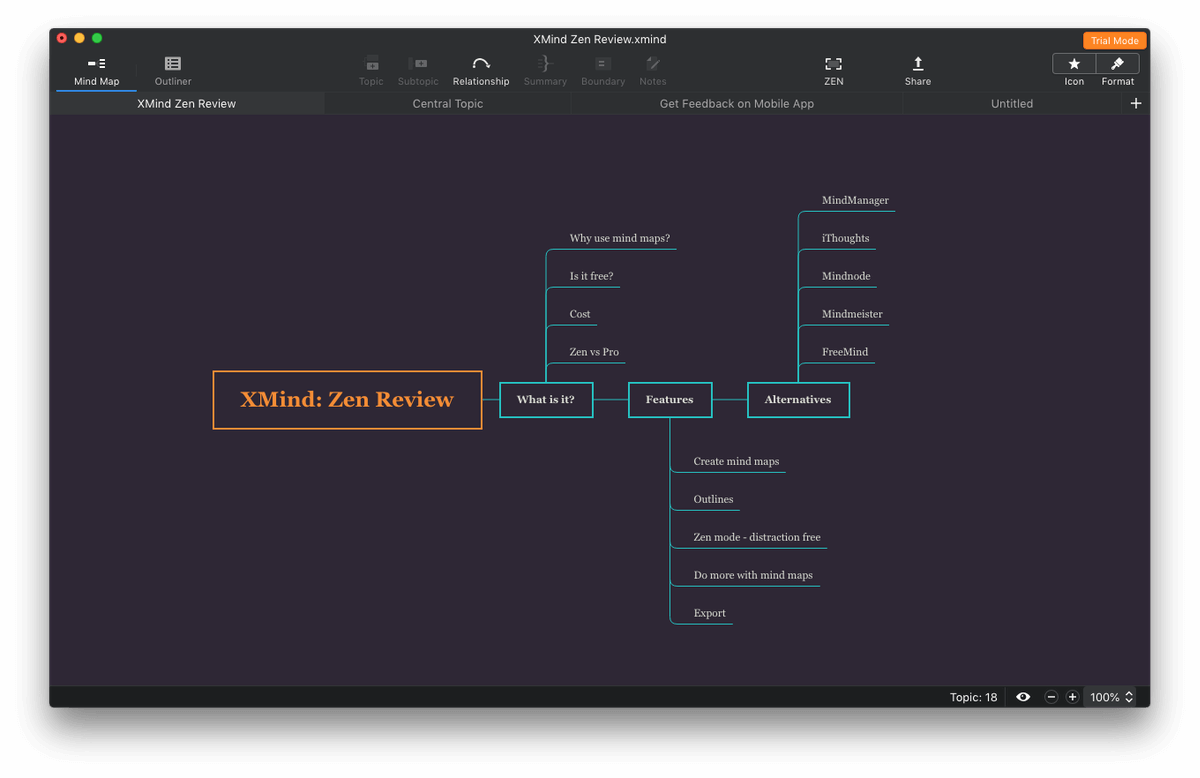 My personal take: Mind maps can be created rapidly with XMind using just the keyboard—which is crucial when brainstorming—and plenty of formatting options are available. The themes and templates offered are attractive, and allow you to jump-start your mind map.
2. Create Outlines
Mind maps and outlines are very similar: they organize a topic hierarchically. So XMind and a number of other apps allow you to display your mind map as an outline.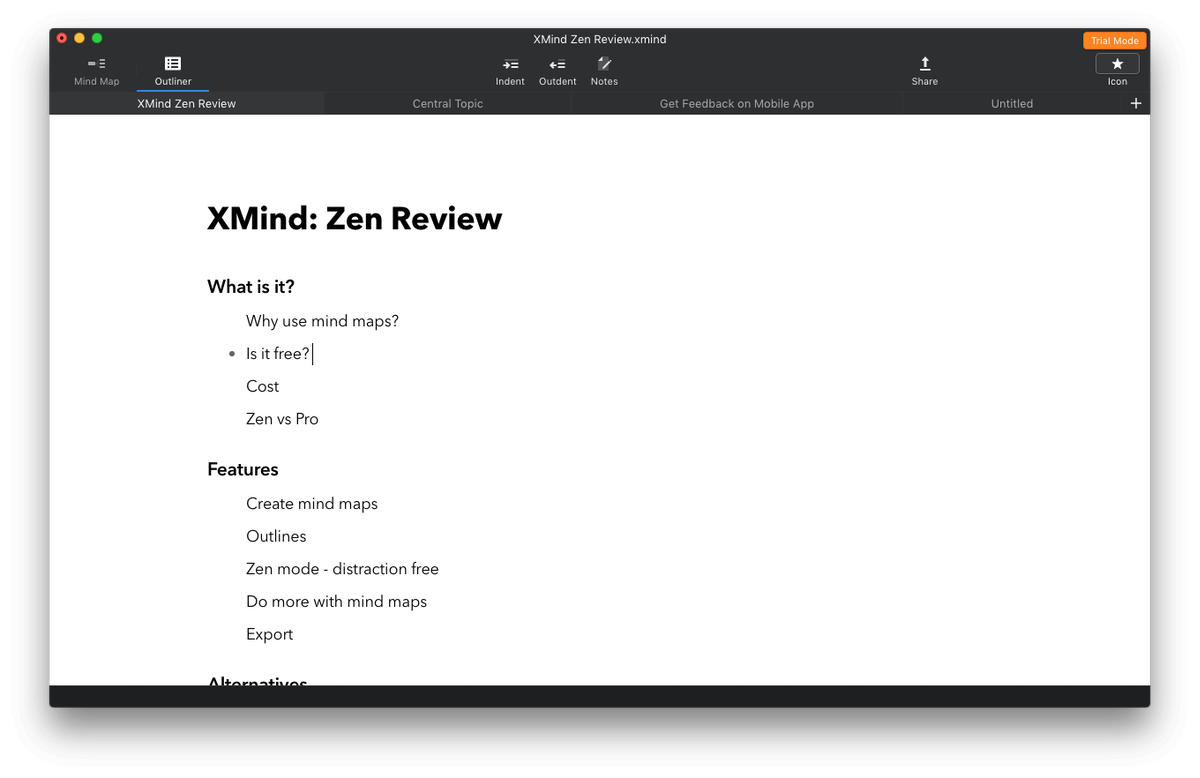 From here you can add or edit your text, including adding new nodes, indenting and outdenting them, and adding notes.
My personal take: I regularly use outlining software. The outlining features in XMind cover the bases, offer a second way of adding and manipulating information and add extra value to the app.
3. Work Distraction-Free
When using mind maps to brainstorm, the free flow of ideas is important. The "ZEN" part of the app's name indicates that this is one of the app's priorities. Part of this strategy is Zen Mode, which allows you to create mind maps distraction-free by making the app full-screen.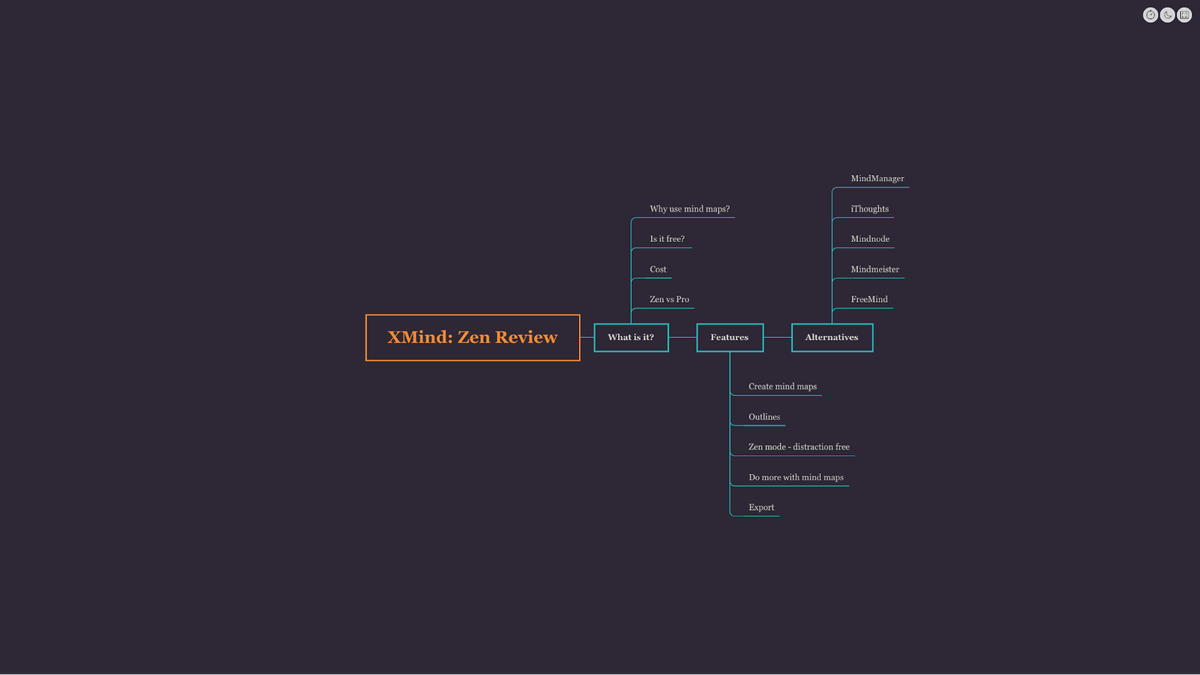 My personal take: A distraction-free mode has become a popular and welcome feature in writing apps. Mind mapping requires a similar amount of creative energy, making distraction-free work valuable.
4. Do More with Your Mind Maps
The act of creating a mind map can help you plan out an article or essay, better understand a subject you are studying, or solve a problem. Quite often I'll never touch a mind map again once I've made it.
But I do use some mind maps on an ongoing basis, for project planning and management, to track my goals throughout the year, and to continue adding new thoughts to a topic I'm exploring. Here are some ways that XMind can help you do that.
Icons can be useful for tracking progress. The app provides sets of icons that indicate progress on a task, record to whom a task was assigned, or assign a month or day of the week. These can be very useful in project management. For example, I could use icons in my mind map to indicate writing progress.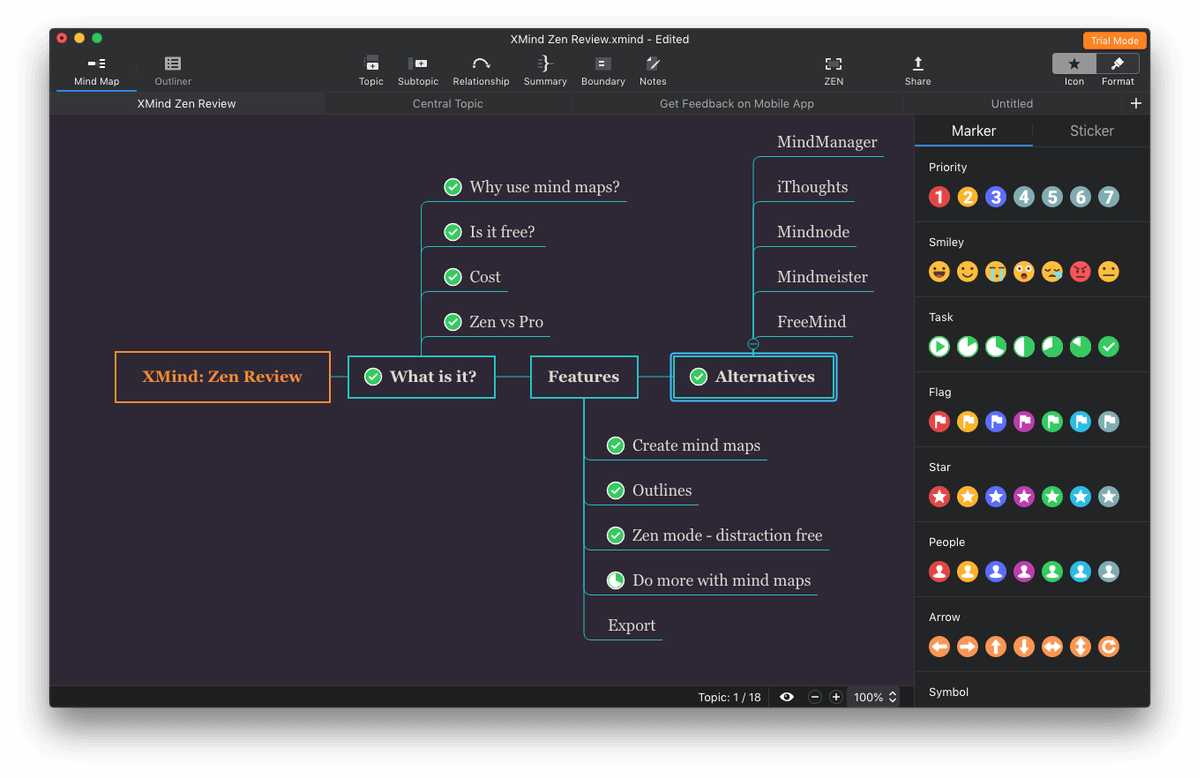 You can add additional information to a mind map by creating notes and attaching files. Notes pop up over the top of your mind map.
Attachments let you link a node to files on your hard drive, and hyperlinks allow you to link a node to a web page or an XMind topic—even another mind map. I added a link to XMind's pricing webpage on my mindmap.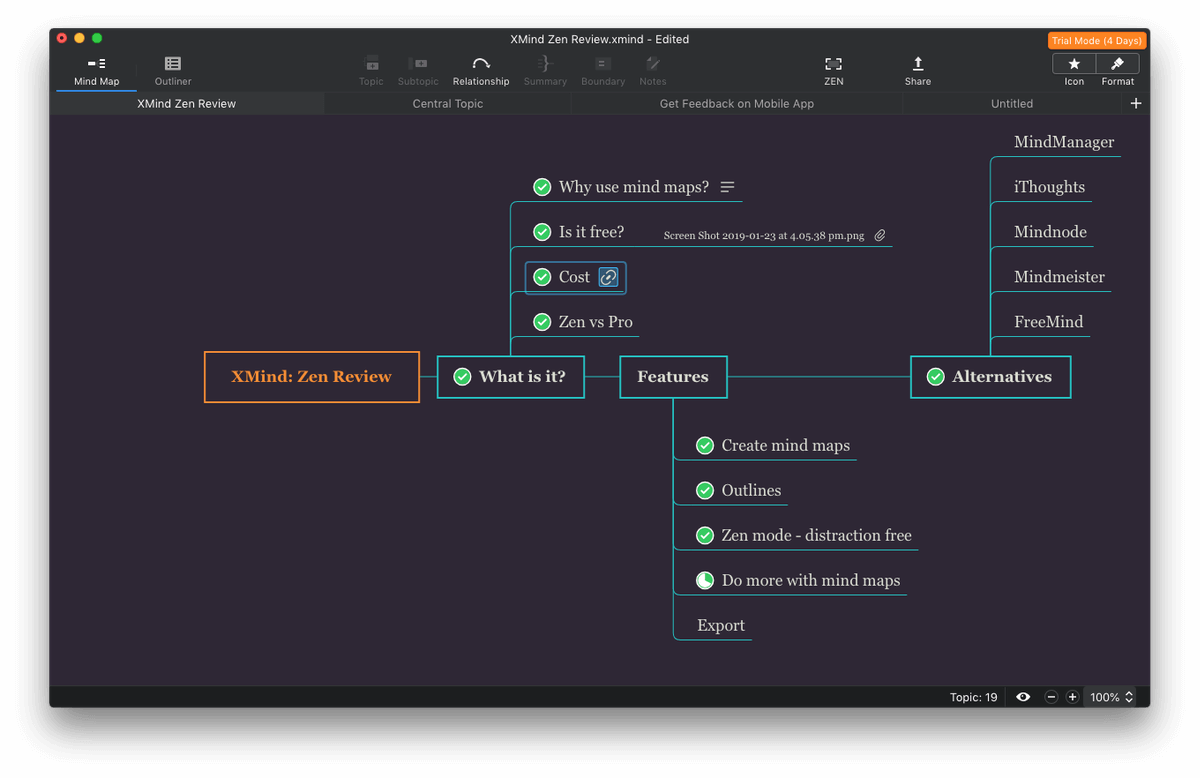 My personal take: Mind maps can be useful for ongoing project management and reference. XMind provides a number of useful project management and reference features, including task-based icons, adding notes and file attachments, and hyperlinks to web pages and mind map nodes. The Pro version adds even more.
5. Export Your Mind Maps
When you've completed your mind map, you'll often want to share it or use it as an illustration in another document. XMind allows you to export your mind map to a number of formats:
a PNG image
an Adobe PDF document
a text document
a Microsoft Word or Excel document
OPML
TextBundle
Most of those are self-explanatory, but I'll comment on the last two. OPML (Outliner Processor Markup Language) is a format commonly used to share information between outliners and mind maps apps using XML. It's the easiest way to share mind maps and outlines between apps.
TextBundle is a new format based on MarkDown. A TextBundle zips your text in a MarkDown file along with any related images. It is supported by a wide number of apps, including Bear Writer, Ulysses, iThoughts, and MindNode.
There's one sharing feature I find lacking, however: easy sharing of mind maps between my computers and devices. XMind no longer has built-in cloud syncing—XMind Cloud was discontinued several years ago. While there are workarounds such as saving your work in Dropbox, it's not the same. If true cloud sync is important to you, have a look at alternatives like iThoughts, MindNode and MindMeister.
My personal take: Getting your mind map out of XMind is simple. You can export it to a number of popular formats so that you can use it in another document, share it with others, or import it into another app. I just wish it would share my mind maps between devices.
XMind Alternatives
Rather than using an app, try creating mind maps with pen and paper. The required hardware is very affordable!
The Reasons Behind My Ratings
Features: 4/5
XMind includes most features you need to create, format and share mind maps. The new graphics engine is very responsive on both Mac and Windows. However, it doesn't contain all the professional features found in XMind Pro and MindManager, including audio notes, Gantt charts, presentations and more. But those features come at a price.
Pricing: 4/5
A yearly subscription is a little more than what it costs to buy its closest competitors outright, and some potential users might choose not to use the app due to subscription fatigue. However, it is significantly less expensive than the heavy hitters, and MindManager.
Ease of Use: 5/5
This version of XMind was designed to be smooth, fast and distraction-free, and they delivered. I found the app easy to learn, and easy to use. Adding information using only the keyboard is quick and simple, and most features were quite accessible, though a few can be used only by accessing the menu.
Support: 4/5
The Support Page on the XMind website includes a number of searchable help articles. Contact can be supported via email or posting a public question.
Final Verdict
Mind mapping is a useful way to explore the relationships between ideas in a visual way, whether you're brainstorming, planning an article, managing a project, or solving a problem. XMind offers a smooth workflow, a responsive graphics engine, a distraction-free mode, and all the basic features you'll need to create and format mind maps.
XMind has been developing cross-platform mind mapping software for over a decade, and the latest version is a new, modern version with a more powerful graphics engine. It is designed to make the task of creating mind maps easier, so you can focus on your ideas rather than how to use the software.
They succeed, but not so much that the app is in a completely different league from its competitors. I recommend you include it in your shortlist of mind-mapping alternatives.