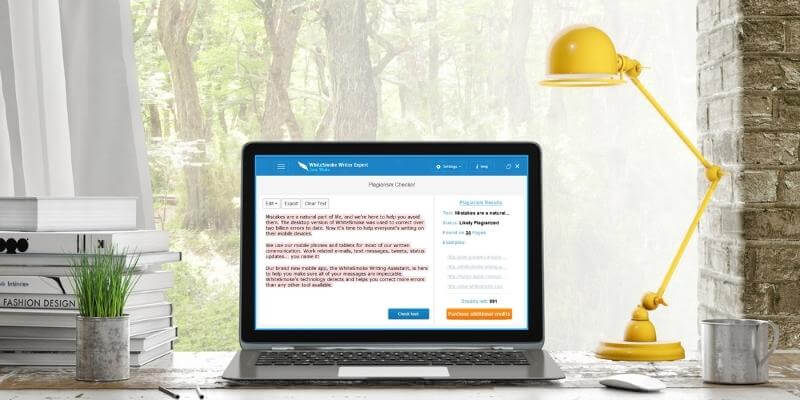 WhiteSmoke
Effectiveness: Doesn't catch all errors
Price: Desktop Premium $79.95/year
Ease of Use: Single-click corrections, no browser extensions
Support: Video tutorials, knowledgebase, ticketing system
Summary
WhiteSmoke identifies spelling errors by context and points out problems with grammar when you type or paste the text into a web or desktop app and click a single button. That means your text isn't being checked as you type as it is with other apps. In addition, browser extensions and mobile apps are unavailable.

Unfortunately, the app may not discover all of your mistakes. The Mac and online versions missed several serious errors. While the recently-updated Windows version did correct them, it also found mistakes where none existed. Further, its plagiarism check is slow, unable to process long documents, and offers too many false positives to be worthwhile.

These problems, paired with the fact that there is no free plan or free trial period, make it hard for me to recommend WhiteSmoke. The minimum subscription is for an entire year, which makes even testing it pricey, while even Grammarly's free plan offers more dependable results when checking both spelling and grammar.

What I Like: Errors clearly displayed above each error. One-click corrections.

What I Don't Like: No free plan or trial period. Minimum subscription is yearly. No browser extensions. No mobile apps.
Why Trust Me for This WhiteSmoke Review?
As someone who makes a living by writing, I know accuracy is essential—and that includes using correct spelling and grammar. As part of my workflow, I run everything I write through a quality grammar checker.
For more than a year, I've been using the free version of Grammarly, and have been very happy with it. I haven't yet subscribed to their Premium plan. WhiteSmoke's is about half the price, so I'm keen to see if it's a viable alternative. Since they don't offer a free trial, I purchased a yearly Desktop Premium license for the full price.

I then tested the online, Windows, and Mac versions of the software. The Windows version is up-to-date. However, the current Mac version is old and not optimized for recent versions of macOS, so I had to change my security settings to install it. An update is expected soon.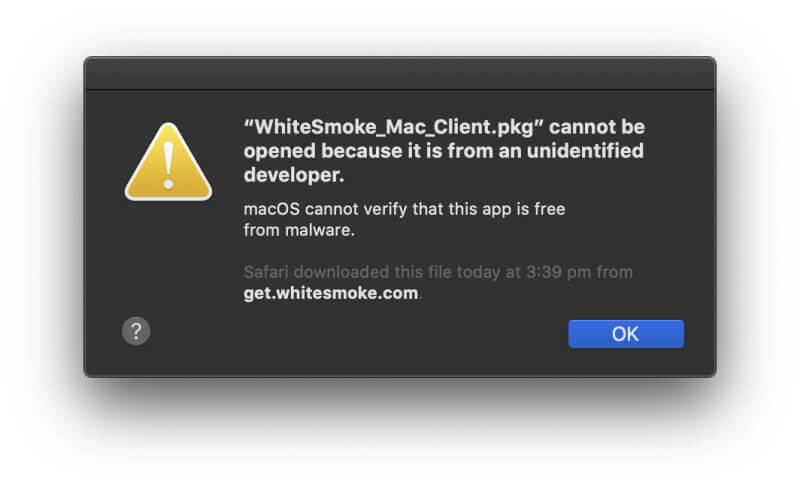 WhiteSmoke Review: What's In It for You?
WhiteSmoke is all about correcting your writing. I'll list its features in the following four sections. In each subsection, I'll explore what the app offers and then share my take.
1. Check Spelling and Grammar on Desktop
When opening WhiteSmoke on the Mac for the first time, a sample document is opened that contains brief instructions and sample corrections. The app looks quite dated, but this is the older version. I'll also test WhiteSmoke for Windows in this article.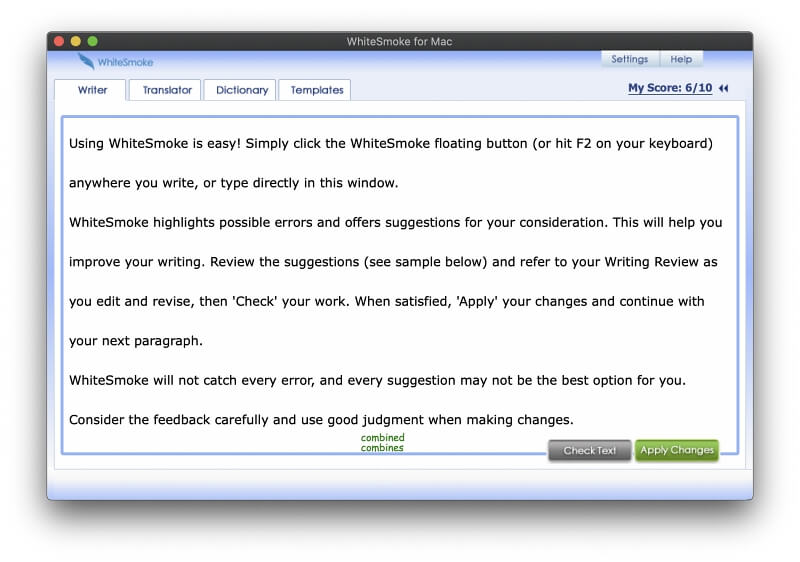 The corrections are color-coded—I'd guess red for spelling, green for grammar, and blue for readability (I'm not sure about gray). One or two suggestions are written above each error, unlike other grammar apps that don't display the corrections until you hover over the word. I like it. Clicking on a suggestion replaces the mistake.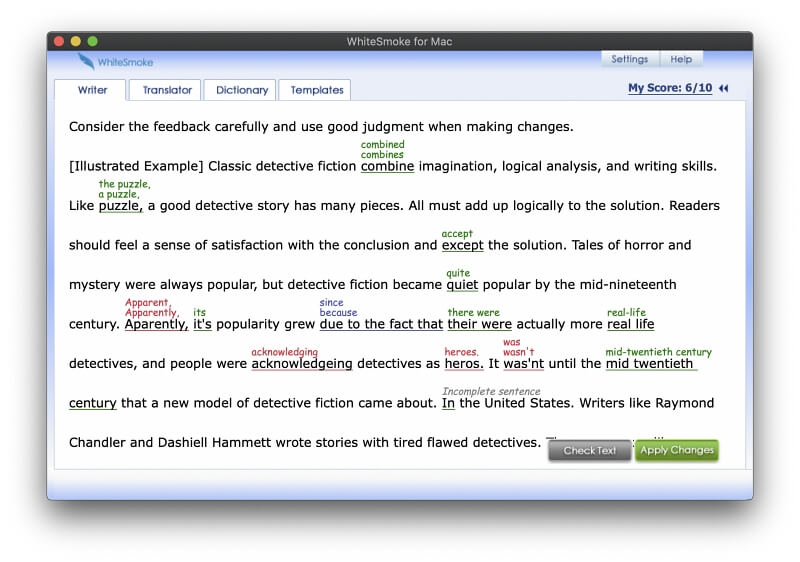 Like Ginger Grammar Checker, there is no way to open or save documents; copy and paste is the only way to get text into and out of the app. I pasted in the text from the Google Doc I used to evaluate other grammar checkers, but the result was unreadable.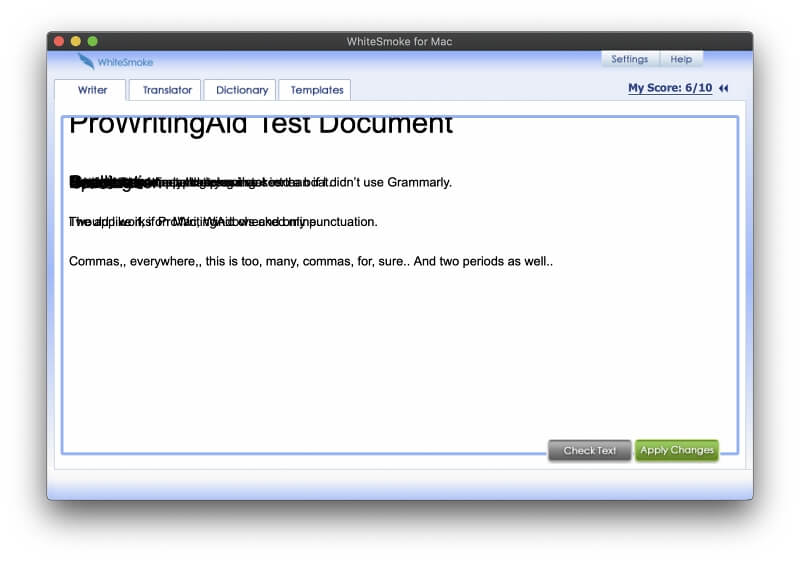 I pasted it as text instead with much better results. Unlike other grammar checkers, it doesn't check the text until you press a button.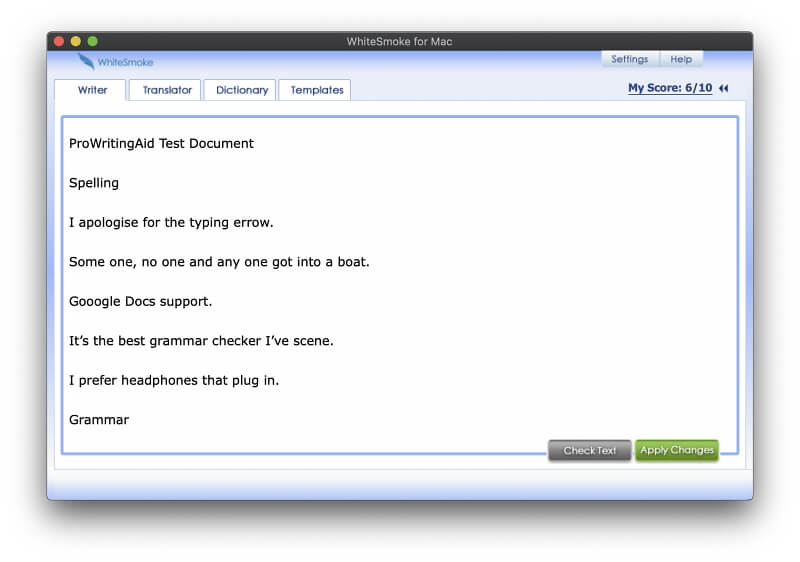 After clicking "Check Text," several errors are displayed. The app identifies context-based spelling errors, but not as successfully as other grammar checkers.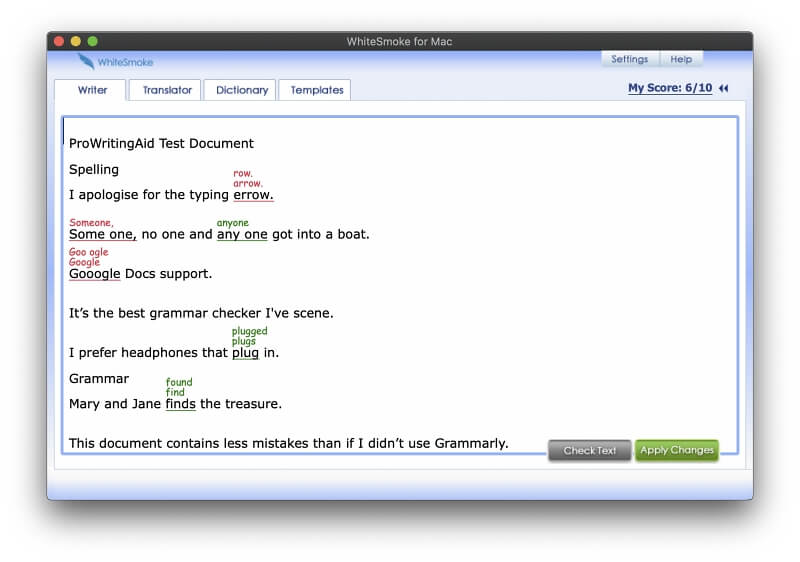 For example, "errow" is identified as needing to be corrected, but it's the only grammar checker I've used that doesn't suggest the correct spelling, which is "error." And like Ginger Grammar Checker, it misses that I used the UK spelling for "apologized." It also missed that "scene" is misspelled in context.
Grammar is a little hit-and-miss as well. It correctly suggests that "finds" be replaced with "found" or "find," but misses that "less mistakes" should be "fewer mistakes." Errors can be corrected one-by-one or all at once by clicking the "Apply Changes" button.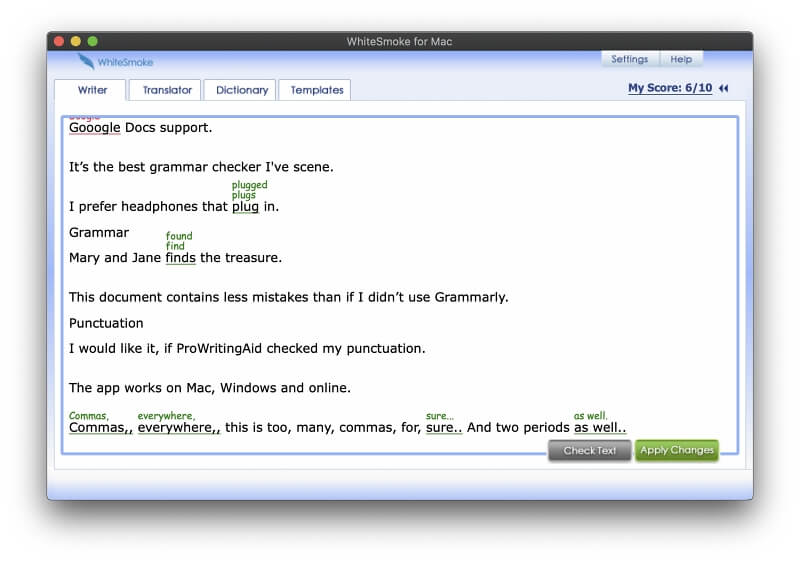 The app is also less opinionated about punctuation than Grammarly but picked up more errors than the other grammar apps I tested (excluding Grammarly).
WhiteSmoke should also work in any other application by using a hotkey. Just put the cursor in the paragraph you want to be checked, then press F2. That shortcut key can't be changed in the Mac version—and unfortunately, it didn't work at all on my iMac.
According to the WhiteSmoke Knowledgebase, that's due to an incompatibility with macOS 10.9 Mavericks and later. The knowledgebase says that the software team is working to resolve the issue. In the meantime, the only way to check your grammar on the Mac desktop is by copying and pasting into WhiteSmoke's app.
The Windows app looks similar, though less dated. Unlike the Mac version, WhiteSmoke suggests changes to the company's own copy, which may indicate it's better at checking for errors. On closer inspection, though, those suggestions are nonsense.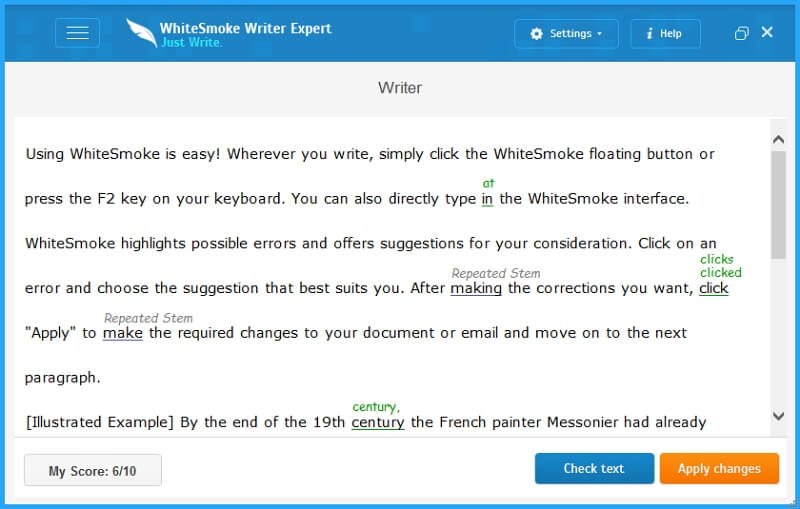 "You can also type directly at the WhiteSmoke interface" is not an improvement on "You can also type directly in the WhiteSmoke interface," and the suggested "clicks Apply" or "clicked Apply" result in bad grammar where the original "click Apply" was correct.
I pasted in my test document, and right away noticed that it still suggests "arrow" for "errow." However, this time there's a promising "More…" which offers additional suggestions: "row," "ferro," "Ferro," and thankfully, "error."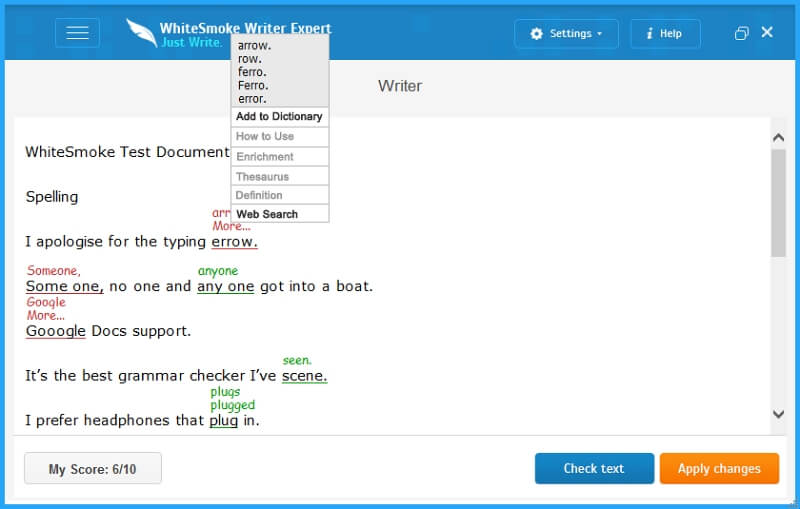 This time, both "scene" and "less" are successfully corrected.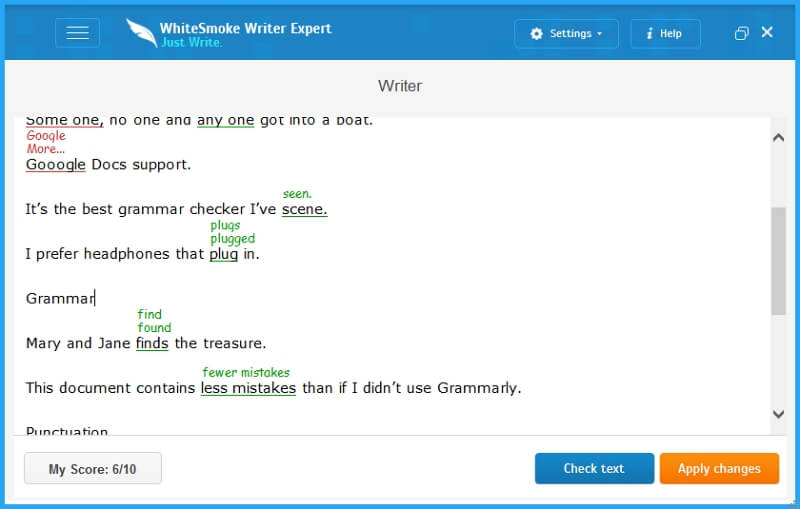 The official website indicates that the Windows version is the most up-to-date version of WhiteSmoke, so the better performance isn't surprising, and very welcome.
My take: WhiteSmoke picks up spelling and grammar errors in your document, but not always all of them. The Windows version of the app corrected more mistakes, but there were also false positives. I find other grammar checkers more consistent, accurate, and helpful.
2. Check Spelling and Grammar Online
WhiteSmoke won't check your grammar as you type online, but you can copy and paste your text into their web app. That's a significant disadvantage compared to other grammar checkers that make suggestions as you type into web pages.
So I copied and pasted the text from the email I used when testing Ginger Grammar Checker and got mixed results.
WhiteSmoke picked up the wrong spelling of "Helo" and wanted to add a comma at the end of the line, but left my misspelling of "John." With the sentence "I hop you are welle," it picked up the obvious misspelling. However, it missed that "hop" is not correct in context. It entirely missed the grammar error with "We is making" and failed to correct "to day" and "Good by."
My take: WhiteSmoke's inability to check my spelling and grammar in place on a web page is an inconvenience and doesn't compare well with other grammar checkers that offer browser plugins. Even when I copy and paste some text into the web app, the corrections are not as reliable as some other apps.
3. Provide a Dictionary and Thesaurus
So far, I haven't been particularly impressed with WhiteSmoke. That changed when I found its dictionary and thesaurus.
Without even clicking on the Dictionary tab at the top of the screen, I could access a lot of resources from the main window, at least on the desktop version. When I clicked on a word, a pop-up menu appeared offering:
an explanation of the word (though every word I tested gave no results)
examples of how to use the word
a set of adjectives or adverbs commonly used to enrich the word
a list of synonyms from the thesaurus
the dictionary definition of the word
When clicking on a synonym, the original word was replaced in the text, though I couldn't undo the action using either a keyboard shortcut or menu entry on my Mac.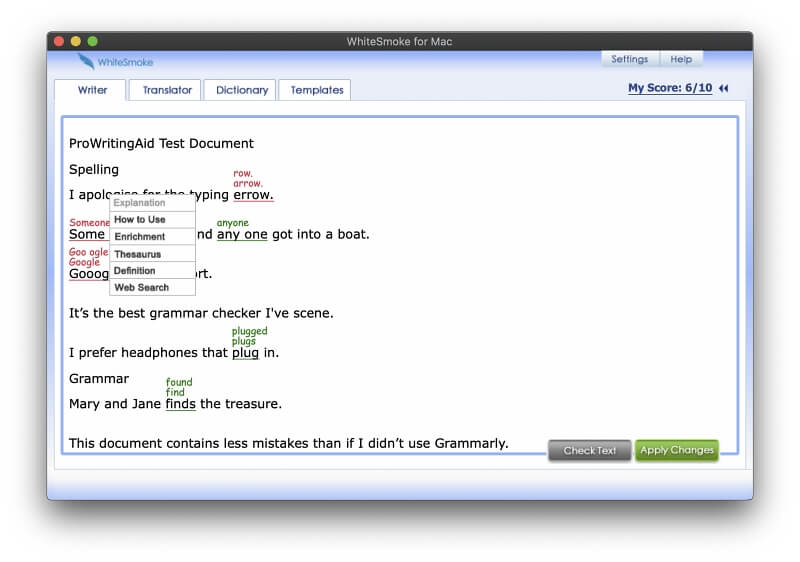 Let's take the word "apologies" in my text as an example. I was provided with three usage examples:
"'I must apologise that the previous correspondence was not factual,' she said."
"And for once the company does not have to apologise for any nasty surprises."
"We apologise for any suggestion to the contrary."
Note that the UK spelling is retained in the examples. I was intrigued to discover that completely different usage examples were given for the US spelling.
Under Enrichment, I was told I could use the adverbs "sincerely" or "humbly" with the word (the US spelling gives a much more extensive selection of adverbs), and the thesaurus lists the synonyms "regret," "admit," and "acknowledge." The dictionary uses standard definitions from Princeton University's database.
When accessing the Dictionary tab, I needed to type a word to look it up. Entries from Wordnet English Dictionary, Wordnet English Thesaurus, and Wikipedia were displayed.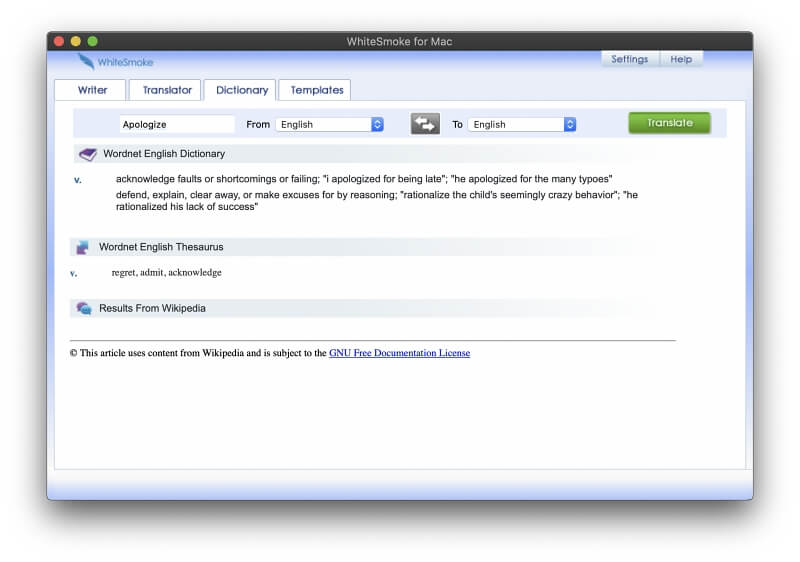 My take: I found WordSmoke's dictionary and thesaurus quite well implemented. I appreciated seeing definitions, synonyms, and usages from the main screen simply by clicking on a word.
4. Check for Plagiarism
According to the WhiteSmoke website, WhiteSmoke's plagiarism checker compares your text with "billions of websites online to make sure that your text is authentic." It's essential to make sure your work is unique, whether you're handing in homework, submitting a research paper, or publishing a blog post.
To test the plagiarism checker, I pasted in a draft copy of an old article. An error message popped up that warned of a limitation of WhiteSmoke I wasn't aware of: only 10,000 characters can be pasted into the Windows app. That's a concern because that's typically only about 1,500 words, so you'll have to check long documents one section at a time. The same limit applies when pasting text into the Writer section of the app.

So I pasted the text from a shorter article containing 9,690 characters and clicked "Check text." Progress was glacial. Early, on I noticed a few error messages, so I thought perhaps the app had crashed.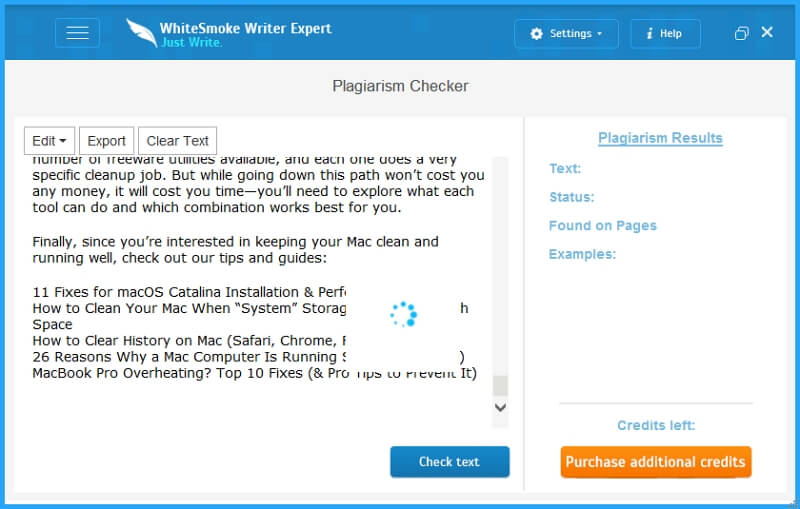 After four hours, the check still hadn't completed, so I restarted my computer just to be safe. Next, I pasted my 87-word test document from above into WhiteSmoke's plagiarism checker—the one full of intentional errors.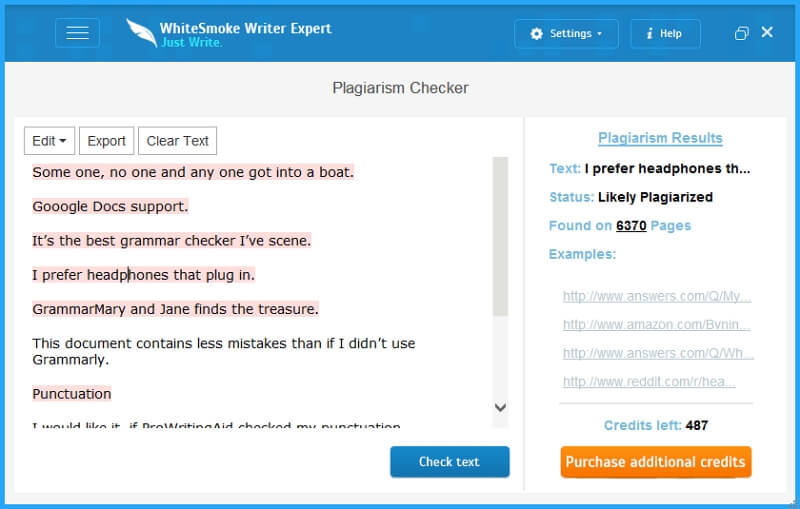 I was surprised to see that most of the paragraphs of my nonsense document are marked as red as possible copyright infringements. Here are some examples:
"Google Docs support" is likely plagiarized since it's found on 16,200 pages.
"I prefer headphones that plug in" is likely plagiarized since it's found on 6,370 pages.
"Punctuation" is likely plagiarized since it's found on 13,100,000 pages.
Reports like this are not at all helpful since common words and phrases are not plagiarism. With so many false positives, I imagine it would be difficult to find cases of actual copyright infringement.
The Mac version is currently unable to check for plagiarism, but the web app is. I pasted a document with almost 5,000 words and nearly 30,000 characters into the web app. Unlike the Windows app, it accepted it. Again, the check was slow: it hadn't finished over 23 hours later.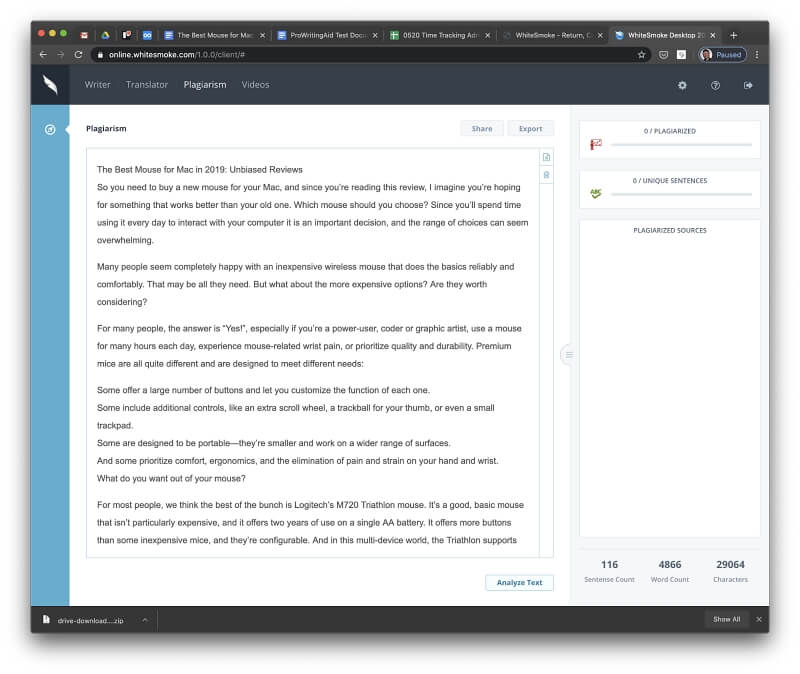 I tried the shorter sample document and received the same false positives as with the Windows version. The online app doesn't state how many pages the sentence was found on; it just lists links to some of them.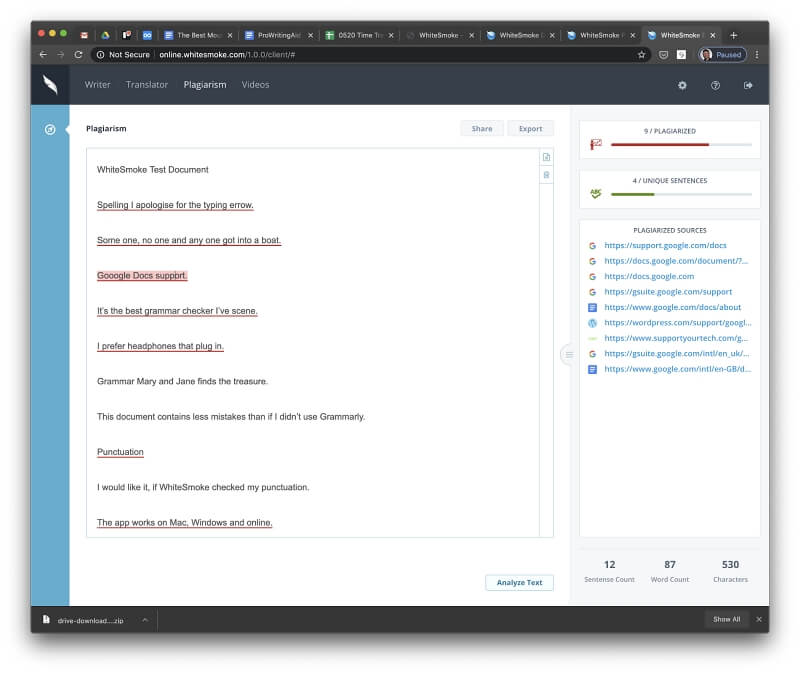 My take: WhiteSmoke checks your text to see if it exists on other web pages. The problem is, it doesn't differentiate between commonly-used sayings and legitimate copyright violations. So many false positives are flagged that it may be more work than it's worth to sift through them looking for authentic plagiarism.Further, it doesn't seem capable of checking documents of more than a few hundred words in length, making it unsuitable for many users, including our SoftwareHow editors. Neither Grammarly nor ProWritingAid suffer from these problems.
Reasons Behind My Review Ratings
Effectiveness: 3.5/5
WhiteSmoke alerts you to many spelling and grammar issues but doesn't catch all of them. While it offers plagiarism checking, only very short documents can be checked in a reasonable length of time, and most hits seem to be false positives.
Price: 4/5
No one would call WhiteSmoke cheap, but it costs around half the price of a Grammarly Premium subscription. My complaint is that you can't try the software without paying a full year in advance. There are no shorter plans, free plans, or free trials.
Ease of Use: 3.5/5
Unlike other grammar checkers, there are no web browser extensions for WhiteSmoke. That means it won't check your spelling as you type unless you use the web or desktop app. Once you're there, suggestions are placed above each error, and corrections can be made with a single click.
Support: 4/5
The official website offers many tutorial videos. Support can be contacted via an online ticketing system (phone support is also available to WhiteSmoke Desktop Business subscribers), and a searchable knowledgebase is provided.
Alternatives to WhiteSmoke
Conclusion
To present a professional image, you can't afford to send emails or documents that contain spelling and grammar mistakes. Unfortunately, it can be challenging to spot them in your writing, so you need a second pair of eyes. WhiteSmoke can help. Compared with other grammar checkers I tested years ago, it performs very well. But how does it hold up compared with today's leading apps?
Windows, Mac, and online apps are available (but none for mobile). According to WhiteSmoke's official website, the latest 2020 version is already available for Windows users and coming soon to Mac. To have your work checked when typing online, you'll have to use the company's online app. Unlike other grammar checkers, browser extensions are not available.
I was surprised to learn that there is no free plan or trial. To try the app, I had to pay for a full year in advance. You can save some money if you only want to use WhiteSmoke online, but I wanted to test it on the desktop as well, so I purchased a Desktop Premium subscription. A business plan is also available that adds phone support and an extended warranty.
Here are the subscription prices:
WhiteSmoke Web ($59.95/year) works with all browsers and provides a grammar checker, plagiarism checker, and translator.
WhiteSmoke Desktop Premium ($79.95/year) works with all browsers, Windows, and Mac, and adds one-click instant proofreading and integration with all writing platforms via a hotkey.
WhiteSmoke Desktop Business ($137.95/year) adds phone support and extended download warranty.
These prices are listed as 50% off. It's not clear whether that's a marketing strategy, a discount for paying one year in advance (there's currently no way to pay for a shorter period), or a limited offer. An email I received from them makes it sound like the latter.