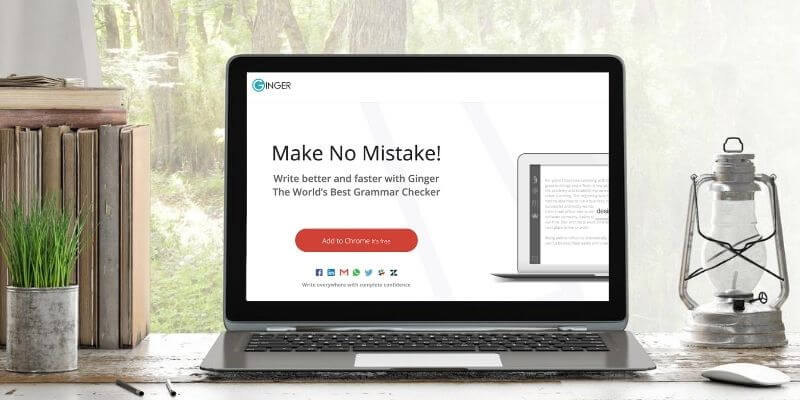 Ginger Grammar Checker
Effectiveness: Misses significant errors
Pricing: Premium plan starting from $13.99/month
Ease of Use: Underlines errors, pops up corrections
Support: Help Center, video tutorials, web form
Summary
Ginger Grammar Checker identifies spelling errors taking context into account, as well as problems with grammar and punctuation. It is available on fewer platforms than similar apps, offering browser plugins for Chrome and Safari only, and a desktop app only for Windows. However, there are full-featured mobile apps available for both iOS and Android, something few grammar checkers offer.

I'm quite disappointed with its performance. While it successfully identified a variety of spelling and grammar errors, it also allowed many glaring errors. Here's a list of big ones: including "scene" where "seen" is correct, failing to correct instances where the number of the verb doesn't agree with the subject (for example, "Mary and Jane finds the treasure)" and not correcting "I hop you are welle" in an email.

A grammar checker won't give you peace of mind if you don't trust it. While the official website boasts the app will allow you to "write with complete confidence," it failed to convince me. Further, online tools like the Personal Coach seem aimed at those learning English rather than professionals.

Under the circumstances, I can't recommend Ginger to business users. Competitors like Grammarly and ProWritingAid offer more features as well as more accurate proofreading, and if money is an issue, Grammarly's free plan offers a lot.

What I Like: Free online plan. Mobile apps for iOS and Android.

What I Don't Like: Missed serious spelling errors. Missed serious grammar errors. No Mac desktop app.
Why Trust Me for This Review
I make my living writing. Although there are editors that find and remove errors I make, I prefer they don't see any in the first place. Unfortunately, that's rare, but I do my best. Part of my strategy is to run everything through a grammar checker—currently the free version of Grammarly—to pick up anything that my eyes and a normal spell check have missed.
I've been happy with the results, and have strongly considered subscribing to Grammarly's Premium plan for some time. It's a little expensive, though, and Ginger is almost half the price. I'm keen to find out if it's a reasonable alternative, so I'll run it through the same tests I used when evaluating Grammarly and ProWritingAid.
Detailed Review of Ginger Grammar Checker
Ginger Grammar Checker is all about helping you find and fix spelling and grammar mistakes. I'll list its features in the following four sections. In each subsection, I'll explore what the app offers and then share my take.
1. Check Spelling and Grammar Online
Ginger Online will check your spelling and grammar in the text fields of most web pages, including services like Gmail, Facebook, Twitter, and LinkedIn. Significantly, it doesn't work in Google Docs; you must either use their online editor or use a different grammar checker. Additionally, its browser extensions are only available for Chrome and Safari, leaving Windows users with a single browser choice.
It does work with many text editors I tried (including newtextdocument.com). I had the free version of Ginger correct the same test document I used for Grammarly and ProWritingAid. It picked up five of the six contextual spelling mistakes (the other apps found all of them), but no grammar errors. The final line contains numerous punctuation errors, but Ginger only found two.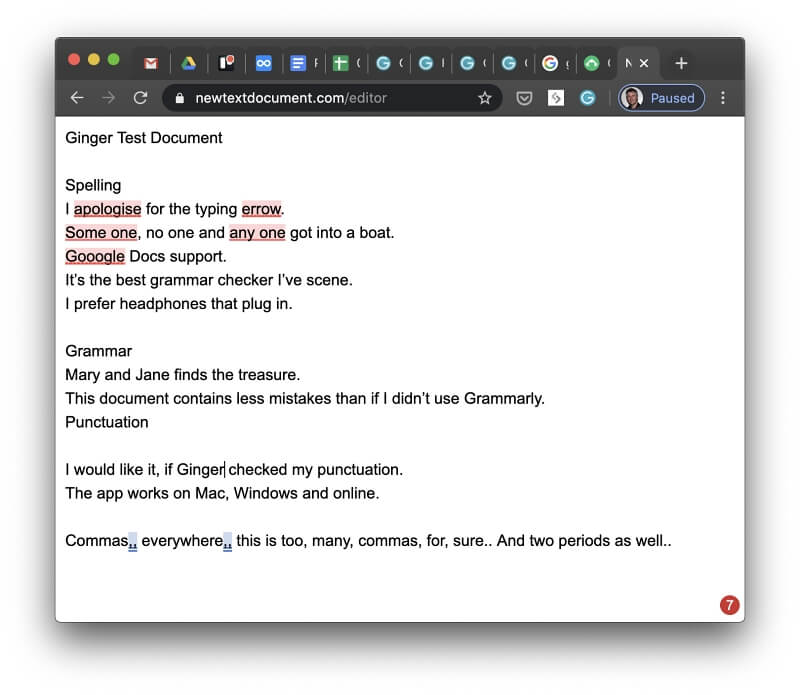 Hovering over an error displays a corrected version of the whole line. Unlike other grammar checkers, suggestions are placed over the word rather than under it. Unlike Grammarly and ProWritingAid, Ginger doesn't show an explanation of the error, just the correction.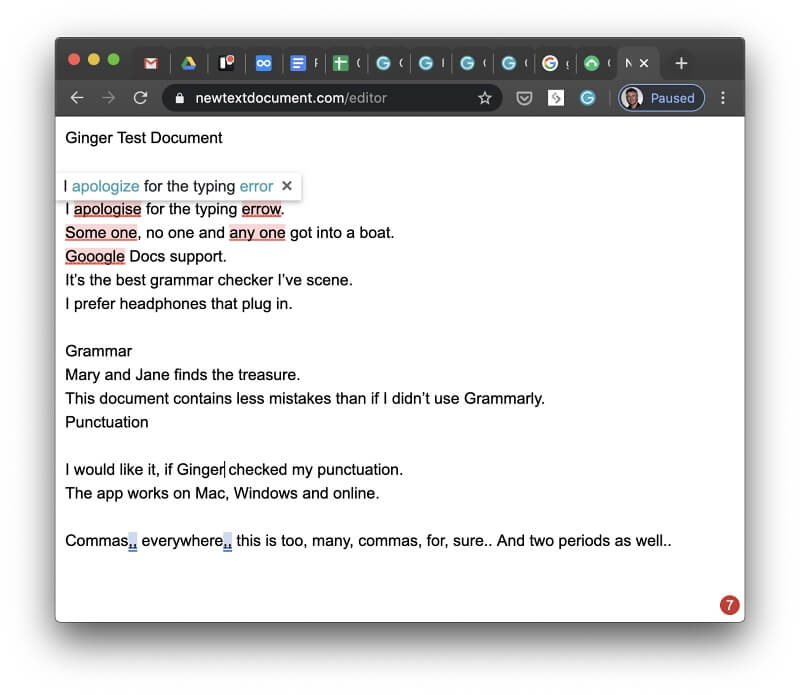 Clicking on the message fixed both errors and instantly displayed a very prominent ad for the Premium version. Fortunately, that doesn't happen every time.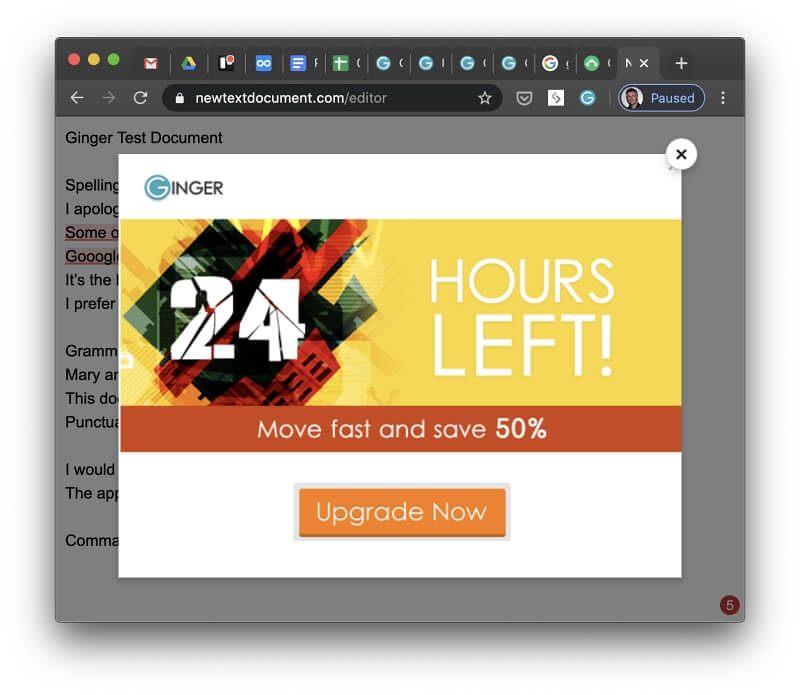 Curious, I clicked on the ad and was redirected to the purchase page, but wasn't offered 50% off as promised. Clicking on the "G" icon at the bottom of the screen allows you to use Ginger's interface to edit and correct the document.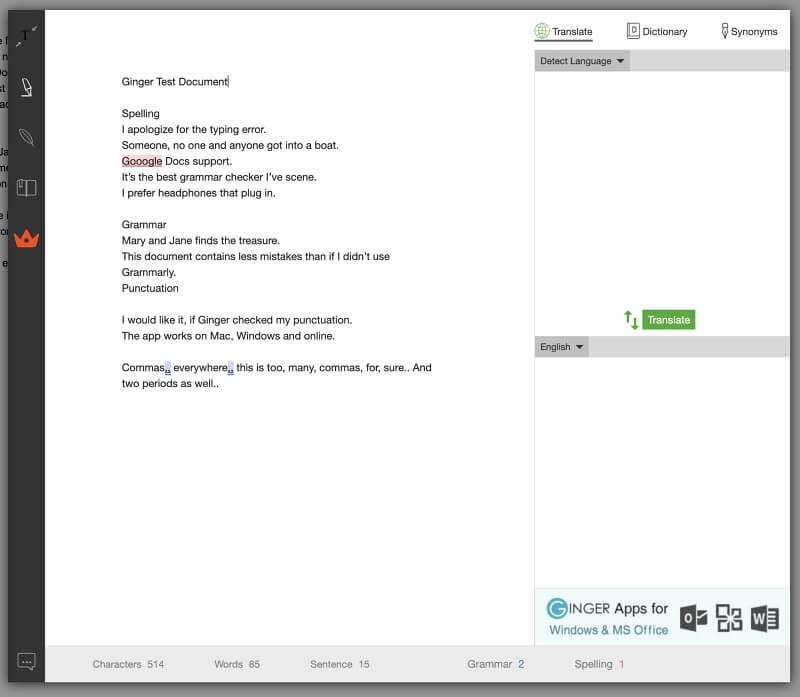 So far, I'm quite disappointed with Ginger's performance. I thought the Premium version might find more errors, so I subscribed. I tried again, but unfortunately, it made no difference at all.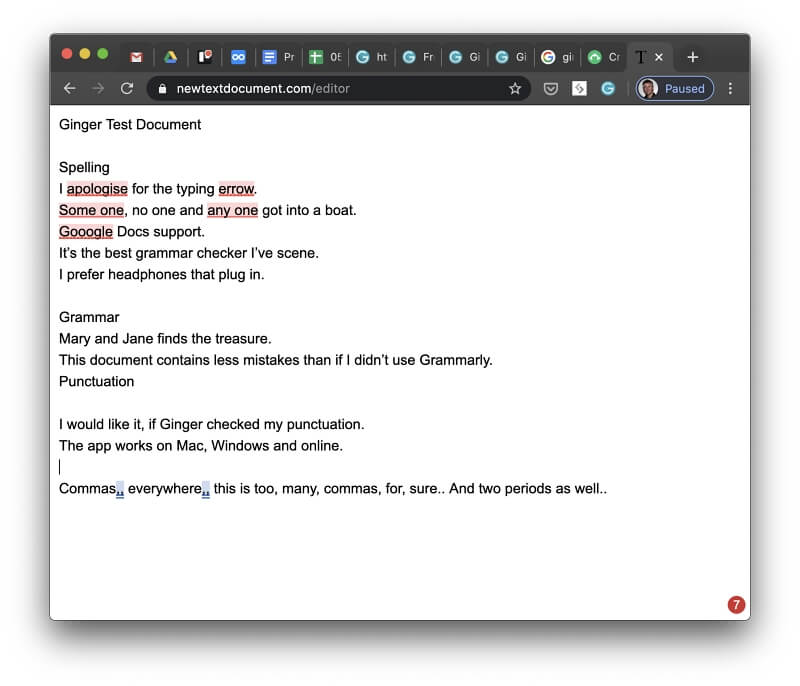 Since I can't test Ginger with a long document in Google Docs, I copied and pasted a 5,000-word article into its online editor. It took over five minutes for the entire document to be checked.
I also tested it in Gmail and was a lot happier with the result. Most errors were found, including contextual spelling and grammar. This time, corrections appeared below the word instead of above—not a big deal, but inconsistent all the same.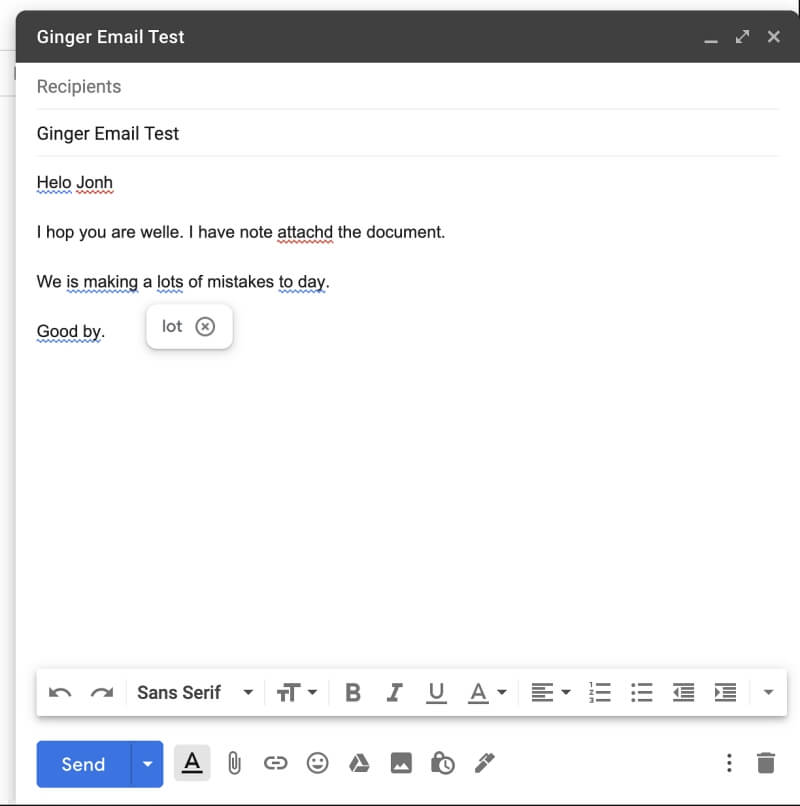 Unfortunately, it didn't find all the errors. "I hop you are welle" is left as is, which is completely unacceptable.
My personal take: Ginger works online, but only if you use Chrome or Safari, and Google Docs isn't supported. In my experience, Ginger identifies fewer grammar errors than Grammarly and ProWritingAid. I'm quite disappointed with the results; so far have no reason to choose Ginger over them.
2. Check Spelling and Grammar in Microsoft Office for Windows
If you're a Windows user, you can use Ginger on your desktop as well (Mac users are limited to the online experience.). A desktop app is available that works as both a standalone app and a plugin for Microsoft Office.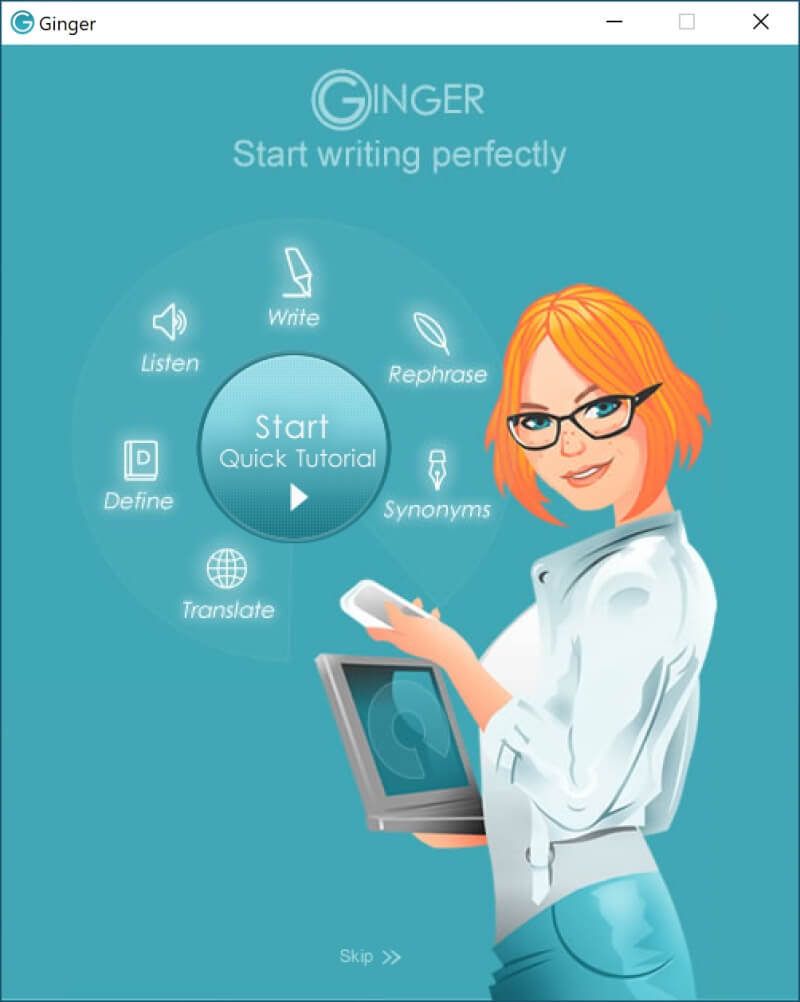 You won't see an additional ribbon in Microsoft Office as you do when using ProWritingAid. Instead, Ginger replaces the default spell checker and provides live corrections as you type.
Rather than using the familiar Microsoft interface, Ginger's interface is overlaid at the top of the screen. Instead of giving multiple alternative corrections, it provides just one, though in most cases, it's the right one.
If you use a different word processor, you'll have to copy and paste the text into Ginger's desktop or online app to get corrections; the app doesn't offer any way to open or save documents. Alternatively, you could type your text directly into the app using it as a primitive word processor.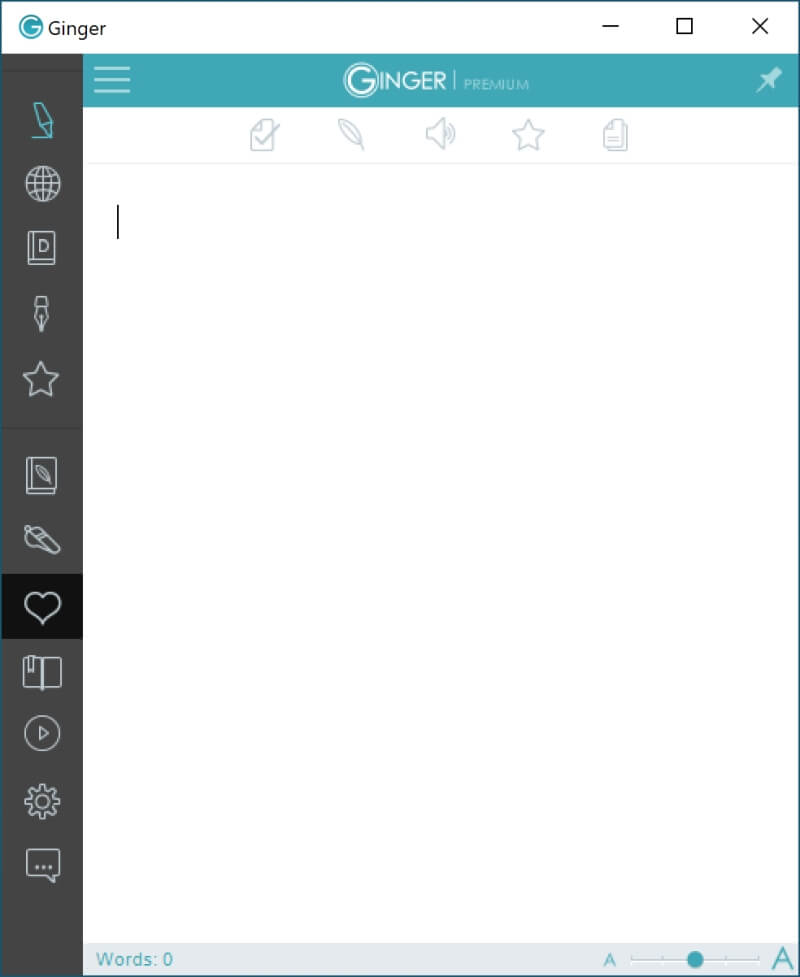 You can't format text from within the app. Any pasted formatting is retained, though, while any styles or images will be lost. A menu bar on the left allows you to access features to write, translate and define text, and shortcuts under "More" lead you to further resources online.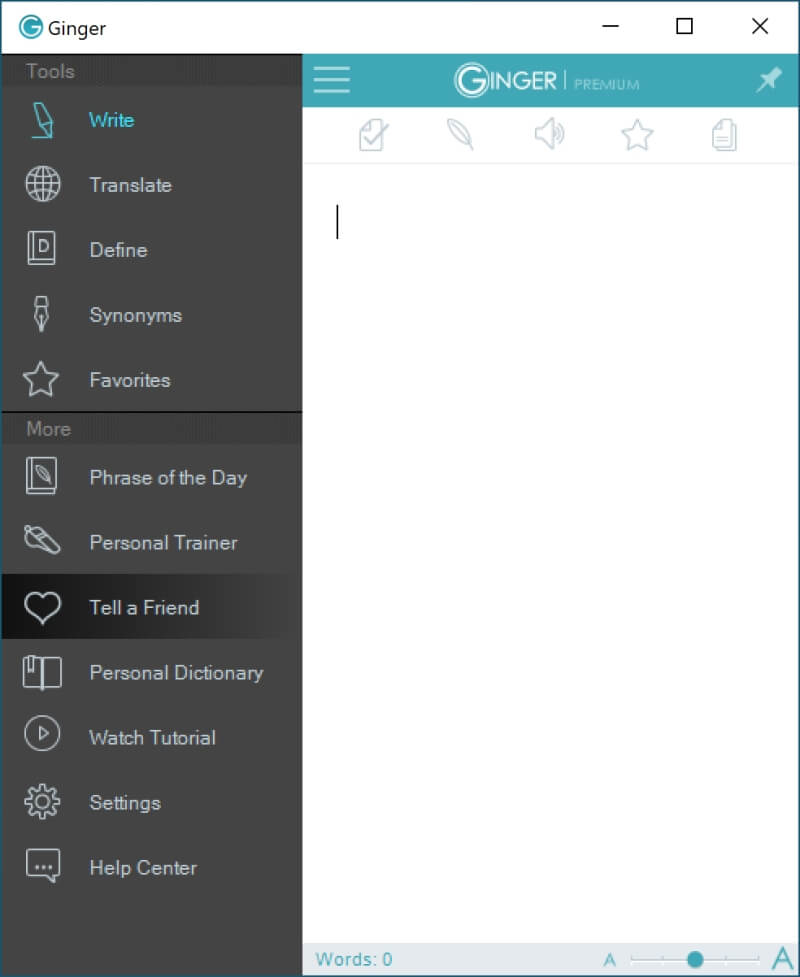 Ginger's settings allow you to choose between US or UK English, set a hotkey to launch the app (the default is F2), select the font and font size used to display text, and whether to autostart the app with Windows and turn on Live Corrections.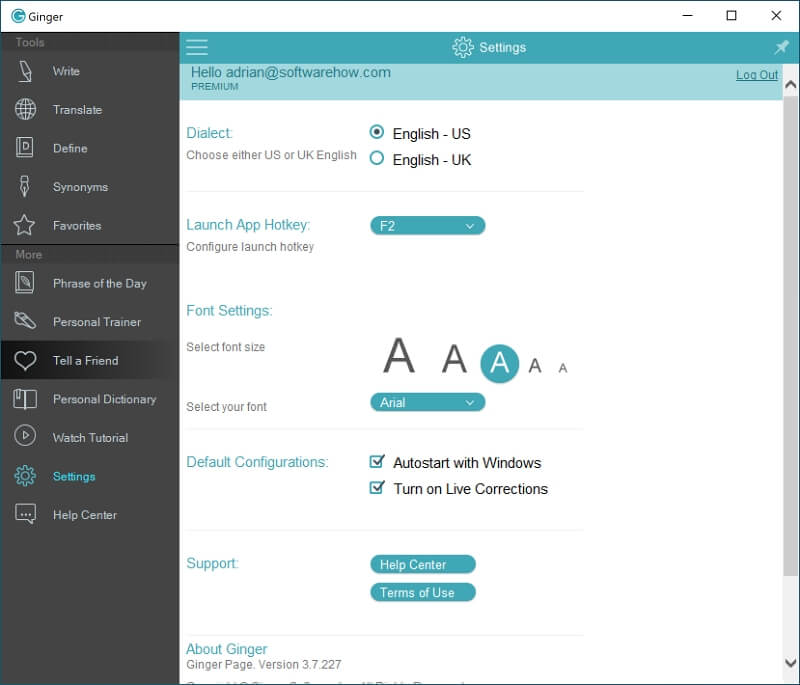 As you type in the app, any errors are highlighted automatically. Hovering your mouse cursor over one of those words displays all of the recommended corrections for that line just as the online version does.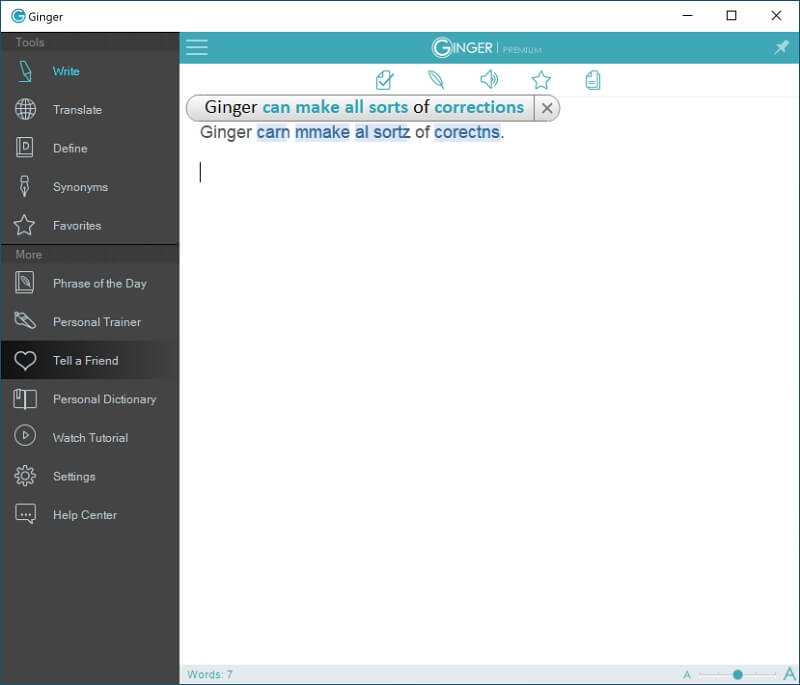 Clicking on the pop-up makes all the corrections automatically.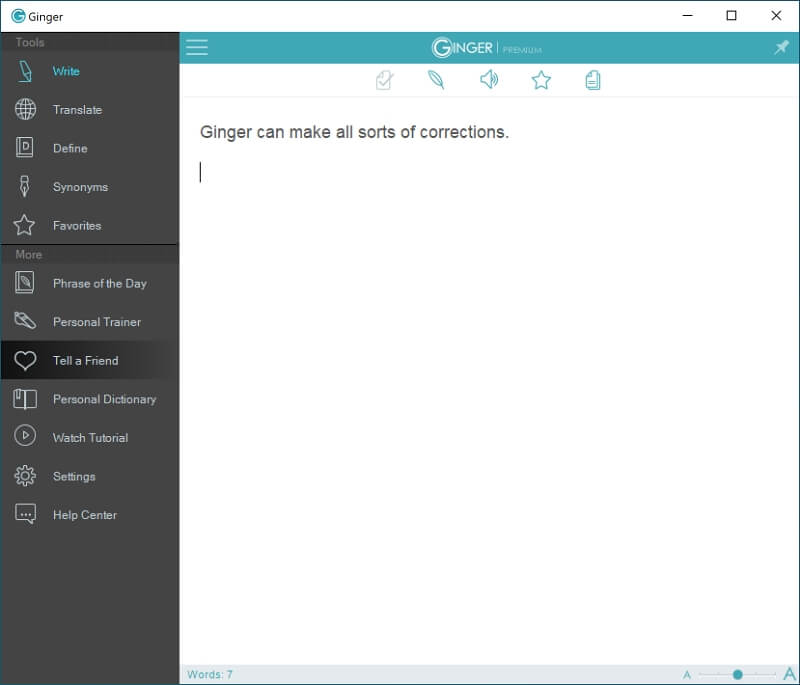 Alternatively, by hovering over each suggestion, you get the opportunity to correct errors one by one.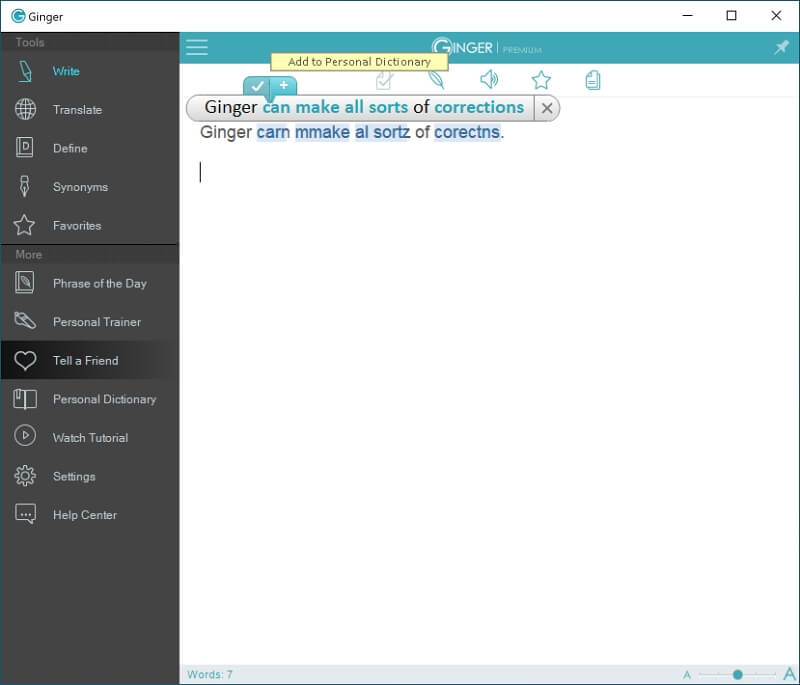 My personal take: Using Ginger in Windows seems to be the best method with long-form text since there is a risk of losing your styles and images if you copy and paste the text from another word processor. Can Grammarly do the same thing? Yes. Grammarly's interface feels a little bolted on, though.
3. Check Spelling and Grammar on Mobile Devices
While it's not the focus of this review, it's good to know that you can use Ginger on your mobile devices. There's an app for iOS and iPadOS, and a keyboard for Android.
Ginger Page for iOS costs $6.99 and works is a universal app that works on both iPhones and iPads. It offers the features you find in the online and Windows apps. Some consumer reviews complain that it's difficult to get the corrected text out of the app.
Ginger Page for Android costs $9.49 and offers similar functionality on Google's mobile platform. Ginger Keyboard is a free download that gives you access to Ginger from any app and offers single-click access to the Ginger Page app. In-app purchases cost between $0.99 and $22.99 and extend the functionality of the keyboard.
My personal take: Ginger seems to be taking mobile platforms seriously and offers full functionality on its iOS and Android apps.
4. Suggest How to Improve Your Writing
Like many grammar editors, Ginger claims to go beyond correcting errors: they want to help you write content that is clearer and more readable. It does this by offering numerous tools and resources.
First, the Dictionary and Thesaurus. These tools are located in the right pane of Ginger's mobile or desktop app. Unfortunately, these tools don't look up the selected word in the text, so I clicked on the Dictionary and typed a word manually to see its definition.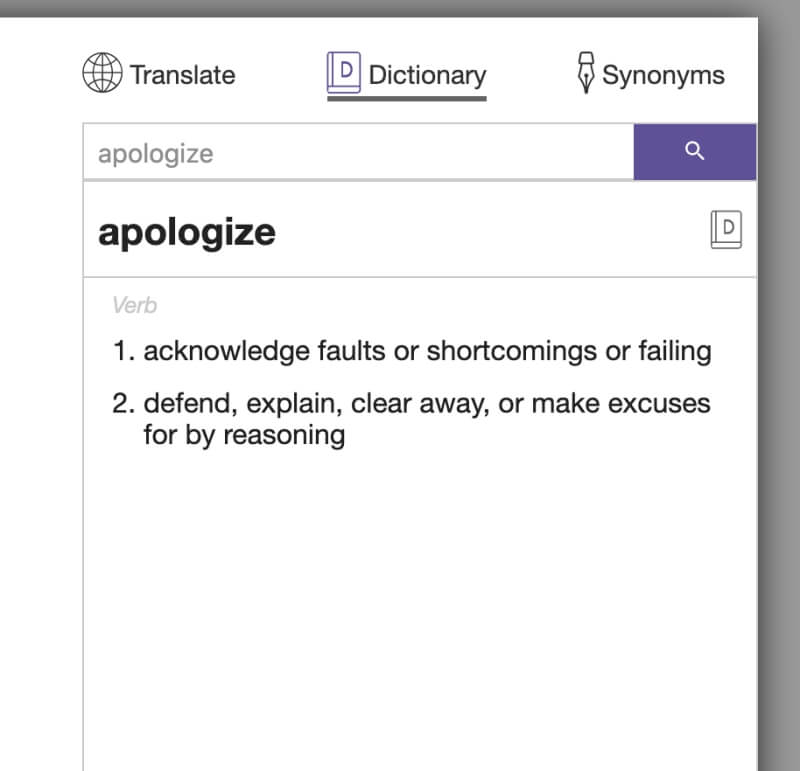 The synonym lookup feature is also a manual task: click on the icon and then type the word. This feature is useful when you want to replace the word in your text with something more interesting, accurate, or unique. Unfortunately, you can't click on a word to replace it in the text; you need to do that manually as well.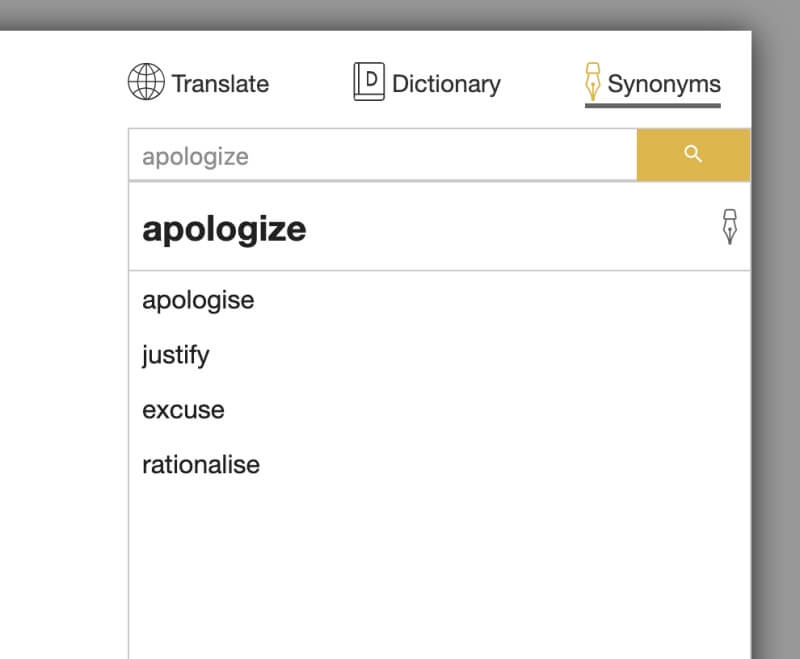 The next tool is unique: the sentence rephraser. It takes sentences from your text and displays, when possible, several different ways to phrase them, which is helpful when looking for a more precise way to express a thought. I was excited about the possibilities of this feature, but it does less than I hoped.
Here are some suggested ways to rephrase the sentence, "Most writers will receive significant help from a quality grammar checker."
"Most writers will get significant help from a quality grammar checker."
"Most writers will receive substantial help from a quality grammar checker."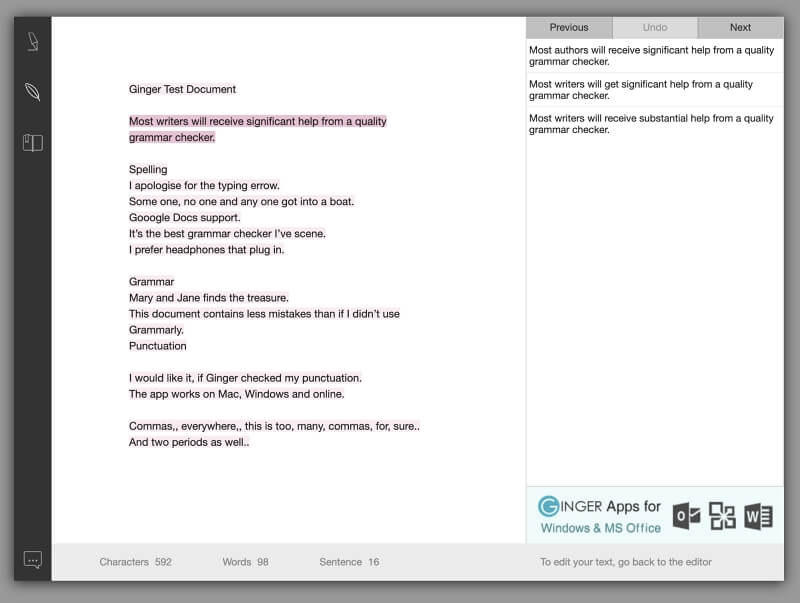 In this example, rather than rephrasing the entire sentence, just one word is being replaced by a synonym each time. Not earth-shattering, but potentially helpful. I tested tons of sentences; in each case, only one word was replaced or added.
Unfortunately, many rephrasings are not helpful at all. One sentence had a contextual spelling error that the app had missed, and Ginger chose a synonym for that wrong word, leading to nonsense.
"It's the best grammar checker I've scene."
"It's the best grammar checker I've vista."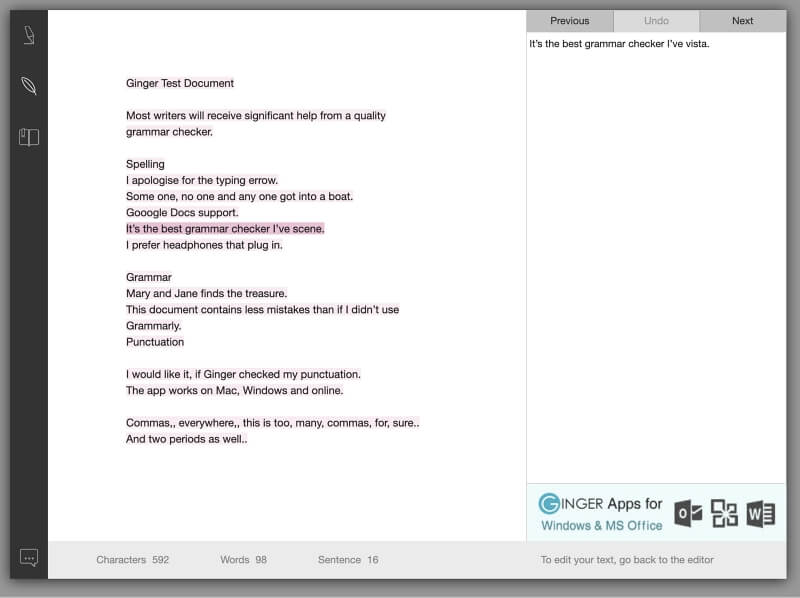 Another sentence with a missed grammar error produced two alternatives with equivalent grammar errors:
"Mary and Jane finds the treasure."
"Mary and Jane discovers the treasure."
"Mary and Jane finds the gem."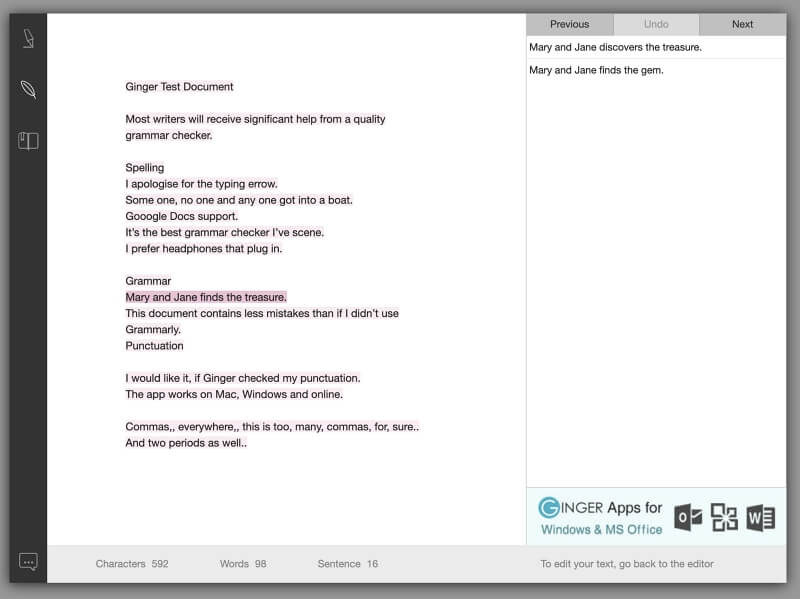 While other grammar checkers give the impression of a wise scholar giving sage writing advice, Ginger feels like a robot suggesting mindless alternatives. I'm not convinced that the app is capable of helping you write better English.
Finally, Ginger offers an online "personal trainer". When I visit the page, I'm told that I have 135 items to practice, and Ginger has given my English skills a score of 41.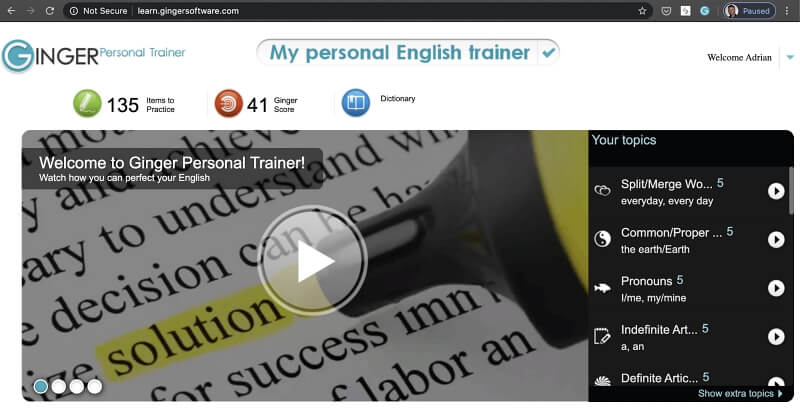 When I click on the "Items to Practice" message, I see a list of errors made in the last 30 days. Most are not my errors, but I assume they're related to errors Ginger feels I need to practice.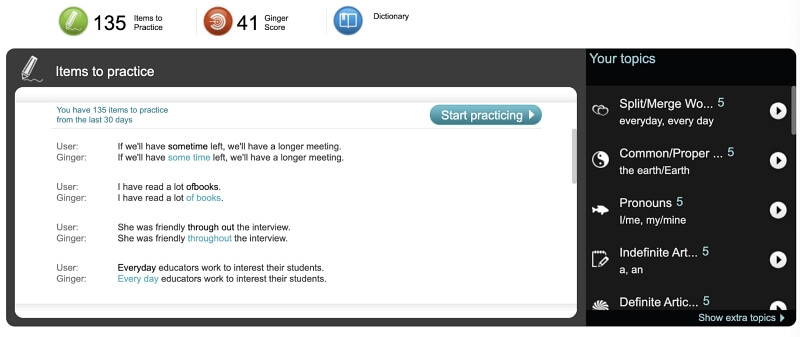 I click on the "Start practicing" button and start a series of five multiple-choice questions.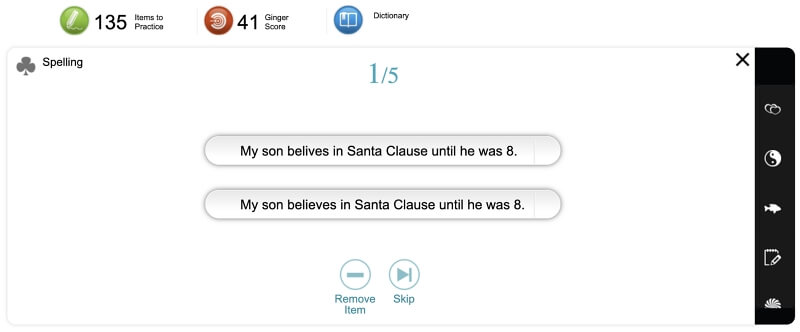 Unfortunately, both answers seem to be incorrect. Surely the correct wording is, "My son believed in Santa Clause until he was 8." But I understand that Ginger wants me to select the correct spelling of "believes," so I choose the second button. I went on to complete each question successfully.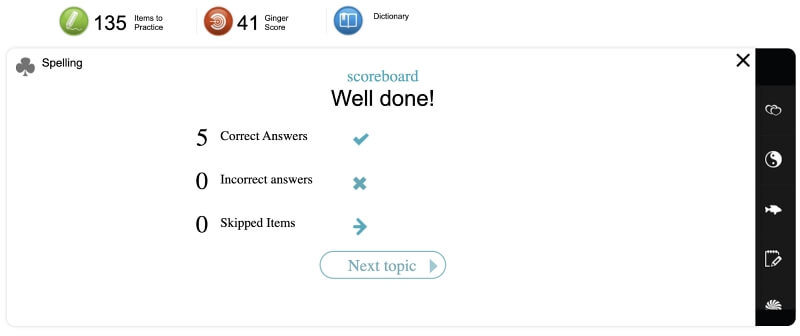 I'm doubtful how helpful these resources will be to writers and professionals. They seem to be aimed at school students and adults who are learning English and may be of genuine help to that sort of user.
My personal take: Ginger's coaching tools seem aimed at those who are still learning English and will be of limited use to writers wanting to improve their readability and style.
Reasons Behind My Ratings
Effectiveness: 3/5
Ginger will find a range of grammar and spelling issues, but in my experience, it also misses a lot of significant errors. I don't feel I would have the same peace of mind using this app as I would its competitors. Moreover, the Personal Trainer seems aimed at those learning English rather than professional writers.
Pricing: 3/5
Ginger is almost the same price of Grammarly, and similar in cost to ProWritingAid, WhiteSmoke, and StyleWriter. However, it doesn't offer the accuracy of some of those other apps.
Ease of Use: 4/5
Correcting your text with Ginger is straightforward: hover your mouse cursor over an underlined word and click on the correction. However, the only way to input text is copy/paste, and doing so removes any styles or images. That can lead to a more complicated workflow.
Support: 4/5
The official website includes a searchable Help Center covering General, Android, iOS, and Desktop topics. These explain how the app works and answer queries relating to billing, subscriptions, privacy, and registration. Video tutorials show how to install and enable Ginger. You can contact the support team via a web form, but phone and chat support are not available.
Alternatives to Ginger Grammar Checker
Grammarly plugs into Google Docs and Microsoft Word via online and desktop apps to check your text for correctness, clarity, delivery, engagement, and plagiarism.
ProWritingAid is similar and also supports Scrivener (on Mac and Windows).
WhiteSmoke detects grammar errors and plagiarism in Windows and macOS. A web version is also available.
StyleWriter (Starter Edition $90, Standard Edition $150, Professional Edition $190) checks grammar in Microsoft Word.
Hemingway Editor is free on the web and shows how you can improve the readability of your text.
Hemingway Editor 3.0 ($19.95) is a new desktop version of Hemingway for Mac and Windows.
After the Deadline (free for personal use) offers suggestions about your writing and identifies potential errors.
Final Verdict
There's nothing more embarrassing than pressing "Send" on an important email just before you notice a spelling or grammar error. You've wasted your only opportunity to give a positive first impression. How do you prevent this? A quality grammar checker can help, and Ginger promises to make sure your text is clear and correct.
It works online (with Chrome and Safari), in Windows (but not Mac), and on your iOS or Android mobile device. It scans your emails or documents and displays any errors you missed.
You can use Ginger's basic features online for free. You'll need a premium subscription to use it on your Windows desktop, access unlimited grammar checks, and use the sentence rephraser, text reader, and personal trainer.
There's no trial period for the Premium plan, but there is a seven-day 100% refund for first-time purchasers. Ginger also offers significant discounts from time to time. A few days after I subscribed, I noticed that they had a 48-hour sale with 70% off all plans—so keep your eyes open.
How does Ginger Grammar Checker live up to its promises and compare with similar apps? The review above should have given you the answer. I don't recommend Ginger. See the Alternatives section above for better options.