If you look at a typical chat conversation, you might wonder what happened to spelling and grammar standards. Communication today is a lot more casual than it used to be. But not in the office. For those in business and professional roles, those skills are as critical as they've ever been.
A recent Business News Daily survey found that 65% of respondents find typos unacceptable in their industry. Spelling errors are embarrassing and can change the way people see you.
Grammar checker tools can help you identify these errors before it's too late. They help you look more professional and save you embarrassment. Two popular options are ProWritingAid and Grammarly. How do they match up?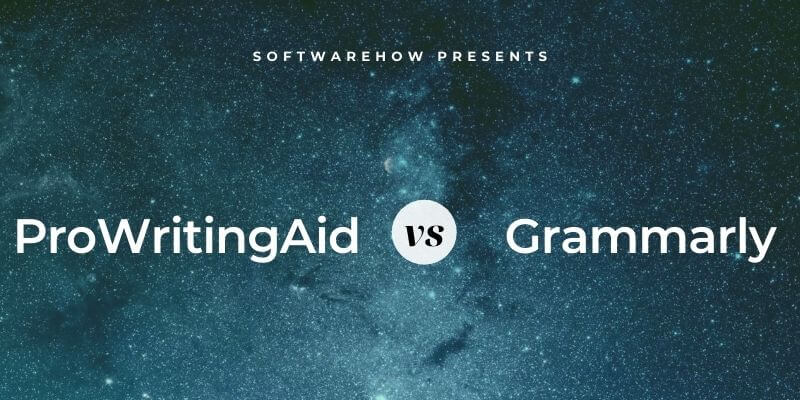 Grammarly checks spelling, grammar, and much more; it's the winner of our best grammar checker guide. It works online, on Mac and Windows, and iOS and Android. It also integrates well with Microsoft Word and Google Docs. Read our full Grammarly review here.
ProWritingAid is similar to Grammarly, but not identical. It doesn't work on mobile devices but does integrate with Scrivener. It matches Grammarly feature for feature and provides a wealth of information about your writing in a range of detailed reports.
ProWritingAid vs. Grammarly: Head-to-Head Comparison
1. Supported Platforms
A grammar checker won't help if it's not available where you do your writing. Fortunately, both Grammarly and ProWritingAid run on a variety of platforms.
On desktop: Tie. Both work on Mac and Windows.
On mobile: Grammarly. ProWritingAid doesn't work on mobile devices, while Grammarly provides keyboards for iOS and Android.
Browser support: Grammarly. Both offer browser extensions for Chrome, Safari, and Firefox, but Grammarly also supports Microsoft Edge.
Winner: Grammarly. It beats ProWritingAid by having a solution for mobile devices and supporting Microsoft's browser.
2. Integrations
Using a mobile or desktop app to check your spelling and grammar can be handy, but many users prefer to do this in their word processor. Then they can see the corrections as they type.
Fortunately, both apps work with Google Docs, which is where I move my drafts before submitting them. That allows me to correct a lot of errors before an editor sees them. Others use Microsoft Word to track the changes made by their editors, and both apps offer Office add-ins. Grammarly has the advantage here—ProWritingAid only supports Office in Windows while Grammarly now supports it on Mac.
But ProWritingAid has an advantage of its own. It supports Scrivener, the popular app for writers. You can't use it in Scrivener, but you can open Scrivener Projects in ProWritingAid without losing any formatting.
Winner: Tie. Grammarly beats ProWritingAid by supporting Microsoft Office in macOS, but ProWritingAid comes back with its ability to edit Scrivener Projects without losing formatting.
3. Spell Check
English spelling can be tricky because it's so inconsistent. I created a test document with a variety of errors to find out if I trust Grammarly and ProWritingAid to pick up all of my spelling mistakes.
Grammarly checks your spelling for free and found every spelling error:
An actual spelling mistake, "errow." It's flagged with a red underline; Grammarly's first suggestion is the correct one.
UK spelling, "apologise." With the settings set to US English, Grammarly correctly flags the UK spelling as an error.
Context-sensitive errors. "Some one," "no one," and "scene" are wrong in context. For example, in the sentence "It's the best grammar checker I've scene," the last word should be spelled "seen." Grammarly correctly flags the error and suggests the correct spelling.
A misspelled company name, "Gooogle." In my experience, Grammarly consistently picks up misspellings of company names.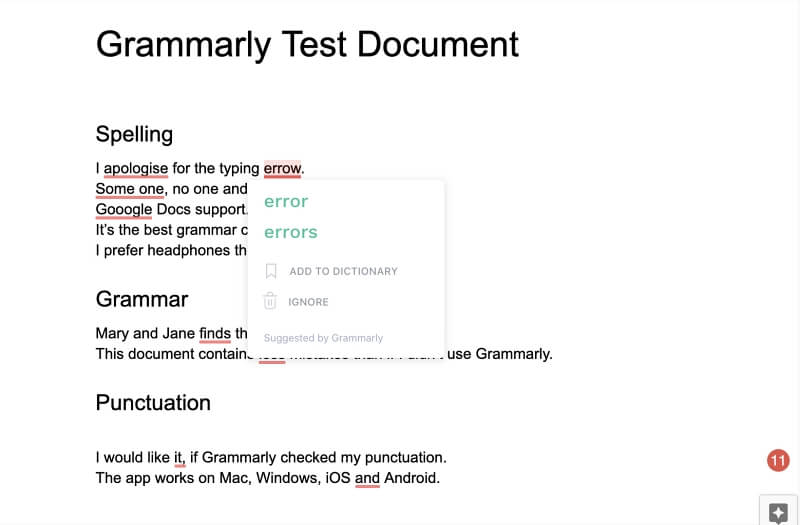 ProWritingAid matches Grammarly error for error, identifying my mistakes and suggesting the correct spelling.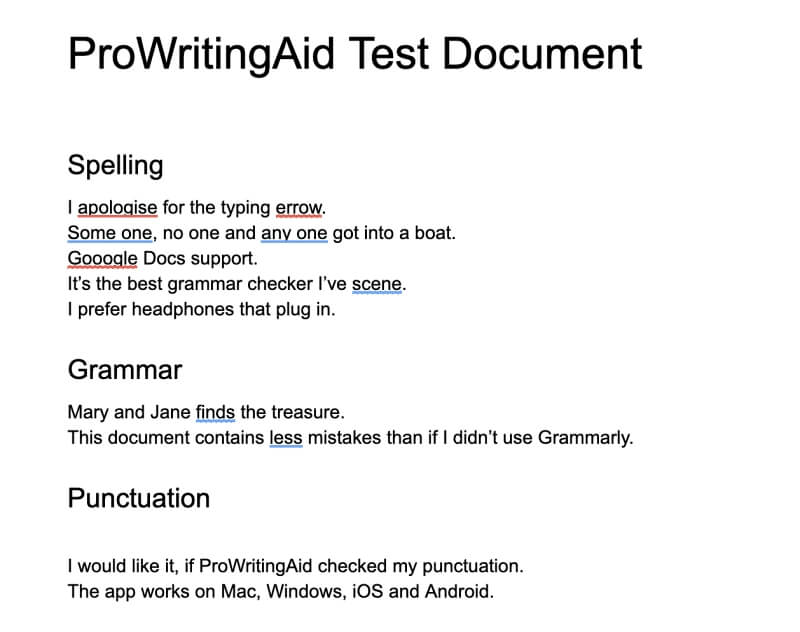 Winner: Tie. Both Grammarly and ProWritingAid successfully identified and corrected different types of spelling errors in my text document. Neither app missed a single mistake.
4. Grammar Check
I also placed several grammar and punctuation errors in my test document. Grammarly's free plan correctly identified and corrected each one:
A mismatch between the number of the verb and subject, "Mary and Jane finds the treasure." "Mary and Jane" is plural, while "finds" is singular. Grammarly flags the error and suggests the correct wording.
An incorrect quantifier, "less." "Fewer mistakes" is the correct wording, and is recommended by Grammarly.
An extra comma, "I would like it, if Grammarly checked…" That comma shouldn't be there, and Grammarly points it out as an error.
A missing comma, "Mac, Windows, iOS and Android." This one's a little debatable (and Grammarly acknowledges this). However, Grammarly values consistency, so will always point out when you miss the "Oxford comma," the final comma in a list.
ProWritingAid matched Grammarly error for error with grammar but didn't flag either punctuation error. Not flagging the second error is forgivable, but with further testing, the app regularly missed punctuation errors. So did the other grammar apps I tested. Terrific punctuation checks are one of the biggest advantages that Grammarly offers… and they do it for free.
Winner: Grammarly. Both apps identified many grammar errors, but only Grammarly flagged my punctuation errors.
5. Writing Style Improvements
We've seen that the free version of Grammarly accurately and consistently identifies spelling and grammar errors, then marks them in red. The Premium version suggests how you can improve:
the clarity of your writing (marked in blue)
how you can engage better with your audience (marked in green)
the delivery of your message (marked in purple)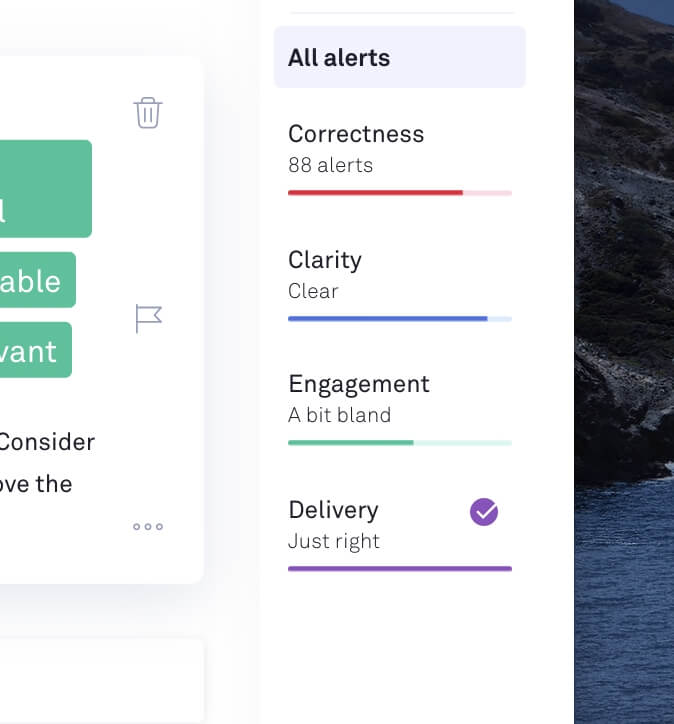 How helpful are Grammarly's suggestions? I had Grammarly check a draft of one of my articles to find out. Here are some of the tips they gave:
Engagement: "important" is often overused. Grammarly suggested I use "essential" instead. It spices up the sentence by making it sound more opinionated.
Engagement: I received a similar warning about the word "normal." The alternatives "standard," "regular," and "typical" are suggested and work in the sentence.
Engagement: I used the word "rating" quite frequently. Grammarly suggested I might use a different word, like "score" or "grade."
Clarity: Grammarly suggests where I can say the same thing in fewer words, such as replacing "on a daily basis" with "daily."
Clarity: Grammarly also warns where a sentence may be too long for its intended audience and should be split into multiple sentences.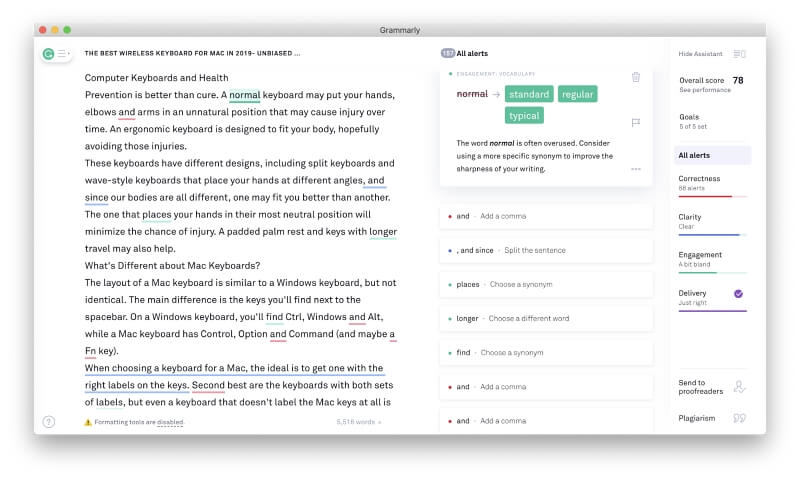 While I wouldn't make every change that Grammarly suggested, I appreciate the suggestions and find them helpful. I particularly value being warned of using the same word too frequently and having sentences that are too complex.
Similarly, ProWritingAid marks style issues in yellow.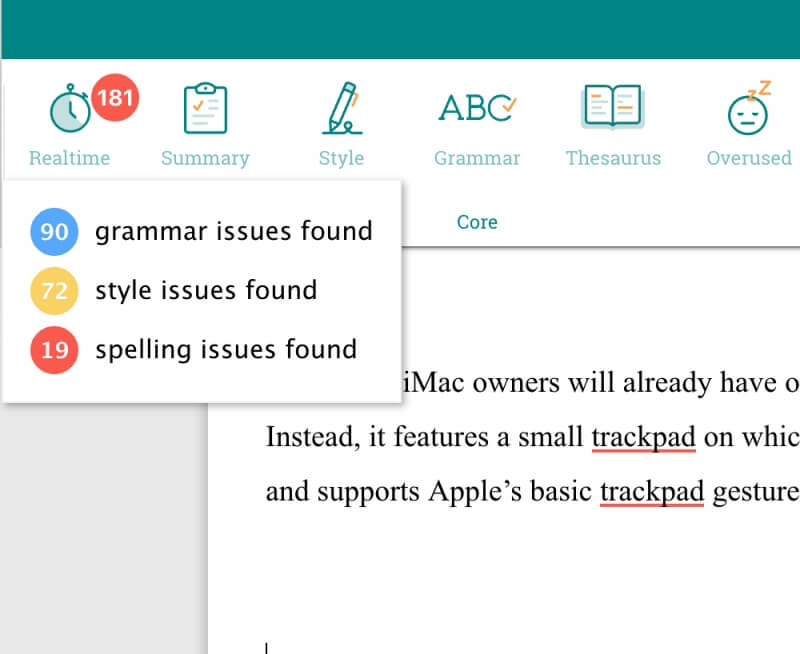 I ran a different draft through a trial version of its Premium plan. Here are some of the suggestions it made:
It identified sentences where I could remove one or more words, improving readability without changing the meaning. Some examples: removing "completely" in "completely happy," removing "quite" and "are designed to" from a sentence, and removing "incredibly" from another sentence.
Like Grammarly, it identified adjectives that are weak or overused. For example, in the phrase "pairing up to three different devices," it suggested replacing "different" with "unique" or "original."
ProWritingAid also flags and discourages the use of the passive tense. Active verbs are more interesting, so the app recommends replacing "Some are designed to be portable" with "they design some to be portable."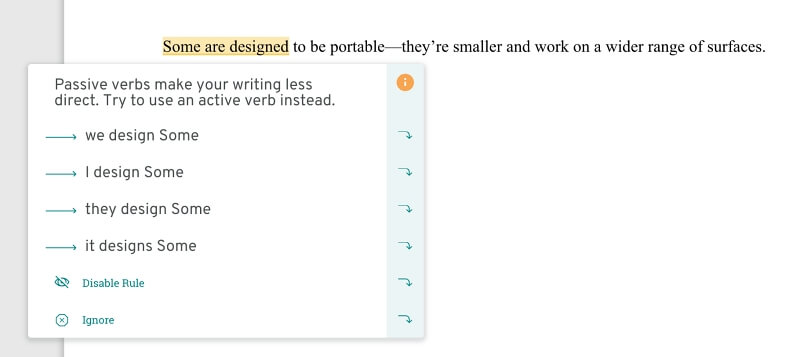 ProWritingAid goes a step further and generates a range of in-depth reports so that you can study how to write more clearly when you're not rushing to finish a writing project. Here are a few examples:
The Writing Style Report indicates changes you can make to enhance readability.
The Grammar Report lists your grammar errors.
The Overused Words Report includes a list of overused words that weaken your writing, such as "very" and "just."
The Clichés and Redundancies Report lists stale metaphors and places you could have used one word instead of two.
The Sticky Sentence Report identifies sentences that are hard to follow.
The Readability Report uses the Flesch Reading Ease Score to highlight sentences that are hard to understand.
A Summary Report presents the main points concisely with the aid of helpful charts.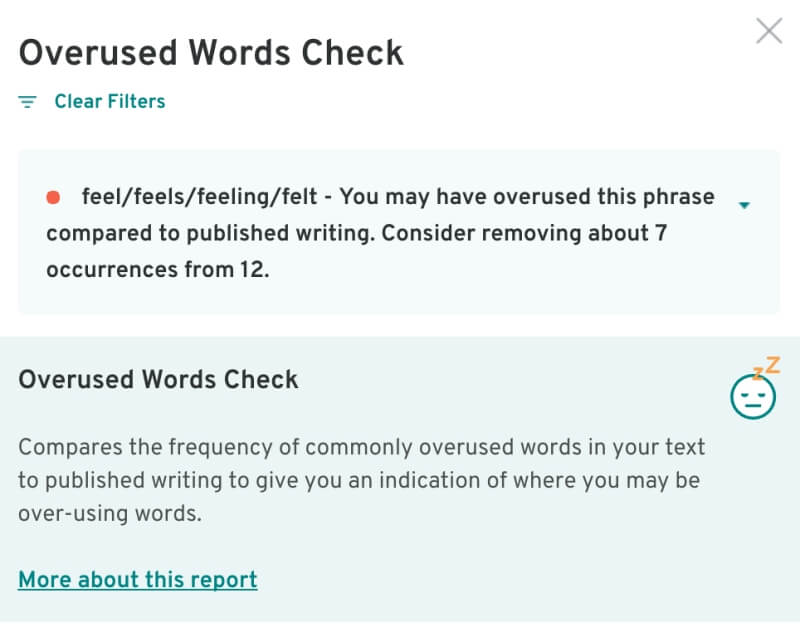 Winner: I've called this one a tie, but each app has unique strengths that will appeal to different users. I found Grammarly's Clarity, Engagement, and Delivery suggestions more helpful as I worked through the document. ProWritingAid's reports are useful for those who like to sit down and debrief after finishing a writing project.
6. Check for Plagiarism
Both apps help you avoid copyright issues and takedown notices by comparing your document with billions of web pages, published works, and academic papers. Grammarly includes an unlimited number of checks in its Premium plan, while ProWritingAid charges extra.
I imported two documents into Grammarly: one with no quotes and another that referenced information found on existing web pages. With the first document, it concluded, "Looks like your text is 100% original." With the second document, the source of each quote was found and reported.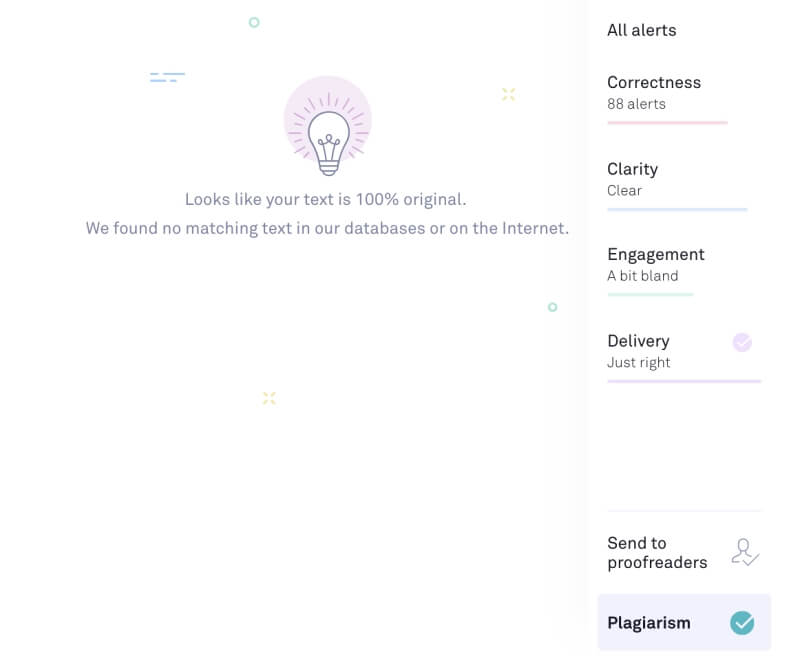 To test Grammarly further, I blatantly copy text from existing web pages. Grammarly didn't always identify the plagiarism I put in.
ProWritingAid's check is similar. When checking the same two test documents that I used with Grammarly, it identified the first as having no issues, then correctly identified the sources of the quotes in the second.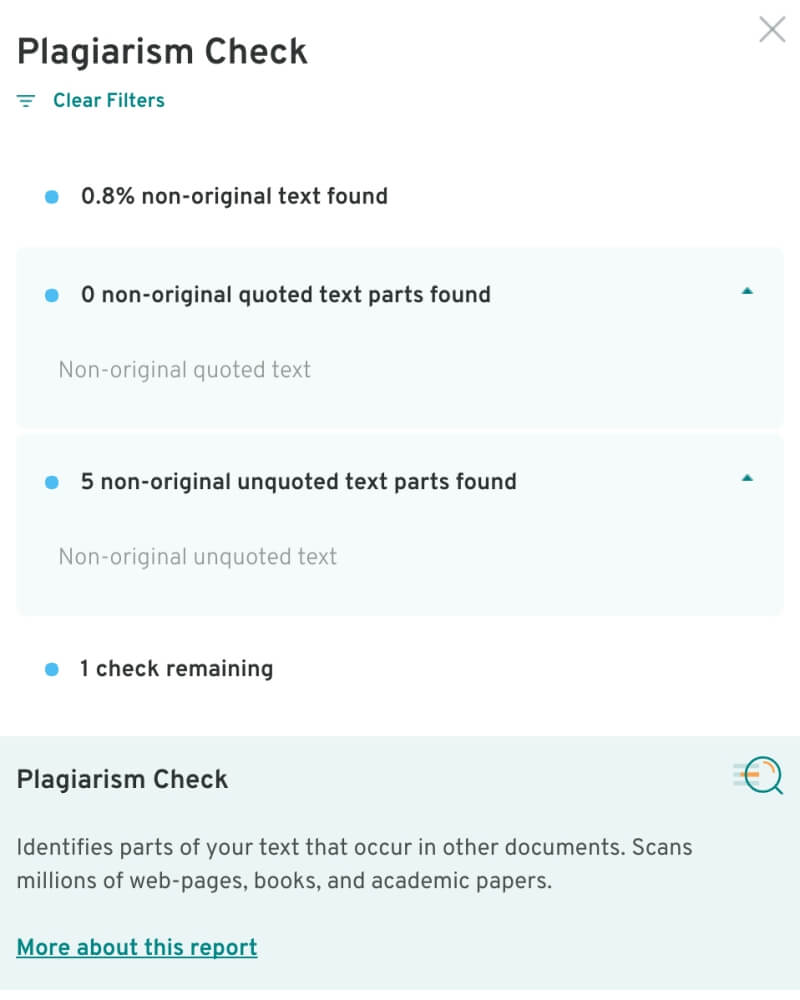 Winner: Tie. Both apps correctly identified quotes from other sources and linked to those web pages. Both apps also identified a document with no quotes as being 100% unique.
7. Ease of Use
Both apps have similar interfaces and are easy to use. Grammarly marks potential errors with differently-colored underlines. When hovering over an error, it displays a brief explanation and one or more suggestions. You can replace the wrong word with the right one with a single click of the mouse.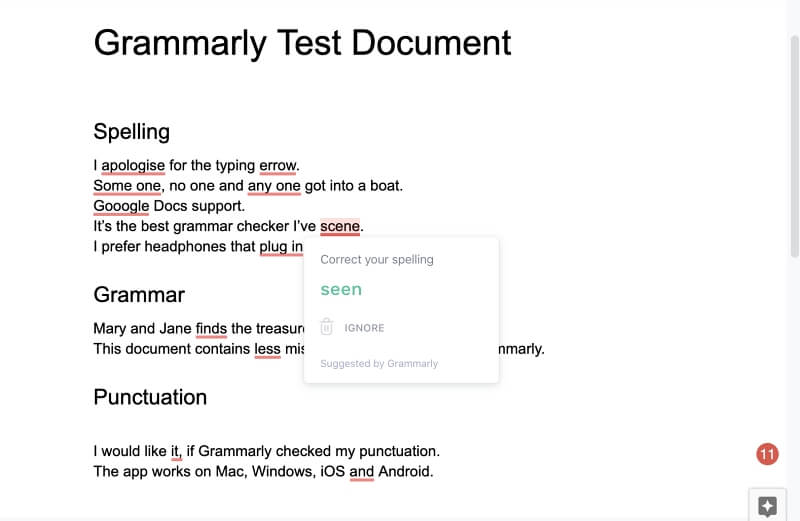 ProWritingAid also marks potential errors with underlines but uses a different color code. A brief explanation is displayed. Clicking on the alternate word replaces the wrong one in the text.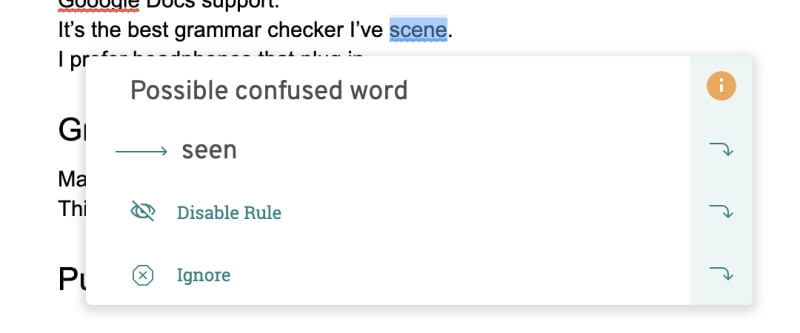 Winner: Tie. Both apps work similarly and are easy to use.
8. Pricing & Value
Both companies offer free plans. ProWritingAid's is limited (it will only check 500 words) and is designed for evaluation purposes. Grammarly's free plan allows you to perform full spelling and grammar checks, something I've taken advantage of over the last year and a half.
But when it comes to Premium plans, ProWritingAid has a clear advantage. Its yearly subscription is $89, while Grammarly's is $139.95. Monthly prices are closer: $24.00 and $29.95, respectively.
However, it's fair to note that since I've had a free Grammarly membership, I've been offered a discount of at least 40% each month, which brings its yearly subscription price into the same range as ProWritingAid's. Also note that plagiarism checks are an additional cost for ProWritingAid, but you'd have to perform hundreds each year before you approach Grammarly's (undiscounted) yearly subscription price.
ProWritingAid gives two further ways to get the app: a lifetime subscription that costs $299 and its inclusion in a Setapp subscription, which provides over 180 Mac apps for $9.99/month.
Winner: For users looking for a workable free plan, Grammarly offers the best in the business. However, ProWritingAid's Premium plan is significantly cheaper than Grammarly's, and there's also the option of purchasing a lifetime subscription.
Final Verdict
Grammar checkers are valuable tools for writers, business people, professionals, and students. They pick up embarrassing errors and use artificial intelligence to identify a broader range of errors than ever. Beyond that, they can also help you improve your writing and avoid copyright infringements.
Grammarly and ProWritingAid are at the top of the stack. They're easy to use, work on most popular platforms, and integrate with Microsoft and Google word processors. They consistently and accurately identify various types of spelling and grammar errors, flag issues that affect clarity and readability and check for plagiarism.
Between the two, Grammarly is the clear winner. Their free plan is the best in the business and offers full and unlimited spelling and grammar checks. Unlike ProWritingAid, you can use the app on mobile devices via iOS and Android keyboards. Finally, I find its interface a little smoother and its suggestions more helpful—and they offer regular discounts.
But it's not better in every way. ProWritingAid matches Grammarly feature for feature and works better with Scrivener. Its Premium plan is significantly cheaper, and its most unique feature is the detailed reports that help you improve your writing. They offer a Lifetime subscription and are available with a wide range of other quality Mac apps in a Setapp subscription.
Are you having difficulty deciding between ProWritingAid and Grammarly? I recommend you take advantage of their free plans to see for yourself which app best meets your needs.