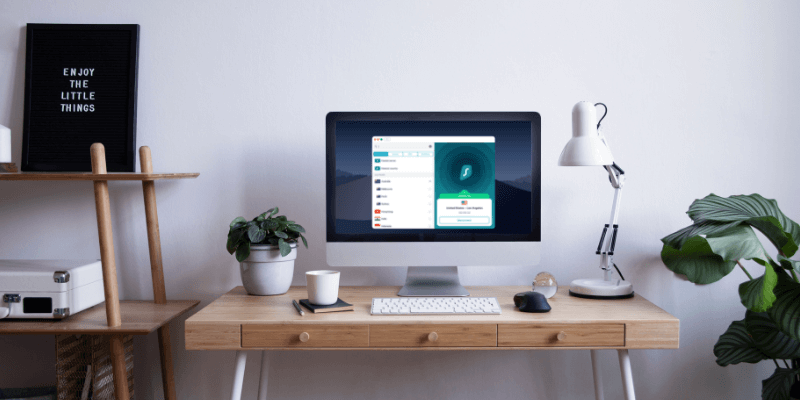 Surfshark VPN
Features: It's private and secure, with additional security features
Pricing: $12.95/month or $59.76 yearly
Ease of Use: Simple to set up and use
Support: Chat support and web form
Summary
Surfshark is among the best VPN services I tested and was the winner of our Best VPN for Fire TV Stick roundup. It's also one of the most affordable VPNs available.

The company has a terrific privacy policy. They're based in a strategic location where they're not required to keep records of your activity. They use RAM-only servers that don't retain data once they are turned off. Surfshark has servers in 63 countries around the world and lock-tight security features, including double-VPN and TOR-over-VPN.

Download speeds are solid if you connect to a server close to home. You can also reliably access content from the country of your choice. The service has a lot of positives and very few negatives. I recommend it.

What I Like: Plenty of security features. Excellent privacy. RAM-only servers. Very affordable.

What I Don't Like: Some servers are slow.
Why Trust Me for This Review
My name is Adrian Try. I've been computing since the 80s and surfing the net since the 90s. Over my career, I've set up office networks, home computers, and internet cafes. I ran a computer support business. In the process, I discovered that too many people wait until they are hacked before protecting themselves.
VPN software offers a solid first defense. I recently spent months installing, testing, and reviewing popular VPN software, comparing my own discoveries with industry experts' test results and reviews. To prepare for this article, I subscribed to SurfShark, then installed it on my Apple iMac.
Detailed Review of Surfshark VPN
Surfshark is designed to protect your privacy and security online. In this review, I'll list its features in the following four sections. In each subsection, I'll explore what the app offers and then share my personal take.
1. Privacy Though Online Anonymity
You'd be surprised how visible your online activities are. Your IP address and system information are sent to each website that you connect to.
That makes what you do online Iess anonymous than you may realize.
Your internet service provider sees (and logs) the sites you visit. Some anonymize their records and sell them to third parties.
The websites you visit can see your IP address and system information. Often, they log them.
Advertisers track the websites you visit and use the information to serve you more relevant ads. Facebook does the same, even if you didn't follow their link to get to those sites.
Employers can log which sites their employees visit and when.
Governments and hackers can spy on your connections. They may even be able to log some of the data you transmit and receive.
If you use VPN software like Surfshark, you stop leaving footprints as you travel around the internet. That means no one can track you—not your ISP, the websites you visit, hackers, advertisers, governments, or your employer. They don't know where you're from or the sites you visit. They can't see your IP address or system information. They just see the IP address of the server you connect to, which could be anywhere in the world.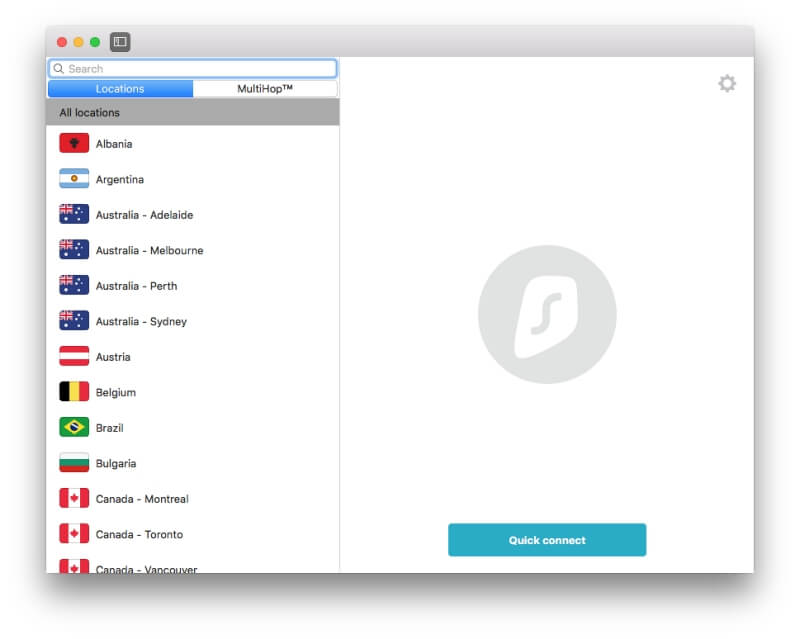 But there is one significant exception. Your VPN service sees it all! That makes the VPN provider you choose a crucial decision.
That's one reason to avoid free VPN services, for instance. What's their business model? It may include selling your personal information.
Surfshark has an unambiguous and complete privacy policy. They keep no record of your IP address, the sites you visit, or any other private data.
Some governments place a legal obligation on VPN providers to log activities. Surfshark is strategically located where this is not a requirement. They have excellent privacy practices, such as RAM-only servers that automatically lose all data when turned off.
Surfshark does collect anonymous usage and crash data, though you can easily opt-out in the app's settings.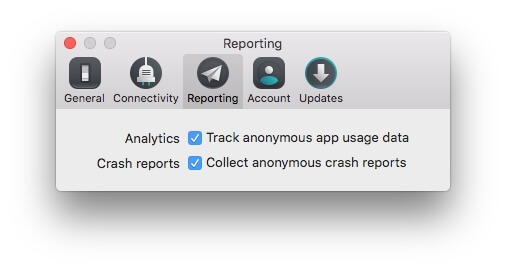 My personal take: While there's no such thing as a 100% guarantee for online anonymity, choosing a reputable VPN service is a good start. Surfshark has an excellent privacy policy, doesn't log your activities, and uses computers that don't retain any data when turned off.
2. Security through Strong Encryption
Another source of concern is other users on your network. That's particularly true if you're on a public wireless network with strangers, like at a coffee shop.
They can use packet sniffing software to intercept and log all information sent between you and the wireless router.
They can redirect you to fake websites in an attempt to steal your passwords and accounts.
Hackers sometimes set up fake hotspots meant to look like they belong to a coffee shop. They'll then log as much of your information as possible.
This is another area where VPNs can keep you safe. They create a secure, encrypted tunnel between your computer and the VPN server.
Surfshark had their security practices audited independently by the German company Cure53. They found Surfshark robust and unexposed.
The trade-off for this added security is a potential speed hit. First, adding encryption takes time. Second, running your traffic through a VPN server is slower than accessing the websites directly. How much slower? That depends on both the VPN service you choose and the distance of the server you connect to.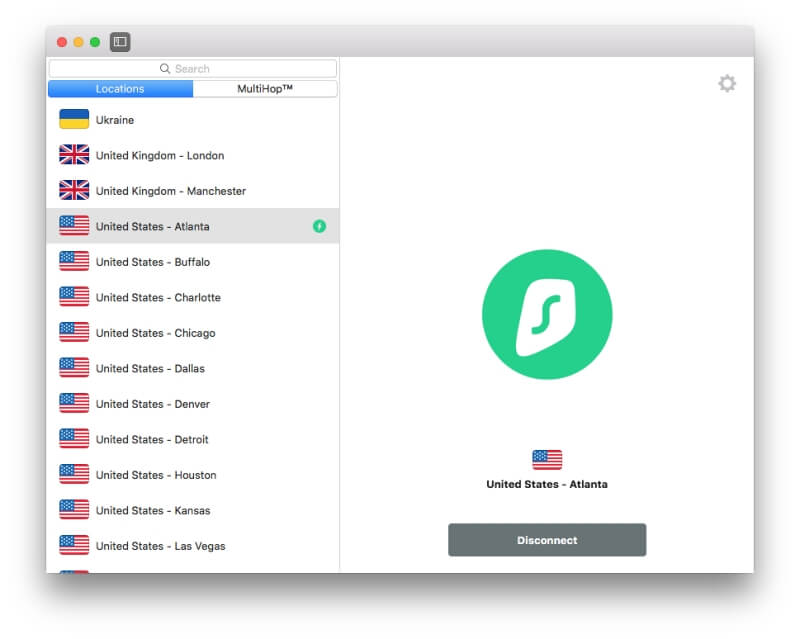 My download speed is typically around 90 Mbps when not connected to a VPN.

I connected to several Surfshark servers around the world to see how it would affect my speed. Here's the full list of speed tests I performed.
Australian servers (closest to me):
Australia (Sydney) 62.13 Mbps
Australia (Melbourne) 39.12 Mbps
Australia (Adelaide) 21.17 Mbps
US servers:
US (Atlanta) 7.48 Mbps
US (Los Angeles) 9.16 Mbps
US (San Francisco) 17.37 Mbps
European servers:
UK (London) 15.68 Mbps
UK (Manchester) 16.54 Mbps
Ireland (Glasgow) 37.80 Mbps
That's quite a wide range of speeds. I can choose a server close to me—say the one in Sydney—and still achieve around 70% of my usual download speed. Or I can connect to a server in a specific part of the world—to access content only available in that country—and accept that my connection will be slower.
The fastest server was 62.13 Mbps; the average of all the servers I tested was 25.16 Mbps. How does that compare to other VPN providers? Quite well. Here are the fastest and average server speeds over six VPN providers I tested when writing the Best VPN for Amazon Fire TV Stick review:
NordVPN: 70.22 Mbps (fastest server), 22.75 Mbps (average)
SurfShark: 62.13 Mbps (fastest server), 25.16 Mbps (average)
Windscribe VPN: 57.00 Mbps (fastest server), 29.54 Mbps (average)
CyberGhost: 43.59 Mbps (fastest server), 36.03 Mbps (average)
ExpressVPN: 42.85 Mbps (fastest server), 24.39 Mbps (average)
IPVanish: 34.75 Mbps (fastest server), 14.75 Mbps (average)
Surfshark includes settings that can improve internet speed and enhance security. The first of these is CleanWeb, which speeds your connection by blocking ads and trackers.

Another is MultiHop, a form of double VPN that connects to more than one country at a time, taking your privacy and security to another level. For even greater anonymity, they offer TOR-over-VPN. Two further security settings will automatically open Surfshark whenever you log in to your computer, then maintain the connection when another user logs in. This makes sure that you're always protected when online.
A final setting protects you by blocking web access if you're unexpectedly disconnected from the Surfshark server. This is commonly known as a "kill switch" and is enabled by default.
My personal take: Surfshark will increase your online security. It encrypts your data, blocks ads and malware, and has a kill switch that disconnects you from the internet when you are vulnerable.
3. Access Sites that Have Been Blocked Locally
On some networks, you may find you can't access certain websites. Your employer, for instance, might block Facebook and other social networks to foster productivity. Schools typically block websites that are not suitable for children. Some countries block web content from the outside world.
One benefit of a VPN is that it can tunnel through those barriers. Surfshark calls this "no borders mode.
But be aware there may be consequences. Your school, employer, or government won't be thrilled that you're bypassing their firewall. You could lose your job or worse. Since 2019, China has been handing out hefty fines to individuals who do this.
My personal take: Surfshark can bypass online censorship, giving you access to sites that your employer, school, or government are actively blocking. Consider the consequences, though, before attempting this.
4. Access Streaming Services that Have Been Blocked by the Provider
Some blocking happens at the other end of the connection: the website itself may block you. VPNs help here too.
A prime example: video streaming services need to respect licensing agreements that vary from country to country. They may not be allowed to stream certain content in some locations. So they set up geoblocking algorithms that determine your location from your IP address. We cover this in more detail in our article, Best VPN for Netflix.
If you use a VPN, those providers see the IP address of the server you connected to. Connecting to a Surfshark server in the United States makes it appear that you're located there, giving you access to content you wouldn't normally have.
As a result, Netflix now attempts to identify and block users who use VPN services. BBC iPlayer does the same to ensure their viewers are located in the UK. These measures work with many VPNs, but not all.
When I tested Surfshark, Netflix never realized that I was using a VPN. I could access content when connected to each of nine different servers around the world:
Australia (Sydney) YES
Australia (Melbourne) YES
Australia (Adelaide) YES
US (Atlanta) YES
US (Los Angeles) YES
US (San Francisco) YES
UK (London) YES
UK (Manchester) YES
Ireland (Glasgow) YES
I had the same success when connecting to the BBC iPlayer from servers within the UK:
UK (London) YES
UK (Manchester) YES
Ireland (Glasgow) YES
How does Surfshark compare with other VPN providers? They have 1700 servers in 63 countries around the world, which is quite competitive:
PureVPN: 2,000+ servers in 140+ countries
ExpressVPN: 3,000+ servers in 94 countries
Astrill VPN: 115 cities in 64 countries
CyberGhost: 3,700 servers in 60+ countries
NordVPN: 5100+ servers in 60 countries
Avast SecureLine VPN: 55 locations in 34 countries
It was more successful than half of the other VPNs when connecting to Netflix:
Avast SecureLine VPN: 100% (17 out of 17 servers tested)
Surfshark: 100% (9 out of 9 servers tested)
NordVPN: 100% (9 out of 9 servers tested)
PureVPN: 100% (9 out of 9 servers tested)
CyberGhost: 100% (2 out of 2 optimized servers tested)
ExpressVPN: 89% (16 out of 18 servers tested)
Astrill VPN: 62% (15 out of 24 servers tested)
IPVanish: 33% (3 out of 9 servers tested)
Windscribe VPN: 11% (1 out of 9 servers tested)
My personal take: Surfshark can give you access to content that's only available in other countries. When you connect to one of their worldwide servers, it looks like you're actually located there. In my experience, Surfshark could successfully stream Netflix and BBC content meant for different locations every time.
The Reasons Behind My Ratings
Features: 4.5/5
Surfshark offers the features you need and additional security features such as a double VPN, a kill switch, and an ad blocker. They have servers in 3200+ servers around the world that offer fast enough speeds to stream video content. I was successful at connecting to Netflix and the BBC iPlayer every time I tried.
Pricing: 4.5/5
When you pay in advance, Surfshark costs just $1.94 per month for the first two years, making it one of the best value VPN services that exist.
Ease of Use: 4.5/5
Surfshark is easy to configure and use. The kill switch is enabled by default. You can select a server from a list sorted by continent. Finally, the app's settings are easy to navigate.
Support: 4.5/5
Surfshark's Help Center offers easy-to-follow video and text guides; a FAQ and Knowledge Base are also available. You can contact support via chat or a web form. I tested it out, reaching out by chat. I received a reply in about two minutes.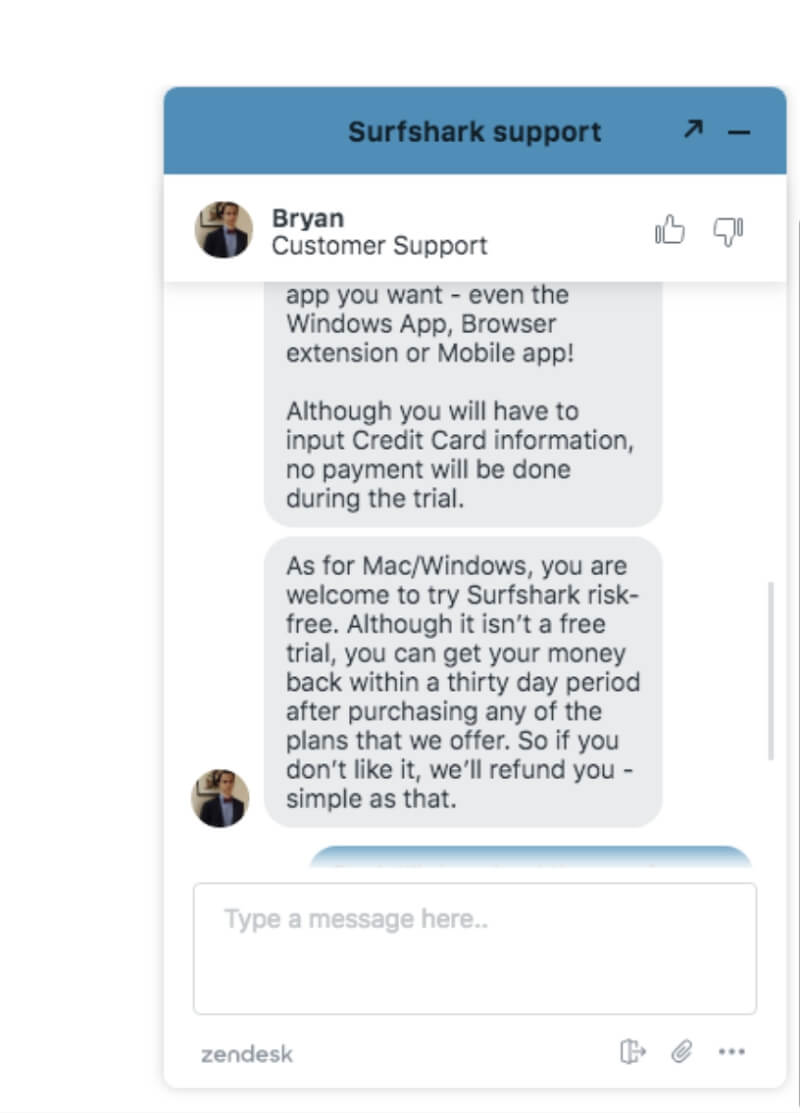 Final Verdict
Do you feel vulnerable when you're online? Do you wonder if someone's looking over your shoulder? Have you ever done a quick product search on your computer, then seen a series of ads about it on your phone later in the day? That's creepy!
A VPN keeps your surfing private and secure. Virtual Private Networks protect you from man-in-the-middle attacks, stop advertisers from tracking you, and bypass censorship. In short, they make you invisible to threats and hackers.
Surfshark is one of the most highly-rated VPN apps on the market. It's effective and easy to use. The service offers apps for Mac, Windows, Linux, iOS, Android, Chrome, and Firefox.
Like most VPNs, Surfshark's cost is drastically reduced when you pay for it in advance. Paying for 12 months gets you a hefty discount, along with another 12 months totally free. That brings the monthly cost down to a very affordable $2.49 monthly, compared to $12.95 when you don't pay upfront. Note that after the first two years, that cost will double to $4.98.
The app's official website's FAQ speaks of a free trial period, but that's no longer available on desktop platforms. I confirmed this with Surfshark support. They gave me a workaround. First, install the mobile app from the iOS App Store or Google Play Store, where you're offered a free 7-day trial. After that, you can sign in on other platforms using the same username and password.