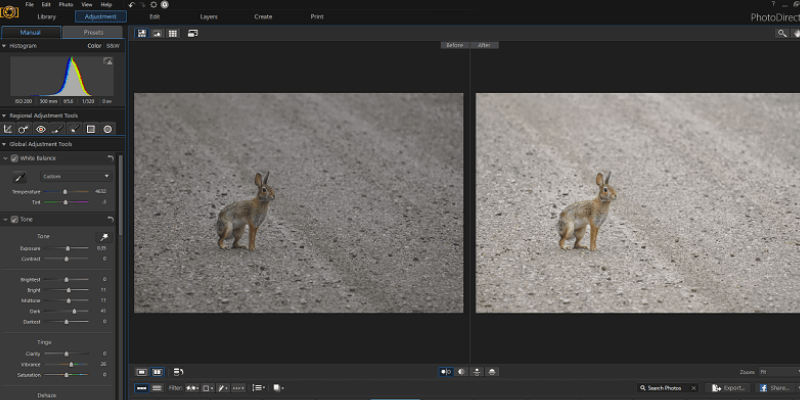 CyberLink PhotoDirector
Effectiveness: Solid RAW editing tools but very limited layer-based editing
Price: Expensive compared to other capable image editors
Ease of Use: Designed for casual users with helpful wizards
Support: Support is easy to find though tutorials are difficult to locate
Summary
CyberLink PhotoDirector is relatively unknown to many in the photo editing world, but I was pleasantly surprised by how capable it functions as an editor. It provides an excellent range of editing tools, although its project-based library organization system and layer-based editing could definitely be improved upon.

The program is aimed squarely at the casual and enthusiast markets, and for the most part, it does an acceptable job of fulfilling the needs of that user base. It's not marketed toward the professionals with good reason as it lacks a number of features that many professionals require for image editing work, but it also provides more user-friendly tools and options than higher-end software.

What I Like: Good RAW Editing Tools. Interesting Video-to-Photo Tools. Social Media Sharing.

What I Don't Like: Strange Library Management. Limited Lens Correction Profiles. Very Basic Layer Editing. Very Slow Layer Compositing.
PhotoDirector is Cyberlink's photo editing software aimed at the casual photographer. It's designed to be user-friendly and contains a wide range of tools aimed at bringing professional-level editing to the non-professional.
PhotoDirector is perfectly safe to use, and both the installer and the installed files themselves pass checks by Malwarebytes AntiMalware and Windows Defender.
The only possible danger to your files is that it is possible to delete files directly from the disk using the library organization tools. It's difficult to do by accident, as there is a warning dialog box asking you to specify whether you want to delete from your disk or just from the library, but the risk is there. As long as you pay attention, you should be in no danger of accidentally deleting your photos.
No, it's not. It has a 30-day free trial. But in fact, they encourage you to buy the full version of the software so strongly that if you click the Exclusive Launch Offer ad, it actually closes the program without launching and takes you to a website showcasing all the benefits you'll get after the purchase.
The exclusive launch offer turns out to be a screen recording tool, which may not be particularly useful as an incentive.
Where to find PhotoDirector tutorials?
PhotoDirector has a quick link in the Help menu that opens the DirectorZone community area, but I can't imagine why. It's not usually a good sign when a company shows unrelated Google ads on its own community site, and that first warning sign was proven accurate by the fact that the 3 "tutorials" for PhotoDirector were really nothing more than promotional videos. A very small link indicates that these are only the "tutorials" for version 9, and there are a number of other videos for previous versions, but this is hardly a user-friendly way of handling things.
After a bit more digging, I found the Cyberlink Learning Center, which actually had a number of useful and informative tutorials in a more easily accessible format. It seems like that would be a far more beneficial place to send users, since there are almost no other tutorials for this version from third-party sources.
Why Trust Me for This PhotoDirector Review?
Hi, my name is Thomas Boldt, and I've worked with a wide range of image editing programs over the course of my work as a graphic designer and professional photographer. I first started working with digital imagery in the early 2000s, and since then I've worked with everything from open-source editors to industry-standard software suites. I'm always interested in experimenting with new editing programs, and I bring all of that experience to these reviews to help you decide what's worth your time.
Disclaimer: Cyberlink provided me with no compensation or consideration for the writing of this PhotoDirector review, and they have had no editorial control or review of the content before publishing.
Detailed Review of CyberLink PhotoDirector
Note: PhotoDirector has a range of unique features that provide some interesting options for casual users, but we don't have room in this review to explore each and every one. Instead, we'll look at more general things like the user interface, how it handles your photos, and how capable it is as an editor. Cyberlink PhotoDirector is available for both Windows and Mac, but the screenshots below are from the Windows version. The Mac version should look similar with only a few small interface variations.
User Interface
For the most part, the PhotoDirector user interface is clean and uncluttered. It's broken down into a series of modules that are more or less standard for RAW photo editors today, with a couple of extras thrown in: Library, Adjustment, Edit, Layers, Create, and Print.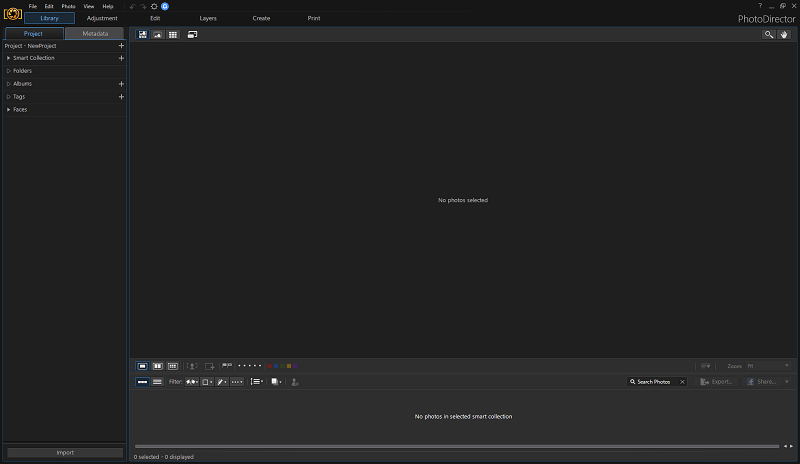 The filmstrip navigation at the bottom is visible throughout all modules along with the associated tagging and rating tools, which makes it easy to keep your images organized throughout the editing process. It also makes it fairly easy to export a file at any stage, whether you want to save it to your computer or upload it to social media.
There are some odd choices in the UI design, notably the unnecessary blue highlighting that separates the various elements of the workspace. They're already clearly separated, so I found that the blue accents were more of a distraction than a help, although it's a minor issue.
Library Management
PhotoDirector's library management tools are a strange blend of excellent and needlessly confusing. All your library information is managed within 'projects', which function as catalogs but operate independently from each other.
For example, you might have one project for your vacation photos, another for your best friend's wedding, and so on. But if you want to manage your entire photo library, you'll need to maintain a project file for that specific purpose, because any tagging or sorting done in one project isn't accessible from another project.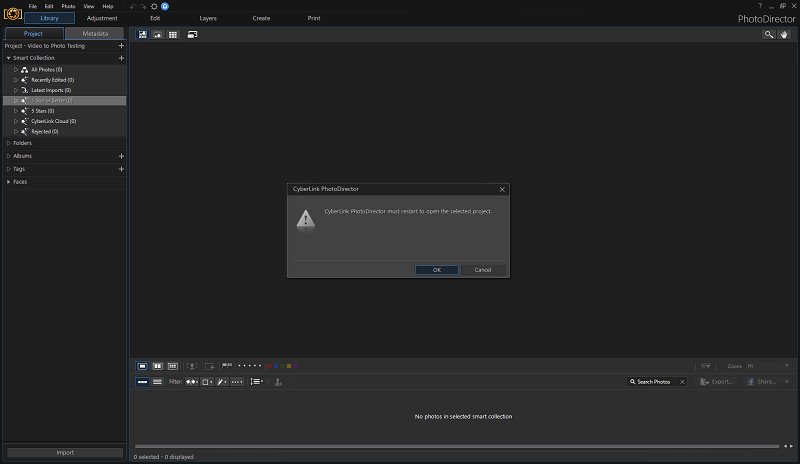 Within each project the organizational tools are good, allowing for the standard range of star ratings, pick or reject flags, and color coding. You can also tag files with specific keywords to enable quick searches across large projects, if you have the time and patience to do so.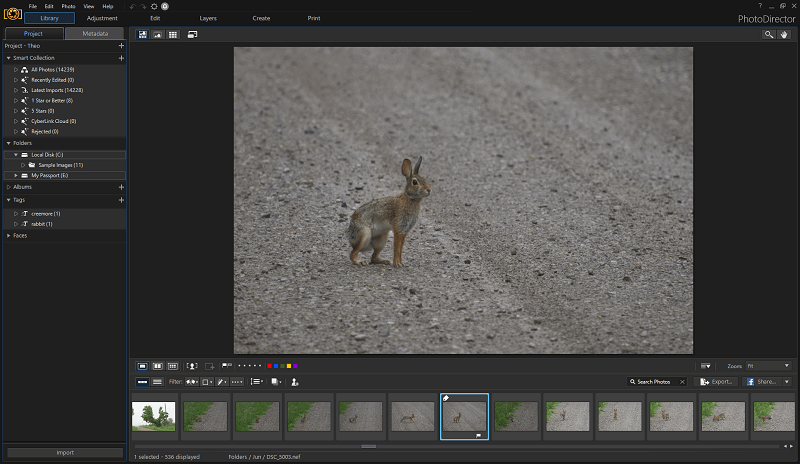 I can't really see the logic behind the 'projects' organizational concept, but perhaps I'm just too used to working with programs that allow me to maintain a single catalog of all my images. I guess for most casual users who just want to edit a few vacation photos, it wouldn't pose a problem, but it will be a bit limiting for anyone who regularly takes a lot of photos.
General Editing
PhotoDirector's RAW editing tools are quite good, and cover the complete range of options that you might find in a more professional-level program. Standard global adjustments such as tonal range editing, colors and automatic lens correction profiles are all available, although the range of supported lenses is still quite small. You can download additional lens profiles created by the community, but there is no guarantee that they will be accurate.
The masking tools for working with localized edits are also fairly good, though lacking keyboard shortcuts. As with many programs, it's impossible to edit their gradient masks with their brush masks, but the 'Find Edges' feature can dramatically speed up masking time in some situations.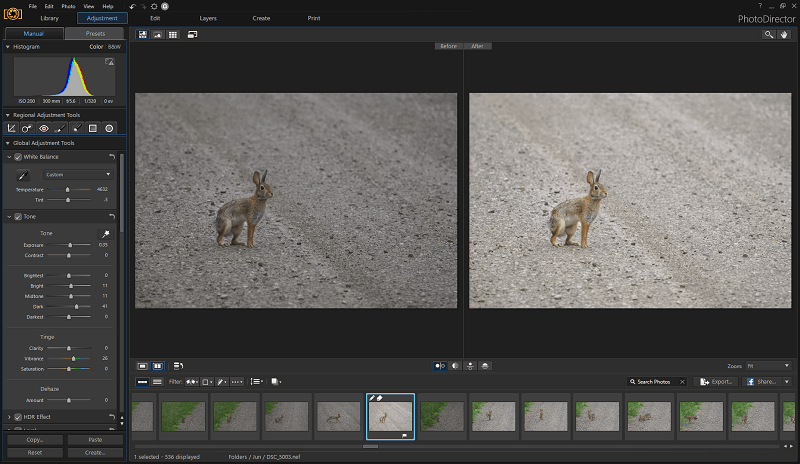 Once general RAW development tasks are done and you move onto more complex editing tasks, PhotoDirector helpfully points out that from that point on, you'll be working with a copy of the file instead of the actual RAW image.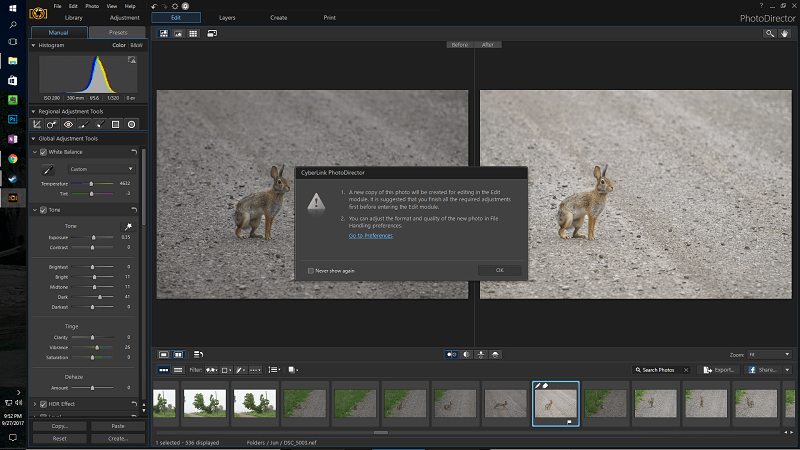 The Edit tab offers a set of helpful wizards that are geared toward a wide range of photography tasks, from portrait retouching to content-aware removal. I don't photograph people, so I didn't get a chance to test the portrait retouching tools, but the rest of the options I used worked fairly well.
The Content Aware Removal tool didn't quite do a perfect job removing the rabbit from his background, as it got confused by the blur outside the focal plane, and by extension the Content Aware Move tool had the same flaw. The Smart Patch tool was more than up to the job, though, as you can see in the magic trick below. Not bad for a quick mask and a few clicks!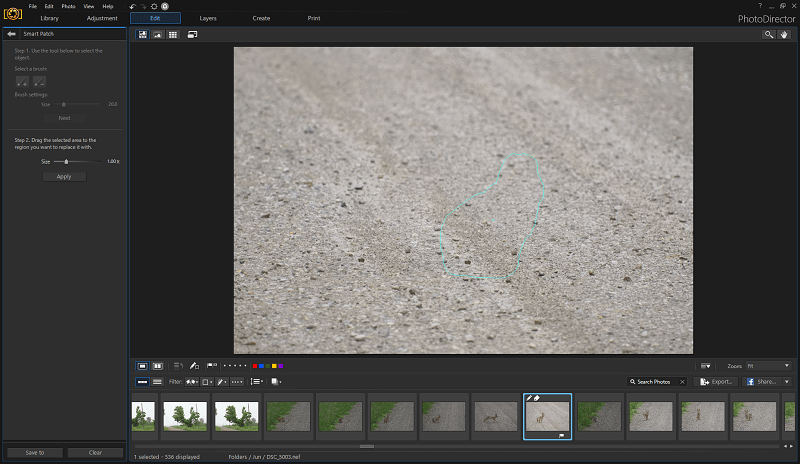 Layer-based Editing
As with the previous module change, PhotoDirector gives a quick primer on the best way to navigate its workflow. Cyberlink explains that Layers is for 'advanced photo composition', but the available tools are fairly limited and there are some technical issues with the way it operates that might stop you from using it extensively.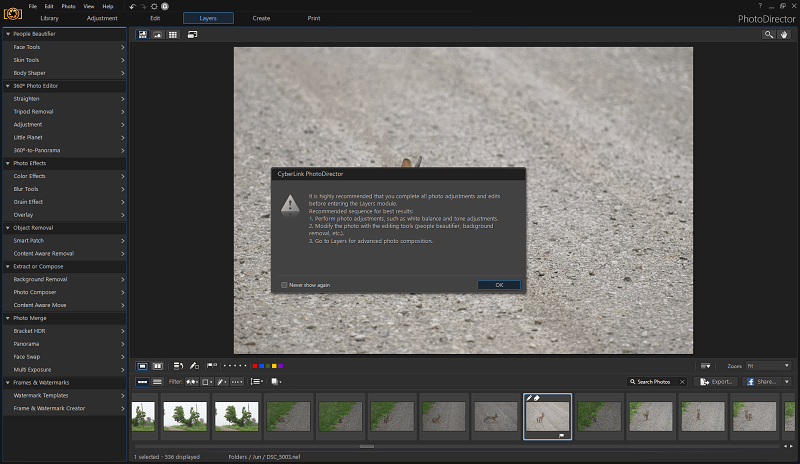 I did manage to almost crash the program several times while attempting to create a layer-based photo composite, which leads me to suspect that the Layers module could use a bit more work before it's ready for use. Simply moving a layer around shouldn't be a major task, and you can from the Windows Performance Monitor that it's not a hardware issue.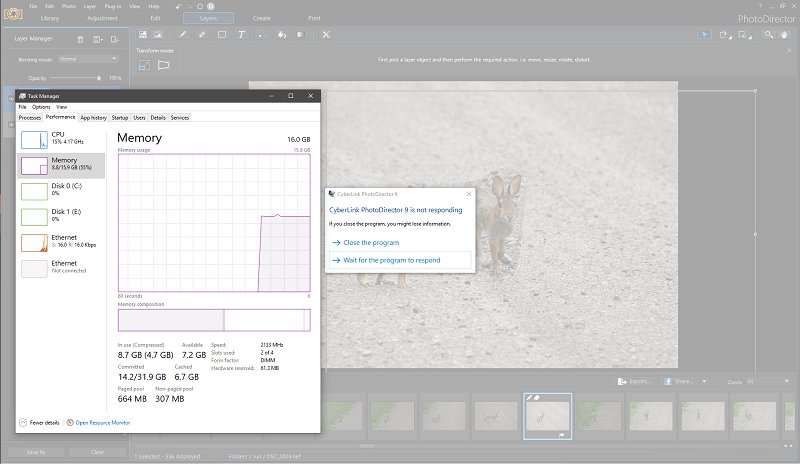 Eventually, I ended the PhotoDirector process, but the next time I loaded the program it decided not to behave properly and simply displayed the loading screen with the progress indicator cycling permanently. It was clearly doing something (at least according to the Task Manager) so I decided to let it chug through whatever problem it was having and to see what would happen – which turned out to be nothing.
After some digging on the Cyberlink site, I found that the problem may be my project file – which contains my entire image library import information, as well as the data on my current edits. Regularly corrupted project files is the first reason I've come across why it would be useful to use the project system at all, as opposed to using one project/catalog for all of your photos.
I deleted the old project file, created a new one, and went back to recreate my composite. At first, the new attempt worked perfectly well while I only had two rectangular photos on separate layers. Moving layers was initially responsive, but as I erased unwanted areas from the upper layer, moving and adjusting it became slower and slower until the same unusable state developed.
In the end, I discovered that working directly with RAW images was the issue. When they have been converted to JPEG images they are no problem for the Layers module, but placing a RAW image directly from your project into a new layer causes this major issue.
Needless to say, the required conversion is less than ideal for fast workflow, but it's nice to know that the entire Layers module isn't completely broken – though it could obviously use a bit of work. Just for a comparison, I tried the same operation in Photoshop and it took all of 20 seconds to complete, with no conversion required and no lag, crashes or other hassles.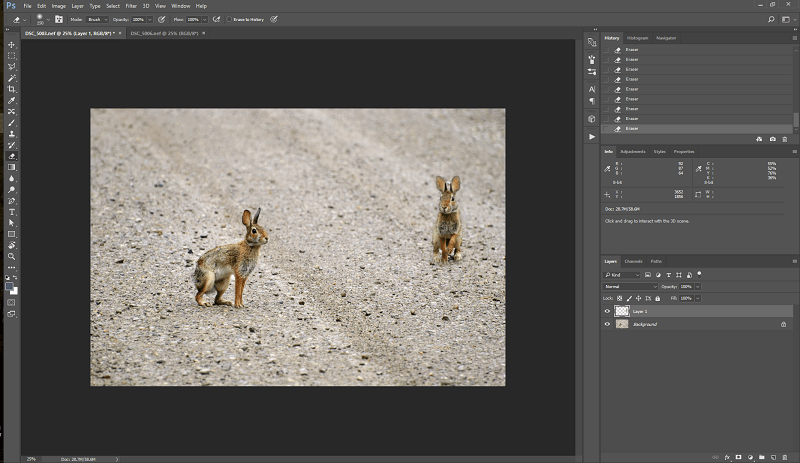 Video Tools
Cyberlink is probably most famous for its range of video and DVD authoring tools, so it's no surprise that video plays a role in some of the more unique add-on features of PhotoDirector. There is a range of ways to create photos from videos, but you'd have to be using 4K video sources to create photos that were of remotely good quality, and even then they would only be equivalent to an 8-megapixel camera.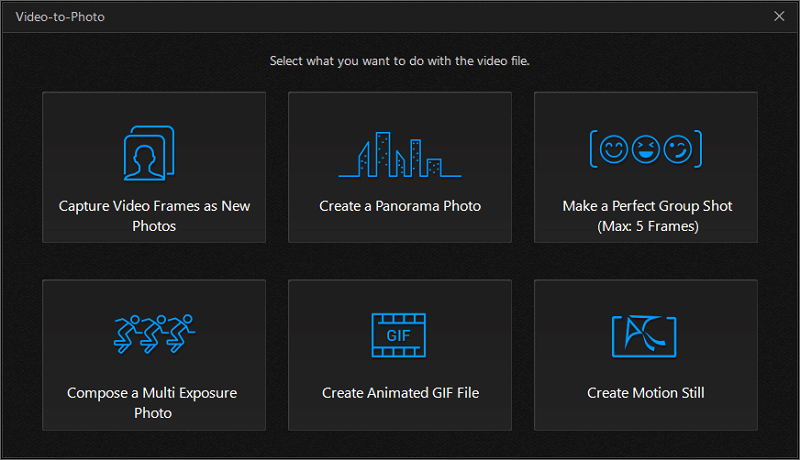 Some of these tools are interesting, but they really belong in a video editing program rather than an image editor. They seem to be solving problems that don't really exist for photographers, with the possible exception of the 'perfect group shot' tool. Otherwise, you could do all of these with actual photos and no need to bring video into it at all.
Reasons Behind My PhotoDirector Ratings
Effectiveness: 3.5/5
For the most part, the RAW image development and editing tools are quite good, but it is not up to the challenge of handling much layer-based editing. The library organization system works well, but project files can be corrupted by program crashes that make it not worth the time to invest in tagging and sorting a large number of images.
Price: 3.5/5
At $14.99 per month, or $40.99 per year in subscription, PhotoDirector is priced comparably to many other casual – and enthusiast-level programs, but it doesn't offer the same degree of value due to the issues with its effectiveness. If this is the amount you're willing to spend on a photo editor, you're probably better off spending it somewhere else.
Ease of Use: 4/5
Since PhotoDirector is intended for the casual photographer, it does a fairly good job of staying user-friendly. The interface is clear and uncluttered for the most part, and there are very helpful step-by-step instructions for some of the more complex tasks found in the Edit module. On the other hand, the strange library management design choices make it difficult to work with large numbers of photos, and layer-based editing isn't user-friendly at all.
Support: 4/5
Cyberlink provides an extensive range of technical support articles through their knowledge base, and there is a PDF user manual available on the website for download. Oddly, the 'Tutorials' link in the Help menu of the program links to a very badly-designed site that hides most of the relevant tutorial videos, despite the fact that the Learning Center shows the same content in a much more user-friendly way. Unfortunately, there is very little third-party tutorial information available, so you're mostly stuck with Cyberlink's tutorials.
PhotoDirector Alternatives
Adobe Photoshop Elements (Windows/macOS)
Photoshop Elements is priced comparably to PhotoDirector, but does a much better job of handling editing. It's not quite as easy to learn, but there are far more tutorials and guides available to help you learn the basics. It's also far more effective when it comes to optimization, so if you're looking for a relatively affordable image editor designed for the casual user, this is probably a better choice. See our recent Photoshop Elements review.
Corel PaintShop Pro (Windows)
PaintShop Pro isn't quite aimed at the same market as PhotoDirector, but it does an excellent job of guiding new users through the editing process. It's also priced very affordably compared to both Photoshop Elements and PhotoDirector, providing much better value for money if cost is a concern. Read our PaintShop Pro review here.
Luminar (Windows/macOS)
Skylum Luminar is another great image editor that provides a nice balance of powerful features and an easy-to-use interface. I haven't had a chance to use it myself, but you can read our Luminar review to take a closer look at how it compares with PhotoDirector.
Conclusion
CyberLink PhotoDirector provides some excellent RAW development and editing tools for casual users who want to take their photos to the next level, but the project-based organizational system limits your ability to work with a large number of images.
When you combine that with buggy and limited layer-based editing and corrupted project files, I can't really recommend that even casual users spend time learning this program.
If you need to convert your videos into photographs, you may find some value from the Video to Photo tools, but in most cases, there are better options from dedicated video editors.
So, do you find this PhotoDirector review helpful? Share your thoughts below.