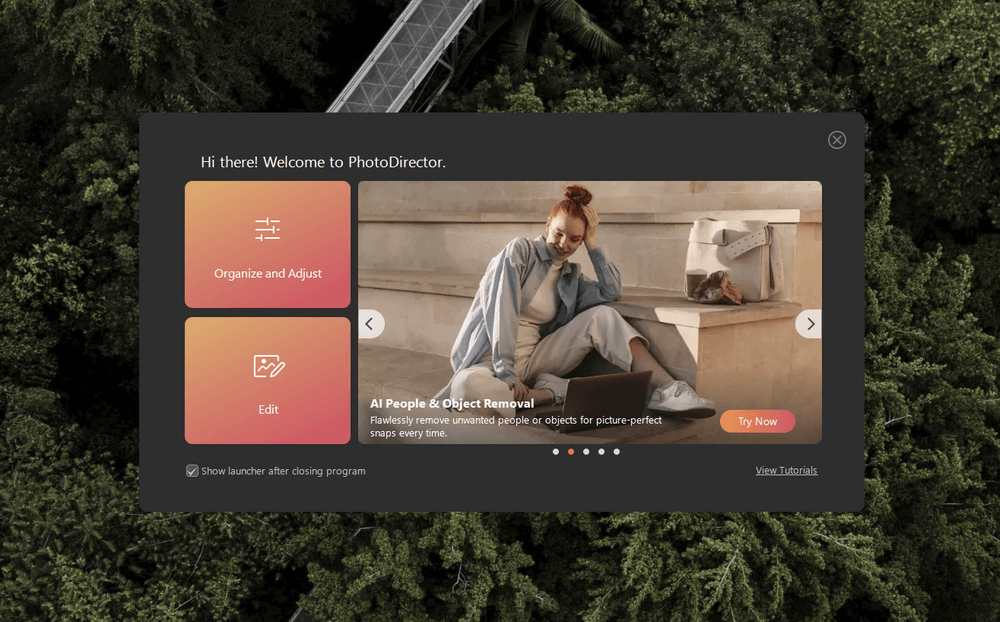 CyberLink PhotoDirector
Features: Good library management, RAW editing tools, and automatic tools
Pricing: Affordably priced, and it provides better value than the competition
Ease of Use: Easy to use automatic and step-by-step edits, but some technical glitches and strange UI choices
Support: Tech support is easy to find, but there are few tutorials available
Summary
CyberLink PhotoDirector is relatively unknown to many in the photo editing world, but it has come a long way lately, and I am pleasantly surprised by how capable it is as an editor in the most recent version. It provides an excellent set of manual editing tools and a range of modern automatic "AI-powered" tools, although some of these automatic tools need work, and its masking tools and layer-based editing can be a bit slow, even on a powerful computer.

The app is aimed squarely at the casual and enthusiast markets, and it does a great job at both fun, casual edits and precise non-destructive adjustments. It's not really marketed toward the professional sector as it lacks some features that many pro editors require for image editing work, but it also provides more automatic tools and user-friendly options than high-end software.

What I Like: Good photo library management. Solid RAW editing. Lots of new AI-powered tools. User-friendly guided edits. Access to Getty Images with a subscription.

What I Don't Like: Very limited lens correction profiles. Slow brush-based tools. Layer-based editing needs improvement. Random technical glitches when switching modes.
PhotoDirector is Cyberlink's photo editing software intended for casual photographers. It's designed to be user-friendly and contains a wide range of tools aimed at bringing professional-level editing to the non-professional.
Yes, PhotoDirector is perfectly safe to use, and both the installer and the installed app files themselves pass checks by Malwarebytes AntiMalware and Windows Defender.
Photodirector has both a free mode and a premium mode with advanced features. The premium mode features are available free for 30 days after you first install the software, but you'll have to buy a license if you want to continue using them for longer than that – and most of the best features are premium ones.
Is PhotoDirector better than Photoshop?
This is a hard question to answer because they're intended for two different types of users. Photoshop is the reliable industry standard used by professional image editors around the world, while PhotoDirector is intended to be user-friendly for casual beginners and enthusiasts who want easier ways to explore photo editing tools.
Why Trust Me for This Review
Hi, my name is Thomas Boldt, and I've worked with a wide range of image editing programs over the course of my work as a graphic designer and professional photographer. I first started working with digital imagery in the early 2000s, and since then I've worked with everything from open-source editors to industry-standard software suites. I'm always interested in experimenting with new editing programs, and I bring all of that experience to these reviews to help you decide what's worth your time.
Disclaimer: Cyberlink provided me with no compensation or consideration for the writing of this PhotoDirector review, and they have had no editorial control or review of the content before publishing.
Detailed Review of CyberLink PhotoDirector
PhotoDirector has a range of unique features that provide some interesting options for image editors, but we don't have room in this review to explore each and every one. Instead, we'll look at the overall user interface, then at each of the five app sections, and explore how well they function.
Cyberlink PhotoDirector is available for both Windows and Mac, but the screenshots below are from the Windows version. The Mac version should look similar, with only a few small interface variations.
User Interface
PhotoDirector is divided into two main workspaces: Organize and Adjust and Edit, as you can see in the screenshot below. Each workspace has a different interface tailored to the specific tasks you'll be working on in each one, and you can switch back and forth between them as needed.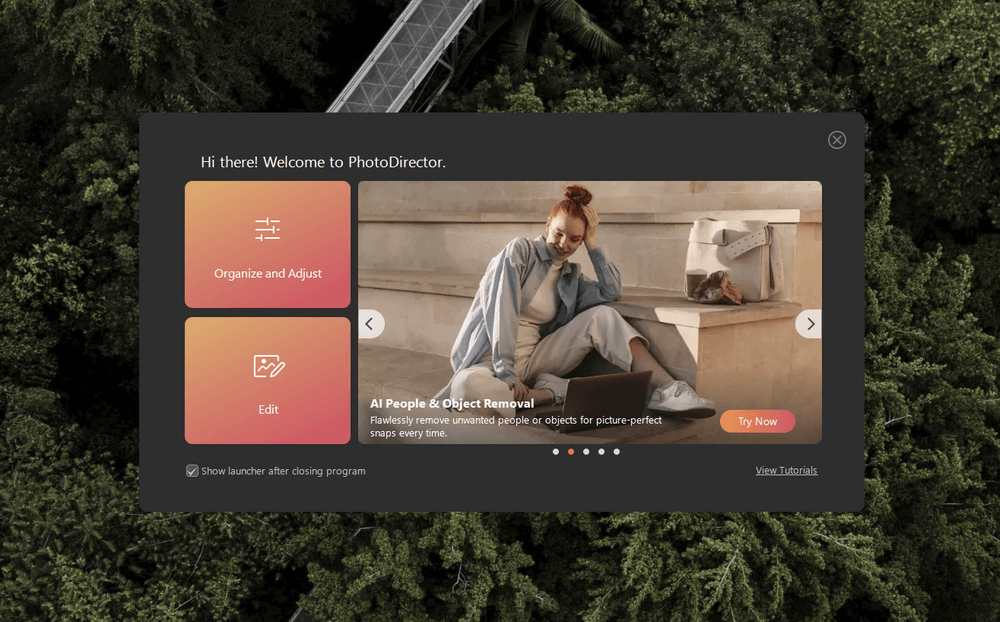 The Organize and Adjust workspace contains your photo library and management tools, such as flags, star ratings, and keywords, as well as the non-destructive adjustment tools typically used for RAW development. PhotoDirector allows you to use them with any image format, which is a nice touch. This section also contains additional tools for HDR and panorama images, as well as some unique video-to-photo options.
The Edit workspace allows you to work directly with the pixels of your image, whether you need to warp, clone, or replace an entire sky. It is subdivided into two modes: Guided, which provides automatic AI tools and step-by-step wizards for complex editing tasks, and Expert, which gives you all the manual editing tools you need to put the finishing touches on your image, including layer-based editing.
I'm not sure why CyberLink chose to split the app this way because it seems like it would make sense to simply merge everything into a single unified interface – except that was already how the app was designed in previous versions.
Aside from this confusing decision, the biggest problem I found with the way the app is organized is that switching between modes sometimes simply… fails to work at all.
During my testing, PhotoDirector would occasionally get stuck displaying a 'Loading' message while switching from the Organize and Adjust section to the Edit section and sometimes even while switching between Guided and Expert modes within the Edit section. The only way out was to close the app and restart it, which might force you to start your edit all over from the beginning.
My personal take: PhotoDirector used to have a more unified interface with five different modules, and I don't recall experiencing any issues switching between them when I used previous versions. This new divided interface seems to create more problems than it solves, and I can't really understand why CyberLink would choose to design it in this way.
Organize
PhotoDirector's library management tools are excellent, providing responsive image display for everything from small JPEGs to high-resolution RAW files that feels fast enough to put some major competitors to shame (looking at you, Lightroom). Filters work smoothly and quickly, even on large photo collections.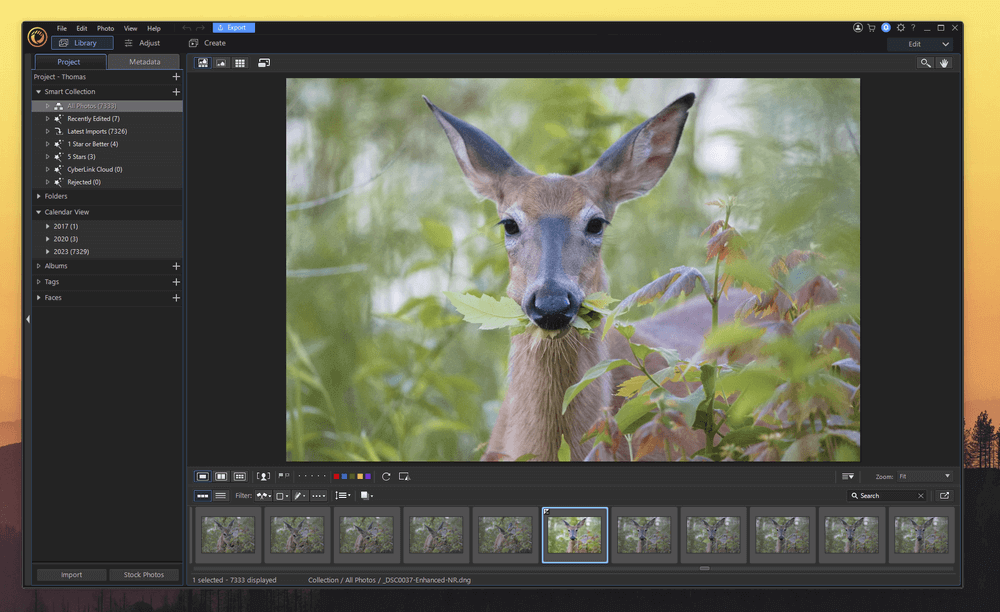 All your library information is managed within 'projects,' which function in a similar way to catalogs in Lightroom, and they all store data independently from each other.
For example, you might have one project for your vacation photos, another for your best friend's wedding photos, and so on. But if you want to manage your entire photo library, you need a dedicated project file for it because any tagging or sorting done in one project isn't accessible from another project. That can be useful for separating client projects, but it makes it hard to look at your entire body of work as a whole.
Within each project, the organizational tools are good, allowing for the standard range of star ratings, pick or reject flags, and color coding. You can also tag files with specific keywords to enable quick searches across large projects if you have the time and patience to do so or sort your photos using face detection.
The only issue that I have with PhotoDirector's library management is that there isn't any way to force it to generate previews for your images in advance. Instead, thumbnails are only generated when actually viewing the photo or scrolling past it in your library.
That doesn't matter if you immediately view every new photo that you import, but if you import your existing photo collection or an entire day-long photoshoot at once, you will have to scroll through the entire thing slowly to allow PhotoDirector to generate thumbnails for everything.
My personal take: Responsive display is what I value most when browsing through my photo library, and PhotoDirector does a great job of keeping up with my high-resolution RAW files. The organizational tools are excellent, and the only thing lacking is a 'generate thumbnails' command.
Adjust
The Adjust section is where you'll find all of PhotoDirector's non-destructive editing tools. For the most part, they are quite good and nearly match the range of options that you can find in a professional-level program, with a few exceptions.
I did find that the automatic tone adjustment feature tends to create a washed-out image, as you can see below, although that's partly because there is no way to adjust the RAW profile in PhotoDirector. All your images will display with whatever profile you set in-camera, so all of mine look a bit washed out at first, thanks to the Nikon Flat profile. You can correct this by hand, of course, but it requires some extra work.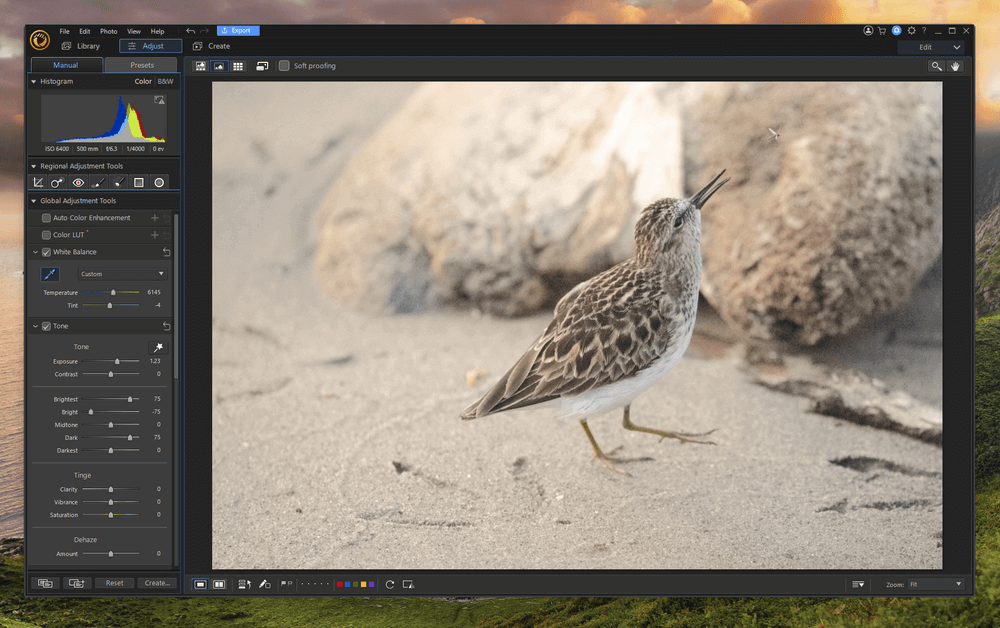 Standard global adjustments such as tonal range editing, color adjustments, and automatic lens correction profiles are all available, although the range of supported lenses is still quite small. You can download additional lens profiles created by the community, but there is no guarantee that they will be accurate.
This is a big drawback for anyone who uses a wide range of cameras and lenses, including me. There's no profile for the popular Sigma 150-600mm lens, which is my latest favorite, but there are plenty of smartphone and tablet lens profiles – just not for the latest generation of devices.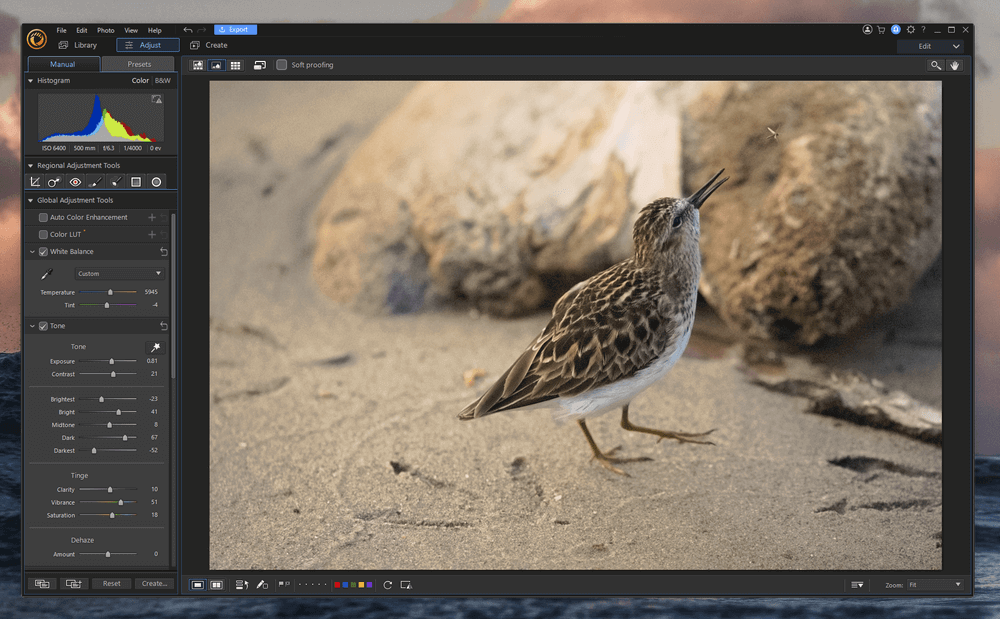 The masking tools for working with localized edits are decent, though I found that there was a significant input delay between the motion of my cursor and the actual drawing of the mask. Unfortunately, the brush-based tools in the Edit section also suffer from this issue, which makes it that much more annoying. It's a huge problem, but it can definitely slow you down.
My personal take: Overall, the tools and options in this section are effective, with a few exceptions, like automatic tone adjustment, limited automatic lens correction profiles, and the lack of RAW profile adjustment. If you rely heavily on specific lenses, you may want to double-check that they are supported before purchasing.
Create
This section is a bit loosely-defined, but it allows you to create a range of different things, starting with slideshows, animated GIFs, and CyberLink's trademarked 'Motion Stills,' which are essentially animated GIFs with a bit of masked animation. I'm not sure how practical it is, but it's an interesting feature.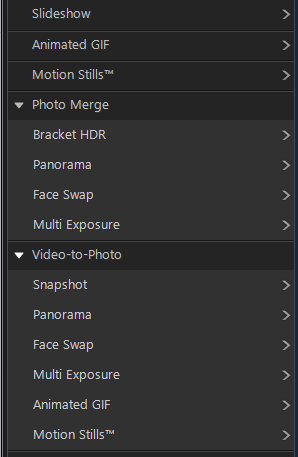 The most useful features in this section for photographers are the Photo Merge tools, which cover HDR bracketing, panoramas, and other ways to combine multiple exposures. The Panoramas tool was a bit slow to merge all 20 images for the Toronto skyline sunset below, but the final result was good.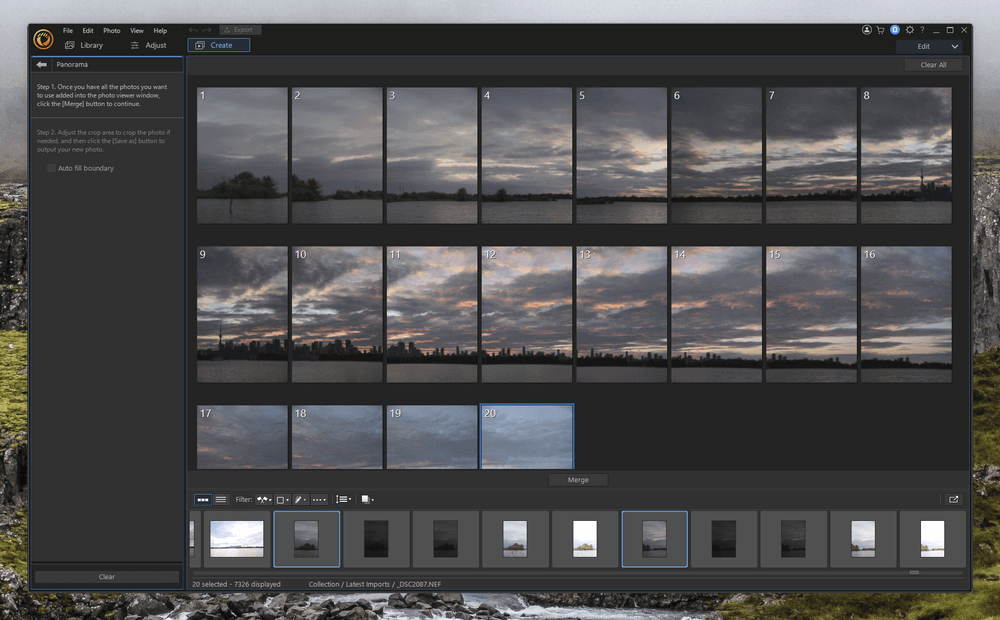 Cyberlink is probably most famous for its range of video and DVD authoring tools, so it's no surprise that video plays a role in some of the more unique add-on features of PhotoDirector. There is a range of ways to create photos from videos, but you'd have to be using 4K video sources to create photos that were of remotely good quality, and even then, they would only be equivalent to an 8-megapixel camera.
Some of these tools are interesting, but they really belong in a video editing program rather than an image editor. They seem to be solving problems that don't really exist for photographers, with the possible exception of the 'perfect group shot' tool. Otherwise, you could do all of these with actual photos, and no need to bring video into it at all.
My personal take: Aside from the Photo Merge tools, most of these feel a bit gimmicky to me. I guess it's nice to have so many features in a single app, but it feels like CyberLink should focus more on polishing the existing features before adding more.
Guided
The Guided section of the Edit workspace offers a set of helpful step-by-step wizards and AI-powered tools that are geared toward a wide range of photography tasks, covering everything from portrait retouching to sky replacement to AI-powered noise removal.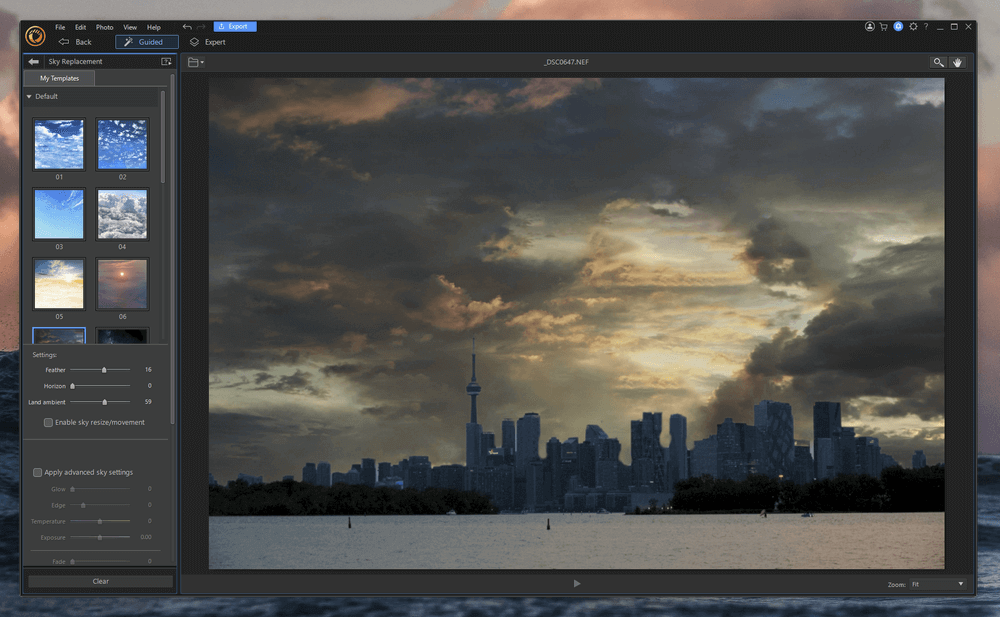 Some of the automatic tools are more successful than others, although most of the really useful ones, such as content-aware object removal and AI-powered noise reduction, work well enough to produce decent results when used properly.

The only issue that I experienced with the Guided section was that it was often quite hard to locate the tool you want to use in the huge list. The organization system is fairly confusing – why are photo effects different than lens effects? Why are some animation effects here and some in Create? Who knows –
One of the most interesting features in this section, AI Sticker Maker, seems like it would be better suited in the Create section, but it's still cool to play around with. It is CyberLink's first attempt at incorporating text-based generative AI into PhotoDirector, although I'm not sure why it belongs in a photo editing workflow at all. It allows you to type in a text description of the sticker you want to create, select a style, and the AI will generate the image for you.
My personal take: There are some great tools in here, although you'll have to work a little bit to find them since the organizational system seems pretty random to me. CyberLink should probably re-evaluate its design decisions about why certain tools go where, but at least most of them work well.
Expert
Last but not least, we reach the Expert section of the Edit workspace, which is used for direct pixel editing. Unfortunately, this section of the app isn't as successful as the rest of the features since CyberLink seems to have prioritized its non-destructive and automatic editing tools over its manual editing options.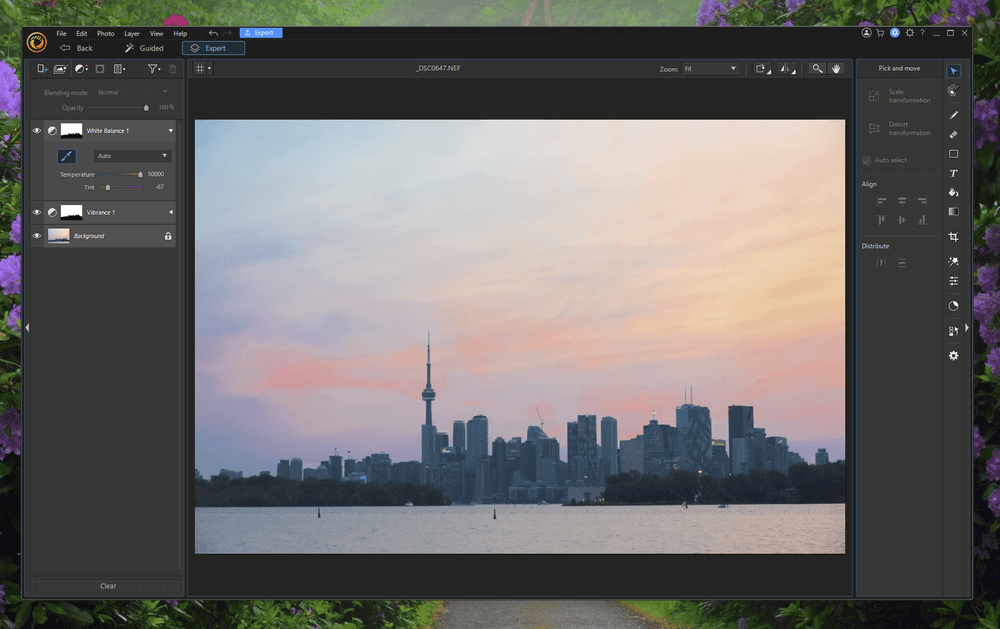 You get access to basic tools for making selections, cropping, and adding text and shapes, but you won't find expected popular tools like Clone or Heal, and the paintbrush options are almost non-existent. You can't even modify the feathering at the brush edges!
You can apply non-destructive adjustment layers, and while layer-based editing is improved when compared to previous versions, it still needs some work. Copying a layer mask from one adjustment layer to another seems to break the adjustment layers so that they fail to display the results of their adjustment, which is an obvious and annoying flaw.
My personal take: This area feels almost like an afterthought when compared to the polished non-destructive tools in the Adjust section. If you're just looking for the easy automated editing tools found in the rest of the app, this won't bother you, but you probably won't want to do much work in this section.
Reasons Behind My Ratings
Features: 4/5
The library organization system works well, and the non-destructive adjustments and editing tools are quite good, except for a few minor issues. Providing access to Getty Images for subscription-based users is an excellent touch, although it would be nice to be able to browse the main site instead of having to use the built-in downloader inside PhotoDirector.
Limited lens correction profiles are available, so you may want to make sure that your lenses are supported before making a purchase. You probably also won't want to use PhotoDirector for layer-based editing projects like photocomposites since CyberLink has focused more on its automatic editing tools, and the Expert editing mode leaves a lot to be desired.
Price: 5/5
At less than $5 USD per month (billed annually as a subscription), PhotoDirector is priced more affordably than most other casual and enthusiast-level programs. It delivers a huge set of features that provide excellent value at this price point, including access to the Getty Images stock photo library.
You can also purchase PhotoDirector as a one-time purchase if you prefer not to deal with subscriptions, but this limits your access to updates and new features until you purchase the next version.
Ease of Use: 4/5
Since PhotoDirector is intended for the casual photographer, it does a fairly good job of staying user-friendly. Aside from the strange choice to divide the program into two workspaces, the interface is clear and uncluttered for the most part, and there are very helpful step-by-step instructions for more complex editing tasks found in the Guided section of the Edit workspace.
That being said, there are some technical issues that can make the program a bit frustrating to work with. Losing all your progress while working on an image edit is frustrating, and it's all the more annoying to lose your work due to simple glitches caused by switching between modes.
Support: 4/5
Cyberlink provides an extensive range of technical support articles through its knowledge base, and there is a PDF user manual available on the website for download. The only downside to their tech support is that they give priority support to subscription users over those who have bought PhotoDirector as a one-time purchase.
There are also plenty of video tutorials available covering most of the PhotoDirector features, with links to them available on the home screen and in the Help menu. Unfortunately, there is very little third-party tutorial information available, so you're mostly stuck with Cyberlink's tutorials.
PhotoDirector Alternatives
Adobe Photoshop Elements (Windows / macOS)
Photoshop Elements is priced comparably to PhotoDirector, but does a much better job of handling editing. It's not quite as easy to learn, but there are far more tutorials and guides available to help you learn the basics. It's also far more effective when it comes to optimization, so if you're looking for a relatively affordable image editor designed for the casual user, this is probably a better choice.
Corel PaintShop Pro (Windows)
PaintShop Pro isn't quite aimed at the same market as PhotoDirector, but it does an excellent job of guiding new users through the editing process. It's also priced very affordably compared to both Photoshop Elements and PhotoDirector, providing much better value for money if cost is a concern.
Luminar (Windows / macOS)
Skylum Luminar is another great image editor that provides a nice balance of powerful features and an easy-to-use interface. I haven't had a chance to use it myself, but you can read our Luminar review to take a closer look at how it compares with PhotoDirector.
Final Verdict
Overall, CyberLink PhotoDirector is a great image editor that's perfect for casual home users and enthusiasts who want to edit their photos without embracing the Adobe hegemony. It's a bit unfortunate that there always seems to be a "but" hanging over each feature, such as 'the editing tools are great, but…'.
If CyberLink takes the time to polish up its existing features alongside its rush to add more AI-powered tools, it might become the best image editor available for the beginner/enthusiast market.
Do you find this PhotoDirector review helpful? Share your thoughts below.