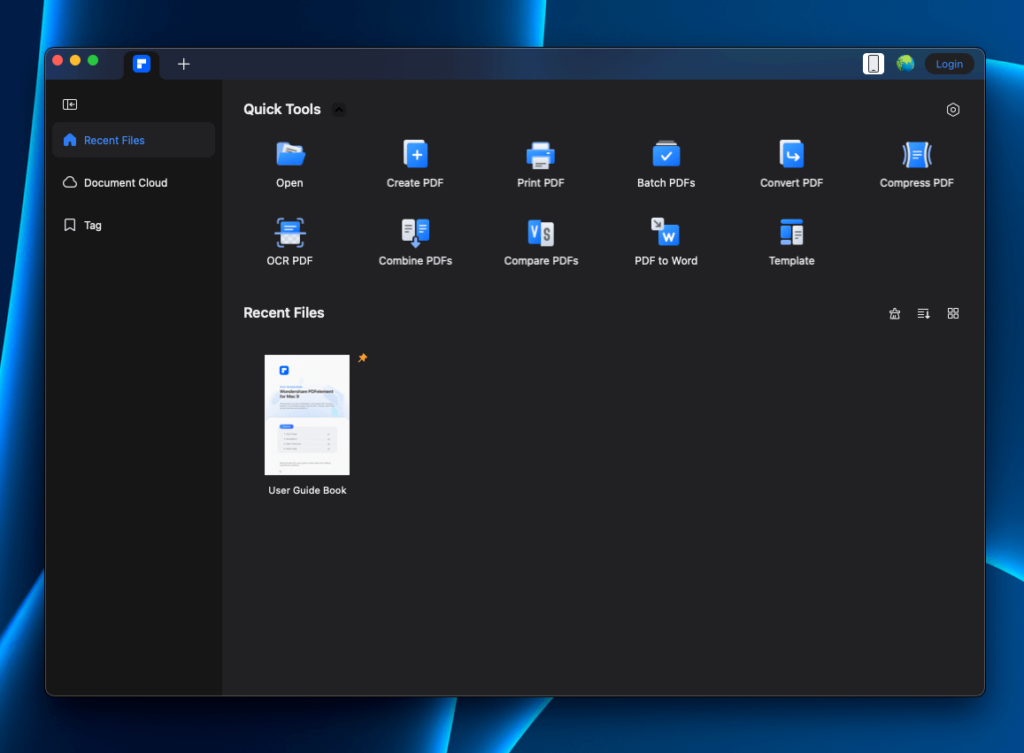 Wondershare PDFelement
Features: Full-featured PDF software with built-in editor, annotations, editing, document converting, signature, form creation, and more.
Pricing: Affordable cost of $79.99/year, $109.99 for two years, or $129.99 for a perpetual license.
Ease of Use: Intuitive interface with walk-through pop-ups for new users.
Support: Thorough support documentation, including online guides, FAQs, video tutorials, and a support email address.
Summary
PDFelement is a comprehensive PDF solution that you can use to create, edit, convert, annotate, sign, and manage PDF files. It is a powerful tool that you can use for various purposes, including business, education, and personal use. Some of the key features of PDFelement include:

– Create PDFs from various sources, including documents, images, and web pages.
– Edit PDFs by adding, deleting, and modifying text and images.
– Convert PDFs to various formats, including Word, Excel, PowerPoint, and HTML.
– Annotate PDFs with comments, highlights, and stamps. Sign PDFs electronically.
– Manage PDFs by organizing, merging, and splitting them.

It is available for macOS, Windows, and iOS. This review looks at the Mac version of PDFelement, which may have a different user interface than the Windows version.

For Mac users, you already have a basic editor — Apple's Preview app does basic PDF markup. If that's all you need, you won't need to purchase additional software. But if your editing needs are more advanced, PDFelement offers excellent value for money. I recommend it.

What I Like: Editing, marking up, and creating PDFs is simple. Converting PDF to other formats and vice versa, including Word, Excel, and Powerpoint, is simple too.

What I Don't Like: The OCR function is only available on the paid version, and you need a license for all your devices (if you want to use it on your iPhone and Mac, for example).
PDFelement is a software application that allows users to create, edit, convert, and manage PDF files. It is a powerful tool that can be used for a variety of purposes, including:
Creating PDF files from scratch
Editing existing PDF files
Converting PDF files to other formats, such as Word, Excel, and PowerPoint
Managing PDF files, such as merging, splitting, and annotating them
Is PDFelement safe to use?
Yes, PDFelement is entirely safe to use. I downloaded it on my Mac and have no issues. Millions of people use it every day, and it has thousands of positive reviews.
There is no risk of data loss when using the app. If you modify a PDF, it is renamed when saved and does not overwrite the original document. For example, if you redact some information in a PDF called Demonstration.pdf, the altered document will be saved as Demonstration_Redacted.pdf.
PDFelement is not free. However, you can download a free trial with limited functionality. The trial version does not include OCR, has limited document conversions (only converts the first two pages), and applies a watermark to saved PDFs.
How much does PDFelement cost?
PDFelement costs $159 for a perpetual license, $149 for a 2-year subscription, or $129 for a yearly plan. Look out for sales– for example; there is a 30% off Summer Sale 2023 at the time of writing.
Why Trust Me for This Review
My name is Jonathon Jachura, and I am a tech and software geek that has been using various PDF editors for well over a decade. This gives me a wealth of experience and knowledge about the different features and capabilities of PDF editors.
I have years of experience testing and reviewing software, and I won't hesitate to point out the strengths and weaknesses of each product. I know what to look for and how to thoroughly assess software, so you don't have to.
PDFelement is a powerful PDF editor that you can use for editing, converting to other formats, annotating, and securing PDFs. If you need to do any of these things with PDFs, then PDFelement is the tool for you. It is a powerful and easy-to-use PDF editor that can help you finish the job quickly and easily.
Detailed Review of PDFelement
The purpose of PDFelement is to help you edit, create, annotate, sign, and redact/encrypt PDF documents. It works with all PDF files, plus you can import Word, Excel, and PowerPoint documents and convert them to PDFs. It has intuitive controls and provides hover tooltips that walk new users through each feature.
You can use PDFelement's OCR feature to recognize text on a scanned document. Additionally, you can convert PDFs to other file formats.
Let's take an in-depth look PDFelement's key features. I'll share my personal assessment of each of them.
Edit and Markup PDF Documents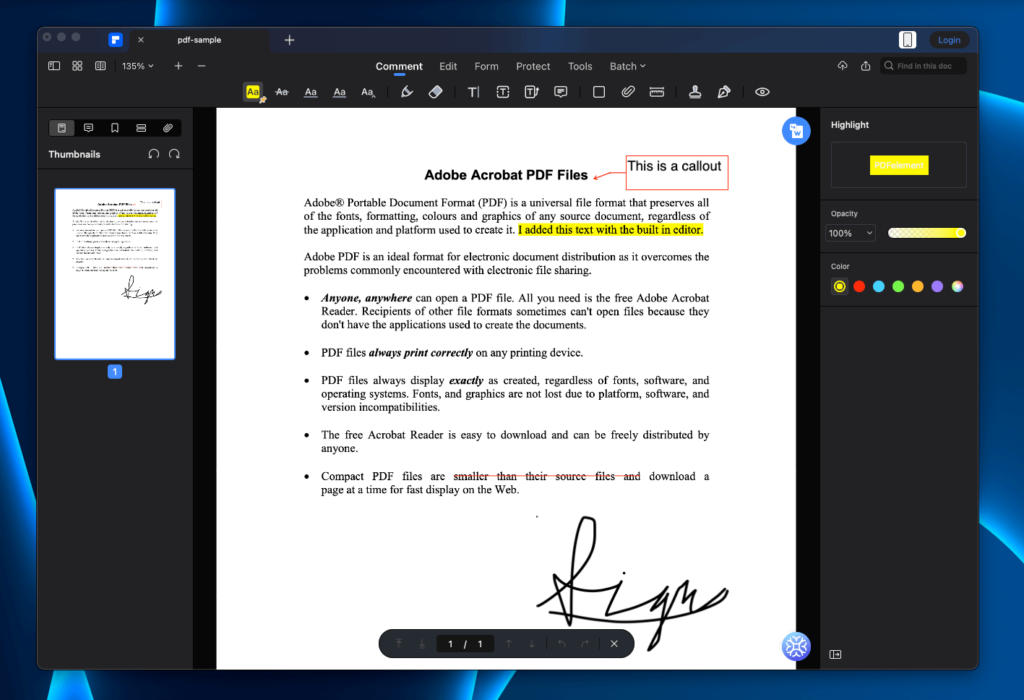 Arguably the most useful feature of PDFelement is editing, marking up, and signing PDF documents. By nature, PDFs aren't designed to be edited. And most PDF editors have limited abilities or are excessively expensive.
But PDFelement eliminates these difficulties by providing an easy way to edit all PDFs. You can easily edit text directly, highlight words, add strikeouts, change font, etc. Essentially, you can do almost all the edits that you could do to a Word document using Microsoft Word. Plus, the interface is very similar to document editors such as Word, Google Docs, and Apple Pages.
My personal take: The ease of editing Word/Docs/Pages documents is something I take for granted until I open a PDF document I need to edit. Instead of clunkily copying and pasting a PDF into a Google Doc, PDFelement makes editing it just as easy as editing a Word document from scratch. And the controls are so similar you won't waste any time guessing where features are.
Scan and OCR Paper Documents
PDFelement's OCR (Optical Character Recognition) scanning capabilities allow you to convert scanned documents into editable and searchable PDFs. It can recognize over 120 languages and extract text from images, whether handwritten or low quality. You can also use OCR to convert PDFs into Word, Excel, PowerPoint, and other formats.
My personal take: I've been in a few situations where I needed to edit a printed copy of a document (I did not have the original digital file). PDFelement's OCR scanning capability is a powerful tool that will save me time and improve my productivity. Scanning a document in and editing it is as easy as editing a digital copy!
Redact Personal Information & Encrypt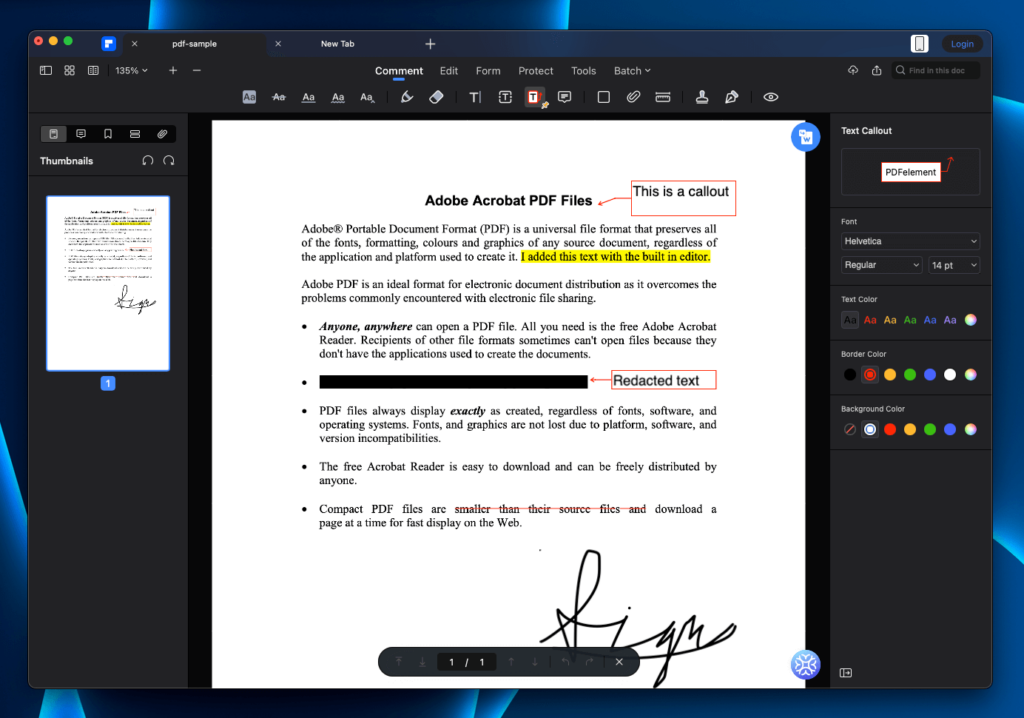 PDFelement's redaction feature allows you to hide sensitive information from a PDF, such as personal information, financial information, or trade secrets.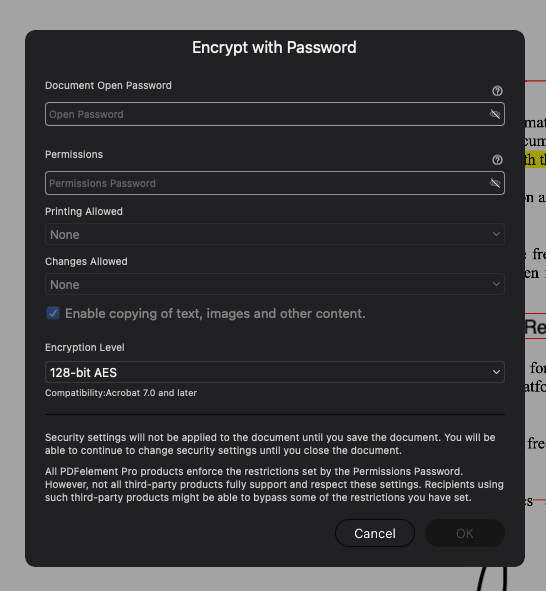 Encryption allows you to protect a PDF with a password so only authorized users (i.e., those with the password) can view it.
My personal take: I rarely need to redact information from a PDF. But when I do, the process is arduous because I have to do it by hand and then scan it. Doing it digitally with PDFelement will save me a lot of time and frustration. And PDFelement's encryption feature is a great way to protect sensitive information in your PDFs by securing it with a password.
Create PDF Forms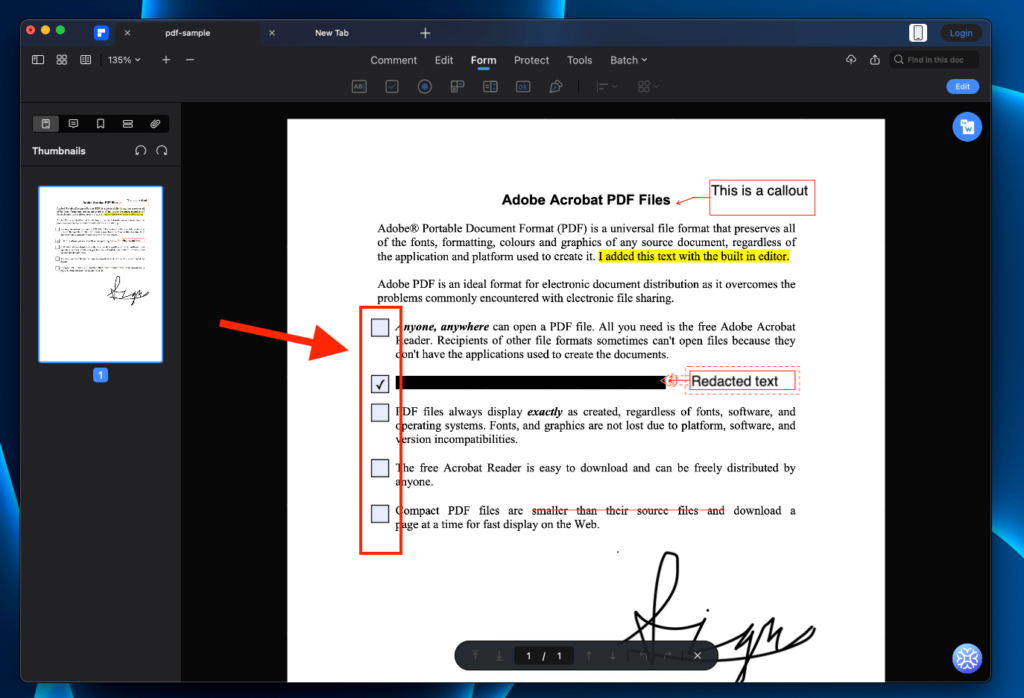 PDFelement has various features that make it easy to create forms, including the ability to add fields, buttons, and images. PDFelement also allows you to customize the appearance of your forms, and you can even add security features to prevent unauthorized access.
My personal take: PDF forms are a professional-looking way to gather information from people, and PDFelementor makes creating them simple and straightforward. You can quickly drag and drop check boxes, text fields, dropdowns, images, and other buttons where you need them.
Reorder and Delete Pages
PDFelement allows you to reorder and delete pages in PDFs. To do this, simply open the PDF in PDFelement and click on the "Pages" tab. From there, you can drag and drop pages to reorder them or click on the "Delete" button to delete a page.
PDFelement also allows you to merge and split PDFs as well, making it easy to slice and dice different documents together.
My personal take: Want to easily remove pages from a PDF? Or did you put your pages through the scanner in the wrong order? PDFelementor makes reorganizing your document as simple as clicking a few buttons.
Convert PDFs to Word Documents and Other Formats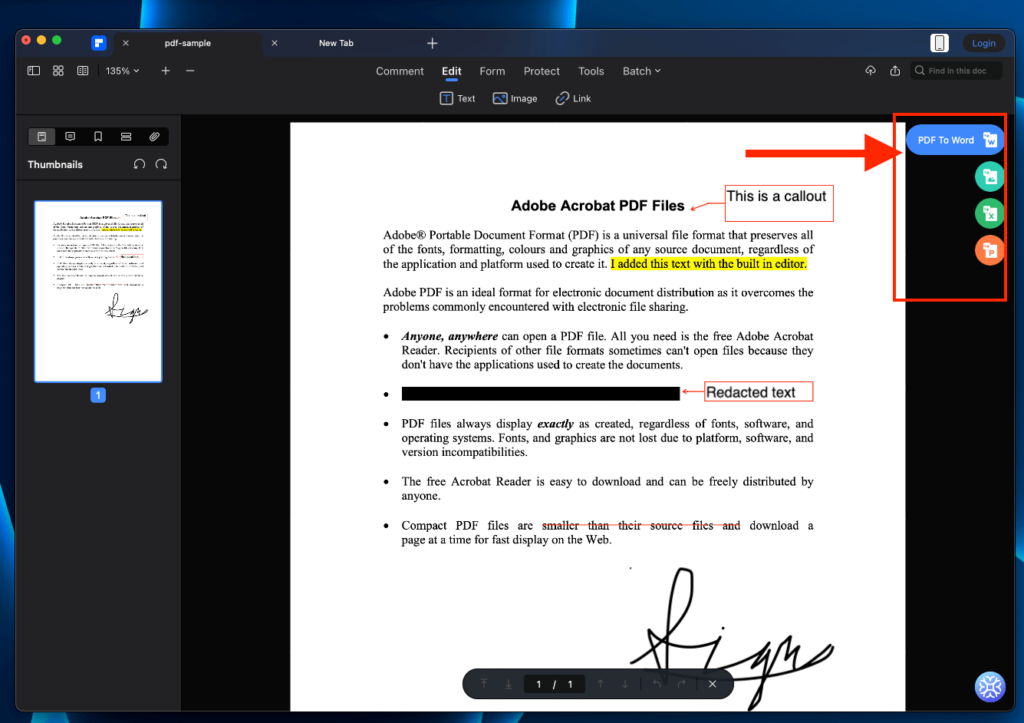 PDFelement can easily convert PDFs to and from Word, Excel, and Powerpoint files. All you have to do is open a PDF and click "PDF to Word," "PDF to Image," "PDF to Excel," or "PDF to PowerPoint" in the right-hand pane. It will then save your PDF as the selected file type.
On the flip side, you can also convert Word, Excel, and PowerPoint files to PDFs. Just simply open these files in PDFelement and save them as a PDF.
My personal take: Converting PDFs to and from Word, Excel, and Powerpoint files can't be any easier. With PDFelement, you literally just have to click two buttons.
Reasons Behind My Review Ratings
Features: 5/5
PDFelement has all the features I would expect of PDF editing software and more. You can edit PDFs, use OCR to edit scanned documents, convert to other file formats, redact personal/sensitive information, encrypt documents, create forms, and reorder/delete pages all in an intuitive user interface.
Pricing: 4.5/5
PDFelement is more cost-effective than its competitors (primarily Adobe Acrobat Pro DC). It costs $79.99 per year, $109.99 for two years, or $129.99 for a perpetual license.
Ease of Use: 5/5
Compared to other PDF editing software on the market, PDFelement is much easier to use. Editing in PDFelement is more comparable to editing a document in Microsoft Word or Google Docs– it's intuitive and all the actions you may need to perform are nested within tabs at the top of the window with icons for each action. For example, the highlight action is represented by yellow-highlighted text. When you hover over each icon, a tooltip also pops up to tell you what it is.
Support: 4.5/5
If you're familiar with Microsoft Word and Google Docs, there is a high chance you will never need additional support to figure out a feature. Everything is clearly labeled, and you can find and perform almost everything you need to do by simply clicking around. And if you're new to PDFelement, it will provide popup tips as you navigate. Along with that, PDFelement has several video tutorials and guides on its website for additional support. You can also email them (you won't need to) with questions. That said, it may take them a day or two to respond.
Alternatives to PDFelement
Adobe Acrobat Pro DC was the first app for reading and editing PDF documents and is still one of the best options. However, it is quite expensive.
ABBYY FineReader is a well-respected app that shares many features with PDFelement. But it, too, comes with a higher price tag.
The Mac's Preview app allows you to view PDF documents and mark them up. The Markup toolbar includes icons for sketching, drawing, adding shapes, typing text, adding signatures, and adding pop-up notes.
Final Verdict
PDFelement is a simple PDF editor packed with every feature you will ever need to edit, convert, protect, or create PDF documents. It is intuitive– almost all users can just pop right in and start using it like a pro within an hour.
It is also affordable and available for Macs, Windows PCs, and iOS devices. In my opinion, it is the best PDF editor available.
What features of PDFelement are most useful to you? Let me know in the comments below.