If you've got a smartphone, you'll eventually need to move files from your phone to a computer. Sometimes you want to back files up; sometimes you want to use or modify them.
Many of us have lived through the frustration of using iTunes to move files. It's frustrating! Now, with Apple discontinuing iTunes, we need to look for other tools to manage files on our iPhones. Thankfully, there are many phone managers out there.
iExplorer is a wonderful tool, probably the most popular app available for iPhone file transfers. But there are many other options available. Let's look at some other tools and see how they compare.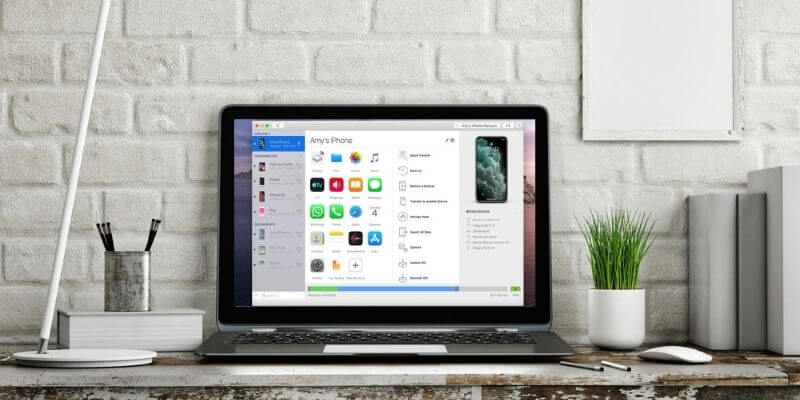 Why Do You Need An Alternative to iExplorer?
If iExplorer is such a magnificent tool, why use anything else? If you find that iExplorer does what you need, maybe you don't. But no phone manager is perfect— and that includes iExplorer.
There might be a phone manager out there with more features, lower cost, faster interface, or greater ease-of-use. While most software companies continually update their products with new and better versions, they don't always hit the features you're concerned about. Software ebbs and flows; it makes sense to periodically take a look at alternative tools and see what they offer.
So what's wrong with iExplorer? First of all, its cost might be a factor. You can get a basic license for $39, a universal 2-machine license for $49, and a Family license (5 machines) for $69. Most phone managers have a similar price point, but there are a few free alternatives.
Some other common user complaints: it's slow when scanning iOS devices. It cannot transfer files from PC to iOS. For some, the app freezes and crashes. Finally, iExplorer connects to devices only via USB. That might not be a problem for most people, but it would be nice to have a wireless option.
Overall, iExplorer is an excellent phone manager. If you want to read more about it, take a look at our article, Best iPhone Transfer Software.
Quick Summary
If you are looking to manage your iPhone or other iOS devices from a PC only, then CopyTrans is fantastic.
iMazing and Waltr Pro will let you manage iOS devices from either a Mac or a PC.
If you need a tool that allows you to manage iOS and Android devices from a Mac or a PC, try AnyTrans or SynciOS.
If you want a free open source alternative, take a look at iPhoneBrowser.
The Best Alternatives to iExplorer
1. iMazing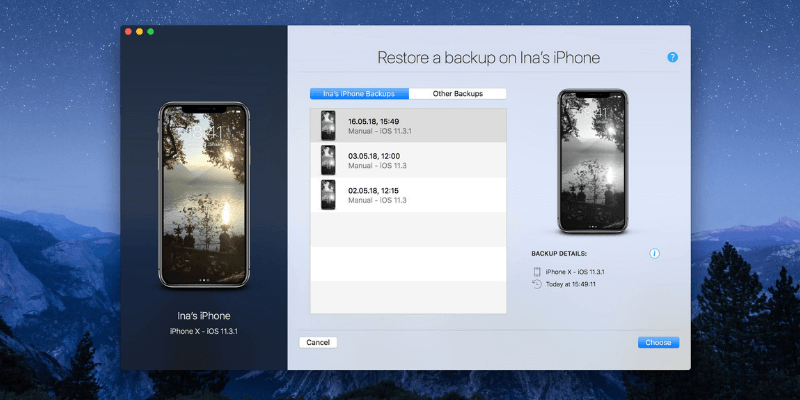 iMazing is really "amazing." It makes managing the files on your iOS devices quick, simple, and straightforward—no more fumbling through and trying to figure out how to make iTunes work the way you want it. This phone manager makes backing up and transferring data on your iOS devices a breeze.
The ability to schedule backups and do them wirelessly provides a true "set it and forget it" backup solution. One particularly impressive feature is customizable restoration. You don't have to restore everything from the backup; you choose what you want. Find out more about this app from our detailed iMazing review.
Pros
Works on both Mac and PC
Scheduled, automated backup
Ability to choose what data you want to be restored
Quick file transfers between computers and iOS devices
Free trial version available
Wireless connection
Cons
Doesn't work with Android phones
The free version does not let you restore from backups
2. AnyTrans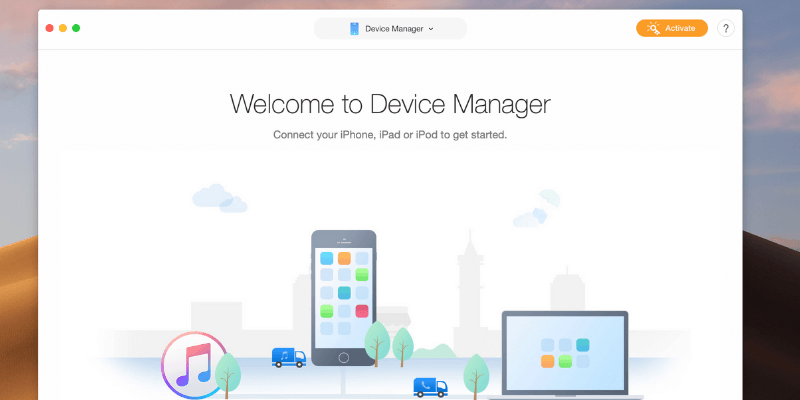 As the name indicates, AnyTrans covers all platforms and just about "any" type of file. AnyTrans works on PC or Mac, with iOS and Android. They even have a version for cloud drives. AnyTrans provides data management and transfer between all of your devices.
AnyTrans does almost anything you would expect from a phone manager. You can easily copy files between devices and organize them, create backups, and restore. The software also lets you use your phone like a thumb drive to save data to your computer. AnyTrans is loaded with features, here's a quick review.
Pros
Manages both iOS and Android devices
Works on PC or Mac
Transfers files wirelessly
Easy-to-use interface
Free trial available
Use your phone as a flash drive
Download video from the web directly to your phone
Cons
Must purchase different apps for iOS and Android
Single licenses are for only one year. You must get a bundle to get a lifetime license
3. Waltr Pro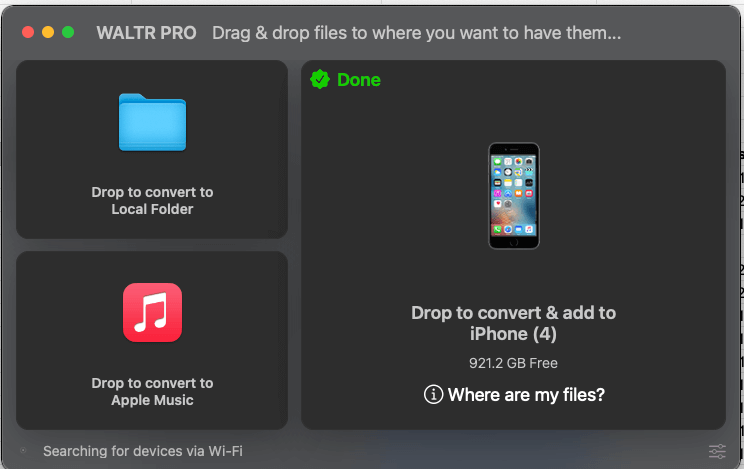 Waltr Pro is an easy-to-use tool that lets you drag-and-drop media files to and from your iOS devices. The application runs on both PC and Mac. It even converts unsupported formats on the fly, so there is no need to worry about file compatibility.
This app is simple to use and focuses solely on transferring files. It provides quick data transfers; there is no need to plug your phone in as it connects wirelessly. Waltr Pro costs about the same as most other phone managers. Download its 24-hour trial if you want to see how it works before purchasing.
You can read our detailed review to learn more about this app.
Pros
Transfers any music, video, ringtones, and PDF files to iOS devices
Fast transfers
Easy drag-and-drop interface
Wireless connectivity
Doesn't require iTunes
Converts unsupported formats on the fly
Free 24-hour trial
Works on Mac and Windows
Cons
Does not work on Android devices
Provides only file transfer—no other utilities
4. CopyTrans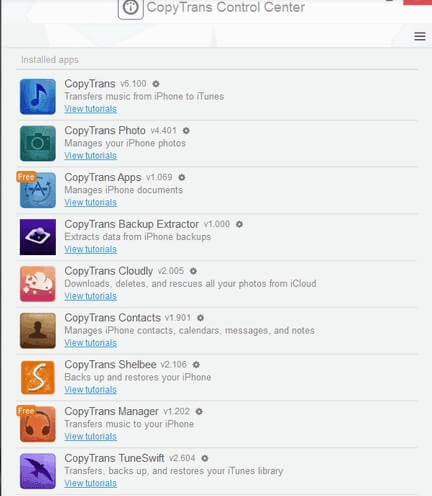 CopyTrans moves files from your phone to your PC and performs backups. Although it's a Windows-only app, CopyTrans makes copying files to and from your iPhone much simpler than using iTunes.
CopyTrans has separate applications for contacts, documents, photos, apps, music, backup, and restoration. CopyTrans Control center is the main app that lets you run all the individual apps.
Music (CopyTrans Manager), Apps (CopyTrans Apps), and the HEIC converter (CopyTrans HEIC) are free. Each of the other paid apps can be purchased separately or in a bundle. The total cost for the bundle is much cheaper than iExplorer, making this app a bargain.
Pros
Allows data transfers for contacts, documents, photos, music, and apps
Easy backup and restoration
CopyTrans Manager (for music), CopyTrans Apps, and CopyTrans HEIC are free
Purchase all 7 paid apps in a bundle for only $29.99
Cons
Only available for PC
Only available for iPhone
5. SynciOS Data Transfer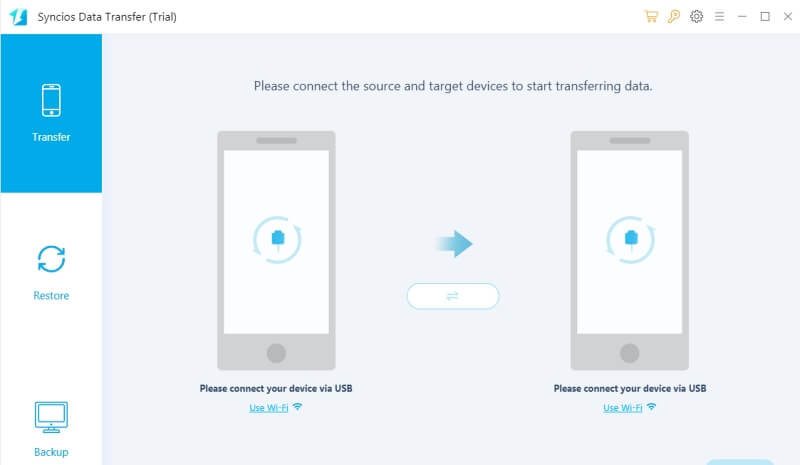 This all-in-one data transfer tool makes it easy to copy files from phone to phone. SynciOS lets you transfer contacts, photos, video, music, documents, and more from your old phone to your new one—15 different types of data in all.
SynciOS has apps for both Windows and Mac and supports both Android and iOS. It even allows you to transfer data between iOS and Android devices. This phone manager also gives you a painless way to do backups and restores.
Pros
Transfer contacts, messages, call history, calendar, photos, music, videos, bookmarks, ebooks, notes, and apps
Applications for both PC and Mac
Supports 3500+ devices
Transfer content between iOS and Android
iTunes/iCloud backup to Android or iOS
The new version offers wireless connection
Free trial available
Cons
Used to be free, but now only offers a free trial
The user interface is simple but has limited features
6. iPhoneBrowser
iPhoneBrowser is a free and open-source phone manager. It works with iOS only but is available on both PC and Mac. iPhoneBrowser lets you look at your iPhone just like you would a drive in Windows Explorer. You can use it to transfer, backup, preview, and delete files from your phone.
This is a simple, open-source tool. However, the developers have not kept it up to date for a while, so there is no guarantee it will work with your devices.
Pros
Drag and drop file transfers
Automatic and manual backups
Preview files
Use your phone as a flash drive
It's open-source, so if you are a developer you can modify it to fit your needs
It's free
Cons
It's open-source, so it may not be as reliable as other tools
The available open-source code has not been updated since 2009, so compatibility with new devices may be questionable
Works best with Jailbroken phones
Not available for Android devices
You need to have iTunes on your computer to run it
Final Words
While iExplorer is a terrific phone manager, there are areas where it does not perform as well as others. If you have been using iExplorer, or are unhappy with it, there are many alternatives available. Questions? Leave us a comment below!