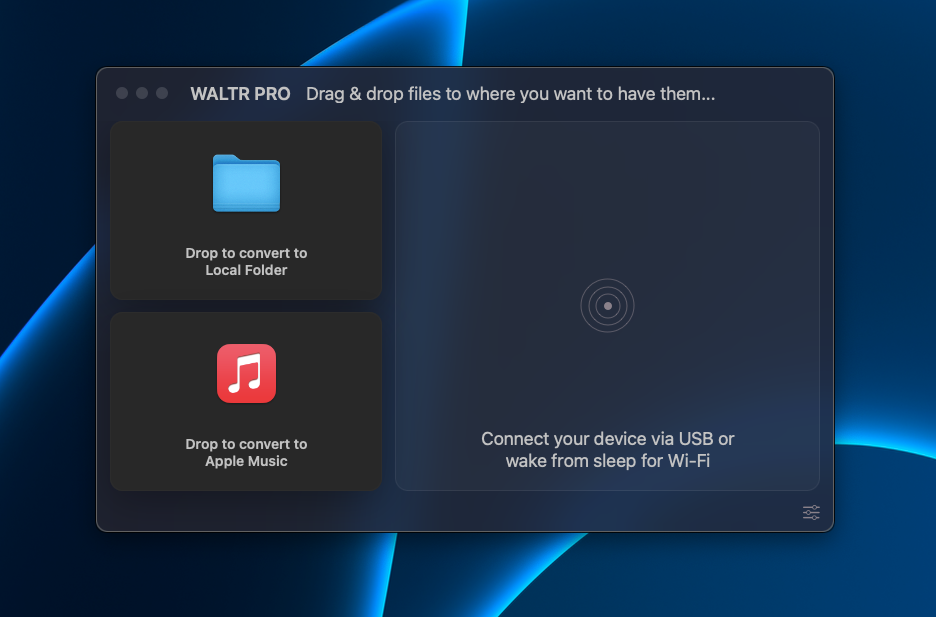 WALTR PRO
Features: Easy-to-use interface that lets you convert books/PDFs, movies, TV shows, music, ringtones, and other files for your iPhone.
Pricing: Monthly or yearly subscription-based pricing. A bit on the expensive side, but you can use the same license to activate 16 other apps from Softorino.
Ease of Use: Reasonably easy to use; however, if you click the wrong option, there is no way to go back without restarting the app.
Support: Thorough support pages, tips, and informational articles, but no live support.
Summary
WALTR PRO is a Mac and Windows application that lets you convert any file to your iPhone and iPad. You can drop any file format into the app, which will automatically convert and push the files to your Apple device. It can convert books, PDFs, movies, TV shows, music, ringtones, and other files to a format your iPhone or iPad can read. 

In my opinion, Waltr Pro is a useful tool for converting lots of files to your iPad or iPhone. For example, if you have many photos, music, movies, or books on your Mac or PC that you want on your iPhone, Waltr Pro can handle it. 

With that said, Waltr Pro isn't for everyone. If you only need to move a photo or video once in a blue moon from your computer to your iPhone, there are easier methods – without needing extra software. In that case, you can just use iCloud, email, or AirDrop.

Pros: Great for converting a large number of files from your computer (Mac/PC) to your iPhone or iPad.

Cons: It is expensive, and some conversions can take a long time and slow down your computer.
Is Waltr Pro safe to use?
Yes, Waltr Pro is completely safe to download and use on your Mac or Windows computer. It is easy to install, and you can begin converting files right away.
How much does Waltr Pro cost?
Waltr Pro costs $9.95 per month or $2.92 per month if you pay for an entire year. However, the monthly charge gets you access to 16 total apps from Softorino, which you can see here.
What does Waltr Pro do?
Waltr Pro converts files from your Mac or PC to file formats your iPad or iPhone can use. For example, if you want to convert a book to read on the Kindle app on your iPad, Waltr Pro can do that. All you do is drag the file into the Waltr Pro app on your computer, choose the destination app on your iPad (in this case, the Kindle app), and Waltr Pro will complete the conversion.
Why Trust Me for This Review
Hi, I'm Jon – a software, computer, and network enthusiast. I'm a degreed engineer and love learning how things work, including software. I've been using and reviewing various types of software for years.
I've used countless programs, apps, browser extensions, etc., throughout my career and personal life. But beyond Apple's iCloud service and AirDrop, I've never used an app to convert files from my MacBook to my iPhone and iPad.
Still, Waltr Pro's intuitive interface and ability to convert any file to my iPhone and iPad drew me in. After all, if I ever want to convert those old home movies and early 2000s TV shows, Waltr Pro seems capable. So, I decided to give it a try.
Detailed Review of Waltr Pro
Waltr Pro's objective is to convert any file on your computer to a format that works with an app on your iPhone. It does this by detecting the existing file type, finding an app on your iPhone or iPad it can work on, then converting the file to a format that works with the application.
Whether you have lots of files, you need to convert or just a few, Waltr Pro can handle virtually anything you throw at it.
Let's look at the key features of Waltr Pro. I'll share my personal assessment of each of them.
Convert Books and PDFs
As previously stated, Waltr Pro quickly converts files to your iPhone or iPad. Once you download the software, all you have to do is open the app, plug your iPhone (or iPad) into your computer, select "Trust this Device" on your iPhone, then drag the files you want on your iPhone to the Waltr Pro window.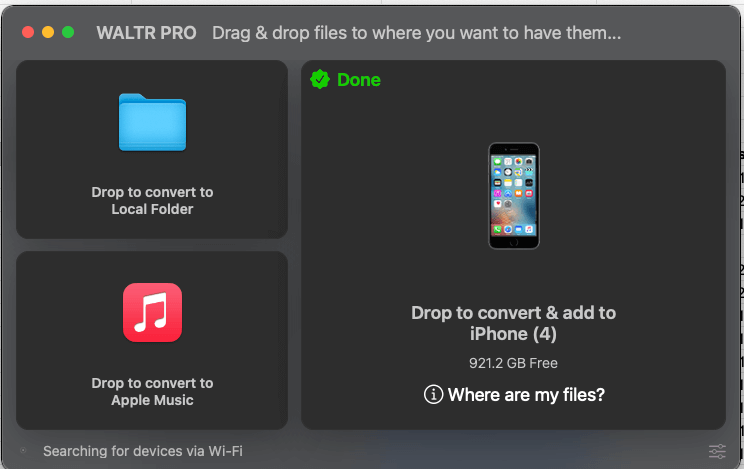 For PDFs, Waltr Pro takes less than a few seconds to upload to your mobile device. Plus, you can add files in batches, which makes transferring your files easy.
My personal take: Yes, Waltr Pro makes it easy to move PDF or ePub files from your laptop to your iPhone. But I have to pause and ask myself– why would I need this software? With my MacBook Pro and iPhone, it is already super easy to move PDFs between devices with Apple's AirDrop tool– and I don't even have to find a cord to plug my iPhone into my MacBook. Perhaps there is more utility with Waltr Pro is your moving PDFs and ePubs from a Windows PC to your iPhone. That said, Waltr Pro can convert files, not just transfer them. So, if you have word documents or another text file you want to convert to an ePub file to read on the Kindle app, you can do that. That's something you can't do with AirDrop. 
Convert Movies, TV Shows, and Music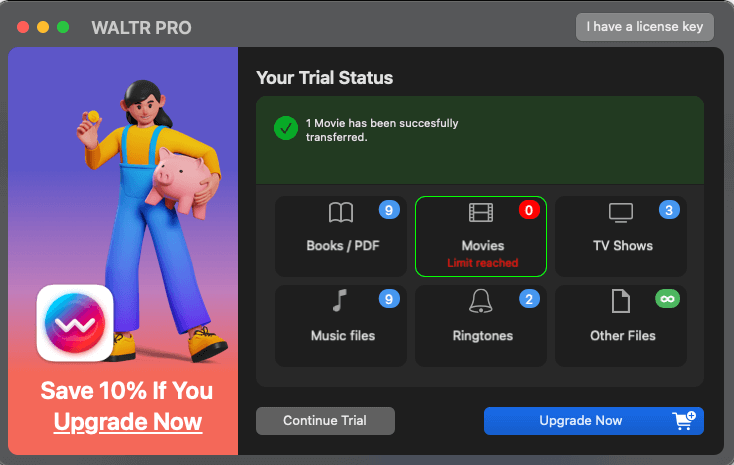 Converting movies, TV shows, and music and transferring it from your Mac or PC to your iPhone or iPad is another core feature of Waltr Pro. This feature works exactly the same way as converting PDFs and books. Just drag and drop, and Waltr Pro will do the rest.
Like the PDF transfer, converting and moving videos and music is fast and simple– only taking a handful of seconds for a song and a bit longer for a 2-minute-long video.
Waltr Pro can convert to and from the following video file formats: MKV, AVI, MP4, MOV, M2TS, 3GP, WMV, M4W, FLV, MTS, TS, MPG, M2V, DV, WEBM, RM, RMVB, and VOB.
For music, it can convert MP3, FLAC, APE, AAC, AIFF, WAV, WMA, OGG, OGA, WV, TTA, DFF, CUE, M4R, M4B, and TAK audio files.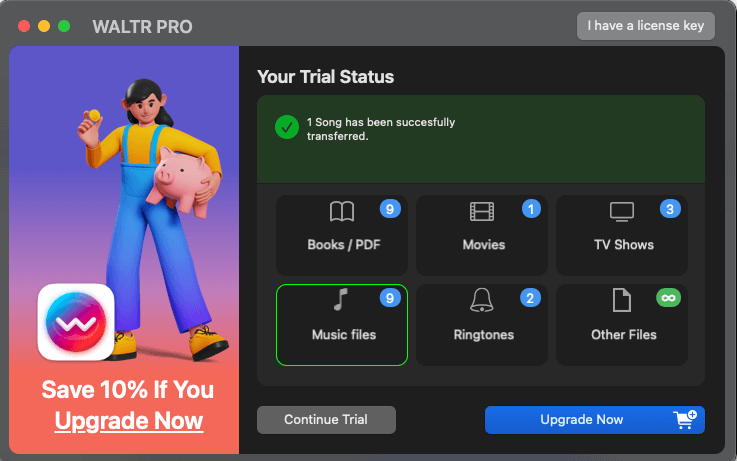 Plus, Waltr Pro will automatically scan for and apply missing metadata for your video and music files. This means it will find the album cover, movie poster, and TV show cover art and apply it to your transferred files.
My personal take: Transferring movies, TV shows, and music from your computer to your iPhone and iPad is undoubtedly appealing. I have many old fitness video programs, home movies, and music in various file formats. And with Waltr Pro, I can convert all of these and upload them to my iPhone and iPad in one go.
Convert Ringtones
The convert ringtones feature works just like the other converting functions in Waltr Pro. You did need to do anything different besides drag and drop the ringtones you want to move from your computer to your iPhone.
My personal take: I'm a millennial, and I remember the early days of cell phones and when ringtones and ring-back tones were released and peaked in popularity. And just as paying for minutes to talk and for each text died out, so did ringtones. Or so I thought. Perhaps ringtones are still popular with the younger crowd. In that case, this feature is good to have. In theory, it should allow you to convert any song or audio file to the M4R file you need to make a ringtone.
Convert Other Files
According to Waltr Pro's website, it can support virtually any format. However, it depends on the file compatibility with the target 3rd-party iOS application. Again, just drag and drop files into the Waltr Pro app, which will convert to the file type you choose– just hold down the Option key while you do it to view the target apps.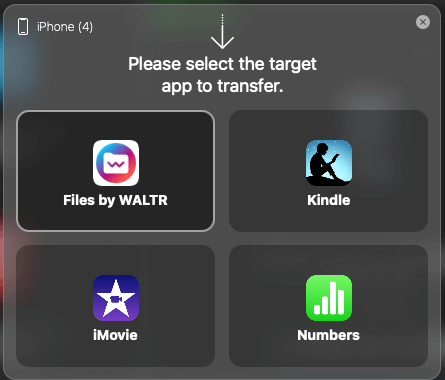 My personal take: Transferring various file types to use on applications on your iPhone and iPad can be useful in a handful of niche applications. However, I can't think of one, and the Softorino website provides no examples. So, I'll take their word for it that this feature works.
Reasons Behind My Ratings
Features: 4.8/5
Having a simple way to transfer and convert various file types from your Mac or PC to your iPhone/iPad in one fell swoop is convenient. Waltr Pro does just that– it uses a simple user interface that you drag and drop the files you want to transfer and convert into.
The only other step you need to do is plug your iPhone or iPad into your computer and click on "Trust this device," and enter your passcode.
You can transfer multiple files at once and select the targeted app as you drag the files into the Waltr Pro app. However, it is sometimes difficult to find the target app you want in Waltr Pros' list of options.
Additionally, converting a ringtone to use on your iPhone isn't intuitive either. Waltr Pro converted/transferred the M4A file I gave to an audio file on my iPhone. After looking at Waltr Pros website, I found out that you're supposed to rename an M4A audio file to M4R before dragging and dropping it. But what if you're starting with an mp3 file? This part wasn't clear. 
Pricing: 3.8/5
Softorino put a lot of time and money into creating the Waltr Pro app. And I get it; they need to sell it to recoup their costs, then make a profit. However, they have it priced far too high. It costs $9.95 per month or $2.92 per month if you buy the full year.
I suspect most users may only use the program once or twice to transfer a specific file or group of files to their iPad or iPhone. Then, they may forget about the subscription and automatically pay the fee each month. This is why I dislike subscription-based apps and software.
With that said, Soforino does provide a 30-day money-back guarantee– so you can get a full refund during that period. Plus, your subscription actually includes 16 other applications that Softorino makes (whether they are useful to you or not is up to you).
Ease of Use: 4.0/5
Waltr Pro is reasonably easy to use for most features. You can quickly upload and convert most file types from your Mac or PC directly to your iPhone or iPad. 
However, some functions aren't simple. For example, converting an mp3 file to a ringtone isn't easy to do. But I am only using the free trial. Perhaps the paid version has more features. 
Support: 4/5
Waltr Pro has good support for its software. However, the app itself doesn't provide you with any tips when you first launch. But it is fairly easy to figure out. Softorino's website is full of informative articles and FAQs that can help you use the program.
Softorino has 24/7 live human support, which is helpful if you have any issues or questions. 
Final Verdict
Waltr Pro is a good software for converting and transferring files from your Mac and PC to your iPhone and iPad. It is available for a $9.95/month subscription or a yearly subscription that comes out to $2.92 (with either subscription, you can activate 16 additional Softorino apps).
If you need to transfer and convert lots of files to your iPhone/iPad, Waltr Pro can help you. It can move files seamlessly. But, if you need to transfer a few files here and there, use AirDrop.
What's your feedback on this Waltr Pro review? Share your thoughts below.