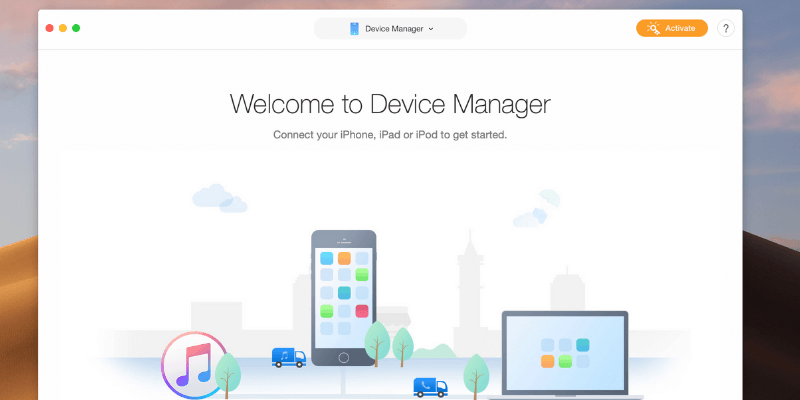 AnyTrans
Features: Extremely effective at managing files on iPhones
Pricing: Single computer license starting from $39.99 per year
Ease of Use: Very easy to use with clear interfaces and instructions
Support: Email support, with helpful troubleshooting tips
Summary
AnyTrans is a file manager for iOS devices that can copy any type of media from your computer to your iOS device or from your device to your computer, as well as create and manage your device backups. It can even integrate with your iCloud account to manage your online storage, and download videos from the web for offline use on your device. It's not exactly an iTunes replacement, but it will handle the majority of the daily file management tasks that iTunes does.

The only issue I discovered that would prevent me from ignoring iTunes entirely and relying on AnyTrans was that it cannot add files to your iTunes library. Instead, you're restricted from working with the files in your existing library, although you can still modify the library as normal with iTunes while AnyTrans is installed and running. You can add new files to your device, but adding multiple files or folders at once is a slow process when compared to working with files already in your iTunes library.

What I Like: Clean interface. Impressive file control. Download web videos directly to your device. Multiple supported languages.

What I Don't Like: Most reliable with devices permanently unlocked.
What can you do with AnyTrans?
AnyTrans is a comprehensive file management program that works with the entire range of iOS devices. It allows you to copy files to and from your device, view and manage your device backup files and integrates with your iCloud account for easy management.
You can even copy files from one device to another, or clone all your settings and files from one device to another in a single click. If you want to create some new offline video content to watch on your device, you can use AnyTrans to download videos from popular video hosting sites like YouTube, DailyMotion and more.
It is absolutely safe to use from a virus and malware standpoint. The installer file downloads the latest version of AnyTrans from the iMobie website and installs it directly, ensuring that you have the latest and most secure version of the software.
Both the installer file and the installed program files pass scans from Microsoft Security Essentials and Malwarebytes Anti-Malware without any issues. The only way that you might find yourself with a problem is when using the File Manager, a feature we'll discuss in more detail later. Because it allows you to access system-level files that are usually hidden, it's possible that you might delete something you shouldn't.
As long as you're careful to only delete files you understand and installed yourself, you shouldn't have any problems using the software safely. If the worst does happen and something goes wrong with your phone, you can always just restore it from a backup copy that you made with AnyTrans.
Is AnyTrans software free?
AnyTrans is not free software, although it does have a free trial mode that allows you to evaluate the software before making a purchase.
The free trial mode is limited in terms of the number of file transfers that can be completed, with a maximum of 50 before your transfer ability is suspended (see the screenshot below). It can easily be restored to full working order by making a purchase and entering the registration code from your email.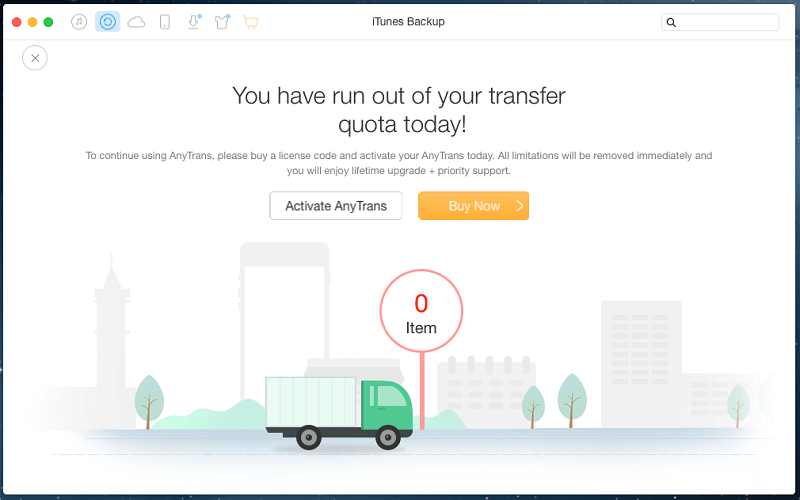 How much does AnyTrans cost?
AnyTrans is available for purchase under three main categories: a 1 Year Plan that can be used on a single computer for $39.99, a Lifetime Plan that costs $59.99, and a Family Plan that can be used on up to 5 computers at once for $79.99.
All the plans come with lifetime product updates, although only the family license comes with free premium support. If you want to use AnyTrans for a business or for another multi-computer purpose, larger licenses are available at a volume discount from 10 computers for $99 to unlimited computers for $499.
Why Trust Us for This Review
My name is Thomas Boldt. I've been using iPhones for almost a decade, and my experience with software extends much further back. This has given me quite a lot of perspective on what makes some software good and some bad, and even though I have since moved to the Android ecosystem for my main smartphone, I still use my iPhone for various tasks around the house. My old iPhone has been converted into a digital white noise machine, and it is a dedicated music player. I constantly update the music stored on it, so I'm very familiar with the iOS file management process.
Disclaimer: iMobie has not had any editorial input on the content of this article and I did not receive my copy of the software from them through any type of promotion, so there's no reason for me to be unfairly biased.
Detailed Review of AnyTrans
Note: AnyTrans for iOS is available for both PC and Mac. The navigation is quite similar for the two versions, except for some minor user interface differences. For simplicity, the screenshots and instructions below are taken from AnyTrans for Windows, but we have tested AnyTrans for Mac as well, and JP will point out the differences when necessary.
Once you've installed the software and opened the program, you're presented with a screen prompting you to connect your device. As you connect it and the software begins to recognize it, the background animates in a nice twist on the standard boring progress bar.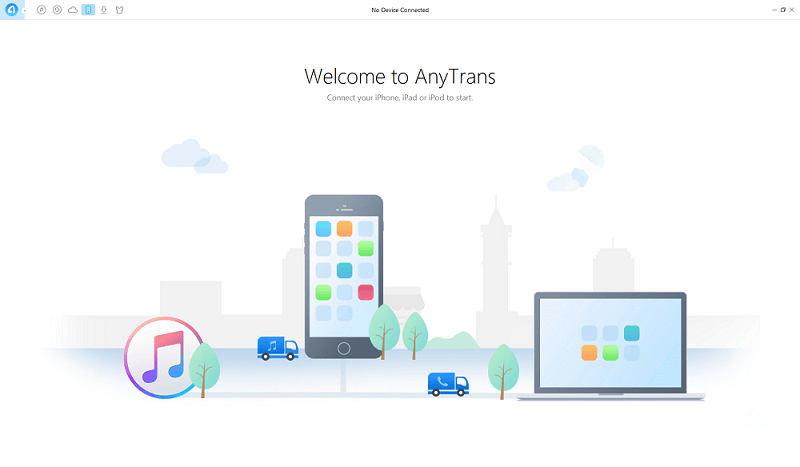 Once your device has been initialized, you're taken straight to the Device Content tab and given some friendly shortcuts to common tasks.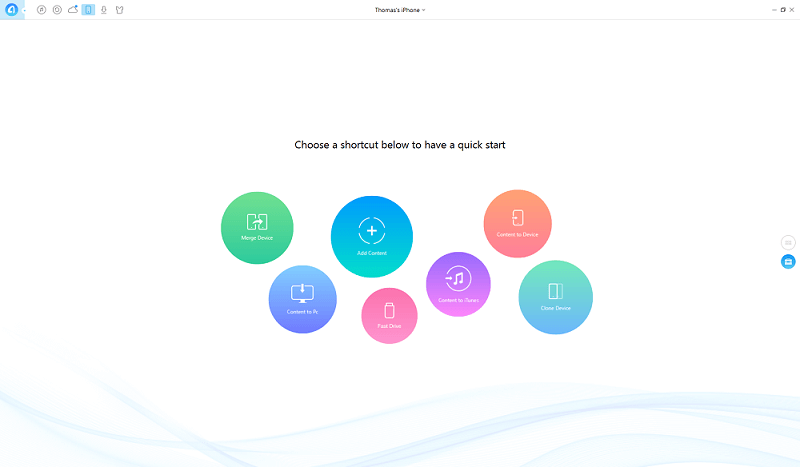 There are some very useful functions here, but the three most commonly used ones are probably going to be Add Content, Content to PC and Fast Drive.
Add Content is pretty self-explanatory – it allows you to add files from your PC, although you can only add them using a standard 'File Open' dialog box, which can be frustratingly slow if you want to add a large number of files to your device.
Content to PC is also fairly obvious and simple to use, allowing you to transfer any content from your various device libraries to your PC. This is most useful for copying photos or videos from your device to your computer for use in other programs.
Fast Drive is much more interesting, as it allows you to use the free space on your iOS device as a normal thumb drive. You can store files there and copy them onto other computers, just as you would with a normal thumb drive, although you will need to have AnyTrans installed on both computers in order to access your files easily.
Merge Device, Clone Device and Content to Device will all be useful when you're upgrading your old iOS device to the latest model, but I only have one iOS device currently available for testing purposes. Content to iTunes will copy files from your device into your iTunes library, which is really only useful if you've purchased something through your device and want to update your library.
If you'd rather work more directly with the files on your device, you can scroll the mouse wheel or click the top button on the right side of the screen to get more direct control.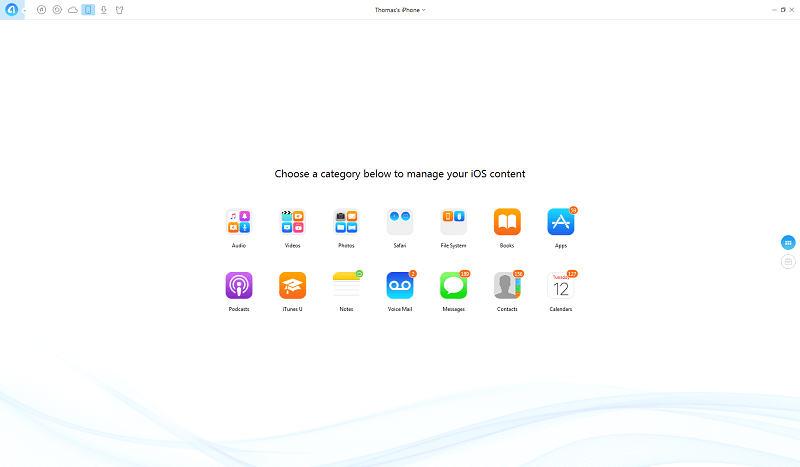 All of this works in a familiar way that you'll recognize from iTunes, which makes it easy to get used to the way AnyTrans works without much time spent learning a new program. Your media is broken down into standard categories, and you can also access your apps, notes, voicemail files, contacts, and calendars.
Selecting any of the categories will show the list of all relevant data stored on your device, and there are buttons in the top right that replicate all the functionality from the quick shortcut buttons we first saw on the initial Device Content screen.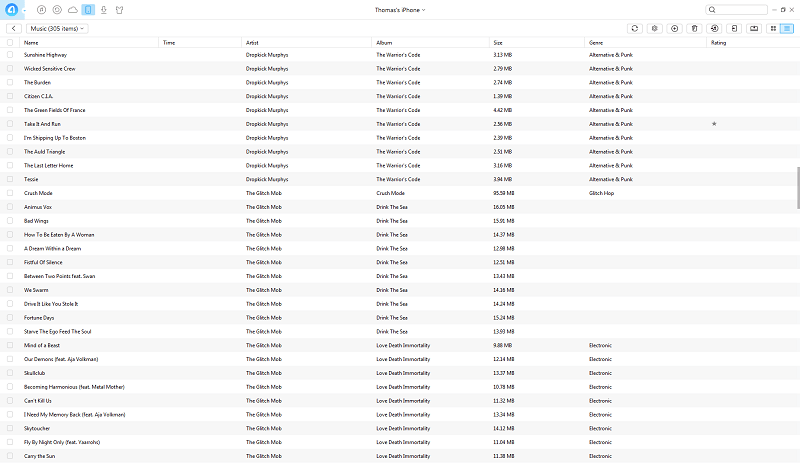 The most powerful (and potentially dangerous) part of this content management is found in the File System section. It allows you direct access to the root folders of your iOS device, which are usually safely hidden away from the user to prevent accidental issues.
Be extremely careful when using the System tab of this part of the program, as it's entirely possible that you'll be able to do enough damage to the file system that you will be forced to restore your device from a backup. You won't be able to permanently damage your device, but restoring from a backup is a time-consuming hassle no matter what software you're using.
The iTunes Library Tab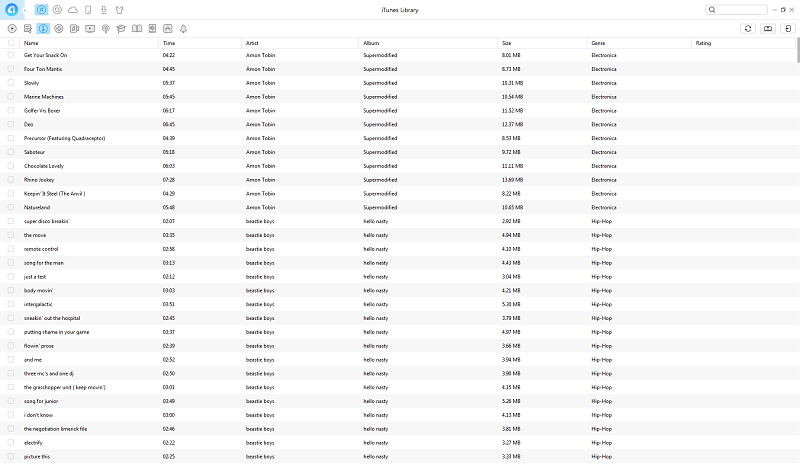 If you've already got all the media you want to use stored in your iTunes library, this section of the program makes it easy to manage the content on your device. Simply select the files you wish to copy to your device and click Send to Device in the top right. You can transfer large batches of files at once in a much faster and more convenient way than the 'Add Content' method we discussed earlier.
You can also copy content to a separate folder from your iTunes library and/or your device, which can be helpful if you want to find files in a hurry, but it may not be much use if you're already used to working directly with music files and iTunes since you'll already know where they are located.
I was a bit disappointed that it wasn't possible to add files to my iTunes library here, as sometimes I'll rip MP3s from a bunch of old CDs that I own. Adding files one by one or folder by folder using the Add Content process is a hassle, but I do this infrequently enough that it doesn't bother me too much. This is probably a limitation imposed by iTunes, rather than a problem with AnyTrans.
The iTunes Backup Browser
The iTunes Backup tab will let you look through your existing backup files for all your devices currently stored on your computer, including their contents. You can review all your messages, contacts and other information contained in your backups, which is a huge help if you want to find a contact or message you deleted a long time ago without restoring your device to that older version.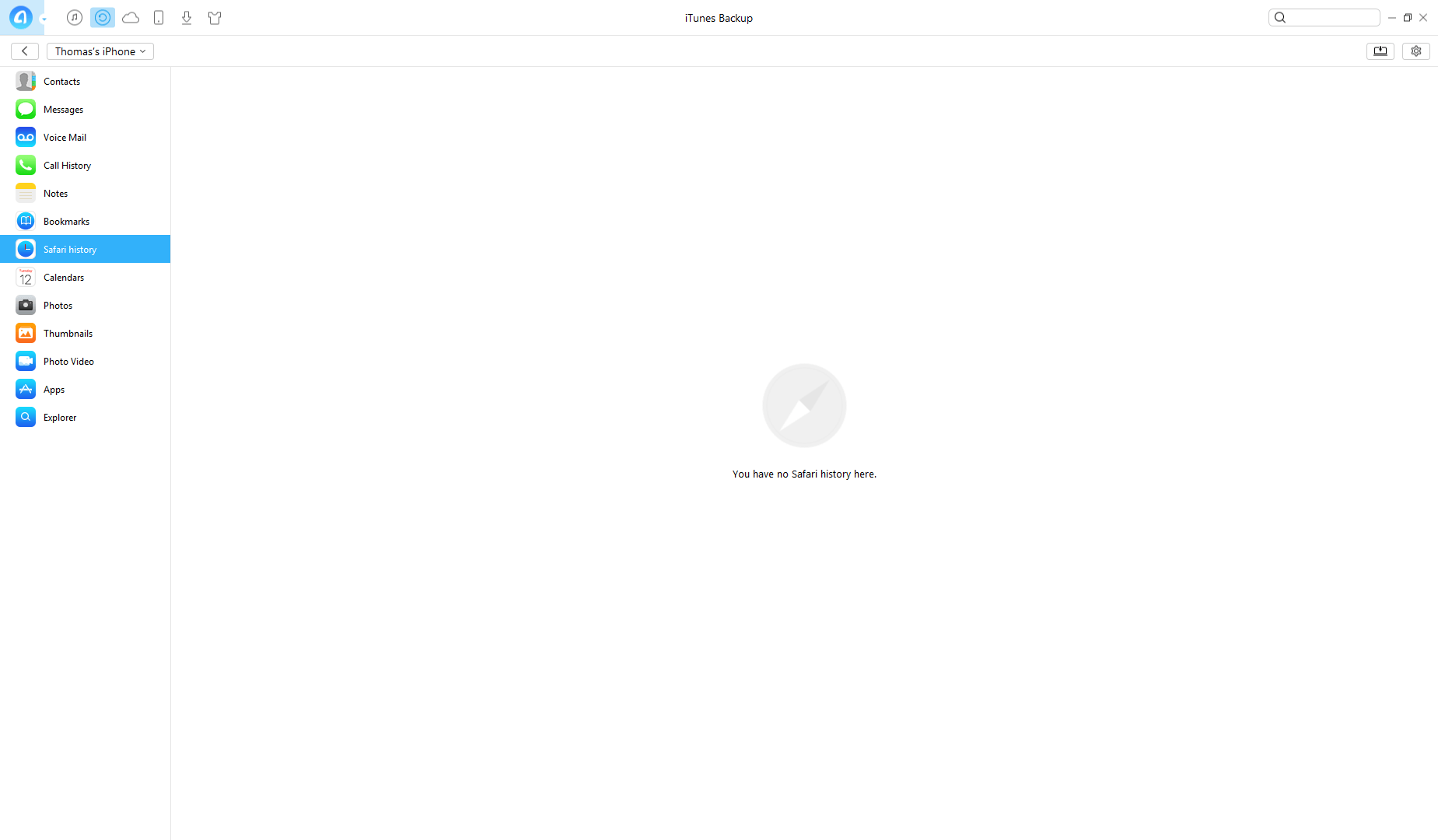 I've chosen to screenshot the only empty tab here because all my other backup sections are full of very personal information and private messages, but I was quite impressed by how easy it was to go through and read everything from so long ago.
Making a new backup is quite easy, just a single click in the top right will make a new one immediately and store it in the list.
iCloud Content Integration
For those of you making use of your free 5GB of iCloud storage, the iCloud Content tab makes it easy to upload and download from your storage. Once you're logged in, you're presented with a similar layout of shortcuts to what we saw on the Device Content tab.
As you can see, even though it goes through the file transfer process, it doesn't complete properly due to my device limitations.
Fortunately, JP has a MacBook Pro, so I asked him to test it out – and here's what he found about the "iCloud Export" feature:
Once he logged into iCloud with Apple ID, he clicked on the iCloud Export,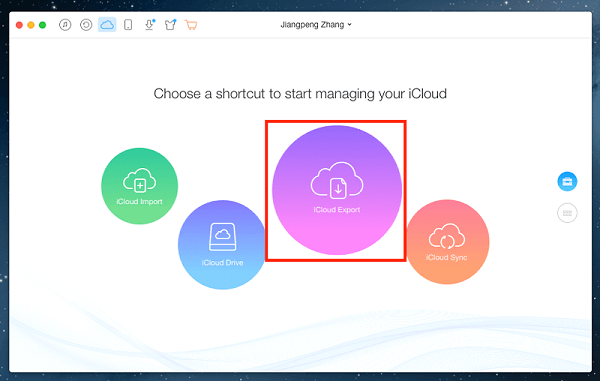 Then AnyTrans asked him to select categories of files to transfer,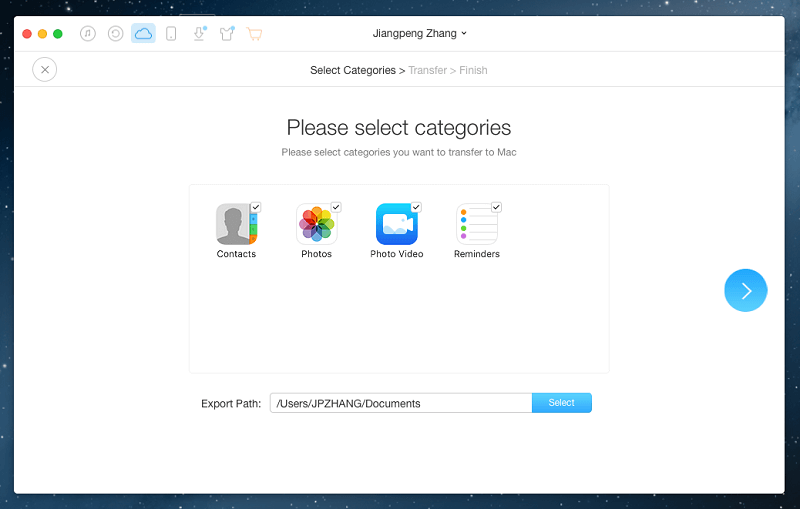 Transferring in process…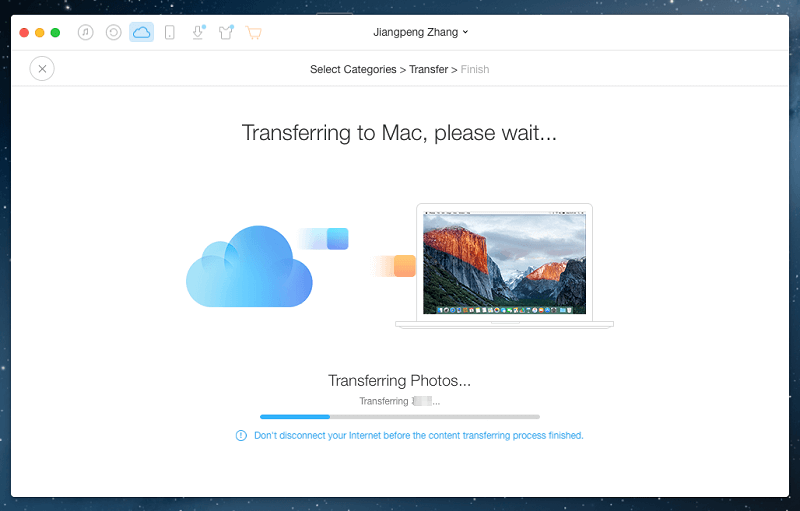 Transfer completed! It shows "Successfully transferred 241/241 items." And he could open the exported items in the Documents > AnyTrans folder.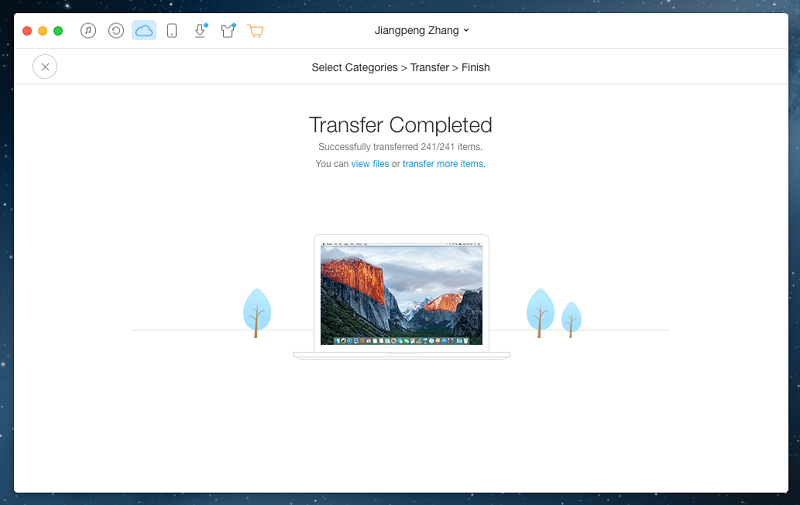 The Video Downloader
The final feature of iMobie AnyTrans that we're going to look at is the Video Download tab. It does exactly what you'd expect: takes a video from the web and turns it into a video file on your device that is watchable offline.
You can download it to your computer or directly to your device, and you don't even have to paste the URL into the program. AnyTrans monitors the clipboard for a compatible URL and inserts it automatically for you, which is a nice touch.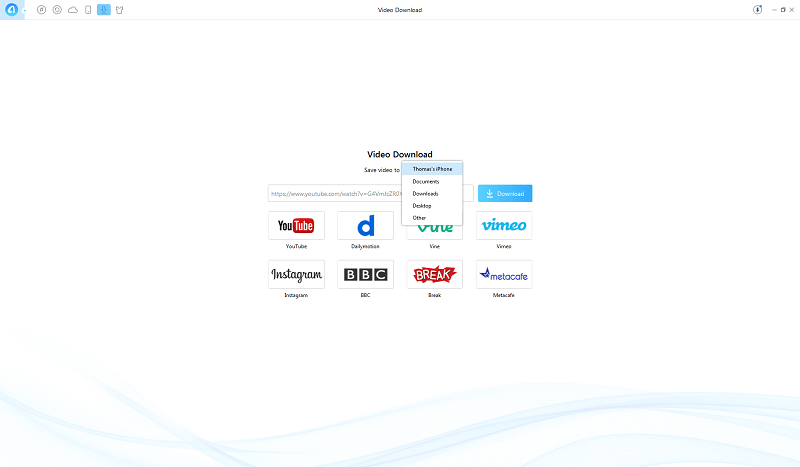 Bonus Features: Use AnyTrans Your Way
One feature that may be appealing to a range of users around the world is that AnyTrans is currently usable in seven languages: German, English, Spanish, French, Arabic, Japanese and Chinese.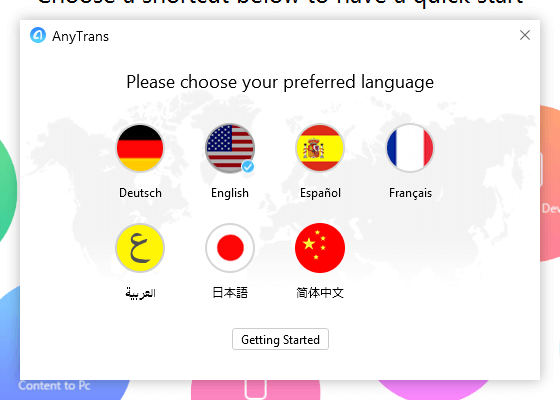 Also, while it's not really a main feature of the program, it can be nice to have a file manager that matches the color of your iOS device. There are five different skins available, and although you have to download them, the download and conversion go quite quickly.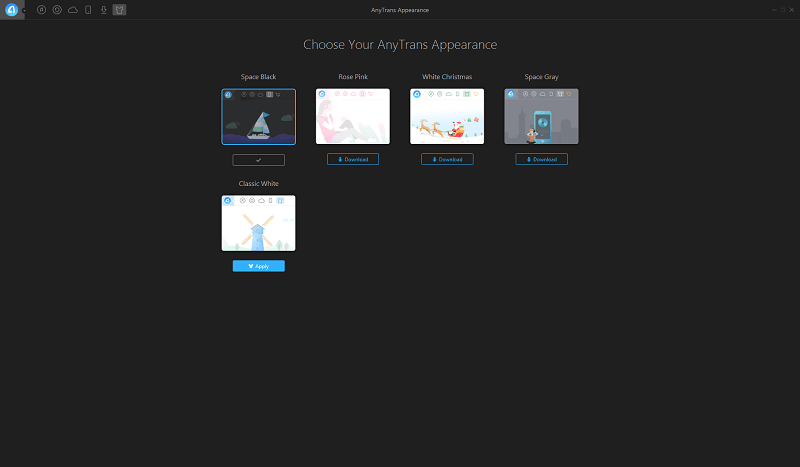 Reasons Behind My Ratings
Features: 4.5/5
AnyTrans is extremely effective at managing files on iOS devices, which is its primary purpose. The only reason it got 4.5 stars instead of 5 is due to the issue with adding multiple files at once that don't already exist in your iTunes library. Ideally, it would never need to work with your iTunes library and would simply manage your files by itself, but this is not a major problem.
Pricing: 3/5
The price of $39.99 per year for a single computer license is a bit steep. It becomes far more economical when you buy the family license, especially if you like to use your iOS devices with more than one computer. However, a number of free alternatives have been making waves in the device management space lately, so a bit of searching and patience might let you find a similar program for free.
Ease of Use: 4.5/5
This software is very easy to use, although I did run into one very small problem. I had my iPhone set to auto-lock the screen after 1 minute, and refreshing my device data was unreliable until I realized that I had to keep the screen unlocked permanently while using it. To be fair to AnyTrans, it did mention that the device should be unlocked the very first time I connected my iPhone, but it never mentioned it again. For someone who is less tech-savvy than me, this might have been a frustrating problem that would be difficult to diagnose.
Support: 4/5
The support both within the program and on the iMobie website is quite comprehensive. There are a number of troubleshooting articles available online, and the instructions within the program were quite clear and helpful. I didn't run into any issues serious enough to require contacting the support team, so I can't speak to their helpfulness, but if they are as good as the rest of the website they will be able to solve any issues you may have.
AnyTrans Alternatives
iMazing (Windows/macOS)
iMazing is an iOS device management application that helps iOS users (like you and me who have an iPhone or iPad) transfer, backup, and manage files between your mobile device and your personal computer without using iCloud.
MediaMonkey (Windows only)
This software is a more comprehensive iTunes replacement when compared to AnyTrans, but it's more of a library management tool than a device content management tool. I used the free version in the past, but it was significantly more challenging to use than AnyTrans. The 'Gold' version of the software costs $24.95 USD for the current version or $49.95 for lifetime upgrades.
PodTrans (Mac/Windows)
Also made by iMobie, PodTrans completely replaces the music transferring features of iTunes. It doesn't have any of the added features you find in AnyTrans, but it also doesn't require an iTunes installation to work properly, so if you refuse to use iTunes ever this is a good choice. It's also free, although it's unfortunately no longer being updated by iMobie.
Swinsian (Mac only)
While it costs $19.95 USD, this piece of software is a bit like how iTunes used to be before Apple started cramming 50,000 features and ads into it. It doesn't have some of the features that AnyTrans does, but it can manage the music sections of your media library and sync your files to your iOS devices.
Final Verdict
AnyTrans is a great blend of simplicity and power for Windows and Mac users for media syncing. It's lightweight in terms of memory usage, easy to use, and quite responsive overall, although the file transfers could be a little bit faster. That may simply be due to the fact that I was testing with an older iOS device, but I still enjoyed using it far more than iTunes.
So, how do you like this AnyTrans review? Leave a comment and let us know.