Duplicate files are a pain. They eat up disk space and cause confusion. It's hard to know where they came from—maybe you downloaded the same file more than once, maybe an app duplicated it when syncing your documents with the cloud, or maybe you have misplaced backups. You shouldn't go blindly deleting duplicates—you need specialized software.
dupeGuru is a free, cross-platform application designed to find duplicate files. The price is right, and it's quite popular. While it's not perfect, the issues we had with the app are fairly minor.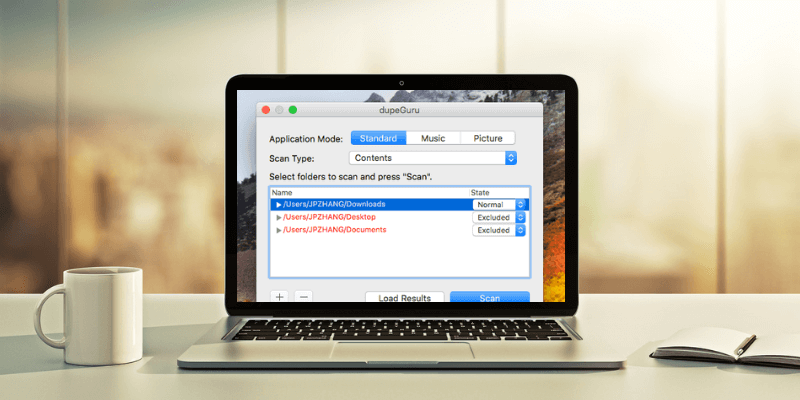 First, be aware that it's no longer maintained by the original developer, Virgil Dupras of Hardcoded Software. Initially, there was concern about the application's future. Since Andrew Senetar took over the project, though, there's hope that it won't disappear any time soon.
Second, when we reviewed the app for our Best Duplicate File Finder, JP found the interface a little laggy. He also thought that working with the app can be time-consuming. After finding duplicates, it doesn't select the redundant copies automatically—you have to pick them one by one.
Finally, the app relies on external libraries, which can lead to frustration during the initial setup. JP relates that when Kristen attempted to run it on her Windows-based ASUS PC, it wouldn't run at all. She first had to download and install the latest version of Visual Basic C++.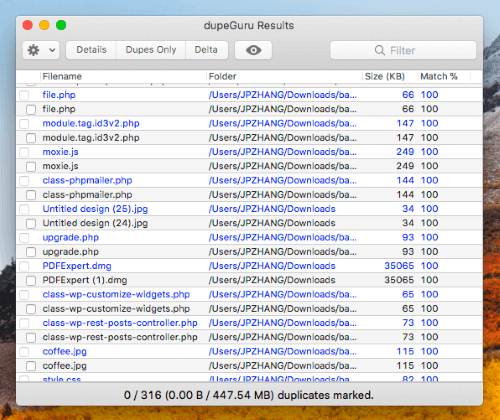 It's free and does the job. It scans both filenames and the file contents and can perform fuzzy scans. Is there any point in switching to an alternative? Yes—other apps are easier to install and use, run faster, offer more options, and provide more features. Read on to see if one of them might suit you better.
Commercial Duplicate Finders
1. Gemini 2 (Mac)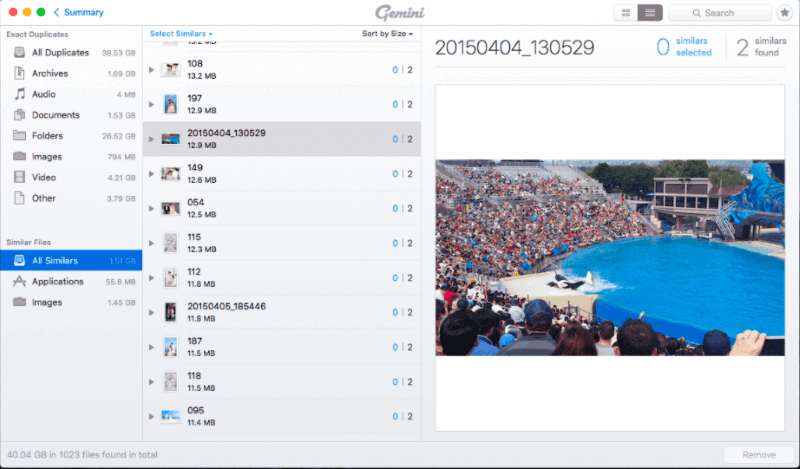 Gemini 2 is an intelligent duplicate file finder by MacPaw and was the Mac winner of our Best Duplicate File Finder roundup. It helps you locate files that are exact duplicates as well as those that are similar to help you free up wasted hard drive space.
You can search your entire home folder for duplicates or save time by specifying the Pictures Folder, Music Folder, or a custom folder. While reviewing the app, JP was able to free up over 10 GB in just 10 minutes.
If your cleanup needs to go beyond deleting duplicates, the company also offers CleanMyMac, an application we also tested and reviewed. When determining the Best Mac Cleaner Software, we found it was the combination of CleanMyMac X and Gemini 2. However, we wish both apps' features were combined.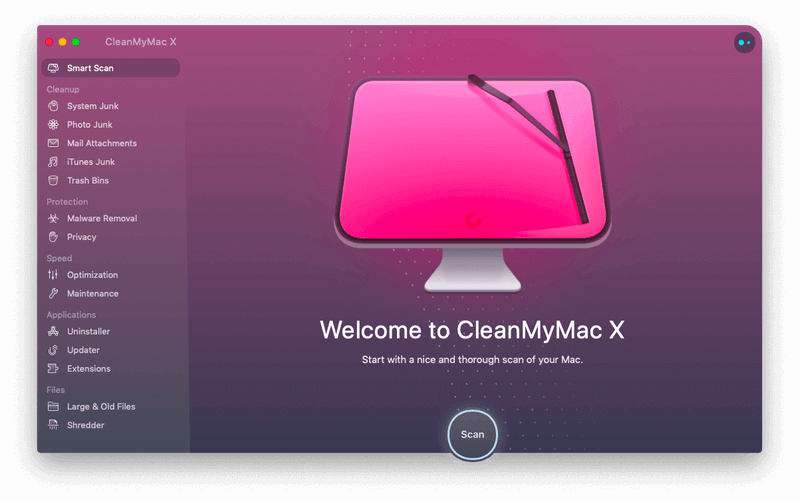 Gemini 2 can be purchased for $44.95, or a yearly subscription costs $19.95 for a single Mac. CleanMyMac X costs $34.95/year for one computer.
2. Duplicate Cleaner Pro (Windows)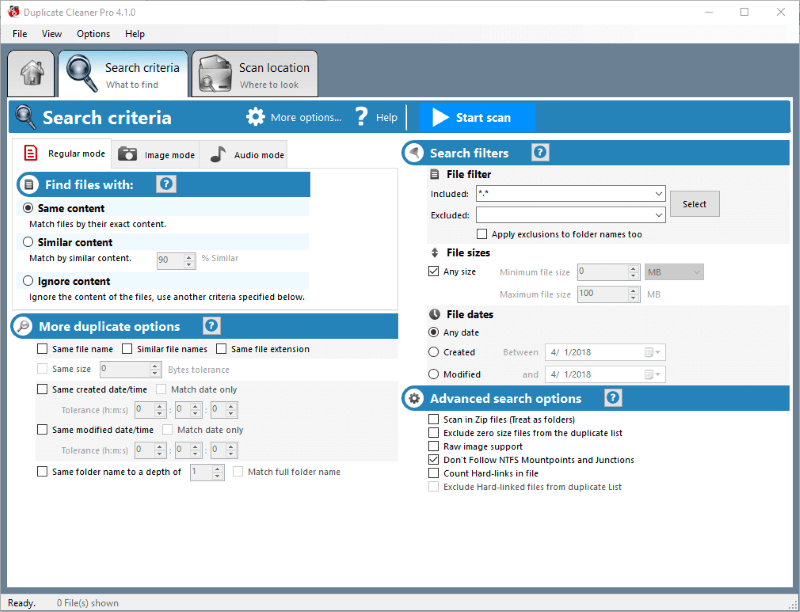 Duplicate Cleaner Pro is the winner of our best recommendation for Windows users. It's developed by the UK-based DigitalVolcano and matches the Gemini 2 Mac app in features and ease of use. A range of helpful video and text tutorials have been curated by the support team.
Duplicate Cleaner Pro can be purchased outright (including four updates) for $29.95.
3. Easy Duplicate Finder (Mac, Windows)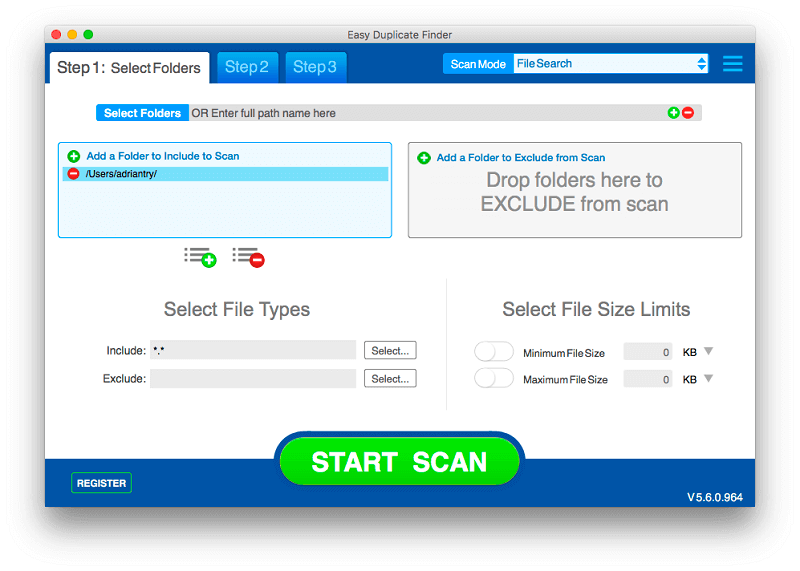 Easy Duplicate Finder works on Mac and Windows. As its name suggests, it has a focus on usability, and its interface reflects this. It can also locate and remove duplicate files from cloud storage services such as Google Drive and Dropbox. Learn more in our Easy Duplicate Finder Review.
Easy Duplicate Finder can be downloaded for free. To take advantage of all the app's features, you can upgrade to the full version for $39.95
4. Wise Duplicate Finder (Windows)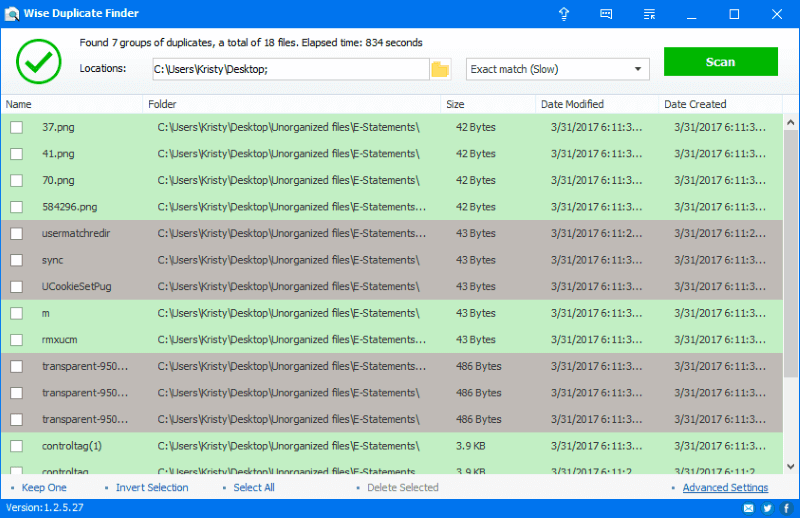 Wise Duplicate Finder gives Windows a head start by providing pre-loaded scans such as file name and size match (fast), partial match (slower), and exact match (much slower). You can let the app automatically decide which duplicates get deleted or select them manually.
Wise Duplicate Finder can be purchased for $19.95.
5. Duplicate Sweeper (Windows, Mac)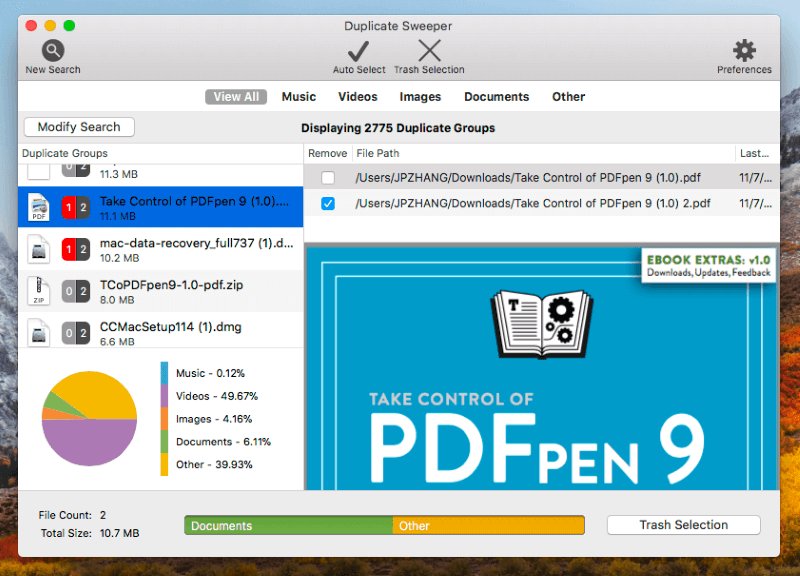 Duplicate Sweeper makes removing duplicate files quick and easy on both Windows and Mac. You can narrow the search by selecting specific folders. Like dupeGuru, dupes aren't chosen automatically, making the process more tedious than it needs to be.
The full version of Duplicate Sweeper can be purchased from the official website for $19.99. The Mac version is also available from the Mac App Store for $9.99.
6. Duplicate Detective (Mac)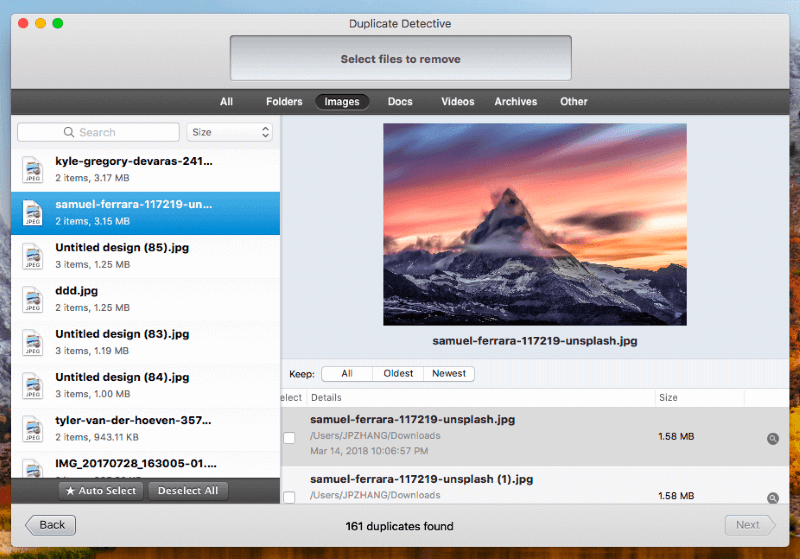 Duplicate Detective is easy to use, inexpensive, and only available from the Mac App Store. It looks a little dated and doesn't let you specify what types of files to scan for or look for similar files rather than exact matches.
Duplicate Detective is available from the Mac App Store for $4.99.
7. Duplicate File Finder (Mac)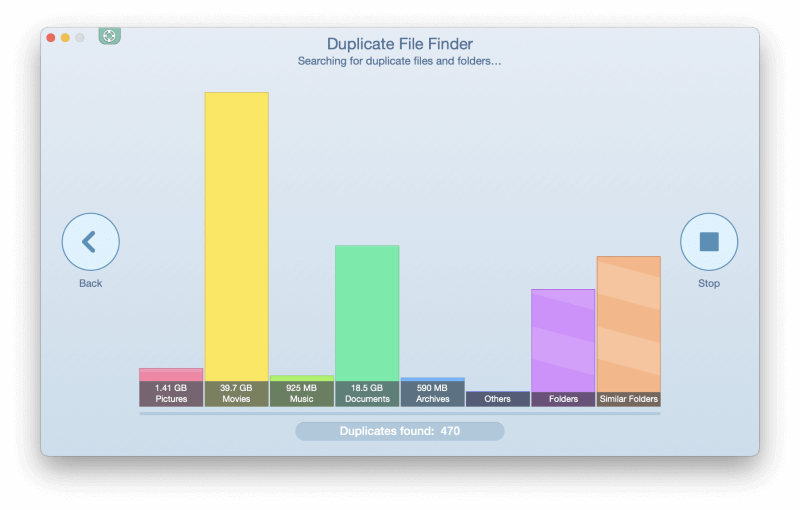 Duplicate File Finder is an easy-to-use Mac utility that lets you find and remove duplicate files, folders, and similar photos. One useful feature is Merge Folders, which takes content from similar folders and merges everything into just one that contains every file.
Download Duplicate File Finder for free from the Mac App Store. Enjoy all the features by upgrading to PRO through a $19.99 in-app purchase.
8. PhotoSweeper (Mac)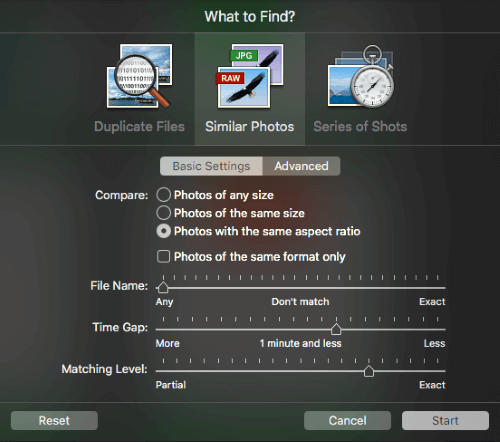 PhotoSweeper is useful for locating duplicate photos on a Mac but won't help you with other types of files. It's an advanced app with a six-page tutorial. If you download the free trial, you'll be met with some aggressive marketing to upgrade. The app can be purchased for $9.99.
Commercial Cleanup Apps that Find Duplicate Files
9. Drive Genius (Mac)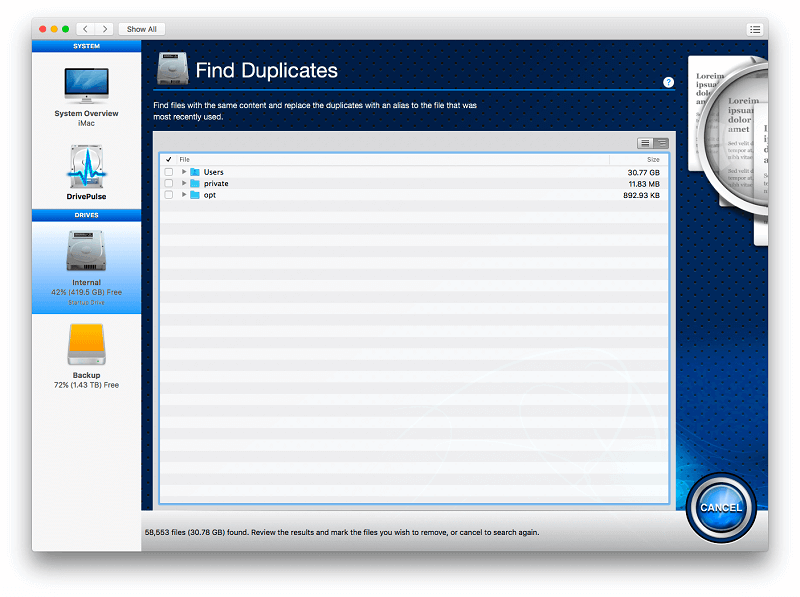 Prosoft Engineering's Drive Genius is a close competitor to CleanMyMac but includes the Find Duplicates feature without needing a separate purchase. Drive Genius costs $79 per computer per year.
10. MacBooster (Mac)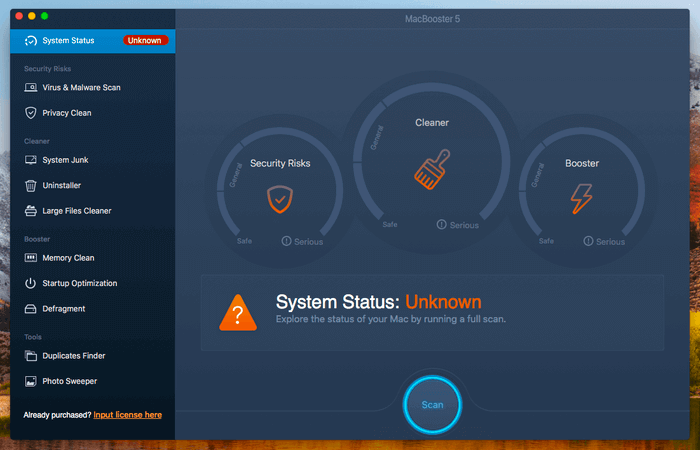 MacBooster is another close competitor to CleanMyMac that can help you locate and eliminate duplicate files. When he tested the app, JP particularly liked the Duplicates Finder and Photo Sweeper features. He found them similar to what Gemini 2 offers.
MacBooster Lite costs $89.95 and covers three Macs for life without support. MacBooster Standard is a subscription service for a single Mac that does include support and costs $39.95/year. A Premium plan covers three Macs for $59.95/year.
11. AVG TuneUp (Windows, Mac)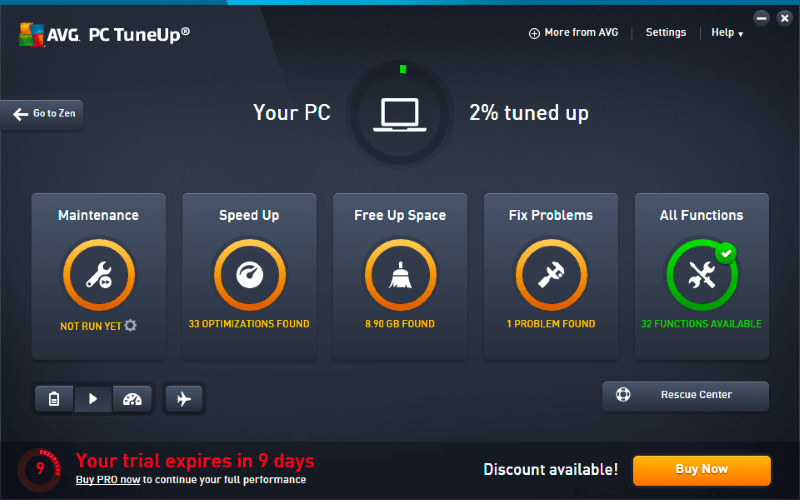 AVG TuneUp is a cross-platform cleanup app from a well-known antivirus company. It now includes removing duplicate files. It is a subscription service that costs $39.99 per year.
12. MacClean (Mac)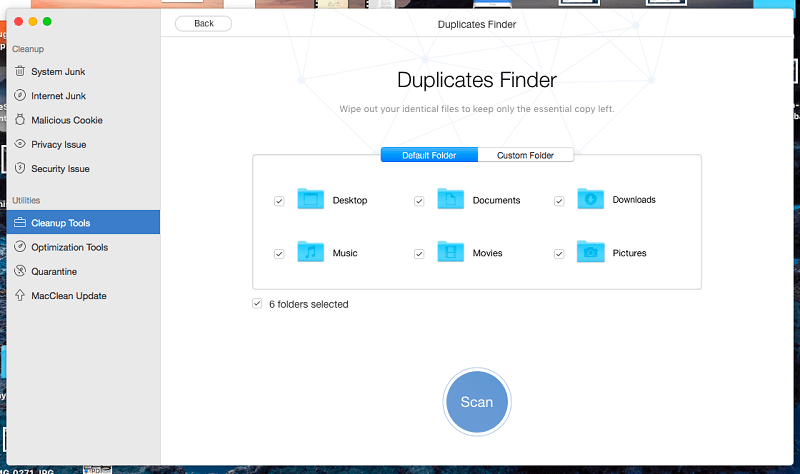 iMobie MacClean is a Mac cleanup application that finds duplicate files. Unfortunately, the first time I ran the scan, it crashed my computer. After that, it took just seven minutes to locate every duplicate file on my Mac. Its Smart Select feature can decide which versions to clean, or you can make that choice yourself.
A free download of MacClean will locate duplicate files but not remove them. To do that, choose one of these purchasing options: one Mac with one year of support for $19.99, one Mac with unlimited support for $29.99, up to five Macs with unlimited priority support for $39.99.
13. Tidy Up (Mac)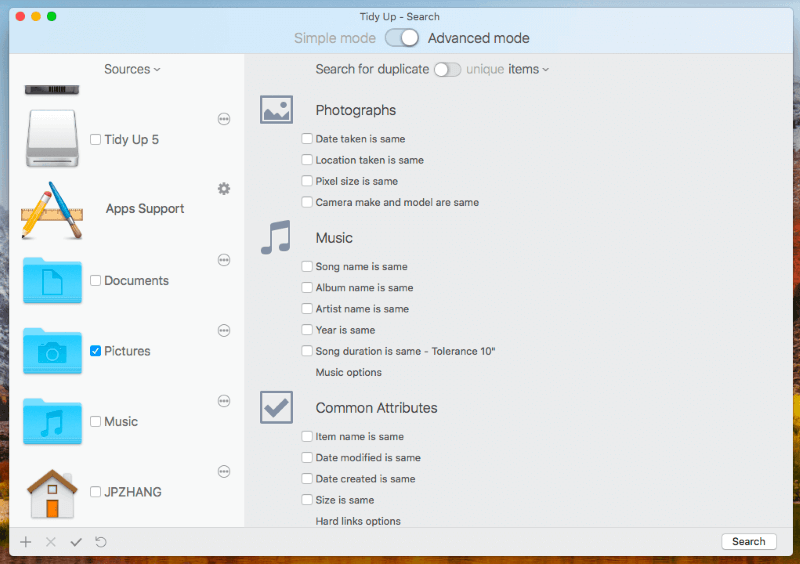 Tidy Up is a duplicate remover designed for pro users. It can search Lightroom, Photos, Aperture, iPhoto, iTunes, Mail, folders, and specific file types. Advanced search criteria are available, and a five-page introduction takes you through all its features.
Tidy Up starts from $29.99 for a single computer and can be purchased from the Hyperbolic Software website.
Free Alternatives to dupeGuru
14. Glary Duplicate Cleaner (Windows)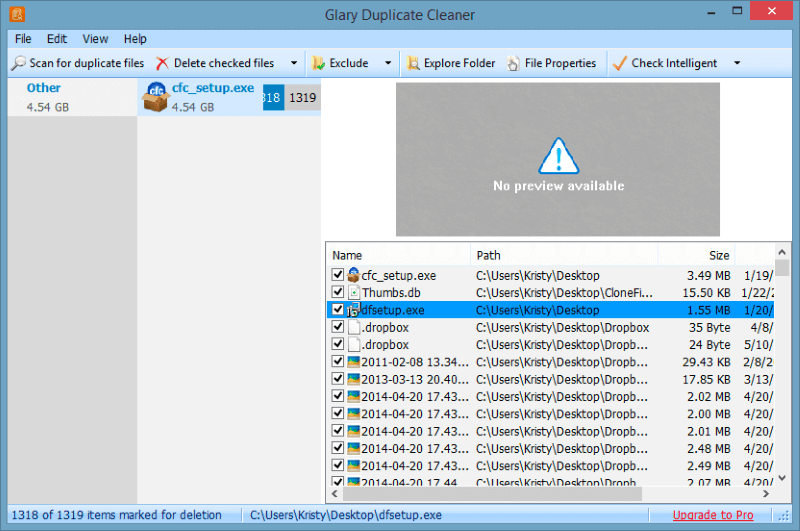 Glary Duplicate Cleaner is a free Windows utility that scans for duplicates with just two clicks. It supports photos, videos, word documents, and more. It claims to be the fastest scanner in the business.
15. CCleaner (Windows, Mac)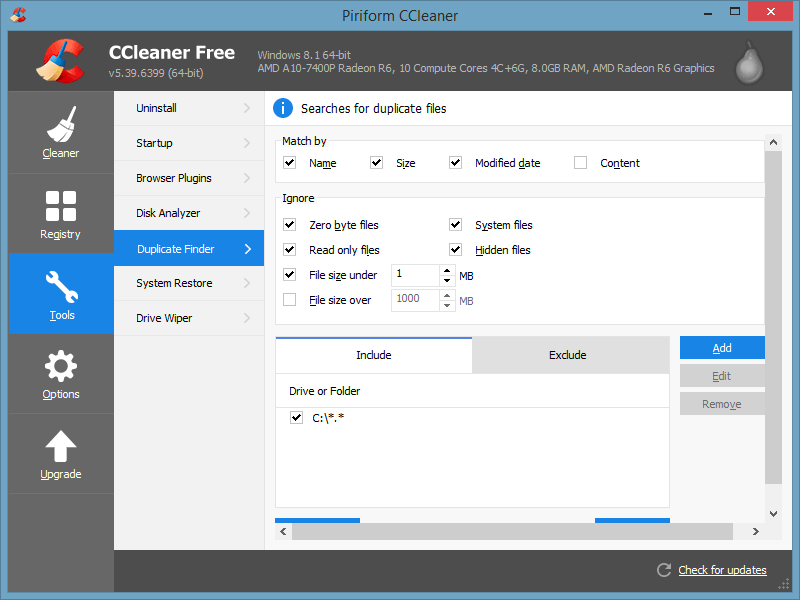 CCleaner is a well-known computer cleanup application that's available for both Windows and Mac. You may not realize that it includes a duplicate finder because it's not immediately displayed in the interface. But if you click on the Tools icon, you'll find it there in the list.
CCleaner can be downloaded for free from its official website. CCleaner Pro is a subscription service that costs $19.95/year for a single computer.
16. SearchMyFiles (Windows)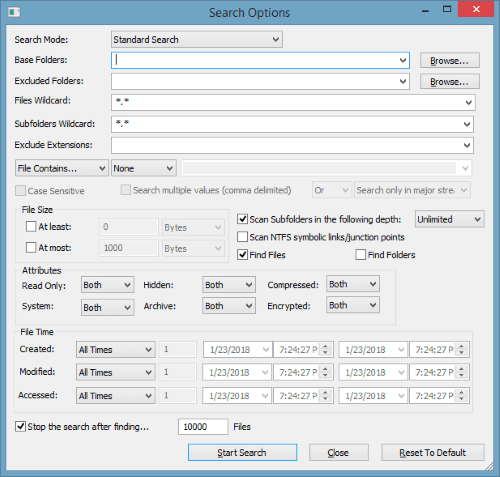 SearchMyFiles is an advanced file and folder search app for Windows. It has an intimidating interface designed for advanced users. The app runs standard searches and scans for duplicates and non-duplicates.
SearchMyFiles is free. Download links can be found at the bottom of the official website.
17. CloneSpy (Windows)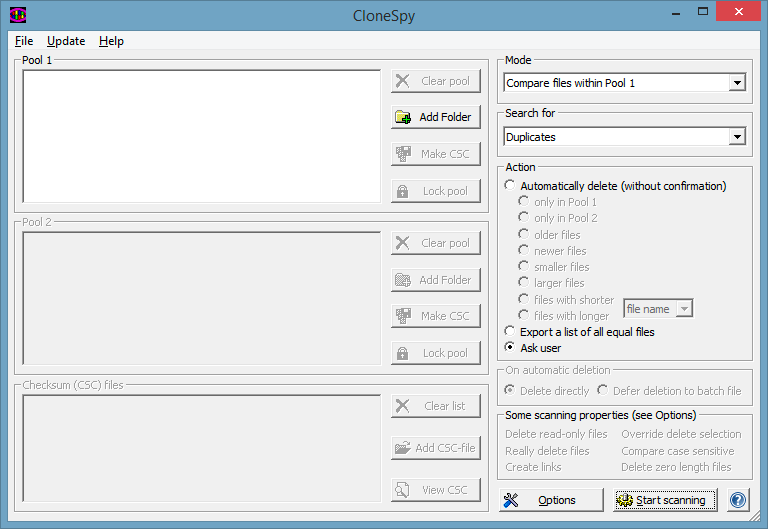 CloneSpy is another free duplicate cleanup tool for Windows. While its interface isn't easy to navigate, it offers a wide range of search options.
CloneSpy can be downloaded for free from the official website's download page.
So What Should You Do?
dupeGuru is one of the better free duplicate file utilities that's available. It's an open-source project available for Windows, Mac, and Linux. It seems that it will continue to be available for the foreseeable future.
However, you'll have a better experience using a commercial application. We recommend Gemini 2 for Mac users. You can purchase it outright for $44.95 from the MacPaw Store or subscribe for $19.95/year. Windows users are directed to Duplicate Cleaner Pro, which costs $29.95 from the official website.
Alternatively, Easy Duplicate Finder is a good solution for Mac and Windows users that has a greater focus on usability.