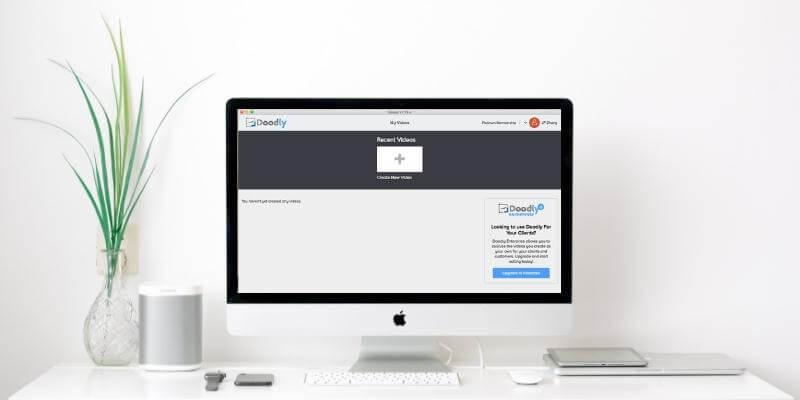 Doodly
Effectiveness: Creating whiteboard videos is fairly simple
Price: A bit overpriced compared to similar tools
Ease of Use: Interface is somewhat user-friendly
Support: Fair FAQ base and email support
Summary
Doodly is a program for creating whiteboard videos through a drag-and-drop interface. The final product appears to be filmed as if someone had drawn the whole thing by hand. Some people refer to this as an "explainer" video, as they're frequently used to produce videos on products, education topics, or for business training.

I've spent several days testing Doodly to get a feel for the program and its features. You can see the rag-tag video I put together here. It doesn't tell a story or use special marketing tactics; the primary goal was to use as many features as possible, not create a technical marvel. I found that most features were simple to understand, though I do have a few complaints regarding the layout of the program, a factor that often made it difficult to edit my video.

If you want to use the program to create advertisements, educational videos, or promotional material, you'll have a capable platform on your hands. However, this program is not for those with a small budget, and individuals not associated with a larger company fronting the cost will probably want to consider an alternative.

What I Like: Program is easy to learn. Great pre-made character options. Ability to add multiple audio tracks. Import your own media – even fonts!

What I Don't Like: No built-in voiceover function. Poor free sound library, even at higher subscription levels. Interface can be difficult to use.
Doodly is a drag-and-drop animation program for creating videos that appear to be recorded as if someone drew them on a whiteboard.
This is an increasingly common style of video and has proven to be very effective. You could use Doodly to create videos for many different settings, from business material to school projects. Its main features are as follows:
Begin creating videos with no experience necessary
Stock image and sound library; you don't have to make your own media
Edit your video by changing scenes, media appearance, and style
Export your video in several combinations of resolution and frame rate
Yes, Doodly is safe software. Doodly only interacts with your computer to import or export files, and both of these actions only occur when you specify them.
No, Doodly is not free and does not offer a free trial (but this review should give you a good behind-the-scenes view). They have two different pricing plans which can be charged by month or monthly on a year-long contract.
How much does Doodly cost?
The cheapest plan is called "Standard", at $20/month per year ($39 for individual months). The "Enterprise" plan is $40/mo/year and $69 if you go one month at a time. These two plans are primarily separated by the number of resources you have access to and do not offer commercial rights. If you want to sell videos you make on Doodly rather than just use them as your own content, you'll have to purchase an enterprise plan. Check the latest pricing here.
Once you purchase Doodly, you'll be sent an email containing your account details and a download link. Following the link will produce a DMG file (for Mac). Double-click it once it downloads, and there's a one or two-step installation process before you can open the program. The first time you open Doodly, you'll be prompted to enter your login credentials. Then you'll have access to the entire program.
Why Trust Me for This Doodly Review?
My name is Nicole Pav, and I am a consumer first and foremost, just like you. My hobbies in the creative realm have led to me try a truckload of software that offers video or animation tools (see this whiteboard animation review I did). Whether it's a paid program or an open source project, I have personal experience with learning programs from scratch.
Just like you, I often have no idea what to expect when I open a program. I personally spent several days experimenting with Doodly so that I could provide a first-hand report with clear language and details. You can watch the short animation video I made using Doodly here.
I believe that users like you have the right to understand a program's pros and cons without paying excessive fees — especially with software like Doodly, which doesn't offer a free trial. Even though it offers a 14-day refund policy, it would certainly be easier to read what others say about the product before taking out your credit card to make a purchase.
That is what this review is for. We purchased the Platinum version ($59 USD if you go for monthly) on our own budget with the goal of evaluating how powerful the program is. You can see the purchase receipt below. Once we made the purchase, an email with the subject "Welcome to Doodly (Account information inside)" was sent instantly. In the email, we were given access to the download link of Doodly, as well as a username and password to register the program.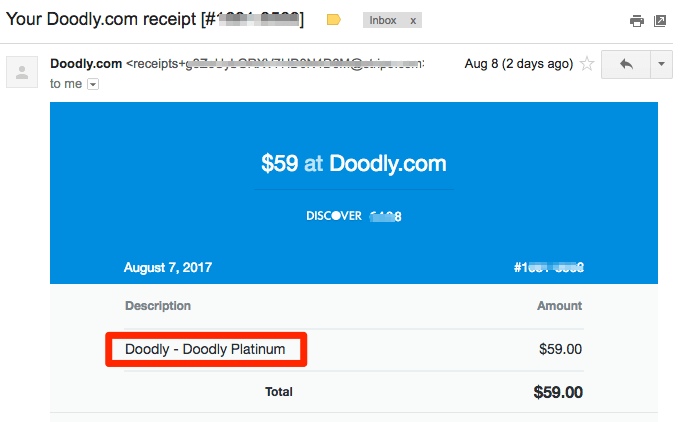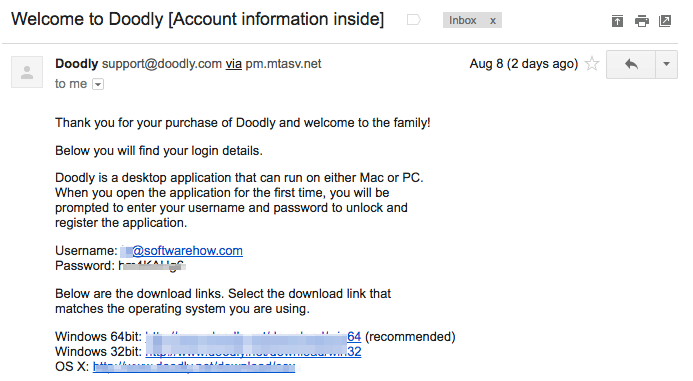 On top of this, I also contacted Doodly support to ask an easy question with the goal of evaluating the helpfulness of their customer support, which you can read more about in the "Reasons Behind My Reviews and Ratings" section below.
Disclaimer: Doodly has no editorial input or influence on this review. Opinions and recommendations in this article are purely our own.
Detailed Doodly Review & Testing Results
Doodly has a vast range of abilities, but most can be categorized into four main types: media, sound, editing, and exporting. I tested as many features as I could find throughout the program, and you'll be able to see all the results here. However, keep in mind that Doodly offers both Mac and PC versions, which means my screenshots could look a little different than yours. I used a mid-2012 MacBook Pro to do my testing.
Once you open Doodly and decide to start a new project, you'll be prompted to choose the background of the project and a title.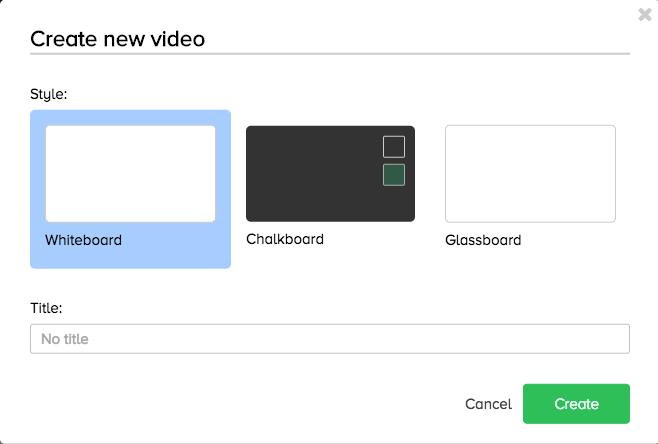 Whiteboard and Blackboards are self-explanatory, but the third option, Glassboard, is a bit more confusing. With this option, the drawing hand appears behind the text as if writing on the other side of a glass wall. Choose "create", and you'll be forwarded to the Doodly interface.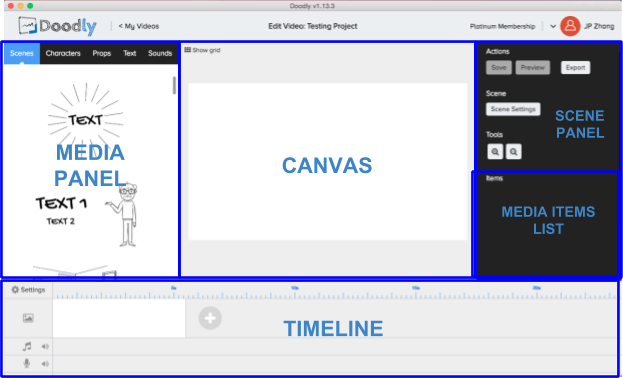 The interface is divided into a few sections. The first section is the canvas, which is in the middle. You can drag and drop media here. Media is found on the left panel and has five different tabs for five different kinds of graphics. The mirrored panel on the right is split into two sections: the top contains tools for playing back the scene, while the bottom section lists each element of media you add to the canvas.
Media
With Doodly, media graphics come in four main formats: Scenes, Characters, Props, and Text. These are all tabs on the left side of the screen.
A few things are the same across all media types:
Double-clicking or choosing the item in the media list will allow you to flip, reorder, move, or resize the media.
You can change the color of an item by double-clicking and then choosing the small gear icon.
Scene Objects
Scene objects are a unique feature of Doodly. These are pre-built pictures that create a great background for a lengthy voiceover or if you're conveying interactions within a specific setting. Make sure to remember that a "scene" is a group of items on a specific canvas slide, while a "scene object" is a type of media you can add to a normal scene. These depictions range from a school house to a doctor's office–but you can only have one scene object per screen. So, if you want to add a car or a character, you'll have to get them from the Characters or Props panel. You cannot, unfortunately, search the scenes tab, even though this is possible for the other media. You also cannot add your own scenes.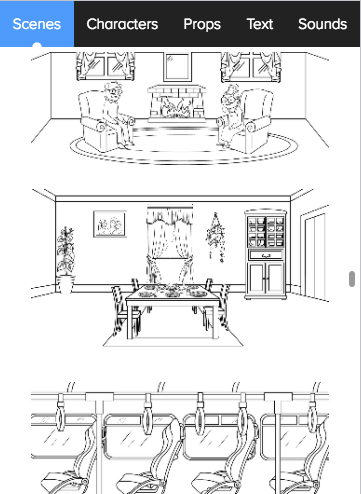 If you choose to add a scene object to your Doodly video, it will appear in the media items lists as all the individual objects it is made up of, not as a single item. From what I can tell, all scenes are available to subscribers regardless of subscription level.
Characters
When it comes to people and characters. Doodly has a very large library. If you have the most basic plan, you'll have access to 10 characters in 20 poses. If you have the platinum or enterprise plan, you'll have 30 characters with 25 poses each. I tested using Doodly Platinum, and there was no indication of differentiation between gold and platinum characters, so I can't tell you which ones are which.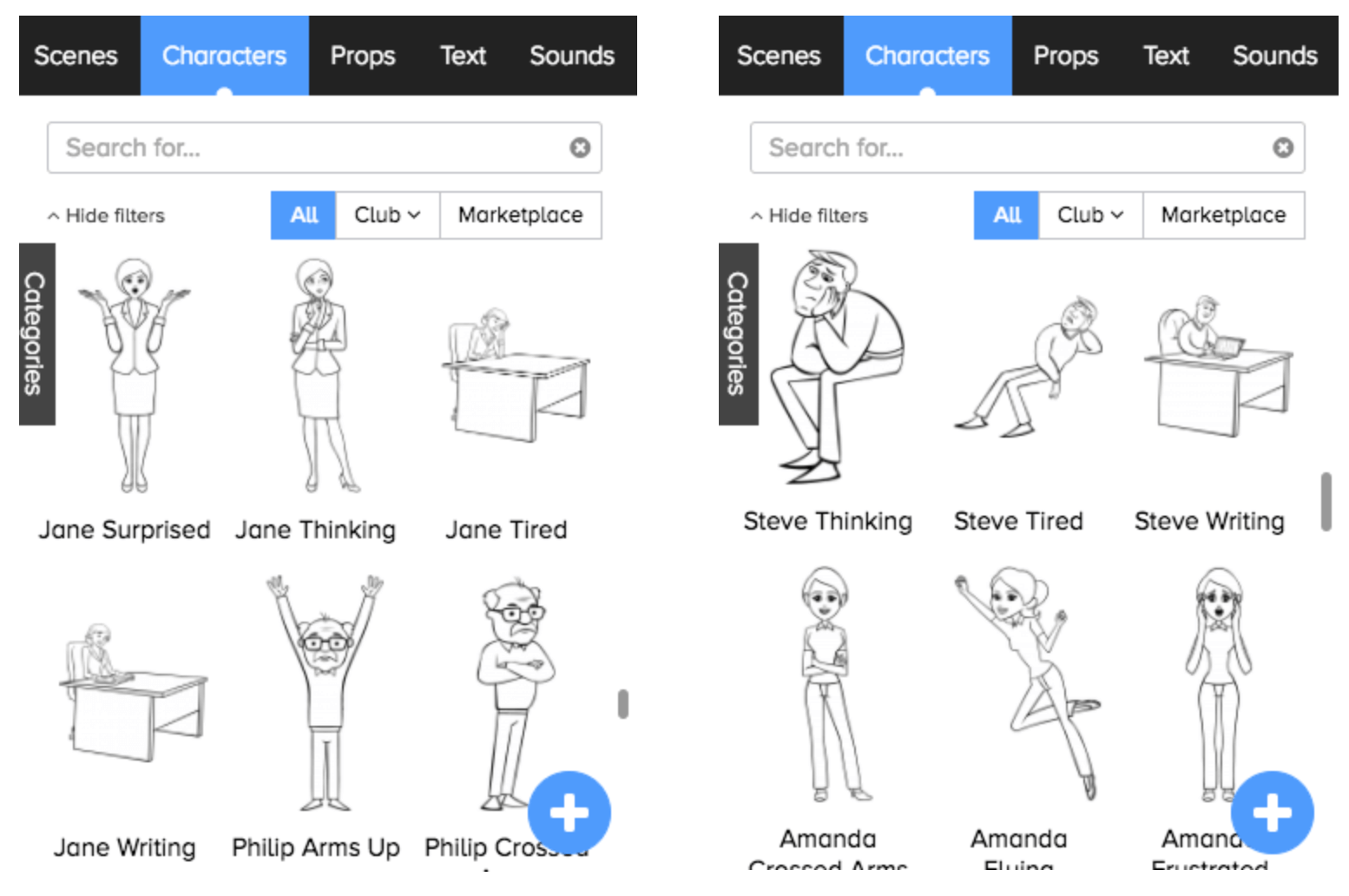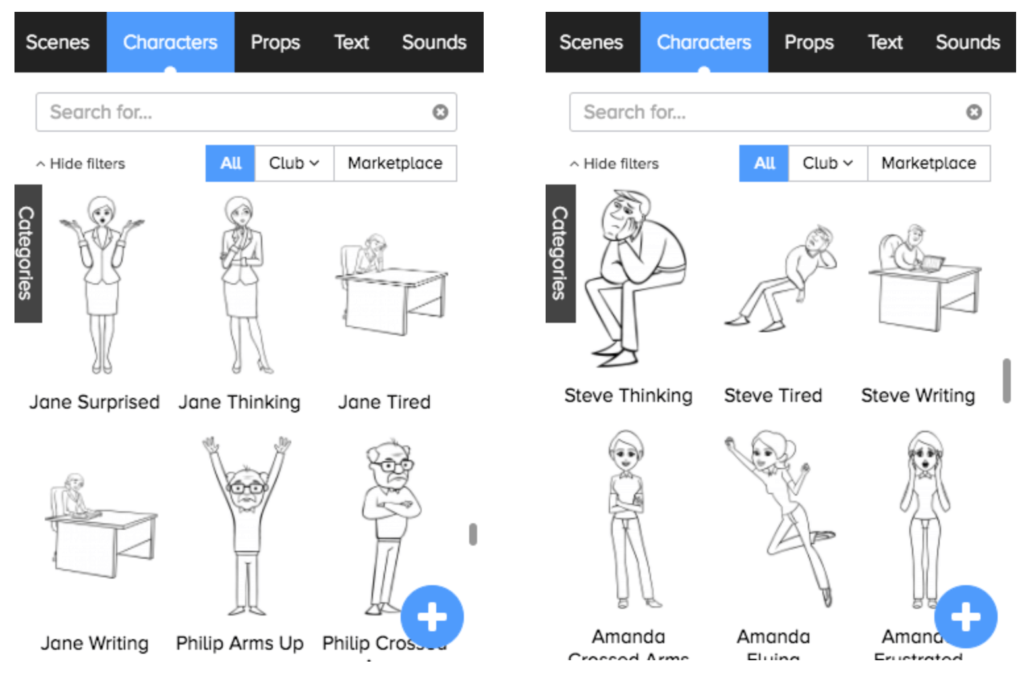 The "club" section is a different matter though. You only have access to this if you have a Platinum or Enterprise plan, and it contains two characters posed in 20 different ways each. These tend to be more specialized. As you can see above, the normal characters are sitting, writing, or displaying a common emotion. The club characters are much more specific. There are yoga and ballet poses, a soldier, and some kind of ninja theme where the characters are participating in martial arts. This may or may not be relevant to the type of video you want to make.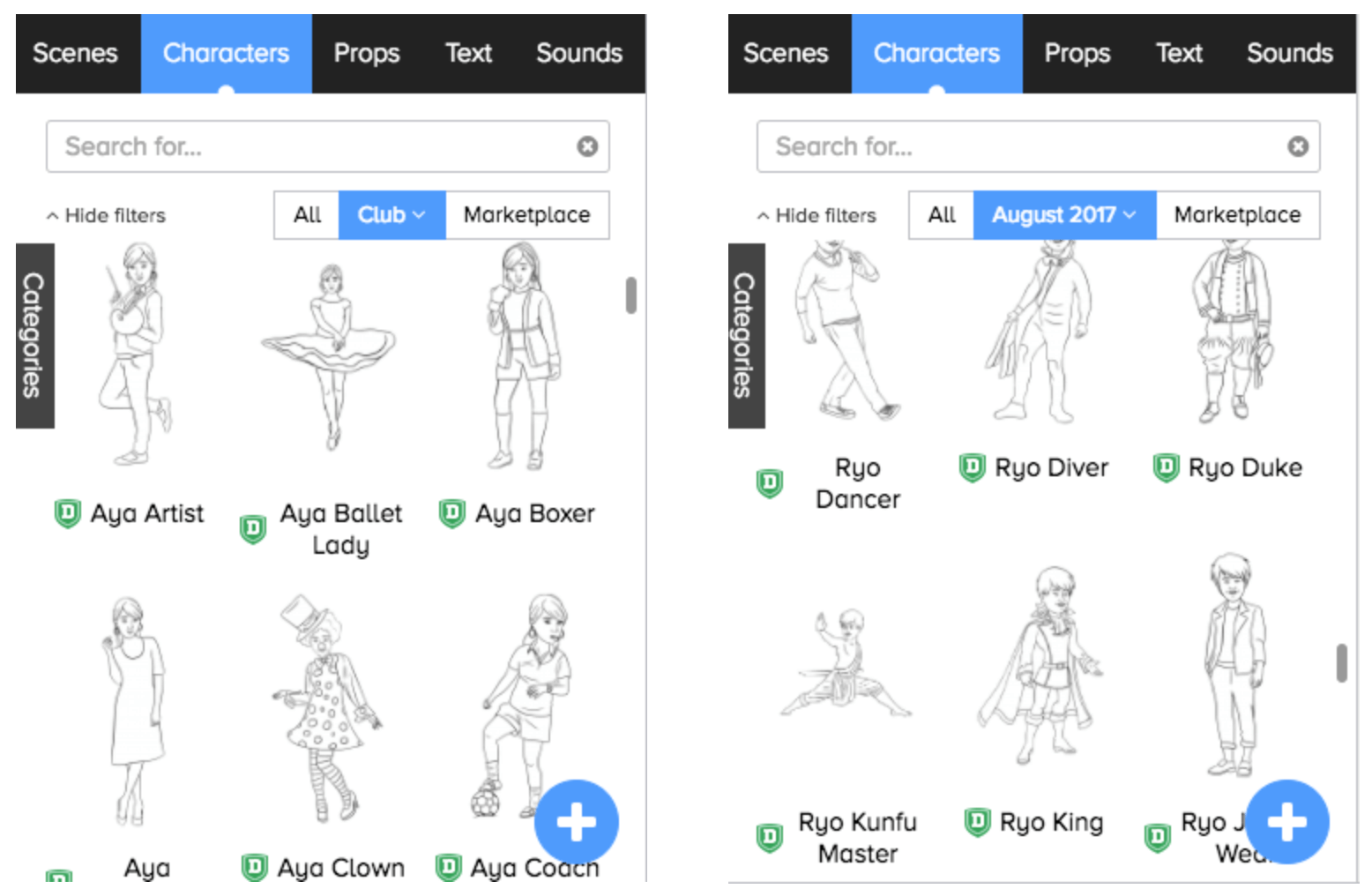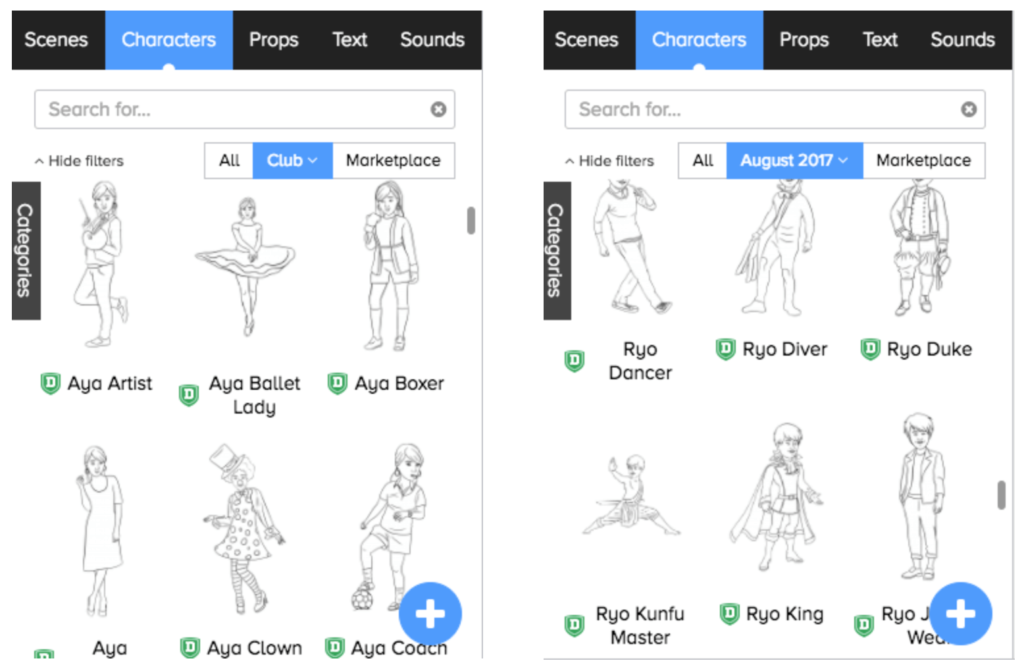 My overall impression of characters is that they are very versatile and offer a good variety of poses. While the search tool might not be very helpful until you pick up on which characters are which, there is a wide range of options available. If you have the "Gold" plan, you should have access to plenty of poses, even if they aren't as specific as "Rye Kunfu Master". Plus, you can use the blue "+" to import your own design from your computer.
Props
Props are Doodly's inhuman or inanimate graphics. These range from plants and animals to speech bubbles to tractor logos, and like other media, they can be resized and edited by double-clicking.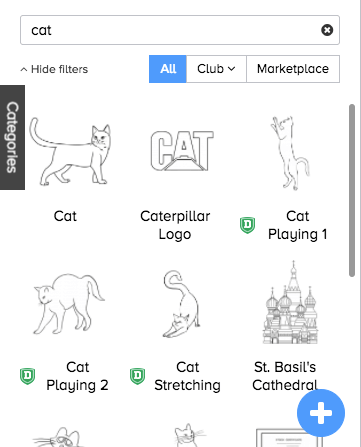 Green badges seem to indicate that the image is for "Doodly Club" only, aka Platinum or Enterprise users. Mousing over the badge will tell you which month it was added. This does mean that Gold users will have a pretty limited selection compared to other subscribers, but you can rectify this by importing your own image with the blue plus sign on the bottom-right corner of the screen.
I tested importing JPEGs, PNGs, SVGs, and GIFs to see how the system processed other images. No matter what file type I import, the program didn't draw the import like the library images. Instead, the hand moved in a diagonal line back and forth, gradually revealing more of the image.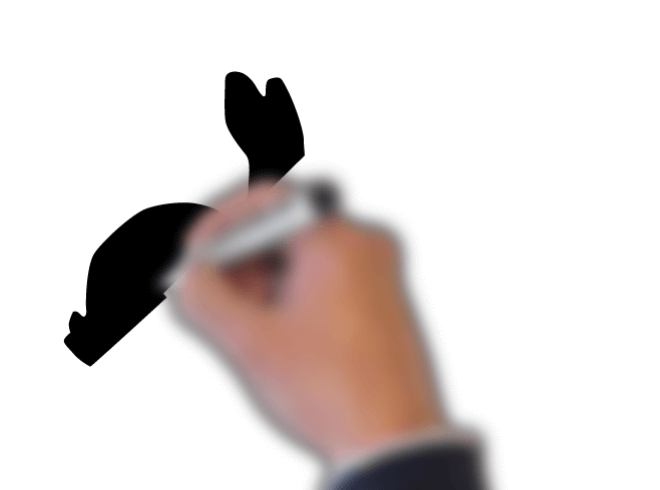 In addition, I accidentally discovered the image size limit (1920 x 1080) by trying to import an image that was too big. As an additional note, Doodly does not support animated GIFs. When I imported one, it accepted the file but the image remained still both on the canvas and in the video preview. Other whiteboard programs tend to support SVGs because this allows the creation of a drawing path, but Doodly appears to treat all image files the same, "shading" them into existence.
Note: Doodly does have a video tutorial on creating custom draw paths for your images, but this may be more effort than it's worth, especially for a complex image. You have to make the paths by hand.
Text
When I first saw the text section, I was disappointed that only three fonts came with the program. About a half-hour later, I realized I could actually import my own fonts! This is something I haven't seen in many programs, but I appreciate the feature because it means the program doesn't come with a huge directory of fonts I'll never use.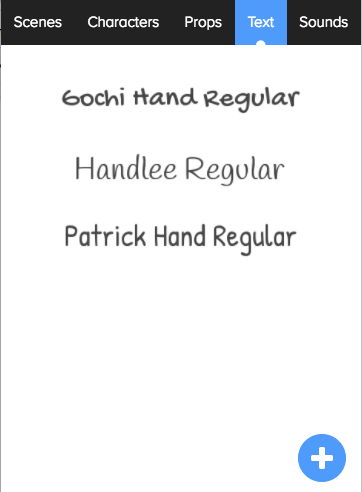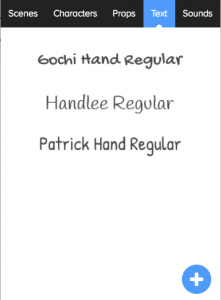 If you're unfamiliar with importing your own fonts, know that they primarily come in TTF files, but OTF files should be fine as well. You can get a TTF file for your favorite font from a free database like 1001 Free Fonts or FontSpace. In addition to the standard fonts, they usually offer artist-made fonts or other neat designs you can browse as well. Just download the file to your computer and click the blue plus sign in Doodly to choose and import the file.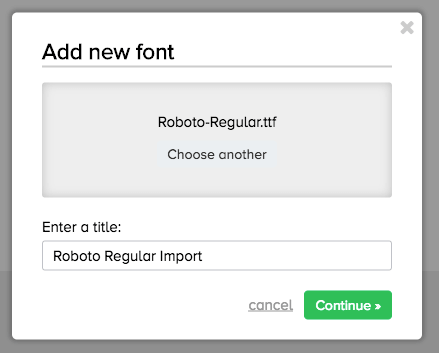 I was able to do this successfully and the font was fully functional inside Doodly. This is a great hidden feature, and something I would definitely make extended use of if I planned to use the software for a long time.
Sound
They say video killed the radio star–but no movie is complete without a great soundtrack. Doodly offers two different soundtrack slots: one for background music and one for a voiceover. You can adjust the volume of these two channels so that they blend or separate.

You can add multiple clips in each channel, so you could theoretically have one track for the first half of the video and different one for the second half. But the clips will need to be pre-trimmed since Doodly only supports adding, moving, or deleting the audio file.
Background Music
Doodly has a fair-sized audio soundtrack library, but I wasn't very happy with most of the tracks. It's almost impossible to find one you like without individually listening to all of them (20 if you're Gold, 40 if you're Platinum, and 80 for the Enterprise users). The search bar just brings up tracks by indexing the titles. Most of them sound like average stock music. There is also an "effects" section, but it contains a mix of full-length songs and 4-second tracks with titles like "Trailer Hit ##". I listened to a few with my volume set fairly high and immediately regretted it when a resounding THUD was emitted from my computer's speakers.
The audio library is a good resource if you can't find royalty-free music elsewhere, or if you're okay with stereotypical background songs, but you'll probably want to make use of the audio import tool.
Voiceovers
While there is a channel for placing a voiceover, you can't record it inside Doodly. This means you'll need to use Quicktime or Audacity to make an MP3 instead, and import that to the program. This is annoying, because it will be harder to time your speaking with the video, but is doable.
Video Editing
Editing is the most complex process when it comes to video production. You have all your materials… but now you've got to add transitions, timing, scene changes, and a million other tiny details. There are two ways to edit your video in Doodly:
The Timeline
The timeline is located at the bottom of the program interface. You can use this to grab an entire scene and reorder it via drag-and-drop. Right-clicking a scene in the timeline will also give you preview, duplicate, and delete options.

You can also open settings (left timeline corner) to change your video style or edit the graphic of the hand drawing it.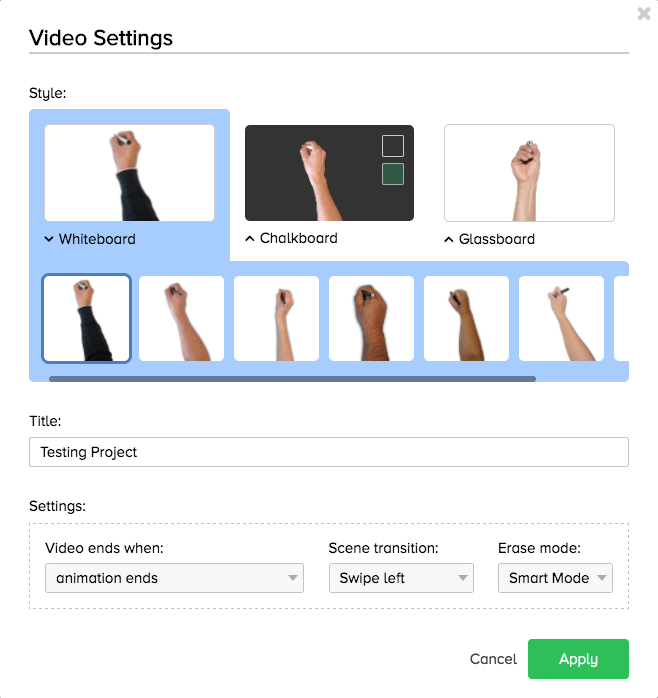 The Media List
If you want to reorder individual elements, you'll have to use the media list on the right-hand side of the window. This window contains every element you added to the scene, be it character, prop, or text (scene objects are shown as their individual elements).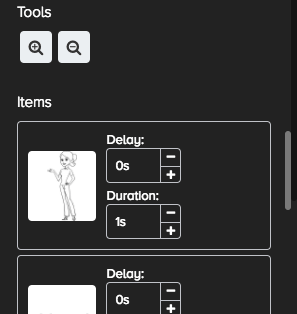 "Duration" refers to how long it takes to draw that asset, and "delay" causes the video to wait a specified time before it begins drawing the object.
The order of objects in this list determines which is drawn first, from top to bottom. This tiny window does not expand, so if you want to change the order you have to painstakingly drag and drop the frame up one slot at a time. Your best bet would be to add elements to the canvas in the order you want them displayed to avoid this, especially if a scene has a lot of assets in it.
Doodly offers one somewhat customizable way to export your videos: mp4.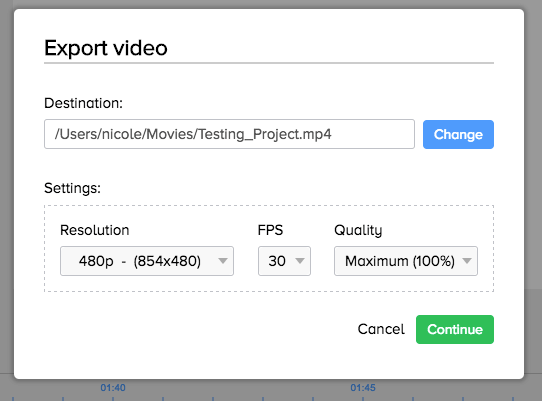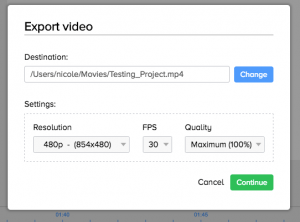 You can choose the resolution, frame rate, and quality. The screenshot shows the default settings, but when I exported my demo I chose full HD at 1080p and 45 FPS. The program did not appear to be very accurate at determining how long the process would take: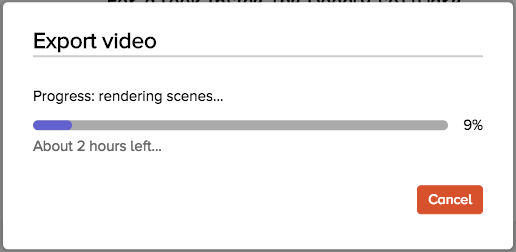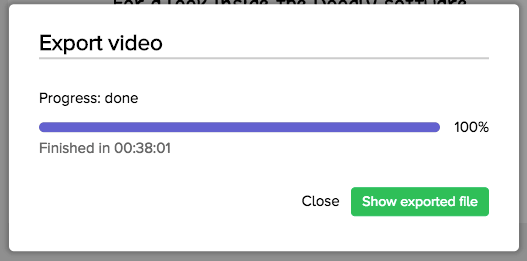 In the end, it took about 40 minutes to export a clip less than 2 minutes long, which reminds me of the equally lengthy process of exporting with iMovie. A short clip seems to take a disproportionately long time, and I noticed that minimizing the window seemed to pause the rendering process.
Reasons Behind My Review Ratings
Effectiveness: 4/5
You'll definitely be able to get the job done with Doodly. There is a large library of free images, and a larger library of club media if you have a Platinum or Enterprise plan. The software contains all the necessary features for producing and editing a whiteboard video (aside from a built-in voice recorder). Creating your first video may take a bit longer than expected, but once you get the hang of things you'll pump out scenes in no time.
Price: 3/5
While Doodly does deliver the features it claims to on the web, it is very expensive compared to other whiteboard video software on the market, especially those aimed at users with little experience. The cost will likely drive off hobbyists, individuals, or educators who can get a similar product for less, although companies may be more willing to pay a few extra bucks.
Ease of Use: 3.5/5
While the interface is fairly simple and doesn't take long to learn, a few details got in the way of being able to use this program with complete ease. The tiny, non-expanding media list posed unique problems with changing the element order, while the timeline horizontally scrolls for what seems like miles because there is no option to make the interval markers more condensed. However, the program is functional and very capable of making a good quality video.
Support: 4/5
I was pleasantly impressed with Doodly's support service. At first, I was worried; they don't have many tutorials on their site, and the FAQ seemed limited. But further investigation provided ample documentation when clicking on a specific category.
Contacting support was an adventure. The "email us" button on their site does not work, but reading the bottom of the page produced a support email I contacted with a simple question. I immediately received an automated email with the support hours, and the next day they sent a good, explanatory reply.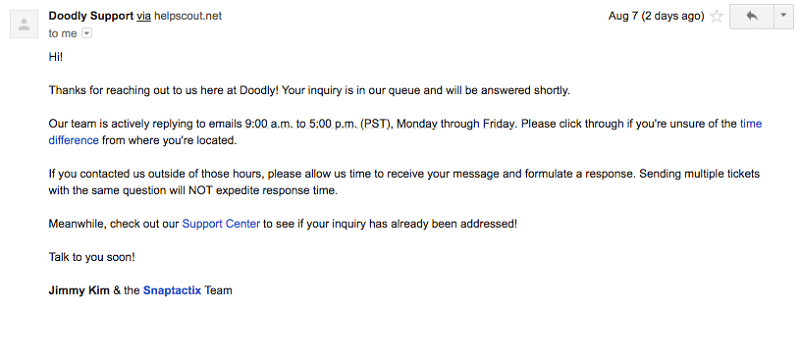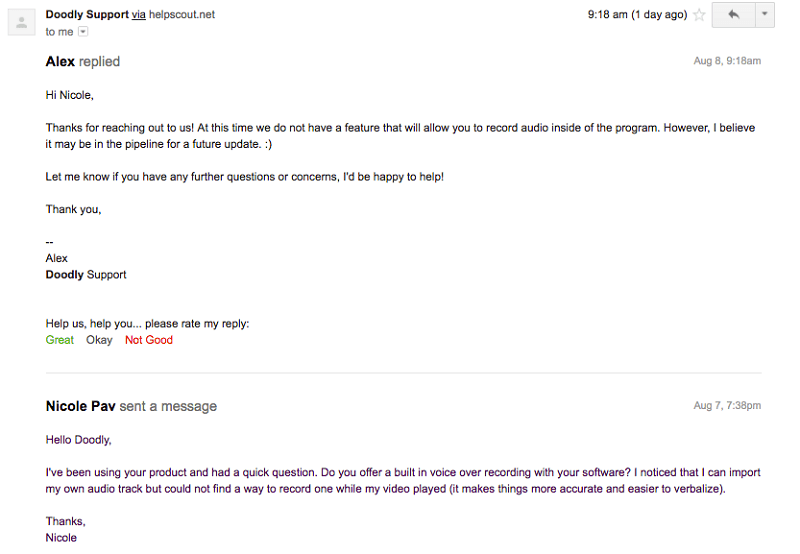 As you can see, the email was sent 18 minutes after support opened for the day, so I'd say they definitely lived up to solve all issues within 48 hours, even if their contact link is broken.
Alternatives to Doodly
VideoScribe (Mac & Windows)
VideoScribe offers a clean interface for creating high-quality whiteboard videos, starting at $12/mo/year. You can read our VideoScribe review, or visit the VideoScribe website. I personally believe that VideoScribe offers a much more full-featured program at a cheaper price.
Easy Sketch Pro (Mac & Windows)
Easy Sketch Pro includes more business marketing features like branding, interactivity, and analytics, despite the amateur look of their program. Pricing starts at $37 for branded videos and $67 to add your own logo.
Explaindio (Mac & Windows)
If you're looking for a program with a plethora of presets and plenty of extra features like 3D animation, Explaindio runs $59 a year for a personal license or $69 a year to sell commercial videos you create. Read my full Explaindio review here.
Raw Shorts (Web-Based)
Whiteboard videos are great, but if you need more animation and fewer hand-drawn features, Raw Shorts starts at $20 per export for unbranded videos.
Conclusion
With the increasing popularity of whiteboard videos, you're probably going to want to try your hand at creating one sooner or later, whether you're an individual or a company employee. Doodly will get you to the finish line with a great character library and plenty of props to assist you along the way. The software does have a few flaws, but due to the lack of material available online related to it, Doodly appears to be a relative newcomer to the animation scene. This means it will likely see some upgrades in the future to help it match up with competing programs.
Everyone works differently, so a program that works for me may not give you the same experience. While Doodly does not have a trial for you to experiment with, they will refund your purchase within 14 days if you are not completely satisfied. You'll be able to decide for yourself if it's worth the full price.
So, do you find this Doodly review helpful? Share your thoughts in the comments below.