The rise of whiteboard animations has everybody wondering how they're made, especially when you may have seen examples from educational Youtube videos, television commercials, product explainer videos, or informative clips. The wide variety of industries using whiteboard animations is primarily because these videos are so effective at communicating important information so that it sticks in people's heads.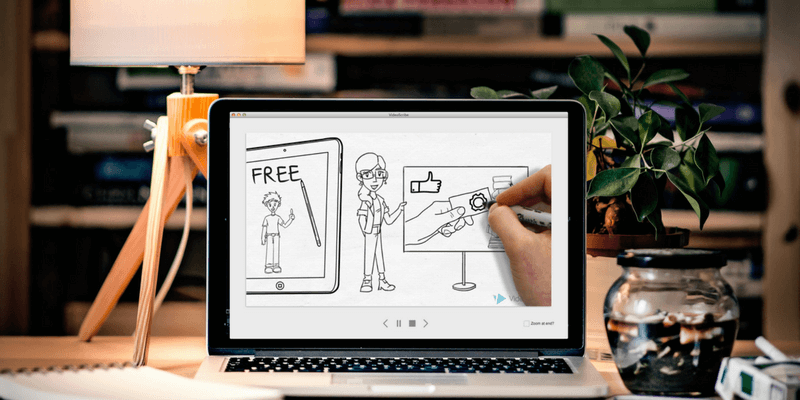 You may have assumed that a professional animator was hired to create each and every one of these videos, but this is far from the case. In fact, there are quite a few programs you can use to get started making your own whiteboard videos in just an hour or two and they cover a wide range of needs, features, and prices.
Out of all the software we've examined and tested by comparing features and functionality, we believe VideoScribe is the best choice for most people. This is because it offers an easily understandable user interface for getting started while allowing you to take things to the next level if you're willing to put in the effort. It's virtually bug-free, has a sleek appearance, available for both Windows and macOS, and will have no trouble assisting you in producing professional-looking videos. At $39 per or $168 per year, it's a great value and offers discounts for educators.
If you're not the average user, you can take things up a notch with Adobe Animate. This program has a much, much steeper learning curve but it also offers more flexibility and is useful for more than just creating whiteboard animations. Using Animate means you'll need to provide all your own media and manipulate all of the animation effects by hand. The sheer amount of tools you have to do make it worth the while if you're creating whiteboard videos to sell, are an animation student or want to pick up long-term skills in a program that can be used for a variety of purposes.
This review also covers quite a few additional programs, so if VideoScribe or Animate doesn't seem like the right program for you, there are plenty of other options listed here to consider.
Why Trust Me for This Review
My name is Nicole Pav, and I'm a tech enthusiast who's spent a fair amount of time trying out all different kinds of software both for my own experimentation and for SoftwareHow. I use a mix of Apple, Android, and Windows products, so I've seen both sides of the fence and decided it's unnecessary to try and pick one when both offer so many different benefits.
Overall, I'm here to show you an unbiased perspective on the programs I've tried and give you the facts about competing products.
Like you, I've seen my fair share of explainer/whiteboard videos, whether while in a classroom, viewing an ad, or other setting and marveled at how effective and clear they seem. The popularity of whiteboard videos in many different (and often unexpected) fields has made me extremely curious about how they can be made and whether or not they're accessible to the average user.
Well, it turns out they are! I've personally tested quite a few of the products listed in this review, having used them to create sample products or other projects that allow me to understand exactly how they work. In cases where I have not used the application myself, all information has been retrieved from other reputable review sources and compiled for your benefit.
Hopefully, this unbiased information will help you decide which whiteboard video software is right for your needs.
Whiteboard Animation Videos: Truth or Myth?
How much do you really know about whiteboard videos? Below are a few facts and myths that should clear up any misconceptions.
TRUTH: Whiteboard/Explainer videos are great for business.
It may seem unorthodox to explain your professional business with an animated short, but these brief videos are key when a person's average attention span is just 8 seconds (source: New York Times). Conversion rates often see dramatic increases when whiteboard videos are used.
TRUTH: Whiteboard videos are effective for education.
Visual information is processed 60,000 times faster than text information (source: 3M Study), and that doesn't even account for the fact that about half of students can be identified as "visual learners", meaning they comprehend material better when it is presented is a viewable format. Whiteboard videos can help bridge the gap between new content and student understanding by making information easier to comprehend.
MYTH: You have to hire a professional animator to make good videos.
In reality, a few hours of practice and some good quality vector graphics (widely available from online databases) can put you well on your way to a high-quality video. This means the format is very attainable whether you're an educator with limited time or a business administrator with a budget that doesn't include hiring creative professionals.
MYTH: It's going to be expensive to create a whiteboard animation.
Far from the truth! Although the program you use may cost a bit to begin with (and actually, many of the programs listed here are free or less than $50), it will quickly be worth the price tag. If you're worried about obtaining graphics to use inside the video, there are also plenty of databases such as FreePik where you can get free SVG vector files to use in your videos.
Additionally, since almost all of these programs are designed to be used by someone completely new to animation, it won't cost you much in time and you'll save on not hiring a creative professional.
Who Should Get This
Purchasing an application specifically for creating whiteboard videos can have a lot of benefits and should definitely be considered if:
You're an educator looking to convey your content in engaging ways without sacrificing obscene amounts of time.
You're a marketer or other business professional using videos for branding or sales.
You're a hobbyist and simply want to have an easy way of creating videos on a variety of topics.
You want to potentially replace a whiteboard video program you already use that doesn't meet your needs.
You don't want the expense of a professional animator or prefer to do things yourself.
As explainer-style videos become more and more popular for everything from HR intros to television advertisements and educational lessons, the appeal of creating your own has also grown. With a clean and informative style, it's no wonder that everyone from students to business administrators is looking for ways to make whiteboard videos.
On the other hand, if you aren't frequently considering making this type of video, having an entire program dedicated to creating whiteboard videos might not fit in your budget or be worth the time it takes to learn.
For example, students who need to make a single class project might benefit more from using stop-motion animation and a real whiteboard or freeware app than to purchase a professional program.
Best Whiteboard Animation Software: Top Picks
Best Overall: VideoScribe
Offering an elegant interface that you can learn without ever watching a single tutorial, while still allowing versatility in the tools that will allow you to take your video to the next level, VideoScribe is a true standout.
The large library of media and extremely easy-to-use timeline make this program ideal for those who want to make a whiteboard animation efficiently, while a great support team and plenty of resources will make sure you don't falter along the way. The program is beautifully designed through and through.
Working inside the program is an absolute breeze. The timeline is split into blocks that can be easily rearranged via drag-and-drop or click on to expand with details. Both of these layouts are very clean with simple buttons that are easy to navigate.

Elements are added to timeline once they're imported into your project. This can either be done through the extensive built-in media library or by importing the files yourself. Whichever method you choose lets you edit the animation style, time to draw, color, and much more so you can make all of the elements of your video cohesive.
Adding text or audio is also a possibility and works fairly similarly. VideoScribe has hands down one of the best stock audio libraries I've yet to see in a consumer program, with around 200 tracks that don't all sound the same!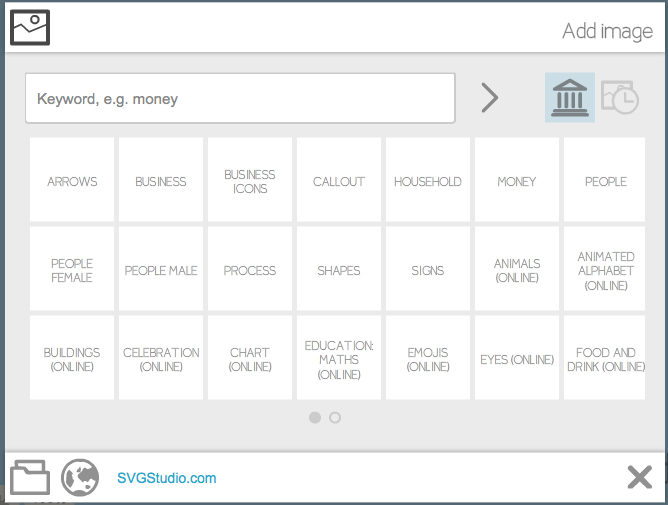 The last feature I'd like to highlight is VideoScribe's export functionality, which lives up to the quality of the rest of the program.
Videos exported from VideoScribe are not branded unless you're using the trial version, so you don't have to worry about paying extra to remove watermarks. They can be shared either in the form of a file or directly to Youtube, Facebook, and Powerpoint.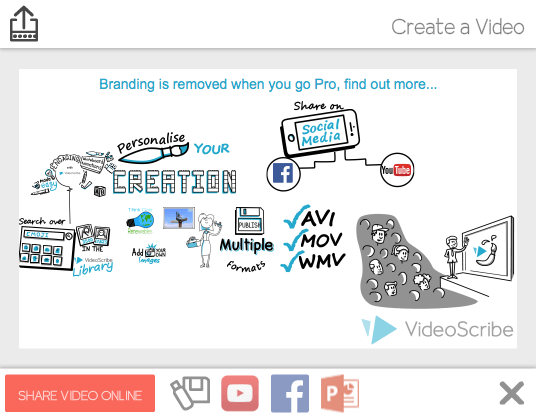 In terms of file types, VideoScribe can hand you a finished product as an AVI, MOV, or WMV, covering all the bases in terms of Mac and Windows support. You can choose your resolution quality and even the frame rate as well, with options all the way up to HD.
For more on how VideoScribe works and an in-depth review of its features and capabilities, check out our VideoScribe review here.
Best for Professionals: Adobe Animate CC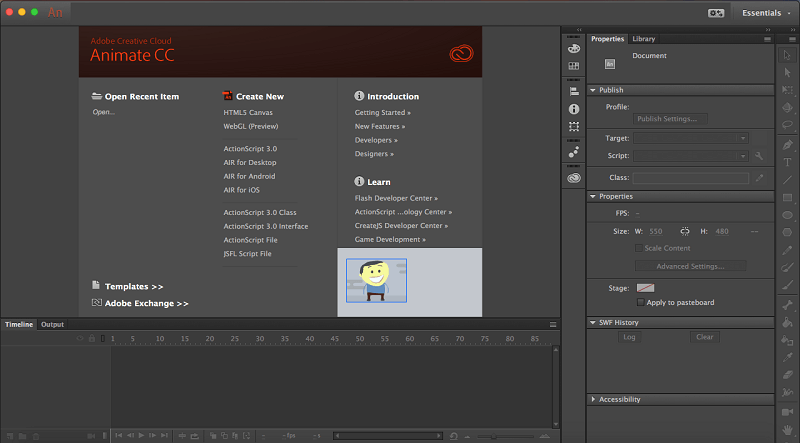 When it comes to Adobe, there really is no second best. The company sets the bar high for creative software and is often considered the industry standard for everything from photo editing to video effects. However, there is a best-fit factor to be considered. All Adobe products have a steep learning curve. While their programs can yield gorgeous results, they take a great deal of practice, time, and dedication to master.
Adobe Animate completely embodies this classic Adobe mix of program versatility and the need for users to have extensive experience. Designed for animators and flash game creators, Animate provides all the tools to make a high quality, completely customizable whiteboard video, but it may take you some time to be able to do it well.
It's not that the interface is unfriendly, it's just that the tools do so many things you could never imagine having the time to learn how to use each one effectively.
Inside Animate you'll find a professional layout with drawing and animating capabilities. This means you can create any graphics you need in the program (or import them from Adobe stock) without necessarily needing to use a secondary program and then switch them over. Animate supports vector and bitmap formats for imports as well.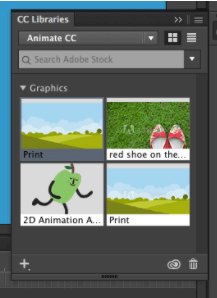 The timeline is much more complex than any other program on this list, allowing you to work in layers or on tweens that only affect part of your video. This allows incredible versatility and control of your elements, exemplifying the professional nature of Adobe products. It's clearly meant for someone who knows their way around frames and clips, but also accessible to those willing to learn.

It may seem a little overwhelming. If that's the case for you, perhaps VideoScribe is the better choice. However, if you want to jump right in, the following Youtube video offers a great springboard for learning how to get whiteboard-sketch like effects and beginning to animate them.
Need to learn a bit more before you get started? Animate costs $20/month, but students and teachers can get a 60% discount (or may already have access through their school/university). The app is also available through the Creative Cloud monthly package.
Since whiteboard is just one kind of video among many that can be produced in Adobe Animate, you may also want to check out our Adobe Animate review and see another style of animation. The review will also give you a fuller picture of how the program functions.
Other Great Whiteboard Animation Tools
So which programs did we compare our top picks to? There were a number of them (many with unique and expansive features), and we've detailed each below in case you find a program that better fits your needs.
1. Explaindio (Mac & Windows)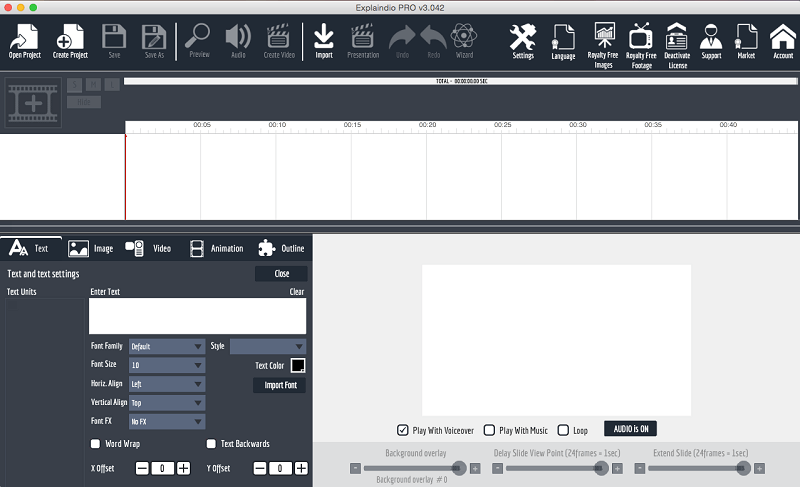 Explaindio offers the ability to create several different styles of explainer videos, including cartoon and 3D, in addition to the whiteboard model. It supports imports for SVG, PNG, JPG, and GIF (non-animated), and does a great job converting them to whiteboard style.
This is necessary because the built-in library is fairly limited. The user interface is extremely difficult to get to know but does offer a much higher level of customization than many other programs due to the sheer amount of features.
You can export your video to a downloadable file, but there is no built-in feature for uploading it to other websites (so you'll need to move the file to any third party sites yourself).
Boasting that it is the cheapest and most flexible program on the market, Explaindio tries to do everything. However, as the saying goes, "jack of all trades, master of none". While it does have quite a few strong points and unique features, it is much more difficult to use than its competitors and leaves room for improvement on multiple fronts.
It's also advertised as a tool for internet marketers, so educators or other non-business groups may have better luck with something simpler.
Explaindio costs $59/year and does not offer a free trial, you can check out our full Explaindio review for a more in-depth explanation of how this program works. It runs on Mac and Windows.
2. TTS Sketch Maker (Mac & Windows)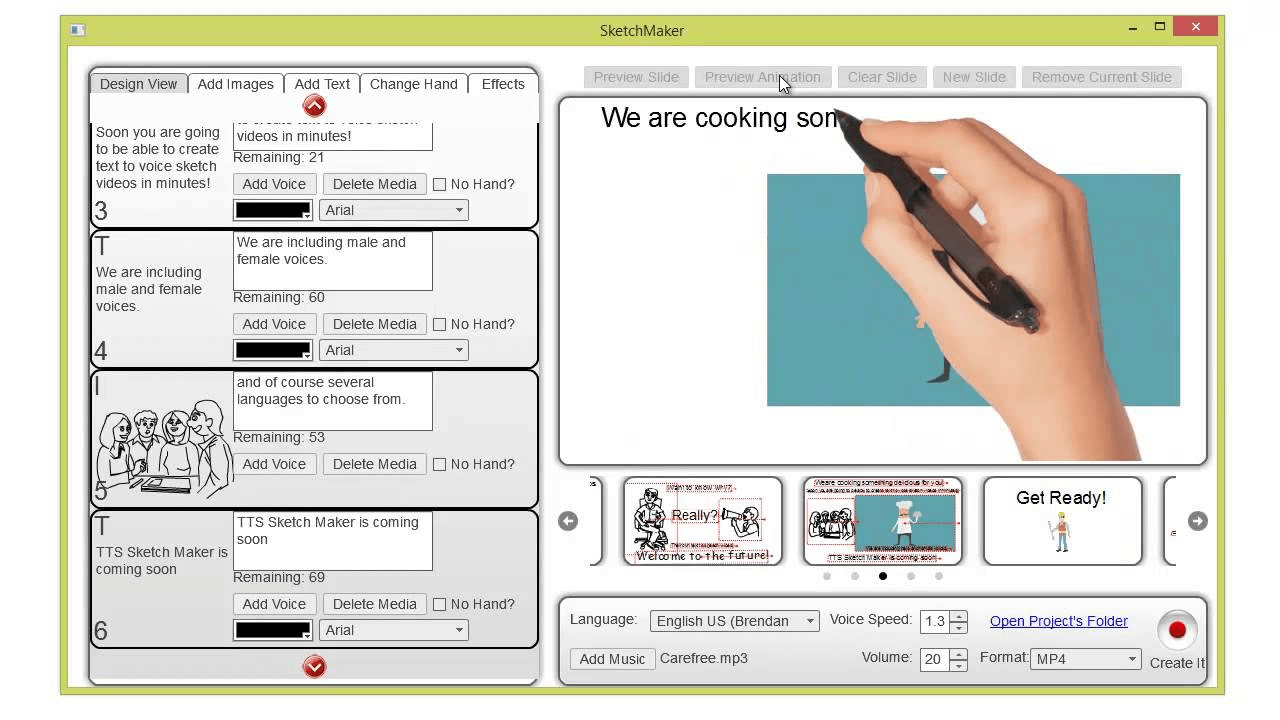 TTS Sketch Maker is a whiteboard animation program that primarily markets its text-to-speech (TTS) capabilities as a unique feature. TTS means you don't have to narrate your own videos (for example, if you don't like the sound of your recorded voice). Otherwise, it offers fairly similar features to any other whiteboard animation program.
You can see and hear what the results are like in this video from their site:
The interface is a little old-fashioned in terms of style but is not too crowded or hard to navigate. The program supports SVG, JPG, and PNG imports, as well as audio files for background music. Available voiceovers come in several different languages, though the general media library is fairly small.
When you're finished making your video, you can export in HD quality and own 100% of the rights (there's no brand watermark on your image).
At just $37 for a single-computer license and with plenty of room to experiment with your own files, TTS Sketch Maker is ideal for those who are just beginning to experiment or are making small-scale videos. However, due to limited assets and an amateur feel in the user experience and program capabilities, it doesn't quite measure up to our overall winners.
3. Easy Sketch Pro (Mac & Windows)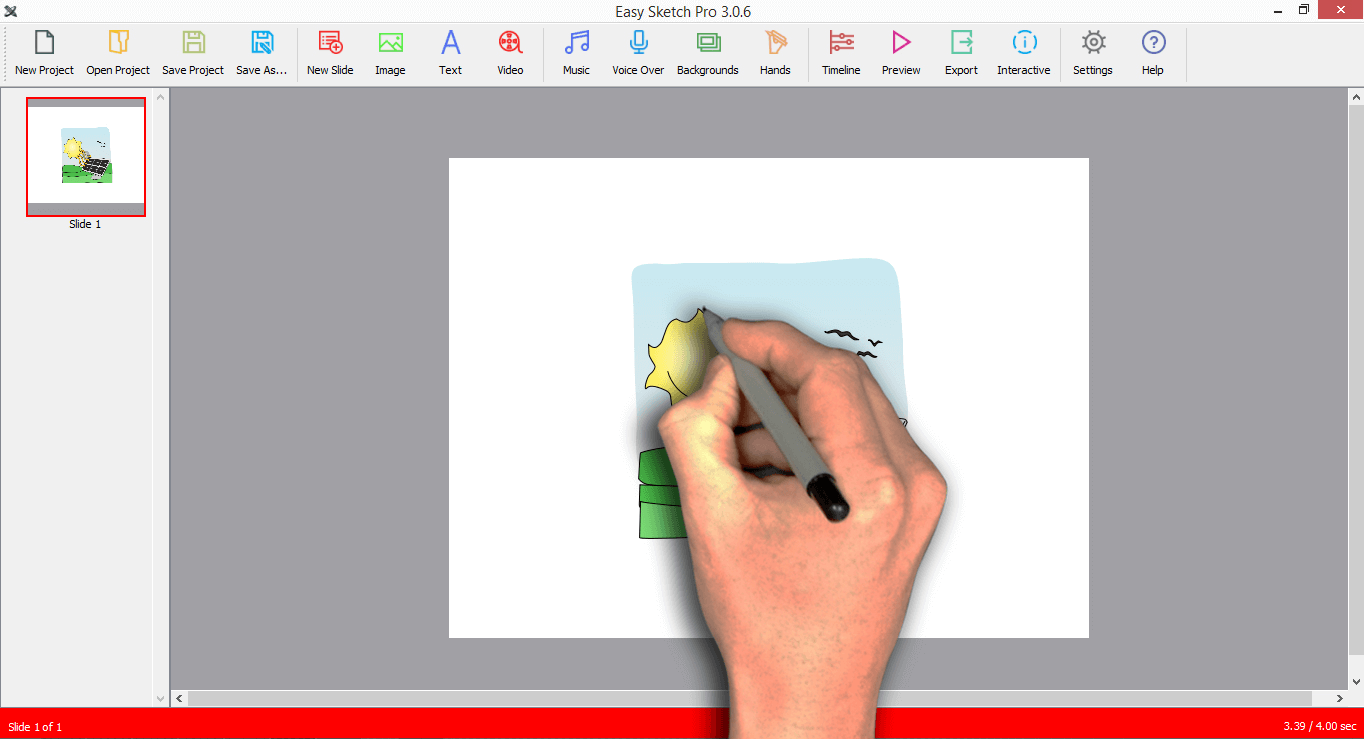 Easy Sketch Pro brings a clean design and plenty of tools to the table to rival the likes of Doodly and other higher-end competitors. It's refreshing to having everything neatly laid out and easily accessible. Plus, the buttons are large and descriptive, so the learning curve should be fairly nonexistent.
It offers a lot of customization in terms of the background, graphics, media, and timeline elements. For example, you can use a video file as your backdrop. Easy Sketch also offers a lot of plug-in integrations for items such as an email responder, support call button, and social media. These items, in particular, are unique to Easy Sketch, and make it a great tool for businesses that really want to improve their video marketing.
The simple interface and low cost also make it a strong competitor for users with educational, hobby, or personal purposes. Unbranded videos start at $67 for a license; $97 gets you full access to the stock media library.
4. Doodly (Mac & Windows)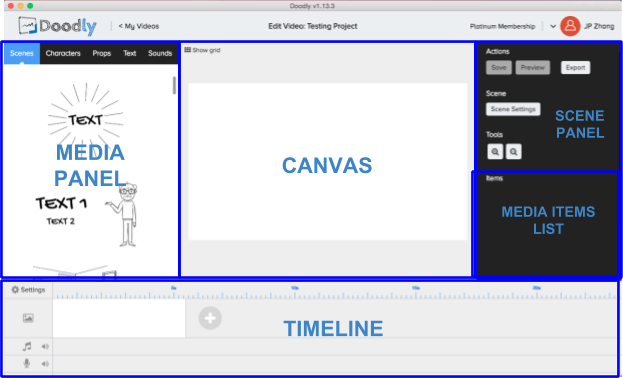 Similar to Easy Sketch Pro and our winner VideoScribe, Doodly is specifically for whiteboard videos and offers a graceful interface that will make both animation newcomers and old pros comfortable.
There's a lot of media to choose from (even more if you pay for a higher-level plan), and you can import your own through SVG, PNG, JPG, and more. Although only SVGs are automatically drawn in the classic whiteboard style, you can use Doodly's unique path tool to add this animation to your bitmap graphics.
It does lack built-in voice recording functionality, so you'll need to tape your narration externally in a program such as Quicktime or Audacity.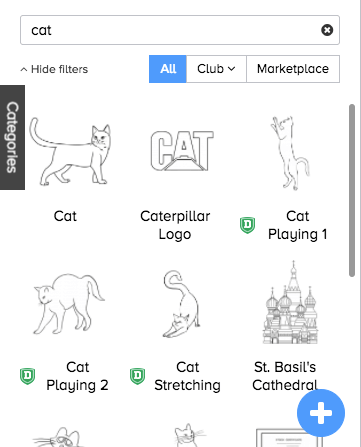 You'll definitely be able to create high-quality videos with Doodly as well as export them (though only in MP4 format, and the process can take quite a bit of time). In order to use Doodly, you must use a monthly subscription plan on one of three tiers starting at $39/month. It doesn't offer a free trial, so you should make sure to look at our full Doodly review here to get a better idea of how this tool functions.
Some "Free" Web-based Whiteboard Animation Tools
What if you aren't sure you want to pay for a program specifically for making whiteboard videos but still want to try your hand at it? While there doesn't appear to be any completely free programs on the market right now, there are a number of freeware options that will allow you to get started at no cost.
These are usually web-based, and will charge you to remove branding or gain access to additional features, but can be a great place to get started. hey also include the added benefit of being able to get familiar with most of the features before deciding if it's worth putting money into.
1. Raw Shorts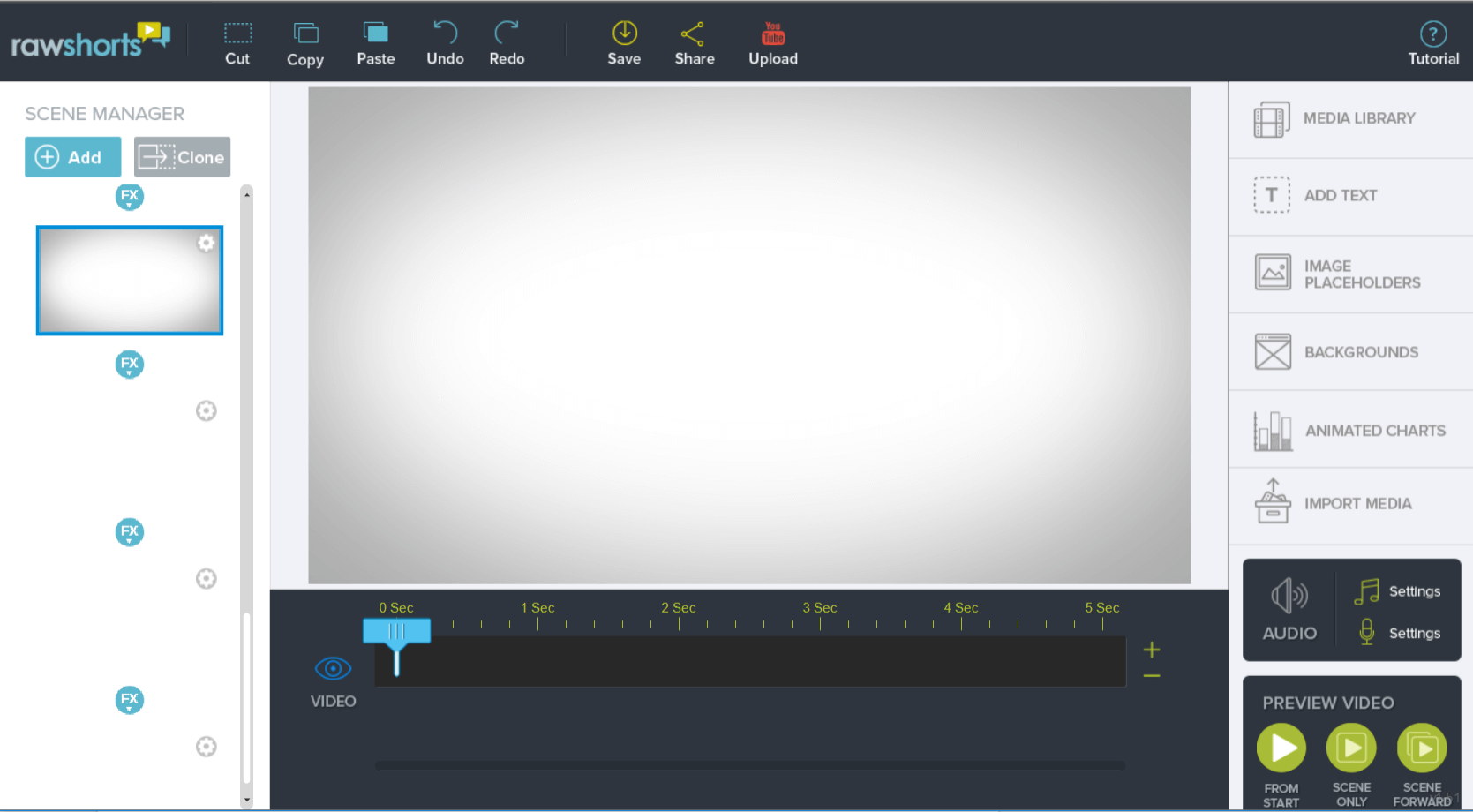 With a broad range of customizations, a professional interface, and a web-based platform that can be accessed anywhere, RawShorts is a great freeware alternative. You can get started without a credit card. If you do end up enjoying the program, then you can choose to either work on a monthly subscription starting at $39, or pay-per-export starting at $20 for 3 with discounts for buying in bulk.
I enjoyed working in RawShorts because the drag-and-drop interface allows you to create videos in a variety of styles. You can layer elements to get a completely different look or make use of the fact that all their assets come in several different styles. This means you can get the same graphic to appear as a whiteboard element or perhaps cartoon sticker depending on what you need for your video.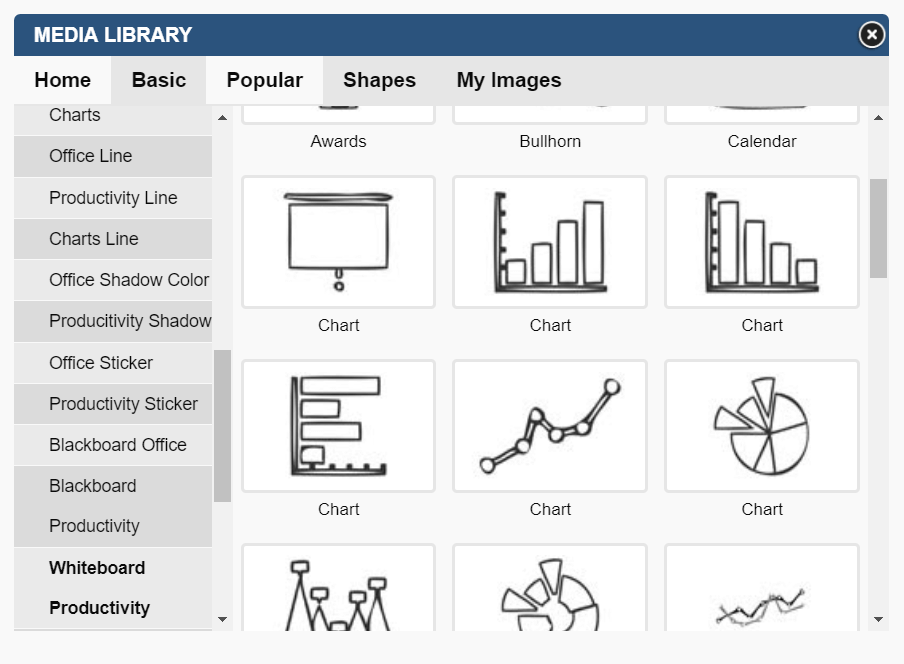 Another great feature is the interactive timeline, which you can move the slider on in order to play your video frame by frame, second by second, to see exactly where elements overlap or come into play. Every element on the timeline can be given specific transitions and animations beyond just the "drawn by hand" classic whiteboard style.
In RawShorts, unpaid users will have their videos watermarked upon export and are limited to SD quality, but paid plans are unbranded with total video rights and HD quality video.
2. Powtoon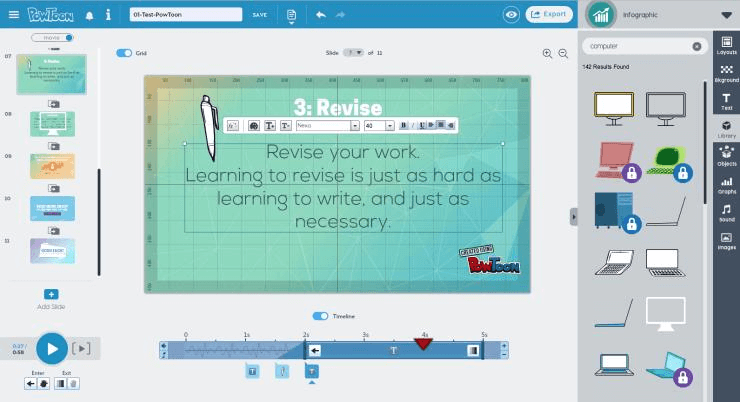 Powtoon has been on the market for many years and has stuck around for good reason. It has a range of features and pricing plans that aim to corner the educational, business, and enterprise markets.
In addition to whiteboard animations, you'll see cartoon looks, live-action video with overlays (beta), and quite a few other styles available via templates and a variety of media. You can even browse some of this available media to get an idea of what it looks like on their site. The page includes over a dozen categories with several graphics types. Above is a small sampling of those categories. You can read our full Powtoon review for more.
The program's interface is clean, if a bit dated, and shouldn't pose any issues for new users. Combined with the variety of media available, it's a step up from trying to use Powerpoint to create a brief animation, and Powtoon itself even offers support for creating slideshows.
However, it does have its downsides. PCMag, which also reviewed Powtoon, noted the reliance on templates may get a bit repetitive if you start making too many videos, and the program lacks professional design tools such as "snapping guidelines for aligning, centering" and that the lack of ability to web-update means you "must first export to embed and re-upload any time the presentation changes", an issue that could become very tedious very quickly.
If you're interested in Powtoon, you can sign up for a free account, or check out the various pricing plans (including student discounts, enterprise setups, and pay-per-export packages) first.
3. Animaker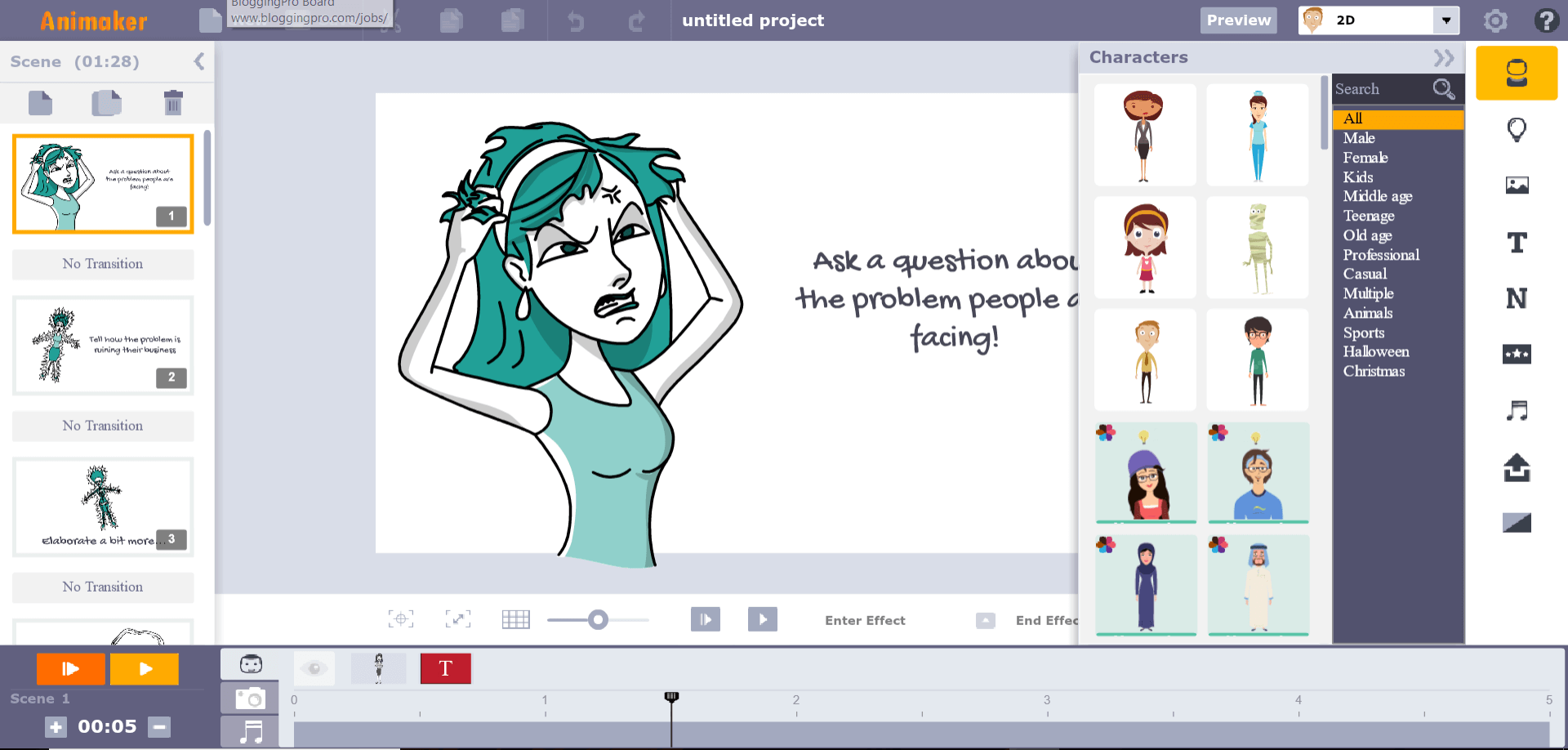 Wrapping up the freeware and web-based programs is Animaker, which offers a layout similar to RawShorts and variety comparable to PowToon. At first glance, there appears to be a heavy reliance on templates (although you can upload your own JPGs and PNGs), so this isn't the most versatile program.
However, it is clean and runs efficiently in my web browser so there is a lot of potentials if you're willing to put in the extra effort to make your video unique.
After some experimentation, I was also able to find that once a character was in a scene, clicking it brought up other poses for that character your might possibly want, and you can also activate special tools such as placement guidelines, which is a nice touch.
You can preview your video scene by scene in the browser before exporting it, which saves time and makes it easy to see how your project is coming along. Read more from our detailed Animaker review.
Free Animaker plan users will see a limited library of visual and audio assets, as well as have all their videos watermarked with the company logo and restricted to SD quality. There are several iterations of paid plans you can consider if the program stands out to you, as well as bulk license options, but they do not appear to offer pay-per-export plans.
How We Picked These Whiteboard Animation Tools
Since many whiteboard animation options offer completely different sets of features, it can be difficult to try and compare them to each other. However, the following categories are fairly universal and should give you an idea of what we looked for in each program.
User Interface
The idea of having an app specifically for making whiteboard animations in is that the process gets easier because you have the software, not harder. A good user interface is key to this and can really make or break a program.
When examining these programs, we looked for a clean workspace, easily understandable functions, and buttons, and a design clearly meant for a regular human to operate with ease.
Media Library
Most whiteboard animation apps include some form of media library so that you don't have to create every graphic for your video by hand or go out of your way to purchase new ones. The best ones have a large library of high-quality free media, and almost all whiteboard programs include paid "pro" or "premium" graphics that cost extra.
Although there are online graphics databases you could pull from, having a great built-in library is an important feature for a successful program.
Import Capabilities
It would be near impossible to make an animation with just randomly provided stock images, so almost all applications offer a method for importing third-party graphics. However, the level of support for these graphics varies. From file type (GIF/JPG/PNG/SVG) restrictions to the drawing animations available for the various files, imports can have a big impact on which program works best for you.
Export Capabilities
Once you've made an animation, you're going to want to publish it either in the form of a reusable file such as MOV or MP4 or by uploading it to a sharing service such as YouTube. Some programs restrict your export options based on how much you pay for their program or simply don't offer features such as direct uploads to your preferred platform.
Versatile applications include a mix of file formats and sharing uploads, and are thus the optimal choice especially if you know you need access to more than one kind of file.
Functionality
Just as if you were looking into any other piece of software, functionality is key. Does the program crash or freeze? Is it full of bugs, or does it have an active support team and run flawlessly nearly all of the time?
Additionally, will it run on the latest versions of Mac and Windows?
Cost & Value
Everybody loves an effective free app or open-source program, but a free application isn't necessarily the best choice. It may not meet all of your needs or may be difficult and costly in terms of your time or need for exterior resources.
Instead of looking for the cheapest application, this review tests for the application with the most value–in other words, does what the program offers adequately compare to the price charged for it? This takes into account the individual aspects of a program and its price tag.
OS Compatibility
Most whiteboard programs are available on both Mac and Windows, but there are a few outliers made for just one or the other. The ideal program works on both platforms for easy file exchange, but you can also go web-based for complete universality, even Linux systems.
That wraps up this guide on the best whiteboard animation software. Any other good animated video tools that you've tried? Leave a comment below.