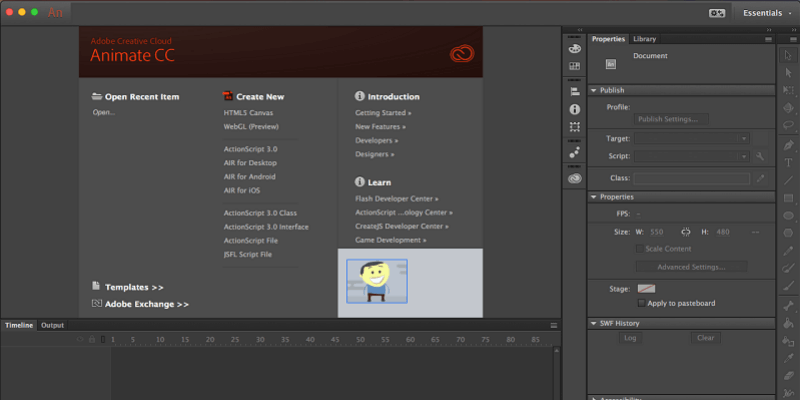 Adobe Animate
Effectiveness: Most versatile program available
Price: $20.99 per month as part of Creative Cloud
Ease of Use: Steep learning curve, but worth it
Support: Forums, FAQ, live chat, & phone
Summary
Adobe products are usually considered the gold standard of programs used in creative applications, and for a good reason. They've consistently been well-supported and extremely versatile, while Adobe remains an industry leader in developing new artist tools for computers.

Adobe Animate (also known as Animate and formerly Flash Professional) lives up to the brand's reputation. It's got many tools for animation that it's hard to know where to begin, as well as every file type, export, modifying tool, or plugin you could dream of.

Animate includes an interface packed with features that could take a decade to master. You can use the program to create Flash games, movie animations, kinetic typography, cartoons, animated GIFs, and basically any sequence of moving images that you could dream of. This means it is ideal for creative professionals, students in an industry-related class, dedicated hobbyists, or those that already heavily use the Adobe Suite. These groups will have the most success adapting to the interface, as well as the easiest time learning the controls.

However, new users will need to spend dozens of hours on tutorials, classes, and other learning activities. If you don't have time for this, Animate is probably not for you; you won't be able to reach the full potential of the program. Read our best animation software review for more.

What I Like: Clean interface matches other Adobe tools. Plethora of "getting started" tutorials. Many different canvas types. Every export option imaginable. Supports vector and bitmap images of all types.

What I Don't Like: Extremely steep learning curve for new users.
What can you do with Adobe Animate?
It is a program from Adobe's Creative Cloud. It offers the ability to make many varieties of animated features, games, or other Flash multimedia. The program was called Adobe Flash Professional for more than ten years; that name was retired in 2015.
The main features of Animate are as follows:
Integration with your Adobe cloud library of assets
Easy cross-platform use with other Adobe products
Creates animated movies, cartoons, or clips
Creates Flash games or interactive Flash utilities
No, it is not free. You can try the program for 14 days at no charge and without a credit card, but you'll need a license after that. You can buy the program as part of the Adobe Creative Cloud for $20.99 a month.
Student and teacher discounts are around 60%, and Adobe offers several enterprise or business pricing packages as well. If you are currently a university or even a high school student, you may have access to this software for free through your school's computer lab. Many educational institutions make widespread use of the Adobe suite or offer discounts and licenses to current students. Check with your school's website or student center.
How to use Adobe Animate?
Animate is an extremely complex program; how you use it is entirely dependent on your project goals. For this Adobe Animate review, I went through a brief animation tutorial, but Adobe also offers dozens of free resources if you have another goal in mind.
Adobe has published more than 500 pages of how-to material, so I'll just give a few details here to get you started. When you first open Animate after downloading, you'll be sent to the home screen where you can choose a new type of file, open a pre-existing project, or view tutorials and learning resources.
As you can see, the startup screen replaces the canvas area until you choose what project you'll be opening. The rest of the interface remains the same no matter what file you choose. The interface is actually rearrangeable as well, so you can drag and drop panels as needed.
There are several file type options available. You can create your project with any of them, but the differences lie in the code language used to execute. If you plan to add interactive features or know you need a specific language to integrate your final product with a website, then you should pick the project type that matches your goal and expertise. If you're just doing simple animation, this is less of an issue. If you have no idea where to start or are experimenting, I would recommend beginning with the HTML5 canvas.
Where to find good Adobe Animate examples?
Adobe encourages those who post their animated creations online to use #MadeWithAnimate.
Why Trust Me for This Review
Hi, my name is Nicole Pav, and I've been experimenting with technology since I first put my hands on a computer. I've used every available resource I have to track down high-quality free software and real information on whether paid programs were worth it.
Like any other consumer, I don't have unlimited funds and I want to know what's in the box before I pay to open it. That's why I'm here writing honest reviews of software I've actually tried. Buyers deserve more than flashy web pages to learn if a program will really serve their best interests.
I already had an Adobe ID, so I was not sent any confirmation of my download or account. In addition, I followed one of the "Getting Started" tutorials from Adobe and created this short animated clip. A three-second clip doesn't seem like a lot, but it took around an hour to make! As a completely new Animate user, I used the tutorial to learn some of the basic functions of the program.
Lastly, I contacted their support to ask for help with one of the program functions. You can read more about my experience with support in the "Reasons Behind My Ratings" section below.
Detailed Review of Adobe Animate
It would be impossible to cover every feature of Animate in this review. If you're interested in that sort of thing, try this 482-page documentation Adobe published with a section for every button, tool, and clickable item in the program. For this article, I'll be focusing on a few general categories that are representative of the much larger scope of Animate.
Be aware that visually, the PC and Mac versions of Animate are slightly different. I tested on a Mac laptop, so your screen might not appear the same as mine.
Assets
Assets are a key component of a project. For Animate, assets can come in the form of vector images, bitmap files, audio and sounds, and more. The Library tab, near the Properties tab, stores all of the assets in a project.
Animate is designed to work flawlessly with the other Creative Cloud programs. It offers integration with your Adobe cloud, allowing you to easily drag and drop components from your storage to the canvas.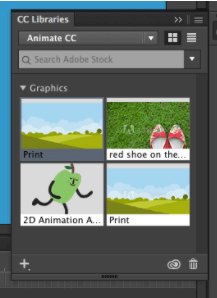 You also have integrated access to Adobe Stock graphics, which you can purchase or use in a watermarked format depending on your goals. If you've made your own graphics ahead of time, you can import them from Photoshop or Illustrator.
For more on managing your project library, you can read Adobe's documentation here. If you prefer a video format, here's a great introduction to asset management.
Frames and The Timeline
Animation of any kind requires a timeline of frames to execute. Adobe's timeline is very versatile and even contains hidden tools.
When you look at the main timeline, you're viewing the main stage. You can put as many objects and layers here as you like, create paths for them to travel over time, or many other specific movements.
Any time you add an object to a layer, a keyframe is automatically created in frame one for that layer. You can add your own keyframes as well by selecting the frame number and then inserting from the menu bar.
There are also secondary timelines for symbols. If you create a symbol and add a tween to it, you can access this matching timeline. To edit these symbols' animations, double-click on them from the main stage. The rest of the canvas will become slightly grayed out except for the selected symbols. In this view, you don't see layers from the main stage.

Lastly, you can access special ease effects by expanding the timeline window and then double-clicking a layer. This will produce a large graph which lets you edit movement based on ease presets or those that you have made.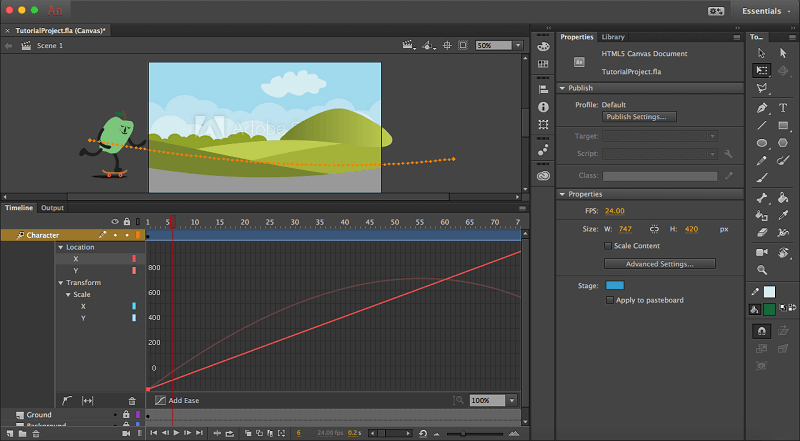 It would be impossible to fully cover the use of the timeline, so you can view this tutorial from Adobe for a more in-depth introduction to these features.
Key Tools
The tool panel in Animate is very similar to that of Photoshop, Illustrator, and other Adobe applications. The main toolbar contains more than 20 commonly used manipulative and drawing tools.
Many of these tutorials support vector graphics as well as bitmap, eliminating the need to perpetually transfer files between your vector editor and Animate. They even have vector painting brushes available.
The bone tool is specific to animation. It allows you to create character rigs that make for easy editing of limb and body position as you move from frame to frame.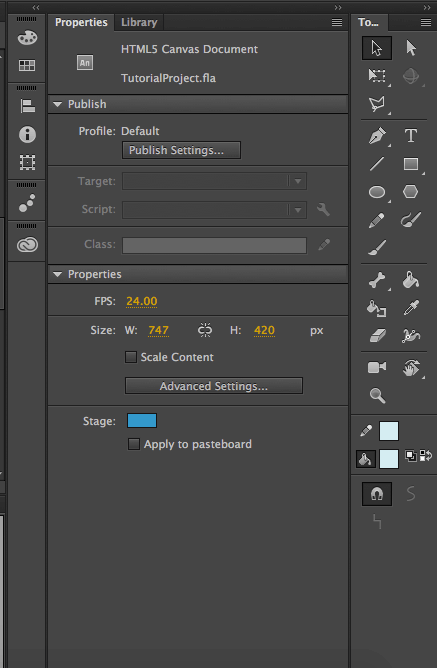 The Properties panel allows you to modify some aspects of a selected object on the canvas without using transformations or painting techniques. It's great for quick and simple changes. The options for editing change depending on what kind of object you have selected.
For more on object properties, manipulating the stage, and an introduction to some of the tools, check out this Adobe-produced tutorial.
Scripting
Scripting is a great way to add interactivity to your Flash game. It's what brings the game to life, and an outstanding feature of Animate that differentiates it from a lot of competitors.
Unfortunately, it is also an extremely complex topic to cover. If you're a non-programmer, Adobe offers a "code snippets" feature for interactivity, which you can read more about it here. The goal of snippets is to allow those without coding knowledge to make use of some common functionalities. You can access snippets by going WINDOW > CODE SNIPPETS.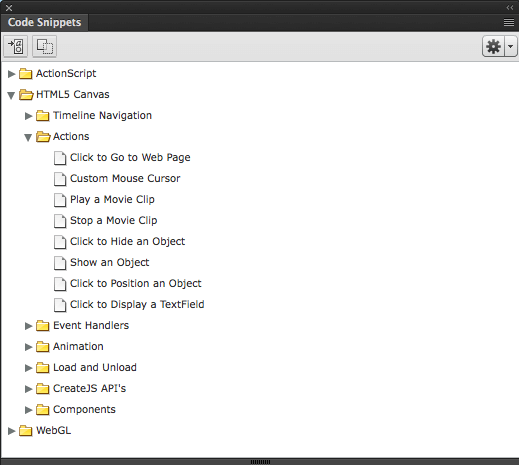 If you are a programmer, the following information might be more relevant. Adobe scripts are primarily written is JSFL, which is a JavaScript API specifically for flash use. You can create a new JSFL file but opening Animate and going to FILE > NEW > JSFL Script File. If you would rather write in ActionScript, you can create a document for that language instead.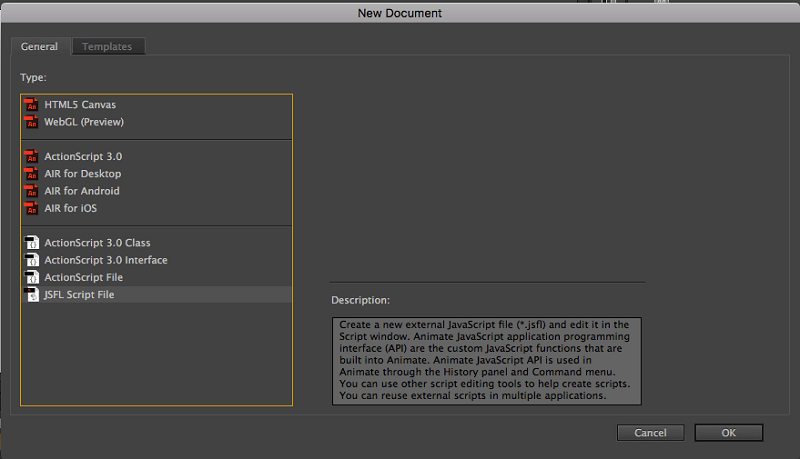 This will open a coding environment. For introductory information about working in this environment and in JSFL, here's an Adobe resource on the topic. If you need information on writing scripts, here's another great documentation page from Adobe.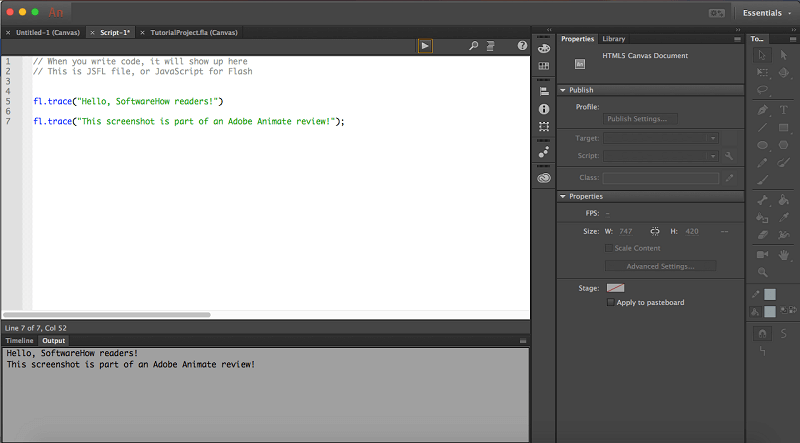 Scripts are a great feature for both avid coders and those that are code shy. To use them effectively, you'll need plenty of practice, just like with any complex Adobe feature.
Exporting/Sharing
Animate offers several different ways to get a project from the program into a usable file. The main type of Animate file is the .fla, which is what your projects will save as not matter what canvas type you're using. If you want to view the file outside of Animate though, you'll need to either publish or export.
Publish and Export are Animate's two forms of file sharing. Publishing a file offers unique file types with settings tailored to the type of canvas you are publishing. For example, an HTML5 Canvas has a different publish configuration than AIR Desktop. Publish gives you access to specialized file endings like .OAM (for sending to other Adobe products) or .SVG (for vector graphics). Once you choose "Publish", you'll immediately have those files on your computer.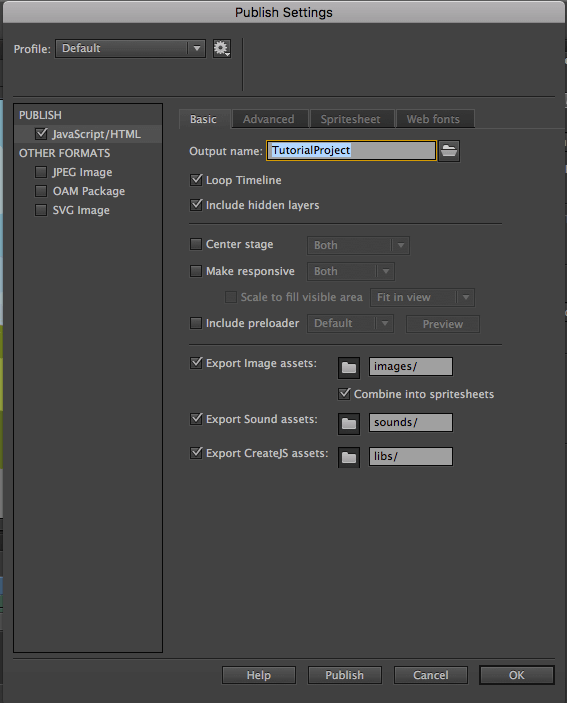 "Export" offers more commonly known files types such as .MOV and .GIF. This is more useful if you're trying to create a file of a final project since files created through "export" cannot be reopened in Animate and edited.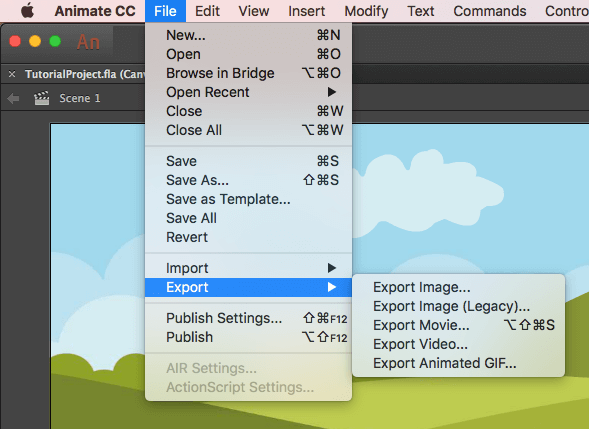 In addition, some of these files will require the use of Adobe Media Encoder to properly export. This program will download automatically with Animate, so don't worry about not having it. In addition, it will open automatically when needed.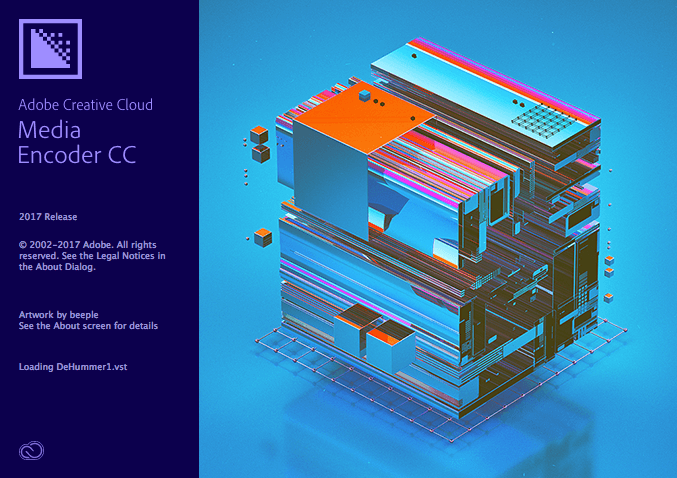 When I tried to export a simple video in .mp4 format, I was greeted with this panic-inducing screen of export complexity: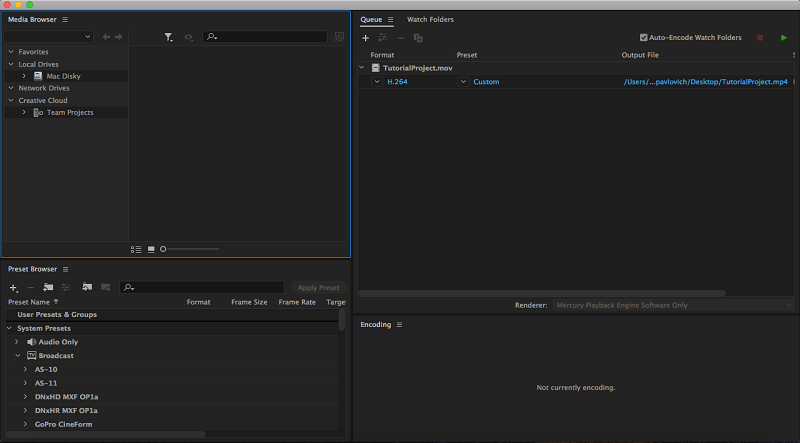 Luckily, you don't have to do much at all. In the top right panel, right-click your file (blue text) and adjust any settings. Then choose the green "play" button, and it will be exported to your computer!
When I finished playing with the various export and publish options, my desktop had half a dozen different files for the same project. This is great if you work cross-platform or have specific needs. They'll definitely be covered!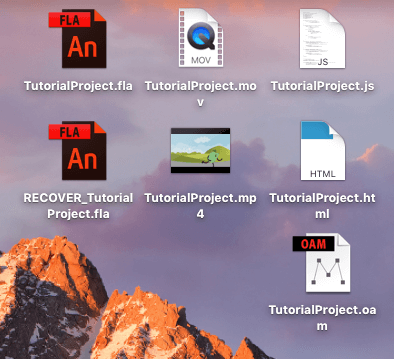 Reasons Behind My Review Ratings
Effectiveness: 5/5
There's a reason Adobe products are considered a benchmark for all other creative applications. With Animate, you'll have the most complex and effective tool on the market for animation and flash game design. The program has so many tools, you won't have any problem getting the job done–and if you do need something extra, it offers plugin and script integration.
Price: 4/5
Animate is undisputably powerful, and is widely considered to be one of the most stable and effective animation tools on the market. Under those circumstances, paying $20 a month seems pretty fair. You'll get an industry-standard program with plenty of bells and whistles. If you're already paying for the complete Adobe Suite, then using Animate won't incur an additional cost and you can just add it to your arsenal. However, the price can add up quickly if you're on a tight budget, especially as Adobe only offers a subscription-based payment model.
Ease of Use: 3.5/5
Any product from the Adobe lineup requires dedication in the form of learning hours. Once you have the skills, using Animate is a breeze and complex projects utilize many of its advanced features with relative ease. The program has a great interface, clean design, and well-organized layout. The real problem here is the steep learning curve. If you want to really take advantage of the software, you'll need to invest some serious hours in tutorials and learning how to use its many features.
Support: 4.5/5
Stars Adobe offers so many support options it's almost impossible not to get your question answered. They offer everything from community forums to feature documentation to FAQ as well as chat and phone support. I came up with a question regarding exporting to GIFs and found my answer in the forum.

However, I also started a live chat with a representative to see how they would react to a how-to question.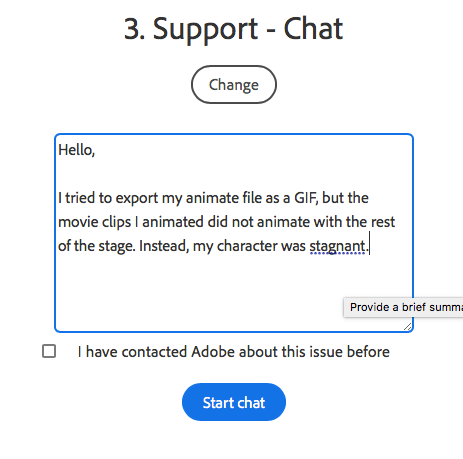 The representative I was assigned asked me a few questions about my set up and then recommended several unsuccessful suggestions. He then offered to do a screen share to try and figure out the problem. Almost 30 minutes later, he had thoroughly confused himself and I requested to close the chat with an email follow up at a later time. The next morning, I had the same solution I had found earlier on the web sitting in my inbox:

Moral of the story: Immediate support with a real person should probably be your last priority when looking for an answer. You will probably get an answer much faster from the forums or other resources.
Adobe Animate Alternatives
Is Animate out of your price range or too complicated for you? Luckily, the animation field is full of open source projects and paid competitors vying for your attention.
Toon Boom Harmony (Mac & Windows)
Regarded as one of the most complete alternatives to Adobe Animate, Toon Boom Harmony starts at $15 a month and is capable of creating animations and games. It's used by Cartoon Network, NBC, and Lucasfilm among others.
Synfig Studio (Mac, Windows, & Linux)
If you want to go free and open source, Synfig Studio supports bone rigs, layers, and a few other animation basics. However, few would consider it to be in the same quality category as Animate.
Blender (Mac, Windows, & Linux)
Got an eye for 3D? Blender is an open source software with high-quality animation capabilities. You can create three-dimensional rigs, sculpt characters, and create backgrounds all in one program. Games are also supported.
Unity (Mac & Windows)
Geared more towards animated games but capable of handling films as well, Unity runs in 2D and 3D. It's free to use, but $35 a month if you want personal commercial rights. Businesses making over a certain amount of annual revenue are subject to a different price plan.
Conclusion
Whether you're an industry professional or a hobbyist, Adobe Animate CC offers a range of tools that will get you from point A to point B. The program is suitable for all kinds of users and is generally considered the benchmark to which other animating platforms are compared. While it may take you a while to learn the ins and outs of Animate, it will be well worth your time and give you access to the most powerful tool on the market.
From cartoons to complex games, Animate is a top tier program. With plenty of support and a large community, you'll have answers to every question as you get started or expand your knowledge.
So, do you find this Adobe Animate review helpful? Leave a comment below.