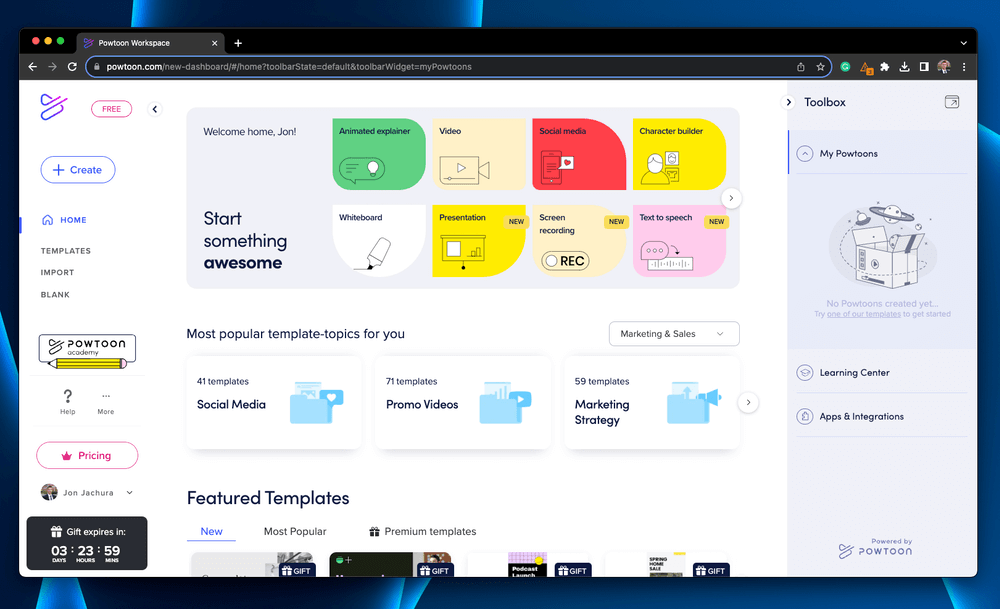 Powtoon
Features: plenty of tools, including readily available soundtracks and a large asset library, to create high-quality results.
Pricing: The full features are locked in the pricey Business and Enterprise plans.
Ease of Use: A well-designed interface and inviting design make this software easy to use.
Support: Various resources provide ample support for customers.
Summary
Powtoon is a web-based program that helps customers create engaging, high-quality presentations and videos. It comes with a suite of tools and templates packed into a well-designed platform with an inviting, user-friendly interface.

Its range of tools and capabilities make it a popular pick for marketing purposes, but it can also be a great choice for creating learning and education content. However, since you'll need a business or enterprise plan to access all the features, this software might not be a good pick for everyone.

What I Like: This software features a simple, easy-to-use interface and a remarkable suite of tools, templates, and animations.

What I Don't Like: The pricing tiers to access its full features make this option expensive, especially if you choose the business plan.
What can you do with Powtoon?
Powtoon is a web-based program designed to help create interactive, engaging videos and presentations. It's a common tool in business marketing, but its capabilities and uses go far beyond that.
A free version of Powtoon is available, but the features list is fairly restrictive. If you want more features, you'll need to subscribe to a paid plan.
Yes, Powtoon software is safe to use and from a reliable company with a good reputation. It's a web-based program, so you don't need to worry about downloading it.
Can Powtoon be downloaded?
No, you cannot download Powtoon. It is an online, web-based app. While you can access it from any device with an internet connection, you can't download it as an application.
However, you can download your completed videos and presentations. If you have a paid plan, these can be exported from the web service as a file. Free plan users cannot export their Powtoon creations.
Why Trust Me for This Review
Hi, I'm Jon, a video editor, content creator, and digital marketer. I'm always creating various forms of marketing content– videos, presentations, and more. I routinely bench-test editors to keep apprised of the latest features, quality, efficiency improvements, etc.
I know that having a video editor, presentation creator, and similar tools with intuitive user interfaces, various templates, and lots of features is important. Cost is an important facet, too, but you have to weigh in on the program's capabilities as well.
For example, Powtoon is a video, presentation, animated whiteboard video, and social media creator all in one. It consolidates several programs and features into a single, easy-to-use, cloud-based interface.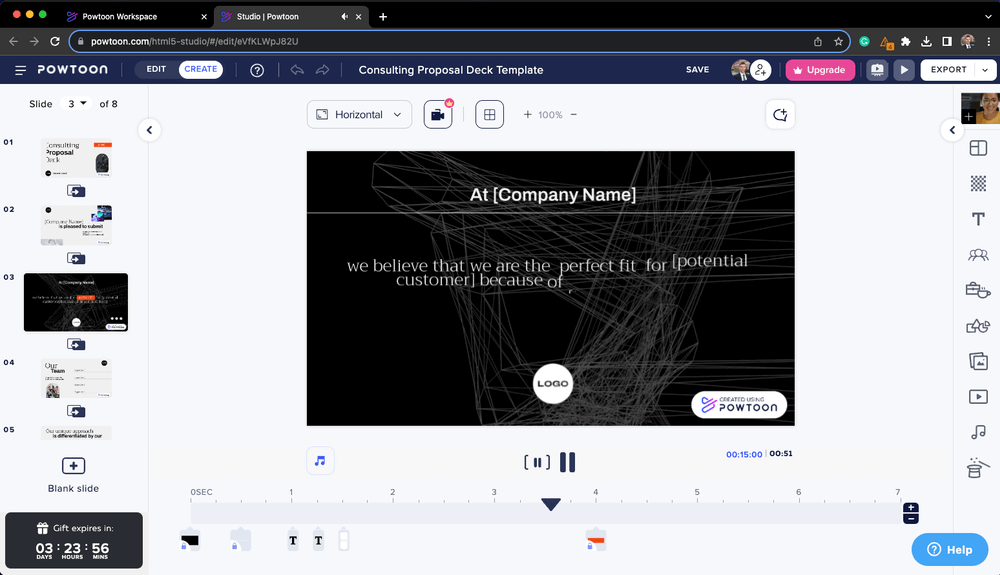 Detailed Review of Powtoon
Powtoon is a worthwhile consideration for those seeking a program to create engaging, professional-level videos and presentations. Its array of features lends well to this process, making it doable for those at any level.
Here are a few key features of the Powtoon software, along with my personal take on each feature.
Music Library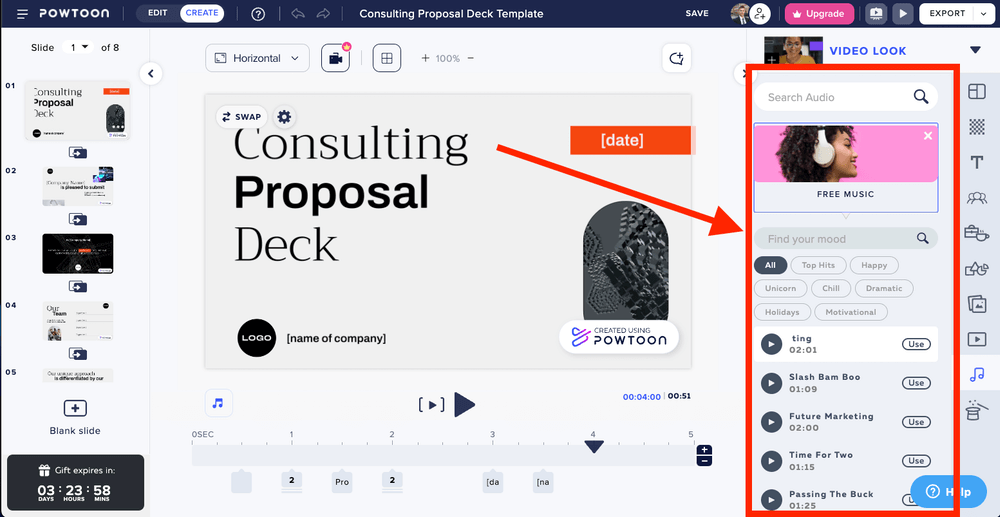 Powtoon offers a solid library teeming with royalty-free soundtracks you can add to your creations. Adding the tracks you like is quick and easy, limiting the time spent importing audio from other platforms and incorporating it into your content.
Of course, you can always add your own custom audio soundtracks or voiceovers by importing them into the platform.
My personal take: Spicing up your content with readily available audio soundtracks is quick and easy, although importing your own audio can take a bit longer.
Text-to-Speech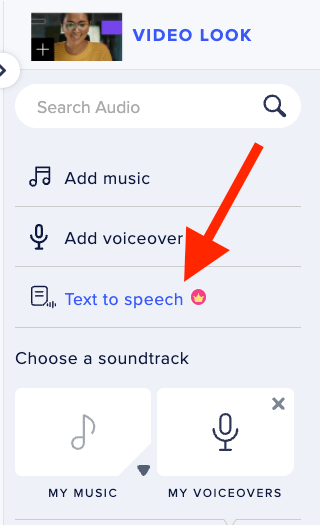 Powtoon offers a text-to-speech feature in certain plans. This feature allows you to type dialogue for your characters or narrate the goings-on in your video. Once you type the desired text, you can select the voice you want to read the narrative. Additionally, you can choose from 30 languages to convey your content.
This feature is a handy way to add a voice to your characters without uploading professional voiceovers. Additionally, it can help keep your characters differentiated by choosing different voices to ensure your viewers don't get confused due to identical voices.
My personal take: The text-to-speech feature is an excellent way to take your video to the next level, especially if you have various characters conversing. However, it is only available on the business plan, which costs extra.
Numerous Templates
Powtoon offers a vast array of templates for its customers to make video creation even easier. The templates are divided into various categories, allowing you to select the option that best matches your needs and video intention.
For example, the Marketing video templates include Customer Success Story, Investor Deck, and Business Plan Infographic. This category is further divided into templates by intention, including Lead Generation, Explainer Videos, and Social Media.
My personal take: The abundance of templates is helpful, especially for newbies learning the video editing ropes. I like how the templates are divided into categories and subdivided within each category, as this makes it easy to find exactly what you're looking for.
Camera Movement
Powtoon recently added a camera movement feature to its business and enterprise plans. You can use this feature to pan the camera to create a different point of view by moving it left, right, up, or down. You can even zoom in on a character or scene to emphasize a point.
This feature allows you to add a more interesting dynamic to your video and keep your audience entertained. However, it's important to note that this feature is currently unavailable in the Lite and Business plans.
My personal take: A video that remains at the same spot and point of view throughout its duration can quickly become boring, so this feature is a great addition to your arsenal.
Character Builder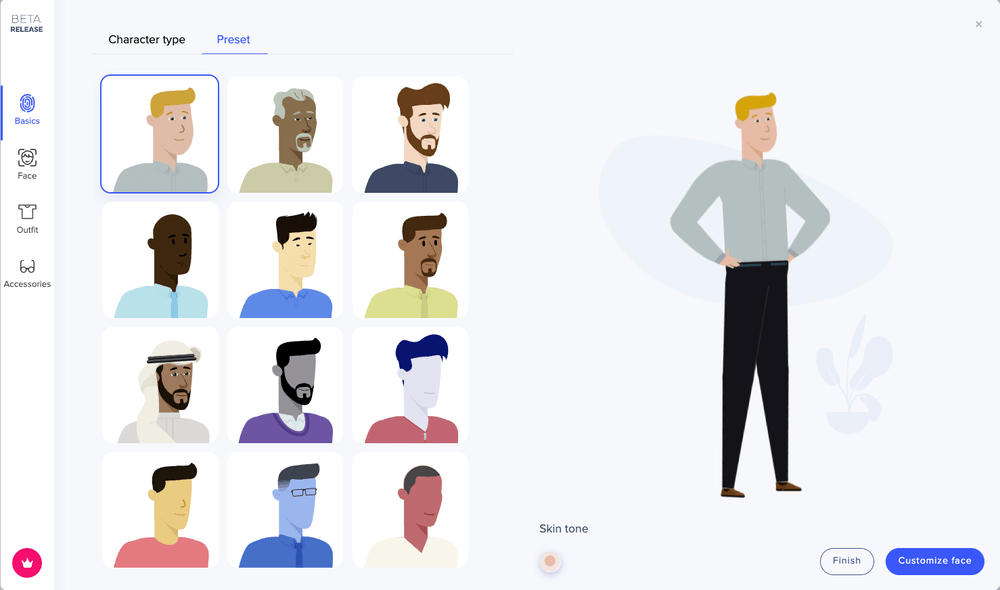 Create characters that fit into your story by changing their clothing, skin tone, hairstyle, facial features, and accessories. Choose from various clothing colors to match your characters to your brand, or add your branding to the clothing.
The array of options makes it easier to create characters that lend to and help convey your story better. For example, if you're creating a marketing video for your store, you might choose colors that match your brand and stick the company logo on the shirts to mirror your brand and employees.
My personal take: Having an easy way to construct a personalized character is a must-have, especially if you're making branded content.
PowerPoint to Video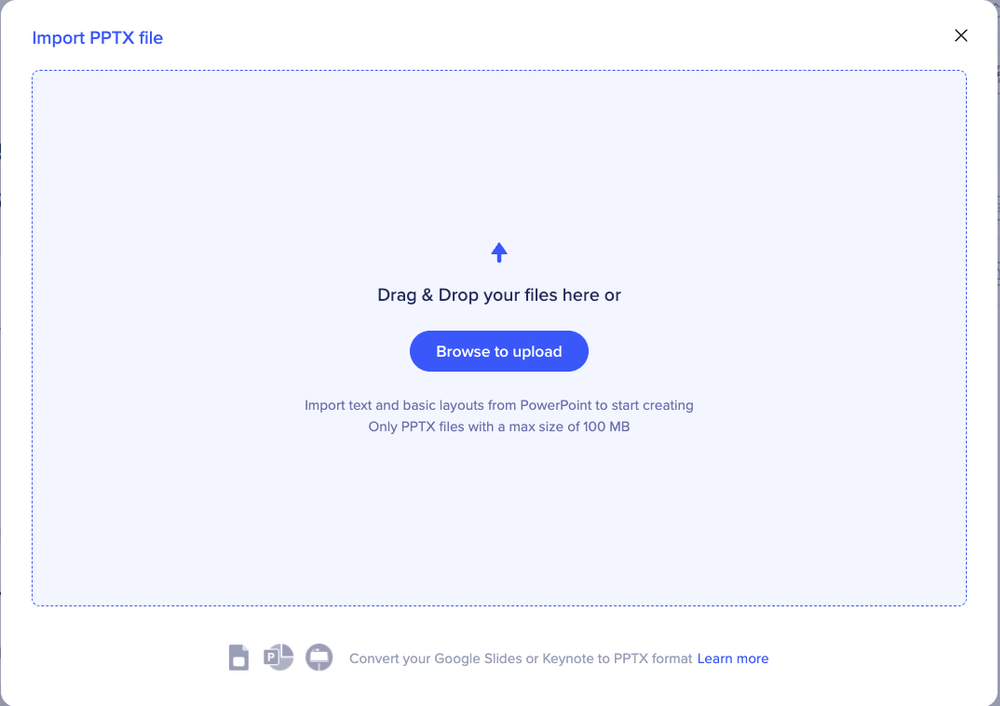 This tool allows you to transition your PowerPoint into a video by simply using Powtoon's Office 365 add-ins. You can export a pre-made PowerPoint presentation into the Powtoon studio to morph it into a more engaging video.
Powtoon will quickly convert the PowerPoint presentation into video format in the studio. At this point, you can add footage, images, characters, animation, voiceovers, or music to the mix to spice up your newly created video. Once you're done, export it to wherever you need it!
My personal take: This feature is somewhat unique but incredibly useful, especially if you have numerous ready-made PowerPoint presentations for your business but want to spice them up to make them more engaging.
Reasons Behind My Ratings
Features: 4.6/5
Powtoon offers an impressive feature list that sets it apart from several of its competitors. It offers numerous ready-made templates and animations, a character builder, text-to-speech functions in 30 languages, and a PowerPoint-to-video feature.
Even the free version offers a solid array of features, so you don't necessarily need to pay much to enjoy the benefits of Powtoon. Of course, if you want to take advantage of every high-end feature, you'll need a Business or Enterprise plan.
Pricing: 3.7/5
Powtoon's pricing is generally affordable, making it suitable for various applications. The Lite plan costs $15 per month (billed annually) and includes the basics, such as five premium exports per month and up to 10-minute videos. 
The Professional plan, which costs $40 per month (billed annually), includes everything the Lite plan does but features a few extras. The Business plan is the top tier of standard subscriptions, costing $124 per month. There are a few additional plans available, including an Education plan, which costs $8 per month, and an Enterprise plan, which varies based on needs. 
The docked points stem from the fact that you'll need a pricier Business or Enterprise plan to take full advantage of every feature. The more affordable plans don't come with every tool.
Ease of Use: 4.7/5
Powtoon is an outstanding option for beginners wanting to learn the editing basics. It's incredibly easy to use due to its user-friendly and well-designed interface. The layout is bright and inviting, featuring each tool in a logical location.
The platform offers an impressive array of pre-made templates, transitions, and tools to help streamline the creation process. On top of that, Powtoon has an impressive learning center packed with tutorials and webinars that help newbies learn how to use each feature and maximize their subscriptions.
Using Powtoon to create videos and animations is surprisingly simple, even for someone without tech or design skills. While there might be a slight learning curve involved in learning the location of each tool, using this software is incredibly easy once you get the hang of things.
Support: 4.9/5
Powtoon customers have ample support resources to cover every question they may encounter. Firstly, there are numerous tutorials covering how to use this software, so you might find the answers to certain questions in those. Second, there's a comprehensive searchable help center divided into categories that feature answers to common questions.
But if you can't find the answer you're looking for in the tutorials, webinars, or help center, you can always contact the customer support team, which is available 24/7.
Powtoon ​Alternatives
Explaindio (Paid, Mac & PC)
For those who want to make the most out of the animation aspect of things, Explaindio 3.0 is a potential alternative. Although it has some limitations, such as a difficult user interface and a limited library of free media, it offers greater control than some competitors. Since it's a standalone program, you won't be dependent on an internet connection when you need to edit your videos.
Microsoft Powerpoint (Paid, Mac/Windows)
If you were planning to use Powtoon primarily for presentations, PowerPoint may be better for you. This program has been the standard software for making presentations since it was first released in 1987 and has gone through many updates and modernizations since then.
It has all the tools you need for animating effects or making clean slides, as well as a huge library of templates that are constantly expanded with community submissions. Students might be able to get PowerPoint for free from their school, and enterprise-level users may find that their company also offers this software. Home users will need to look into a Microsoft Office subscription, but these give you access to Word, Excel, and other programs as well for a very low annual price.
Google Slides (Free, Web-based)
Does PowerPoint sound nice, but you're not interested in paying for it? Google Slides is a web-based platform that's part of the Google Workspace of Office programs. It's completely free to use and includes most of the same features as PowerPoint.
While the template library is a bit smaller, many resources are available online if you're looking for something specific. You can get Google Slides by visiting the Google Slides Site or by choosing "Slides" from the grid menu on your Google account.
Prezi (Freemium, Web-based App)
Prezi is one of the most unique professional presentation programs available. Rather than forcing you to present slides in a numerical, linear fashion, it allows you to present normally and jump to specific sections with amazing graphics. When you create slides with Prezi, you can also create a web of connections so that clicking an element on one slide can redirect to a relevant, more detailed sub-slide.
For example, your "Final Questions" slide may include small subheaders for "Cost Analysis," "Management," and "Deployment," which would allow you to easily answer questions without flipping through the entire presentation. Prezi offers a generous free tier complete with templates and full editing access for those who don't want to pay. The only downside is a small watermark and the inability to download the presentation. However, paid plans are pretty cheap and will quickly rectify this.
Animaker (Freemium, web-based)
Like Powtoon, Animaker is a freemium, web-based program. It focuses primarily on creating animations (not presentations) using templates, premade objects, a timeline, and other features. You can also import your own assets as necessary. Animaker features a drag-and-drop interface. Users can get started for free, but for access to features that will allow you to fully utilize the program, you'll need to either pay for a monthly subscription or per export.
You may also want to take a look at our best whiteboard animation software roundup for more options.
Final Verdict
Powtoon is a powerful program designed to help you create interactive presentations and videos. It offers an impressive array of features, from ready-made templates and animations to helpful text-to-speech functions in 30 languages. While its offerings are incredibly popular for business marketing, it can also be a good option for beginners who want to learn the basics.
However, the price of business and enterprise plans, which are necessary to receive the full array of features, are steep and may create a barrier to entry, so it might not be a good fit for everyone.
Ready to try Powtoon yourself? Let us know what you think in the comments below!