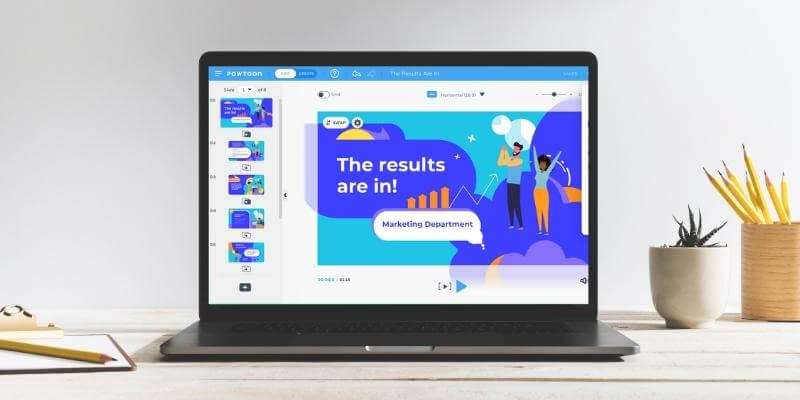 Powtoon
Effectiveness: The program is versatile if you go beyond its templates
Price: Some free access, but heavily subscription-based
Ease of Use: Clean and intuitive interface
Support: Lots of community resources & official support material
Summary
If you're looking for a program that's going to be easy to start with and has a lot of room for growth, Powtoon is a great bet. The array of tools and clean interface are valuable features, and the program has plenty of support to back you up as well. From marketing to personal use, it's a very accessible platform.

I would recommend Powtoon to anyone who is looking for a simple way to create animated videos and has a budget that allows them to move beyond a free plan. Using the software is an enjoyable experience and it produces good quality projects.

What I Like: Clean and easy-to-use interface. Offers a suite of tools and templates. Good collection of relevant & modern media/clipart. Great support (plenty of community resources).

What I Don't Like: Lots of paywalled content. The subscription pricing structure makes it expensive compared to its competitors.
It is a web-based program that can be used to create interactive presentations and explainer-style videos. It's most frequently used in marketing and education but has a wide variety of capabilities.
No, it isn't. While you can use Powtoon for free, your options will be very limited. Their free plan only allows videos in standard definition and up to 3 minutes in length. Plus, your videos will be watermarked.
You can't export them as MP4 files or manage link access to prevent unwanted people from viewing them. The free plan will give you a chance to try the program out, but in reality, you'll need one of the paid plans (starting at $20/month) to actually get things done. So Powtoon is not free and does cost money.
Yes, Powtoon is a safe program with a good reputation. It has been around since about 2011, and in that time many prominent tech sites have reviewed its services and found them safe to use.
Additionally, when you visit the Powtoon site you will notice that it uses an "HTTPS" connection, which is a secure and safer version of "HTTP". This means that any sensitive data, such as credit card info, is protected and private when passed through the site.
Can Powtoon be downloaded?
No, you cannot download Powtoon. It is an online, web-based app. While you can access it from any device with an internet connection, you can't download it as an application.
However, you can download your completed videos and presentations. These can be exported from the web service as a file if you have a paid plan. Free plan users cannot export their Powtoon creations.
To use Powtoon, you're first going to need to sign up on their site. Once you've created an account, Powtoon will ask you what your primary purpose for using their platform is.
From there, you'll be sent to a home screen. I selected "Personal" when setting up Powtoon. Along the top, you'll see tabs from the main Powtoon site such as "Explore" and "Pricing". Directly underneath is a horizontal bar containing some templates to get you started. And beneath that, there's a tile-view area for storing all the different videos or slideshows you have made.
To get started with Powtoon, you can either choose a template from the template library or create a blank project using the blue "+" button. If things seem a bit unclear, you can easily find resources such as this Youtube video that will get you started. Powtoon has also released a set of official written tutorials which you can find on the official site.
Why Trust Me for This Powtoon Review
My name is Nicole Pav and just like you, I always want to know what I'm getting into before I purchase an app or sign up for any type of account. After all, there are a lot of sketchy or unreliable sites all over the web, and sometimes it's hard to decide if you're really going to get what's advertised.
That's why I'm writing software reviews. All that's written here comes directly from my own experience trying out Powtoon. I'm not endorsed by Powtoon, so you can trust that this Powtoon review is unbiased. From the screenshots to the explanations, everything is done by me. This screenshot from my account can also help clear up my intentions: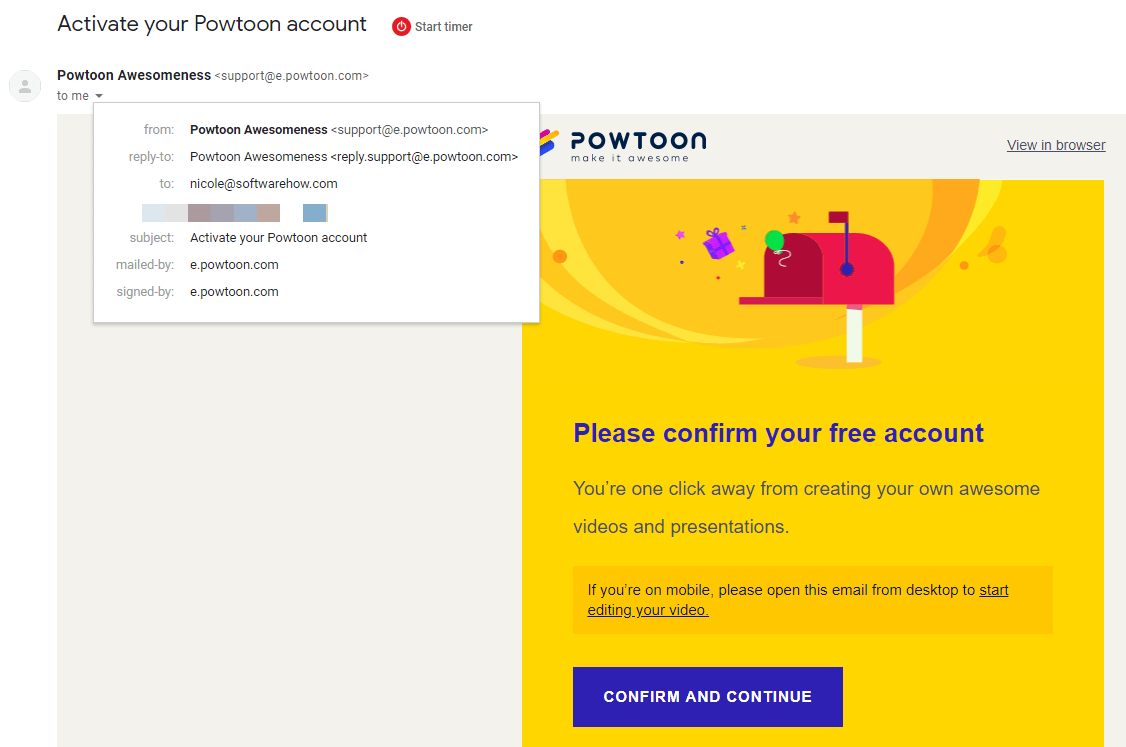 Last but not least, I contacted the Powtoon support team via email. Their reply was prompt and clear. You can learn more about this from the "Reasons Behind My Review Ratings" section below.
Detailed Review of Powtoon
I used Powtoon for a while to get a feel for how the program works and functions. Here's a breakdown of the different features and how they function:
Templates
Templates are the foundation of Powtoon — which can be both good and bad. There are three categories of templates: Work, Education, and Personal. Additionally, templates can come in different aspect ratios — this refers to the size of the final video and its dimensions. For example, a 16:9 video is what you would expect for a standard horizontal video or presentation, but Powtoon also has some templates that are 1:1 (square) if you want to make a video for social media.
Here's a quick glance at the template layout: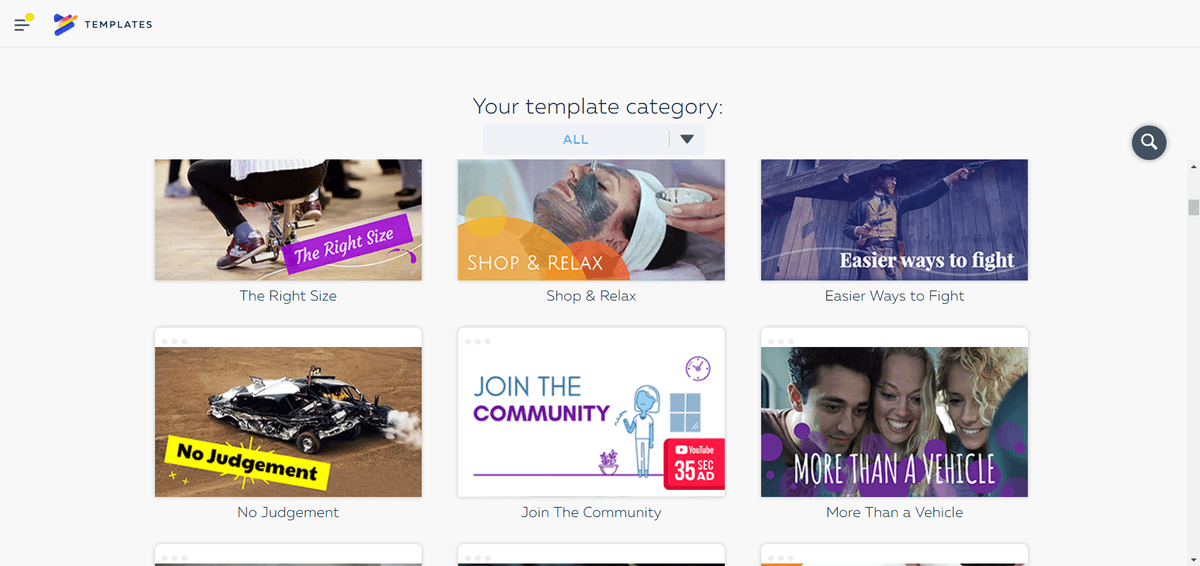 For this particular category (Work – All), there are a couple of different things going on. Aside from the various templates displayed, you may notice the red square that says "35 second YouTube ad" or "10 second YouTube ad" on some of the templates. Other templates say "Square" and have the Facebook icon on a small blue banner.
These tags help point out that Powtoon makes templates for very specific circumstances. This is great at first, but a template can only get you so far. Templates have a limited lifespan since you probably won't want to reuse them for new videos. Additionally, some are so specific they simply can't be used even when the concept seems interesting. For example, the "Financial DJ" template has a neat background, but it's only 12 seconds long and has only one spot for a custom image.
Overall, the templates are well made, but you'll need to move beyond them if you really want to develop your own brand/style.
If you choose not to use a template at all, you'll see this screen instead:
The option you choose will slightly alter the type of default scenes and media available to you, but the editor should remain similar.
Media
With Powtoon, you can use media in several different ways. The first method is to add media to a template that you are using.
The template will include a large marked area where you can insert media, as you can see in the screenshot below.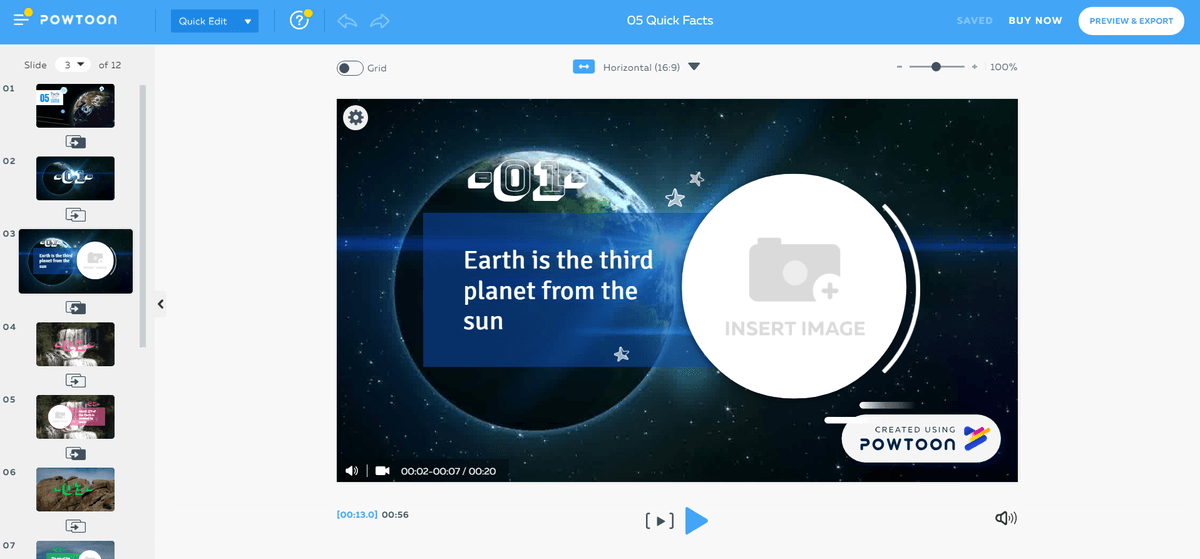 When you click on the insert, you'll see some options pop up: Swap, Flip, Crop, Edit, and Settings.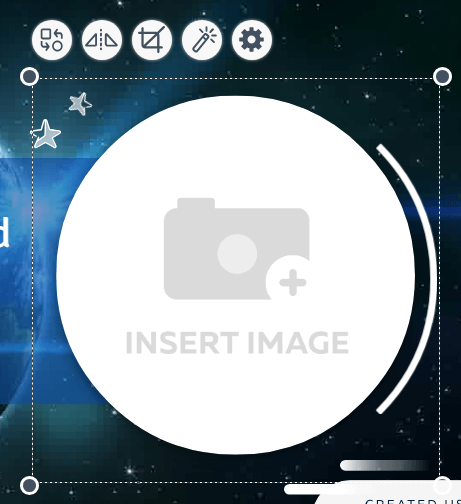 However, none of these will let you insert an image. To do that, you'll need to double-click and bring up the image menu.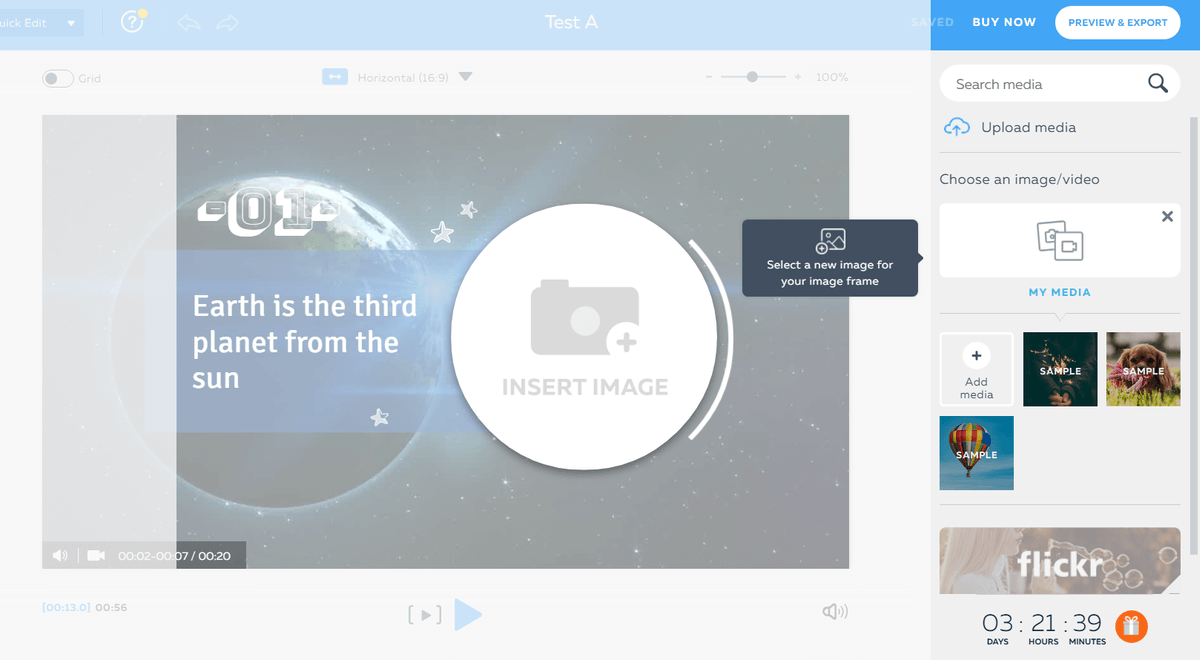 From here, you can either upload your own media or find something in Powtoon's database of free Flickr images. Powtoon supports a good range of image upload options including JPEGs, PNGs, and GIFs. These can be pulled from your desktop or from a cloud service such as Google Photos or Dropbox.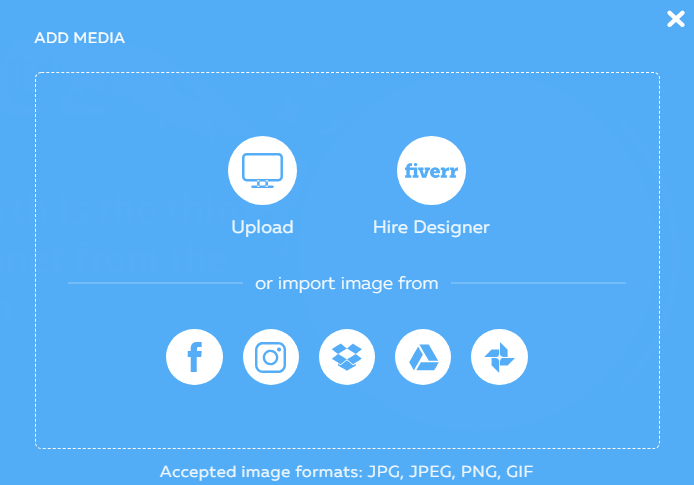 If you're using a blank Powtoon instead of a template, you can add media by clicking the "media" tab on the right side. This will bring up the upload and Flickr options as well as some additional resources.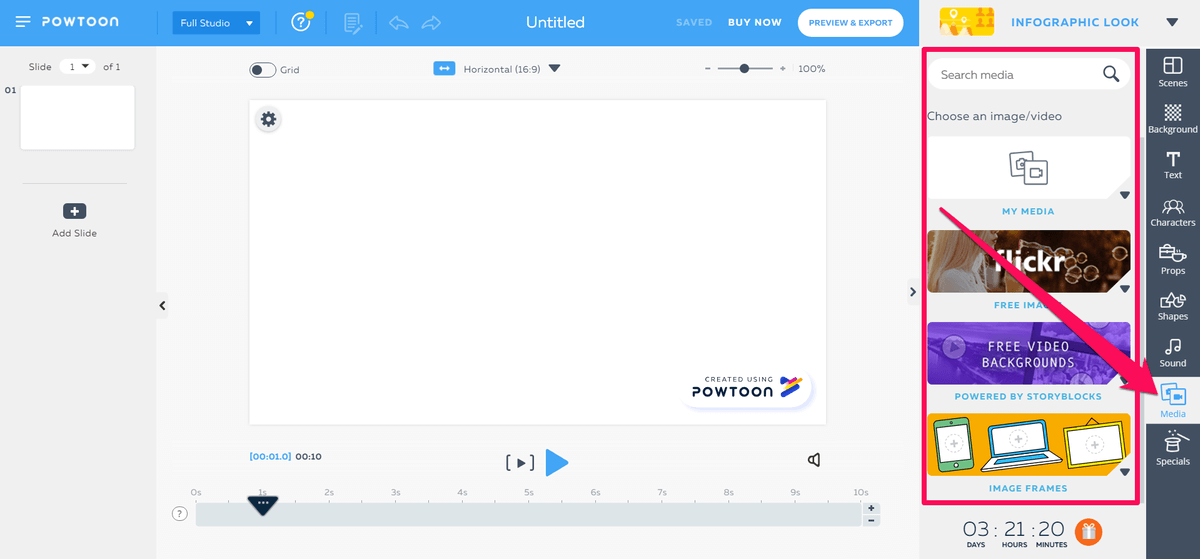 You also have the option of using the Powtoon library of media by choosing from the "characters" or "props" tabs. The characters are available in sets sorted by art style.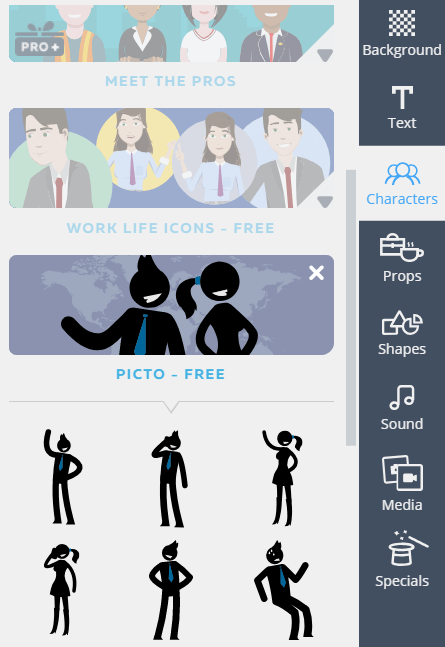 The props, which are essentially clipart, are sorted by category rather than individual style, although normally multiple versions of the same object are available. This allows you to pick the one that best suits your video.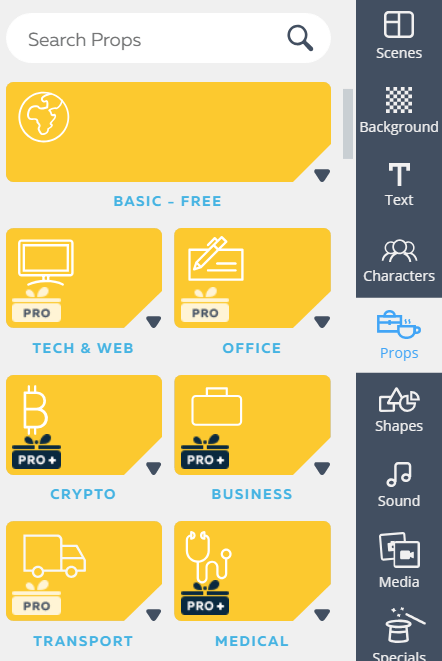 Powtoon has done a pretty good job os staying up to date. A lot of programs fail to update their collection of media or templates, which can make them hard to work with. Powtoon definitely stands out in that regard, with categories such as "cryptocurrency" included in their media library.
Text
Editing text with Powtoon is fairly simple. If you don't have a pre-existing textbox, you can create one using the text tool from the right sidebar.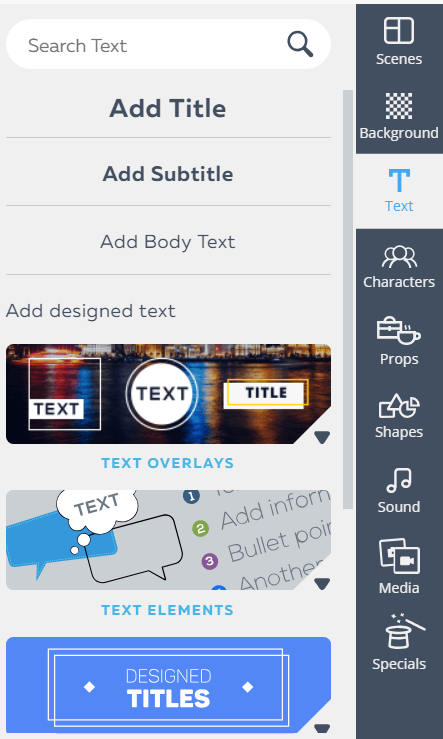 You can add simple plain text or use one of the templates for specially-designed text boxes, shapes, and animations. Regardless of what you choose, simply click once and it will appear on your scene.
Once a text box appears, you can edit the content by double-clicking. You'll see a standard set of text tools including options for font, font size, bold/italics/underline, and additional design elements. For each text box, you can choose an "enter" and "exit" animation, which includes the option to include a hand animation for those who happen to create whiteboard videos.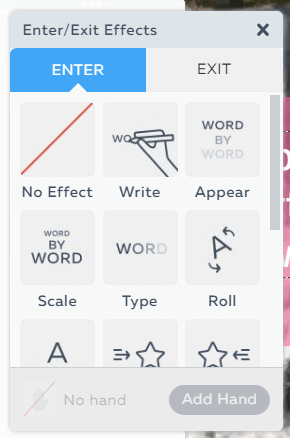 Powtoon does support uploading your own fonts to their platform, but unfortunately, the feature is only available to Agency subscribers, which is the highest subscription tier they offer.
Audio
There are two primary audio functions in Powtoon. The first is a voiceover, and the second is background music. You can access both from the audio menu from the right sidebar.
If you're adding a voiceover, you can choose to record for the current slide or for the entire Powtoon. Keep in mind that you can't record more than 20 seconds of audio for a single slide in "current slide" mode.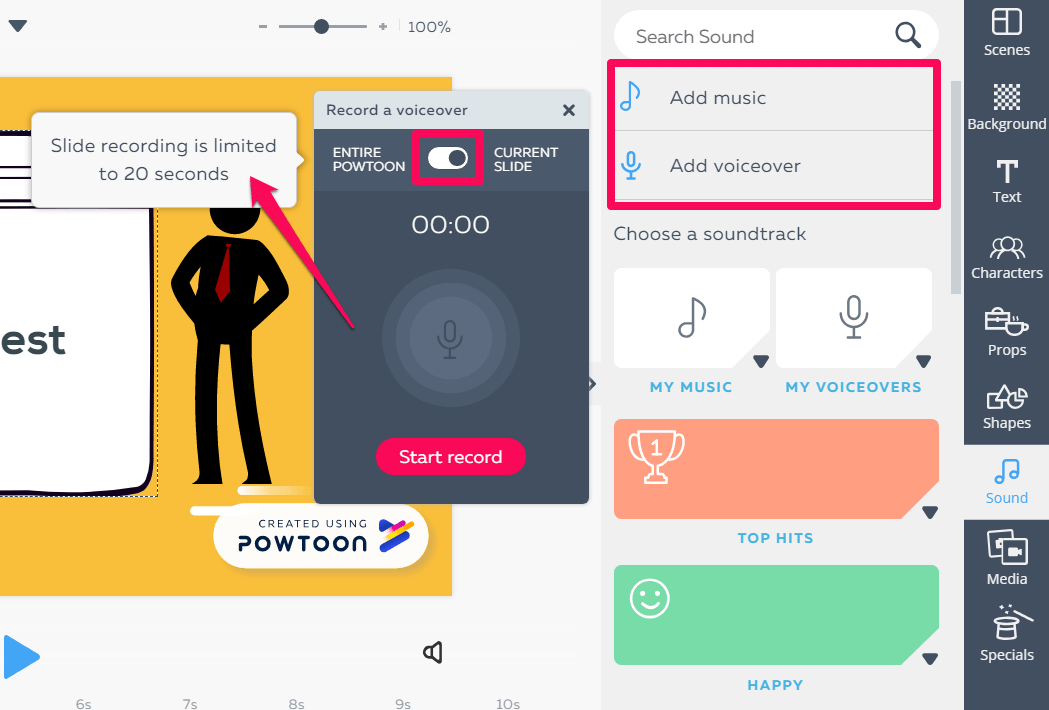 When you're done recording, there's a small window for making changes to the track.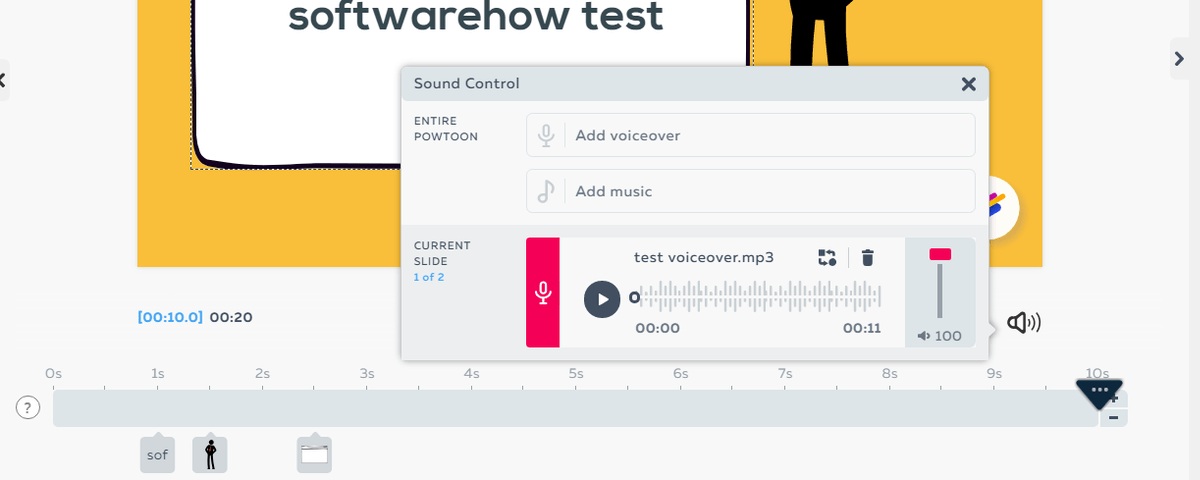 The other thing you can do is add a background track to your Powtoon project. There's a library of music that's included, sorted by mood. For each track, you can press "play" to hear a sample or click "use" to add it to your project. Background audio can only be applied to the whole project, and cannot be applied to just one song.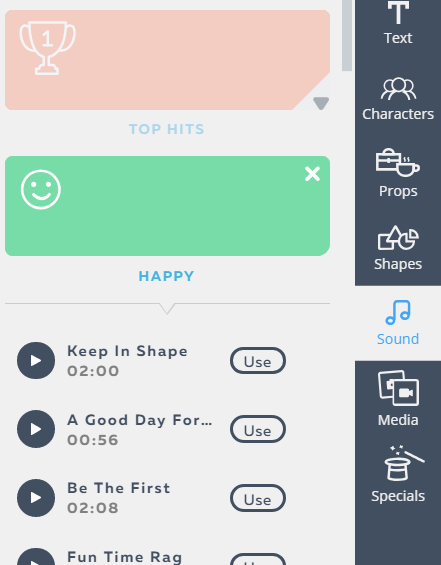 Once you add a track, the audio editor will give you some options for balancing volume. You can access this editor at any time from the volume icon on the right corner of the canvas.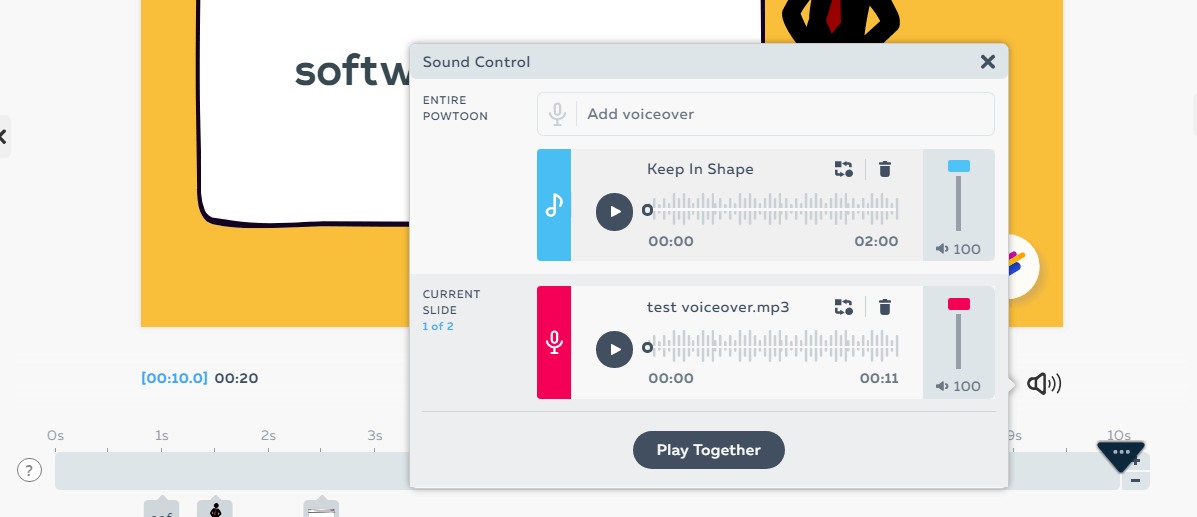 Since many of the Powtoon audio tracks are not available to all users, you can also upload your own music. Just choose "My Music" from the music sidebar.
You can upload an MP3, AAC, or OGG file from your computer, or connect with Google Drive and DropBox.
Scenes/Timelines
When using Powtoon, it's important to note that the program actually has two different possible layouts (three if you're on a high-tier paid plan). The "Quick Edit" and "Full Studio" modes significantly affect what you have access to, but you can easily switch between them in the top menu bar.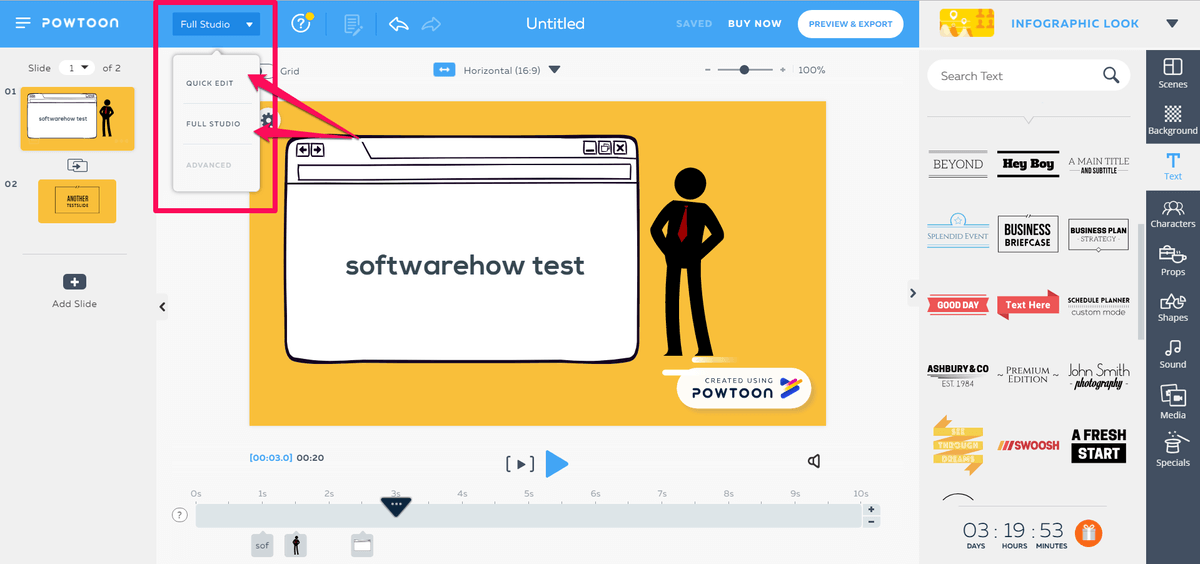 Quick Edit is the default if you choose a template, and it removes the grey sidebar from the right edge of the window. Full Studio is the default setting if you start a blank project, and makes that sidebar reappear.
Regardless of which view you use, you'll notice a scrolling sidebar on the left that stores your slides and a play/pause underneath the main canvas for editing the timeline.
When you make a project in Powtoon, you edit scene by scene. This means each group or "slide" of objects will exist only in their own scene (although you can copy and paste them elsewhere as needed). Together, all of your scenes create an entire video.
To add a transition to your scenes, you can click the small two windows icon between the slides. This will bring out an array of choices, categorized into areas such as "Basic", "Executive", and "Stylized".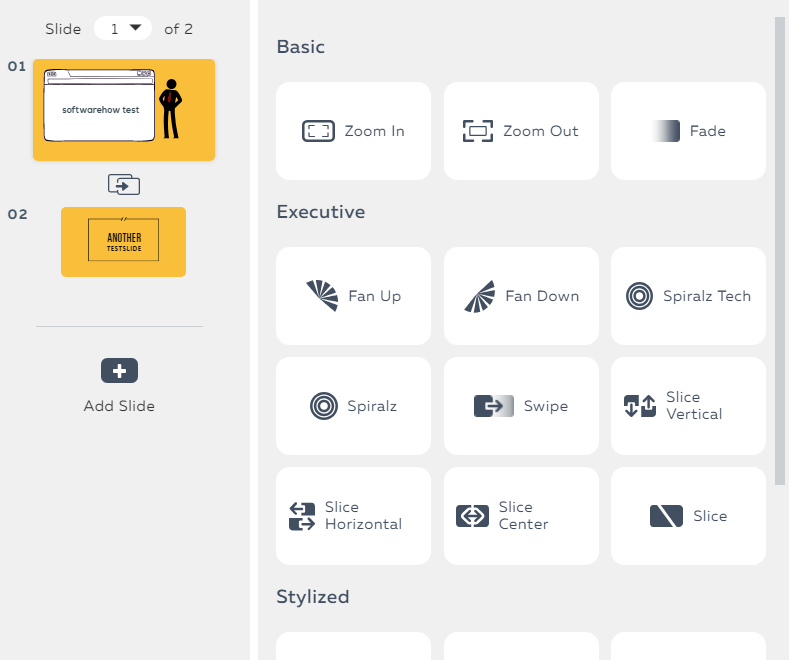 There's definitely a good variety, so it shouldn't be difficult to find something that fits well.
The second key functionality is the timeline. The Powtoon timeline functions as a drag and drop bar for all the elements of a particular scene or slide. You can find it directly below the canvas.

Each object in the scene will appear as a small box underneath the time when it will appear. If you click an object, you can change its position on the timeline. The section highlighted in blue indicates when it will be visible. Clicking the small arrow at either end will allow you to change the transition effects for that object.
Export Functionalities
Powtoon has a pretty good range of export options available, there are a couple of ways to access them.
The quickest is from your home screen on Powtoon. For each of your projects, there should be a blue "Export" button on the right side.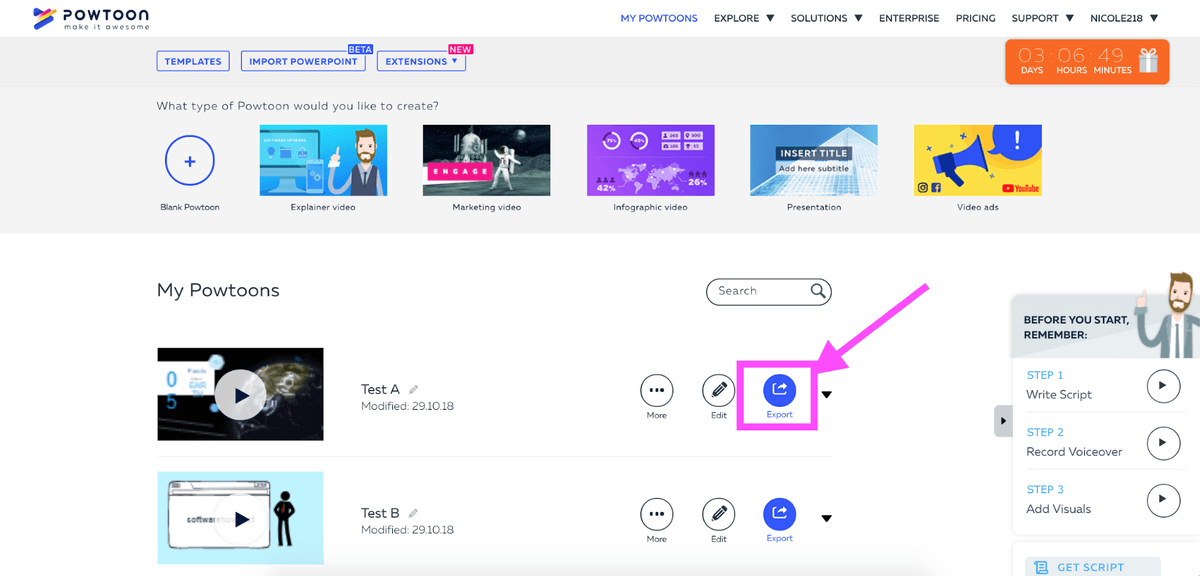 If you're in the middle of editing a project, you can use the "Preview and Export" button instead.
Both methods will direct you to the same place once you're ready to export. The export menu is split into two main sections: Upload and Download.
On the upload page, you'll find options for sending your video to YouTube, Slideshare (locked for free users), Vimeo, Wistia, HubSpot, and Facebook Ads Manager. There's also a special option to create a personal Powtoon player page. If you choose this option, your video will be hosted by Powtoon instead of a service such as YouTube.
Videos hosted with Powtoon will gain additional options for embedding on Twitter, LinkedIn, Google+, or email (but you can do this on your own if you upload to YouTube instead).
If you prefer downloading to uploading, you can choose to export as a powerpoint (PPT) or a PDF file if you have a free account, or as an MP4 if your account is paid.
No matter which export option you choose, you may have some restrictions depending on the type of account you pay for. Free users have the most limited options, but even some paid users will still experience watermarking if they've already exported too many videos during the month. There are also quality limits on the video — the less you pay per month, the shorter your videos must be in order to export in full HD quality (free accounts can only export in SD).
Overall, Powtoon has a good array of export options available, but in order to make the best use of them, you'll need to have a paid plan. Free plan users have limited options, and the watermark is a big downside.
Reasons Behind My Review Ratings
Effectiveness: 4/5
Powtoon is a great tool for creating animated videos and presentations. It offers an easy-to-use suite of tools as well as a variety of templates that will help you successfully finish a project. Since you can also upload your own media, it's almost limitless. However, most users will have a heavy dependence on the templates, which puts a bit of a cap on its potential.
Price: 3/5
If you only plan to use Powtoon for a short time, the subscription model may benefit you by providing a low price for a short period of time. However, if you plan to use it longer than a few months you'll probably find the price a bit draining. While you do get access to a lot of high-quality materials, even paid plans have restrictions on exports and video quality, which is a big drag compared to single-purchase competitor programs.
Ease of Use: 4/5
Powtoon has been around for quite a while, and the platform has clearly undergone several updates in order to stay relevant and easy to use. This is a great sign for the program and makes it very easy to work with since everything is clean and modern. The editor layout is very similar to any other animation program you may have used, and it's easy to understand for beginners.
Support: 5/5
Because Powtoon has been around for a while, there are plenty of community resources available. Although a lot of these are for old versions, most of the knowledge is transferable. Additionally, Powtoon has its own set of written tutorials that can help you along the way. These are updated to the current version. The FAQ section is very robust, and the support team replies promptly and clearly to emails.
Powtoon ​Alternatives
Explaindio (Paid, Mac & PC)
For those who want to make the most out of the animation aspect of things, Explaindio 3.0 is a potential alternative. Although it has some limitations such as a difficult user interface and a limited library of free media, it does offer a greater degree of control than some of its competitors.
Since it's a standalone program, you won't be dependent on an internet connection when you need to edit your videos. You can read our detailed Explaindio review here.
Microsoft Powerpoint (Paid, Mac/Windows)
If you were planning to use Powtoon primarily for presentations, PowerPoint may be a better choice for you. This program has been the standard software for making presentations since it was first released in 1987 and has gone through many, many updates and modernizations since then.
It has all the tools you need for animating effects or making clean slides, as well as a huge library of templates that are constantly expanded with community submissions. Students might be able to get PowerPoint for free from their school, and enterprise level users may find that their company also offers this software. Home users will need to look into a Microsoft Office subscription, but these give you access to Word, Excel, and other programs as well for a very low annual price.
Google Slides (Free, Web-based)
Does PowerPoint sound nice, but you're not interested in paying for it? Google Slides is a web-based platform that's part of the G-Suite of office programs. It's completely free to use and includes most of the same features as PowerPoint.
While the template library is a bit smaller, there are a lot of resources available online if you're looking for something specific. You can get Google Slides by visiting the Google Slides Site or by choosing "Slides" from the grid menu on your Google account.
Prezi (Freemium, Web-based App)
Prezi is one of the most unique professional presentation programs available. Rather than force you to present slides in a numerical, linear fashion, it allows you to both present normally and jump to specific sections with amazing graphics. When you create slides with Prezi, you can also create a web of connections so that clicking an element on one slide can redirect to a relevant, more detailed sub slide.
For example, your "Final Questions" slide may include small subheaders for "Cost Analysis", "Management", and "Deployment" which would allow you to easily answer questions without flipping through the entire presentation. For those that don't want to pay for it, Prezi offers a generous free tier complete with templates and full editing access. The only downside is a small watermark and inability to download the presentation. However, paid plans are pretty cheap and will quickly rectify this.
Raw Shorts (Freemium, web-based)
Like Powtoon, Rawshorts is a freemium, web-based program. It focuses primarily on creating animations (not presentations) using templates, premade objects, a timeline, and other features. You can also import your own assets as necessary. Raw Shorts features a drag and drop interface. Users can get started for free, but for access to features that will allow you to fully utilize the program you'll need to either pay for a monthly subscription or per export.
You may also want to take a look at our best whiteboard animation software roundup for more options.
Conclusion
Powtoon is an animation and presentation program that can be used to create more interactive and engaging content. It offers a variety of animation styles including cartoons, infographics, and whiteboards. The program is web-based, so you can access your projects from any computer with an Internet connection and Flash.
Complete with a media library, a variety of features, and a clean interface, Powtoon might be a great tool if you're looking to create marketing or educational content. It uses a subscription-based access plan although it does offer a free plan that allows you to try everything out first.
So, do you find this Powtoon review helpful? Leave a comment below.