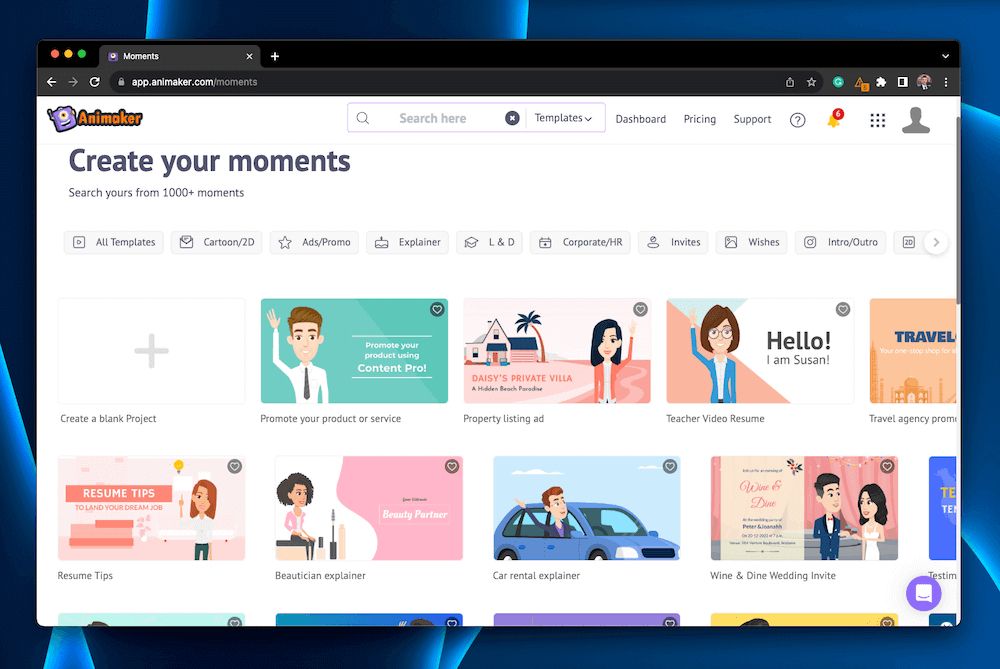 Animaker
Features: Packs a punch, offering an impressive range of video creation and editing features in a neat, web-based package.
Pricing: With a free version available and numerous premium plans (starting at $12.50/month), there's something for everyone.
Ease of Use: The interface is user-friendly, but sometimes freezes and takes long to load.
Support: An extensive FAQs page, chatbot, and support team provide plenty of resources for users.
Summary
Animaker is a DIY animation software designed for various purposes, from creating a compelling storyline that draws in viewers to advertising your latest product from your business. It boasts an impressive array of features, from customizable characters to over 100 million stock assets.

However, while it offers nearly everything you might expect from animation software, it freezes from time to time and often takes long to load your video creation. So, it may not be good for users who require high productivity and those with a slower Internet connection.

What I Like: This software has an incredible amount of features, several of which are available in the free version.

What I Don't Like: Several customers have mentioned issues with glitching, which can pose a problem with saving your work and toggling between tabs.
Yes, Animaker is safe to use, and since it's web-based, you don't need to download anything. The company has maintained a reputation for reliability and trustworthiness since its inception in 2015.
While there are free versions of Animaker you can use, you'll need to upgrade to a paid plan if you want to take full advantage of every feature and reap the benefits of numerous high-quality downloads.
How much does Animaker cost?
Animaker offers various premium pricing tiers: basic, standard, pro, and enterprise. The basic plan is the cheapest at $12.50 per month, the Starter is $25 per month, the Pro is $39 per month, while the enterprise plan is the usually priciest, with customized prices based on your unique needs.
Why Trust Me for This Review
Hi, I'm Jon, a digital marketer, software tester, and engineer. I've been making digital content for close about ten years and I'm always looking for new stock videography software to quickly make high-quality marketing videos.
As a content creator, I know just how challenging it can be to find the best stock video creator. I've used dozens of services over the years. And it almost goes without saying that you can easily adapt an existing stock video or template for your needs. But finding the right one is a different game altogether.
If you want an easy-to-use animation software to create videos for your business (or personal use), Animaker is a top choice. With hundreds of preloaded templates, collaborative workspaces, live editing, character builders, and access to stock images/videos/objects, Animaker makes DIY video creation simple.
Detailed Review of Animaker
Animaker proudly touts itself as the Swiss Army knife of video creativity. Its features support its claim, shaping it as one of the best tools for producing animated content. From an array of customizable templates to seamless usability, this software is a strong contender.
Collaborate With Coworkers
If you regularly create animations as a team effort at work or for school, this software might be ideal for you. It allows you to work with your friends and coworkers on the platform in real time, allowing each active person to see the current changes and adjust accordingly.
There's no need to worry about a laundry list of versions or review history – instead, you can all collaborate at once on the same platform without worrying about anything else. However, the Free plan doesn't have collaboration capabilities. So you'll have to upgrade to a paid plan to use this.
My personal take: Having multiple people working on one project can be tricky, especially if you all need to work on it at once but can't see what the others are doing. While I don't work with a team, I know the benefits of collaborating with coworkers natively in software. With Animaker, the difficulty of multiple people on a video project becomes a thing of the past.
Customizable Templates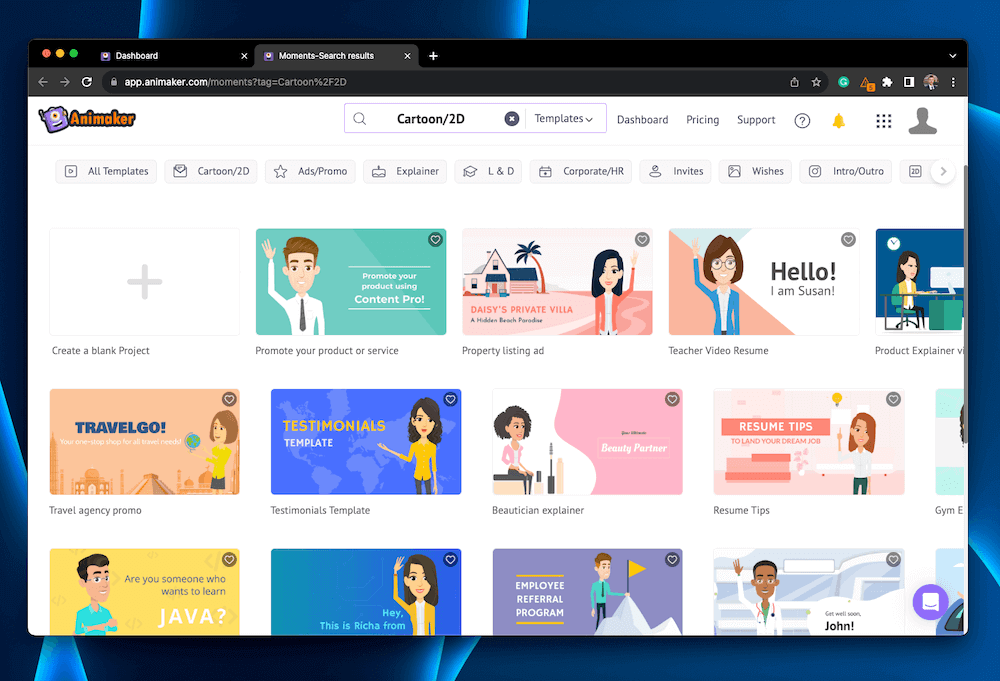 This software features professionally crafted templates that are fully customizable to accommodate your story or needs. Simply select a pre-made template, tweak it to your liking, and publish your finished work.
The template library is extensive, giving you plenty of options to stimulate your creative spark and bring your ideas to life. Since they're professionally made, you'll get a polished finish without the extra effort it takes to construct a high-end starting point.
My personal take: The templates make it easy to get started on your project in no time, saving you hours on developing a template that reflects your ideas.
Character Builder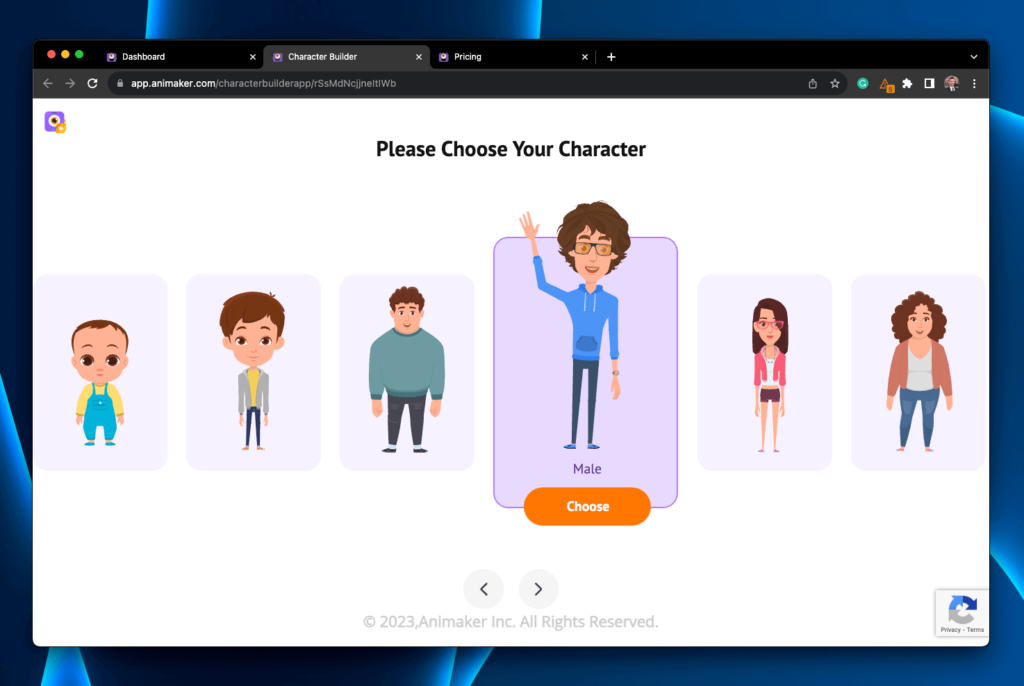 The software features customizable characters in its builder, complete with various facial features, expressions, and accessory slots. You can use each option to tailor a character that represents your animation needs, adjusting the hair, features, clothes, and glasses on your character.
Further, tune your character with over twenty facial expressions that bring your character to life and accurately convey the story you're trying to tell.
My personal take: The character builder makes it easy to craft your characters quickly without the hassle of starting from scratch.
Move and Sing
Creating movement is one of the most time-consuming parts of an animator's job, but not anymore. This software features Smart Move, which allows you to create complex animations with a simple click.
On top of that, you can tailor your character's mouth to sync with a voiceover or song with minimal effort. Simply add the audio and use the auto lip-sync feature to watch your character speak the words.
My personal take: Easily editing videos on the fly is one of the best features of Animaker. You can quickly resize objects, lengthen/shorten scenes, overlay music/audio, adjust text, and configure other video elements on the fly.
Live Editing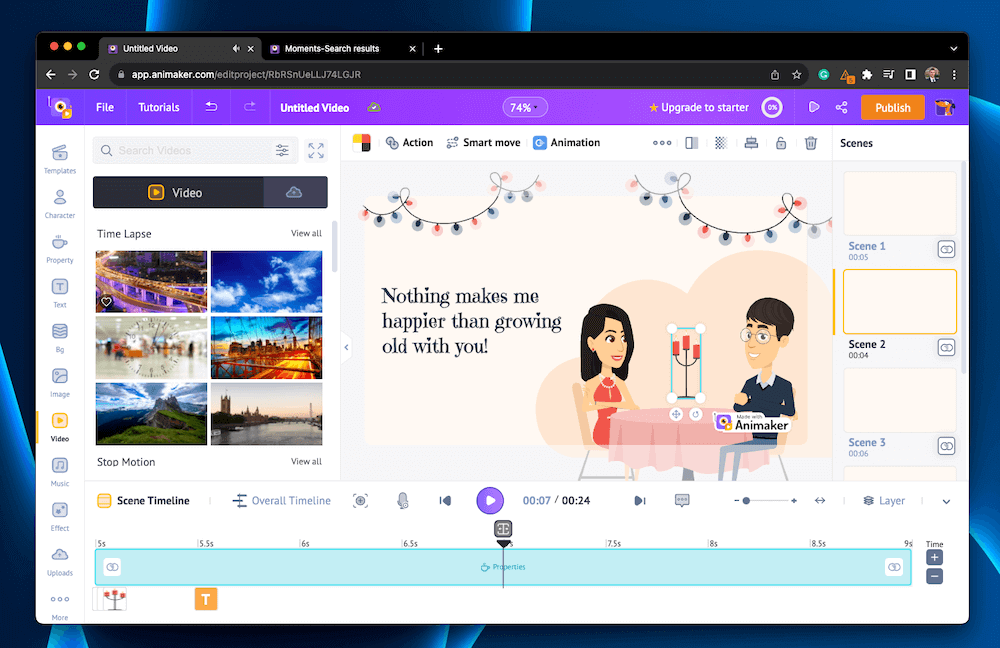 Edit your videos in the software and enjoy the impressive quality of the result. You can select various videos and upload them to the software to edit them conveniently where you need them. Adjusting the timeline, scenes, and other aspects is simple. Once you're done editing, move them to where you need them – all without leaving the software.
My personal take: Using multiple tools to complete the editing, uploading, and integration parts of your project can take a while, but Animaker simplifies it by serving as a one-stop shop.
Readily Available Stock Assets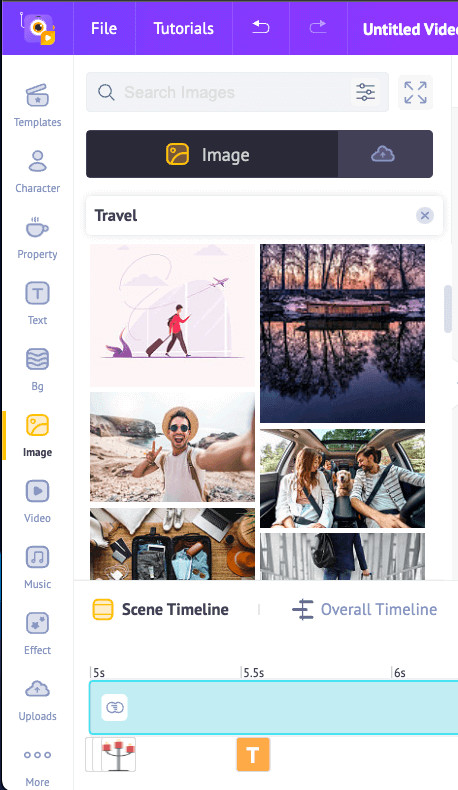 Take advantage of the built-in stock assets, which you'll find conveniently located in the Animaker library. The library contains over 100 million assets, including videos, images, and gifs, to bring your project to life and add the perfect finishing touches.
The library is also integrated with various additional libraries, including Getty and Giphy, ensuring you can find what you need when you need it.
My personal take: Finding, selecting, and uploading stock assets can take a while, but with Animaker, you can do it all on the same platform. While you'll still need to find and select the perfect option, you can skip the time-consuming upload process.
Reasons Behind My Ratings
Features: 4.8/5
The range of features included in Animaker's animation software is impressive. You can bring in your own audio recordings or create your own with Animaker Voice's text-to-speech software. You can upload your own photos and videos or grab a few from over 100 million options within Animaker's library.
Customize your characters, choose from professionally designed templates, tinker with gradient backgrounds, simplify animation with Smart Move, and collaborate with other users. The options are seemingly endless – you have ample opportunities to create all sorts of clever and artistic animations. So, as far as animation tools go, this one is a strong contender.
Pricing: 4.3/5
Animaker is priced affordably, allowing you to bring your ideas to life without breaking the bank. The most basic plan costs $150 per year or $12.50 per month, but it's the most restrictive plan. Each plan includes more but comes at a higher cost, and there are four tiers available: Basic ($12.50), Starter ($25.00/month), Pro ($39.00/month), and Enterprise (custom)– all billed yearly.
Enterprise clients receive custom pricing based on their needs and users. All things considered, the cost of this tool is fairly affordable for what you get.
Ease of Use: 3.7/5
The software interface is well-designed and user-friendly, ensuring it's suitable for animators of varying experience levels. You can easily drag and drop various items in and out of your project, tweaking the specifics to create the desired result.
However, several customers cite issues with freezing, so while it's easy to use, a frozen screen will halt your progress until your device or software begins chugging along as it should.
Support: 4.4/5
Animaker offers ample support for its users, including a detailed FAQ page that runs through common questions and their solutions. The support page is divided into categories, including Security, Plans, and My Videos, ensuring you can easily find what you need.
Each category features five or more articles detailing the specifics, so there are plenty of resources to help users. On top of that, you can seek support for your unanswered questions through the chatbot or contact page.
Animaker Alternatives
Powtoon (Web)
Powtoon is also a web-based software, but it boasts that it can be used both for traditionally animated videos and for making more interesting presentations (as opposed to your standard PowerPoint). Its interface is very similar to Animaker as well as other animating programs, which makes it easy to switch or learn quickly. There's also a fair amount of free media and template content.
Explaindio (Mac & PC)
For those who would rather have a full-featured software application, Explaindio 3.0 may fit the bill. While the interface is more complex and the library of default media is more limited than most freemium or web-based solutions, it offers more editing control and features than its competitors. It's also a standalone software, so you'll only pay a one-time fee and won't be dependent on the internet connection to do your editing.
Raw Shorts (Web)
If you want to stay web-based but Animaker doesn't seem like a good fit for you, consider trying out RawShorts. It's also a freemium software for creating animations, utilizing a drag-and-drop interface as well as the same basic timeline and scene model that many other creator platforms have. Although the features offered are very similar to Animaker, it offers a different price set-up and the ability to purchase downloads instead of a subscription.
You can also read our best whiteboard animation software roundup review for more options.
Final Verdict
Animaker is a tool designed to help animators bring their artistic dreams to life for various purposes, from captivatingly marketing their newest product to creating a heart-wrenching storyline. It offers an impressive array of features for all skill levels, allowing animators from various walks of life to create beautiful, professional-looking results.
However, while this tool is easy to use, it might not be as budget-friendly as some options and may cause freezing problems from time to time. Other than that, it's a worthwhile consideration.
What is your favorite animated video editing/creation tool? Let us know in the comments below!