There is no denying that there is a multitude of design services out there for both beginner and master graphic designers. And with the internet and digital platforms becoming more of the main format for presentations, communications, and such, it can be difficult to find and choose the best ones to use.
My name is Kerry and I've been dabbling in graphic design for years now, trying out different programs and software to find the best ones. Throughout creating my projects, I always look for accessibility, price, and features that would help me lean in one way or another, especially when creating a specific type of project.
In my opinion, Canva (review) is one of the best platforms to use if you are looking to create designs that can be used for presentations, marketing purposes, and simple projects because it is so user-friendly.
Adobe Express (formerly known as Adobe Spark), is like an amplified version of that platform because it not only allows for graphic design, but users have the ability to animate and make their work interactive.
In this post, I'll explain and compare some of the features in both Canva and Adobe Express to highlight key aspects of their programs and help you choose which one best fits your needs. While Canva is meant for creating designs, Adobe Spark promotes itself as a tool to create stories, so its interactive component might entice you a bit more.
Quick Comparison
Here's a quick overview of Canva vs Adobe Spark:
| | | |
| --- | --- | --- |
| | Adobe Express (AKA Spark) | Canva |
| Learning Curve | Clearly labeled features. Takes some time to play around and learn the tools | Easy to learn and use. Doesn't require proper training, great for beginners |
| Pricing | Free version available. Adobe Spark$99.99/year$9.99/month | Free version available Canva Pro. $119.99/year Canva for Teams$149.50 for up to five users |
| Premade Templates | This platform hosts a collection of templates but is still building out its library | Canva's library has thousands of premade templates and graphic elements |
| Interactive Elements | Advanced editing features that make designs interactive | Limited interactive features (mostly transitions, applied links, and minimal animation effects) |
| Integrations | Platform connects to a multitude of other websites and applications | Can connect to social media platforms, marketing tools. Integrates with limited editing software |
Canva vs Adobe Express: Detailed Comparison
We are going to be comparing Canva and Adobe Express (formally known as Adobe Spark) in the following categories: learning curves, premade templates, interactive elements, pricing, and integrations.
Learning Curve
Canva's platform is very easy to navigate, and the tools are clearly labeled to make navigating the website very easy. From beginner users with no graphic design training to professionals who want to use something simple, Canva allows you to create a variety of projects with little effort due to its extreme library of premade templates and elements.
There of course are tutorials out there that can help you dive deeper into techniques on Canva, but even if you were to create an account and simply sign on to start designing, you would be able to figure things out pretty quickly.
Adobe Creative Cloud Express also falls into this category. It was designed to be an easier solution than other Adobe counterparts and provide access for more people to designing and editing.
One cool feature within Adobe Creative Cloud Express is that in addition to its regular tools, there is a "quick action" section. This gives users an even easier way to choose common tasks with just one click. (Think background removal, size adjustment, and formatting options.)

While of course there are tutorials out there, it does take time to learn the platform, but it is much simpler than other Adobe products.
Winner: Canva. With the drag-and-drop option and clearly labeled tools, it doesn't require any graphic design experience to create professional projects in very little time. It is super user-friendly and easy to learn.
Premade Templates
Canva is known for having a robust variety of premade templates that are ready to use! This is great for designers who just want to customize the information on a template, or for those who want to create but don't know exactly where to start.
Canva's templates span further than just presentations, calendars, and social media posts. They have continued to grow their library to include so many specific types of designs that match traditional dimensions for each of those projects.
Even users who opt for the free plan have access to thousands of these templates (though of course there are more options available through the paid plan).

Adobe Creative Cloud Express also provides thousands of templates to be used and customized by those who are on the platform. Many of them are similar in style and project type to those on Canva, so they are actually comparable!

However, with Adobe Express you can use shapes, layers, and cutouts to add depth to your work. Especially when it comes to customization, the layer tool is great because you can edit and specifically work on aspects of the project without having to alter the entire template.
Winner: Canva. In my opinion, Canva has a wider variety of premade templates that are easy to use and edit, making it super easy for beginners to create projects.
Interactive Elements
While Canva has included the ability to add more interactive elements to the projects designed on their platform, it is still a work in progress. When creating presentations, users can add transitions to their slides, and for other projects, they can add sounds, voice recordings, and videos.
However, many of these tools can only be accessed through a premium subscription account, which makes it a bit inaccessible as a platform for those who are on the free plan.
Adobe on the other hand totes this as one of its main features. Not only is it a graphic design tool, but users are able to add those interactive elements and design despite what plan they are paying (or not paying) for including videos!
Designers can animate various aspects of their projects and add fun and captivating interactive elements to their designs. Adding audio to your projects is also a commonly used interactive feature (including quizzes!) that does not require an additional payment or subscription.
Winner: Adobe Express. There really isn't a question as to which one is the stronger option because Adobe Express was created for this purpose and has so many tools to utilize interactive elements in your projects.
Pricing
Both Canva and Adobe Express offer different subscription plans to choose from so that users can choose the pricing plan that works best for their project needs or budget.
Canva has a free option that has of course fewer features as compared to the paid plan but honestly, is worth signing up for. That free version allows access to thousands of templates, elements, and designs that helps designers create easy and professional projects.
Canva also offers a premium plan called Canva Pro that costs $119.99/year. This plan allows access to all of the features of Canva including complete access to elements, templates, editing tools, and so much more.

For anyone who is looking for a plan that can be used for business (you can add multiple team members to this plan), the Canva for Teams plan costs $149.50/year for up to five people. You can always add more people to this plan for a bit more money.
Adobe Creative Cloud Express does offer a free option that provides a wide variety of tools and elements. However, if you are looking for full access to the platform and what they have to offer, you can choose its subscription plan, which either costs $9.99/month or $99.99/year.
With the paid plan, you will have 100GB of storage compared to the free 2GB, access to the entire collection of over 160 million royalty-free Adobe Stock photos, and be able to schedule and post your designs across multiple channels.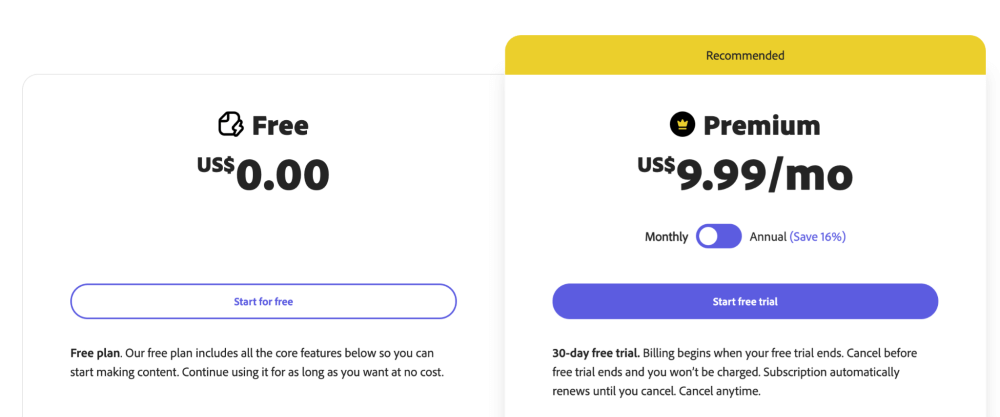 Winner: Adobe Express. While both Canva and Adobe Express offer extensive free plans, if you are looking for full access to a site that gives you premium features, Adobe Spark is the cheaper option that provides greater means to share your work.
Integrations
Currently, Canva offers over 90 connections. However, if we are assessing the variety of integrations that are available, many of these connections are similar or fall into the same category (presentation tools, additional editing software, social media platforms, and marketing outlets).
Even though Adobe Creative Cloud has integrations for third-party platforms, integrations, and plugins, they are still growing this feature. If you are looking to connect Google, Microsoft, or even educational syncs such as Flipgrid or Wakelet, you're in luck!
Winner: Canva While the platform is still growing its variety of integrations, they have more options to choose from!
Final Verdict
Both Canva and Adobe Express really do have their own pros and cons in regard to features that heighten the success of their programs and software. While Adobe Express may give a slight edge to professional design projects, both these interfaces allow for easy designing.
Whether you use Canva, Adobe Express, or both – we would love to hear your thoughts about which one you think is the stronger choice when choosing a graphic design platform! Please Please share all of your thoughts and opinions in the comment section down below!