While Canva is free on all devices, the Canva Pro version does require a subscription which costs $12.99/month or $119.99/year for one person. That means that you will have to pay to use extra features, such as special templates, icons, and customizations.
My name is Kerry, and I've been involved with art and digital design for over a decade. I've used Canva for quite some time now and am very familiar with the program, what you can do with it, and tips to use it even easier.
In this post, I'll explain the basics of Canva Pro and its cost. I'll also dive into the pros and cons of the Pro version and a few items to consider if you are debating on expanding your access to this graphic design platform.
Let's get into it!
Is Canva Free?
If you're looking to begin dabbling in the art of graphic design, Canva is an excellent program to get you started. You can create a basic account for free that will give you access to over 100 design layouts, thousands of photos and a host of graphic elements to add to your projects.
How Much is Canva Pro?
As with most software nowadays, Canva has created a subscription service, called Canva Pro, that provides access to even more elements. It can be paid for in monthly installments or on an annual basis.
Currently, the rates for Canva Pro are $12.99 monthly or $119.99 annually for one person. This means that if you can pay for and commit to using the annual plan, you will save $35.89, which is a substantial amount of money!
In addition to individual plans, Canva also offers Canva for Teams accounts where employees can collaborate and share Pro features under the same account. Depending on the number of employees that will be added, prices for this plan range from $149.90 a year (for up to 5 members) to $6,424.90 (for up to 50 members).
While that seems like it may be expensive, if you are using Canva for professional design purposes for a business, it may be worth the funds, since it reduces the amount per person that individuals would be paying on their own.
How Much is Canva Pro for Students?
While Canva doesn't have a specific plan dedicated to students at the moment, students can gain access to Pro features through Canva for Education. Canva for Education is a plan marketed to educators that allows additional access with proof of an eligible teacher I.D.
It is important to note that students can't access this on their own. The only way for students to connect to Canva for Education is by accepting an invitation from an educator who has an account.
Is There a Canva Pro Lifetime?
Currently, there is no option that would allow users to have a "lifetime" subscription on Canva. Users have to choose either a monthly or yearly payment plan to access the Canva Pro features.
Canva Pro: Benefits and Shortcomings
We've already established that Canva is a great tool for graphic design and has become a key player in graphic design software for all experience levels – from beginner to advanced creators.
Let's take a look at some benefits and shortcomings of spending that extra money on Canva Pro.
Benefits
With a Canva Pro subscription, you're able to access a whole lot more within the program that will allow you to create more professional projects that fit your vision and needs.
1. Larger Library of Elements
There are over 60 million images that are accessible within the Premium category such as vector illustrations, stock photos, and animated elements. (You can identify these by looking for the little crown attached to the image.)
In addition, you have a much greater selection of templates to choose from as well as a host of fonts to use. If you don't see the font that you're looking for, you can upload additional ones to your account with this plan.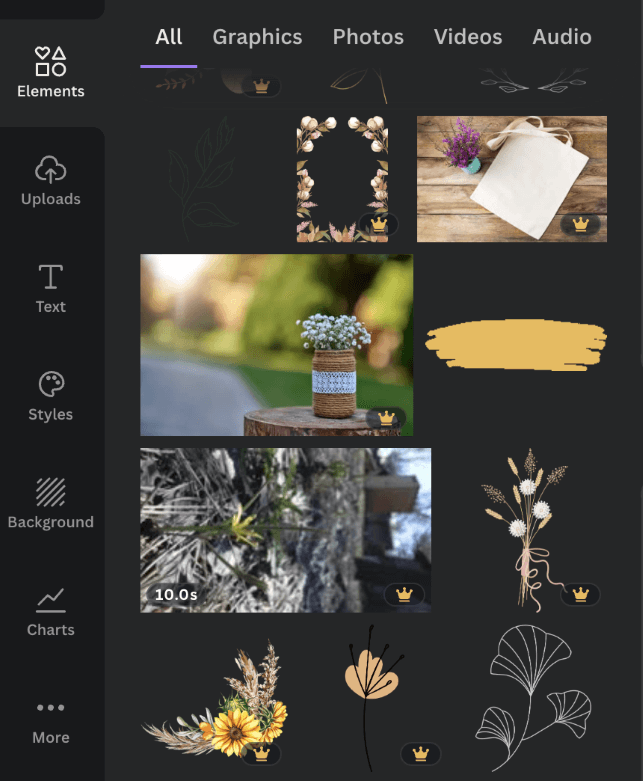 The full video and audio libraries are up for usage as well, with thousands of clips and tracks available to use in your projects to give them extra pizazz! And if you're feeling adventurous and want to create your own animated GIFs, Canva Pro provides you with the easy steps to do so.
2. Editing Tools
While there are so many programs that allow you to edit photos and designs, they can be costly and require transferring files from one website to another. Canva Pro is a one-stop shop for editing and creation, with a toolbox of features to help merge the two.
One of the features that allow for easy editing is the included background remover tool. With this, you can edit elements to remove the background and create ones with transparent backgrounds – perfect for PNGs.

Canva Pro also has a great feature with one-click resizing to adjust your work to custom dimensions. This saves a lot of time when you need to create multiple versions for different platforms, such as publishing to various social media platforms.
3. Brand Kits
With more businesses using Canva to create social media posts and promotions, the ability to develop brand kits on the platform is a huge selling point. This allows you to upload logos, fonts, and palettes that align to your brand and save it for future use.

4. Storage
While the free version of Canva provides you with 5GB of initial storage, by paying for the free plan you're allocated 1TB of cloud storage. This is super helpful when it comes to keeping your work organized and in one space.

In addition, Canva Pro allows you to download your files in numerous formats, such as JPEG, PNG, GIF, and PDF. For those who are using Canva for crafting, selling digital downloads, or just need a variety of editable formats, this is definitely an advantage.
Shortcomings
One of the only cons when it comes to subscribing to Canva Pro is the expense. Even though it doesn't cost that much money, depending on your needs it may not be worth it since there is a robust free version available. It is all about perspective!
Really, the extent to which you take advantage of premium features determines if there are any cons to this platform. If you're fine with utilizing the basic features and renavigating designs when you find out that elements that you want to use are not included in the free plan, then don't sign up for Pro.
Final Thoughts
The basic Canva plan is free and a great choice if you're looking for a quick design project and are flexible with provided options. It allows for some pretty solid templates, but you might want to opt for a Pro plan if you want to create more professional design projects with lots more options.
Do you think that Canva Pro is worth it? What would you say are the best parts of using the paid plan? Comment below to share your thoughts!