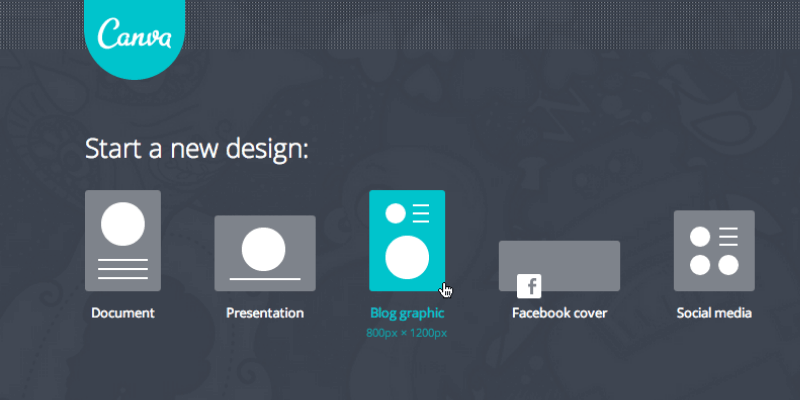 Canva
Effectiveness: Simple, easy to use, and gets the job done
Price: Free with a subscription option for $12.95/month per person
Ease of Use: Templates and graphics galore
Support: Extremely comprehensive support page with email options
Summary
Canva.com is an extremely simple and easy-to-use online design platform allowing users to make a wide variety of materials both for print and online distribution. The website offers thousands of free templates (more than 60,000…), graphics, photos and elements while also allowing users to upload their own material.

For an inexperienced designer looking for a quick solution, Canva is the site for you. Even if you are experienced, Canva offers a wide range of functions that simplify the process and make your life a whole lot easier. The site also incorporates online elements with audio and visual capabilities (think Youtube videos or songs from Spotify)- something incompatible with most other design software.

Overall, Canva is pretty sound and comprehensive with only some minor issues with text formatting. You may have to pay for some of the graphics or images, but that is easily solved by uploading your own. Canva may not replace InDesign or other technical software for the experienced designer as it doesn't have some of the more advanced functionality, but as far as free online design software goes, Canva is number one in my eyes!

What I Like: Super easy to use. Great templates. Color palates and fonts. Ability to upload own photos and free.

What I Don't Like: Text can be a bit fussy in terms of formatting. Several apps only available to Canva for Work subscribers, have to pay for some graphics

Canva is an online design platform that allows users to easily make a wide range of visual materials.
What can I use Canva for?
You can use Canva for basically any design-related need – think work presentations, party invitations, business cards, resumes, social media posts, banners, posters, and more.
Because of the massive amount of templates and elements available at your fingertips, no design skills are necessary. Simply choose a template, insert your text and graphics and voila!
How much does Canva cost?
It's free to use, with the option to purchase select graphics and photos for $1. Canva also has a subscription service called Canva For Work that costs $12.95/month per team member or an annual payment of $119 ($9.95/month) per team member. However, the free version tends to do just fine.
Using Canva is simple – visit www.canva.com, create a free account and get started! Creating an account allows you to revisit your designs time and time again to make changes as needed.
Unfortunately, because Canva is a website, it can't be used offline, but it is available wherever there is an internet connection. It even has a mobile application for times when WiFi is scarce but data isn't.
What if Canva doesn't have the graphic or image I'm looking for?
Not to worry – although Canva has thousands of graphics, icons, and photos, you are still able to upload your own! You can even connect your Instagram or Facebook to include your favorite photos from social media.
Why Trust Me for This Canva Review?
Hey, I'm Jane! I'm always on the hunt for new and useful software for photo editing, graphic design or something fun to occupy my afternoon. I've tested everything from online beginner platforms to advanced downloadable software that has taken up all the space on my computer.
At this point, I've tested out the good, the bad and the ugly so that you don't have to. I don't tend to play favorites, but rather use different software depending on what I'm working on. I'm always open to new and fun ideas and am constantly learning and growing from different projects.
I started using Canva.com several years ago when my resume was in dire need of a good makeover. I found the site extremely easy to use and tested out template after template until I reached the desired result. To this day, I frequently log onto the site to make tweaks to my existing resume, as well as make new material when I'm hitting a roadblock in the design process.
This Canva review is in no way sponsored by Canva, but I thought I'd spread the love (and knowledge) about an awesome platform that has the ability to help tons of people in the design world!
Detailed Review of Canva
1. Creating with Canva
Canva miraculously covers just about every category of template you may need. They offer templates for social media, documents, personal, education, marketing, events, and ads.
Within each template category are subcategories. Some standout ones are resumes and letterheads (within documents), Instagram posts & stories and Snapchat geofilters (in social media), birthday cards, planners and book covers (personal), yearbook and report cards (education), logos, coupons and newsletters (marketing), invitations (events) and Facebook ads (Ads). This barely scratches the surface of the templates offered through the website.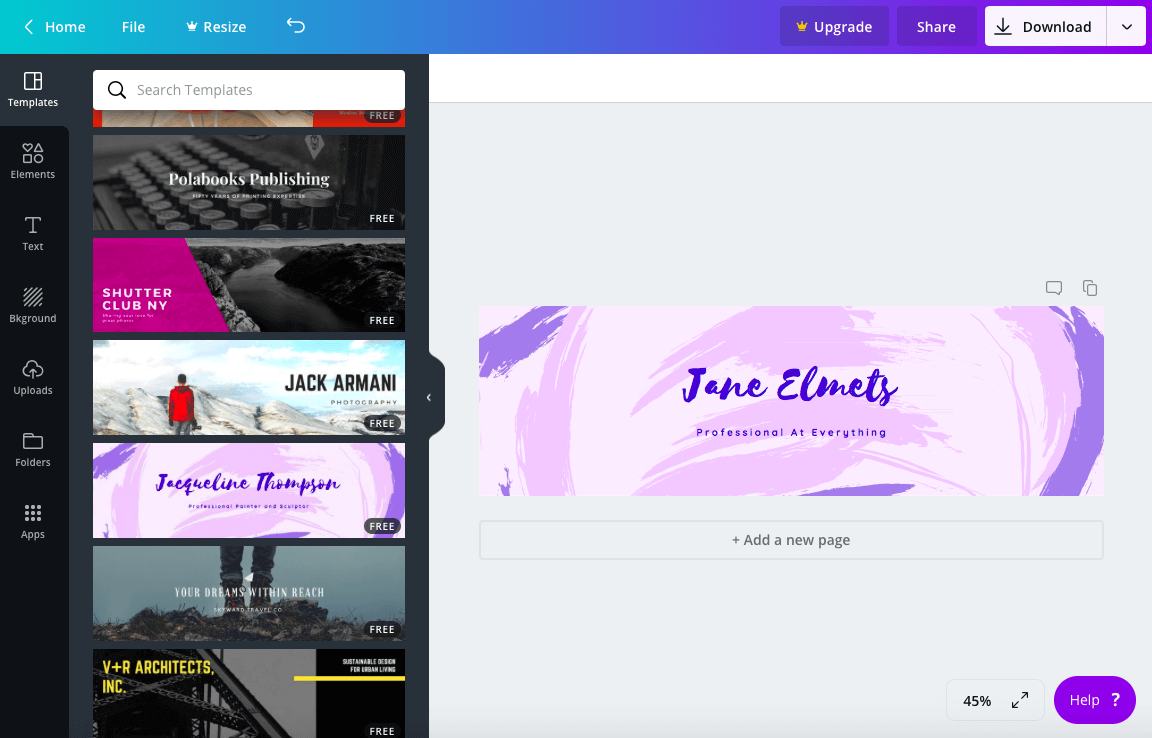 The best part about these templates is that they are already formatted to fit whatever you're designing. For example, the LinkedIn Banner template is already the right size canvas for LinkedIn!
The downside? Unfortunately, Canva doesn't give you the dimensions or gridlines right on the screen, which are typically present in other design software. However, this is easily solved with a quick Google search. The upside? You're also able to create your own template with custom dimensions.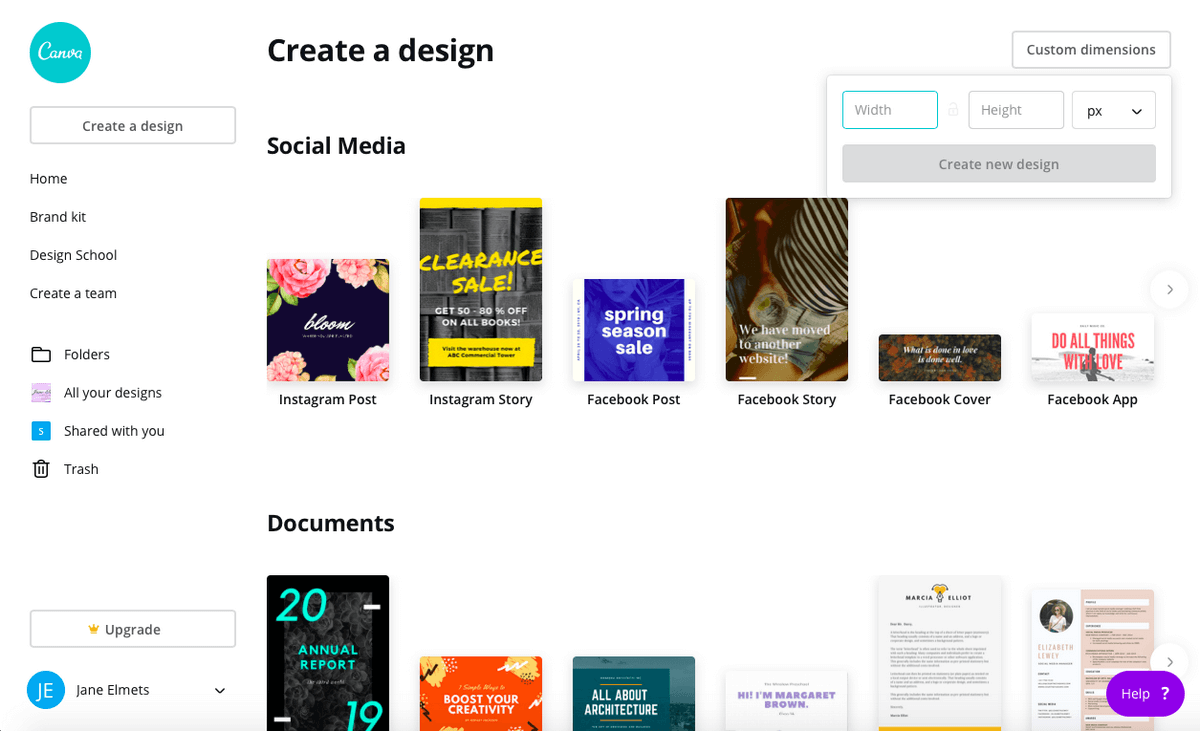 While templates are super easy to use and beautifully designed, another frustrating element is that you can't resize your design to fit other functions without the Canva For Work subscription.
So if you made something you really like, you have to manually recreate it in new dimensions. This isn't the end of the world considering you have to do this on most design software, but the fact that it is a paid feature is like dangling a carrot in front of a horse, if you know what I mean.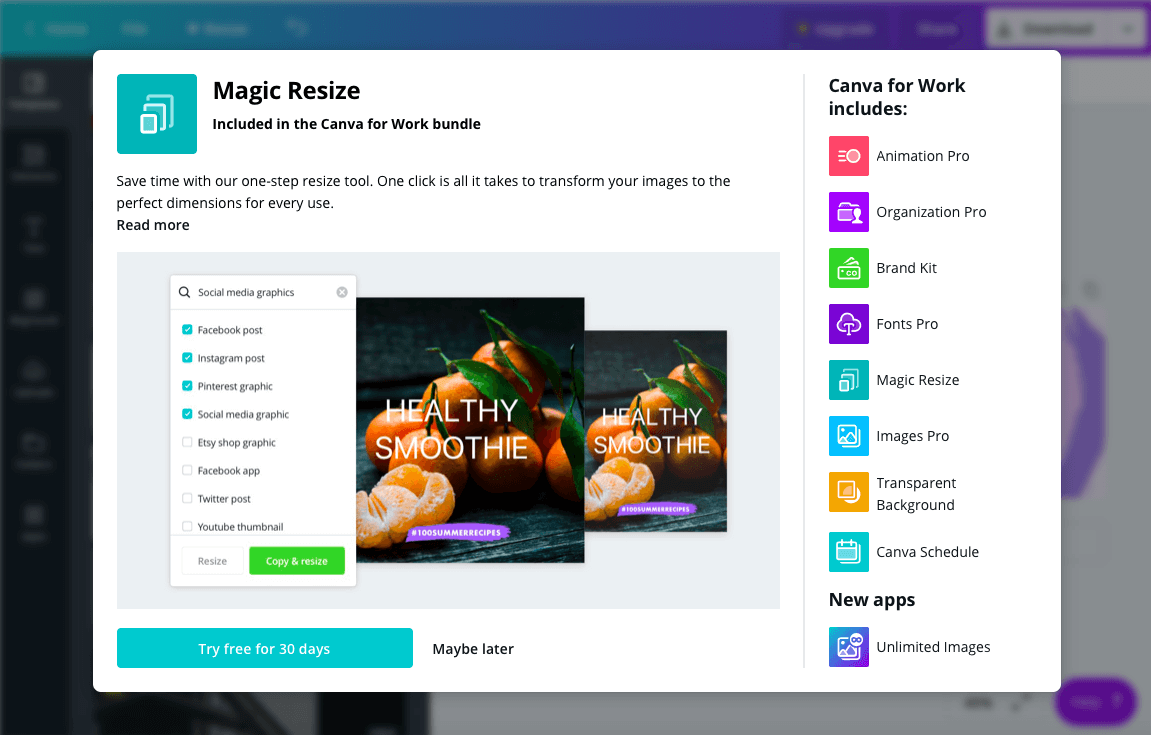 2. Let's Get Customizing
Canva offers many elements to add to or modify your template. They have free photos, grids, shapes, charts, lines, frames, illustrations, icons, you name it. They have done a really nice job designing the grids and have made it extremely easy to insert photos or graphics into the space you want them.
Simply add a grid to your template, choose a photo and drag it into the grid. It automatically snaps into place and from there you can resize it as you'd like with a double click. There are an endless amount of grids available for free use, further simplifying the design process and allowing you to tastefully split up whatever you are designing.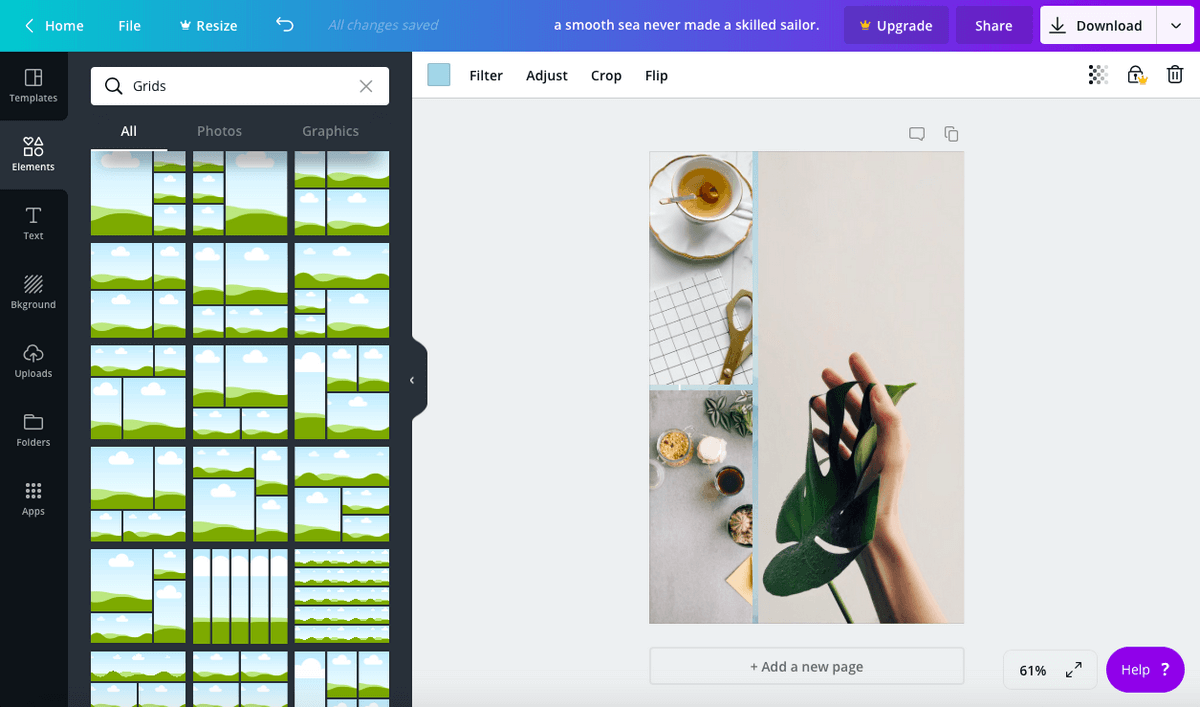 I also really love the frame element. Say you want to add a photo of yourself to your LinkedIn banner. Simply place a frame on the template, upload a photo of yourself and drag it into the frame. Like the grid feature, there are hundreds of free frames you can use in every shape you can imagine. This saves a huge headache of manually designing shapes with InDesign or other software.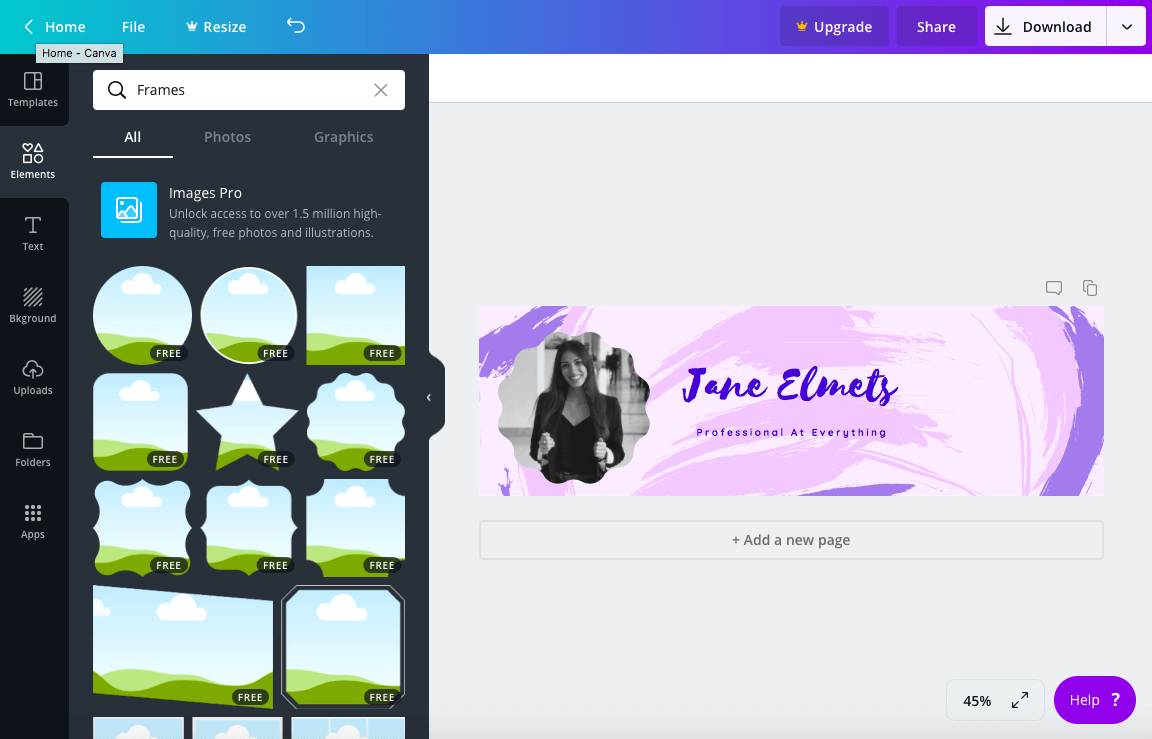 3. Personalize Your Design
Canva truly is a designer's best friend when it comes to their preset text options. If you're anything like me, matching fonts is a nightmare. I feel like no matter what combination I pick, something always looks a bit wonky.
Canva has turned a nightmare into a dream come true with its wide range of text options and combinations. They have a ton of different formats and fonts galore. Just select a text sample you like and then edit it for size, color, and content.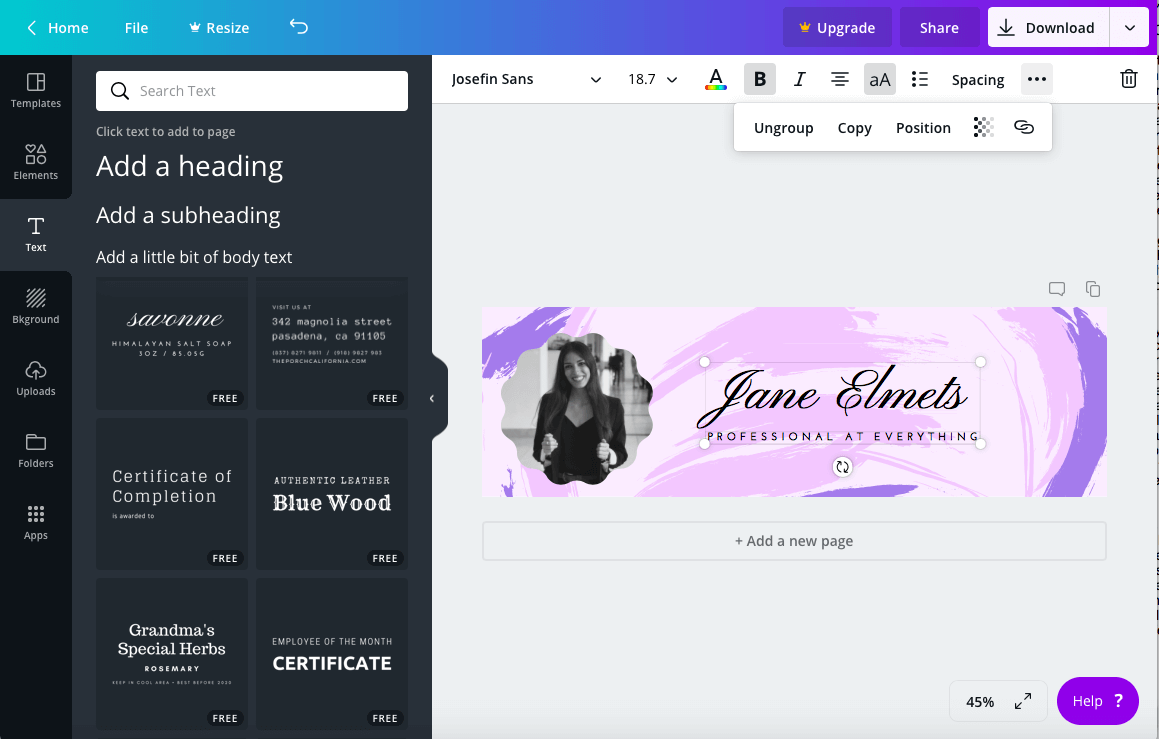 The preset text options come as a group, which may be confusing to novice designers. To move elements individually, you have to remember to click the 3 dots on the top bar and select ungroup. Doing this allows you to move the two different boxes on their own instead of as one element.
If you prefer to design text on your own, you can also add a heading, subheading or "a little bit of body text" from the same page. When you do this, you select your own font and format as you'd like. While I tend to stick to the preset text (it's just so easy and convenient!) there are times when I have used the standalone option, like when I was designing my resume. While it is still easy to use, I have found that it can be a little frustrating to work with this option.
My main point of contention? Bullet points! When working with Canva's bullet point option, I have found that you need to use bullets throughout the entire block of text. If you try to turn bullets off for a single line, it turns them off for everything. Also, if your text is centered, the bullets still stick to the left-hand side instead of to the text itself. This can be really frustrating if every line of text is a different length.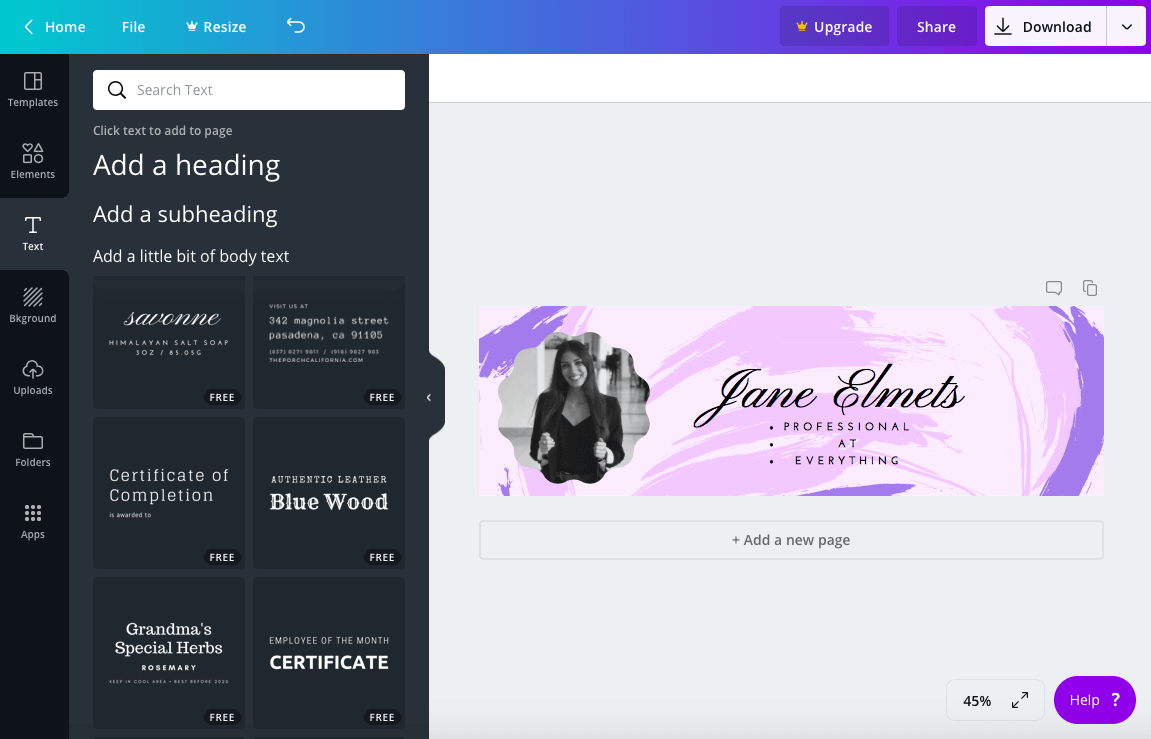 See, here I got the bullets to stick to the word "Professional" by resizing the text box, but it still left "At" and "Everything" hanging. While this isn't the end of the world, it definitely makes for some frustration and leads me to want to stick with the preset text options.
Canva has a variety of premium features and apps that are only accessible to those who have the Canva For Work subscription. These features include animation (the ability to turn Canva designs into GIFs and videos), a brand kit (a central place where you can find all of your brand's colors, fonts, logos, and designs for easy access), fonts pro (ability to upload your own fonts), magic resize (mentioned before – the ability to seamlessly resize any design to a new format or template), images (access to all Canva's images and graphics), and transparent background (save your design as a PNG).
A last premium feature is the ability to organize your designs into folders with unlimited storage. To be honest, this feature really frustrates me. Why do you have to pay to organize your designs? This seems like something that should be free. One way to get around this is to simply save/download your designs and save them in folders on your desktop.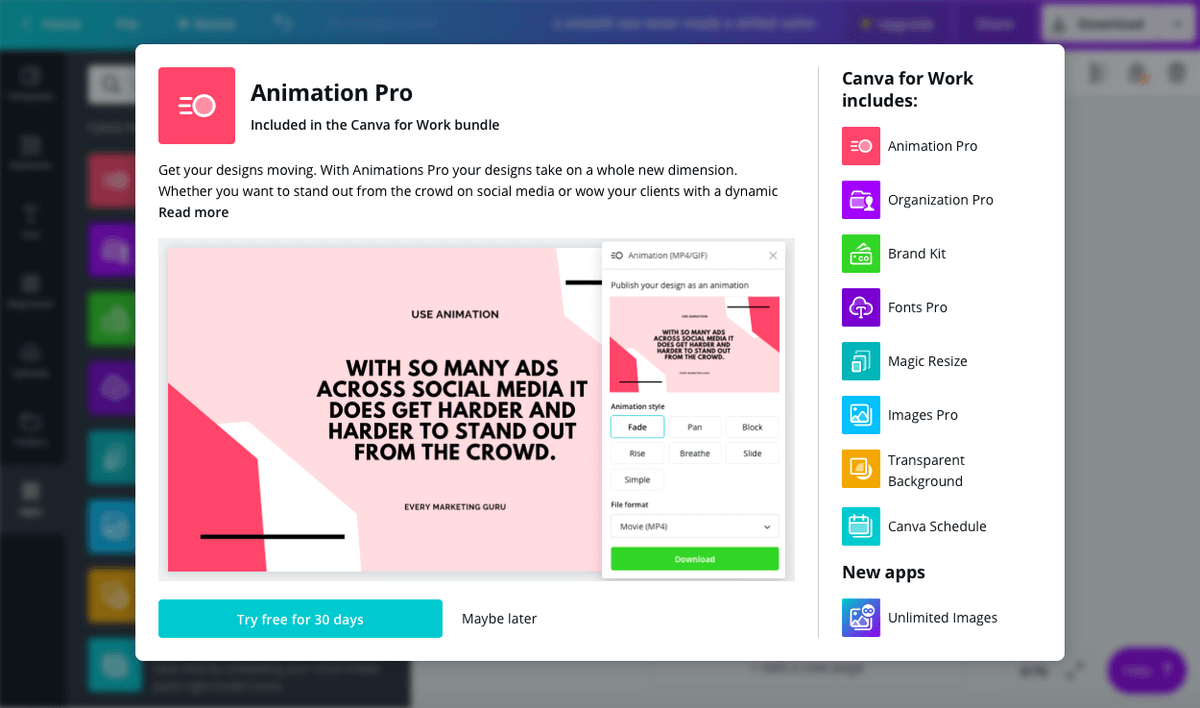 That being said, a lot of these features are seriously useful when designing, especially the PNG aspect and the ability to upload all of your brand's unique materials. If these are your primary design needs, I'd suggest sticking to software like InDesign or Photoshop. However, keep in mind that there are plenty of websites that allow you to convert designs or graphics to PNGs, so that part is easily mitigated if you're sticking with Canva for free.
Canva is also launching two new apps within Canva For Work called "Unlimited Images" and "Canva Schedule." "Unlimited Images" boasts access to over 30 million stock images from right inside the website, while "Canva Schedule" enables you to schedule social media posts from Canva.
While both of these features will be useful, I wouldn't suggest purchasing a Canva For Work subscription for either of these, as there are dozens of websites that have free stock photos (see unsplash.com for example) and better scheduling software.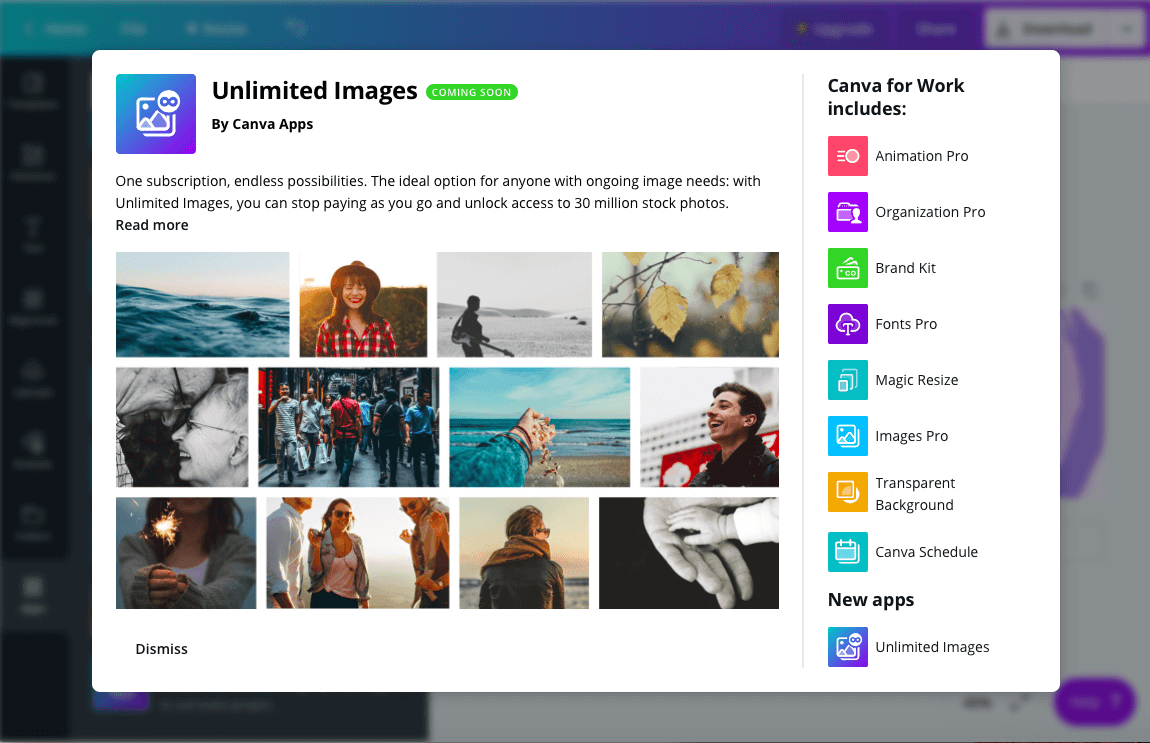 After assessing all of the premium features, I wouldn't suggest purchasing a Canva For Work subscription unless your team needs a new way to collaborate on the design front. In my opinion, a lot of these features aren't worth paying for, as most of them are easily found for free on other websites. Plus, $12.95 a month per person seems a bit steep for what they're offering.
Canva Alternatives
InDesign is probably one of the most popular and widely-used design programs out there. It's in every experienced graphic designers "toolbox" and is a go-to when putting together branding and marketing material for a business. However, like all Adobe products, InDesign is quite expensive, coming in at $20.99 a month on its own (or $52.99/month for all Creative Cloud apps). Paying $21 a month for a software isn't ideal, however, InDesign is extremely strong design software with wide capabilities and a cult-like following. But don't forget: design skills are essential with this software, as is a deep understanding of all of the tools and functions. Read our full InDesign review for more.
Easil is much more similar to Canva than InDesign in the sense that it's a novice designer's safe haven. The website has beautiful templates, fonts and graphics, all easily customizable to your brand and specific needs. There's an added layer of uniqueness to Easil that offers text effect tools (make your text glow, create a drop shadow, etc.), a color palette generator and a table function to include in your designs, if that's the kind of thing you're after. Easil also offers more advanced design tools, allowing the more experienced designer to work in layers or merge designs from other templates. Easil offers three packages: free, Plus ($7.50/month), and Edge ($59/month). In terms of pricing, I'd say $7.50 per month is reasonable if you're looking for something similar to Canva For Work at a lower cost.
Reasons Behind My Ratings
Effectiveness: 5/5
As you can see from my detailed review above, Canva is an extremely effective online platform when it comes to creating beautiful designs with ease. Their templates are well-designed and easy to edit, and cover just about every category imaginable.
Price: 5/5
The free version of Canva has enough functionality and capability to design pretty much anything. If you're interested in using one of their images or graphics that are not free, they only run $1 apiece, which is reasonable enough. The Canva For Work subscription at $12.95/month per person is certainly on the pricer side but it still gets 5 stars for having a totally workable free version. As mentioned, I wouldn't bother purchasing a paid subscription.
Ease of Use: 4.5/5
Canva is super easy to use and is any beginner designer's dream. In fact, when I started out designing, Canva was practically always open on my computer. It's comprehensive and has tons of tutorials right on the site to walk you through any issues you may be experiencing. That being said, there are a few issues with the text function (mainly bullet points) that may be frustrating to the user.
Support: 5/5
Canva has done a wonderful job of building out their online support page. There are many categories that cover just about any problem you may be experiencing, and then offer 24-hour weekday support via email, Facebook, Twitter or online submission form with a guaranteed 1-4 hour response time. Doesn't get much better than that.
Conclusion
Canva.com is a wonderfully put-together online design platform that helps solve some of the main issues faced by beginner designers or someone looking for a quick design fix. The extensive templates cover just about every category you will ever need, there are beautiful fonts and color palettes, a ton of free images and graphics, and best of all: it's free to use! If you're lacking inspiration or don't know where to begin, hop on Canva and start scrolling. You're sure to find something to use.
So, how do you like this Canva review? Leave a comment below and let us know.