We carry our lives around on our iPhones. They're with us wherever we go, keep us in touch, snap photos and videos, and provide entertainment. Meanwhile, you left your computer safely on your desk, out of the weather and out of harm's reach. If you're going to lose important data anywhere, chances are it will be on your phone.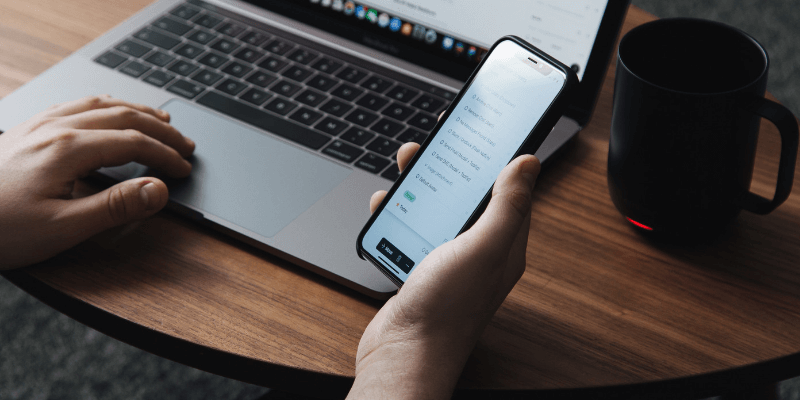 If something does go wrong, how will you get your photos, media files, and messages back? There's an app for that! In this review, we'll take you through the range of iPhone data recovery software and help you choose the one best for you. Although they scan for lost data on your phone, these programs actually run on your Mac or PC.
Which app is best? It depends on your priorities. Aiseesoft FoneLab and Tenorshare UltData will scan your phone quickly for the maximum number of data types to help you get back that lost file.
On the other hand, Wondershare Dr.Fone includes a range of other useful features that will help you unlock your phone, copy all of your files to another phone, or fix iOS when it's broken.
And if you're looking for a free app, MiniTool Mobile Recovery is your best option. They're not your only choices, and we'll let you know which competitors are viable alternatives and which may let you down. Read on for the details!
Lost some files on your computer? Check out our best Mac and Windows data recovery software reviews.
Why Trust Me for This Review
My name is Adrian Try, and I'm an early adopter of mobile devices. In the late 80s, I used digital diaries and an Artari Portfolio "palmtop" computer. Then in the mid-90s I moved on to the Apple Newton and a range of Pocket PCs, which later included the O2 Xda, the first Pocket PC phone.
I still have many of my old toys, and keep a little museum in my office. Small devices suited me. I loved them, looked after them, and had no major disasters.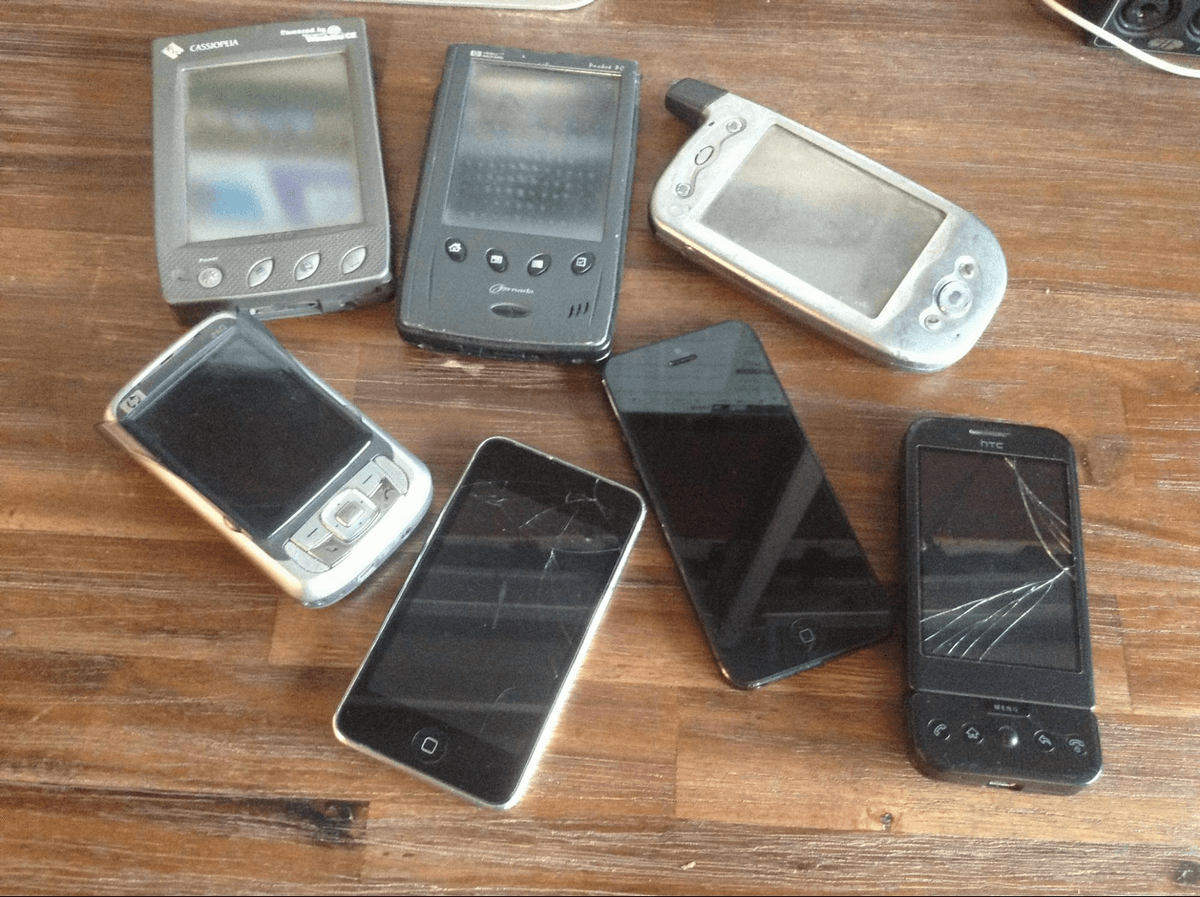 But a few small problems did crop up. The most worrying was when my wife dropped her Casio E-11 in the toilet. I managed to save it, and if you're curious, you can still read that story here: Casio Survives Toilet.
In the "modern era" I bought the first Android phone, then moved to Apple at the launch of the iPhone 4. All of my kids use iPhones, and their experiences have definitely not been problem-free. They regularly crack their screens, and once they eventually save their money to have it fixed, it's often broken again within a week.
But because we sync our phones regularly, I've never had to use iPhone recovery software. So I looked online for the voice of experience. I searched in vain for some comprehensive industry testing and checked every review I could find. But each one was very light on personal experience.
So I decided to find out for myself. I set aside a few days to download, install, and test ten leading apps. I discovered they're not all the same! You'll find the details below.
What You Need to Know about Recovering iPhone Data
Data recovery is your last line of defense
Apple made it very easy to sync your iPhone with iTunes, or back it up to iCloud. As I check my settings, it's reassuring to see that my phone was automatically backed up to iCloud at 10:43 pm last night.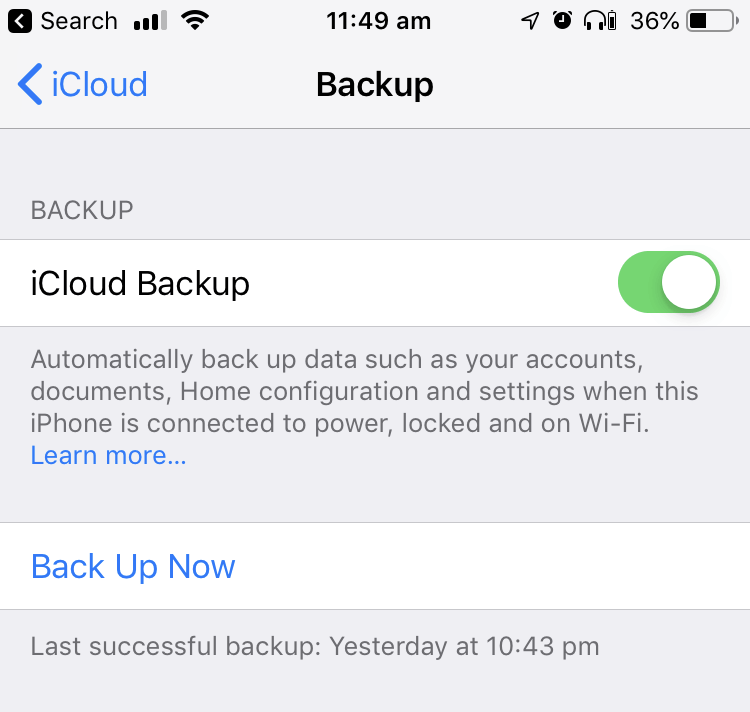 So, chances are if you lose an important photo or file, you'll have a backup of it. The app developers recognize that, and every app I tested allows you to recover data from iTunes and iCloud backups. (Well, Disk Drill only allows you to restore from iTunes, but the rest do both.)
It's good that they include this feature because Apple gives you very limited options in restoring your data. It's all or nothing—there's no way to restore individual files. Unless you use an iOS data recovery app.
Restoring your data from a backup will be much quicker than trying to retrieve it from your phone, so I recommend you start there. Data recovery scans can take hours, and restoring a backup is much quicker. Aiseesoft FoneLab was able to retrieve my files from an iTunes backup in just a few minutes.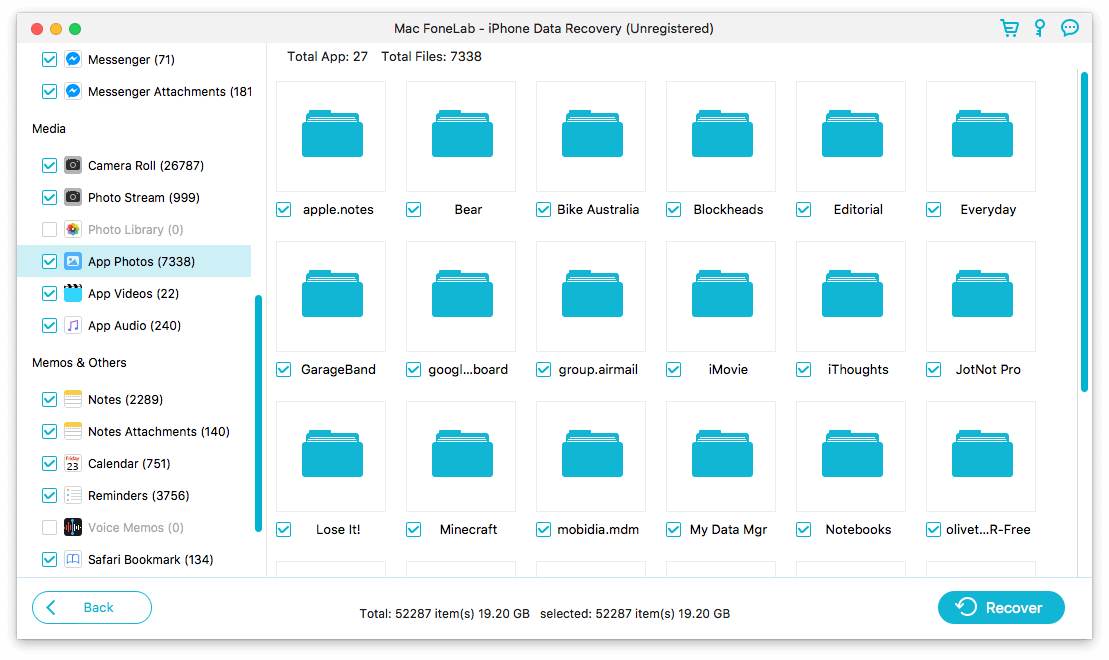 If you couldn't restore your data from a backup, then you can use your app's "Recover from iOS Device" feature. And that's where we'll focus the rest of this review.
Data recovery will cost you time and effort
Scanning your phone for lost data will take time—in my experience at least an hour with the fastest apps. Then once the scan is finished, you'll need to find your missing data, which may involve looking through thousands of files.
Many apps seem to mix the deleted files that were recovered with files that are still on the phone, adding further complication. Finding the right one can be like looking for a needle in a haystack. Fortunately, many apps allow you to sort your files by date and search for filenames, which can save a lot of time. But not all do.
Data recovery is not guaranteed
You won't always find the file you're after. In my test, the best apps only recovered half of the files I deleted. I hope you have better results. If you don't succeed in recovering the data on your own, you can call an expert. That can be costly but is justified if your data is valuable.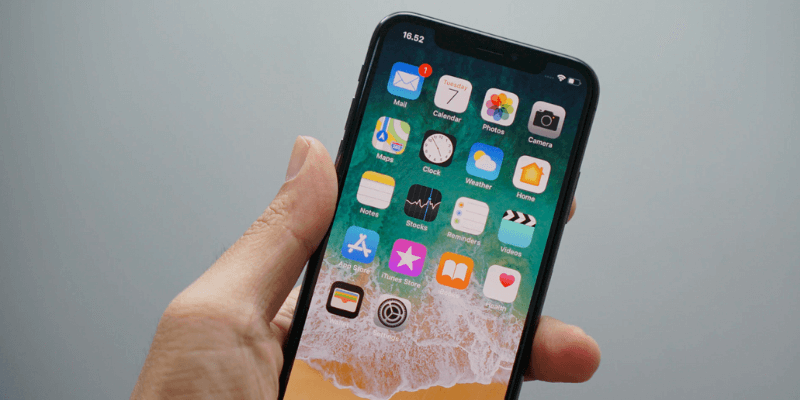 Who Should Get This
Hopefully, you'll never need iPhone data recovery software. But if you drop your phone on concrete, forget your passcode, get stuck at the Apple logo when starting your phone, or delete the wrong file or photo, it's there for you.
Even if you have a backup of your phone, iOS data recovery software can simplify the process of restoring your data, and adds flexibility. And if worse comes to worse, it will be able to scan your phone and hopefully recover that lost file.
Best iPhone Data Recovery Software: Our Top Picks
Best Choice: Aiseesoft FoneLab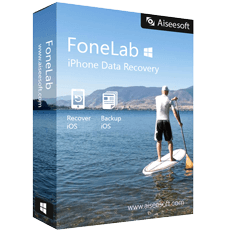 FoneLab has a lot going for it: it's a perfect storm of speed, effectiveness, file support, and features. It scanned my iPhone faster than any other app, yet was still as effective at recovering data. It supports almost as many file types as Tenorshare UltData, has almost as many additional features as Dr.Fone (though you'll have to pay extra for them), and is cheaper than both. I love its interface and found it easy to use.
FoneLab is a suite of apps that help you with problems with your iPhone. Besides allowing you to recover lost data from the phone or your iTunes or iCloud backup, the app includes extra features. They're optional, but will cost you more:
iOS system recovery,
iOS backup and restore,
transfer files between Mac and iPhone,
Mac video converter.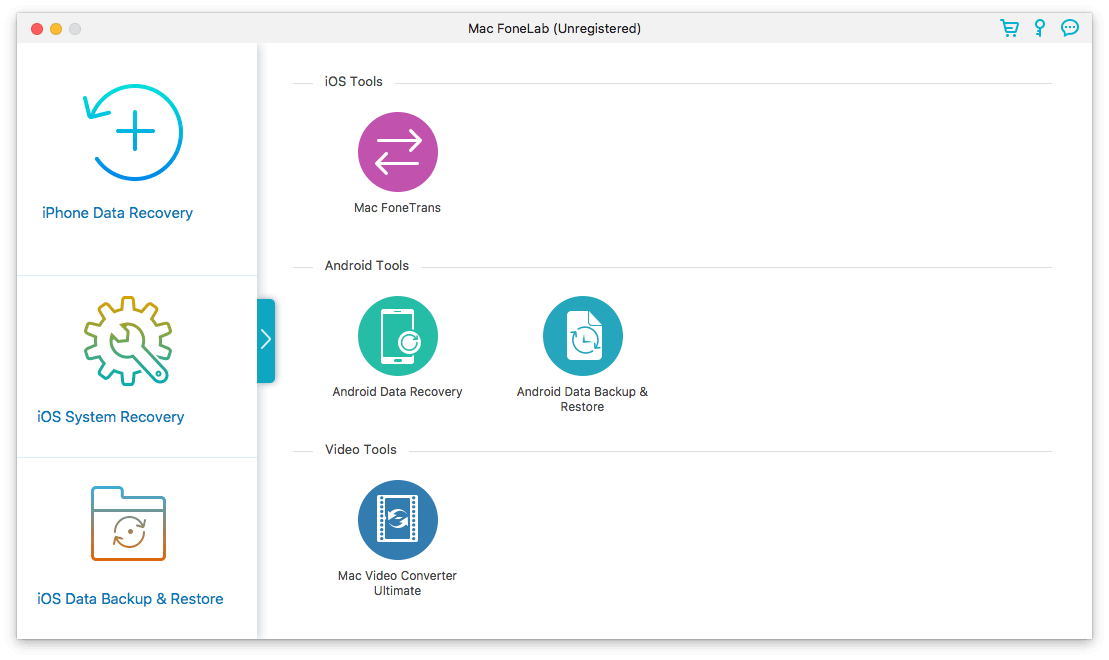 Only Dr.Fone offers more additional features. And it can recover more data types than any other app except Tenorshare UltData. On top of this, it performed a full scan of all supported file types in just 52 seconds. Tenorshare was marginally faster when scanning a subset of file categories, but not when doing a full scan.
The app's interface is attractive, well-implemented and offers little touches that none of the competition does.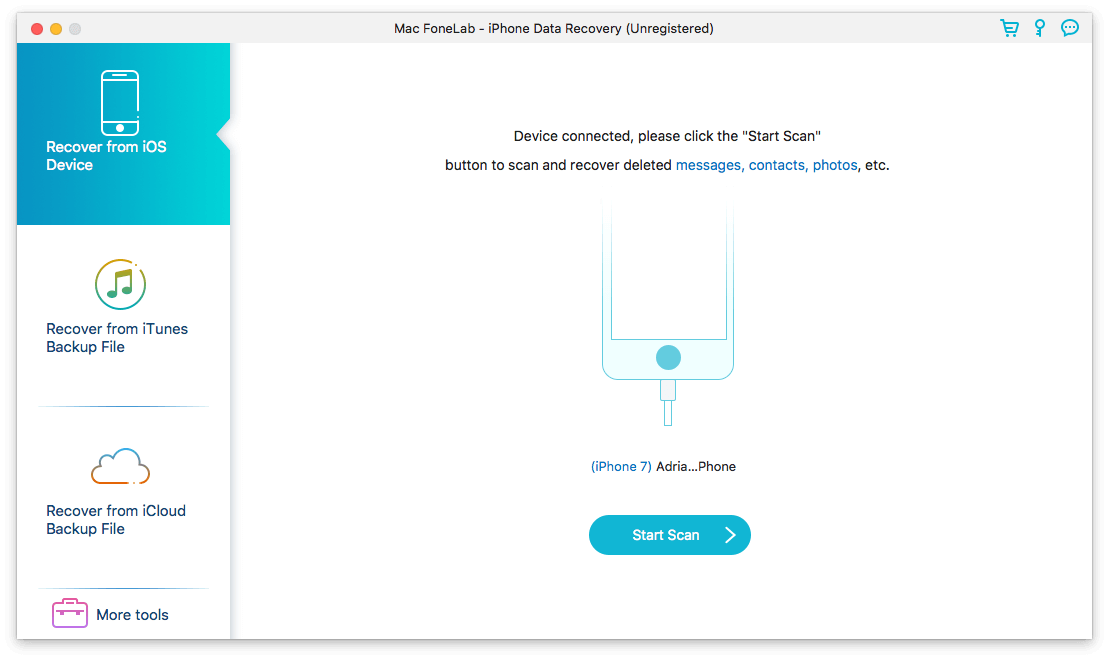 To start a scan is simple: just press the Scan button. There are no choices to make, and there is no time penalty in doing a full scan, unlike many of the other apps.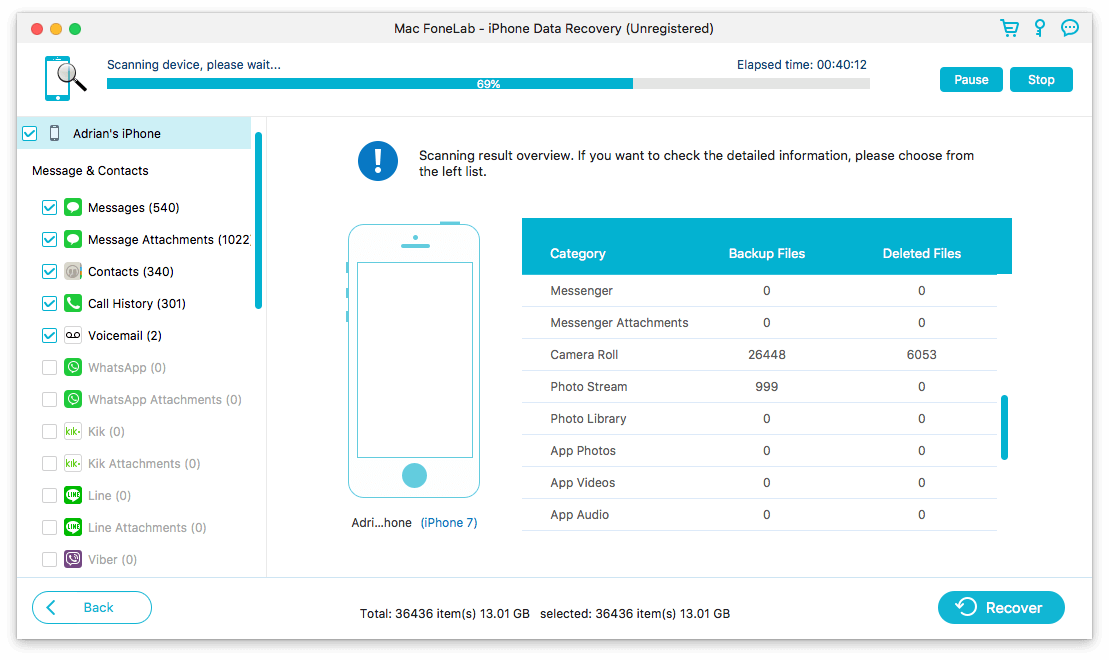 As the scan is performed, FoneLab keeps a running tally of the number of items found. Unlike other apps, it even lists the number of deleted files separately. You don't have to wait for the scan to finish to preview files, and the progress indicator was quite accurate. Several other apps jumped to 99% within the first few minutes and then stayed there for hours, which I found very frustrating.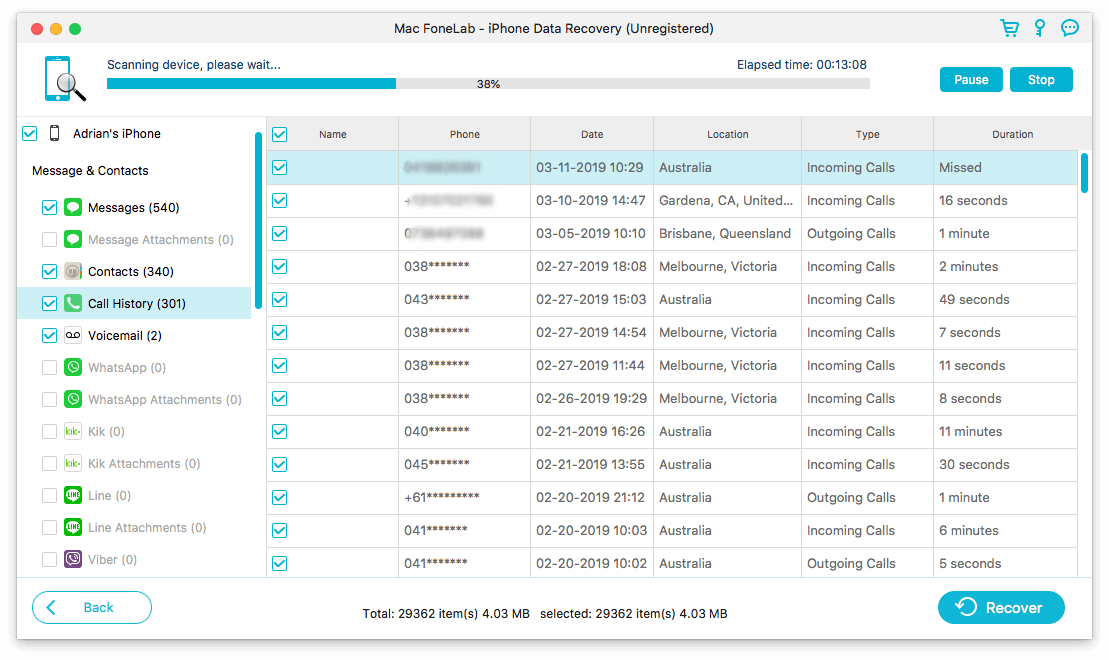 Once the scan was complete, I was able to locate the deleted contact, Apple note and photo. The app was unable to recover the calendar event, voice memo or Pages document. It's a shame that I couldn't get all of my files back, but no other app did better.
FoneLab offered a few ways to locate those items quicker. First, the search feature made finding most a breeze, since I had included the word "delete" somewhere in the item's name or contents. Second, the app allowed me to filter the list by files that were deleted, existing, or either. And finally, I was able to group photos by the date they were modified and jump right to a specific date by using a drop-down menu.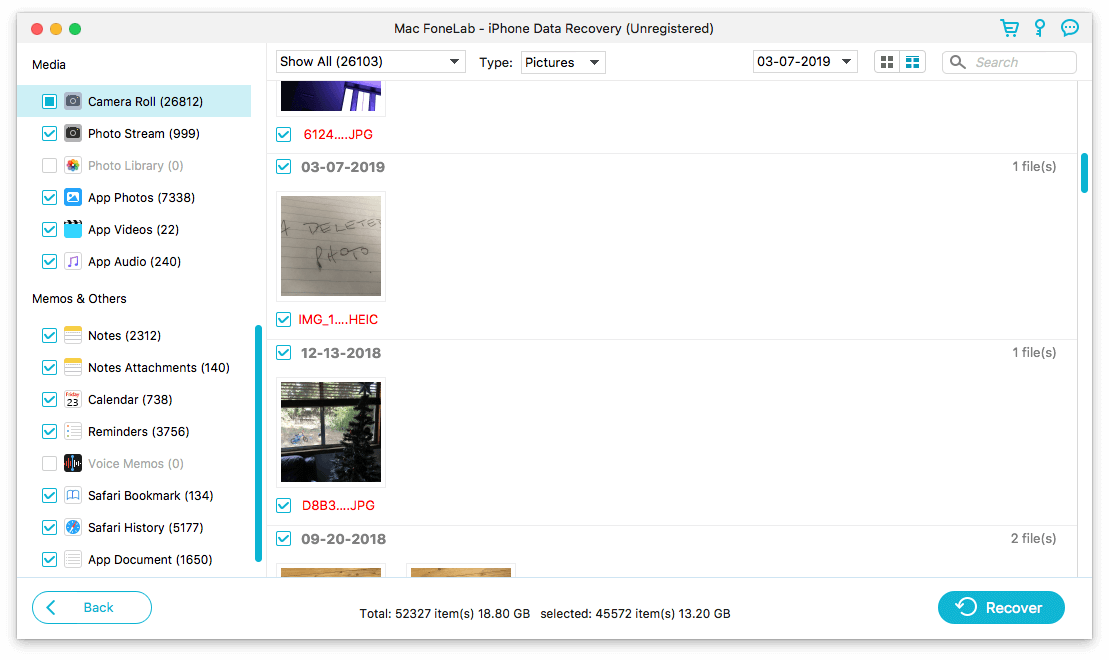 When viewing contacts and notes, the app gave me the option of editing them, something no other app did.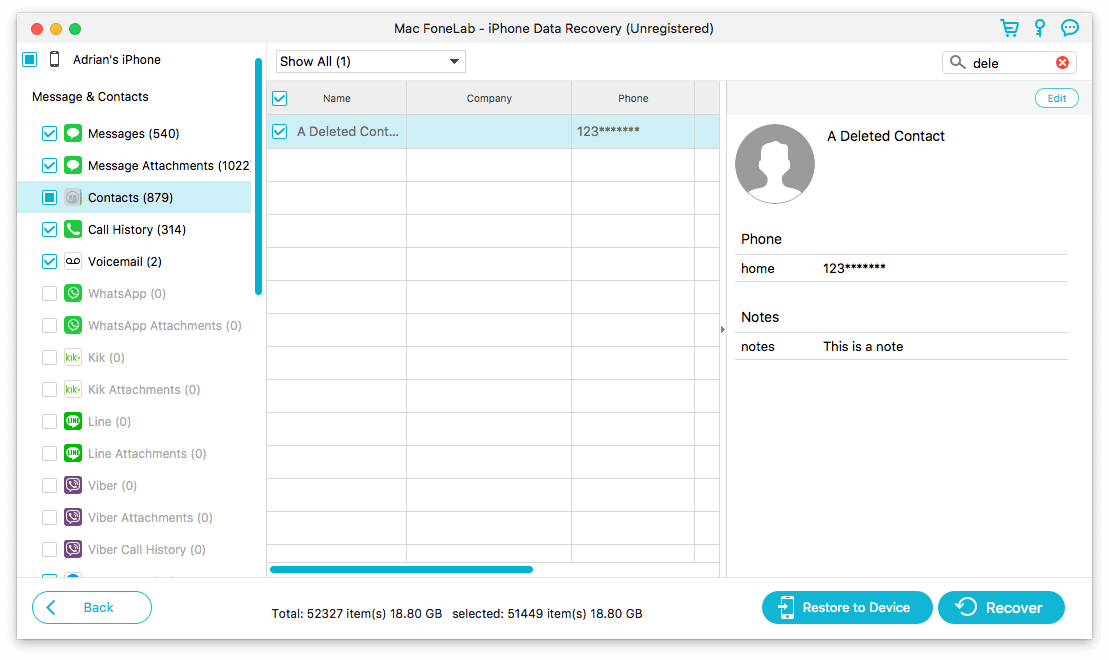 Items can be restored directly back to the iPhone or recovered to your computer. Again, no other app offered this choice. I was impressed with the amount of thought and care that went into the design of this app.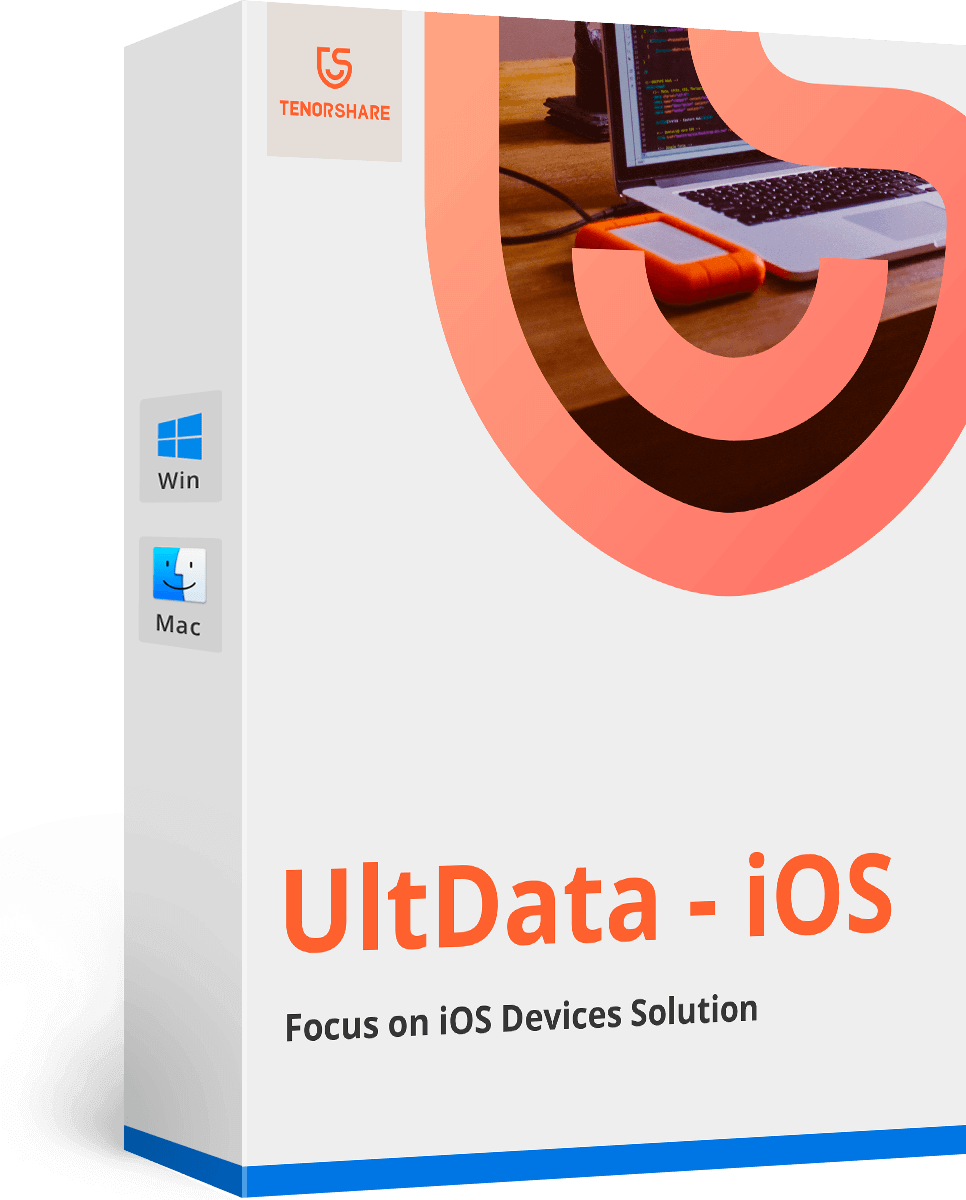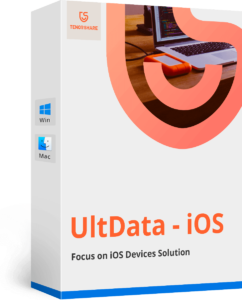 Tenorshare UltData is quite fast at scanning, especially when you limit the number of data categories, and isn't much more expensive than FoneLab. Its great strength is the number of data types it supports—four more even than FoneLab, which is in second place. That makes it a perfect choice if you're trying to locate the maximum number of lost items, or you want to recover data from third-party apps, especially messaging apps like WhatsApp, Tango, and WeChat.
Besides recovering lost files from an iPhone or backup (iTunes or iCloud), UltData is also able to repair problems with the iOS operating system. That seems to be the Number One additional feature offered by iOS data recovery apps.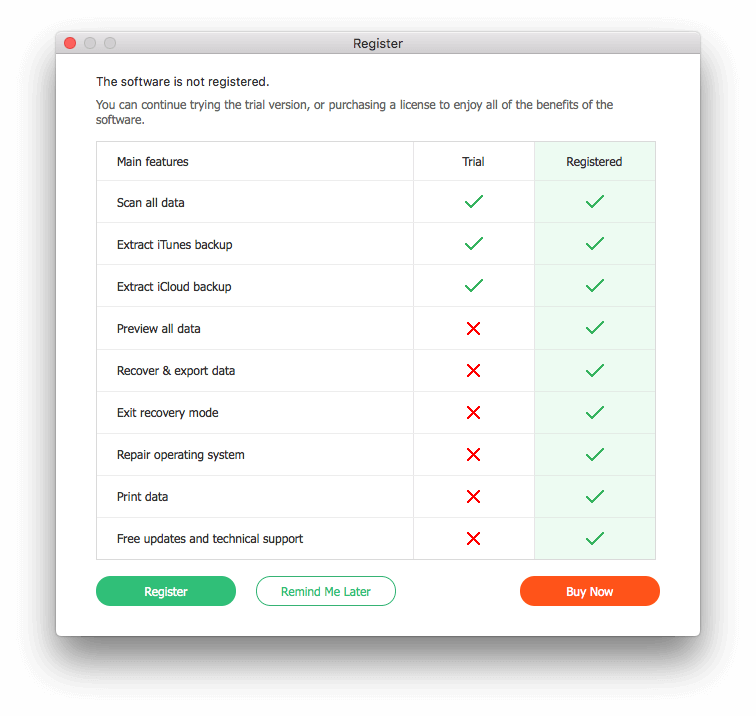 When initiating a scan, you're able to choose which data categories to scan for. Many are supported, in fact, more than any other app we tested. While UltData's scans are quite fast anyway, this did significantly speed scan times during my test.
The app allows you to choose between data that has been deleted from your phone, or data that still exists. Only UltData and Dr.Fone offer this.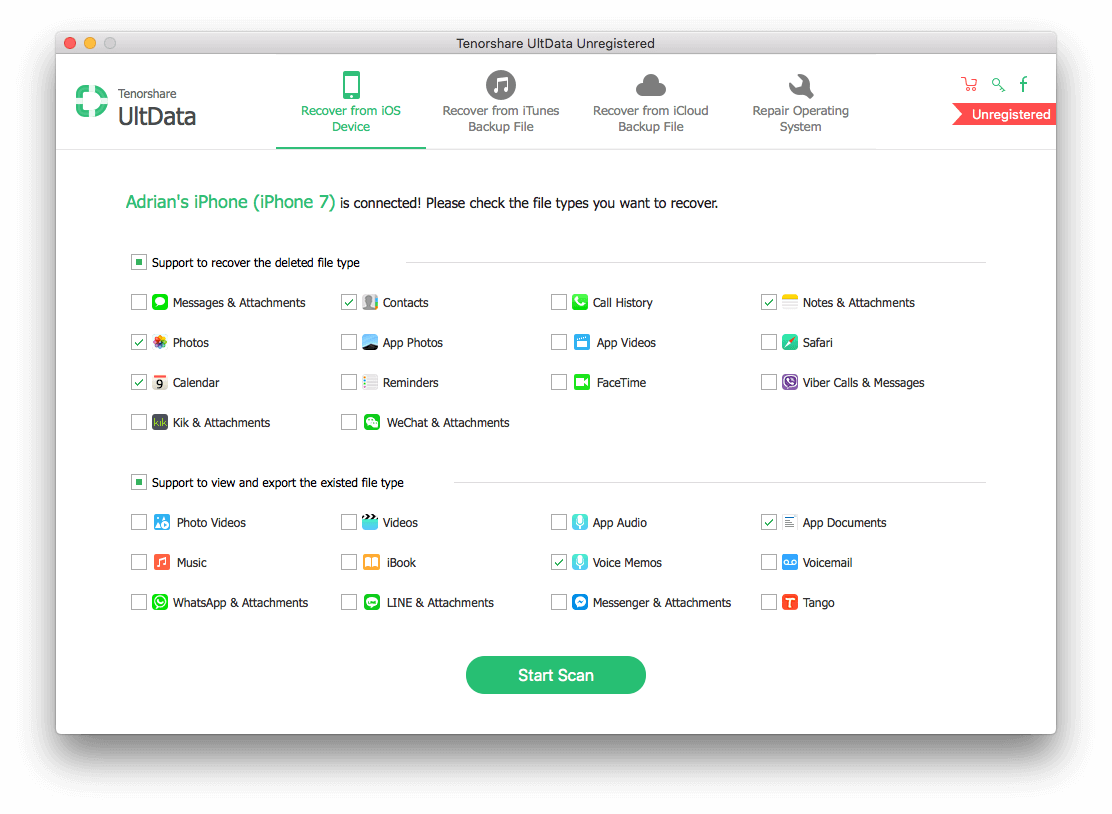 In our test, by selecting just the data categories I was looking for, it scanned my phone faster than any other app—just 49 seconds, ahead of FoneLab's 52 seconds. But FoneLab scanned for every data category, something that took UltData 1h 38m. If you only need to search for a few types of files, UltData may actually be the fastest app—just.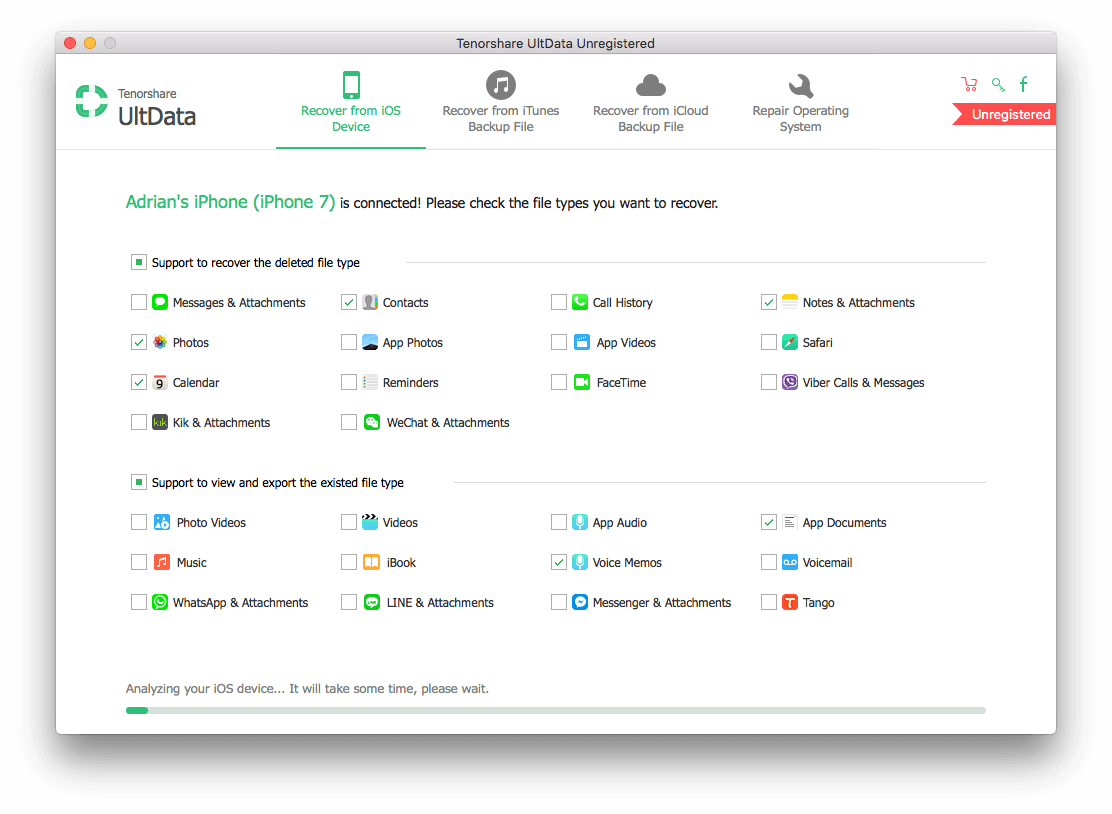 For the first half-minute of the scan, that same screen was displayed, with a progress bar at the bottom. After that, a tree view of the scan progress was displayed.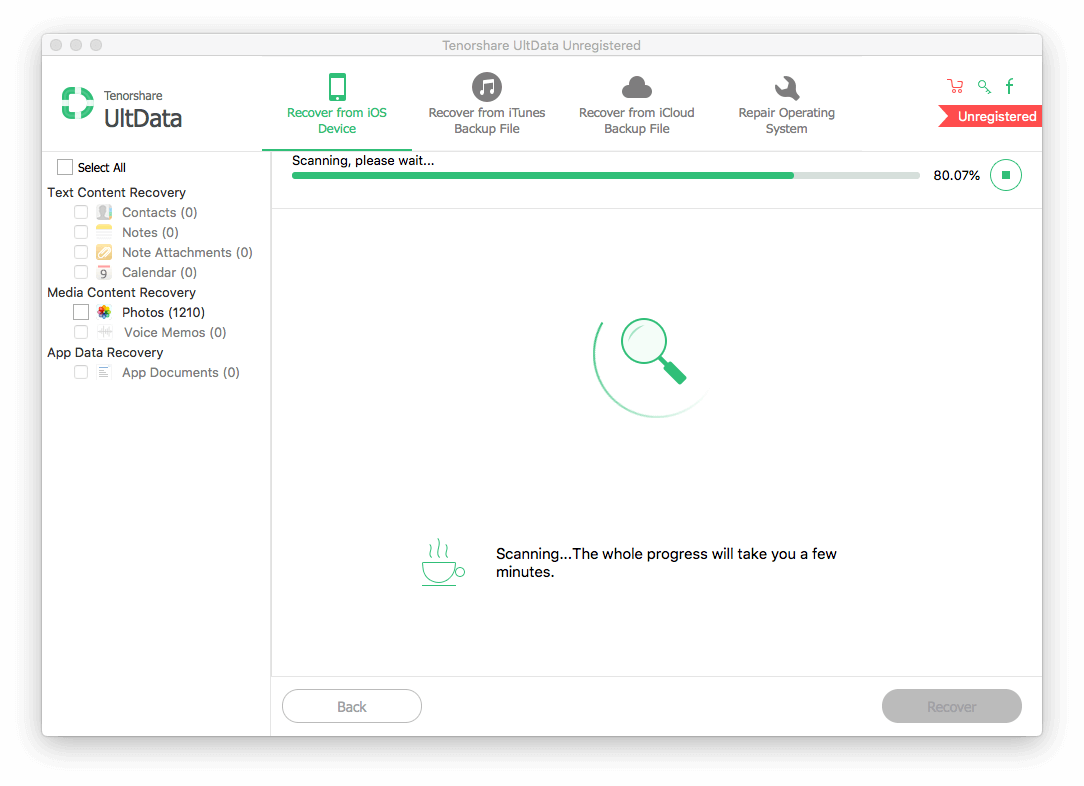 I was able to preview files while the scan was still in progress.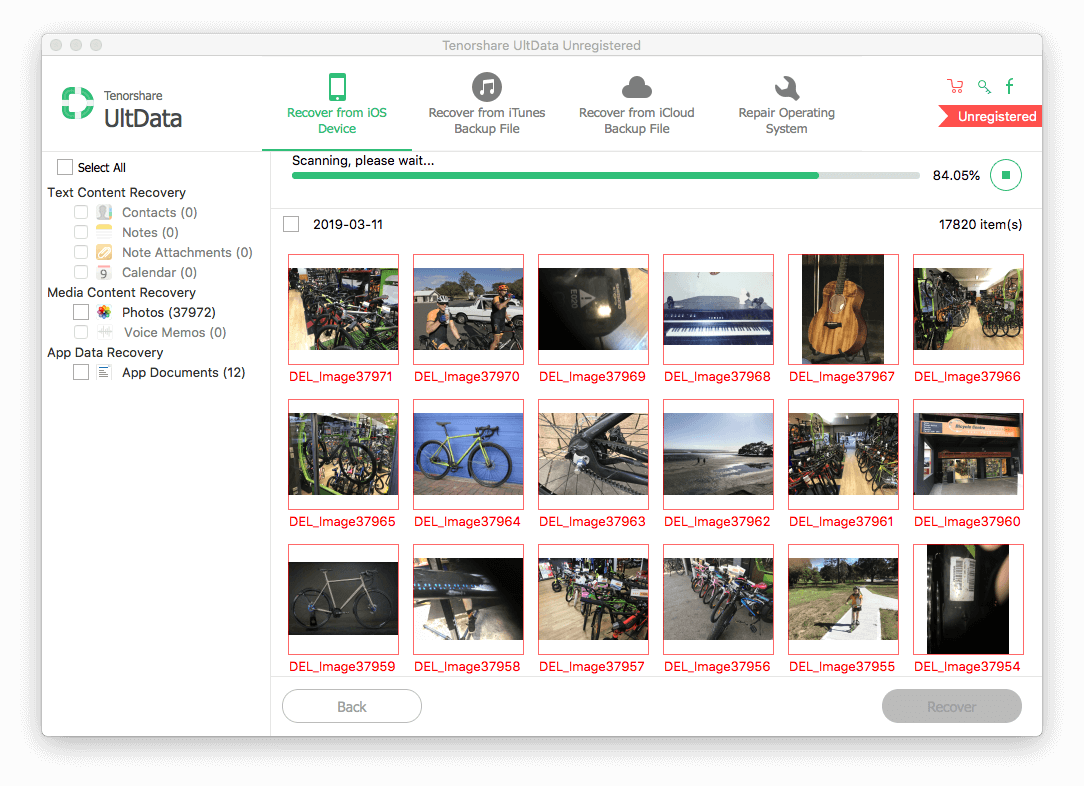 Once the scan was complete, I was able to locate the deleted contact, Apple note and photo, just as with FotoLab. The app was unable to recover the calendar event, voice memo or Pages document, but no other app did better.
To make finding my lost files easier, UltData offered similar features to FoneLab: searching, filtering by deleted or existing files, and grouping photos by modified date. Most of the competition offers a search feature, but few offer anything more, which can make finding your lost data (photos in particular) a lot more work.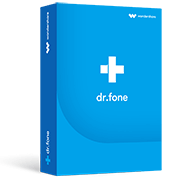 Like Tenorshare UltData, Wondershare Dr.Fone allows you to choose which types of files to scan for. That's an essential step with this app because it's one of the slowest apps I tested if you don't. So why would I recommend such a slow app? Just one reason: features. Dr.Fone includes more additional features than any other. FoneLab comes in second, but charges more for the extras. Read our full Dr.Fone review here.
If you are looking for the iOS data recovery app with the most comprehensive feature list, Dr.Fone is it—by far. Besides recovering data from your phone or backup, it can:
transfer data between computer and phone,
repair the iOS operating system,
permanently erase data on phone,
copy data from one phone to another,
iOS backup and restore,
unlock phone's lock screen,
backup and restore social apps.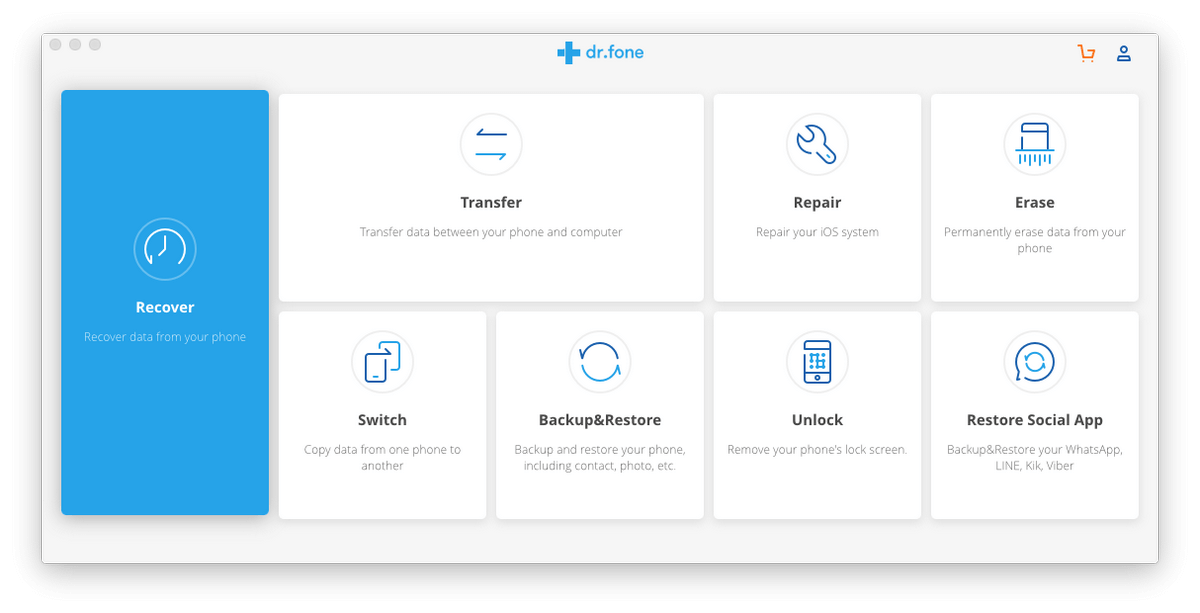 That's quite a list. If they're features you'll use, this app offers great value for money. The app also boasts that it supports "all old and latest iOS devices", so if your phone is a little outdated, dr.fone may offer better support.
The first step when scanning your device is to choose the types of data you want to locate. Like Tenorshare UltData, the app distinguishes between deleted and existing data.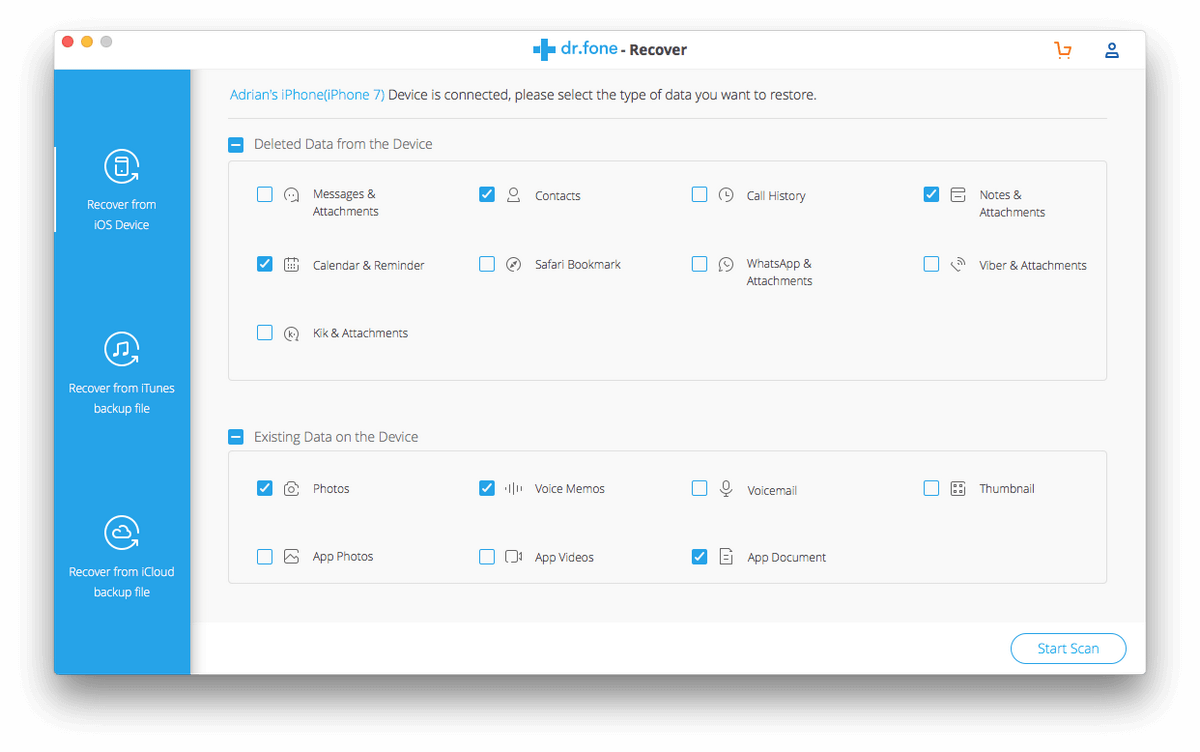 The entire scan took around six hours. I can't give you the exact figure because I didn't stay at my desk to find out. That makes dr.fone the second slowest app we tested, with Stellar Data Recovery significantly slower. And with both of those apps, I hadn't even selected all file categories! I tested dr.fone again with fewer categories selected, and it completed the scan in just 54 minutes, so it's worth selecting as few as possible.
In my test dr.fone recovered the same files as FoneLab and dr.fone: the contact, Apple note, and contact. They couldn't recover the photo, voice memo or Pages document. A search feature is provided to help locate the files.
Other Good Paid iPhone Data Recovery Software
1. EaseUS MobiSaver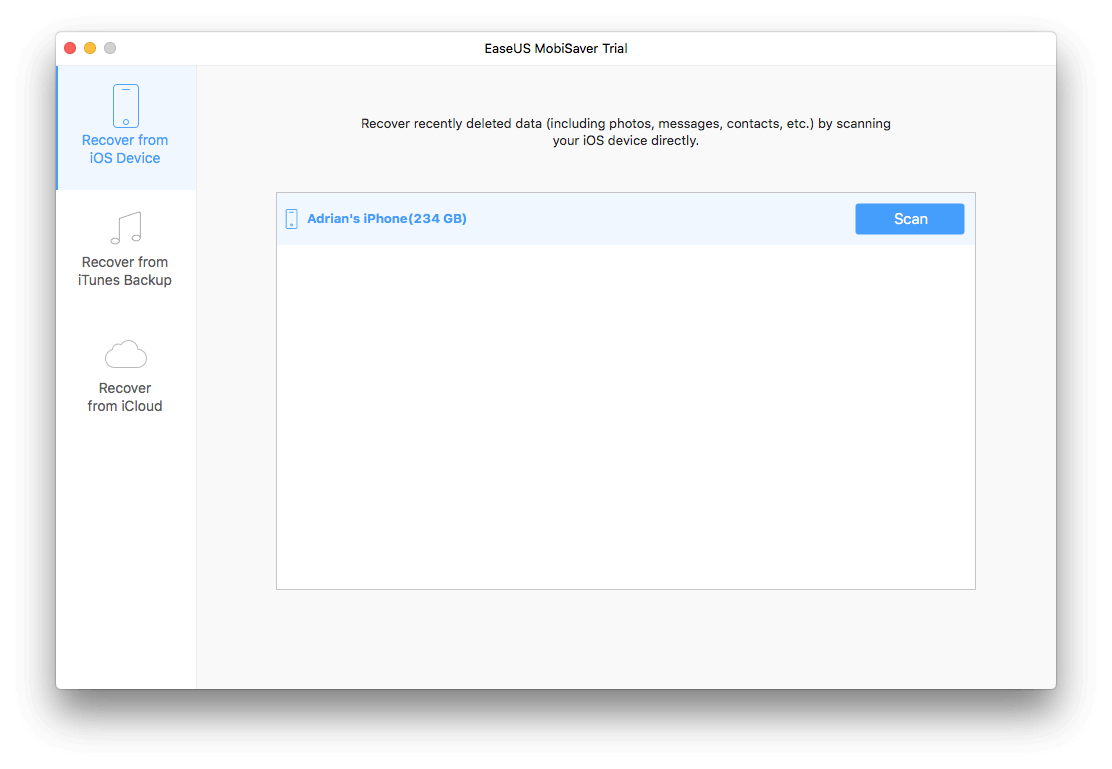 EaseUS MobiSaver supports most native iOS data categories but few third-party formats, and like our winners, was able to recover three out of six items in my test. The scan took just over two and a half hours, which is more than twice as slow as our winner.
A few reviewers complained that the app couldn't locate their iPhone, so they were unable to test it. I had no difficulty there, but your mileage may vary. For some reason, the app started in German, but I was able to change the language easily.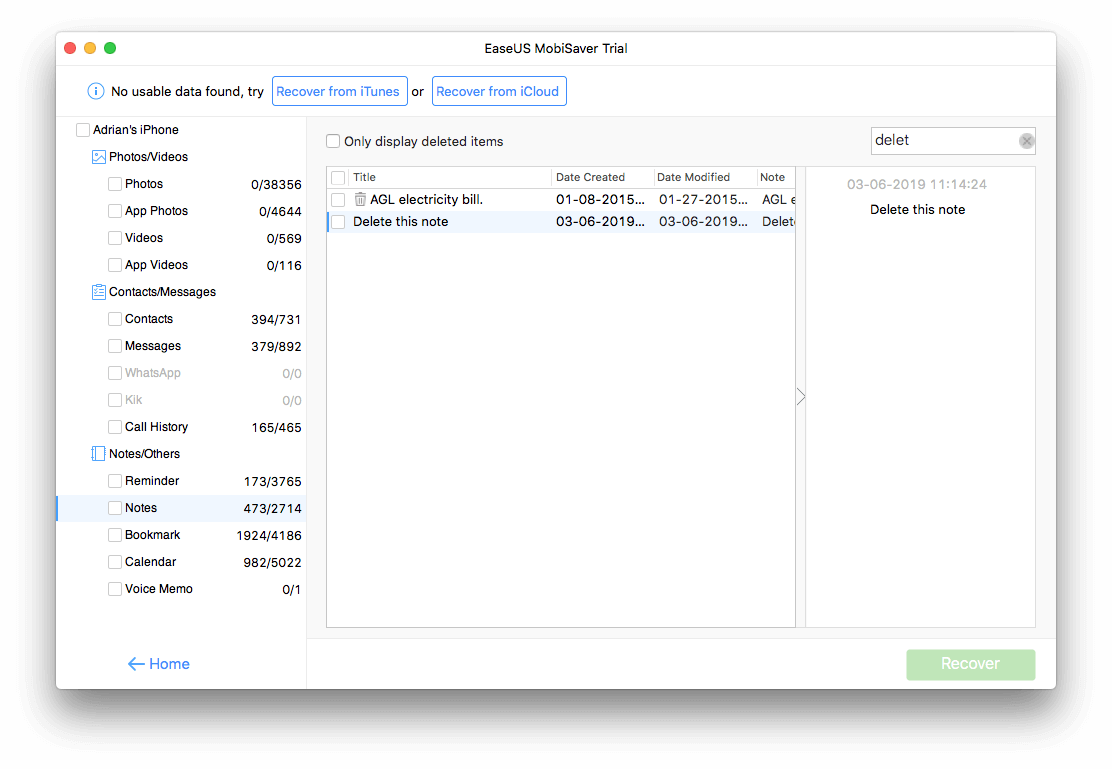 I could preview files while the scan was in progress, and a search feature helped me quickly locate the lost data.
2. Disk Drill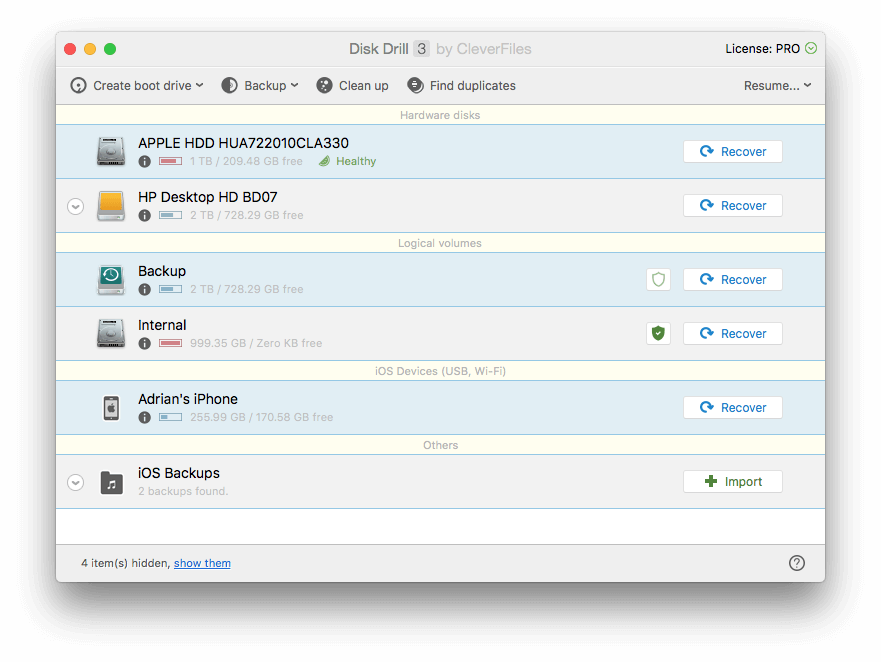 Disk Drill is an app unlike the others. It's a desktop app that can recover lost data on your Mac or PC and offers mobile data recovery as an additional feature. So although this is the most expensive app we review, it offers excellent value for money if you need desktop data recovery.
Because the app's main focus is on the desktop, it doesn't offer all the mobile bells and whistles some other apps do. It can recover data from your phone or iTunes backup, and no more.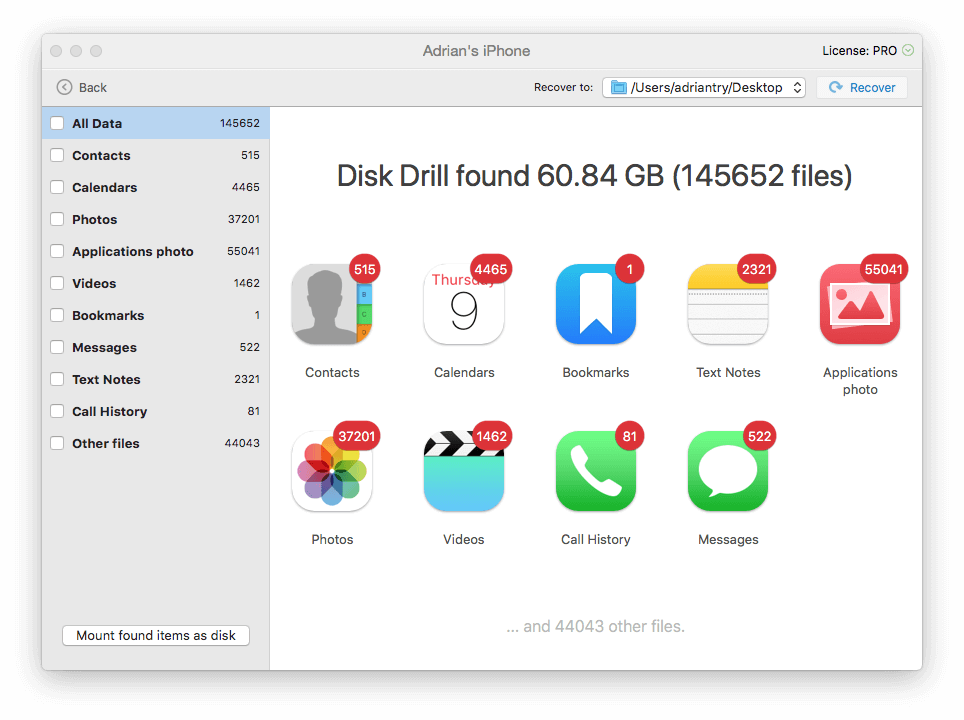 The scan was fast, taking just over an hour, and in several categories located far more items than its competitors. Like our top picks, it was able to recover three out of six files in my test. A search feature helped me locate the files more easily.
3. iMobie PhoneRescue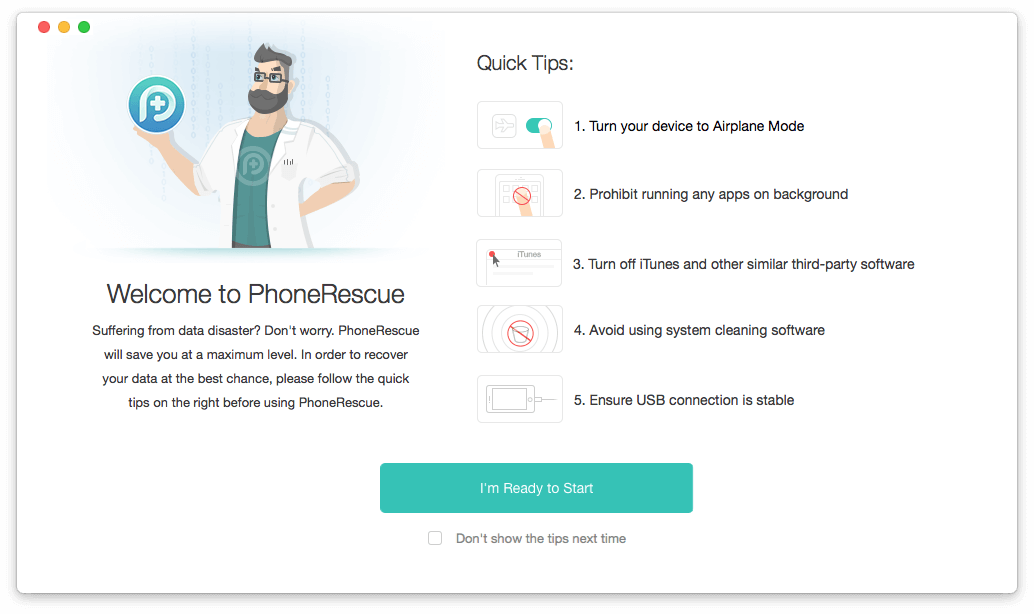 PhoneRescue is an app that's attractive, easy to use, and supports all of the main iOS file categories, but no third-party messaging apps. Before starting the scan, I was able to select just the data categories I needed. Even still, the app took around three and a half hours to complete its scan, the third slowest in my test.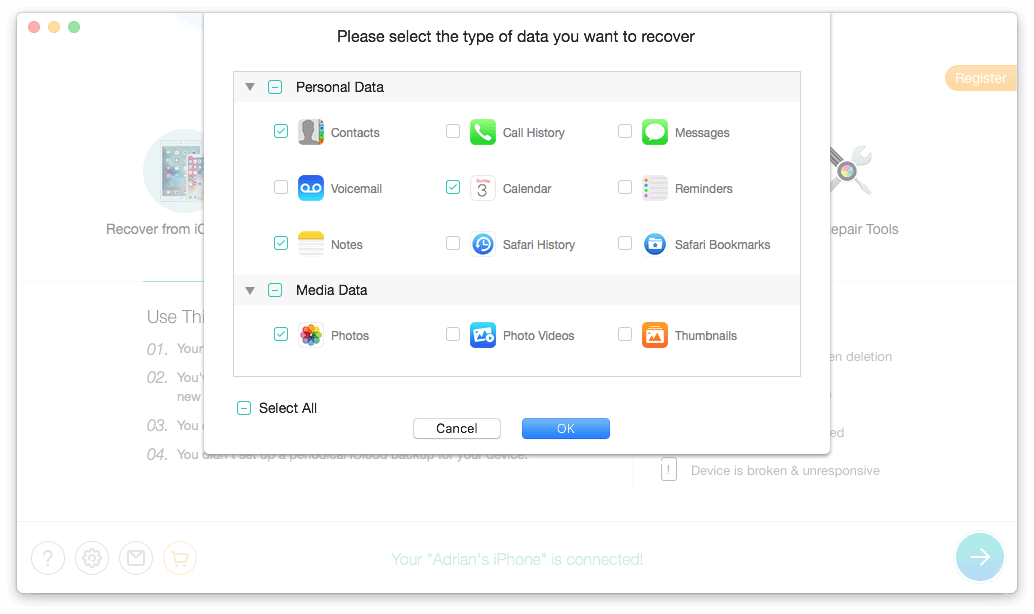 To help locate the missing files, I used the app's search feature, and could also filter the lists by whether the files were deleted or existing. Sorting lists by name or date was also helpful.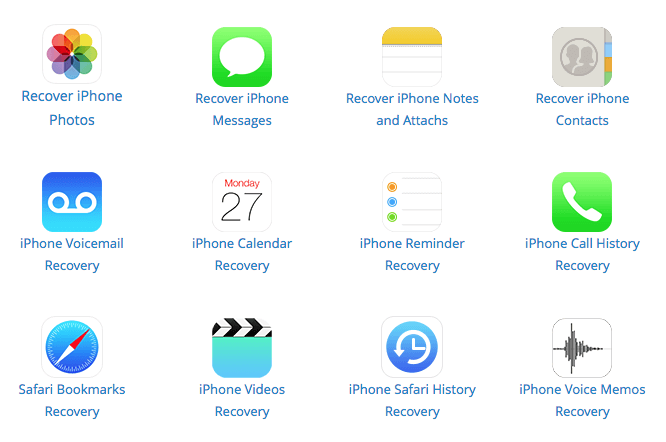 The app was able to restore my deleted contact and Apple note, but no more. The recovered data could be restored directly back to my iPhone, a choice other apps didn't offer. Read our full PhoneRescue review to learn more.
4. Stellar Data Recovery for iPhone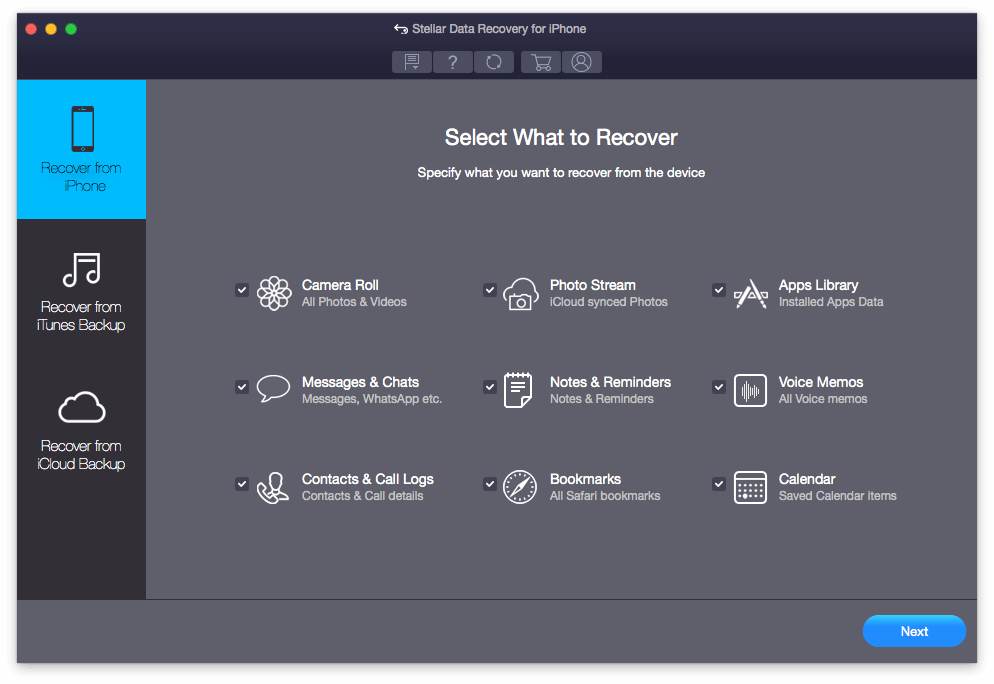 Stellar Data Recovery for iPhone (from $39.99/year, Mac, Windows) offers to scan your iPhone for a wide number of file types, and offers an attractive, easy-to-use interface. Stellar's Mac app was the winner of our Mac data recovery review. Although its Mac scans were slow, it has the easiest interface and is excellent at recovering data. Not so for iOS. Scanning my iPhone was even slower, and I found other apps easier to use and better at recovering data.
The app allows you to select which data types to scan for. Even though I unselected the categories I didn't need, the scan was extremely slow. In fact, after 21 hours, I gave up and stopped it.
Most files seem to have been found in the first two hours, and the app reached 99% in four hours. I don't know what was involved in that final 1%, but it was time-consuming, and I'm not sure it located any additional files.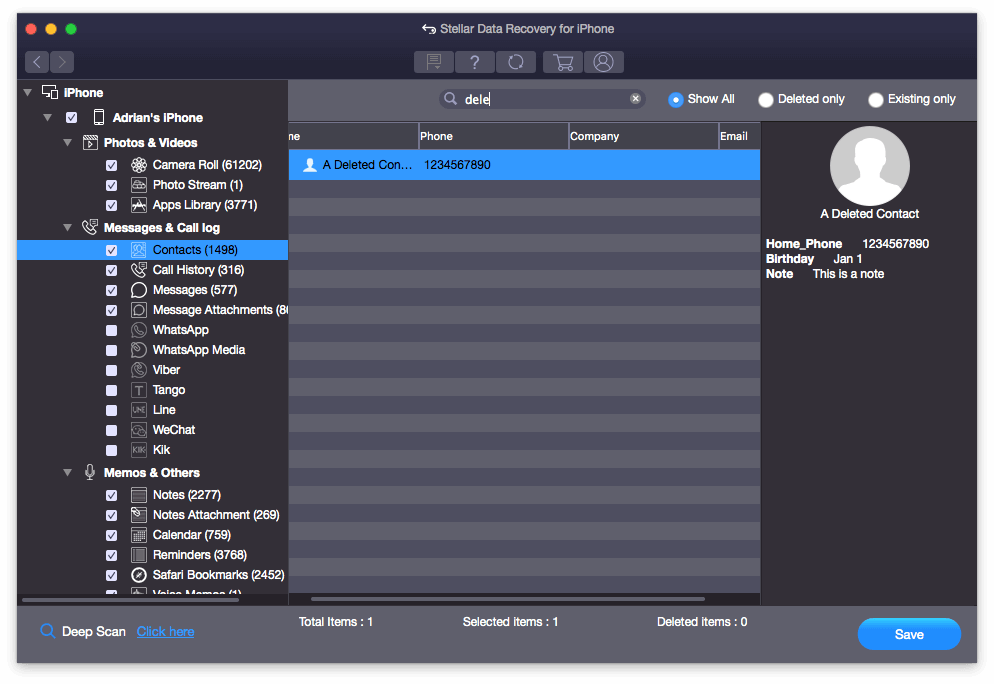 I am impressed with the number of files that were located, but unfortunately, Stellar was only able to recover two out of six files in my test. To locate the lost files, I was able to use the app's search feature, filter the lists by "deleted" or "existing", and sort the lists in various ways.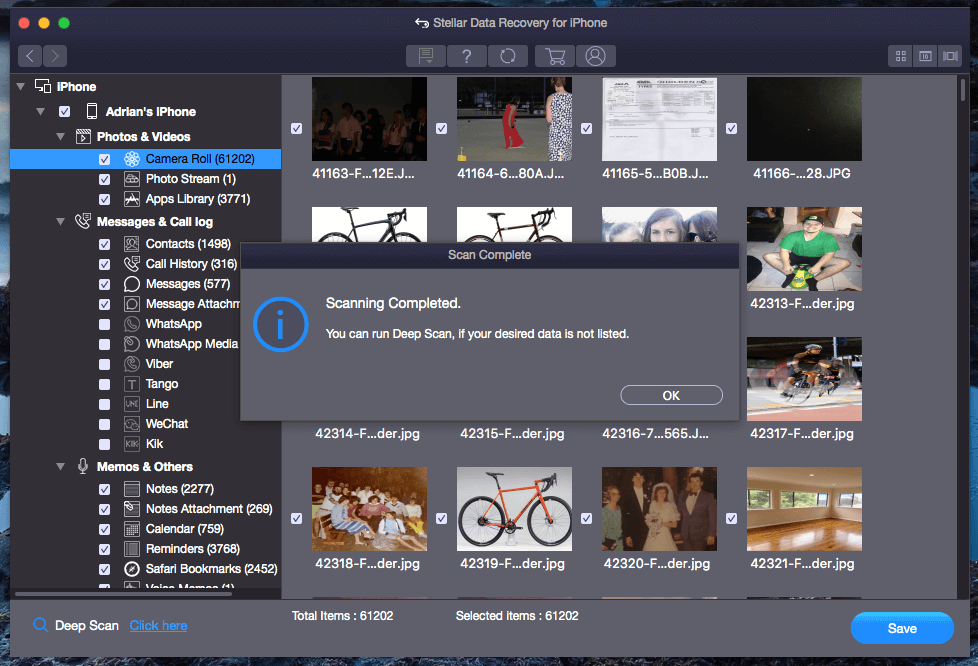 The app offered to do a deep scan if I couldn't locate my missing data. After such a slow initial scan, I wasn't game to try it.
5. Leawo iOS Data Recovery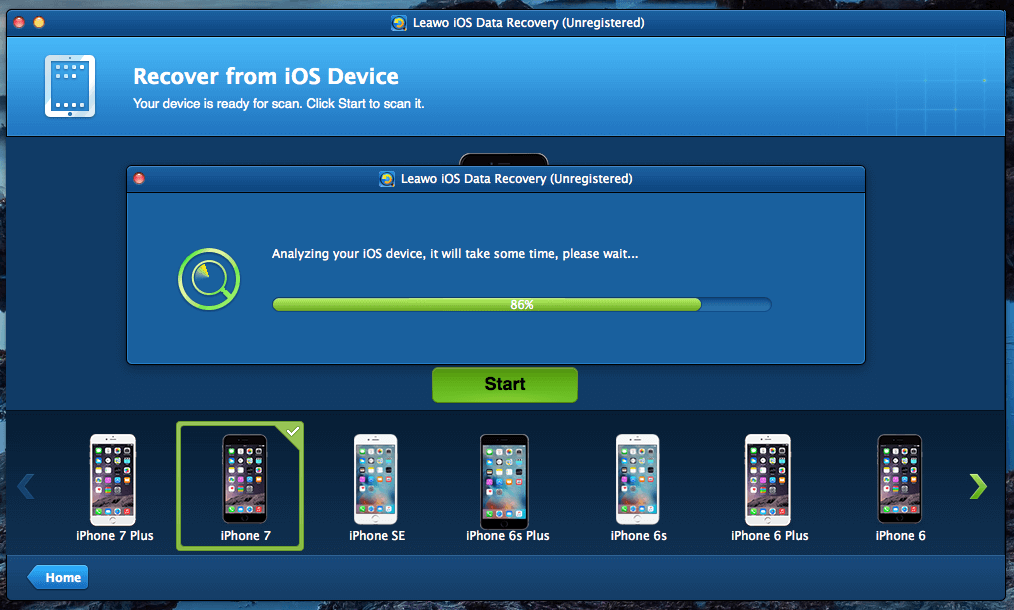 Leawo iOS Data Recovery performs quite fast scans but supports only the major iOS data categories. It appears that the app isn't updated regularly—the Mac version is still 32-bit, so will not run under the next version of macOS.
My scan took just 54 minutes, one of the quickest I tested. I could preview files during the scan, but only in the last few minutes. Like half of the apps in this review, it was only able to recover two out of six files—the contact and Apple note.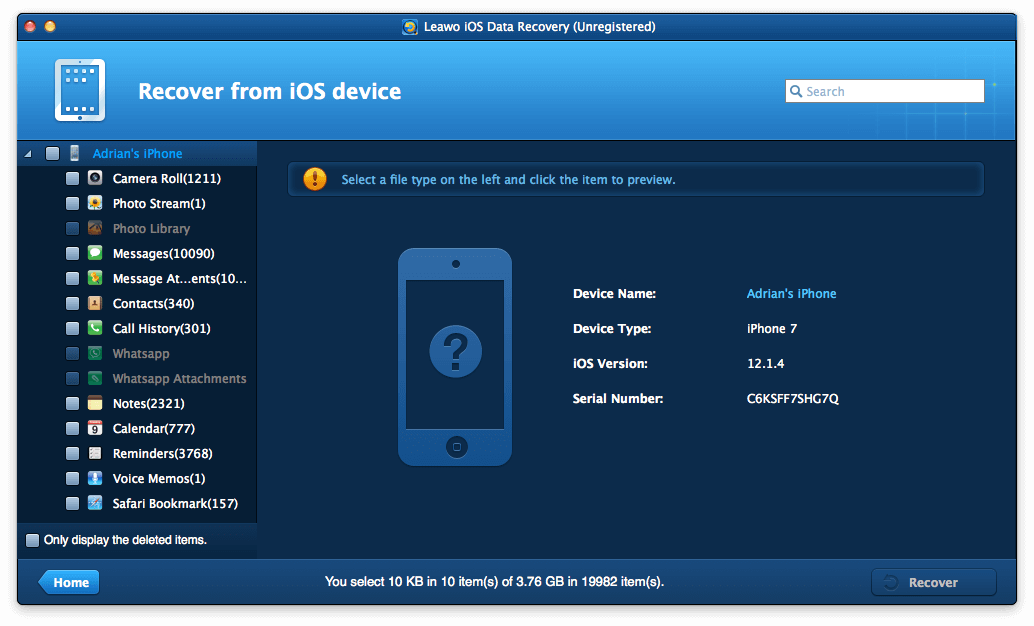 A search feature helped me locate my lost files. Unfortunately, photos could not be sorted, which meant I had to scroll through the whole collection. Maybe it was a good thing that it located far fewer photos than its competitors.
6. MiniTool Mobile Recovery for iOS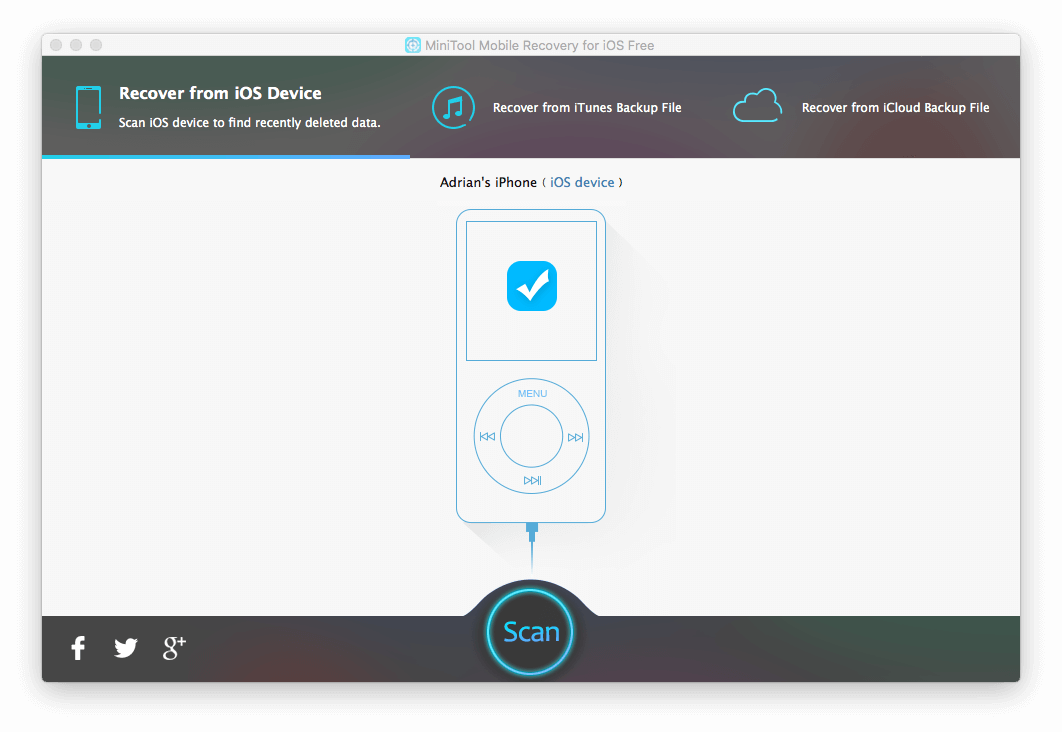 MiniTool Mobile Recovery for iOS supports most of Apple's data categories, and was able to recover two out of six of our deleted files. The free version of the app has limits, but some of those limits are not too restrictive, which may make it a reasonable free alternative for some. We'll revisit this below.
Like the other apps, it can restore data from your iPhone, iTunes backup or iCloud backup. Choose your option then click Scan.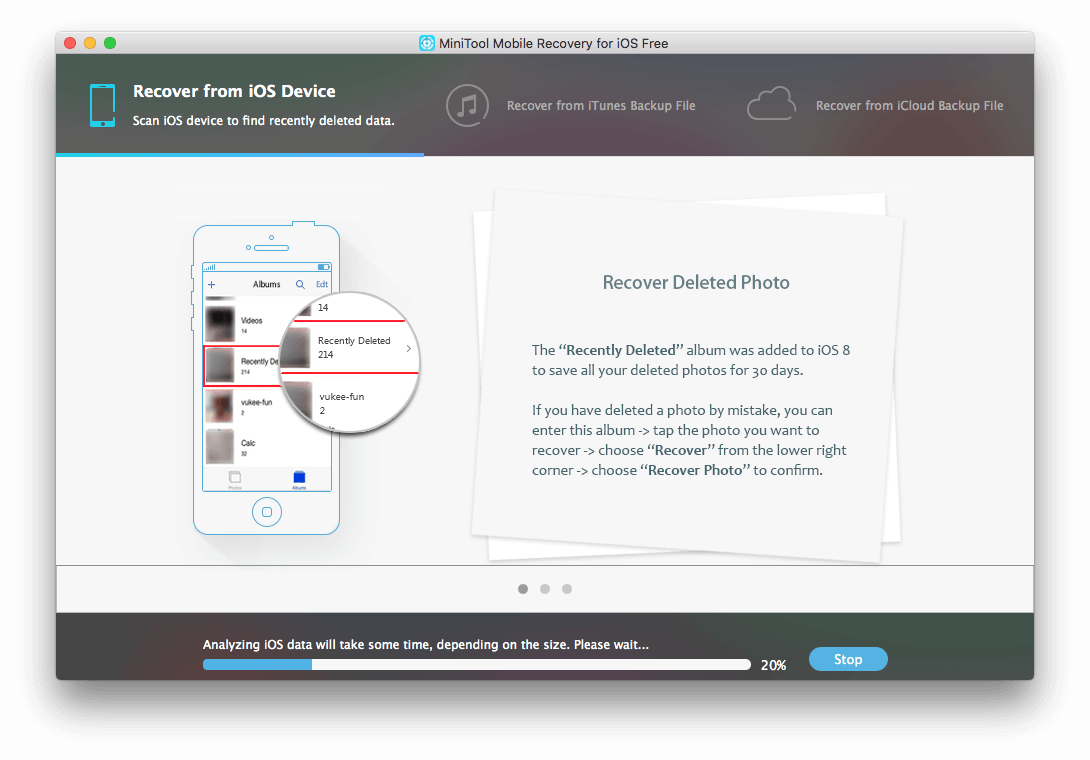 While the scan is underway, the app gives some very useful tips to maximize your chance of recovering your data. For example, it lets you know about Photo's "Recently Deleted" album which saves your deleted photos for 30 days, and describes how to get back photos that were hidden rather than deleted.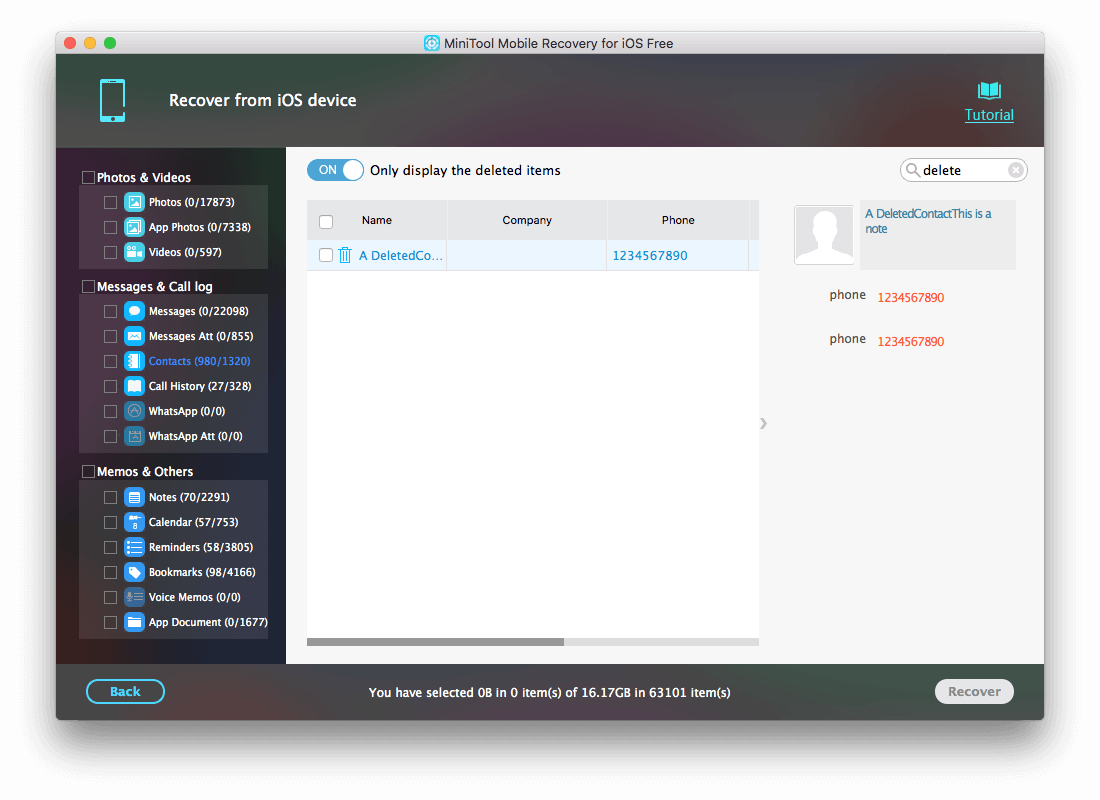 The scan on my iPhone took 2h 23m to complete—much slower than the fastest apps. To help locate your lost data, the app offers a search feature and an option to only display deleted items.
Free iPhone Data Recovery Software
I didn't discover any worthwhile free iOS data recovery software. Some of the apps above offer free versions, but these come with serious limitations to encourage you to purchase the full version. Really, they are there for evaluation purposes, so you can confirm they can find your lost data before you decide to buy.
MiniTool Mobile Recovery for iOS seems to be the app with the least restrictive limitations. Depending on your needs, it may be able to get you out of trouble for free.
Some data categories come with no limits: notes, calendar, reminders, bookmarks, voice memos and app docs. That covers four of the items I deleted during my test. Other categories are much more limited, as you'll see in the screenshot below. In terms of the items I tried to recover for my test, you can only recover two photos and ten contacts each time you run a scan. That would have suited my needs perfectly.
But things aren't so simple after all. With each scan, you can only recover one type of data. Unfortunately, you can't specify which types to scan for, so it will do a full search each time. So for my test, performing six 2h 23m scans would take almost 15 hours. Not enjoyable! But if your requirements are simpler, it may meet your needs.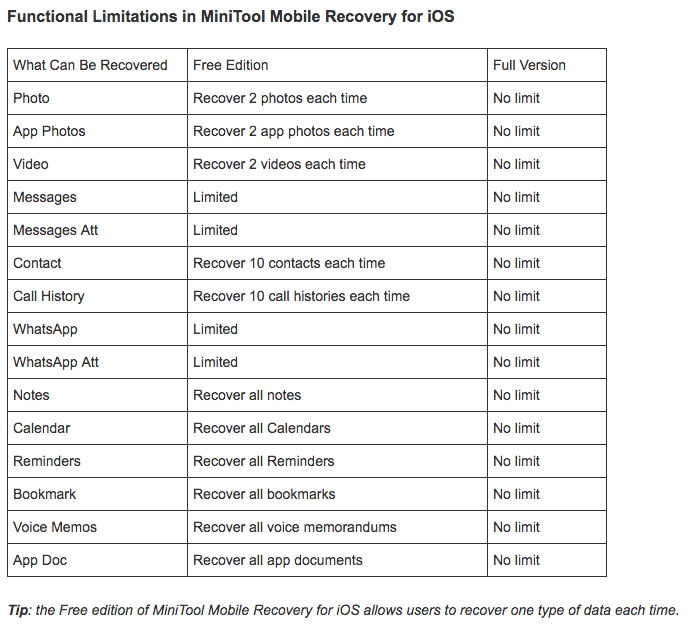 Gihosoft iPhone Data Recovery is a second option. Although I haven't personally tried the app, a quick look at the free version's limitations looks promising.
You can recover photos and videos from apps, message attachments, notes, calendar items, reminders, voicemail, voice memos, bookmarks seemingly without limit from your phone or iTunes/iCloud backup. You're unable to recover contacts, call logs, messages, WhatsApp, Viber, or photos and videos from the Photos app without purchasing the Pro version for $59.95.
Some of those limitations may make the app unsuitable for you, but it's a second free option worth considering.
Best iPhone Data Recovery Software: How We Tested
Data recovery apps are different. They vary in functionality, usability, and their success rate. Here's what we looked at when evaluating:
How easy is it to use the software?
Data recovery can get technical. Most people prefer to avoid this. Fortunately, all of the apps reviewed are quite easy to use.
Where they differ most is in how helpful they are once the scan is complete. Some allow you to search for a filename, sort files by name or date, or just display deleted files. These features make finding the correct file much easier. Others leave you to browse through long lists manually.
Does it support your phone and computer?
iOS data recovery software runs on your computer, not your phone. So you need software that supports both your phone and computer.
All of the software covered in this review is available for both Windows and Mac. In this review, we'll cover apps that restore data on iPhones, and we'll cover Android data recovery software in a separate review. If you are running an older version of your operating system, check the app's system requirements before downloading.
Does the app include additional features?
All of the apps we cover allow you to restore your data directly from your iPhone, or from your iTunes or iCloud backup. Some include additional functions, which may include:
repairing iOS if your phone won't start,
phone backup and restore,
unlocking your phone if you forgot the password,
transferring files between your phone and computer,
transferring files between phones.
Which data types can the app recover?
Which type of data did you lose? A photo? Appointment? Contact? WhatsApp attachment? Some of these are files, others are database entries. Make sure that the app you choose supports that category.
Some apps support a large number of data types, others just a few, as you'll see summarized in the following chart: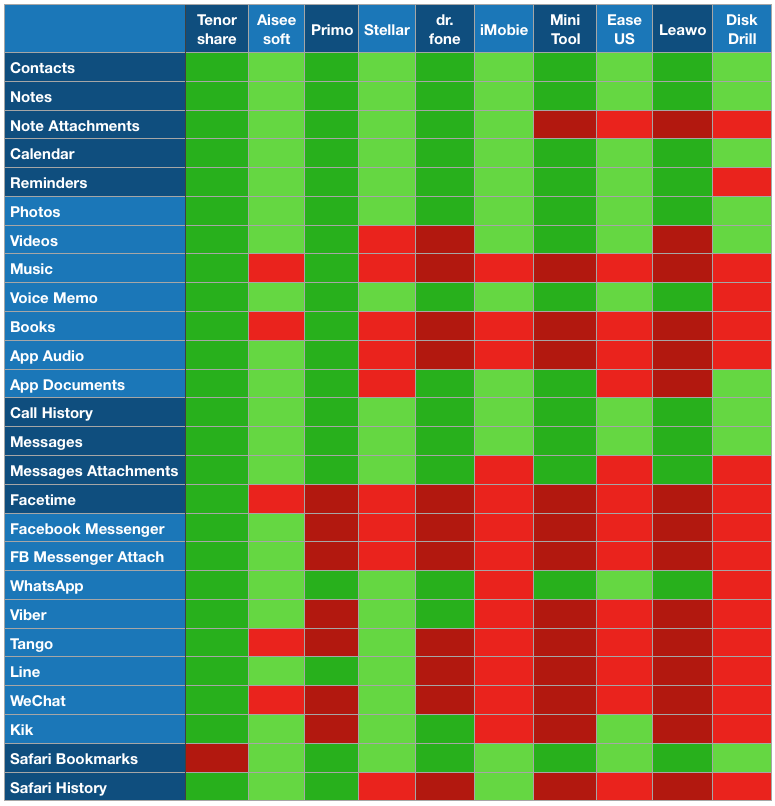 Tenorshare UltData and Aiseesoft FoneLab both support the widest range of categories, with Stellar Data Recovery and Wondershare Dr.Fone not far behind. If you need to restore data from a third-party messaging app, UltData, FoneLab and Stellar offer the best support.
How effective is the software?
I put each app through a consistent but informal test to gauge its effectiveness: both its success in recovering lost data, and the number of items it can locate. On my personal phone (a 256GB iPhone 7) I created then deleted a contact, photo, Apple note, voice memo, calendar event, and Pages document. They were deleted almost immediately, before they could be backed up or synced to iCloud.
I then installed each app on my iMac and attempted to recover the data. Here's how each app performed when trying to recover my deleted items:

None of the apps could recover everything—not even close. At best only half of the files were recovered by Tenorshare UltData, Aiseesoft FoneLab, Dr.Fone, EaseUS MobiSaver, and Disk Drill.
Each app was able to recover the contact and Apple note, but none were able to recover the calendar event or pages document. Only EaseUS MobiSaver could recover the voice memo, and four apps could recover the photo: Tenorshare UltData, FoneLab, Dr.Fone and Disk Drill. But that's only my experience and doesn't indicate that the apps will always succeed or fail with those data categories.
I also recorded the number of files found by each app. There was quite a range, partly because of the way the apps counted the files, and partly because of their effectiveness. Here is the number of files found in a few key categories. The highest score in each category is marked yellow.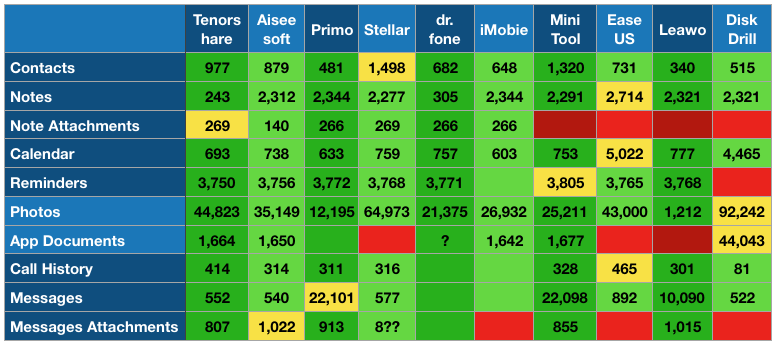 Notes:
Tenorshare UltData and Wondershare Dr.Fone allow you to scan only for deleted files in some categories, which I did. Other apps may include existing files in their counts.
Photos were categorized differently by each app: some just looked at the camera roll, while others included the photostream and/or photos stored by other apps.
Some results are significantly higher than all others, and it's difficult to know why. For example, Disk Drill reports around 25 times more app documents than the other apps, and a few apps report 40 times more messages. While I only have 300 contacts, all apps found many more, so deleted contacts are definitely included in the count.
Despite the wide variation, it's difficult to pick a winner across all categories. It's easier to pick out the apps with a score much lower than the others. With Leawo, that's contacts and photos. Tenorshare and dr.fone report fewer notes than the others and Aiseesoft FoneLab reports fewer videos.
How fast are the scans?
I'd rather have a successful slow scan than an unsuccessful fast scan, but the fact is that some of the faster apps were also the most successful. Some apps offer time-saving strategies, like only searching for certain categories of files, or only searching for deleted files. This can help, though some of the fastest apps searched my phone for everything. For example:
Tenorshare UltData: A full scan took 1h 38m, but when only the file categories I needed to search for were selected, the scan time went down to just 49 minutes.
dr.fone: When scanning for a very limited set of files, the scan only took 54 minutes. After adding photos and app files, the scan jumped up to around 6 hours, and there were still categories that were left out of the search.
Aiseesoft FoneLab: Only took 52 minutes, despite searching for every category.
Stellar Data Recovery: Hadn't finished scanning after 21 hours, despite only a few categories being selected.
Here's the complete list of scan times (h:mm), sorted from quickest to slowest:
Tenorshare UltData: 0:49 (not all categories)
Aiseesoft FoneLab: 0:52
Leawo iOS Data Recovery: 0:54
Disk Drill: 1:10
MiniTool Mobile Recovery: 2:23
EaseUS MobiSaver: 2:34
iMobie PhoneRescue: 3:30 (not all categories)
Wondershare Dr.Fone 6:00 (not all categories)
Stellar Data Recovery: 21:00+ (not all categories)
That's a huge range of times. Since there are some very effective apps that can scan my phone in around an hour, there is little reason to choose a slower one.
Value for money
Here are the costs of each app we mention in this review, sorted from cheapest to most expensive. Some of these prices appear to be promotions, but it's hard to tell if they are genuine discounts or just a marketing ploy, so I've simply recorded how much it will cost to buy the app at the time of review.
MiniTool Mobile Recovery: free
Stellar Data Recovery: from $39.99/year
iMobie PhoneRescue: $49.99
Aiseesoft FoneLab: $53.97 (Mac), $47.97 (Windows)
Leawo iOS Data Recovery: $59.95
Tenorshare UltData: $59.95/year or $69.95 lifetime (Mac), $49.95/year or $59.95 lifetime (Windows)
Wondershare dr.fone: $69.96/year
EaseUS MobiSaver: $79.95 (Mac), $59.95 (Windows)
Enigma Recovery: from $79.99
Cleverfiles Disk Drill 3: $89.00
The free trial versions of each of these apps will show you if your data can be recovered. That should give you peace of mind about whether a particular app is worth purchasing.
Apps We Didn't Test
There were a few apps I didn't need to test, or tried to and failed:
iSkySoft iPhone Data Recovery is exactly the same as Wondershare Dr.Fone.
Ontrack EasyRecovery for iPhone is exactly the same as Stellar Data Recovery.
Primo iPhone Data Recovery is the same as iMobie PhoneRescue.
Enigma Recovery wouldn't run on my computer. The app started, but the main window never appeared.
And there were a few apps on my list I didn't have time to test. I prioritized my testing by consulting other reviews to gauge which looked most promising. But who knows, one of these might have surprised me.
Gihosoft iPhone Data Recovery
iMyFone D-Back
Brorsoft iRefone
FonePaw iPhone Data Recovery
That wraps up this comprehensive iPhone data recovery software review. Any other software apps that you've tried and worked great to recover your lost iPhone files? Leave a comment below.