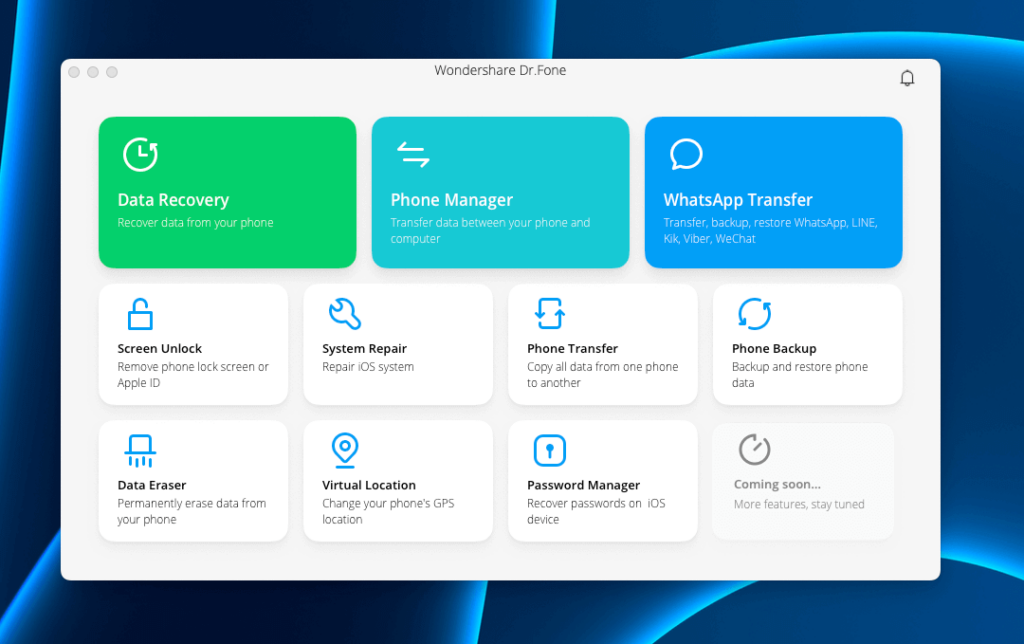 Wondershare Dr.Fone
Features: Has several features that help optimize your smartphone – message transfer, backup, data eraser, data recovery, system repair, and more
Pricing: $139.95 for a 1-year license, Android and iOS both have several similar features built-in to their Android OS and iOS for free
Ease of Use: User-friendly interfaces – just open up the software, plug your phone in, and you should be good to go without instructions
Support: Between a well-rounded support page and a helpful customer service team, customers have plenty of resources to help them through common problems
Summary
Dr.Fone is a data management tool designed to help phone users with their data and other common problems that plague these devices. The software is one of Wondershare Technology's offerings, a well-known publicly-traded Chinese software company.

This software helps phone users do everything from data recovery to unlocking a locked phone screen to transferring data from one device to another. Its array of features surpasses that of similar software, placing the power in the hands of the device owner.

It's a great choice for those who want to tackle data recovery and other common issues without help from a professional. However, it isn't ideal for all data recovery, as it has its limits.

What I Like: This tool has an array of handy features and a user-friendly interface that doesn't entail a complicated learning curve.

What I Don't Like: The price of this software is steeper than other options, the "screen unlock" feature doesn't work, and some features are already built-in to iOS and Android (and are free to use).
Disclaimer: At the time of writing and testing Dr. Fone, the software was not able to bypass Touch ID, Face ID, or 4-digit/6-digit passcodes on my iPhone 14 Pro Max or iPad Pro. Additionally, it was unable to remove my Apple ID. As of August 2023, there appears to be no software that can bypass the security on your Apple devices. I did not test these features on an Android device.
Dr.Fone was an app for iOS and Android users to rescue lost data and manage files stored on the device. The program was developed by Wondershare and has been through a number of major updates. The latest version is capable of backing and retrieving data from iPhone, iPad, and Android devices. The Dr.Fone Toolkit also has a number of smaller utilities that allow you to record device screens, erase data securely, root Android, etc.
Yes, Dr. Fone software is safe to use as long as you download it from the official website. We tested both Dr.Fone Toolkit for iOS and Dr.Fone Toolkit for Android on our PCs and Macs. The program is free of malware and virus issues after being scanned by Avast Antivirus and Malwarebytes.
Can you use Dr.Fone for free?
No, the program isn't free. But it does offer a trial version that has certain limitations for demonstration purposes.
How much does Dr. Fone cost?
Dr. Fone costs $149.95 for the full toolkit, $139.95 for the iOS toolkit, and $59.95 for the Android toolkit.
Before we wrote this review, we noticed that some people on the Internet had claimed Dr.Fone is a scam. In our opinion, this is not true.
During our tests, we found that Dr.Fone may be able to recover your deleted items, though the odds are not always 100%. That's why we encourage you to try the demo versions. Do not purchase the full versions unless you know what they offer.
With that being said, it's possible that Wondershare or its partners may have launched digital marketing campaigns exaggerating the capabilities of their products, urging potential customers to make purchase decisions with incentives or limited-time offers such as discounts, coupon codes, etc.
Why Trust Me for This Review
Hi, I'm Jon, a tech writer, engineer, and Apple enthusiast. I own several Apple devices, including a 2019 MacBook Pro, iPad Pro, and an iPhone 14 Pro Max. I've been a happy Apple customer for well over a decade.
I find joy in learning about the technical software and hardware details of consumer electronics that I use every day. One of the most important things for me is device security and performance. If someone were to steal my iPhone or iPad, I wouldn't want them to get access to my bank accounts, saved passwords, and other personal details. On the other hand, I want to be able to fix system issues, transfer files, and recover lost data.
The reasons above are why I know so much about Apple's device encryption and security features. And with Dr. Fone's claims of being able to bypass the screen lock without the passcode, it got me interested. Thankfully, it didn't work for my iOS devices and made me feel safer. That said, the data recovery, data eraser, file transfer, system repair, and other features worked like a charm.
Dr. Fone is a helpful tool known for its powerful data recovery capabilities, but its feature list goes far beyond the basics of data recovery. It functions as a well-rounded tool to help with data management and combating common problems with owning an iOS or Android device, from lock screen troubles to data transfers.
Here are a few key features of the Wondershare Dr. Fone software, along with my personal take on each feature.
Data Eraser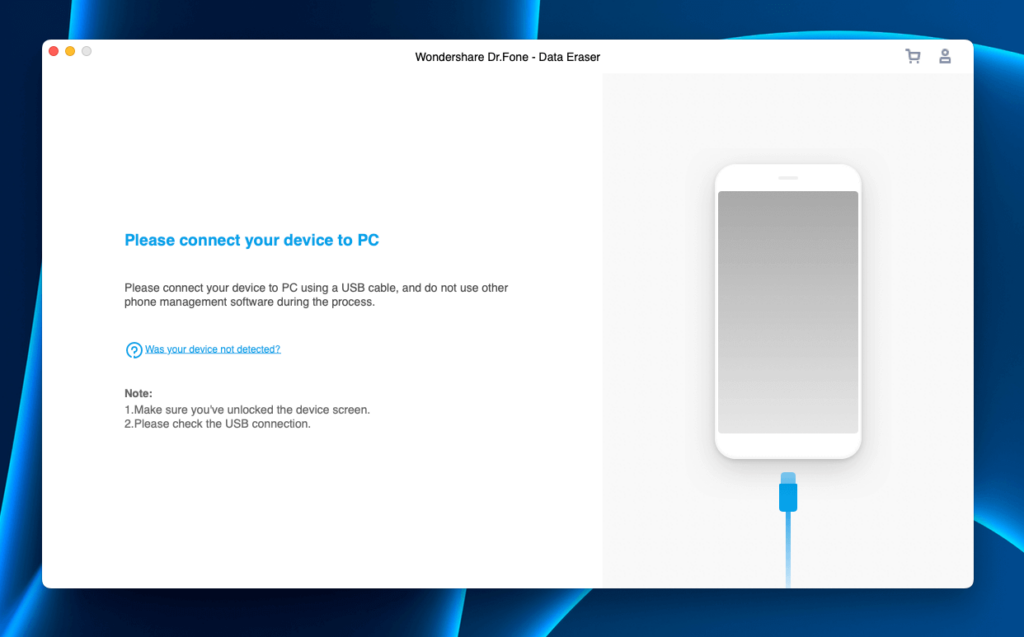 Erasing data from a device can be a time-consuming process, but with Dr. Fone, it's easy to permanently erase unwanted data from your phone. This tool requires you to follow a few simple steps to clear the unwanted data-consuming space on your device.
There's a full data eraser and a private option. As the names imply, the full data eraser wipes everything clean from your device, while the private data eraser lets you pick and choose what you want to delete.
My personal take: This tool does a decent job at erasing data from your smartphone, and while you'll still need to ensure you delete only what you want to, it can help you save time. You can easily remove data from your smartphone without Dr. Fone, but the interface is arguably easier.
Data Recovery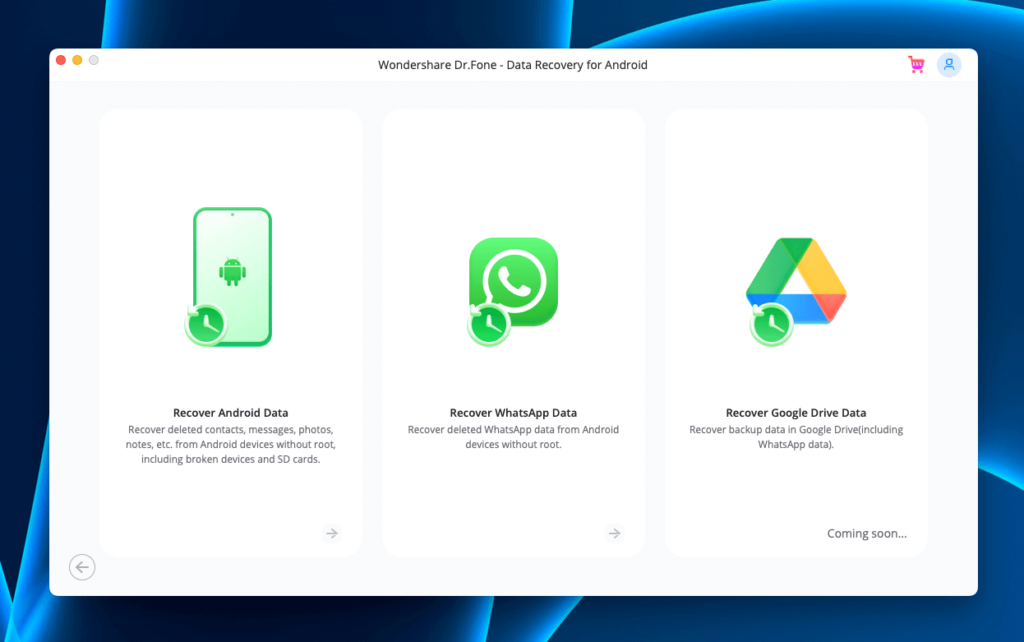 This software offers a data recovery feature designed to locate lost data on your Android device, WhatsApp, and Google Drive, i.e., files/photos/videos/etc., that you may have accidentally deleted.
The tool scans your Android device, WhatsApp, and Google Drive in search of everything from text messages to photos and videos. Once it finds the lost items, it allows you to restore the ones you want to keep.
My personal take: Like most data recovery tools, Dr. Fone's attempts don't recover every lost item, but it does an okay job at pulling some lost files. Additionally, Dr. Fone's data recovery features do not support iOS devices at this time.
WhatsApp Transfer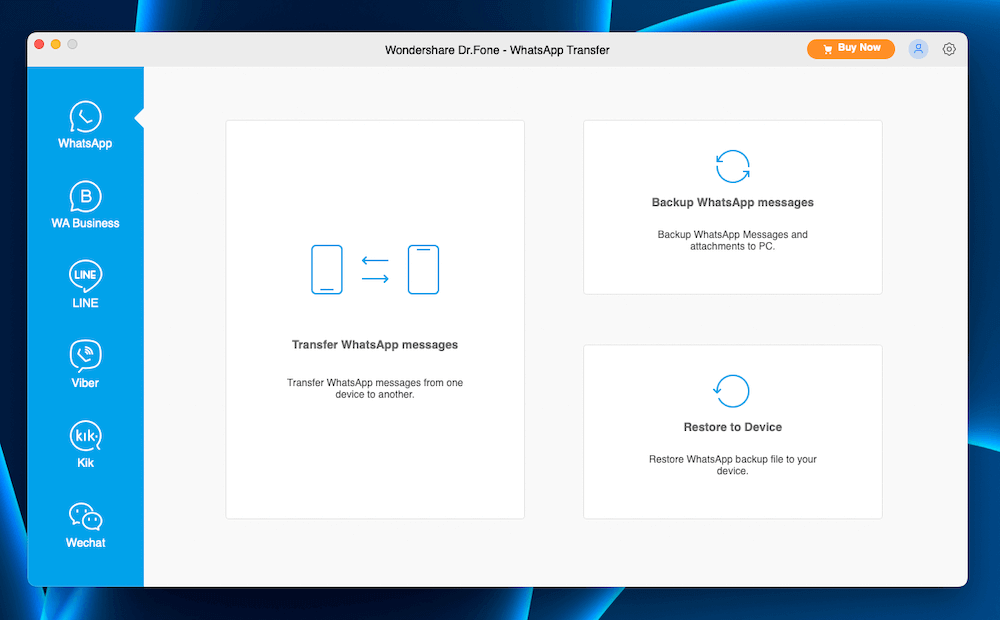 While Dr. Fone's data recovery tool is often the star of the show, there are other tools that can be exceedingly helpful for various purposes, like the Whatsapp transfer feature. This tool allows you to transfer and backup your WhatsApp, WA business, LINE, Viber, Kik, and Wechat chats between iOS and Android devices, ensuring you never lose conversations you want to keep.
My personal take: This tool quickly backs up your chats from all major chat services, allowing you to restore, and/or transfer the messages between your new Android smartphone or iPhone. You can even transfer to and from iOS and Android, one of the more difficult transfer methods.
System Repair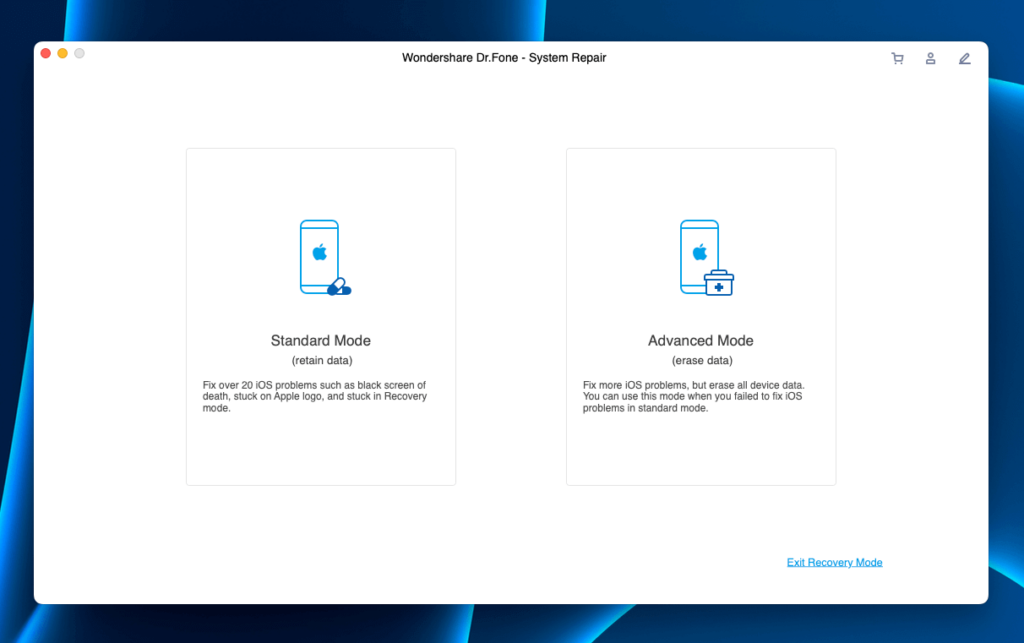 Dr. Fone also offers a repair tool, and, as the name implies, it's designed to help troubleshoot common issues on iOS for your iPhone. The tool is intended to repair and address common and advanced issues that may cause hiccups in the iPhone's operation. It has two modes "Standard Mode," which keeps all your data, and "Advanced Mode," which erases your data by wiping the iPhone and reinstalling iOS to fix the issue(s).
My personal take: The System Repair tool can quickly fix over 20 common iOS problems, including the black screen of death, "stuck on Apple logo," and stuck in recovery mode issues. Like many similar tools, this feature isn't 100% effective, but it may work in most scenarios.
Unlock IDs and Locked Screens
If your Apple ID becomes locked or you forget your PIN and lock your screen, accessing your device and its contents can be quite a challenge. While you could possibly reset your iPhone (with the help of the Apple Store and proof of purchase) or Android, this will often wipe all of your data completely. It could cause you to lose precious memories stored in your device.
So, you might find yourself looking for an unlocking tool like the one Dr. Fone offers. The tool claims to unlock the iPhone Apple ID and locked screens to give you access to your device without causing you to lose your data. However, it does not work for iPhones and iPads. I did not test it on an Android device, but I suspect a similar result.
My personal take: While this tool may work for select Android devices, it was unable to unlock the Apple ID and screen on my iPhone 14 Pro Max and iPad Pro. In fact, Apple provides encryption that has yet to be cracked. So, if you forget your iPhone's passcode, go to the Apple Store and provide proof of ownership. They may be able to unlock it for you.
Reasons Behind My Ratings
Features: 4.4/5
The feature list in this software is impressive, earning it a solid rating in my books. While most folks download this software for its solid data recovery feature, it can do more than just the basics. Its capabilities go far beyond the realm of baseline data recovery.
It can do all sorts of handy tasks, like recovering lost files. On top of that, it can transfer data from your phone to your computer, repair common systems problems, and migrate data from one phone to another. However, the "Screen Unlock" feature does not work on the tested devices (iPhones and iPads).
Pricing: 3.5/5
Dr. Fone costs $139.95 for the Full Toolkit (includes all iOS and Android features), which is somewhat pricey compared to other similar tools. Of course, it offers an impressive array of features, but considering most people download the software for its data recovery feature, the extra perks often go unused.
Various packages are available based on the type of device you're using, but all are generally pricier than comparable options. Plus, both Android and iOS have several of the features Dr. Fone offers as a native feature in the operating system.
Ease of Use: 4/5
Dr. Fone's user interface is well-designed and easy to use. The layout is clean, featuring a blue and white background with black text. Each feature has a separate window that helps you focus on the task at hand. There aren't extra bells and whistles clogging up the display – instead, you'll find everything you need but nothing you don't.
While you might need to click around the software to get a good grasp on where everything is located, using it is easy enough.
Support: 4.5/5
This software boasts a well-rounded support page teeming with helpful resources to aid you with troubleshooting common problems. The page provides searchable resources divided into convenient categories, including Download & Update, Purchase & Refund, and How-To Guides.
Each category covers common problems and offers assistance in troubleshooting specific issues. If you can't find what you're looking for in the resources readily available to you, you can always contact the support team through a chatbot or web form. The team tries to get back to customers within 24 hours.
Dr.Fone Alternatives
iCloud Backup — Free. iCloud is a great data backup and recovery solution provided by Apple. It has been built into iOS devices which means you can back up your iPhone or iPad without connecting to a computer. Note: Unlike Dr. Fone, iCloud is only helpful when you have a timely backup.
PhoneRescue — Similar to Dr. Fone, PhoneRescue also supports both iOS and Android and is compatible with Windows and macOS. However, the program doesn't offer many other features as Dr.Fone does. If you specifically want to retrieve lost files from an iPhone, iPad, or Android, PhoneRescue is a great option.
If your goal of using Dr.Fone is to recover lost data, you can also read our roundup of the best iPhone data recovery software and best Android data recovery software for more options.
Final Verdict
If you're looking for a data management tool, the Wondershare Dr. Fone software is a worthwhile consideration. This software is decked out in handy features, from its data recovery tool to its unlocking features. It's an excellent choice for phone users who want to try tackling common issues without sending their phones to professionals for an undetermined length of time.
However, it isn't ideal for all data recovery situations, as it has its limits, even though it's more powerful than many of the data recovery tools out there.
So, how do you like this Dr.Fone review? Do you find the app useful? Leave a comment below.