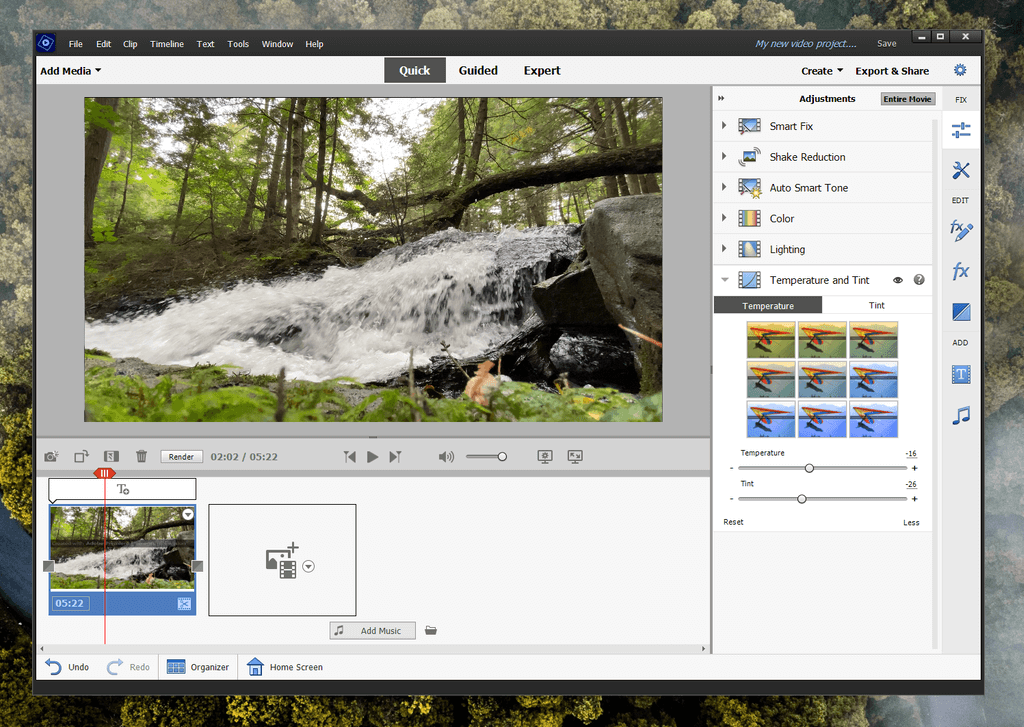 Adobe Premiere Elements
Features: Solid video editing tools, but big issues with HEVC codecs on Windows
Pricing: A bit pricey compared to other similar video editors
Ease of Use: Extremely easy to use with excellent built-in tutorials
Support: Community forum based, with additional online support from Adobe if needed
Summary
Adobe Premiere Elements is the scaled-down version of Adobe Premiere Pro, designed for the casual home user instead of movie-making professionals. It does an excellent job of guiding new users into the world of video editing, with a helpful series of built-in tutorials and introductory options that make it easy to start editing videos.

There is an excellent set of tools for editing the content of existing videos, and a library of graphics, titles, and other media available for adding an extra bit of style to your project. The rendering speed of your final output is fairly average compared to other video editors, so keep that in mind if you plan to work on large projects.

The support available for Premiere Elements is initially good, but you might run into trouble if you have more technical issues because Adobe relies heavily on community support forums to answer almost all their questions. I ran into a fairly serious issue with HEVC files filed with my iPhone, and I was unable to get a satisfactory solution.

What I Like: Very user-friendly. Built-in tutorials. Keyframing for animation. 4K / 60 FPS support. Social media uploading.

What I Don't Like: Strange issues with iPhone HEVC files on Windows. Limited audio correction tools. Relatively slow rendering. Limited social media export presets.
Is Adobe Premiere Elements good for beginners?
Yes, Adobe Premiere Elements is an excellent choice for beginners who have never used a video editing app before. It offers a user-friendly Quick editing mode for new users. When you're more comfortable with video editing, you can move on to Expert mode for more editing options and find step-by-step on-screen instructions for creating complex edits and effects.
Which is better Premiere Pro or Premiere Elements?
Premiere Elements is a video editor designed for the general public with no previous experience in video editing, while Premiere Pro is a professional-level program that expects users to understand the ins and outs of video production before starting to use it.
Premiere Pro is often used to edit Hollywood movies, while Premiere Elements is more suited to editing home videos, gameplay footage and Youtube content. You can read our Adobe Premiere Pro review here.
Is Premiere Elements good enough for Youtube?
Yes, Premiere Elements is a great choice for Youtubers who need to edit videos. You can even upload your edited videos directly to Youtube from within the app! The only drawback is that you're out of luck if you want to use Youtube's 8K video features, because Premiere Elements doesn't support 8K video yet, but that's a minor issue.
Is Adobe Premiere Elements free?
No, it is not free software, although there is a 30-day free trial available. The trial version allows you to test the full functionality offered by the software, but any videos you output while using the free trial are watermarked with the text 'Created with Adobe Premiere Elements trial version' across the center of the frame.
Is Premiere Elements a one-time purchase?
yes, you can do so from the Adobe store for a one-time cost of $99.99 USD. If you're upgrading from a previous version of Premiere Elements, you'll receive a slight discount of $79.99.
Why Trust Me for This Review
Hi, my name is Thomas Boldt, and I'm a graphic designer with experience in motion graphic design as well as a photography instructor, both of which have required me to work with video editing software. Creating video tutorials is essential for teaching some of the more complicated digital editing techniques, and high-quality video editing is a necessity for making the learning process as smooth as possible.
I also have extensive experience working with all types of PC software from small open-source programs to industry-standard software suites, so I can easily recognize a well-designed program. I've put Premiere Elements through several tests designed to explore its range of video editing and exporting features, and I've explored the various technical support options available to its users.
Disclaimer: I am a Creative Cloud subscriber, but I have not received any kind of compensation or consideration from Adobe to write this review, and they've had no editorial or content input of any kind.
Detailed Review of Adobe Premiere Elements
Premiere Elements is designed for the home user, but it still has more tools and capabilities than we have time to test in this review. Instead, Instead, I'll focus on the more general aspects of the program, the user interface, and how well it performs at editing video. To finish things off, we'll look at the options for exporting and sharing your newly edited masterpiece.
Note: the screenshots below are taken from Premiere Elements for the PC (Windows 11), so if you're using Premiere Elements for Mac, the interfaces will look slightly different.
User Interface
The interface for Premiere Elements is very user-friendly and offers a number of different ways to use the software. The primary UI options are available at the top navigation: Quick, Guided and Expert. Quick mode is a stripped-down version of the interface designed for quick and simple video edits, such as joining a few different video clips together.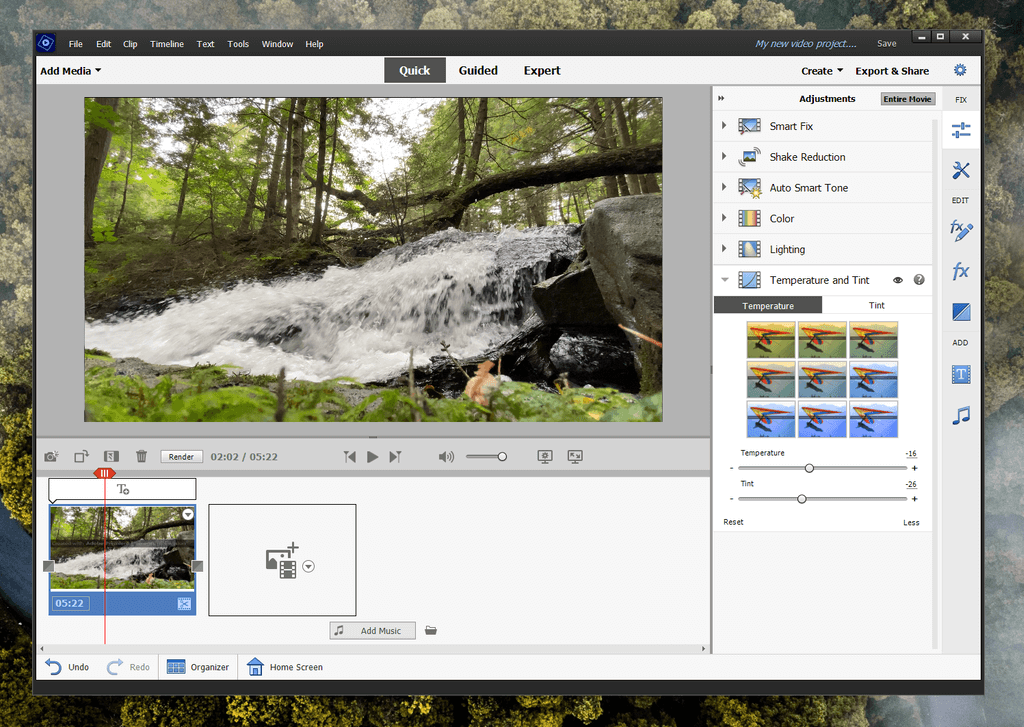 Guided mode walks you through the process of working more directly your with video for the first time. Once you select one of the guided edits, it will introduce you to Expert mode, which gives you a bit more information and control over the way your movie is put together.
You can also use one of the wizards in the 'Create' menu to create a Video Story or a Video Collage, two quick ways to turn your videos and photos into a movie without having to learn too much about editing by simply answering questions about the content. If you don't want to focus too much on a custom video but you want something nice quickly, these options can save you some time.

One curious feature of Premiere Elements is that Adobe doesn't bundle every feature into the initial installation. Some features will need to be downloaded the first time that they're used, so keep that in mind if you don't have a stable high-speed internet connection.
My personal take: The user interface for Premiere Elements is simple and effective, with two editing modes designed for beginner and advanced users. The on-screen tutorials in Guided mode are excellent, and make it easy for new users to explore advanced editing techniques.
Working with Media
Importing your media can be handled in several ways, whether you want to use the Elements Organizer, add files directly from your computer, or import from a variety of video devices including webcams, smartphones, and camcorders. 
Once your source files are imported, working with them is extremely easy. Imported media gets added into your 'Project Assets', which is essentially a working library of everything you've imported or used in your movie. This makes it easy to re-use clips, graphic elements or text set in a particular style, saving you from having to recreate them each time you want to use them.
Unfortunately, my first attempt at using the video importer to import video from my iPhone 14 Pro Max was a dramatic failure. At first, it didn't detect my device at all, then when I attempted to refresh the device list, Premiere Elements crashed. 
Eventually, it recognized my phone, but I ran into further troubles when browsing my extensive photo and video library. I realize there are a lot of files, but that still shouldn't be enough to crash the program entirely. I can just copy the files from my phone to my computer first, but I shouldn't have to, so I started to dig a little deeper to find out what was going on.
My current theory is that it's an issue related to the new Apple HEVC codec, which is a known problem for previous versions of Premiere Elements, as you can see in this support forum thread.

I'm quite comfortable repairing my computer when things go wrong, but the proposed solution of creating a brand new administrator account to modify folder permissions just to make it work was too extreme for me. This is a problem that Adobe needs to fix properly, instead of expecting casual home users to search out and then follow bizarre command line instructions from a support forum.
Videos that were shot with HDR or at 4K/60 FPS may have issues on a PC, even when HEVC support is installed in Windows. Browsing past them prompts Premiere Elements to generate a thumbnail preview, and I think that causes it to freeze when trying to process the file.
If you're just shooting in 1080p or lower with no HDR on your smartphone, then you won't have any trouble importing your videos, but it's more than a bit disappointing to run into a problem like this.
My personal take: This looks pretty bad on Adobe, especially when you learn that the problem has existed for the last several releases and there has been no solution. I'm not sure if Adobe has been unchallenged in the creative market for too long, or if there's a larger technical issue behind the lack of support, but it still seems arbitrary and frustrating as a user.
Video Editing
Once you've imported your media (hopefully without any trouble), then it's easy to start working with each clip by dragging and dropping to place it on the timeline. Adding effects, transitions and graphic overlays is as simple as dragging and dropping from the appropriate panel on the right onto the appropriate clip or section of the timeline.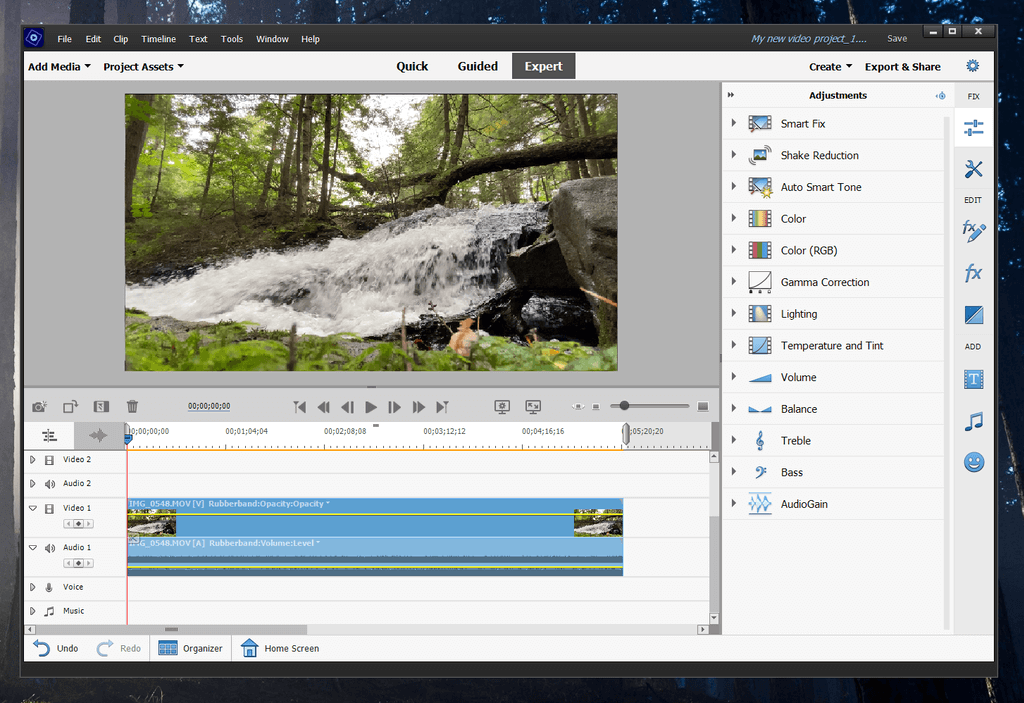 The 'Fix' section contains a number of useful tools allowing you to tweak the various aspects of your media elements, and it is context-sensitive. If you've got a movie clip selected in the timeline, it will show you tools for adjusting your video including color adjustments, shake reduction, and smart fixes which automatically adjust your video for contrast and lighting. If you've got a title or text selected, it gives you options for customizing it, and so on.
There is also a fairly large selection of graphics, titles, and effects that can be added to your movie, and of course, you can create your own graphics and titles to include. Adobe has finally updated there preset libraries so they don't look like they're from 1995, which was long overdue.
The only issue with these is that they need to be downloaded for the first time before they can be used. This helps to keep the initial app download smaller, but you'll need to have an internet connection the first time you try to use them.
When it comes to working with audio, Premiere Elements is a bit more limited than other video editors. There aren't any noise cancellation tools or options, which are extremely useful for videos shot outdoors when it's even remotely windy, although you can perform basic corrections like volume normalization and equalizer adjustments.
Those of you who are constantly shooting videos and photos will be happy to know that Premiere Elements comes with the Elements Organizer, a piece of software designed to help you manage your media library. It allows you to tag, rate and sort through all your content, and quickly add any element you need to your current project assets.
My personal take: For most video editing projects, Premiere Elements contains every editing tool you could want. The tools are responsive and can even be applied, adjusted and removed while your video is playing, assuming that your computer is powerful enough.
Guided Mode
For those who are totally new to video editing, Premiere Elements offers a very helpful 'Guided' method of working through the various steps involved in creating complex video edits and effects.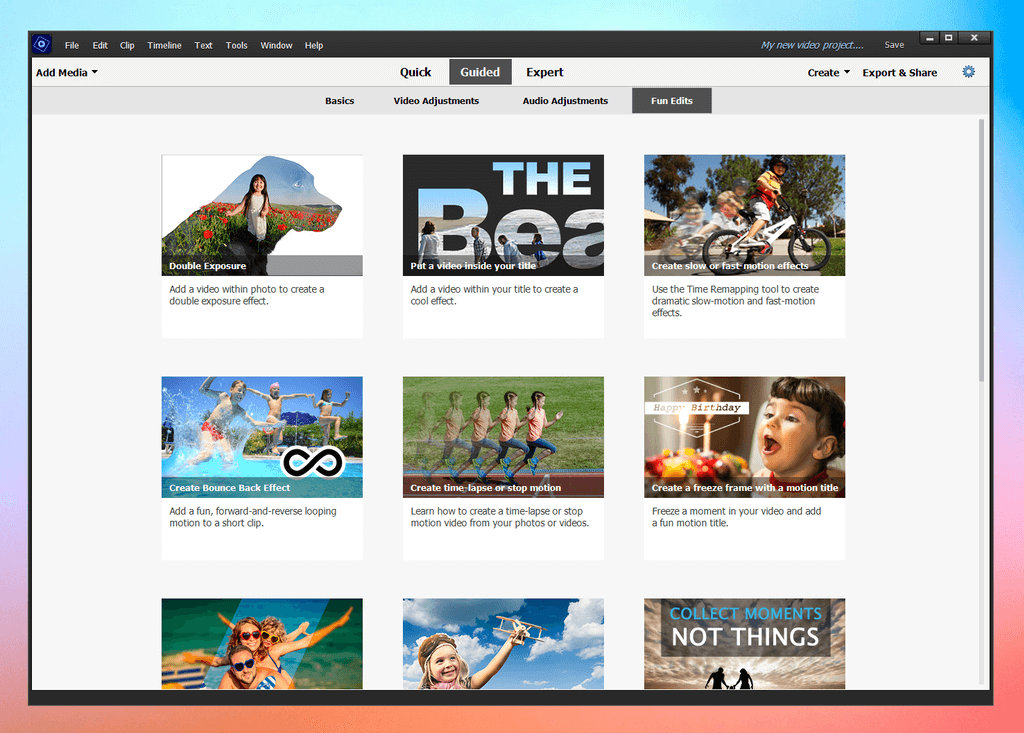 The guide information appears in the top-left of the screen, but it's not just prompts – it's actually interactive, waiting to ensure you follow the steps properly before moving onward. The appropriate section of the interface that it wants you to use are highlighted in an odd seafoam blue-green, as you can see below, but it does the job.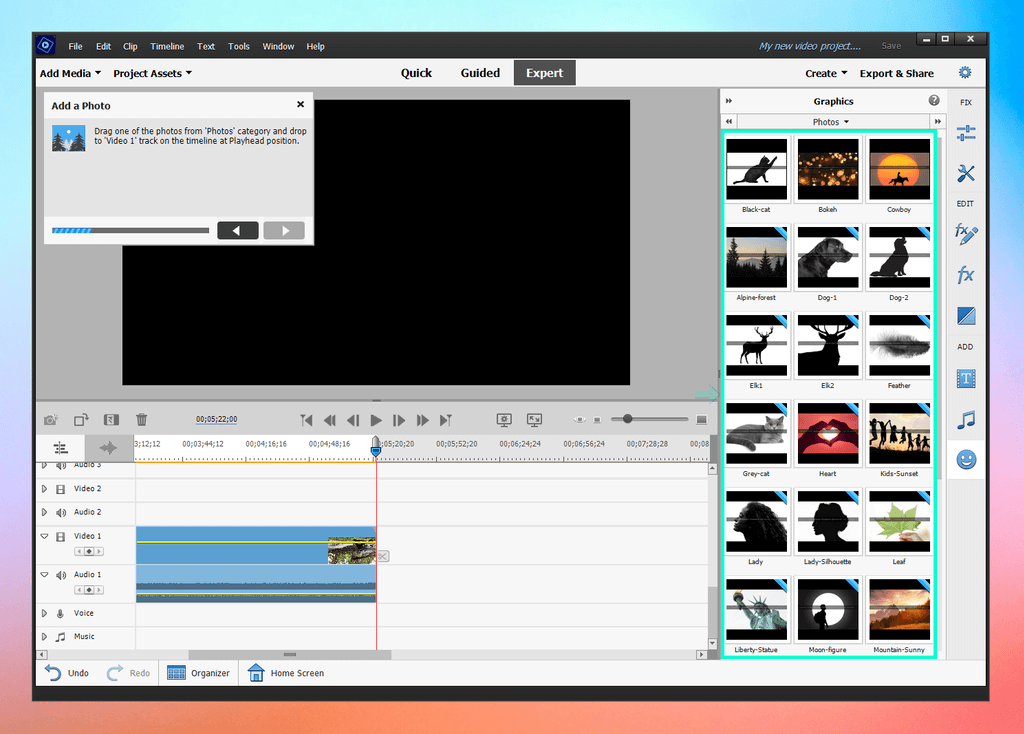 You can also navigate backwards and forwards through the edit process, in case you need to go back and adjust something, which is very helpful until you get more comfortable working with Premiere Elements.
My personal take: This is one of Premiere Element's biggest strengths – you can go from no experience at all to editing your own videos without help in under 15 minutes. It even takes you all the way through the finalization process into the export section, so that your video will be ready to share or send to any device.
Exporting & Sharing
The final stage of any creative process is getting it out in the world, and Premiere Elements makes it extremely easy to turn your work into the next viral video. You can use quick export presets for a number of different situations from 4K televisions to burning a Blu-Ray to sharing online, or you can create your own custom presets if you have more specific requirements.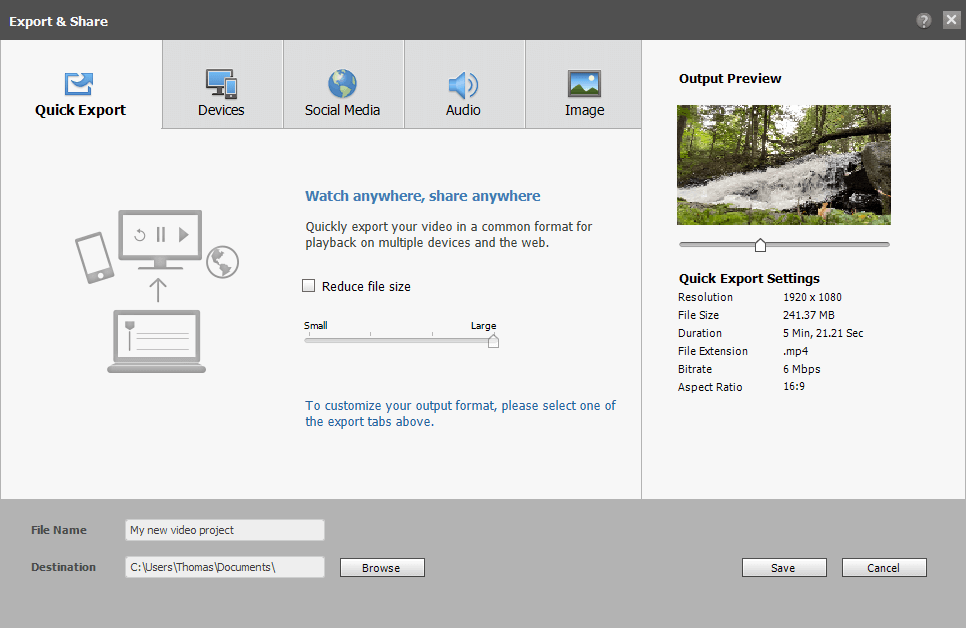 The online sharing worked easily and flawlessly, which is a nice change compared to some other video editors I've worked with. I noticed the first time I opened the Export & Share wizard, Premiere Elements checked with Adobe and made sure the presets were up-to-date, but the results were still a bit limited.
My personal take: Hopefully, Adobe will be including some more presets that take advantage of Youtube's 60FPS and 4K support. You can still export at those settings using the Devices section and then upload them manually, but there's no good reason to provide such limited presets. The issue with Youtube upload options has been present for several different versions of Premiere Elements that I have tested, which makes it seem like a deliberate choice by Adobe, although I can't imagine why they would. 
Reasons Behind My Ratings
Features: 4/5
The program has almost all the features that you'll need for casual video editing, whether you're making home movies or content for your social media channels. It's probably not a good idea to try to use this for professional video unless you're working on fairly simple projects, especially since the rendering performance isn't the best out there.
That being said, I'm actually a bit shocked that Premiere Elements doesn't support the latest videos being produced by top-end smartphones. This may not be a big deal for many users, but for some, it could mean exploring another app entirely.
Price: 4/5
$99.99 isn't a completely unreasonable price for a good video editor, but it's possible to get an editor that matches most of the features from Premiere Elements at a lower price. Alternatively, you can spend the same amount of money and get something with more features and better rendering speed – as long as you're using a PC.
Ease of Use: 5/5
Ease of use is where Premiere Elements really shines. If you've never used a video editor before, you can find yourself creating, editing and sharing videos faster than you might expect. There are plenty of built-in, guided tutorials to help you learn how the program works, and the online help area offers additional tutorials and inspiration to make your video creativity shine.
Support: 4/5
Premiere Elements has a strange support structure which is based very heavily on the Adobe community support forums. This may be different for users who purchased the full version of the software, but I was unable to find an effective solution to the issue I experienced while attempting to import media from my iPhone.
Despite that, the community forum is usually active and helpful, and there is an excellent knowledge base online that answers a number of more common support issues.
Adobe Premiere Elements Alternatives
Adobe Premiere Pro (Windows / macOS)
If you're looking for some more powerful editing options, look no further than Adobe Premiere Pro, Adobe's original video editor that has a few Hollywood movies to its credit. It is definitely not user-friendly in the slightest, but that's the trade-off for more powerful editing options.
Cyberlink PowerDirector (Windows / macOS)
PowerDirector isn't quite as user-friendly as Premiere Elements, but it has more features like 360-degree video editing and H.265 codec support. It's also one of the fastest renderers available, so if you're going to be doing much video work you could boost your productivity a bit.
Filmora (Windows / macOS)
Filmora is almost as easy to use as Premiere Elements, although it doesn't have the same level of built-in help. It uses a more attractive modern style for its graphical elements and presets, but it has some issues working with social media accounts. It's also much more affordable than these other options.
Final Verdict
Adobe Premiere Elements is a great program for users who are new to the world of video editing. It has excellent introductory tutorials and step-by-step creation wizards to quickly turn media into polished videos, but it's also powerful enough that you can customize almost every aspect of your video production.
Aside from the price, the only real drawback is for iPhone users on Windows who may have issues with videos shot in HEVC. If you're using a different format or a different phone altogether, Premiere Elements is a solid choice.
Do you have a question about Premiere Elements that I didn't answer? Let me know in the comments below and I'll try to help.