Procreate is one of the best digital design apps on the market right now but unfortunately, it is only available for Apple iPad or iPhone. That means Android users are missing out on the chance to experience this world-class drawing program.
In this article, I will be highlighting some of the best Procreate alternatives for Android users. There are so many different options out there when it comes to digital design but today I will focus on digital drawing apps that are the most similar to Procreate in terms of features and drawing tools.
I'm Carolyn and I've been using Procreate for over three years to run my digital illustration business. As the work my clients request can span over a wide range of different skills, I like to keep on top of the best apps on the market to ensure I have access to all the tools I need.
Today I'll be discussing some of my favorite drawing apps that are available for download on Android devices such as Infinite Painter, Sketchbook, and Clip Studio Paint.
Is Procreate Available on Android?
Procreate is not available for use on an Android device, desktop, or Windows device. The Procreate app can only be used on an Apple iPad or on the Apple iPhone using the smaller version of the app called Procreate Pocket.
The simple explanation for this issue is that the developers of this software designed the app specifically for the Apple Operating Systems that are specific to iPad/iPhone devices. Savage Interactive has stated many times that the app functions best on these devices.
12 Best Procreate Alternatives for Android
Below (and in no particular order) I have highlighted some of the features of alternative drawing apps that can be used on Android devices instead of Procreate.
1. Sketchbook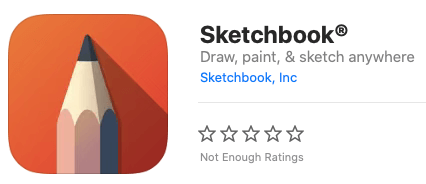 Sketchbook is a digital drawing app that is compatible with Android and offers a free version of the app with the option to upgrade to the premium version, Sketchbook Pro. You can download this app from your Google Play store on your Android device for no cost at all.
This app is awesome for beginners as it has a simple user interface similar to Procreate and offers a wide range of painting tools to create any style of drawing. Because of its free trial of the Sketchbook Pro version, you can try it out before committing to paying for the full app.
On top of Sketchbook offering over 190 brushes, it also features some awesome photo editing tools and comes with an incredibly useful guidebook on how to use each feature. This guide and many extra features can be accessed on their website.
Key features:
Over 190 free brushes available in the original app
Handy user guide available on their website
Beginner-friendly user interface
Free extras such as brushes and color palettes available for download on their website
Basic photo editing tools
Price: Free version available or $19.99 USD for the Sketchbook Pro.
2. Infinite Painter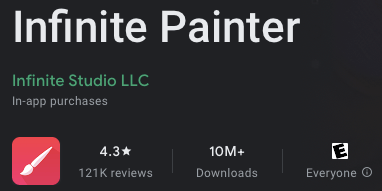 Infinite Studio offers a great alternative to Procreate called Infinite Painter. This app is similar in cost to Procreate and offers all the basic tools you need to draw and edit your work plus it even has a similar appearance to Procreate as it shares a similar dark gray user interface.
The intuitive user interface offers quick tools for users to use their fingertips to quickly select certain tools and move their work around the canvas easily. The app offers almost 200 brushes to choose from with the ability to purchase more brush sets online.
The best feature of this app is its Photo Cloning tool. This allows the user to upload a photo into the canvas and use a selection of three different cloning tools to transform your photograph into a painting quickly and easily. You can download this app on Google Play.
Key features:
User-friendly interface similar to Procreate
Offers timelapse recording of artwork within the app
Intuitive drawing tools
Photo Cloning feature for transforming images into painting
Beginner friendly with a simple user guide
Price: Free 7-day trial and then a one-time purchase of $9.99 USD.
3. Clip Studio Paint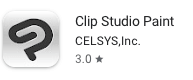 For the more experienced digital artist, the Clip Studio Paint app offers more technical design tools with an overcrowded and detailed user interface. Once you familiarize yourself with the canvas settings, this app has a lot of unique features to offer.
But don't be fooled by their "free version" as this comes with a lot of restrictions so don't get hooked unless you're ready to pay up. The free version on Android has a time limit of one hour a day and will not allow you to export or share your work from the app to your device.
However, if you're prepared to invest in this app, it offers a lot of really cool features for digital illustration, photo editing, and animation. And the holy grail of digital design apps, Clip Studio Paint allows users to create both vector and raster-based graphics all in one app.
Key features:
Over 40,000 brushes available
3D model drawing feature
Free courses available on their website
Users can create up to 10,000 layers in one canvas
Both raster and vector graphics compatible
Price: For their Android-only plan, users can access the free version for up to one hour a day or subscribe to Pro for $0.99 USD/month or Ex for $2.49 USD/month.
4. Concepts

The Concepts app is perfect for professionals who need to sketch and draw their ideas on the go. The app is targeted toward users who require top-notch sketching features to quickly write down their visions and ideas before bringing them to life.
If you find yourself drawing on your hand or walking around with a sketchbook for your doodles, then this app is for you. You can create, edit and share your drawings with others easily without losing your train of thought.
This app allows total compatibility and creative flexibility by offering vector and raster-based graphics as well as three different color programs; RGB, HSL, and COPIC. This is particularly useful for people who may be using this design program for work purposes.
Key features:
Users can drag and drop images directly onto their canvas
Quick editing tools to fix or improve your sketches as you go
Three different color wheels to choose from
Users can personalize the user interface
Offers both vector and raster graphics
Price: Free 30-day trial, after that you will be billed $11.00 USD/month or only $8.83 USD/month if you sign up for their annual subscription.
5. ibis Paint X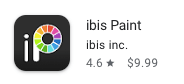 The ibis Paint X drawing app is one the best alternatives to Procreate on the Google Play store. It offers a vast selection of high-precision brushes that allow users to create perfect illustrations every time alongside an elaborate toolbox of intricate design tools and functions.
If you want the free version, you're going to have to suffer through ads unless you choose to pay for the Remove Ads add-on within the app. However, the Prime membership for this app is well worth the money and comes with an array of bonus features and storage.
As well as being the perfect solution for experienced artists, this app is also relatively user-friendly. The workspace and brush library vastly resembles that of the Procreate canvas which makes it easy to navigate and find your way around this app.
Key features:
No layer limit
Over 15,000 brushes to choose from
Prime version comes with 20GB of cloud storage
Cloud filter
Records video of your drawing
Price: Free version available or the Premium version costs $2.99 USD/month or $27.99 USD annually.
6. MediBang Paint

Okay Manga artists, if you've been struggling to find an alternative to Procreate for your cartoon-style sketches then this is the app for you. Available for Android on the Google Play store, this app has everything you need for your manga production software, and for free.
MediBang Paint is completely free and offers an elusive selection of in-app purchases including extra cloud storage options for all of your hard work. With a user-friendly interface, this app is suitable for beginners and very convenient for those of you drawing on your handheld device.
If you can navigate their somewhat chaotic website, there are many resources for new artists to learn how to illustrate different styles of animations and plenty of engaging content to learn from other artists too.
Key features:
Manga-style illustration tools
Timelapse video option available
Real-life texture options
Flower pattern paintbrushes
Body figure templates
Price: Free version or Premium upgrade available as an in-app purchase ranging from $19.99 – $62.00 USD/month.
7. ArtRage

The ArtRage app was developed to imitate real-life drawing and painting as closely as possible. Their extensive toolbox offers realistic brushes like oil paint, pencils, and even a Paint Thinner tool. This makes for some really impressive results in your canvas.
Available for a small fee in the Google Play store, this app allows true painters to express themselves digitally. A lot of the brushes offered in this brush library are rare compared to other drawing apps that leave the user having to purchase and download them externally.
Due to its compact and easy-to-navigate user interface, this app is suitable for beginner and intermediate artists alike. The ArtRage app is for you if you're a true fine artist who wants to create realistic and visually satisfying painting replicas.
Key features:
Extensive drawing and painting brushes like oil, chalk pastel, and watercolor
No layer limit
Compact user interface
Built-in manual available in the app
Compatible with Samsung S-Pen
Price: $2.99 USD one-time purchase.
8. Tayasui Sketches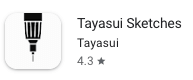 Tayasui Sketches is a nice digital drawing app that is particularly useful for people interested in watercolor painting. It's available on Android for free in the Google Play store with the option to upgrade to the Pro option which comes with a lot more drawing features and tools.
Its user interface is visually pleasing and minimal, but it will take some time to get used to and it's not the easiest to learn. The app's main focus is drawing and painting so the only tools visible on the workspace are a variety of brushes and colors unless you customize it.
However, this app features a lot of the same features as Procreate such as the gradient tool, color mixing, and a rotatable canvas meaning you can use two fingers to change the angle of your canvas without moving your device.
Key features:
Compatible with Wacom styluses
Customizable user interface
Up to 12 layers
Rotatable canvas like Procreate
Handy sidebar for organizing projects
Price: $5.99 USD one-time purchase for the Pro version or free version available with limitations.
9. ArtFlow

ArtFlow is a basic digital drawing app that provides you with the basic tools you will need to create artwork from your Android device. It gives users the ability to paint or draw easily from their device but I recommend upgrading your app to the licensed version.
Even though ArtFlow is marketed as a free app, it only offers very basic functions in the free version which makes it hard to use. You only have access to 20 tools, and three layers, and you're limited to using the undo option only six times before you are prompted to purchase an upgrade.
Available on the Google Play store, you can download a limited version of this app for free or pay for in-app purchases in order to gain access to extended features. This is a good option for users to practice due to its simple and easy-to-navigate user interface.
Key features:
Free version limits layers, tools, and undo actions
Easy-to-use user interface
Pro version offers palm rejection
Pro version has over 80 different brushes
Large canvases with 50 layers available on the pro version
Price: Free app with options for in-app purchases to unlock features ranging from $1.99 – $5.99 USD.
10. PaperColor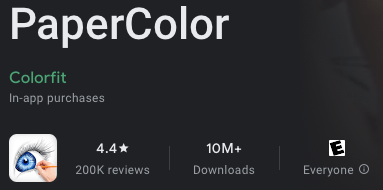 PaperColor is a simple drawing and painting app that people can use to practice their basic painting skills which makes it perfect for beginners. A free version of the app is available on the Google Play store with the option to upgrade your licensing to unlock extended features.
Its user interface is particularly minimal and well-designed to make the most out of your device screen without overcrowding your workspace. If you're looking for sophisticated or technical drawing tools, then this is not the app for you.
However, it's a great starting point for beginners or if you want to be able to quickly sketch and paint your ideas on your handheld device. If you want full access to the features of this app, I recommend upgrading your licensing through your in-app purchase options.
Key features:
Crayon drawing tool
Simple tutorial available in the app
Color dropper tool
Photo import option
Straight line tool available
Price: Free app with in-app purchases available ranging from $0.99 – $4.99 USD per item.
11. Pixel Studio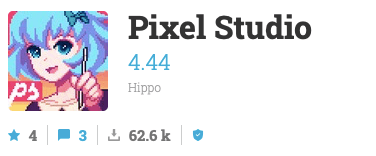 Pixel Studio is a basic app for creating pixelated artwork easily from your Android device. Procreate does not offer a pixel brush or setting so you have to manually create one yourself. So if you're looking to create pixel art, this app is definitely for you.
On top of offering pixel art, this app also has some awesome animation features and is targeted toward artists and game developers. If you're creating a larger-sized project, you should upgrade to their Pro version for bigger canvas options and remove the ads.
This app has a free version available on the Google Play store and offers a remarkable amount of unique features and settings considering there is no fee required to access most of these tools. And it autosaves your work so you don't have to worry about doing it manually.
Key features:
Animation features
RGBA and HSV color modes available
Unlimited canvas sizes
Customizable user interface
Pro version offers no ads
Price: Free version available or $7.99 USD one-time payment for Pro version.
12. Magic Poser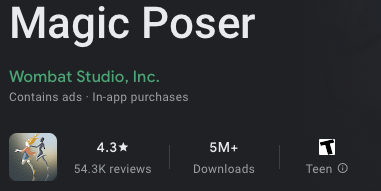 Magic Poser is a very unique design app that essentially replicates the 3D drawing feature of Procreate. This allows users to create 3D models of people using different angle points which is useful for creating comic strips, character design, and animations.
This app essentially lets you design your own Sim in a very detailed and technical way. It's available for free on the Google Play store and is compatible with Android devices. There are three different versions of the app on offer depending on what features you need access to.
This is one of the few 3D model apps available that allow users access to their awesome tools without even having to commit to a monthly subscription fee. However, because of its technical nature, this app does take some time to get used to so be prepared to learn a lot.
Key features:
Customizable 3D models
Anime-style characters available
PNG and JPEG export file types available
Perspective tool
Import chosen scenes from PoseCloud online community
Price: Free version, $9.99 USD one-time fee for the Pro version, or the Master version is a monthly fee of $14.99 USD.
Conclusion
Android users need not be discouraged by the fact that they cannot download the Procreate app on their devices. As you can see above, there are plenty of other options out there available to create all different kinds of digital drawing, graphic design, and animation.
Once you know what kind of artwork you want to create, I recommend trying out a couple of the free apps available until you find one that works for you. Then I always recommend purchasing or upgrading to the pro version so you have full access to all of the app's features.
What's your favorite Android alternative to Procreate? Leave your feedback in the comment section below.