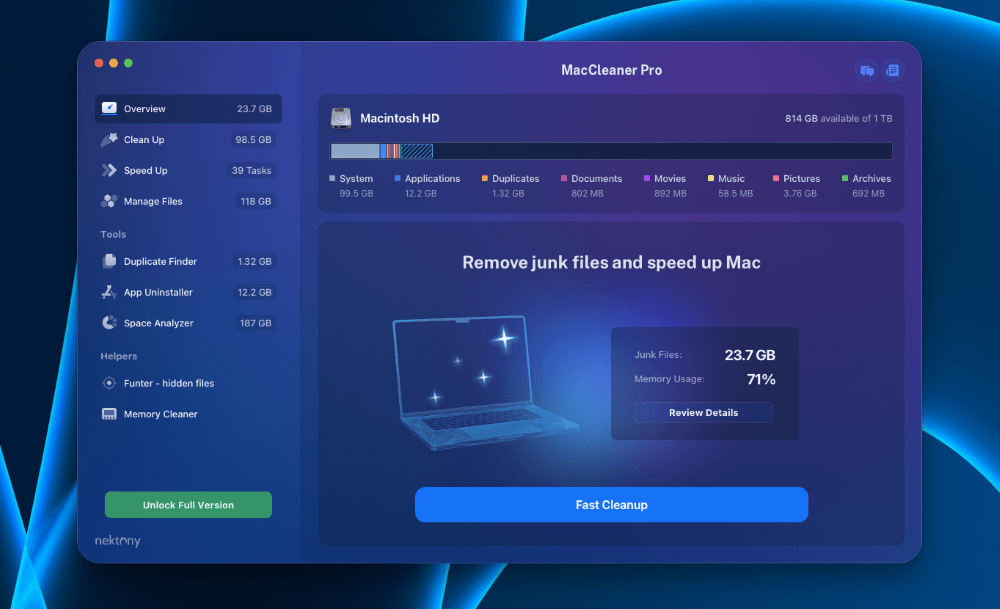 MacCleaner Pro
Features: Quickly find and delete old and duplicate files, apps, photos, etc.
Pricing: On the pricey side at $14.95/month, $29.95/year, or $74.95 for a one-time purchase for one Mac license.
Ease of Use: Quickly shows old, unused, hidden, or duplicate apps, photos, and files and allows you to quickly delete them through its simple interface.
Support: Easy to find and helpful Guides to using the app along with video training and an easy method to submit a help ticket, but no live chat.
Summary
MacCleaner Pro is a Mac cleaner application that helps you remove old files, manage disk space, and speed up your Mac. It helps optimize your Mac with its five tools – Duplicate Finder, App Uninstaller, Space Analyzer, Funter – hidden files, and Memory Cleaner.

In my opinion, MacCleaner Pro is a good option for Mac owners who want a quick and easy way to free up storage on their Macs. For example, if you don't want to spend a few hours browsing through your Downloads, Desktop, Documents, Applications, and Photos folders for old files, duplicates, and junk you don't need anymore, this app can help. 

With MacCleaner Pro, you can quickly and efficiently find all the files, photos, and applications you no longer need and easily delete them. 

That said, MacCleaner Pro might not be for everyone. Some Mac owners may prefer to delete their files manually. Or they are diligent in keeping their Macs clutter-free. In that case, you might be better off clearing files on your own.

Pros: Several useful and easy-to-use tools to optimize storage and performance on your Mac.

Cons: Pricey subscription and one-time purchase fees.
What is MacCleaner Pro?
MacCleaner Pro is a Mac app that helps you clear up hard drive space and optimize your Mac's performance.
Is MacCleaner Pro safe?
Yes, MacCleaner Pro is completely safe to use on your Mac. The app and its tool are notarized by Apple, which means it is safe and free of malware.
Does MacCleaner Pro work?
Yes, MacCleaner Pro works. It scans your Mac for files, applications, duplicates, and other hidden files and lets you delete them quickly with a few clicks.
Why Trust Me for This Review
Hi, I'm Jon, an experienced tech and software user. I'm an engineer, and learning how products and software work is a hobby of mine. I've been using and testing various software for nearly 15 years.
In that time, I've seen almost everything, including various PC cleaning programs and Mac cleaner apps. Scrounging through hundreds to thousands of files to find some to delete can be meticulous. That's where MacCleaner Pro shines. 
MacCleaner Pro has an easy-to-use interface that links you use various tools to remove unwanted and old files to get your precious hard drive space back. If you're low on storage space and need help removing files, Mac Cleaner Pro can help. 
Detailed Review of MacCleaner Pro
MacCleaner's purpose is to help you clear up space on your Mac to make more room and optimize performance. It does this by finding duplicate, old, and unused files. The app also finds unused apps. 
It uses five main tools to present you with Clean Up and Speed Up recommendations that you can review and carry out to make room on your Mac's hard drive.
Let's dive into each of Mac Cleaner Pro's key features. I'll share my personal assessments of each one.
Duplicate Finder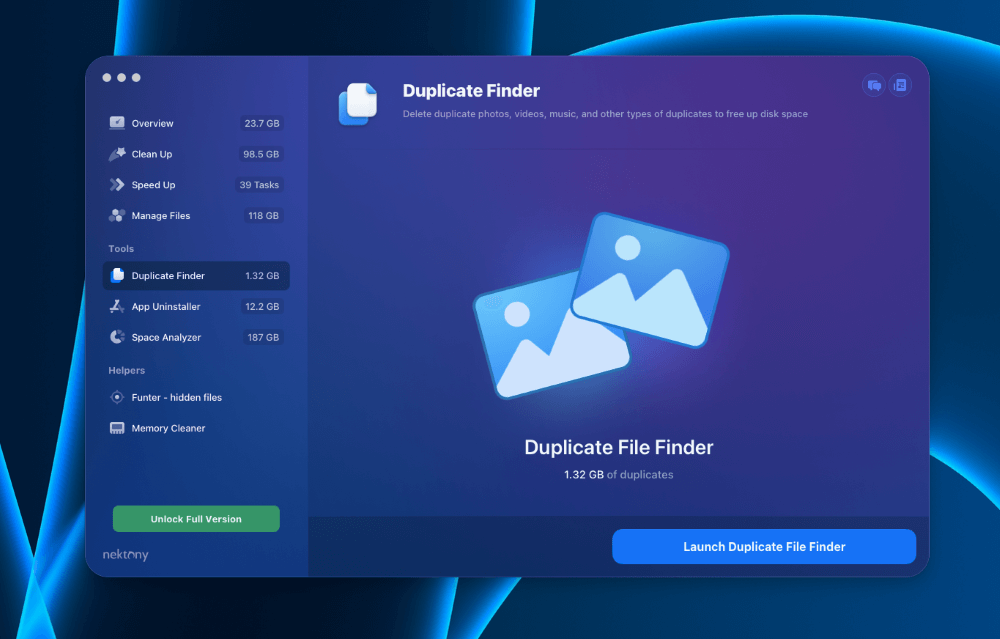 Duplicate Finder does precisely what its name suggests– it finds duplicate files on your Mac and lets you quickly purge them. If you're like me, you've likely downloaded the same file multiple times by mistake. In that case, you'll have multiple copies of the same file, taking up valuable space on your Mac.
Sure, you can look through your downloads, documents, and desktop for files with names like "file_name" and "file_name(1)." But finding all of your duplicate files yourself and be a meticulous and painful process, especially if you have years of files stored on your Mac.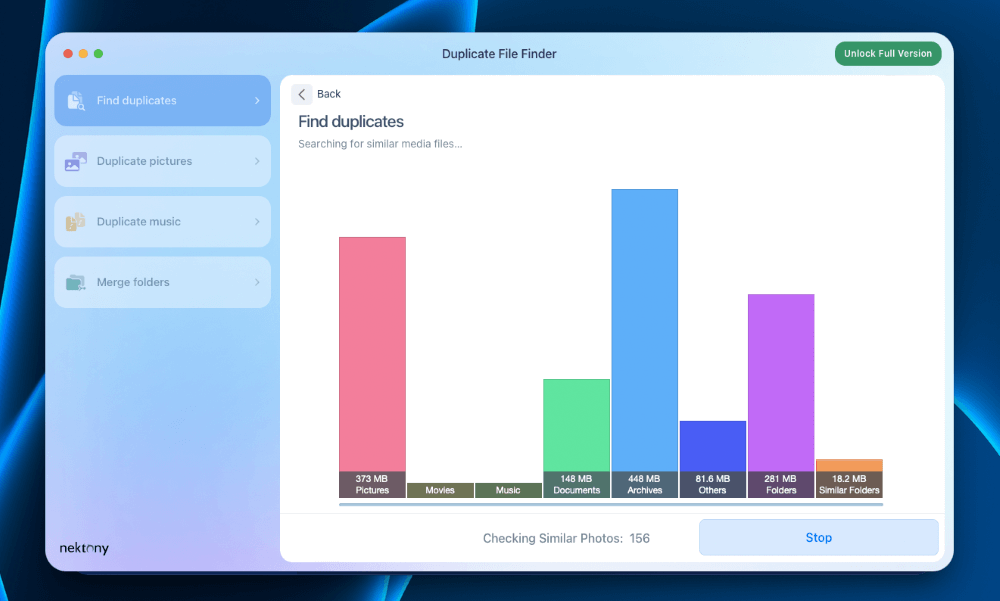 The Duplicate File Finder tool quickly finds all duplicates on your Mac and presents them to you in a list. You can then "Review & Remove" the files you no longer need.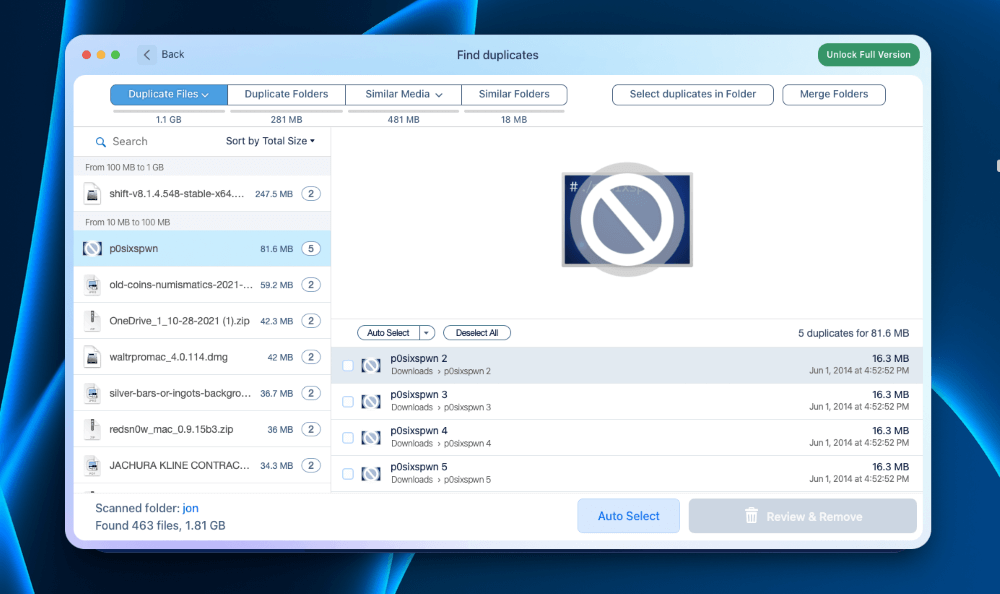 My personal take: The Duplicate Files feature does what it claims to and does it well. It found 463 duplicate files, taking up 1.81 GB on my Mac, within minutes. Locating and deleting these files myself would have taken hours. Because of that time commitment, I would never get around to doing this, and these files would still be taking up hard drive space.
App Uninstaller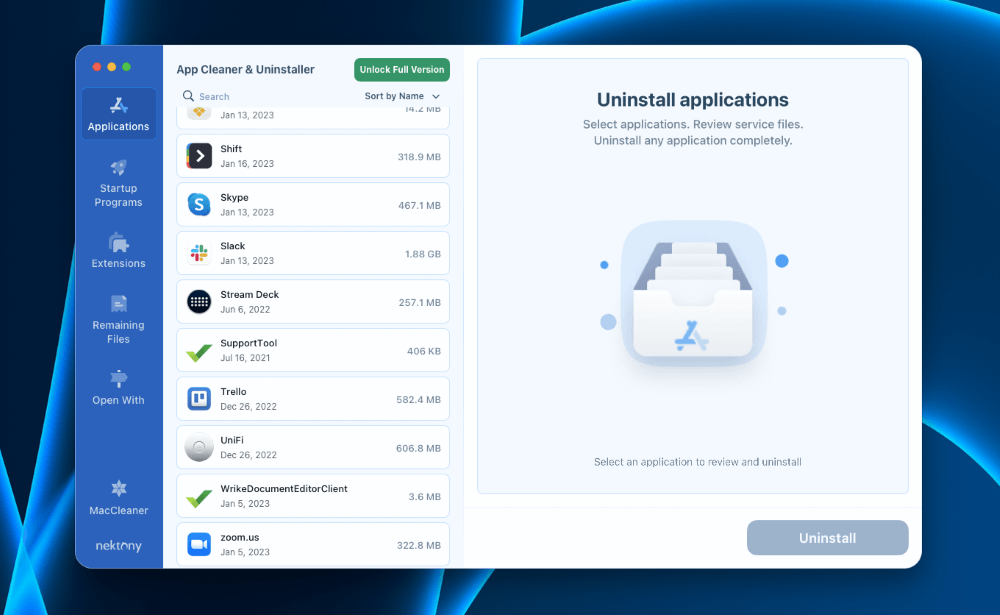 The App Uninstaller provides a list of applications installed on your Mac. You can sort them by name, size, date last opened, and "Large & Old." You can use the search feature to find specific applications or just scroll through the list of all apps.
When you click one, you can see the date created, the date last opened, the version, and how much space it takes up. From there, you can select "Uninstall" to remove the application from your Mac and free up the save on your hard drive.
You can also view and remove startup programs, extensions, and remaining files (unneeded service files left after deleting an application).
My personal take: The App Uninstaller is a valuable tool to have. While you can delete applications directly from Finder, it doesn't show you the last time you used them. Deleting apps with Finder and Mac Cleaner Pro is just as easy. But Mac Cleaner Pro gives you additional options, too, like deleting extensions, leftover files, and startup programs all in one view.
Space Analyzer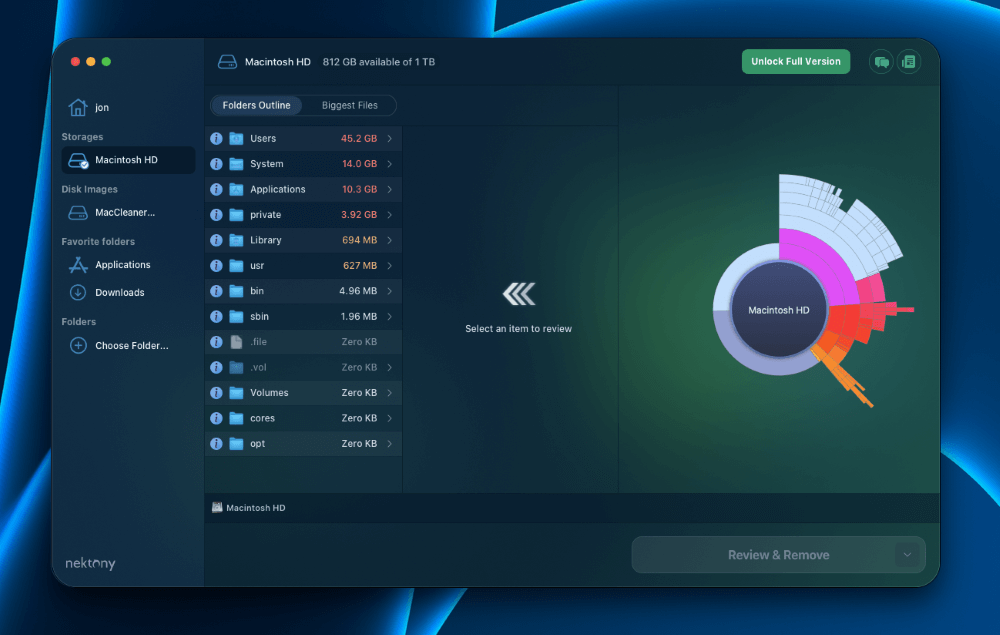 Mac Cleaner Pro's Space Analyzer feature allows you to see which files and folders are taking up the most space on your Mac. Space Analyzer scans your Downloads, Desktop, Applications, Photos, and Disk drives on your Mac. Then, it shows you an outline of all the files on your Mac, which are sorted from largest to smallest by default.
You can click through each folder to view subfolders in the next pane, which lets you easily visualize the items taking up a lot of room and "Review & Remove" (delete) them.
My personal take: The Space Analyzer tool in Mac Cleaner Pro is useful because it shows you how much space files are taking up on your Mac. Sure, you can use the macOS Finder application to view all files on your Mac, but that has limits. With Finder, you can see hidden files by default, and you can't sort all files by largest to smallest. In contrast, Space Analyzer makes this easy to see so that you can quickly free up large amounts of space on your Mac when you need to. 
Funter – hidden files is a plugin that comes with the Mac Cleaner Pro App. Funter searches your downloads, documents, applications, and system files for hidden files that are taking up space on your Mac.
Several applications, downloads, files, extensions, etc., have hidden files, which are small individually but can build up and take up a lot of space over a few years. Of course, most hidden files are hidden for a reason – some are critical to an App working correctly, or they are system files that could crash macOS.
Thankfully, Funter knows which hidden files are necessary and which are "Junk Files." Funter quickly makes this distinction and presents you with Junk files, duplicate files, and applications you can delete or decide to keep.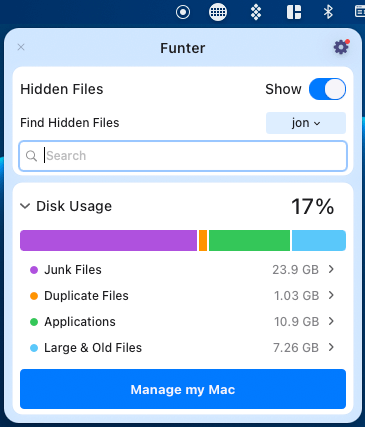 My personal take: Giving an application access to your Mac's hidden files, system files, and more can be concerning. But, the Funter feature in Mac Cleaner Pro knows exactly which files to "protect" and which ones you can delete. Personally, I didn't benefit from Funter much because my Mac did not have a significant amount of hidden files. But I can see the benefit – if I were low on storage space and had a lot of hidden files, easily finding and deleting ones would be critical.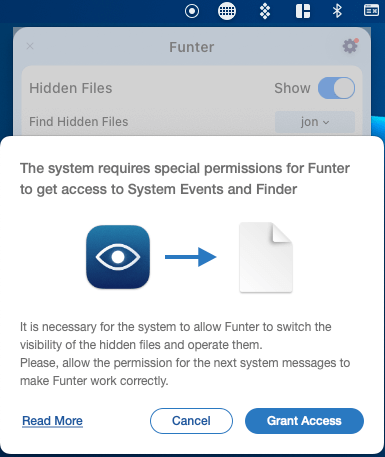 Memory Cleaner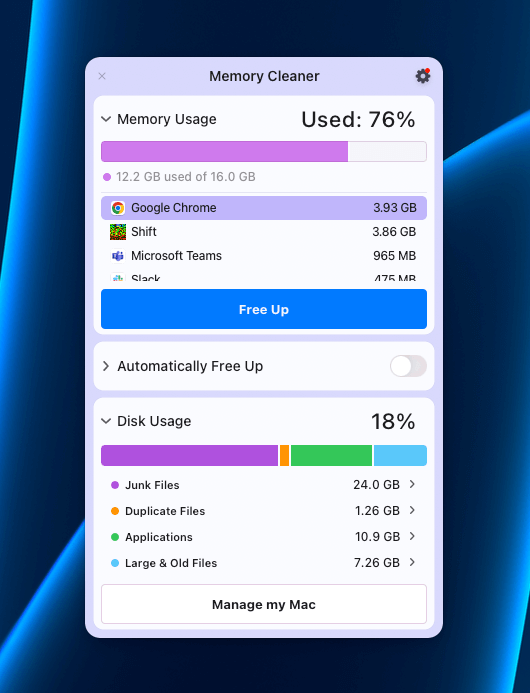 MacCleaner Pro's Memory Cleaner feature shows you how much RAM (random access memory) you use on your Mac. The main thing it shows is how much RAM your Mac has and how much of it the Apps you have open are using. In the image above, my Mac has 16 GB of RAM, and my open apps are using 12.2 GB (or 76% of it). 
You can then scroll through the list of open Apps, see how much RAM each uses individually, and click "Free Up" to end the apps and reduce your RAM usage. Besides viewing your overall and individual App memory usage, you can toggle on "Automatically Free Up" to reduce RAM usage from Apps based on frequency, memory usage, and CPU usage toggles, as shown below.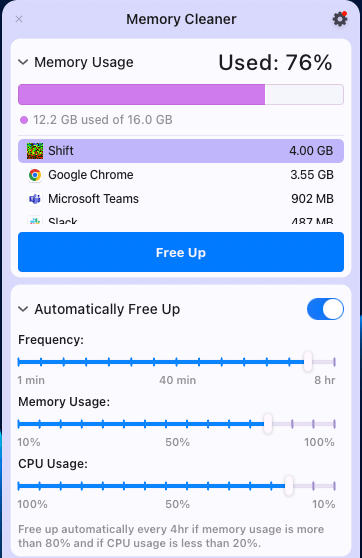 My personal take: Memory Cleaner on Mac Cleaner Pro gives good insights into how much RAM you currently use on your Mac. This is useful if you're Mac is often running slow or has problems loading or opening several Apps at once. The most common culprit for your Mac running slow is lack of memory (RAM). And if you don't know how much RAM you have and how much your Apps are using, you won't know what to close to fix it. In my image above, I am using 12.2 out of 16 GB. And while my Mac isn't running slow now, I could quickly see that the Shift and Google Chrome Apps are using a significant amount of RAM. In short, using Mac Cleaner Pro's Memory Cleaner allows you to quickly assess your RAM usage and reduce it to keep your Mac running fast. 
Reasons Behind My Ratings
Features: 4.8/5
Finding duplicate files, unused/old Apps, hidden files, and Apps using large amounts of memory has never been easier than with Mac Cleaner Pro. With its intuitive features and tools– Duplicate Finder, App Uninstaller, Space Analyzer, Funter, and Memory Cleaner– you can quickly assess your Mac's storage and memory usage.
Then you can swiftly review files, folders, apps, photos, etc., and delete them. Mac Cleaner Pro saves countless hours cleaning up your Mac compared to sifting through your files and deleting things manually.
Pricing: 3.5/5
Compared to similar applications, MacCleaner Pro is priced too high. In my opinion, $14.95 per month, $29.95 per year, or $74.95 for a one-time purchase for one license is too high. While Mac Cleaner Pro is useful, it isn't doing anything you can't do on your own.

Sure, manually deleting files on your Mac takes more time, and using Activity Monitor to assess your Mac's RAM usage is a bit more complicated, but the manual process is entirely free. That said, time is money, and the cost may be worth it to you. 
For those with multiple Macs (families, schools, small businesses, etc.), the pricing is more valuable, as shown in the table below.
| | | | |
| --- | --- | --- | --- |
| Subscription type | 1 Mac License | 2 Mac Licenses | 5 Mac Licenses |
| 1 month | $14.95 | $21.95 | $34.95 |
| 1 year | $29.95 | $44.95 | $69.95 |
| One-time purchase* | $74.95 | $119.95 | $169.95 |
*Minor updates, bug fixes, etc., are free; major updates will have an additional cost.
Ease of Use: 4.5/5
Mac Cleaner Pro is an intuitive application that anyone can use no matter how computer illiterate. The app walks you through duplicate files, apps, photos, and other items you can remove from your Mac in a simple-to-understand user interface.
In that regard, Mac Cleaner Pro is perfect for people who aren't tech-savvy. Without Mac Cleaner Pro, they might find it extremely difficult to find files to delete to make room on their Mac. Even as a Mac power user, I find that Mac Cleaner Pro is much better than the alternative of manually deleting files.
One thing that could be easier is adding a tutorial the first time you use the app. For example, a note that says, "click here to find duplicate files" or "click here to reduce your memory usage." Still, without these callouts, it is straightforward to navigate.
Support: 4.6/5
Mac Cleaner Pro offers good support to its subscribers. You can contact Nektony (Mac Cleaner Pro's developer) directly in the app if you have questions or issues. You can also view its "Getting Started" guides on the website and view Mac Cleaner Pro's full user guide and video resources. 
One downside is that Mac Cleaner Pro does not have a live chat feature. So, if you have a problem you'd like addressed/fixed immediately, you may have to wait a few hours to a full day for help on a support ticket. That said, Mac Cleaner Pro's help guides, videos, FAQs, blogs, and user guides should cover almost all your questions.
Final Verdict
MacCleaner Pro is an intuitive application that lets you easily delete duplicate files, unused apps, old downloads, and more to clear up space on your Mac's hard drive. It also helps you view and reduce RAM usage to speed up your performance.
For one license, MacCleaner Pro costs $14.95/month, $29.95/year, or $74.95 for a one-time purchase. This is a fair price for many users since it saves time and simplifies cleaning up your Mac. On the other hand, you might prefer to manually delete apps, files, and photos. In that case, it would take you a lot more time, but you'd save the cash.
So, what's your feedback on this MacCleaner Pro review? Share your thoughts below.