While Adobe still has a lock on a huge portion of the photo editing market, a number of new software competitors have sprung up recently in hopes of providing an alternative for users who can't stand a forced monthly subscription system. But learning a new photo editor can be a big time investment, so it's important to take the time to consider your options before you really commit to learning one.
Despite the fact that virtually every photo editor has now adopted a moody dark grey aesthetic, they can vary wildly in terms of capabilities, performance, and ease of use.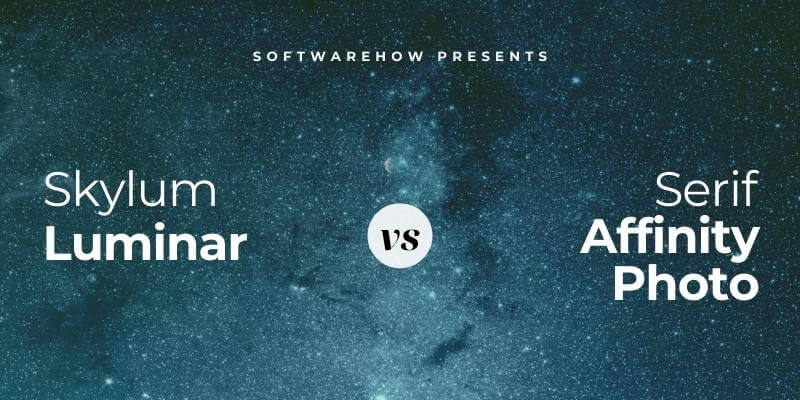 Skylum's Luminar puts a user-friendly non-destructive RAW editing workflow at the forefront, and it produces excellent results. It tends to pitch itself toward the more casual photographer who wants to spruce up their photos for dramatic effect, and it does this simply and effectively. A couple of unique AI-powered tools can make editing a breeze, and a new library management section lets you organize your photos with some simple tools. You can read my in-depth Luminar review here.
Serif's Affinity Photo is aimed at taking on Adobe, and it does an excellent job of positioning itself against Photoshop for many of its more common features. It offers a wide variety of powerful local editing tools, as well as the ability to handle HDR, panorama stitching, and typography. It does offer non-destructive RAW development as well, although it can sometimes feel like Serif has put more focus on the more in-depth editing areas of the program. For a closer look at this program, read my full Affinity Photo review here.
User Interface
You could probably make the argument that the recent 'dark mode' trend in app design was first popularized by photo editing programs, and these two follow that trend as well. As you can see from the screenshots below, both programs follow a fairly similar design aesthetic and general layout.
The image you're working on is front and center, with control panels running along the top and both sides of the frame. Luminar's library module allows it to include a filmstrip along the left for moving on to the next image, while Affinity has no comparable browser and relies on the standard open file dialog box from your operating system.
Both programs divide their main functions into separate sections, although Affinity chooses to call them 'personas'. There are five personas: Photo (retouching & editing), Liquify (liquify tool), Develop (RAW photo development), Tone Mapping (HDR merging) and Export (saving your images). I'm not entirely sure what the rationale is behind this division, especially in the case of the Liquify persona, but it does help to streamline the interface a bit.
Despite that, I find the Affinity Photo interface a bit claustrophobic in its default form. Fortunately, you can customize almost every aspect of the workspace to suit your needs and hide what you don't use, although you can't yet save workspace presets.
Luminar has the advantage of simplicity on its side – at least for the most part. It's also divided into sections and also in a slightly strange way, but in general, the interface is quite clear. Library and Edit are separate, which makes sense, but for some reason, there is also an Info section at that same level which displays extremely basic metadata about your exposure settings. Ideally, this would be integrated directly into the library view section rather than effectively hiding it, but perhaps it's intended to hide the fact that Luminar is currently ignoring most metadata.
Luminar does have a couple of bugs to be ironed out with its interface. Occasionally, images fail to adjust zoom sizes properly, especially when zooming to 100%. Double-clicking too rapidly on the image can kick you out of Edit mode back into Library mode, which is obviously frustrating when you're in the middle of an edit. A bit of patience keeps this as a minor annoyance, but I'm hoping that Skylum has another bug-quashing patch coming up soon.
Winner: Tie. Affinity squeezes a lot more features into the same space, but the fact that it doesn't offer multiple custom workspace presets as the obvious way of handling the issue counts as a point against it. Luminar has a clear, simple interface that offers as many custom presets as you want, despite the fact that there isn't really much need for them.
RAW Photo Development
Affinity Photo and Luminar diverge a fair bit when it comes to how they process RAW images. Luminar's fast and non-destructive development process covers the entire editing workflow, and any of the adjustments you make can be quickly and easily masked to a specific portion of the image.
Affinity Photo also allows you to use basic masks at this stage, but the way you create them is surprisingly limited, considering how good the brush tools are in the Photo persona. You can create a brush mask or a gradient mask, but for some reason, you can't combine the two to adjust your gradient around certain objects in the photo.
Luminar's greater degree of control in this phase of the editing process is a clear advantage, although you have to keep in mind that it doesn't have a whole separate section for finalizing more localized edits later.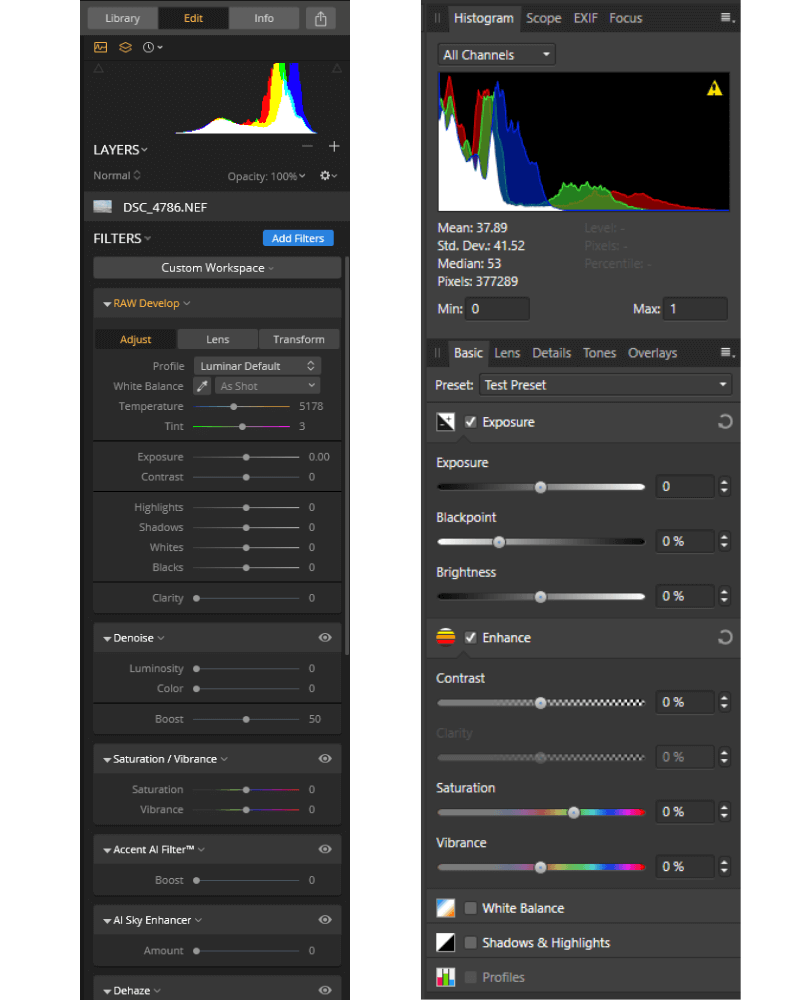 If you're familiar with the Adobe ecosystem, Luminar provides a development process similar to Lightroom, while Affinity Photo is closer to a Camera RAW & Photoshop process. Affinity Photo requires you to commit to your initial RAW adjustments before you can use any of its more powerful editing tools, which is frustrating if you change your mind after you leave the Develop persona.
In general, I find the Luminar/Lightroom style of workflow to be much more effective and streamlined. I think you can create better final images using Affinity Photo, but to get the best results you need to combine edits made in the Develop persona and the Photo persona.
Both programs allow you to save a series of adjustments as a preset, but Luminar includes a panel dedicated to showing the effects of each of your presets on your current image. It also allows you to edit one image and then sync those adjustments with selected photos in your library, which is a huge timesaver for wedding/event photographers and anyone else who performs a lot of blanket adjustments to their images.
While it's possible to batch process photos in Affinity Photo, it only applies to edits made in the Photo persona, not the Develop persona where RAW images are processed.
Winner: Luminar.
Local Editing Capabilities
In this area, Affinity Photo is unquestionably the winner and makes up for what it lost in the RAW development category. Both programs have the ability to apply adjustment layers with editable masks, and both allow for clone stamping and healing, but that's the extent of the local editing features in Luminar. Luminar's implementation of cloning is fairly rudimentary, and I found it quite frustrating to use and prone to causing crashes.
Affinity Photo handles most local editing by switching to the Photo persona, and it offers far better tools for selecting, masking, cloning and even a basic level of automatic content fill. This is where you'll do most of your editing in Affinity, although in order to keep things non-destructive you have to take full advantage of the layers feature to preserve your original image data at the same time.
If you remember from the User Interface section, Affinity also includes a Liquify tool which is separated into its own 'persona'. This was one of the few times that Affinity Photo displayed a delay in applying an adjustment, but even Adobe Photoshop used to take its time on such a complex task. It works fine as long as you keep your strokes fairly short, but you start to see increasingly visible delays in the effect the longer the stroke continues. This can make it a bit difficult to use effectively, but you can always reset the tool quickly if you make a mistake.
Winner: Affinity Photo.
Extra Features
This is really where Affinity Photo wins the comparison: HDR merging, focus stacking, panorama stitching, digital painting, vectors, typography – the list goes on. You can find a complete description of Affinity Photo's available features here since there's not really enough space to cover them all.
There's only one feature available in Luminar that is missing in Affinity Photo. Ideally, for managing a photo editing workflow, your chosen program will include some form of library feature that allows you to browse through your photos and view basic metadata. Affinity has chosen to focus primarily on expanding its editing toolset and hasn't bothered to include any form of organizing tool at all.
Luminar does offer a library management feature, although it's fairly basic in terms of the organizational tools it provides. You can browse your photos within this module, set star ratings, apply color labels, and flag photos as picks or rejects. You can then sort your library by any of those options, but you can't use metadata or custom tags. Skylum has promised to address this in a future free update, but haven't specified when exactly it will arrive.
I found during my testing that the thumbnail generation process was in need of some serious optimization. Importing over 25,000 pictures resulted in extremely slow performance, at least until Luminar was finished processing the thumbnails. Thumbnails are only generated when you navigate to a specific folder in your library, and there is no way to force this process unless you select the parent folder containing all your images and then wait – and wait some more. Followed by more waiting – unless you want to suffer through bad performance, or pause the generation task.
Winner: Affinity Photo.
Performance
Optimizing performance is often one of the last things a developer focuses on, which has always baffled me. Sure, having plenty of features is great – but if they're too slow to use or cause the program to crash, people will look elsewhere. Both of these developers could benefit from spending a bit more time optimizing their programs for speed and stability, although Luminar definitely has farther to go in this area than Affinity Photo. I've been testing Luminar for the last week or so, but I've already managed to crash it an unacceptable number of times, despite doing nothing more with it than browsing my photo library and making simple RAW adjustments.
Affinity Photo was generally quite responsive, and never had any crashes or other stability issues during my testing. The only issue I did run into was an occasional delay in displaying the adjustments I made when I changed something dramatically. The 24-megapixel RAW images I used during my testing shouldn't cause any lag issues on a powerful computer like my test machine, but for the most part, the editing process was responsive.
Winner: Affinity Photo.
Pricing & Value
For years, Adobe had a virtual monopoly on photo editing software, but they changed their entire catalog of software to a subscription model, much to the frustration of many of their users. Both Skylum and Serif have capitalized on this huge market gap, and both are available as one-time purchases for Mac and Windows operating systems.
Affinity Photo is the more affordable option at $49.99 USD, and it can be installed on up to two computers for individual commercial use, or up to five computers for home non-commercial use. You'll need to purchase a separate license for the Windows and Mac versions, so keep that in mind if you use a mixed ecosystem.
Luminar costs $69.99 USD, and it can be installed on up to five computers, including a mixture of operating systems. However, this mixture of operating systems perk doesn't make up for the higher purchase price and more limited features.
Winner: Affinity Photo. Tons of extra features at a lower price point create a clear value advantage over the competition.
The Final Verdict
For those of you looking for a serious professional-level photo editor, Affinity Photo is the better choice over Luminar. Its comprehensive editing capabilities far exceed those found in Luminar, and it's far more reliable and stable in practical use.
Luminar is much simpler to use, but that simplicity is born out of a more limited feature set. Affinity Photo squeezes a lot more features into the same space, although it could really use a more coherent user interface design. If you have the patience to customize the layout yourself for your needs, you should be able to simplify things quite a bit.
Luminar has the advantage of a library module for managing your photo collection, but it's still in a fairly rudimentary state as of this writing, and it's not enough of a bonus to push Luminar into the winner's circle. I had high hopes for this newest version of Luminar, but it still needs more work before it's really ready for serious use. Skylum has planned out a roadmap of updates for 2019, so I'll be following up with Luminar to see if they fix some of its more frustrating issues but for now, Affinity Photo is the better image editor.
If you're still not convinced by this review, both programs offer free trials without any limitations on features. Luminar offers you 30 days to evaluate it, and Affinity Photo gives you 10 days to make up your mind. Take them out for a test edit yourself and see which program is best for you!