Final Cut Pro is a professional video editing program used to edit Hollywood movies such as "The Girl with the Dragon Tattoo" and the effects-heavy Greek history epic, "300". So it may surprise you that Apple offers this app for a free 90-day trial period. 
There is a lot you can learn about making movies with a program like Final Cut Pro in 90 days. And there is a lot of editing you can do too.
When I first downloaded the Final Cut Pro trial software, I did so because I wanted more features than iMovie provided, and I was curious.
As the years went by, and I was (eventually) paid to edit commercial videos and personal movies with Final Cut Pro, I was glad I tried it, and glad I had the opportunity to learn more about the program before I bought it.
Are There Differences between the Trial and Paid Version?
Yes. But they are relatively minor. The trial version offers all the functionality of the paid version so you can edit full-length movies without any limitations. 
But the trial version of Final Cut Pro does not include the "supplemental content" that Apple provides with the paid version.
The most significant of these is the large library of sound effects freely available in the paid version. At over 1,300 royalty-free sound effects, music clips, and ambient noises, this is a notable omission for editors thinking they will have everything the paid version provides.
However, sound effects can be easily found on the internet. Just Google "free video editing sound effects" and dozens of sites will appear. So while it may take a little more work to find just the sound you want, you may even learn a bit about what other kind of sound effects are available and where to find them.
Another thing that is missing from the trial version of Final Cut Pro is some advanced audio effects. While replacing these is not easy to do by just searching the internet, I am confident that your need for these effects will only occur on more sophisticated projects.
And if you can learn to edit such a project in less than the 90 days Apple provides you a free copy of Final Cut Pro, then I will be impressed! (And would appreciate getting your contact information as video editing geniuses are usually in high demand…)
Finally, it is worth noting that Apple is quite generous with the number of filters, effects, titles, and audio content they provide in both the trial and paid version of Final Cut Pro. 
As such, you can rest assured that should you decide to buy Final Cut Pro you will not only have an incredibly powerful video editing tool but a wealth of content and tools to populate your films with.
How Do I Download Final Cut Pro on a Trial Basis?
You can download the trial version of Final Cut Pro from the Apple website here.
You can also download it via the Mac App Store, accessed on your Mac by clicking the Apple icon in the upper left corner, and selecting "App Store…". Just type "final cut pro" in the search box, and the program should be the first item in the results.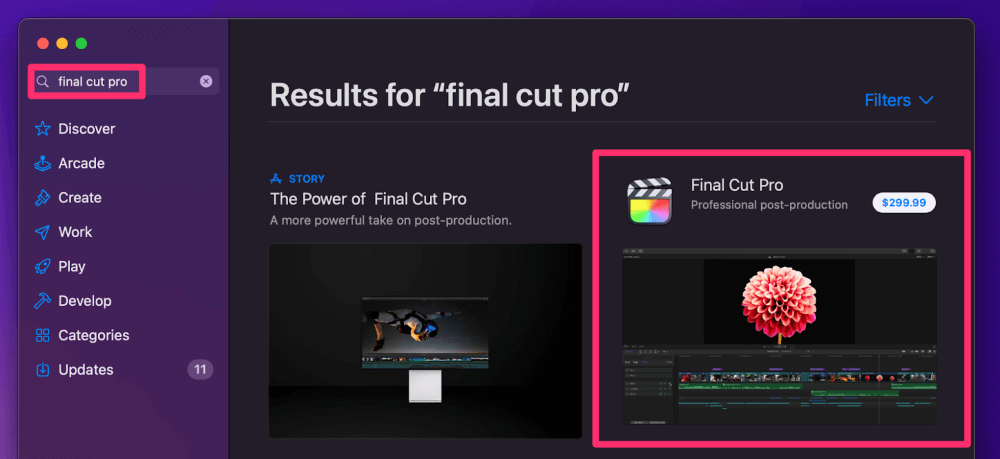 How Do I Upgrade to the Paid Version?
Because the trial and paid versions of Final Cut Pro are separate apps, you can purchase the full version of Final Cut Pro anytime through the App store.
Also, if you are a student, Apple bundles Final Cut Pro together with Motion, Compressor, and its audio editing software Logic Pro for just $199.00. Considering that Final Cut Pro sells for $299.99, Logic Pro for $199.00, and Motion and Compressor are each $49.99, this is a significant discount. 
Put simply, by purchasing the education bundle, you get Final Cut Pro for $100 off, and get a bunch of other great apps for free!
You can purchase the special education bundle here.
Can I import Projects From the Trial Version into the Paid Version?
Absolutely. While the paid version of Final Cut Pro is a different application, it will open any Final Cut Pro library created in the trial version. This reminds me, Final Cut Pro is a pretty big program, so if you do upgrade it is advisable to first open any movie projects into the paid version to make sure everything is working just fine, and then delete the Final Cut Pro trial app. 
You can do this by going to the Applications folder in Finder and dragging the Final Cut Pro trial app to Trash. (And, given its size, it is a good idea to empty the Trash after you've dragged it in!)
Final Thoughts
Picking a professional-grade video editing program is no simple task. While the main programs (including Adobe's Premiere Pro, DaVinci Resolve and Avid Media Composer) offer roughly the same features, the way you use them can vary dramatically. 
Final Cut Pro, in particular, is quite different from the other three in the way you move video and audio clips around in your timeline – which is really what most editors spend most of their time doing.
As such, I encourage you to take advantage of Apple's free trial for Final Cut Pro. Play around, edit a short film, and stuff it full of titles and effects. Get a sense of how it is organized and operates, and get a feel for how well that suits your style of working.
And please do let me know, in the comments section below, what you think! All of your comments – particularly constructive criticism – are helpful to me and our fellow editors, so please let us know! Thank you.