While there is no legal way to obtain a full-year subscription to Canva Pro for free, there are a few ways in which you can try Canva Pro for free or gain access to those premium features through their Canva for Education program.
My name is Kerry, and I have been using Canva for many years now. While I originally stuck to the free version of the platform, because well, it is free, I have since moved to the Canva Pro version in order to access all of the features that are available to designers.
In this post, I'll explain how you can get access to Canva Pro for free (and legally) to be able to try it out and access the premium features that are available on the website.
This can be a helpful step when you are assessing whether or not you want to commit to paying for the premium version later on.
Sound like a plan? Great! Let's get started!
Key Takeaways
In order to gain full-year access to Canva Pro, you will have to pay for a subscription as there are no legal ways to obtain this subscription for free.
Canva offers a free 30-day trial option for users to experience all of the premium features. You can sign up for this trial through your Account Settings.
While Canva doesn't have a specific plan dedicated to students, they (and educators) can gain access to Pro features through the Canva for Education program which gives access to Pro for those verified in the program.
Canva Pro Benefits
While many people enjoy designing on the free version of Canva, if you upgrade to the Pro version of the website, you will be able to access some really cool additional features that will help elevate your projects even more!
While Canva is free on all devices, the Canva Pro version does require a subscription which currently costs $12.99/month or $119.99/year for one person. That means that you will have to pay to use extra features, such as special templates, icons, and customizations.
In addition to gaining access to the whole selection of vector illustrations, photos, elements, videos, and features within the Canva library.
Right now, there are over 60 million images that are accessible within the Premium category. You can identify these by looking for the little crown attached to the image.
Other Canva Pro features that are useful include the 1TB of cloud storage that is provided as compared to the initial 5GB of storage that the free version provides.
Also, if you are planning on using the website to design for business ventures, users have the ability to develop brand kits that allows them to upload logos, fonts, and palettes that align with your brand and save it for future use.
2 Ways to Get Canva Pro for Free
There are a few methods to try Canva Pro for free without dealing with any shady business. One of these methods is to sign up for a free trial with another being access if you fall into the Canva Education program.
While these won't satisfy everyone's needs, read on to find out how to try Canva Pro for free this way!
Method 1: Sign up for a Free Trial
One nice thing is that Canva offers a free trial so that anyone can try out the Canva Pro features. This trial allows users to access all of the features of the Pro version for free for 30 days.
After the trial period is up, you will be automatically switched to the free version unless you cancel your subscription.
Follow these steps to learn how to get Canva's free trial:
Step 1: Log into the Canva platform using your normal sign-in credentials if you already have an account. If you are new to the platform and want to go straight to trying Canva Pro, go to the website and create an account using either your email, Google, or Facebook login.

Step 2: Go to the top right side of the home screen and navigate to the Settings button (the little gear) and click on it. This will bring you to a page where you can adjust your account settings.

Step 3: On the left side of the screen, click on the Billings and Plans option to go to the spot where you can sign up for a free trial. On this page, you will also see your current plan selection.

Step 4: Click on the Upgrade to Canva Pro option and an additional popup message will appear that will further explain some of the benefits and a button to Upgrade.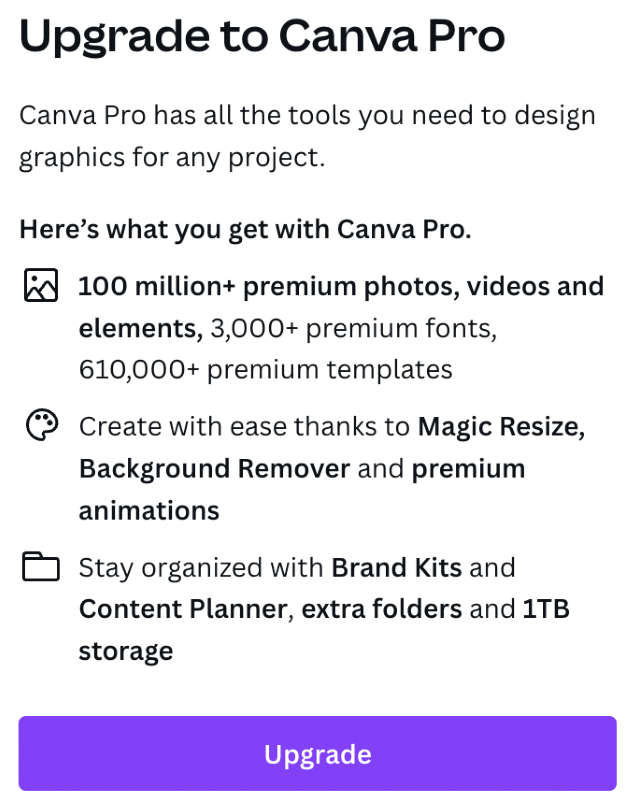 Step 5: Click on the Upgrade button and you will be asked to put in your payment information. Note that you will not be charged for your free trial, but you need to cancel the subscription before the period ends or else you will be charged for a premium subscription once it is over!
Step 6: Explore Canva and try out all of those cool features!
Method 2: Participate in the Canva for Education Program
If you are an educator or are a student, you will be able to participate in the Canva for Education Program. Educators can sign up for their education email address (from a school or organization) or upload proof of their teaching certification and employment.
It will take a few days for the Canva team to verify your email address, but once they do you will be able to invite teachers and students to access your class space. (Students, you will have to have your teacher set this up and then obtain access!)
All Canva for Education users will have to update their verification to keep using this program every three years.
Final Thoughts
If you are curious about the benefits of Canva Pro and are wondering if it is a good fit for you, I would suggest signing up for a free trial because you may realize that the price point, later on, is worth it.
If you are a Canva user, do you think that Canva Pro is worth the subscription price? What features are your favorite and which do you think should be accessible to all users? We would love to hear your thoughts, so comment below!