InDesign has some useful online collaboration features for sharing your layouts with others, but it's only for review and feedback, not file editing. 
If you want to edit your InDesign files online, you'll have to use a third-party service and a special InDesign file type, although none of them are going to be as effective as editing your InDesign file actually within InDesign.
Most InDesign documents are saved as INDD files, which is InDesign's native file format. It is a proprietary format, and as of this writing, INDD files cannot be edited by any other program except InDesign.
So, in order to edit your InDesign files online, you must export the files first.
How to Export Your InDesign File for Online Editing
While this may be nice for Adobe, it's hard to be effective in a workplace environment if you can't share any of your working files with other apps, so Adobe also created a new InDesign format for file exchange known as IDML, which stands for InDesign Markup Language.
IDML is an XML-based file format, which means that it's an open, standardized, accessible file format that can be read by other apps.
Creating IDML Files Quickly
Saving your InDesign document as an IDML file is simple. Open the File menu, and click Save a Copy. In the Save a Copy dialog box, open the Format dropdown menu and select InDesign CS4 or Later (IDML).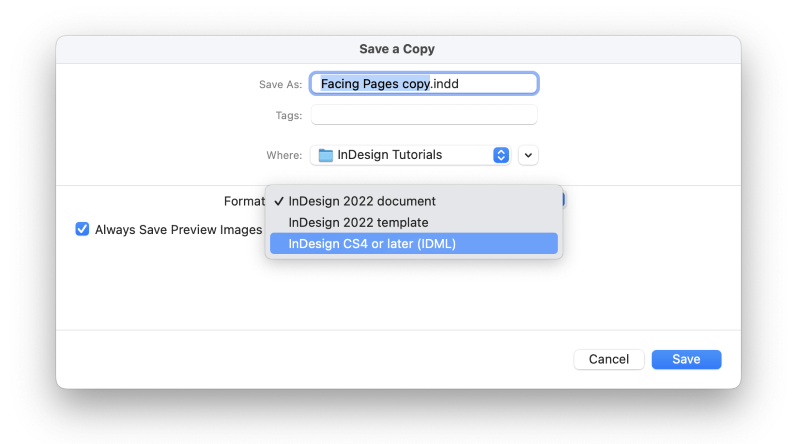 Creating IDML Files with Package
InDesign will also generate an IDML file for you if you use the Package command to prepare your file for sharing.
This can be a great way to ensure that all your fonts, linked images, and other necessary files are all available in a centralized location, which makes the process of working with them online a lot easier.
Here's how you can package files in InDesign.
Step 1: Open the File menu and select Package from near the bottom of the menu. You can also use the keyboard shortcut Command + Shift + Option + P (use Ctrl + Alt + Shift + P if you're using InDesign on a PC).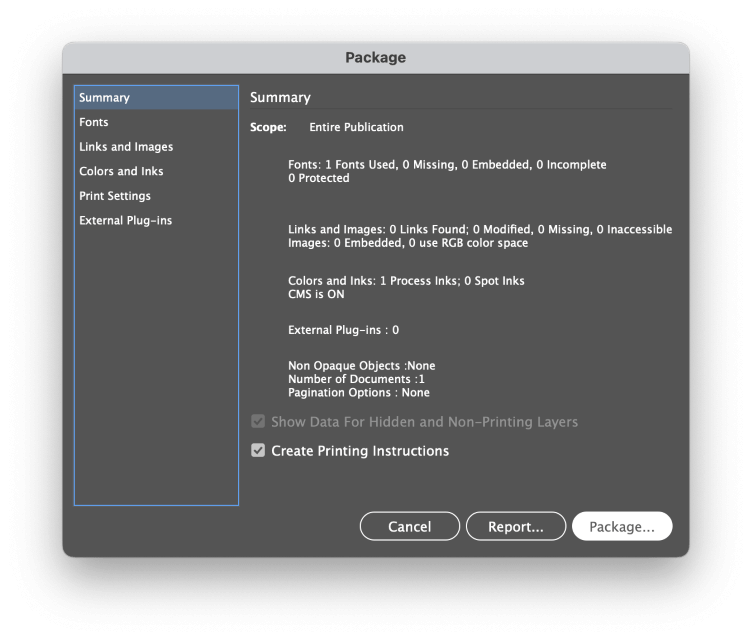 Step 2: Review all the package settings to ensure that everything is ready, and click Package. In the next dialog window, make sure that the Include IDML option is enabled. It should be enabled by default, but InDesign may remember any previously used settings, so it's worth checking.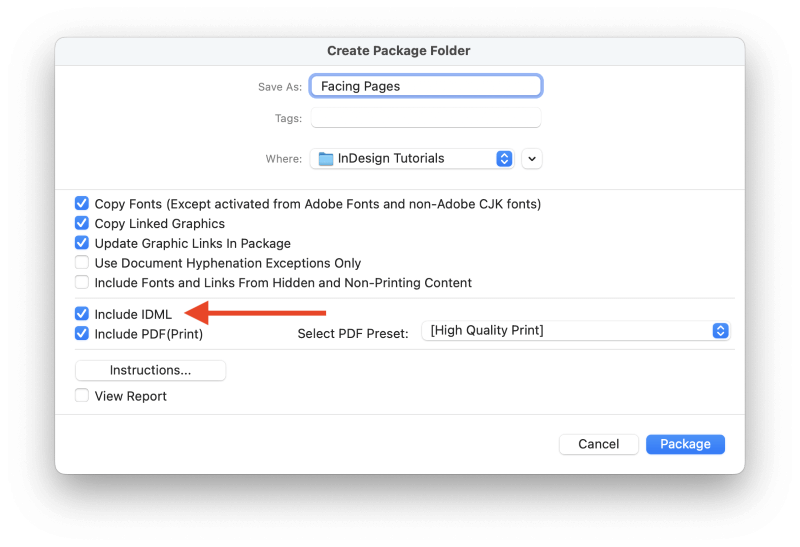 Step 3: Click Package one last time, and InDesign will copy all your fonts and linked images into a single folder, and also generate an IDML file and a PDF file.
Online Editing Platforms for Editing InDesign Files
While there are no online services or other apps that can edit INDD files, you have a few options for working with IDML files.
Because InDesign documents often use many fonts and linked images, the "online editing as a service" model isn't the best way to work with them, but a few companies have tried to fill the market gap.
For the most part, though, InDesign is not well-suited to browser-based editing because IDML files have much more limited functionality than INDD files. If you want the best InDesign editing experience, you'll have to just use InDesign.
1. Customer's Canvas
As with most services that allow online editing of IDML files, the main focus of the business is elsewhere.
Customer's Canvas allows you to create and personalize a wide range of items from books to coffee mugs, and they allow you to upload files created in both Photoshop and InDesign.
2. Marq
Marq was formerly known as LucidPress, a web-based desktop publishing app, but it has since changed its focus to ensuring branding and marketing consistency across widely distributed organizations like real estate agencies and healthcare providers.
If you're not exactly sure what that means, join the club, but don't worry; they still allow you to upload InDesign files in IDML format and edit them online.
You can sign up for a free account that will allow you to have 3 working documents, which is enough to test out the service or use it as a one-off for sharing and editing a small-scale project.
FAQs
If you're still curious about editing InDesign files online, I've collected a couple of the most frequently asked questions. If you've got a question I didn't answer, let me know in the comments!
Is there a web version of InDesign?
Unfortunately, there is no official web-based version of InDesign available from Adobe. Adobe has recently launched a web-based version of Photoshop called Photoshop Express, though, so perhaps it's only a matter of time until there is an online version of InDesign too.
Can Canva open InDesign files?
No. While you can import many different file types into Canva, including some proprietary files created by Adobe Illustrator, there is no way to import InDesign files in any format.
This would be a great addition to Canva's impressive abilities, but we'll have to wait for their team to implement it. Until then, you'll get the best results from working directly in InDesign.
A Final Word
That's just about all there is to know about how to edit InDesign files online. I'm sure you noticed that the main takeaway was that you're really better off using InDesign to work on InDesign files, although one of the online services may be able to provide the functionality you need.
Happy InDesigning!