Specialized file types are everywhere these days, and it can be difficult to keep track of every random acronym out there. Each program seems to have its own special file format with a custom extension, and some programs even have multiple types!
To help clear things up a bit, let's take a closer look at the INDD file format.
Key Takeaways
INDD files are the proprietary file format of Adobe InDesign.
Adobe InDesign and Adobe InCopy are the most reliable programs for opening INDD files.
Some other programs can open INDD files, but may lose key features and data.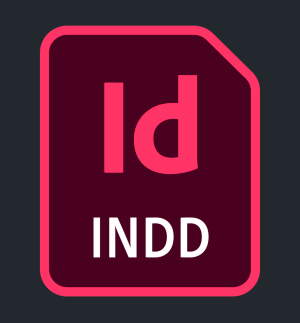 What is an INDD File?
The INDD file format is the native format of Adobe InDesign, Adobe's popular page layout software. While working on a project in InDesign, the INDD format is the only method for retaining all aspects of your layout design in an editable format. INDD files are exported as more widely-accessible formats such as PDF when the document is finalized.
How to Open INDD Files
If you have InDesign installed on your computer, the simplest way to open an INDD file is to double-click the file icon. On both Macs and Windows PCs, InDesign will automatically launch itself and immediately open the file as requested.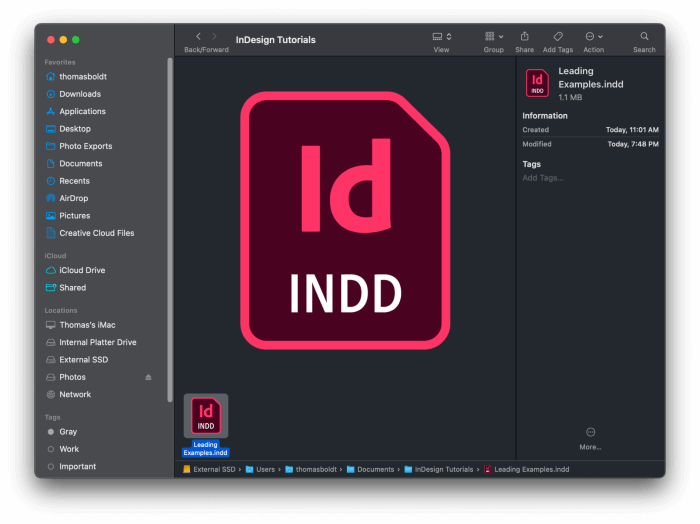 For those of you who already have InDesign running, the simplest way to open an INDD file is to select the File menu, and click Open.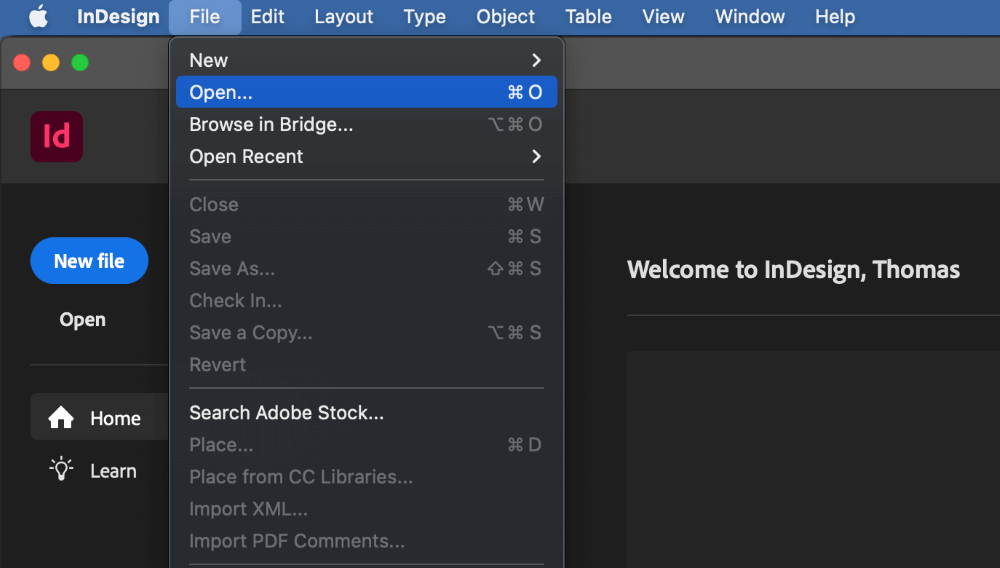 InDesign will load the Open File dialog window, shown below. Depending on which operating system you're using, this may look slightly different than my example, but the general process is the same. Navigate to the folder that contains the INDD file you want to open, select the file, and click the Open button.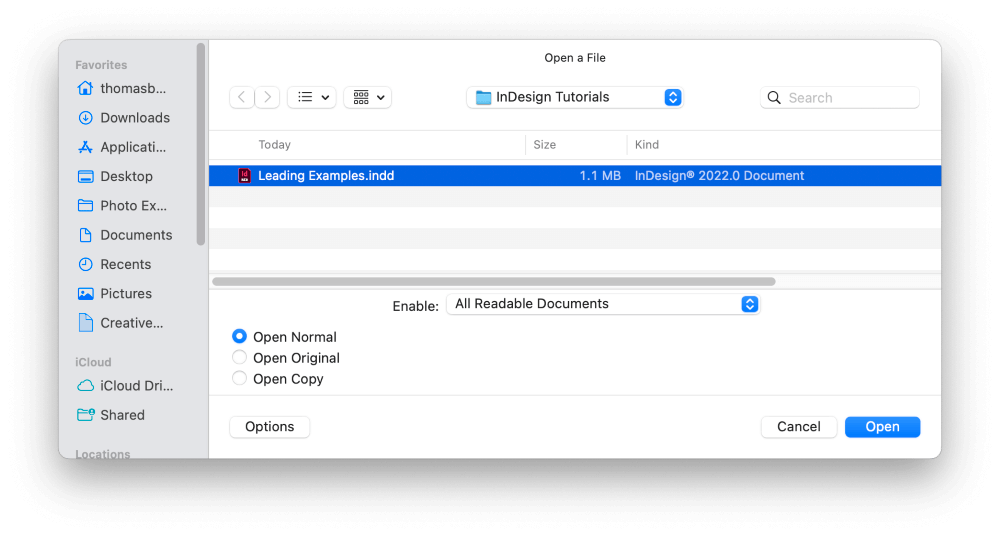 InDesign will load your INDD file, ready for editing.
How to Open INDD Files without InDesign
The only guaranteed way to properly open an INDD file without InDesign is to use Adobe InCopy, which is Adobe's dedicated word processor which integrates collaboratively with InDesign. Unfortunately, Adobe InCopy is only available as part of the larger Creative Cloud subscription, which means that the only way you'll have access to InCopy is if you also have access to InDesign. 
If you own the professional version of Adobe Acrobat, known as Acrobat DC, you can open an INDD file and it will be automatically sent to the Adobe Document Cloud and converted to a PDF for you. This online service is only available as part of a Creative Cloud subscription plan, and it cannot be accomplished using the free Acrobat Reader.
Some programs such as Adobe Bridge and other thumbnail viewers can display the page preview thumbnails created by InDesign and embedded in INDD files, but this only provides you with a very low-resolution snapshot of each page with no possibility of editing or even viewing the page properly. 
Frequently Asked Questions About INDD Files
If you're still looking for more information, here are some of the most frequently asked questions about INDD files.
Are INDD Files Raster or Vector?
According to Adobe, INDD files are a customized type of vector file. Vectors are perfect for describing layout and graphic design information without any loss of quality due to compression.
Can I Open an INDD File in Photoshop?
No, Adobe Photoshop cannot open INDD files. Photoshop only provides extremely basic vector editing capabilities, and cannot process the contents of an INDD file.
Can I Open an INDD File Online without InDesign?
No, it is not possible to open an INDD file online without InDesign at the time of this writing. Several services will import IDML files, which are a related but different file type also created by InDesign. Some services even misleadingly claim to import INDD files, but when you actually dig down into the import process, they all depend on IDML files instead of INDD files.
Can I Open INDD Files for Free?
Yes! Because Adobe offers a free trial of Adobe InDesign, it's possible to open INDD files for free. The trial period is only 7 days, but it provides full access to all of InDesign's features with no restrictions or limitations. 
A Final Word
That's just about everything there is to know about INDD files and how to open them, as well as a few unexpected methods for opening INDD files without InDesign. Hopefully, Adobe will finally open the INDD format to wider usage the way they did with Photoshop's native PSD file type, but until then, we'll have to manage with the limited options that are currently available.
Happy InDesigning!