If you are looking to create an eBook using a simple design platform, Canva allows you to search and use premade templates as your base. Then, you can go to the toolbar and add elements and edit the designs to fit your eBook needs!
Hi there! My name is Kerry, and over the years I have dug deep into various design platforms to find the best ones to use for beginners and professionals alike! One of my favorite websites to use due to its expansive library of tools and graphics is Canva and I want to share some tips with you.
In this post, I'll explain to you an easy way to create your own eBook in Canva! Whether you are a writer who is looking to self-publish or someone who wants to create a personalized book, you will definitely want to pay attention to this one!
Are you ready to learn more about how you can create your own eBook on the Canva platform? This is super exciting so let's get to it!
Key Takeaways
To create an eBook on Canva, you can search for "eBook templates" in the search bar on the home screen.
Be aware that some of the templates that appear in the eBook search will only be the cover templates. If you want to use one of these for your covers, go ahead, but remember to add in pages for the rest of your book!
If you choose a template that has multiple pages included, you can pick and choose which ones you want to use in your project by clicking on them and adding a new page to your project.
Why Create an eBook Through Canva
There are a good amount of people out there who would love to publish a book, whether it be a children's book, a novel, a journal, or any other sort of story! With all of the technology that is available today, pursuing those dreams is easier than it has been in the past.
Today, you have the option to self-publish a book, which allows more people to get their ideas out there. Sometimes it can feel overwhelming to find the tools and technology that can assist in these endeavors, so using Canva can be a super simple solution to that!
On Canva, you can choose from premade templates to create your eBook. I will say though, there are many more options available if you have a Canva Pro subscription!
How to Create an eBook on Canva
Before you start designing your eBook, it is good to reflect on your vision and what you are hoping to create on Canva. There are templates available that are just for eBook covers and others that have complete page setups included in the package.
Either way, it is always fun to explore what is available on Canva and with all of the customization properties, you can always add pages to those eBook cover templates!
Follow these steps to learn how to design an eBook on Canva:
Step 1: First you will need to log into Canva and on the home screen, type into the main search bar "ebook" and then click enter. You can also choose to open up a new canvas using the A4 size model.

Step 2: You will be brought to a page that has a display of all of the premade templates that you can use to create and edit your eBook. Scroll through the selection and select the template that you want to use by clicking on it.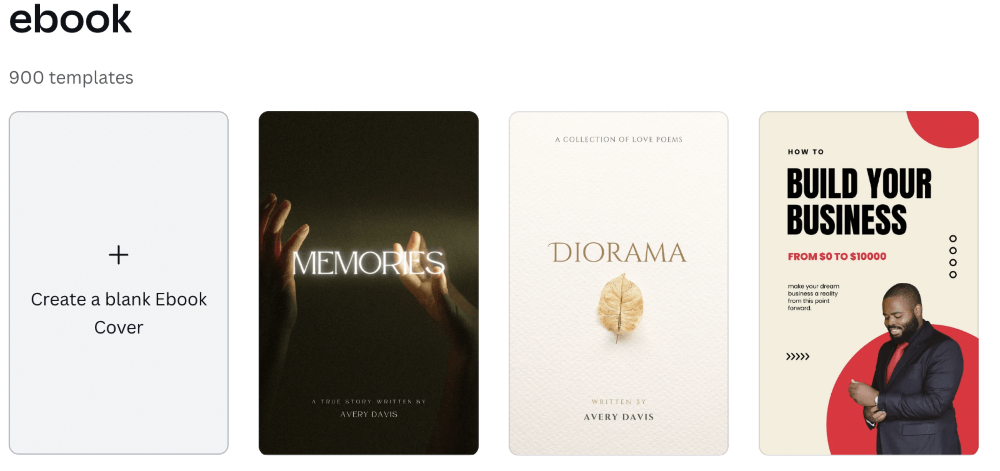 You will also be able to tell if the template has multiple pages because it will be indicated in the bottom left corner of the thumbnail when you hover over the selection. (For example, it will say 1 of 8 pages.)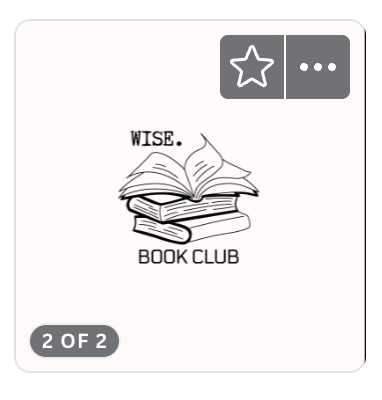 Step 3: Once you have clicked on the template that you want to edit, your canvas page with the chosen template will open up in that window. While you are editing the template for your eBook, you can decide which pages you want to keep and which ones to delete or edit.
Step 4: On the left side of the canvas, you will see the page layouts that are included in your template (as long as you chose one that has multiple pages included). Click on the page that you want to use and it will be applied to your canvas.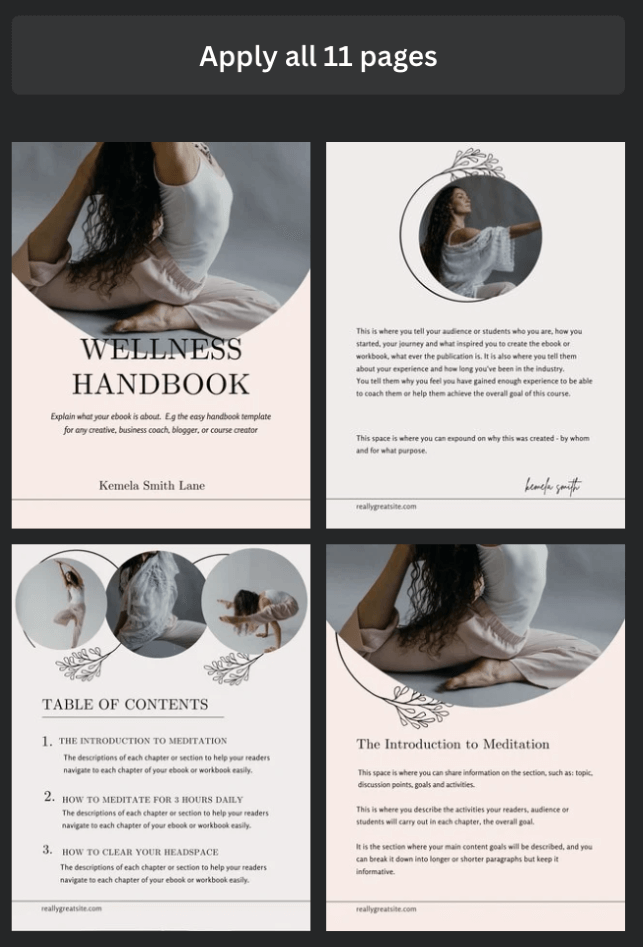 Step 5: You can add more pages to your eBook by clicking on the Add page button that is at the top right of the canvas page and repeating the steps stated above by choosing the page layout that you want to use from your template.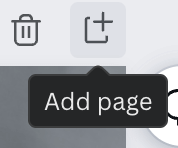 If you want to use all of the pages that are included in the template, select Apply all pages and all of them will be added to your project for you to work off of.

Step 6: Now you can edit your eBook by including text, graphics, photos, and more from either your uploaded media or from the Canva library! Just as you would with adding other design elements to your project, navigate to the left side of the screen to the main toolbox and click on the Elements tab where you can find these options!
If you want to remove or change any of the elements that are already on the template, simply click on them and delete or edit them!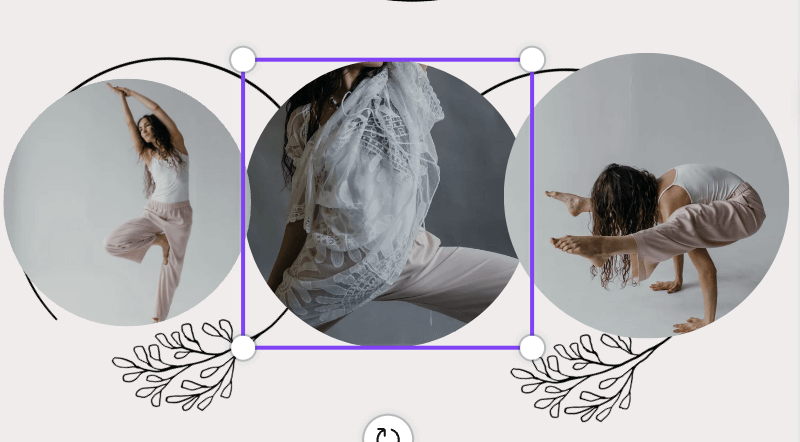 Remember that any template that has a crown attached to the bottom of it is only available to use through a Canva Pro subscription account!
Step 7: Once you are happy with your eBook and ready to save and download it, navigate to the Share button and click on it. Here you can choose the file type that you would like to save your eBook as and then click Download. This will save to your device where you can upload it for printing or share it with others!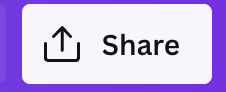 In order to make sure that your eBook will be of the highest quality when viewed either through a device or printed, choose the PDF print option. This will ensure that your project is saved with a high-resolution DPI of 300, which is optimal for printing
Final Thoughts
Being able to create an eBook on Canva is one of the features that not only make designing easy, but it allows users to pursue their aspirations and potentially make money off of the projects that they create!
Have you ever created an eBook on Canva and want to share your experience tapping into this feature? We would love to hear your stories surrounding this experience. If you have any tips or tricks for creating an eBook on Canva, please let us know! Share your thoughts and ideas in the comment section down below!