To create and download a video on Canva, you can create a design using the video template on the platform and include all of the visuals that you need! To download it, all you have to do is go to the Share button and scroll to find the option to download it as an MP4 file.
As more and more options become available for creating so many types of projects, it can be puzzling to figure out which ones to use that best fit your needs. If you find yourself looking for a platform where you can design a wide variety of projects on a user-friendly platform, look no further! It is time to check out Canva!
My name is Kerry, and I am here to share all of the tips and tricks for creating these types of projects. In this post, I'll explain the basic steps to create and download videos that you can design on Canva. 
This is a feature that is useful if you are comfortable creating a presentation style or want to incorporate premade elements from the library.
Are you ready to get started and learn how to create and download your videos? Wonderful – let's go!
Key Takeaways
You can bring your presentations to life and design professional videos on the Canva platform by either creating a project from scratch or by using a premade presentation template that is found in the library.
When you are ready to share your video, make sure to download your file in MP4 format.
Why Use Canva to Create and Download Videos
Did you know that Canva has a video editor? Pretty cool, huh? When you use the Canva video editor, you are able to make videos in a simple format by utilizing their premade templates and elements.
If you are well adept with creating presentation style creations (like PowerPoint or even better yet on Canva!), you will love creating videos on this platform since it follows much of the same steps as you can upload your own media or use the expansive library to create more professional-looking videos.
How to Create a Video from Canva
Before we talk about downloading videos from Canva, it is first important to know how to create them! This will be a basic overview as it is very similar to creating other types of projects but important to discuss nonetheless!
Follow these steps to learn how to create a video on Canva to be downloaded later on:
Step 1: Log into Canva and open up a new canvas project to work on. Make sure to choose the Video option as it will allow you to create multiple slides that will allow for the video format to work.
Step 2: As you scroll through the Templates that are available in the Canva library to the left of the canvas, click on the one that you would like to use as the base for your video.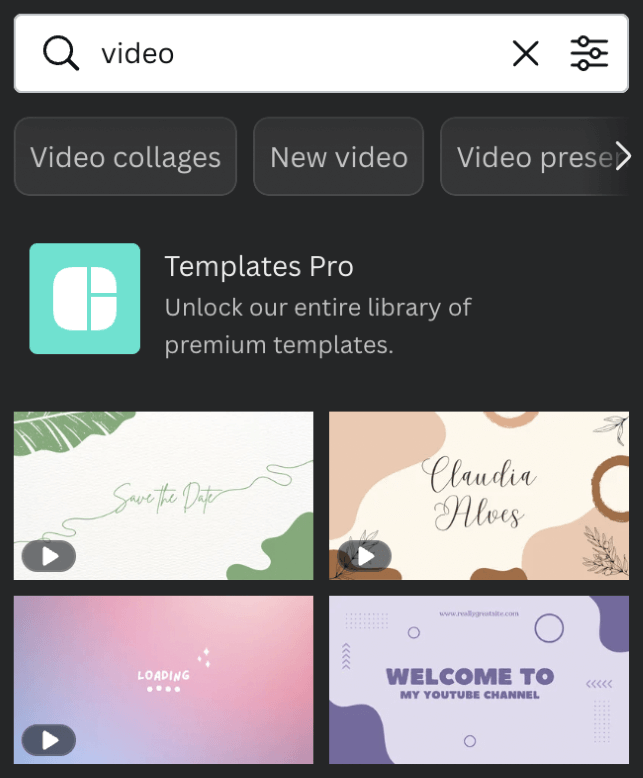 Step 3: Add the information, graphics, and elements that you want to include in your video by using the toolbar that is located on the left side of the screen. This is a hub that will serve as the main place to search for elements, add text boxes, and include uploads, plus more!

You also have the option to add more slides to your video at the bottom of the canvas. Click on the + icon and you will be able to add more to your video. The overall time stamp and duration of your project will also adjust when you do this.

How to Download a Video from Canva
Once you have created your awesome video, it is time to download it!
Follow these steps to learn how to download your video in the correct format:
Step 1: Once you are satisfied with your video project and have adjusted all of the elements as you see fit, navigate to the top of your canvas where you will see the Share button. When you click on it, you will see a drop-down menu where you can customize your download option.
You will also see the total run time of your video up here!

Step 2: Click on the option that is labeled MP4 Video and you'll be given the option to select which pages of your presentation you would like to download. You can choose individual slides or the whole video (all pages).

Step 3: Click on download and your video will download to the device that you are using!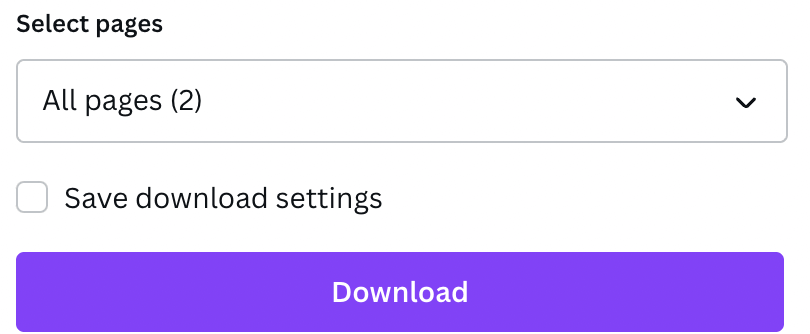 Things to Keep in Mind
When it comes to downloading videos from Canva, the length of the video can affect the processing of your download. If you are finding that your video is having difficulty downloading, you can explore the following options:
Trim your video to 30 minutes or less.
Try downloading your video on a different device if you have one available.
Decrease the resolution to 1080p. This will still ensure an optimum quality video, but also allow for easier downloads.
Instead of downloading your video, simply share the link to view the video on Canva.
Final Thoughts
I really love using Canva to create videos because while other platforms are great for adding filters and common photography elements, Canva gives you so many premade options to include in your video without having to do any extra searching!
Do you have a preference as to which platform you use to create videos? If you have any tips or tricks for building videos on Canva and downloading them, let us know! Share your thoughts and ideas in the comment section down below!