If you are someone who has been curious to try out digital or graphic design, there are a multitude of programs out there to choose from. While that is awesome, it can be overwhelming trying to figure out which ones are the best to use.
My name is Kerry I love exploring new design tools and I've just tried out VistaCreate recently. One piece of my research always focuses on accessibility, since many of these services market themselves as being good for beginners – and I want to see how accurate that statement actually is.
In this post, I'll explain and compare some of the features in both Canva and VistaCreate to hopefully help you choose which program is the best for you. I will highlight some of the main aspects of their programs to save you some time so that you can focus on getting started with designing!
Quick Comparison
Here's a quick overview of Canva vs VistaCreate:
| | | |
| --- | --- | --- |
| | VistaCreate | Canva |
| Learning Curve | Clearly labeled features. Takes some time to play around and learn the tools | Easy to learn and use Great for beginners |
| Pricing | Free version available. Pro version (paid monthly) $156/year or $13/month. Pro version (paid annually) $120/year$10/month | Free version available Canva Pro $119.99/year. Canva for Teams $149.50 for up to five users |
| Premade Templates | Has a collection of premade templates but is more limited than other services | Canva's library has thousands of premade templates and graphic elements |
| Free Additional Features | Provides design features with its free plan that is usually only provided with Pro plans on other platforms | Most additional design features are only available in the paid plan option |
| Interactive Elements | Advanced editing features that make designs interactive including | Limited interactive features (mostly transitions, applied links, and minimal animation effects) |
Canva vs VistaCreate: Detailed Comparison
We are going to be comparing Canva and VistaCreate in the following categories: learning curves, pricing, premade templates, free additional features, and integrations.
Learning Curve
On Canva (whether you are using the website or app), all of the tools that you will need for your project are clearly labeled which makes navigation easy. Also, there are tons of templates that you can use (we'll get to that in a bit) so you do not have to start your projects from scratch.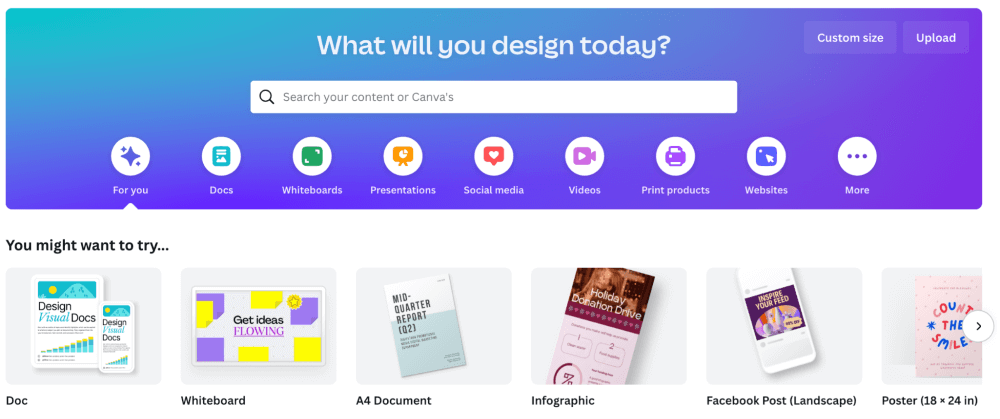 VistaCreate looks identical to Canva's home screen and totes many of the same features. With that, it is also a very simple website to use since it is so similar to Canva.
Users can choose the type of project that they want to create from templates, drag and drop elements, and really create using the same technique as they would on Canva.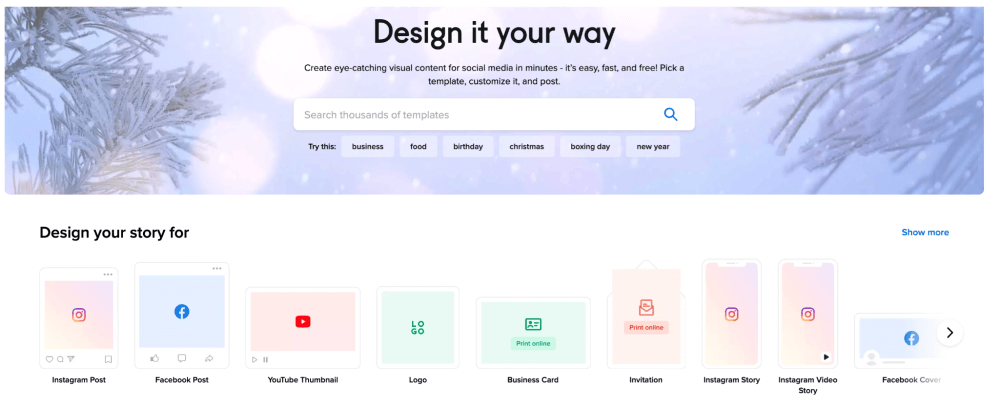 For both of these platforms, there are tutorials both on their websites and on external websites that can teach users how to dive deeper into these programs.
Winner: Canva. Being that Canva was created in 2012 and VistaCreate came about a few years later, I have to give credit to the original for the interface design and the ways in which they made the platform accessible and easy to learn.
Premade Templates
One of the best parts of Canva is that it has an immense variety of premade templates that are ready immediately when you start designing. In addition, Canva's templates include so much more than just presentations, calendars, and social media posts.
They have continued to grow their template library over the years based on the needs of their users. It is important to note that users who opt for the free plan have access to these templates too (over 250,000 to be exact)!
VistaCreate also offers a library of premade templates that are available to use, It advertises 100,000 available templates in their free plan, which is insane when you think about it. Similar to Canva, you can use these as a base for projects.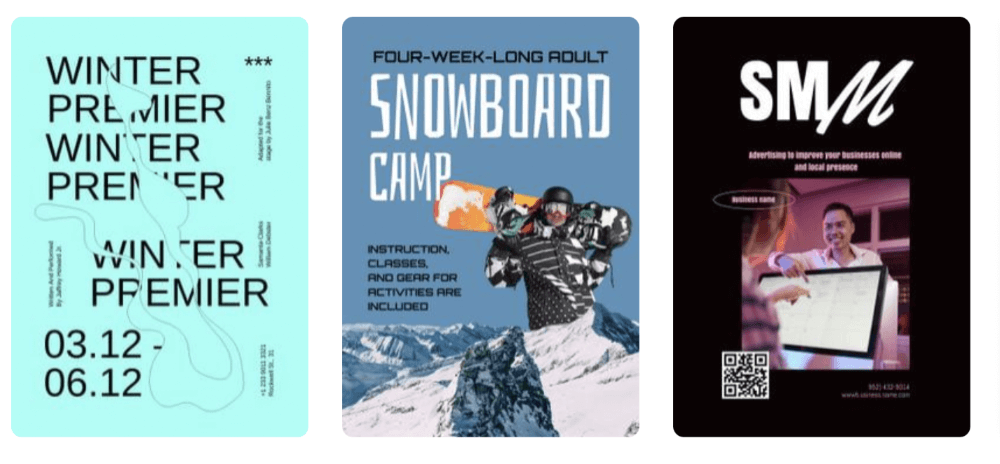 One cool template that VistaCreate has that Canva doesn't advertise is the ability to make stickers! This is really cool if you are someone looking to create stickers for marketing purposes, give them as gifts, or sell them.
Winner: Canva. Numbers-wise, Canva has a wider variety of premade templates to choose from and has a more extensive library of elements to use on those templates.
Free Additional Features
While Canva does offer some great design features in their free plan, if you are looking to edit photos, include voice recordings in your projects, or create brand kits, you will have to sign up for the paid plans.
However, while VistaCreate is so similar to Canva, they have added some features to their free plan that is not provided with the previous platform. These tools make it more accessible for people to design and create projects that are usually only available for paid users on other websites and apps.
Some of these additional features that VistaCreate offers is the creation of a brand kit where you can save color palettes, logos, and fonts for marketing projects, and up to 10GB of storage whereas other platforms usually only provide 5GB of storage with a free plan.
This is a nice perk to consider if you want to stick to your budget.
Winner: VistaCreate. There really isn't a question as to which one is the stronger option because Adobe Express was created for this purpose and has so many tools to utilize interactive elements in your projects.
Interactive Elements
Within Canva Pro or Canva for Teams, users have more interactive elements available to use, such as adding basic animations, and voiceover recordings. When creating presentations, users can add transitions to their slides, and for other projects, they can add sounds, voice recordings, and videos.
In addition to the features that Canva has for making projects more interactive, VistaCreate also has animation options that actually span a bit further. Users can change still images into motion with its animated effects in even their free plan, allowing for more accessibility.
Winner: VistaCreate. Being that there are more interactive features in even the free plan on VistaCreate, more users have access to creating animations and interactive projects.
Pricing
Canva has a free option that has fewer features as compared to the paid subscription plans. If you want to use more images, fonts, templates, or features, you can get Canva Pro for $119.99/year.
There is also another paid plan for businesses called Canva for Teams and it costs $149.50/year for up to five users. This is a great option if you are looking for brand kits and collaboration!

VistaCreate also offers a free option that is a great option for those on a budget or for anyone who is looking to dabble in graphic design but does not want to fully commit yet. Its free plan actually totes a bit more features than Canva's, as it provides more storage.
While Canva also offers a Business plan, VistaCreate only has one paid option – its Pro plan. Users can save a bit of money if they pay annually, as it will cost $120/year or $100/month.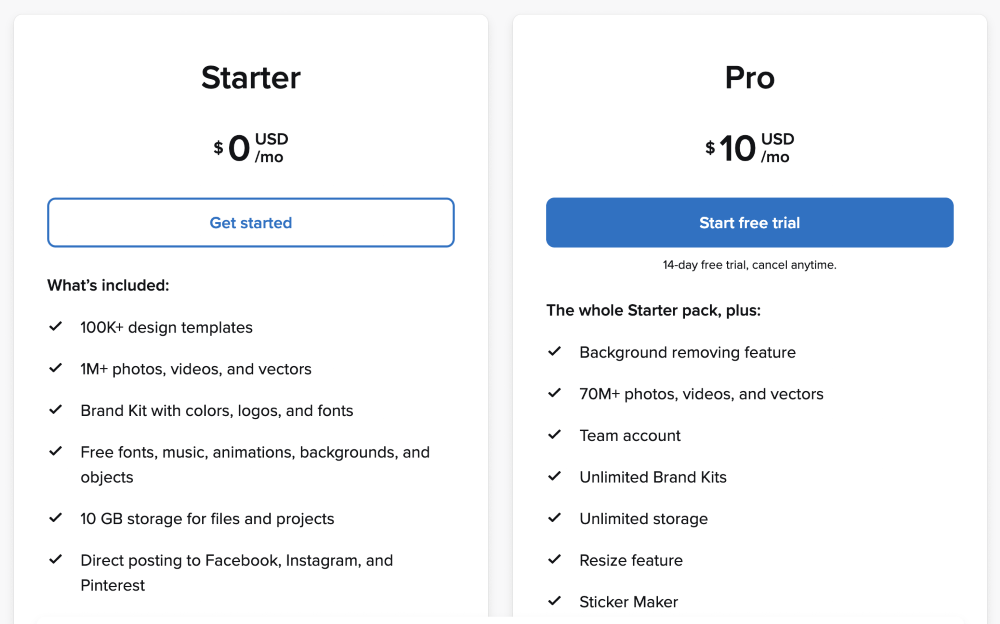 Note: If you pay for this plan monthly, it will cost you $156.00/year or $13.00/month.
Winner: Tie. This one is a bit tough as both platforms offer robust free plans. VistaCreate's free plan does offer more features than Canva's that would normally put it ahead, AND the Pro plans annually cost the same but if you consider that the monthly VistaCreate plan does cost more it evens out.
Final Verdict
Both Canva and VistaCreate are strong contenders for graphic design platforms because they are so similar! Canva has built out its platform a bit more, though VistaCreate is incorporating some features into its website to give it some unique standout features.
We would love to hear from you! Whether you use Canva, VistaCreate (or both), we would love to know your opinion about these platforms. Feel free to share your opinions, and ideas regarding this topic in the comment section down below!