If you are someone who has been curious about graphic design or working in a marketing team, you probably have heard of Canva. It has become trendy over the past few years as it is one of the best graphic design platforms that serve both designers and non-designers.
My name is Kerry and I have been dabbling in graphic design and digital art for years. I have been using Canva as a main platform for designing and am extremely familiar with the program, best practices for using it, and tips to make creating with it even easier! In doing so, I have researched and explored all of the subscription plans to find the benefits of each.
In this post, I'll explain and compare some of the features in both Canva Pro and Canva for Teams to shed some light on their features so that you can choose the one that best fits your needs!
Both of these plans have similar features, but diving deeper into their purposes can help you decipher which one is the best choice to pay for.
Quick Comparison
Here's a quick overview of Canva Pro vs Canva for Teams.
| | | |
| --- | --- | --- |
| | Canva Pro | Canva for Teams |
| Purpose | Elevated version of the Canva platform and provides individual users with full access to templates and design features.  | Designed for businesses and multiple users and provides the same features as Canva Pro.  |
| Pricing | $119.99/year | $149.50 for up to five users |
| Available Elements | Offers access to thousands of elements, templates, and stock photos, audio, and editing features that aren't available on the free Canva plan. | Allows access to the same features, editing tools, and library elements that are on Canva Pro. |
| Collaboration | Individual users can share projects with other Canva users through links for collaboration. | Teams can work together in real-time and share brand kits, color pallets, and projects |
| Content and Brand Management | Create brand kits for individual projects. No team management | Easy brand management with your team. More brand kit and content management |
Canva Pro vs Canva for Teams: Detailed Comparison
We are going to be comparing Canva Pro and Canva for Teams in the following categories: purpose, available elements, collaboration, content, brand management, and pricing.
Purpose
Canva Pro is an elevated version of the Canva free version. With the Pro version, you can access what is available within the free version plus more ready-to-use elements, templates, and features. Canva Pro users also have the ability to create brand kits, use simple photo editing tools, and even record their own audio to add to projects.
In short, Canva Pro is excellent for those who want all of those premium features for design projects.
Canva for Teams is another subscription plan geared towards businesses or teams that want to collaborate. This is a great choice for those businesses that are working from home but still want to create a shared platform where members can create and share designs.
Once a Canva for Teams account is created, members can be added via email so that they will not only be able to design their individual projects, but share projects for co-collaboration, have brand kits, schedule posts, and manage workflows.
All of the design features that are available on Canva Pro are also available on Canva for Teams!
Winner: Tie. There really isn't a winner for this section, as both subscription services and their purposes are geared toward different audiences- either individuals or teams.
Available Elements
One of the best parts of Canva is that it has an immense variety of premade templates that are ready immediately when you start designing.
For both Canva Pro and Canva for Teams, users receive an immense library of additional stock photos and graphics, access to an audio and video library, and the ability to include their own recordings and images in projects that they are designing.
Winner: Tie. Both Canva Pro and Canva for Teams have the same library, features, and elements.
Collaboration
While Canva Pro is really designed for individual users, anyone who is subscribed to this version of the service will be able to share designs with other Canva users. They can do this through the "share" button or a link that will bring users straight to that project canvas.
(It is important to note that anyone who shares their project link will have to make sure that they click the button that gives permission to others to edit the project.)
Produce your team's multi-channel campaigns with a built-in content publishing workflow, a social media calendar, and advanced insights.
Simply publish a design as a template and the design will automatically be added to your brand page.
Winner: Canva for Teams. This plan was created specifically for collaboration and users on Canva can share their projects to have others collaborate and edit with them. And with their business account, collaborating is even more streamlined!
Content and Brand Management
If you are looking to use Canva for business purposes, you will love the ability to create brand kits within the platform!
When you are signed into a Canva Pro account, you will be able to create brand kits that allow a user to build a brand from scratch or add colors, palettes, and fonts so that you can keep your marketing materials consistent. In addition, users can incorporate brand logos, images, and more into their designs!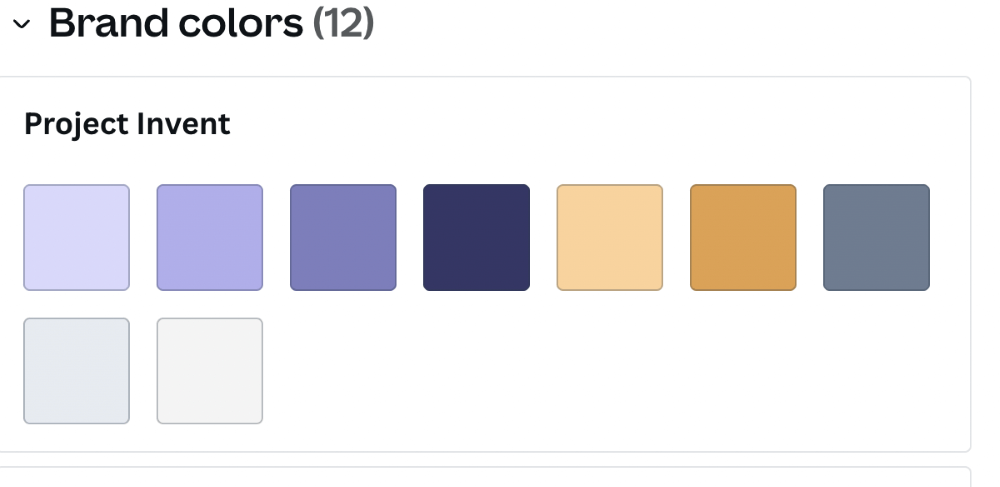 For Canva for Teams users, this feature is elevated as you are able to create more brand kits all in one place. This type of account is also created so that sharing designs and assets are easy between team members. When you make changes, team members can share comments and approve changes to designs so that all of your creations are on brand.
Canva for Teams users also has the ability to create a content calendar that can be shared so that posting to social media or other platforms is seamless and available for all on the team to see.
Winner: Canva for Teams. This type of account allows you to create more brand kits and by sharing them with others on the account, users are able to ensure that larger businesses are able to stay on brand with all materials and designs.
Pricing
If you are looking for an elevated Canva plan that reaches further than the original free version, I would check out Canva Pro. The Canva Pro plan costs $119.99/year and allows access to all of the features and elements in their library without having to pick and choose based on what is available.
There is also another paid plan for businesses called Canva for Teams which costs $149.50/year for up to five users. This is a great option if you are looking for brand kits and collaboration! If you would like to add more users to the plan (six or more), the price per additional person decreases based on the size of your team.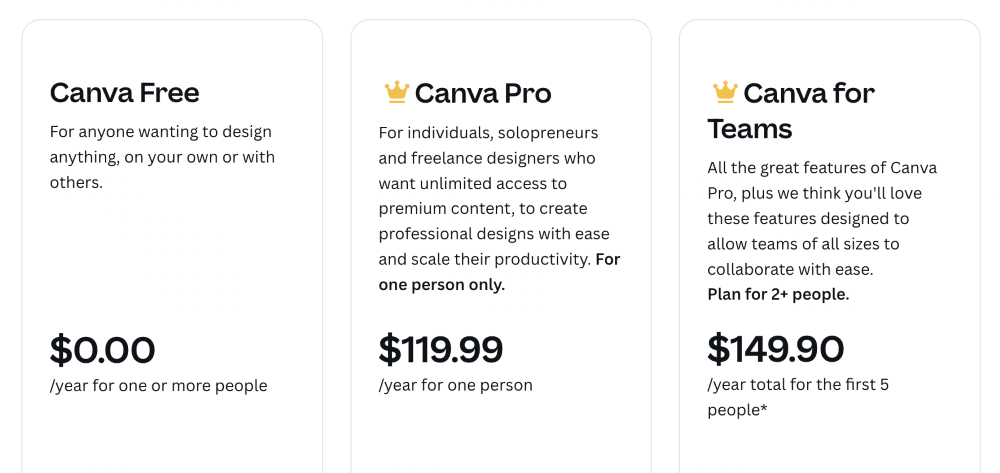 For both of these platforms, there are tutorials both on their websites and on external websites that can teach users how to dive deeper into these programs.
Winner: Canva for Teams. If you are looking for an individual account, Canva Pro offers a good deal to access all of the features, but if we are looking at price, you get more bang for your buck when you sign up for Canva for Teams since more people have access to the platform with the same features.
Final Verdict
Both Canva Pro and Canva for Teams are excellent subscription accounts on the platform. They are so similar it can be difficult to compare all of their features since they share so many of the same capabilities.
If you are looking for more team members to have access to all of the benefits of Canva, Canva for Teams is a bit stronger of a contender.
Are you using Canva Pro or Canva for Teams? If so, we would love to hear how you enjoy using the platform has all of the access to features, and why you chose the plan that you did Feel free to share your opinions and thoughts in the comment section down below!