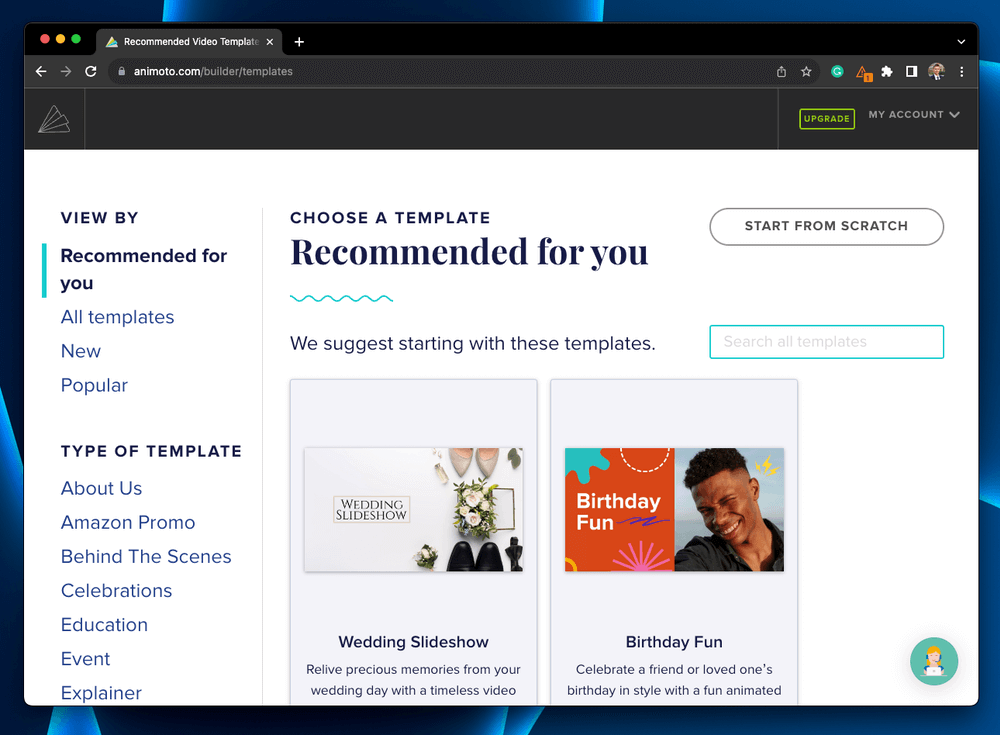 Animoto
Features: Plenty of features to help you create high-quality videos and slideshows.
Pricing: There's a free version available, but you can take advantage of the full features list with a paid subscription.
Ease of Use: Creating quality videos and slideshows is as simple as a few short steps.
Support: Ample resources for assistance from a detailed FAQ page and a dedicated support team.
Summary
Animoto is a program designed to help you create videos and slideshows with various images. It simplifies the process of creating mini slideshows and clips by allowing you to conveniently upload your photos, pick a theme, and add text. It's easy to use and comes in a free version or in paid versions at an affordable price.

It's an excellent choice for those who want an affordable way to create clips or even for businesses who want to promote their brand. However, it's not ideal for those who want highly advanced features and ultimate control over their projects.

What I Like: This software is affordably priced, easy to use, and offers an impressive array of features.

What I Don't Like: Controlling the transitions and themes is somewhat difficult.
What can you do with Animoto?
Animoto is a web-based program that allows you to create videos from various images. You can use it to develop slideshows of your favorite memories or concoct marketing videos to promote your brand.
Animoto is available in a free version, but the features list is limited. If you want to use all of the features, you'll need to upgrade to a paid version.
Yes, Animoto is safe to use. It is entirely web-based, so you don't need to download anything.
What happened to Animoto?
Animoto was recently acquired by Redbrick, a Canadian tech company. The Animoto brand, product, and team will continue to run, but now as a part of Redbrick's portfolio of brands, acccording to this press release.
Why Trust Me for This Review
Hi, I'm Jon, a digital marketer and engineer. I've been creating digital content for over ten years, and I'm always looking for new software to create professional-looking video slideshows.
Since I create lots of digital content, I know how time-consuming it can be to create the perfect video reel. To ensure I am maximizing my efficiency and quality, I've tested dozens of software over the years. And it goes without saying that finding a good one is challenging.
Hopefully, I can save you some time in your research– Animoto is a high-quality, easy-to-use, and affordable video slideshow editor. You can jump right in, quickly find a template that fits your content goals, and quickly create an awesome slideshow video. It has thousands of stock videos, pictures, and sounds/music to choose from. 
Side note: here's a demo video created with Animoto by my teammate Nicole, check it out:
Detailed Review of Animoto
Animoto is a video creation software option that offers a full array of features to create beautiful videos for everything from personal to professional use. Its usability, user-friendly interface, and tiered pricing structure make it an excellent choice for video editors with varying needs.
Here are a few key features of the Animoto software, along with my personal take on each feature.
Drag-and-Drop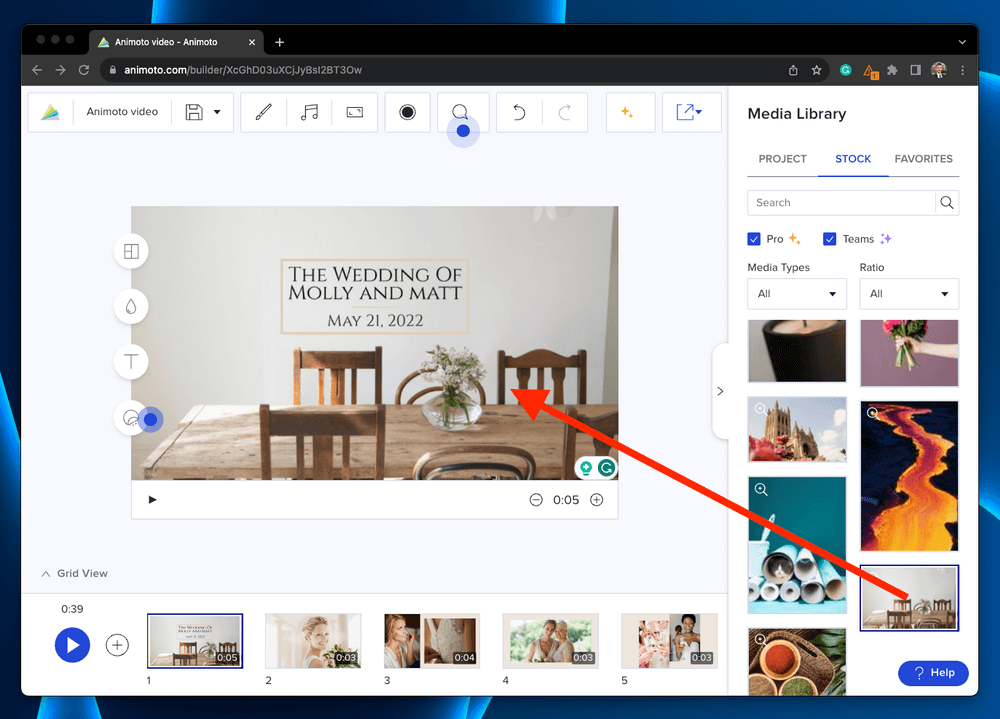 Animoto makes it easy to create with a simple drag-and-drop interface and a streamlined creation process. First, you drag and drop your media into the editor from your computer or cloud storage. Browse the asset library to find images to round out the mix.
Next, tailor your creation to reflect your brand or intention. Save various colors, fonts, and logos to apply to your video in a single click. Incorporate effects, animations, and transitions to captivate your audience and keep them focused on your message.
Next, invite your coworkers or supervisor to comment on your video if needed. They can add time-stamped comments to your video, allowing you to see the suggestions and make adjustments, all without leaving the platform.
Lastly, download your creation and share it wherever you want to use Animoto's integrated social sharing, embedding, and email tools. And just like that, you're done! The simple process makes this software an excellent choice for newbies learning the video creation ropes.
My personal take: Complex editing processes can be overwhelming, especially for beginners, so the simplicity of this setup is a clear winner for newbies who want to give video creation a try.
Large Asset Library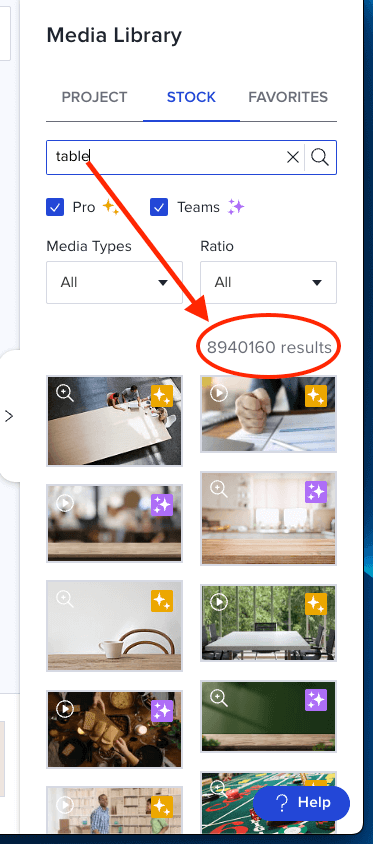 Animoto has a sizable asset library teeming with various stock assets and licensed songs. Through the platform, you can access millions of Getty images to take your project to the next level or add thousands of licensed songs to draw attention.
The opportunities are plentiful, allowing you to create personalized videos that bring your dreams to life. Of course, you can always import your own photos instead of using stock images, but the convenience of having everything already there is nice.
My personal take: Access to readily available images and songs can accelerate your editing process by limiting the hassle of importing them from somewhere else, so this feature is a handy addition. When I searched for any keywords, I often got millions of results. For example, the word "chair" in the above image, yielded nearly 9 million stock photo options.
Save Branding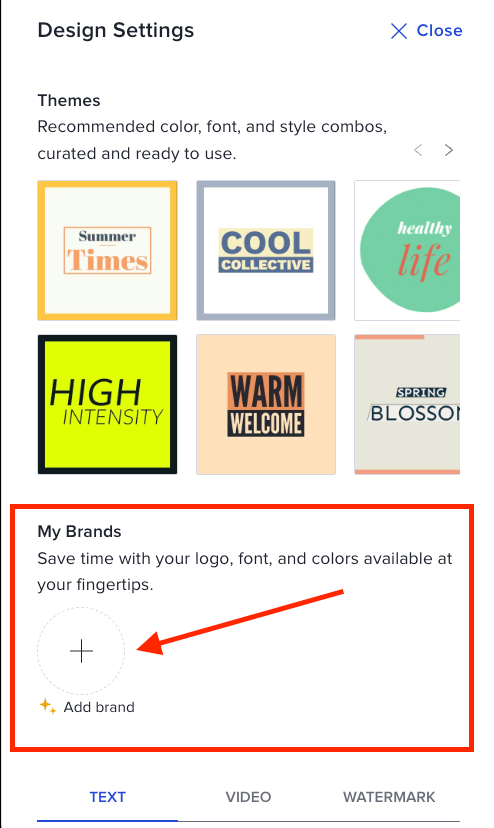 With Animoto, you can create custom brands and templates for your business. While you could create the brand or template over and over again each time you need it, this takes an unnecessary amount of time. So, the option to save your go-to brands and templates is a handy addition.
You can save time in the long run by creating it once and pulling it when you need it.
My personal take: The option to create custom templates and brands is a handy addition, as it can be a major time-saver in the long run. This is particularly useful for business and marketing agencies to keep consistent branding on the content they produce for their business and clients.
Integrated Feedback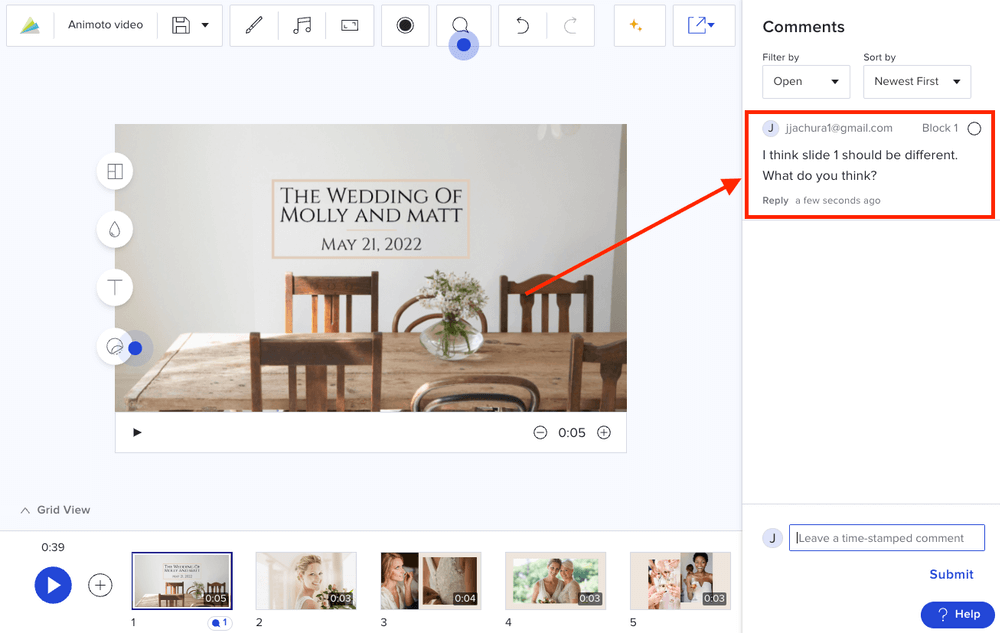 Animoto offers a handy built-in feedback feature that makes it much easier to collaborate on projects. You can invite your coworkers or superiors to the video for comment, skipping the process of combing through emails and sifting through contradictory comments.
When your team has a comment or suggestion for you, they can add a time-stamped comment to your video. You can reply to the feedback directly in the platform and integrate each suggestion as you go.
My personal take: The feedback feature is a clear winner, as it makes collaborating on projects drastically easier. You can provide notes directly on slides/blocks for your coworkers/clients to easily see what you are referencing.
Screen Recording
Animoto allows you to create webcam and screen recordings from directly on the platform. This makes it easy to train newbies on using the software. For example, maybe you need to train a new employee how to use the software to create content for the company, but you work remotely.
With this tool, you can record your actions step-by-step to make it much easier for the new employee to learn the ropes. Of course, this feature has a plethora of alternative applications, too!
My personal take: The built-in screen recording feature is easy to use and even easier to share. If you've used "Loom," you'll find this feature familiar.
Categorized Templates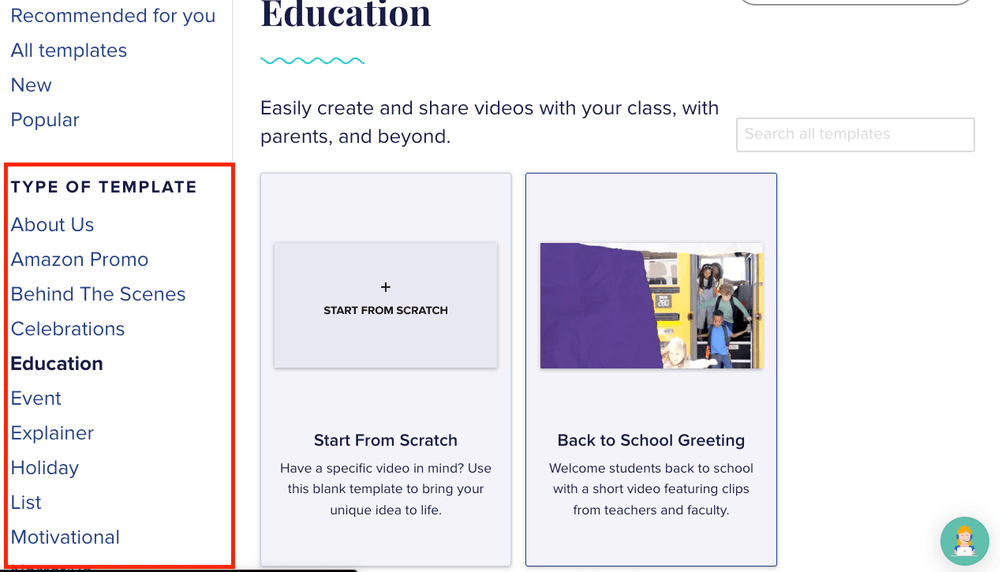 Animoto offers an array of ready-made templates, each fitted into specific categories. You can choose the category that best fits your content creation needs, with options including celebrations, workplace, marketing, product promotions, service promotion, teaser, personal, education, and more.
The templates make it easy to quickly create high-quality content with minimal effort.
My personal take: While you might need to make some tweaks to the existing templates to ensure they fit your needs, using these templates is simple and an excellent way to save time.
Reasons Behind My Ratings
Features: 4.3/5
Animoto offers an impressive array of features, especially in its paid plans. There are plenty of tools to help you create videos to accommodate nearly any purpose, from casual clips that showcase your favorite memories to professional videos that advertise your brand.
The free version is somewhat restricted, so if you want to take full advantage of the complete feature set Animoto offers, you'll need to invest in a paid version.
Pricing: 4.5/5
Animoto's offerings are priced affordably, with plans starting at just $8 per month (billed annually). Even the Professional Plus plan is more affordable than some options.
If you're not ready to commit to a paid plan, you can always utilize the free version to ensure you like it before investing in a Basic, Professional, or Professional Plus plan. The most basic plan is incredibly affordable at just $8 per month and allows you to create unbranded videos with unlimited downloads.
The professional plans take things a step up, allowing you to create customized and branded videos using advanced, professional tools. The basic Professional plan starts at $15 per month (billed annually), while the Professional Plus plan costs $39 per month (billed annually).
Ease of Use: 4.7/5
The straightforward layout and ease of use are key perks of this software. You can create an entire video in just a few simple steps – no high-level video creation chops required! Everything you need to create your video is easily accessible in a logical location, making this software an excellent choice for newbies.
Unlike some video creation software options, Animoto's layout isn't cluttered with ultra-fancy features and distracting panels. Instead, it features a straightforward layout with a neat panel of icons on the left side of the screen that gives you access to the tools you need.
The main sections of the page remain clean and uncluttered by chaotic features. Instead, you see your current project in a neatly aligned row that allows you to easily access each piece for further editing.
Support: 4.8/5
If you find yourself needing help as you navigate Animoto's platform, you'll have plenty of resources. First, you can check for an answer to your question in the FAQ section, which is well-written and covers nearly every common question.
But if you can't find what you're looking for there, you can always contact Animoto's customer support team via email for further assistance.
Animoto Alternatives
Adobe Premiere Pro (Mac & Windows)
Arguably the most powerful video editor on the market, Adobe Premiere Pro is definitely capable of making more than a few slideshows, but the program is geared toward professionals and business people.
Photos or iMovie (Mac Only)
If you're a Mac user, you have two programs available for free (the version depends on the age of your Mac). Photos allows you to export and slideshow you create from an album with its themes. For a little more control, you can import your images into iMovie and rearrange the order, transitions, etc. before exporting. Neither of these programs is available on Windows.
For more options, check out our review of the best whiteboard animation software.
Final Verdict
Animoto is a solid video creation software option designed to help you create videos for various purposes, from casual memories to professional marketing. It offers an impressive array of tools in various plans, each priced differently and offering unique perks.
This tool is an excellent choice for editors of all levels, although it might not be ideal for advanced editors seeking equally advanced features.
So, do you find this Animoto review helpful? Leave a comment below and let us know.