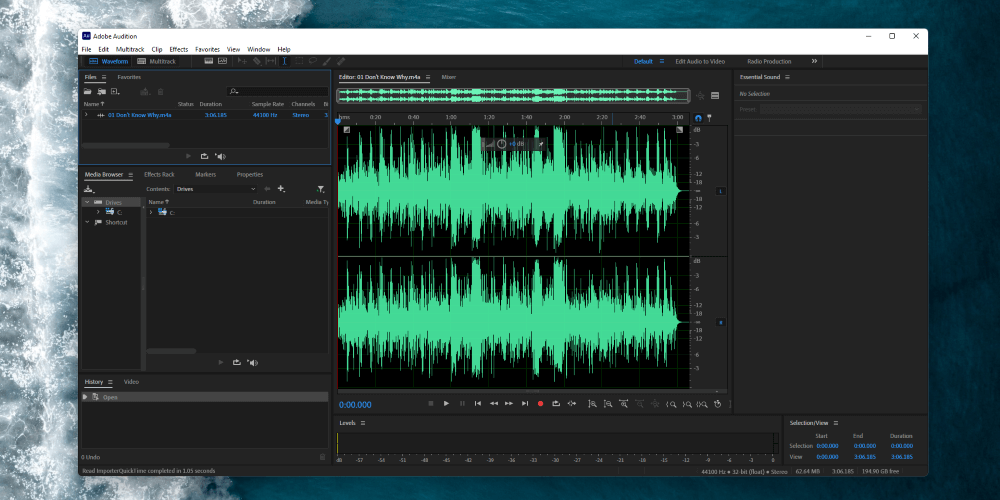 Adobe Audition
Features: One of the most feature-rich audio editors in existence, but it lacks MIDI support common among other DAWs.
Pricing: At $20.99 per month (with a one-year commitment), Audition isn't cheap.
Ease of Use: For those steeped in the Adobe environment, Audition will be easy to use. Others may need time to acclimate to the software.
Support: Adobe provides decent professional support on its website.
Summary
Adobe Audition is a powerful audio editor with more bells and whistles than even most professionals could ever want. With tight integration into its Creative Cloud suite of products, Adobe users will find themselves right at home importing and editing audio projects.

Audition works closely with Adobe Premiere Pro, allowing film editors tools to clean up, enhance, and augment audio with sound effects.

The software excels when working with the spoken word, and while it has plenty of features supporting music production, no one would confuse it with a full-blown music DAW like Pro Tools or Logic Pro.

The software isn't cheap, but Audition is a good choice as a serious audio editor–as long as you're not looking to compose or produce music–especially if you already have a Creative Cloud subscription.

What I Like: Audition sports a large library of effects and audio analysis tools, including broadcast standard presets to ensure compliance with platforms like Spotify and Netflix.

What I Don't Like: A lack of MIDI support is unbecoming for a software with such a high price tag.
Is Adobe Audition good for beginners?
If you are familiar with the Adobe environment or with DAWs in general, you will pick up Audition quickly. Otherwise, you are in for a steep learning curve.
What are the disadvantages of Adobe Audition?
Adobe Audition is not a good solution for music creators as the software lacks VSTi and MIDI support. The price is another disadvantage.
Do professionals use Adobe Audition?
Audition is great for video professionals who use Premiere Pro and need to work with audio. Additionally, Audition is a popular choice for professional podcasters.
Why Trust Me for This Review
Hi, I'm Andrew. As a former IT Technician, I supported digital cinema hardware and software, including Audition, for over a decade.
Over those years, I've worked with almost every program in Adobe's Creative Cloud suite and audio software like Audacity, Reaper, Pro Tools, and Ableton Live.
Detailed Review of Adobe Audition
Adobe Audition is a multitrack editor and audio production application. As part of the Adobe Creative Cloud suite of programs, Audition is included in the cost of a CC subscription, but you can also subscribe only to Audition if desired for $20.99 per month.
Audition features two main workspaces: a Waveform view for working with single tracks and a Multitrack view for mixing and editing multiple audio tracks at once. While working in a project, you can switch from Multitrack to Waveform by double-clicking a clip.
Audition retains the classic Adobe suite interface with familiar palettes like History for stepping-back changes and a Tools palette. While the default layout can be overwhelming, it is easy to customize and close windows. You don't need to use the Window menu.
Here are a few key features of Adobe Audition, along with my personal take on each feature.
Recording and Importing Audio
Capturing audio in Audition is a straightforward process. You can record from either the Waveform or Multitrack workspace.
Before recording from the Waveform view, you must set your default input device from the Audio Hardware dialog box and create a new audio file from the File menu. With your mic set and a new file created, just click the red record button at the bottom of the Editor pane.
In the Multitrack view, Audition allows you to select a unique input for each track using a dropdown menu to the left of the timeline. You must arm the tracks you want to record–a great feature that prevents accidentally overwriting audio on an existing track.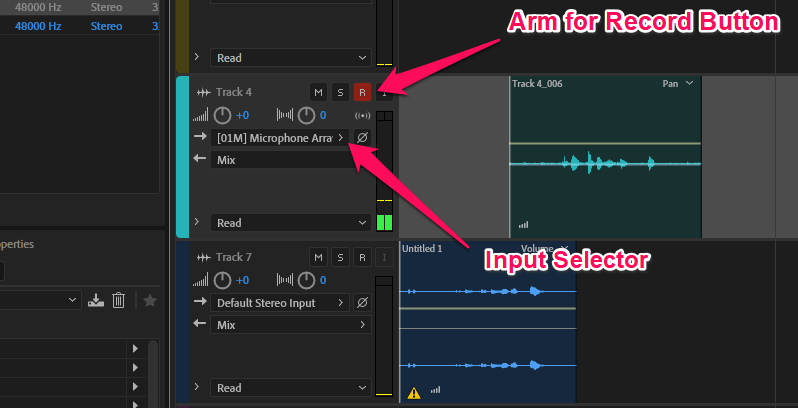 Importing Audio is a breeze using Adobe's Media Browser. You can navigate your computer's files without leaving the application and simply drag the desired files to your timeline. You can even import video and see a preview of the file during playback.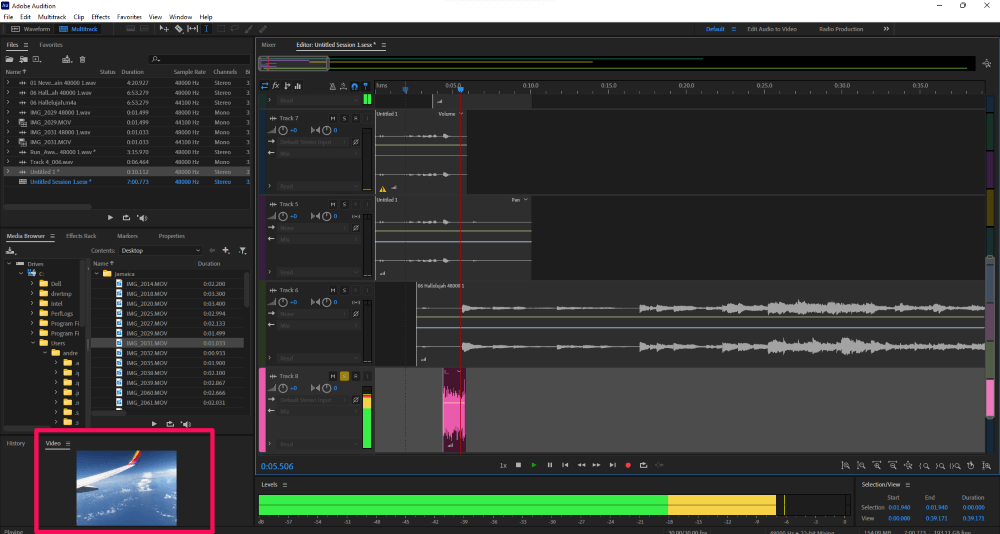 My personal take: I like that you can record audio from either the Waveform or Multitrack views, and the ability to choose distinct inputs for different tracks directly from the workspace is very convenient. I wish it were a little faster to set the default input device.
Audio Cleanup and Restoration
Adobe Audition shines when it comes to cleaning up audio. The software contains numerous effects designed to enhance and restore your sound, many of which you can activate with just a few clicks. The software's spectral frequency display provides a nice alternative view of your audio to help visualize noise in the recording.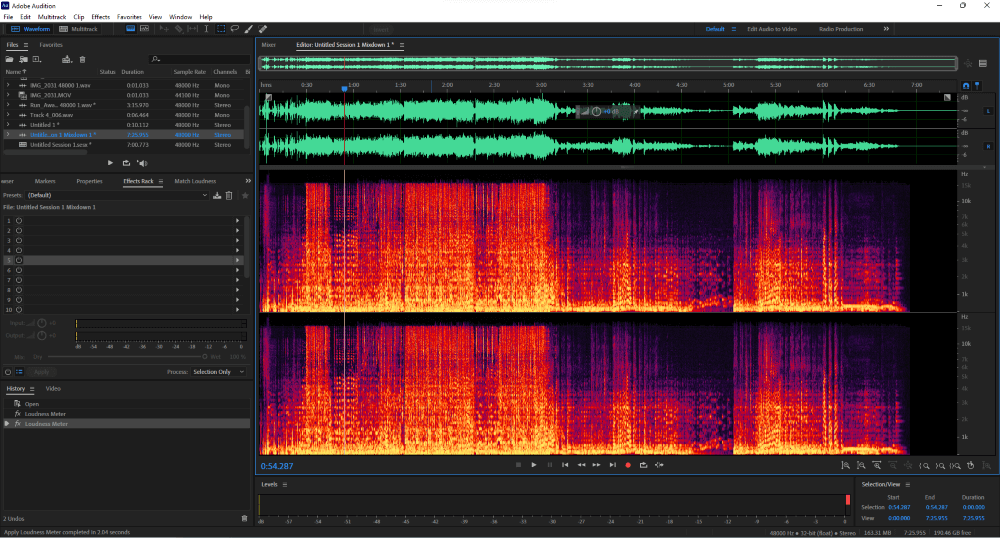 Audition supports all of the standard cleanup tools, such as a noise gate to help eliminate unwanted audio below a certain decibel level, a noise reduction effect, and a parametric equalizer you can use to get your frequency gains just right.
These are just three of many possible effects, and the best part is that you can manipulate the audio with these effects in real-time, adjusting, for example, various frequencies during playback to achieve the best possible EQ curve.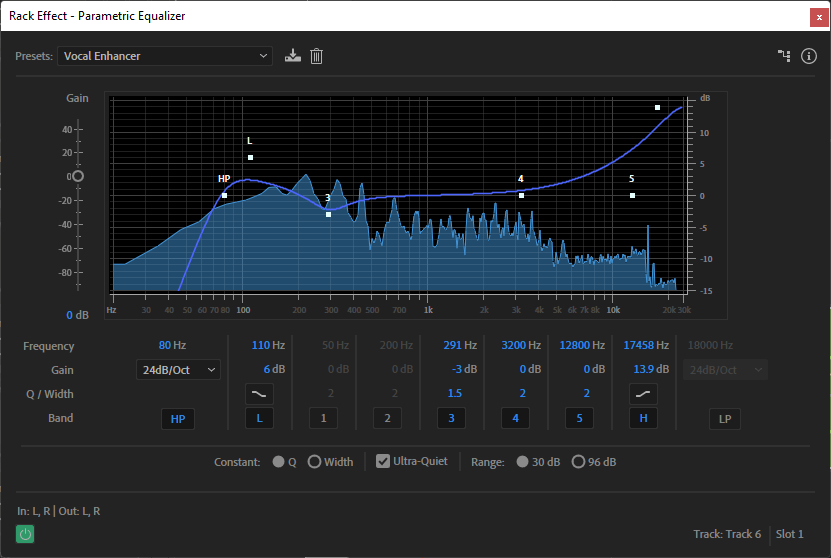 My personal take: While it's easy to get overwhelmed by all the options, most effects are flexible enough to provide advanced settings that professionals will relish while remaining accessible to novice users. I love the ability to step back effects using the History pane if necessary.
Using Effects
In addition to the noise reduction and restoration effects, Audition comes prepackaged with a host of others, including effects for pitch correction, amplification, distortion, reverb, and echo, to name just a few.
In Multitrack mode, you can enable the Effects Rack and, from there, apply any number of effects to tracks or clips. Once added to the rack, you can click the power button to enable or disable each modification. You can also adjust the order of the effects and see how doing so affects your sound.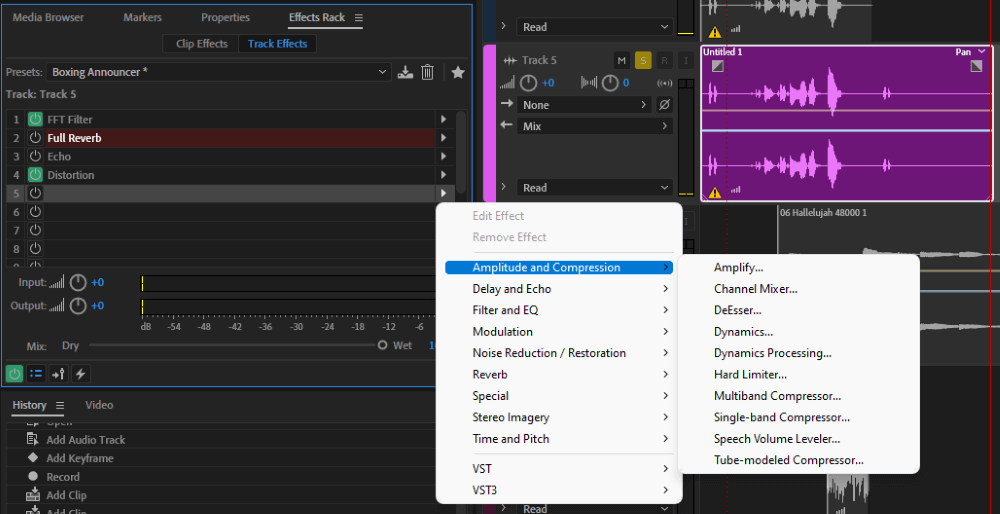 Audition's presets are great shortcuts to attaining the sound you want. A preset applies predetermined effects to produce a certain tone. For example, the Podcast Voice preset applies five effects, including DeNoise and Speech Volume Leveler, to generate the best quality spoken work audio.
The software includes over thirty presets, including AM Radio, On the Telephone, and Boxing Announcer. Perhaps the most useful aspect of presets is the ability to create your own. If you have a workflow you apply often, you can name and save the preset to use later.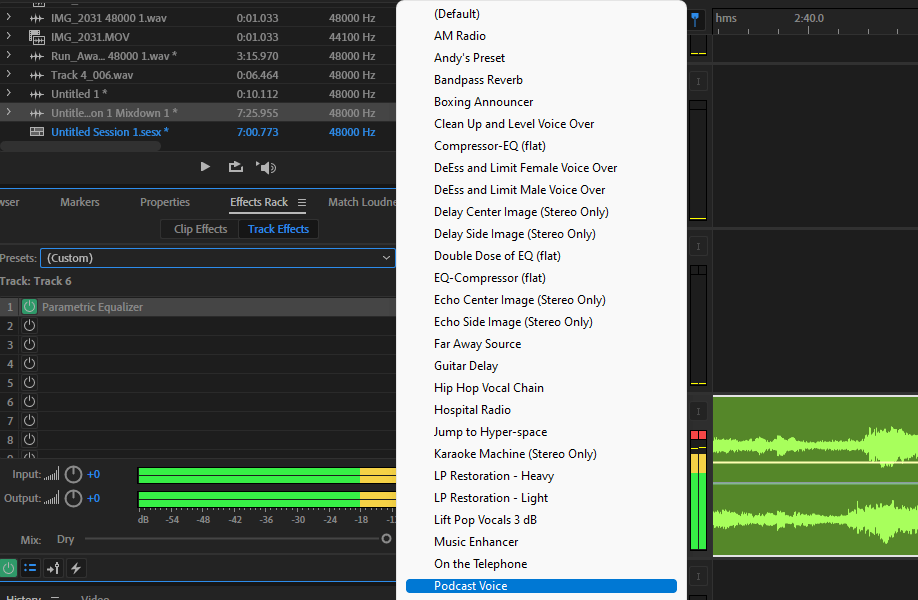 My personal take: Between the large library of effects, the ability to import your own, and Audition's presets option, there's much to love about utilizing effects in Adobe Audition.
Mixing and Exporting Audio
Once you've cleaned and enhanced your audio, you can use Audition's mixing and export tools to produce your final product. After mixing down your tracks into one master track, you are ready to export.
Before exporting, audio editors can take advantage of Audition's Loudness Meter, which sets the maximum loudness for your audio. Once again, Audition provides handy presets that can make life easier.
These presets include settings that comply with common streaming standards, such as those for Spotify, Apple Podcast, and Netflix, as well as for more traditional broadcast standards.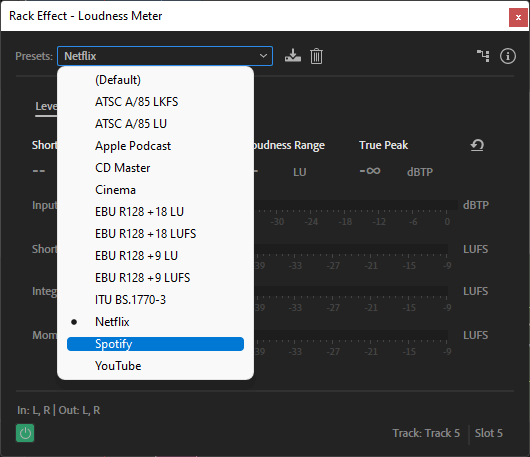 When ready, exporting audio is a breeze using the export option. Audition can export to a variety of formats, including MP3 and WAV.
My personal take: Audition's Loudness Meter presets are great for podcast producers or users editing audio for cinema or television.
Reasons Behind My Ratings
Features: 4/5
Audition has all the bells and whistles you might expect from an audio editor made by Adobe. With a host of effects and workflows and support for importing video clips, the software boasts quite an array of features.
Nevertheless, Audition cannot handle VSTi plugins or any MIDI files at all. The application can't even export audio in the M4A format, something even the free program Audacity can do. It is clear Adobe's focus is not on musicians but rather videographers and podcasters.
As long as you can leave with these caveats, you'll probably be more than pleased with the software's rich feature set.
Pricing: 3.5/5
Audition is pricey, but the cost might be worth it for professional audio editors, especially those in the podcast world or those already immersed in the Creative Cloud environment.
Although it seems as if all software is heading the way of the subscription, one big downside to Audition's licensing model is that once you cancel your subscription, the software stops working.
With some DAWs, you can pay a one-time fee to purchase a license, and that version of the software will run in perpetuity.
Ease of Use: 4/5
Regular users of Premiere Pro or even other Adobe products like Photoshop or Illustrator will instantly feel at home with Audition's interface. The familiar tool palettes and controls won't require much getting used to.
Likewise, seasoned audio editors won't have much trouble getting started. However, diving deep into the advanced settings, effects, and controls requires some work for even the staunchest audiophile.
Audition's depth of features isn't necessarily a bad thing; just don't expect to become an expert user overnight.
Support: 4/5
Adobe provides live and on-demand support from its website. Initially, support starts with a bot called Adobe Virtual Assistant before you are routed to a real person.
I have found that chat is the quickest and generally a better option than phone support with Adobe. Although it's not without flaws, support is convenient and relatively quick.
Final Verdict
Adobe Audition isn't a perfect audio editor, but does a perfect audio editor exist?
Adobe seems content to focus on a narrow audience for its audio software, namely video editors looking to enhance and modify their audio and podcasters. If you fall into one of these categories, you can do great things with this feature-rich application.
But owing to its lack of MIDI support combined with the relatively high price tag, musicians should steer clear of Audition in favor of DAWs like Logic Pro or Pro Tools.