Do you need to work with audio files? More and more people do. Whether you're creating podcasts, videos for YouTube, voiceovers for presentations, or music and special effects for games, you'll need a decent audio editor. In this guide, we'll take you through the options — from simple, free apps all the way to expensive digital audio workstations — and make some recommendations to help you come up with the right tool for your needs.
People need audio software for all types of reasons. Being clear about your needs and expectations is an important first step. Do you just want to make a ringtone out of your favorite song? Are you editing speech, music, or special effects? Do you need a quick tool for an occasional fix or a powerful workstation for serious work? Are you looking for an inexpensive solution or an investment in your career?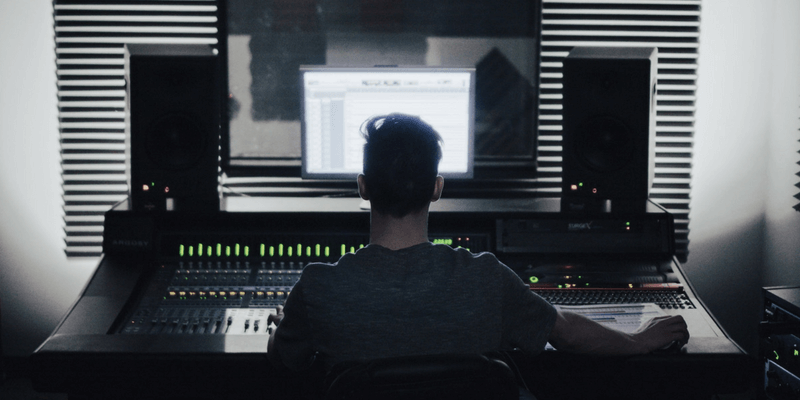 If you own an Apple computer, GarageBand is a great place to start. It's versatile, allowing you to produce music and edit audio, and comes preinstalled with macOS. It will meet the basic needs of many people, but lacks the power of other options we cover in this review.
A free audio editing tool like Audacity is easier to work with, especially if you're working with speech rather than music. Because it has fewer features, you'll find it easier to do basic editing. If you already subscribe to Adobe's Creative Cloud, have a look at Audition, which is more powerful and may already be installed on your computer.
If you work with music, a digital audio workstation (DAW) like Apple's Logic Pro X or the industry standard Pro Tools will be a better fit. Cockos' Reaper will give you similar power at a more affordable price.
Why Trust Me for This Audio Editor Guide
My name is Adrian, and I was recording and editing audio before computers were up to the task. In the early 80s, cassette-based machines like Tascam's PortaStudio allowed you to record and mix four tracks of audio in your home — and up to ten tracks using a technique called "ping-ponging".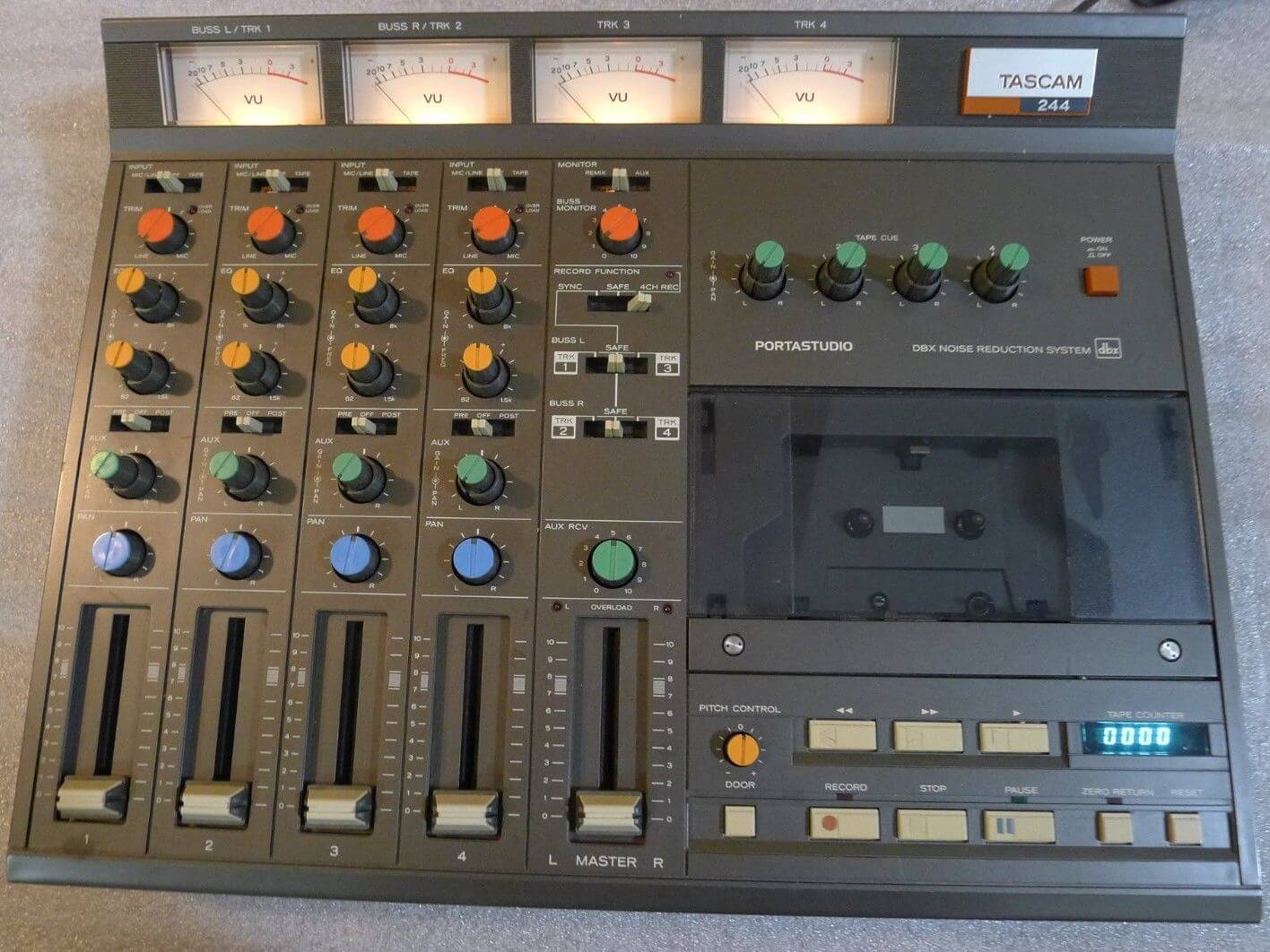 I experimented with computer programs as at first they allowed you to work with sound through MIDI, and then directly with audio. Today, your computer can act as a powerful recording studio, offering power and features that weren't even dreamed of in professional studios just a few decades ago.
I spent five years as editor of Audiotuts+ and other audio blogs, so I'm familiar with the entire range of audio software and digital audio workstations. During that time I was in regular contact with audio professionals, including dance music producers, composers of movie scores, home studio enthusiasts, videographers, podcasters, and voiceover editors, and gained a very broad understanding of the industry.
What You Need to Know Up-Front about Editing Audio
Before we look at specific software options, here are a few things you need to know about audio editing in general.
There Are a Lot of Options and Just as Many Strong Opinions
There are a lot of options. There are a lot of opinions. There are some very strong feelings out there about which audio software is best.
While people have good reasons for preferring their own favorite program, the fact is that most of the options we cover in this review will meet your needs. You may find that one app may suit you better, and others may offer features you don't need and don't want to pay for.
I once explored the audio software podcasters used, and made a surprising discovery. Most just used the software they already had. Like them, you may already have all you need:
If you use a Mac, you already have GarageBand.
If you use Photoshop, you probably have Adobe Audition.
If you don't have either, you can download Audacity, which is free.
For some audio jobs, you may need something more powerful. We'll cover those options too.
Different Types of Apps Will Do the Job
In this review, we don't always compare apples with apples. Some apps are free, others are very expensive. Some apps emphasize ease of use, other apps are complex. We cover basic audio editing software, more complex non-linear editors, and non-destructive digital audio workstations.
If you need to clean up a voiceover in a single audio file, a basic editor is all you need. If you're doing more complex work, like working with music or adding audio to video, you'll be better served with a more capable, non-destructive, non-linear audio editor.
A digital audio workstation (DAW) meets the needs of musicians and music producers by offering additional tools and features. These include the ability to work with a large number of tracks, libraries of loops and samples, virtual instruments to create new music on the computer, the ability to change timing to match a groove, and the ability to generate musical notation. Even if you don't need these extra features, you may still benefit from using a DAW because of its powerful editing tools and smooth workflow.
Destructive vs Non-Destructive (Real-Time)
Basic audio editors are often destructive and linear. Any changes permanently alter the original wave file, much like working with tape in the old days. This may make it more difficult to undo your changes, but the process is simpler and it uses less system resources. Audacity is an example of an app that applies your edits in a destructive way, overwriting the original file. It's best practice to keep a backup of your original file, just in case.
DAWs and more advanced editors are non-destructive and non-linear. They retain the original audio, and apply effects and changes in real-time. The more complex your edits, the more value you will gain from a non-destructive, non-linear editor. But you'll need a more powerful computer to make it work.
Best Audio Editing Software: The Winners
Best Basic Audio Editor: Audacity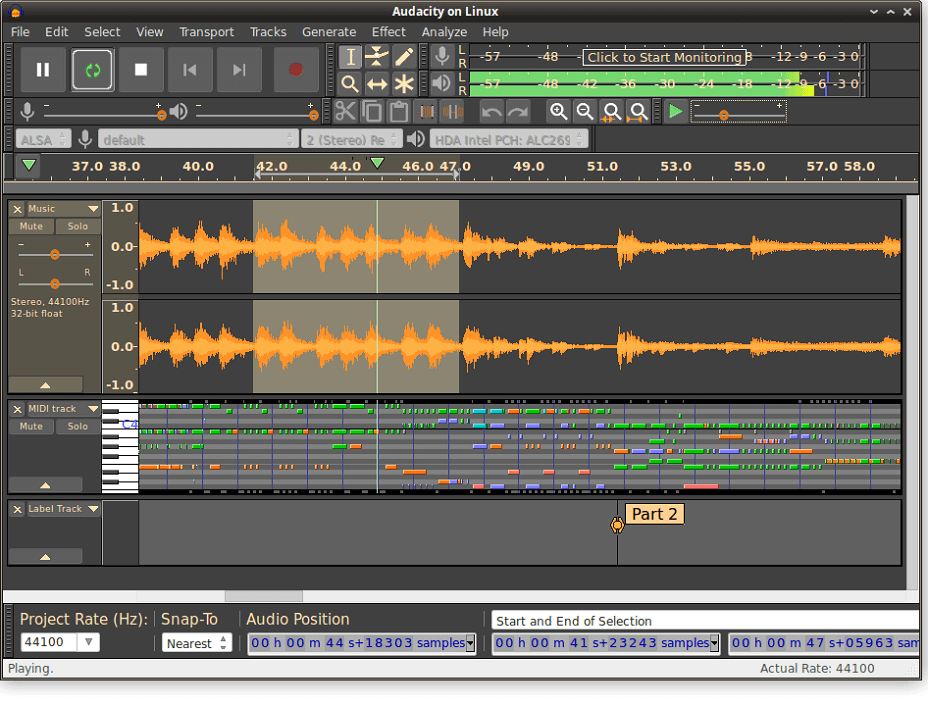 Audacity is an easy-to-use, multi-track audio editor. It's a great basic app, and I've installed it on every computer I've owned in the last decade. It works on Mac, Windows, Linux and more, and is a great Swiss Army knife when it comes to improving and adjusting your audio files.
Audacity is probably the most popular audio editor out there. Although it looks a little dated, it's a favorite among podcasters, and is a great choice for customizing audio for presentations, creating ringtones from your favorite tunes, and editing a recording of your child's piano recital.
Being free certainly helps, as does being available for virtually every operating system out there. But it's also a capable tool without trying to do too much. The app can be expanded with plugins (quite a few come preinstalled), and because the app supports most audio plugin standards, there's a lot available. Just be aware that adding too many will add complication — the sheer number of settings for all these effects can be hard to get your head around if you don't have an audio background.
If you're looking for a quick way to edit a basic audio file, you may find Audacity quicker and simpler to use than GarageBand. It's a tool that's focused just on editing audio, rather than being a full recording studio for music production.
Basic editing is easy, with cut, copy, paste and delete. Although destructive editing is used (the original recording is overwritten with the changes you make), Audacity offers unlimited undo and redo, so you can easily go back and forward through your edits.
Each track can be split into moveable clips that can be moved earlier or later in the recording, or even dragged to a different track.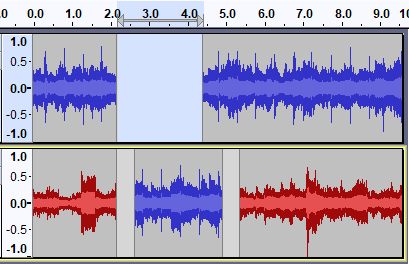 The app supports high-quality audio, and is able to convert your audio file to different sample rates and formats. Common formats supported include WAV, AIFF, FLAC. For legal purposes, MP3 export is only possible after downloading an optional encoder library, but that's pretty simple.
Other free audio editors are available, and we'll cover them in the last section of this review.
Best Value Cross-Platform DAW: Cockos REAPER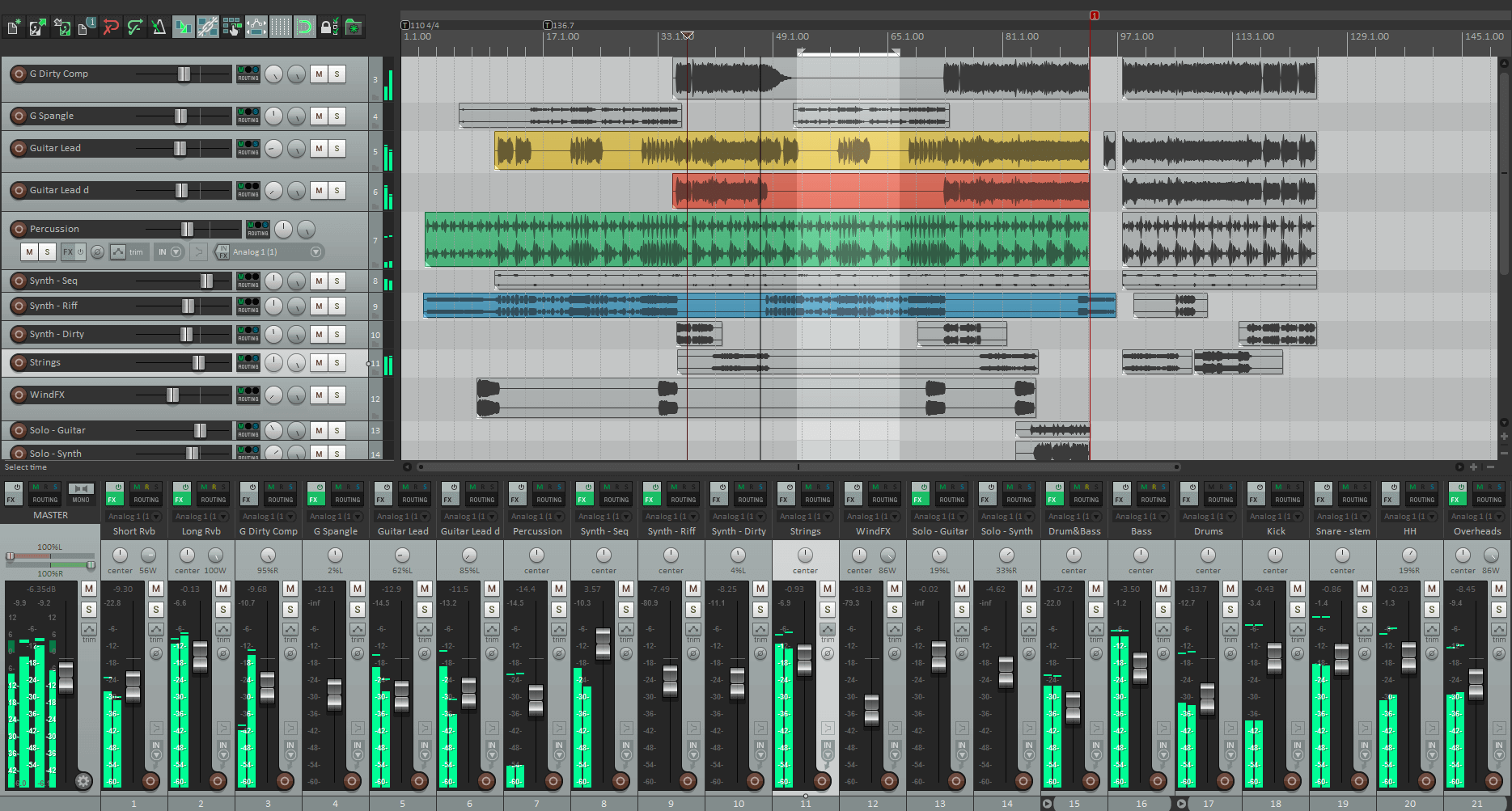 REAPER is a full-featured digital audio workstation with excellent audio editing features, and runs on Windows and Mac. You can download the app for free, and after a thorough 60-day trial you're encouraged to purchase it for $60 (or $225 if your business is making money).
This app is used by serious audio professionals, and despite its low cost, has features that rival Pro Tools and Logic Pro X, though its interface is not as sleek, and it comes with fewer resources out of the box.
$60 from the developer's website ($225 for commercial use where gross revenue exceeds $20K)
REAPER is efficient and fast, uses high-quality 64-bit internal audio processing, and is able to take advantage of thousands of third-party plugins to add functionality, effects and virtual instruments. It has a smooth workflow and is able to work with a huge number of tracks.
The app offers all the non-destructive editing features you'll need, including splitting a track into multiple clips that you can work with individually, and shortcut keys for delete, cut, copy and paste work as expected.
Clips can be selected by clicking with your mouse (holding down CTRL or Shift will allow multiple clips to be selected), and can be moved with drag-and-drop. When moving clips, snap to grid can be used to make sure musical phrases stay in time.
REAPER supports cross-fading, and imported clips are auto faded at the beginning and end.
There are plenty of other features in the app, which can be extended with a macro language. REAPER can do music notation, automation, and even work with video. If you're after an affordable app that won't use up all your system resources, Cockos REAPER is an excellent choice, and very good value for money.
Best Mac DAW: Apple Logic Pro X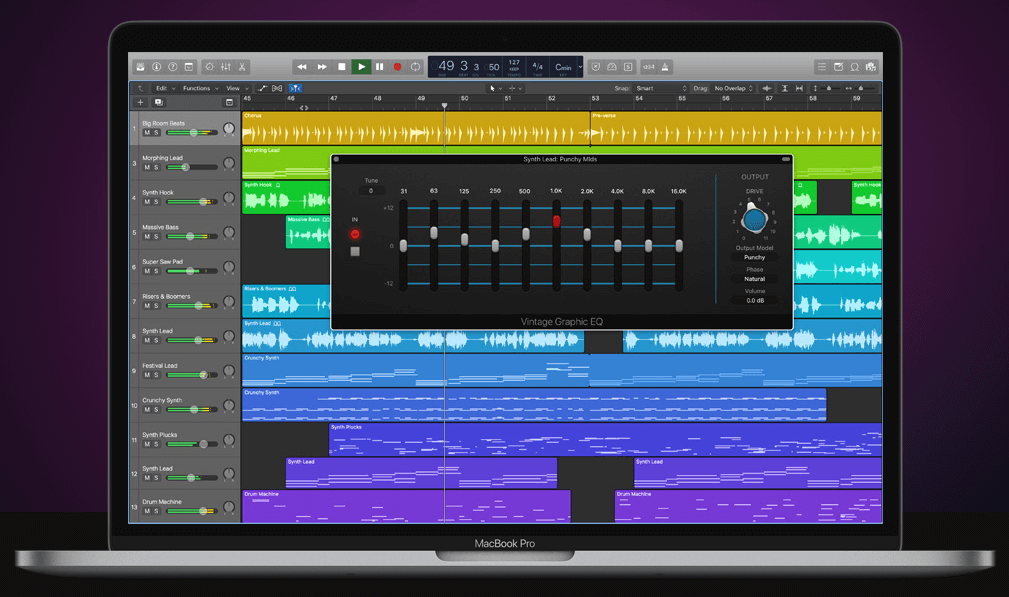 Logic Pro X is a powerful Mac-only digital audio workstation designed primarily for professional music production, but is a capable general purpose audio editor as well. It is far from minimalistic, and comes with enough optional resources to fill your hard drive, including plugins, loops and samples, and virtual instruments. The app's interface is sleek, modern and attractive, and as you would expect from Apple, the powerful features are quite easy to use.
If you've outgrown GarageBand, Logic Pro X is the next logical step. Since both products are built by Apple, you can use most of the skills you learned in GarageBand in Logic Pro too.
Apple has a web page designed to help you make the transition. The page summarizes some of the benefits you'll get by making the move:
More power to create: expanded creative options, a range of professional tools to make and shape sounds, a range of audio effect plugins, additional loops.
Perfect your performances: features and tools to fine-tune your performances and organize them into a complete song.
Mix and master like the pros: automation-enabled mixing, EQ, limiter and compressor plugins.
The focus of those features is on music production, and in truth that's where the real benefit of Logic Pro lies. But to get back to the point of this review, it also provides excellent audio editing features.
You can select a region of audio with your mouse, and double-click it to open it in the Audio Track Editor.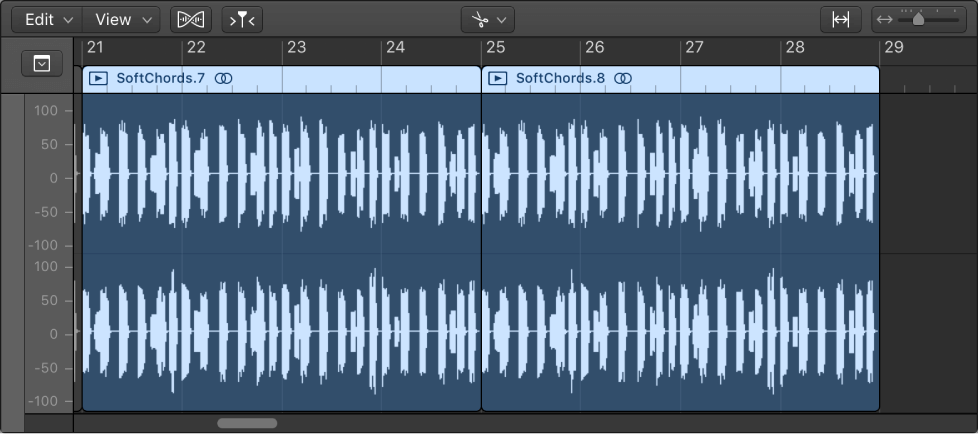 From there, you can trim the region or split it into several regions that can independently be moved, deleted, copied, cut and pasted. The volume level of a region can be adjusted to match the surrounding audio, and advanced Flex Pitch and Flex Time tools are available.
Besides audio editing, Logic Pro comes with a lot of interesting features and resources. It provides a range of virtual instruments, as well as artificially intelligent drummers to play your beats in a variety of genres. An impressive number of plugins are included, covering reverb, EQ and effects. A Smart Tempo feature keeps your music tracks in time, and the app allows you to mix a huge number of tracks with all the features a pro needs.
If you just need to edit a podcast, Logic Pro may be overkill. But if you're serious about music, sound design, adding audio to video, or just want to have one of the most powerful audio environments out there, Logic Pro X is excellent value for money. When I purchased Logic Pro 9 with my own money just a few years ago, it cost me $800 Aussie dollars.
Best Audio Editing Software: The Competition
As I said earlier, there are a lot of software options when it comes to audio. Here are a few alternatives that are worth considering.
For Creative Cloud Subscribers: Adobe Audition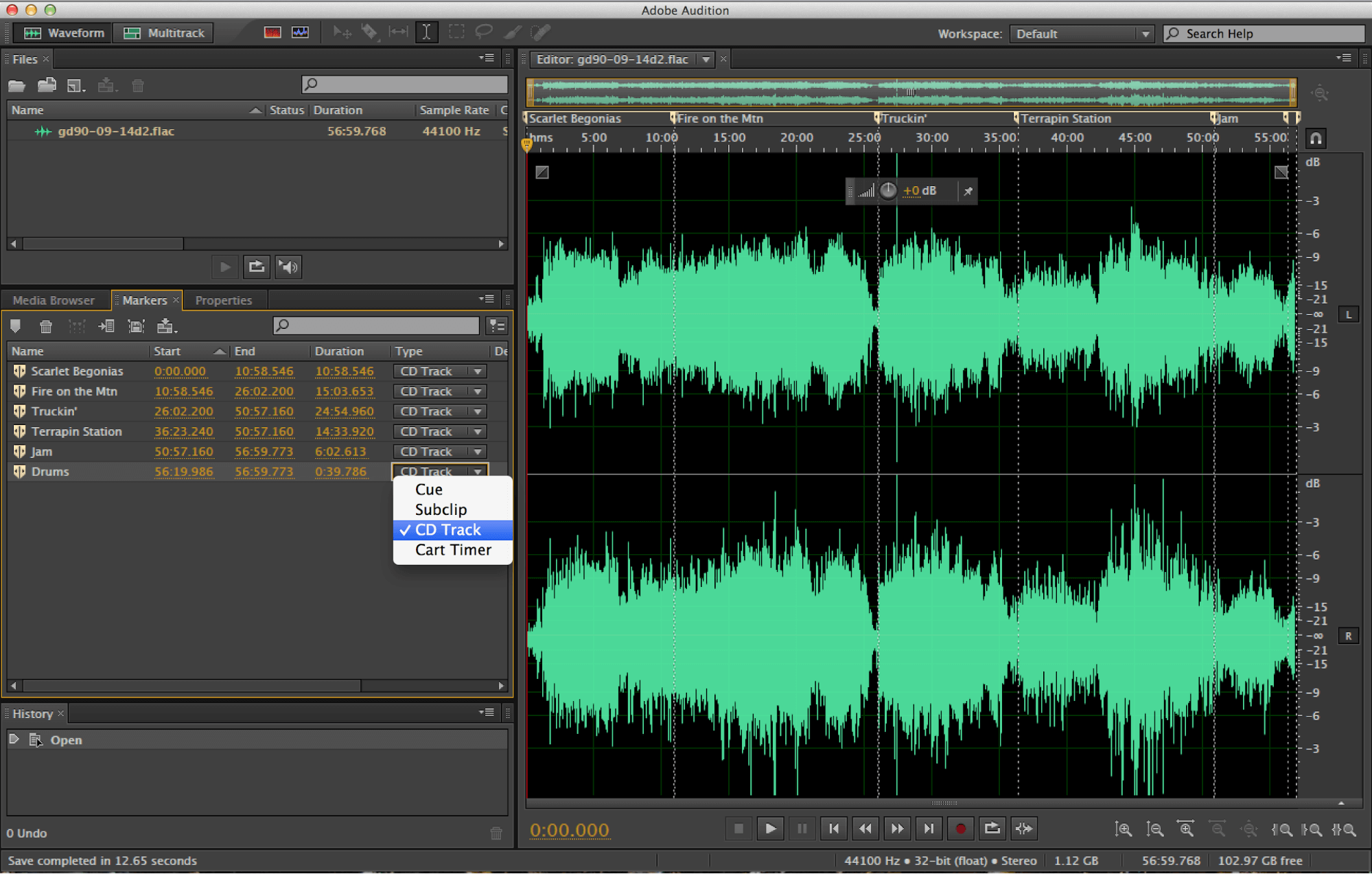 If you're an Adobe Creative Cloud subscriber, you already have a powerful audio editor at your fingertips: Adobe Audition. It is a comprehensive set of tools with a focus on giving audio support to Adobe's other apps, rather than being a full-fledged recording studio. It allows you to create, edit and mix multiple tracks of audio.
Audition is designed to accelerate video production, and works well with Premiere Pro CC. It includes tools to clean up, restore and edit audio for video, podcasts and sound effects design. Its cleanup and restore tools are comprehensive, and allow you to remove or reduce noise, hiss, clicks and hum from tracks.
If you're looking for an app focused on improving the sound quality of recordings of the spoken word, this is a tool worth looking at, especially if you use other Adobe apps. If you're ready to take your podcast to a larger audience, smooth out and sweeten the quality of your sound, reduce background noise and improve the EQ of your tracks, this app will do what you need.
Adobe Audition is included with an Adobe Creative Cloud subscription (from $52.99/month), or you can subscribe just to a single app (from $20.99/month). A 7-day trial is available. Downloads are available for both Mac and Windows.
Other Non-DAW Audio Editors
SOUND FORGE Pro is a highly popular audio editor with a lot of power. It was originally available for Windows only but came to the Mac later on. Unfortunately, the Mac and Windows versions seem to be completely different apps, with different version numbers and different prices. The Mac app lacks many of the features of the Windows version, so I recommend you take advantage of the trial version before purchasing to make sure it meets your needs.
SOUND FORGE Pro costs $349 from the developer's website. A 30-day free trial is available.
Steinberg WaveLab Pro is a full-featured multitrack audio editor. The Windows version has been around for over twenty years, and a Mac version was added a few years back. It includes a range of powerful metering tools, as well as noise reduction, error correction, and a dedicated podcast editor. Besides audio editing, it is also a useful tool for mastering.
WAVE LAB Pro for Windows is $739.99 from the developer's website, and is also available as a $14.99/month subscription. A basic version (WaveLab Elements) is available for $130.99. A 30-day trial is available. Mac and Windows versions are available.
Steinberg also have two high-end digital audio workstation apps that can help with your audio editing needs: Cubase Pro 9.5 ($690) and Nuendo 8 ($1865)
The Industry Standard: Avid Pro Tools (and Other DAWs)
If you're serious about audio, and especially if you share files with other professionals, consider the industry standard, Pro Tools. It's not cheap, but it's widely used, and has powerful audio editing tools. Of course, it has a lot more as well, and given its price, may be too much for many of the people reading this review.
However, if your work goes beyond editing audio, and you need a serious digital audio workstation, Pro Tools is a good option. It's been around since 1989, is widely used in recording studios and post production, and there are an abundance of resources and training courses for the app.
Pro Tools costs $29.99/month, or is available as $599.00 purchase from the developer's website (includes one year of updates and support). A 30-day trial is available, and a free (but seriously limited) version (Pro Tools First) can be downloaded from the developer's website. Available for Mac and Windows.
Competition among serious audio apps is fierce, and while Pro Tools is still a major force in the post-production community, it's not quite the industry standard it used to be. Audio professionals are turning to other apps that offer more bang for buck, are updated more consistently, and have upgrade prices that are easier to swallow.
We've already mentioned Reaper, Logic Pro, Cubase and Nuendo. Other popular DAWs include:
Image-Line FL Studio 20, $199 (Mac, Windows)
Ableton Live 10, $449 (Mac, Windows)
Propellerhead Reason 10, $399 (Mac, Windows)
PreSonus Studio One 4, $399 (Mac, Windows)
MOTU Digital Performer 9, $499 (Mac, Windows)
Cakewalk SONAR, $199 (Windows), recently acquired by BandLab from Gibson.
Free Audio Editing Software
Did you spill your coffee while reading this review? Some of those apps are expensive! If you want to make a start without outlaying a pile of cash, you can. Here are a number of free apps and web services.
ocenaudio is a quick and easy cross-platform audio editor. It covers the bases without becoming overly complicated. It doesn't have as many features as Audacity, but that's a benefit for some users: it still has plenty of power, looks attractive, and has a less intimidating user interface. That makes it perfect for podcasters and home musicians who are starting out.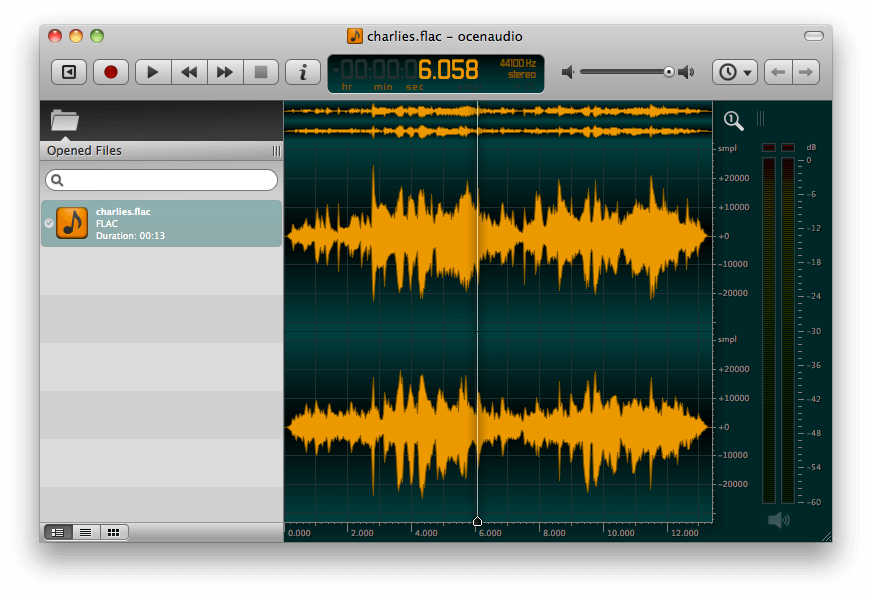 The app can take advantage of the wide range of VST plugins that are available, and allows you to preview effects in real time. It's able to cope with huge audio files without getting bogged down, and has some useful audio editing features like multi-select. It is frugal with system resources, so you shouldn't be interrupted with unexpected crashes and freezes.
ocenaudio can be downloaded freely from the developer's website. It is available for Mac, Windows and Linux.
WavePad is another free, cross-platform audio editor, but in this case, it's free for non-commercial use only. If you're using it commercially, it costs $29.99, and there is a more powerful Masters Edition available for $49.99.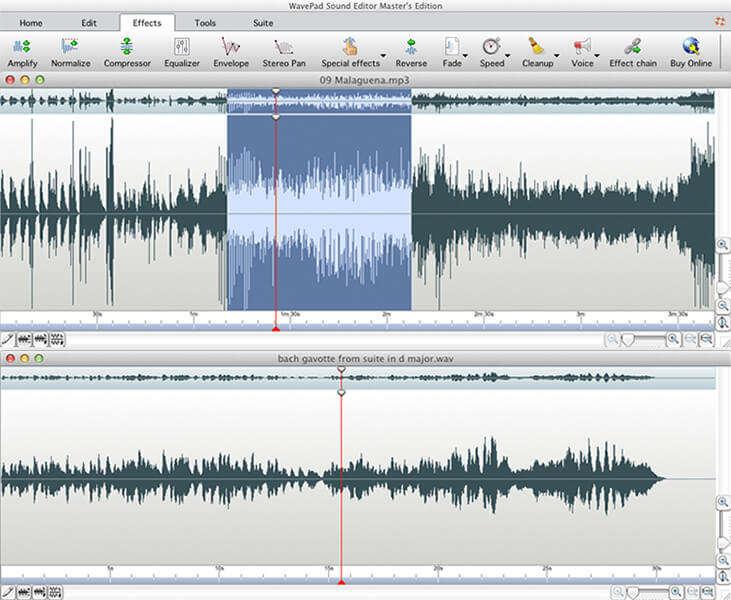 This app is a little more technical than ocenaudio, but with the benefit of extra features. Sound editing tools include cut, copy, paste, delete, insert, silence, auto-trim, compression, and pitch shifting, and audio effects include amplify, normalize, equalizer, envelope, reverb, echo, and reverse.
In addition, you can take advantage of audio restoration features like noise reduction and click pop removal. Like Audacity, it has unlimited undo and redo.
WavePad can be downloaded from the developer's website. It is available for Mac, Windows, Android, and Kindle.
Free Web Services
Rather than installing an app, there are a number of web services that enable you to edit audio files. These are especially handy if you don't edit audio on a regular basis. Not only do you save hard drive space by not having to install an app, but the audio is processed on the server, saving your computer's system resources.
Apowersoft Free Online Audio Editor is arguably the best quality online tool for audio. It lets you cut, trim, split, merge, copy and paste audio for free online, as well as merge several files together. It supports a wide range of audio formats.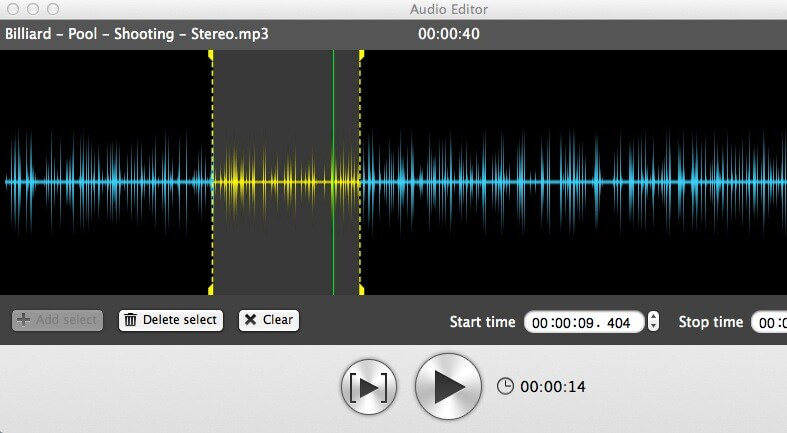 The website lists these features and benefits:
Make ringtones and notification tones easily,
Join short music clips into one complete song,
Enhance audios by applying different effects,
Import and export audio at fast speed,
Edit ID3 tag info effortlessly,
Work smoothly on both Windows and macOS.
Audio Cutter is another free online tool that allows you to edit your audio in various ways. Options include cutting (trimming) tracks, and fade in and out. The tool also allows you to extract audio from video.
The website claims that no special skills are required. Once you upload your audio file, sliders allow you to select the region you want to work on, then you select the task you want to perform on the audio section. Once you've finished working on the file, you download it, and it's automatically deleted from the company's website for your security.
TwistedWave Online is a third browser-based audio editor, and with a free account, you can edit mono files up to five minutes in length. All of your audio files, along with a complete undo history, are kept available online, but with the free plan, are deleted after 30 days on non-activity. If you need more power, subscription plans are available for $5, $10 and $20 a month.
Who Needs an Audio Editor Software
Not everyone needs an audio editor, but the number who do is growing. In our media-rich world it's easier to create audio and video than ever.
Those who can benefit from an audio editor include:
podcasters,
YouTubers and other videographers,
screencasters,
producers of audiobooks,
musicians,
music producers,
sound designers,
app developers,
photographers,
voiceover and dialogue editors,
post-production engineers,
special effects and foley artists.
Basic audio editing is multi-faceted, and includes tasks like:
increasing the volume of a track that's too quiet,
cutting out coughs, sneezes and mistakes,
adding sound effects, advertisements and logos,
adding an additional track, for example background music,
and adjusting the equalization of the audio.
If you own a Mac, GarageBand may meet your basic audio editing needs, as described on this Apple Support page. It's free, comes preinstalled on your Mac, and also includes features to assist you recording and producing music as well.
GarageBand's audio editor displays the audio waveform in a time grid.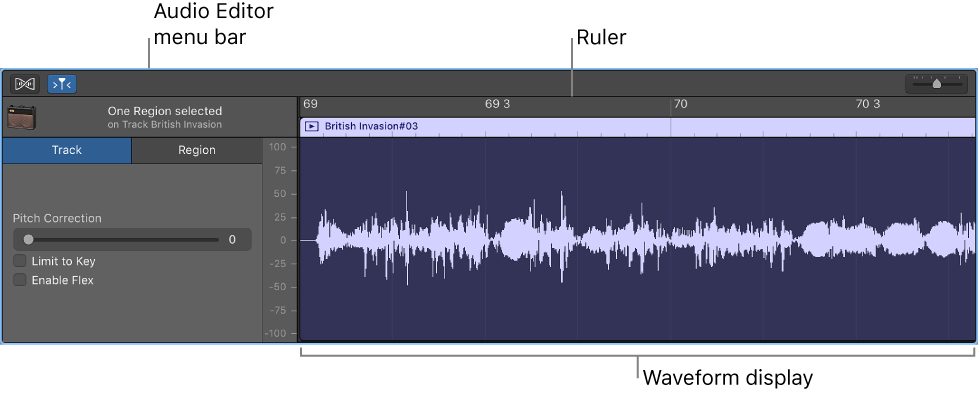 Audio editing features are non-destructive, and allow you to:
move and trim audio regions,
split and join audio regions,
correct the pitch of out-of-tune material,
edit the timing and beat of music.
That's quite a lot of functionality, and if your needs don't get too complicated, or you're a beginner, or you don't have a budget for anything more expensive, it's a great place to start.
But it's not the best tool for everyone. Here are a few reasons you might want to consider something else:
If you don't need GarageBand's music features, you may find a tool that only does audio editing simpler. Audacity is a good option, and it's free.
If you work with the spoken word and have a Creative Cloud subscription, you're already paying for Adobe Audition. It's a more powerful tool for editing voiceovers and screencast audio.
If you work with music, or value using the most powerful software tools, a digital audio workstation will give you access to more features, and probably a smoother workflow. Apple Logic Pro, Cockos Reaper and Avid Pro Tools are all good options for very different reasons.
How We Tested and Picked These Audio Editors
Comparing audio apps isn't easy. There is a wide range in capability and price, and each has its own strengths and compromises. The right app for me may not be the right app for you. We're not so much trying to give these apps an absolute ranking, but to help you make the best decision about which one will suit your needs. Here are the key criteria we looked at when evaluating:
1. Which operating systems are supported?
Does the app run on just one operating system, or on several? Does it work on Mac, Windows or Linux?
2. Is the app easy to use?
Do you value ease of use over advanced features? If you only do basic editing from time to time, ease of use will likely be your priority. But if you edit audio on a regular basis, you'll have time to learn the more advanced features, and will likely value power and the right workflow.
3. Does the app have the essential features needed to edit audio?
Does the app do the job you need it to? Will it let you edit out noises, unwanted gaps, and mistakes, trim unneeded audio from the beginning and end of the recording, and remove noise and hiss? Will the app let you boost the level of your recording if it is too quiet? Does it allow you to split a single recording into two or more files, or join two audio files together? How many tracks are you able to mix and work with?
In brief, here are some of the jobs an audio editor should be able to handle:
import, export and convert a variety of audio formats,
insert, delete and trim audio,
move audio clips around,
fade in and out, cross-fade between audio clips,
provide plugins (filters and effects), including compression, reverb, noise reduction and equalization,
add and mix several tracks, adjusting their relative volume, and panning between left and right channels,
clean up noise,
normalize the volume of an audio file.
4. Does the app have useful additional features?
What additional features are provided? How useful are they? Are they more suited to speech, music, or another application?
5. Cost
The apps we cover in this review span a huge range of prices, and the amount you'll spend will depend on the features you need, and whether this software tool is making you money. Here's what the apps cost, sorted from cheapest to most expensive:
Audacity, free
ocenaudio, free
WavePad, free
Cockos REAPER, $60, $225 commercial
Apple Logic Pro, $199.99
Adobe Audition, from $251.88/year ($20.99/month)
SOUND FORGE Pro, $399
Avid Pro Tools, $599 (with 1-year updates and support), or subscribe for $299/year or $29.99/month
Steinberg WaveLab, $739.99
So, what do you think about this audio editing software roundup? Leave a comment and let us know.