Just about everyone has an email address. You may prefer sending and receiving mail using a computer program rather than logging into a website in a browser. Windows Mail is the app many PC users get started with. While it's simple, it's all that most casual users need.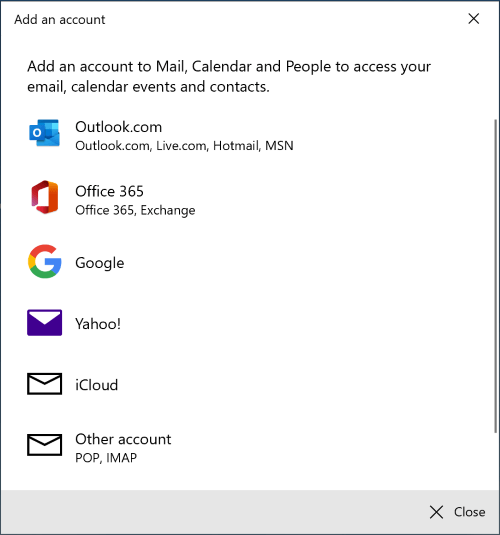 But not everyone is a "casual" email user. Some of us receive dozens of messages a day and manage a growing archive of thousands. Does that sound like you? Most pack-in email tools aren't up to sorting through that kind of volume.
In this article, we'll introduce you to several alternatives to Windows Mail. They offer vastly different approaches to solving the email problem—and one of them might be perfect for you.
Windows Mail: Quick Review
Let's start by looking at Windows Mail. What can it do well, and where does it fall down?
What Are Windows Mail's Strengths?
Ease of Setup
Most email clients make their initial setup process easy these days, and Windows Mail is no exception. When you first open the app, you are asked to add an account. You can choose from a list of popular email providers, then log in using your email address and password. The last step is to type your name in. All other settings are detected automatically.
Cost
Price is Mail's second advantage. It's free and comes preinstalled on Windows 10.
What Are Windows Mail's Weaknesses?
Organization & Management
It's easy to get bogged down with email. Dozens or more arrive every day, and we also have to deal with tens of thousands of archived messages. Mail offers fewer email management features than other apps.
Folders allow you to add structure to your archive, while flags let you mark important messages or those you need to take action on. Tags are not supported; neither are email rules, which automatically act on emails depending on the criteria you define.
You can search for emails containing a certain word or phrase. More complex searches are also available by adding search terms. A few examples are "sent:today" and "subject:microsoft." However, you cannot save a search for future use.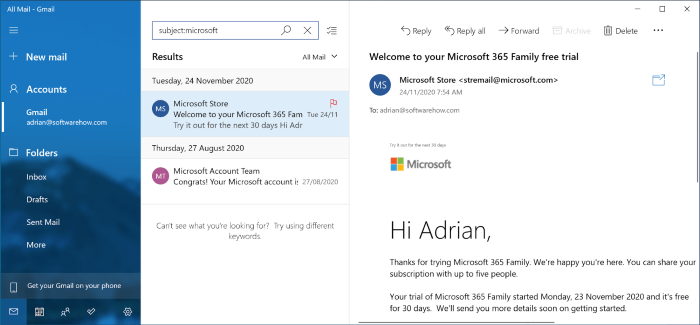 Security and Privacy
Mail will automatically check incoming mail for junk messages and move them to a separate folder. You can also manually tell the app whether or not a message is spam.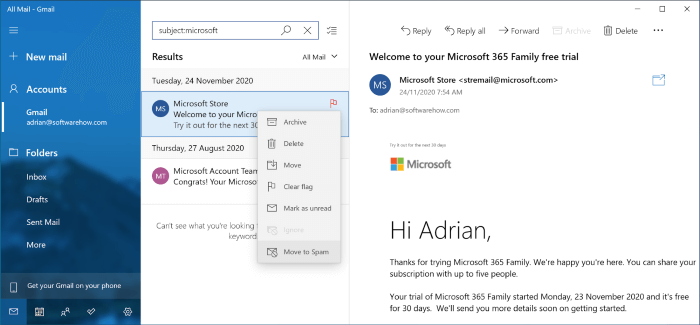 Some email clients block remote images by default as a security precaution, but Mail does not. These images can be used by spammers to determine whether you viewed the message. Doing so confirms whether your email address is real, potentially leading to more spam. It also doesn't offer email encryption, a feature ensuring that only the intended recipient can open a sensitive email.
Integrations
Mail offers little integration with third-party apps and services, which is a key feature of other email clients. It goes as far as placing links to the Windows calendar, contacts, and to-do list at the bottom of the navigation bar.
Many apps allow you to display data from third-party apps and services, such as Evernote, and send an email to the calendar or task manager of your choice. Some let you add additional features, including integration, using plug-ins. Mail does none of this.
Best Alternatives to Windows Mail
1. Microsoft Outlook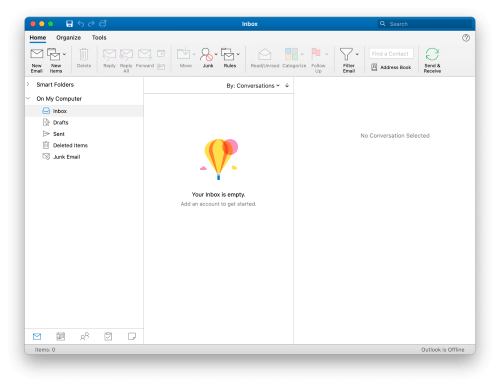 Outlook includes many features that Mail lacks. If you use Microsoft Office, it's already installed on your computer. Otherwise, it is quite expensive.
Outlook is available for Windows, Mac, iOS, and Android. It can be purchased outright from the Microsoft Store for $139.99. It's also included in a $69/year Microsoft 365 subscription.
Outlook matches the look and feel of other Office applications. You'll notice a ribbon bar that includes buttons for common features. It offers more advanced search, including saving searches as Smart Folders and configurable rules that automatically act on your emails.
Calendars, contacts, and to-dos are included in the app, and there is tight integration with other Office apps. A rich ecosystem of add-ins allows you to add new features and integrate with third-party apps and services.
It filters junk mail and blocks remote images. Outlook also supports email encryption, but only for Microsoft 365 subscribers who use the Windows version.
2. Thunderbird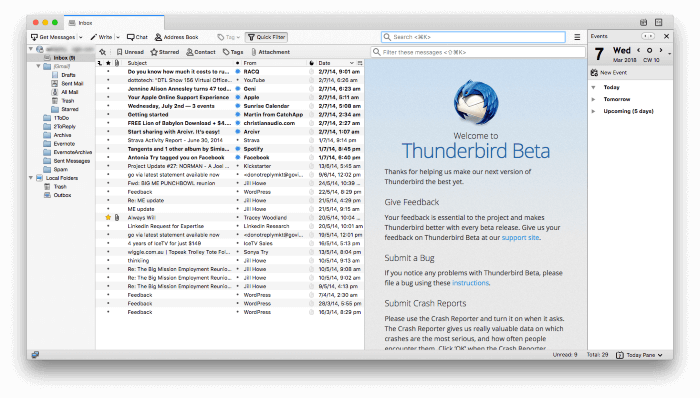 Mozilla Thunderbird is a free app that closely matches Outlook's features. Its interface looks dated, which may turn some users off.
Thunderbird is free and open-source. It's available for Mac, Windows, and Linux.
Everything I said above about Outlook applies to Thunderbird. It offers powerful automation rules, advanced search, and Smart Folders. It scans for spam and blocks remote images. An add-on lets you encrypt mail. A wide variety of other add-ons are available which add features and integrate with third-party services. It's arguably the best free email client available for Windows.
3. Mailbird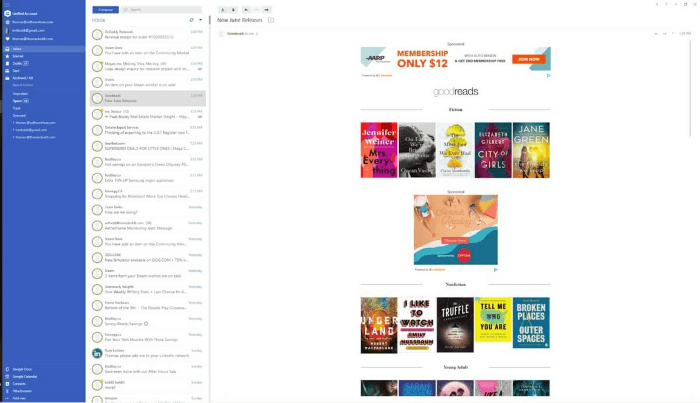 Not everyone needs an exhaustive list of features. Mailbird offers a minimal, attractive interface that's easy to use. It won our Best Email Client for Windows roundup. Check out our full Mailbird review to learn more.
Mailbird is currently available for Windows only. It's available for $79 as a one-off purchase from the official website or a yearly subscription of $39.
Like Windows Mail, Mailbird omits many of the features included in Outlook and Thunderbird. However, it's a much more useful app than the default Windows email client. Mailbird aims for efficiency, especially when processing your inbox. Snooze hides an email until you're ready to deal with it, while Send Later allows you to schedule outgoing mail. Basic integration is available for tons of third-party apps and services.
But there are no rules for automatically organizing your email, and you can't perform advanced search queries.
4. eM Client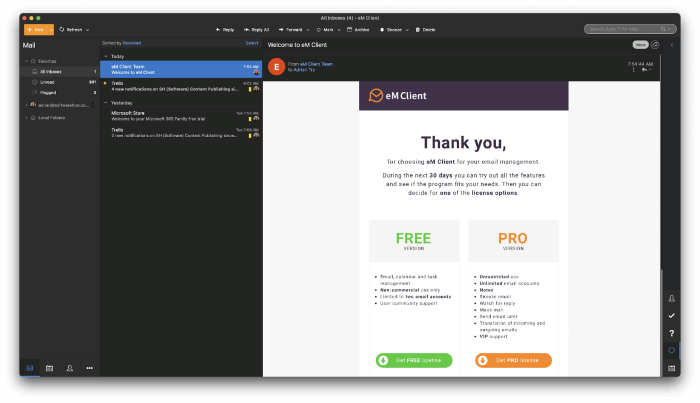 eM Client also offers an uncluttered interface but manages to include much of the functionality you find in Outlook and Thunderbird. We cover it in-depth in our full eM Client review.
eM Client is available for Windows and Mac. It costs $49.95 (or $119.95 with lifetime upgrades) from the official website.
Like Mailbird, eM Client offers a sleek, modern interface and the ability to snooze or schedule emails. But it goes much further, offering many features from more advanced email clients.
You'll find advanced search and search folders. You can use rules for automation, though they're more limited than what you can achieve with Outlook and Thunderbird. Spam filtering and email encryption are supported. The app automatically blocks remote images. eM Client integrates calendars, tasks, and contacts into the app. However, you're unable to extend the app's feature set using add-ons.
5. PostBox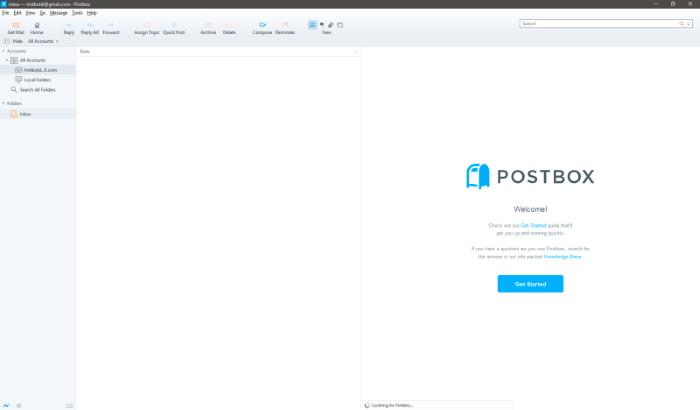 We finish with two email clients that sacrifice ease-of-use in favor of raw power. The first of these is PostBox.
Postbox is available for Windows and Mac. You can subscribe for $29/year or purchase it outright from the official website for $59.
Postbox is highly configurable. You can open several emails at once in its tabbed interface. A unique Quick Bar lets you quickly act on an email with a click of the mouse. You can add experimental features through Postbox Labs.
It allows you to quickly access your most important folders by making them favorites. You can also get a head start on outgoing emails by using templates. Postbox's advanced search feature includes files and images. Encryption is also supported.
6. The Bat!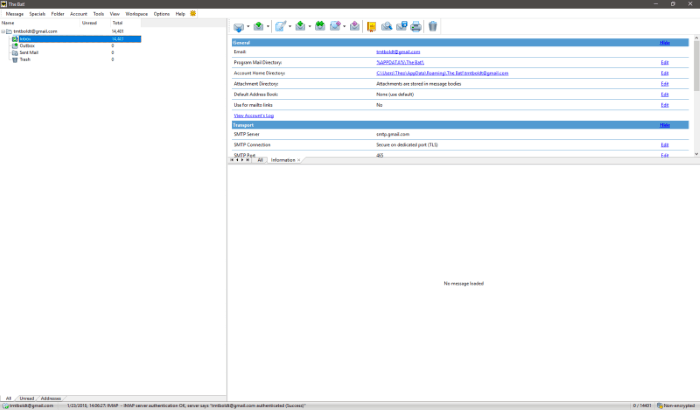 The Bat! is a powerful, security-focused email client that comes with a learning curve. It places a particular focus on encryption and supports the PGP, GnuPG, and S/MIME protocols.
The Bat! is available for Windows only and can be purchased from the official website. The Bat! Home currently costs 28.77 euros, and The Bat! Professional costs 35.97 euros.
If you're security-conscious or think of yourself as a geek or power user, you may find it appealing. Besides encryption, The Bat! includes a complex filtering system, RSS feed subscriptions, safe handling of attached files, and templates.
One example of The Bat's quirky customizability is the MailTicker. This configurable feature runs on your desktop to notify you of incoming emails you are particularly interested in. It resembles a stock exchange ticker and only displays email that matches the precise criteria you define.
The Conclusion
Mail is the default email client for Windows. It's free, comes preinstalled on almost all PCs, and includes the features most people need. But it's not enough to satisfy everyone.
If you use Microsoft Office, you'll also have Outlook on your computer. It's tightly integrated with the other Office apps and is much more powerful than Windows Mail. A similar free alternative is Mozilla Thunderbird. Both offer the types of features that are required when doing email in an office environment.
Some users are more concerned about the look and feel of an app than its list of features. Mailbird is stylish, minimal, and uses a clever interface to make processing your inbox more efficient. So does eM Client, though that app also includes most of Outlook and Thunderbird's features.
Other users don't mind a steeper learning curve. In fact, they see it as a reasonable investment in mastering a more powerful tool. If that's you, take a look at PostBox and The Bat!
Which type of user are you? Which email program best suits your needs and workflow? If you still need some help making up your mind, you may find our Best Email Client for Windows roundup helpful.