You can purchase watercolor brush sets from various artists online in order to create watercolor artwork in Procreate. Or if you are really brave and creative, use a combination of the Wash brush and Splatter brush to recreate a watercolor effect.
I'm Carolyn and I've been using Procreate to run my digital illustration business for over three years. I spend all day, every day on the app creating a variety of different projects for my clients and I often have to research and explore external resources for certain projects.
Procreate is such a sophisticated digital drawing program that it has the ability to allow users to create artwork that literally looks like real-life watercolor paintings.
In this article, I'm going to show you the how to create a watercolor effect procreate and what are some of the best watercolor brushes.
Note: Screenshots are taken from Procreate on iPadOS 15.5
Key Takeaways
You can use Procreate brushes to create the watercolor effect.
You can purchase watercolor brush sets from Procreate artists online.
Creating your own watercolor brush is possible but takes a lot of time, research and experimentation.
How to Do Watercolor in Procreate (4 Steps)
Below I will show you how you can manipulate and combine a selection of preloaded Procreate brushes in order to replicate a watercolor effect. It's a good idea to have a watercolor-style image handy to use as a reference. Here's how:
Step 1: Open your Brush Library by tapping on the paintbrush icon in the top right-hand corner of your canvas.

Step 2: Scroll down the menu until you find the Wash brush in the Water Palette and the Splatter brush in the Spraypaints palette.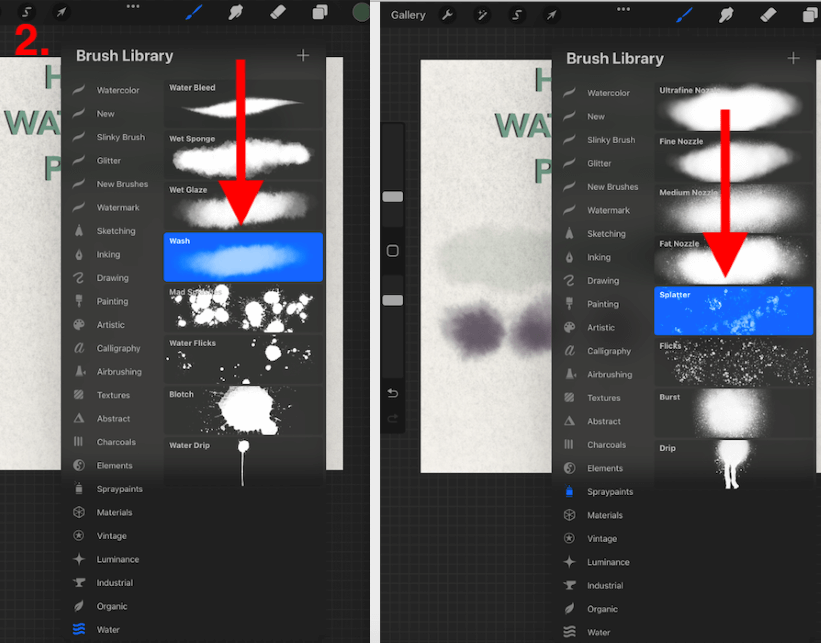 Step 3: Using these two brushes, practice creating watercolor-like markings on a new layer. Ensure you explore varying levels of Size, Pressure, and Opacity as watercolors have a very broad range of all three of these.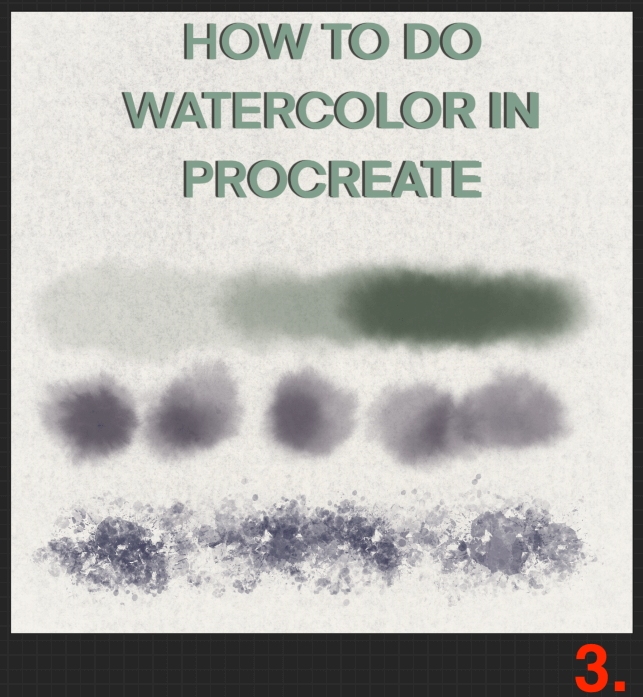 Step 4: Once you are happy with your range of markings and comfortable using the two brushes, start painting your watercolor drawing onto your canvas.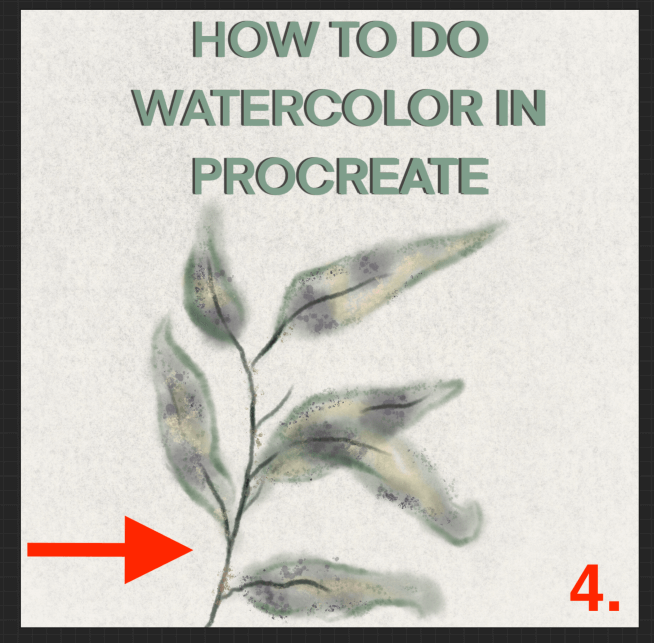 Pro Tip: To make your artwork more realistic looking, you can add a subtle paper-textured effect on your base layer to enhance the watercolor appearance of the canvas.
Best Watercolor Brushes for Procreate
There are so many options when it comes to finding watercolor brush palettes online that it's hard to decide which one is the best one for you. Below I have selected some of my favorite watercolor sets and explain why I love them so much.
Watercolor Lettering Brush Kit – By LynnHaven Designs
This is a really unique brush set as it allows its users to create a really beautiful watercolor style font on their canvas. This kit combines the watercolor effect with a lovely lettering font and provides 8 different brushes to experiment with.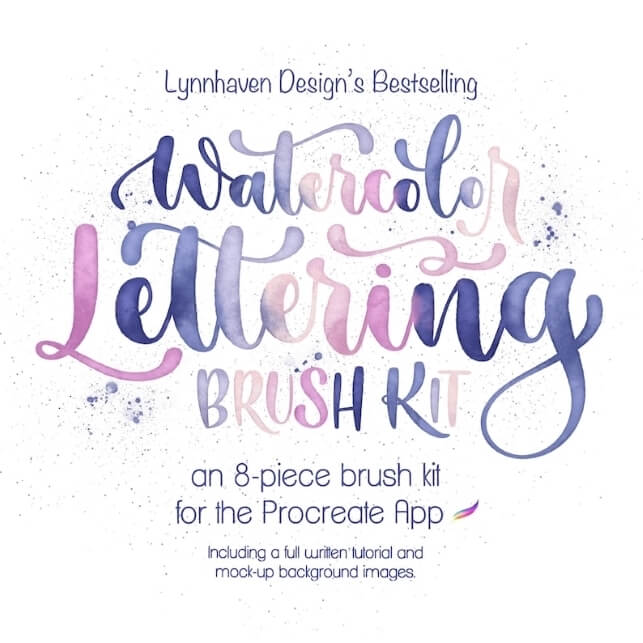 With so many raving reviews, including my own, this brush set is ideal for people looking to use watercolor lettering in their artwork. It also comes with an easy-to-use tutorial that guides users through the process of creation.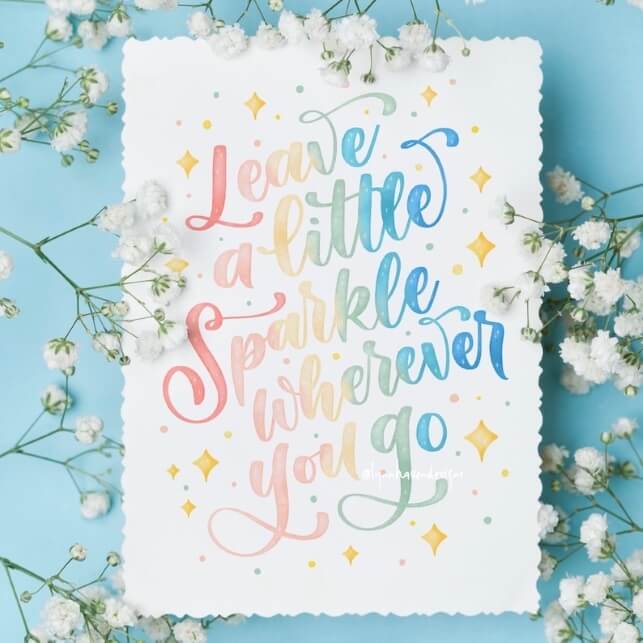 Available for purchase via Etsy, users can download this unique kit for less than $18 USD making it a good value for money. This isn't a quick-fix lettering option and it does require some practice, but the results are amazing.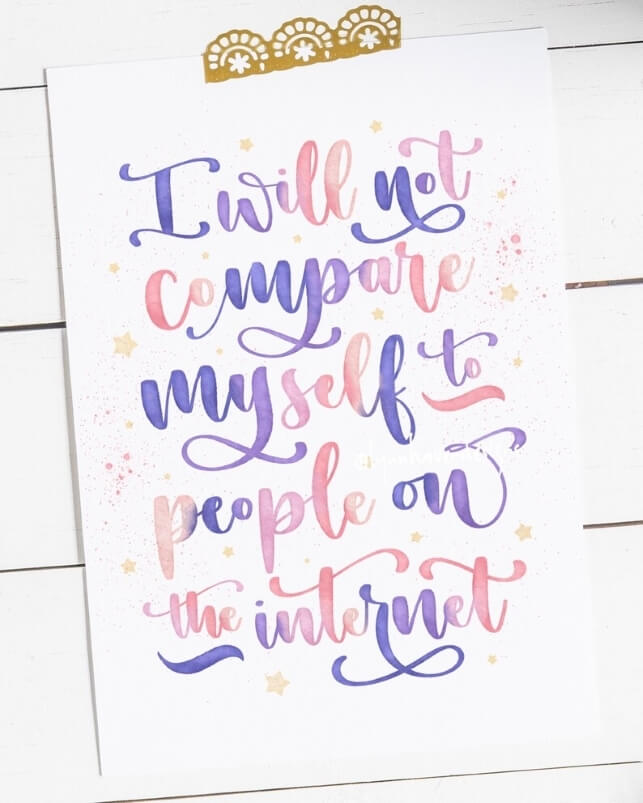 This brush set is probably the most popular of all the watercolor brushes and you can see why. Lisa Glanz has created a palette with a broad variety of watercolor effects and also provided an in-depth resource for users to learn about the palette and how it can benefit them.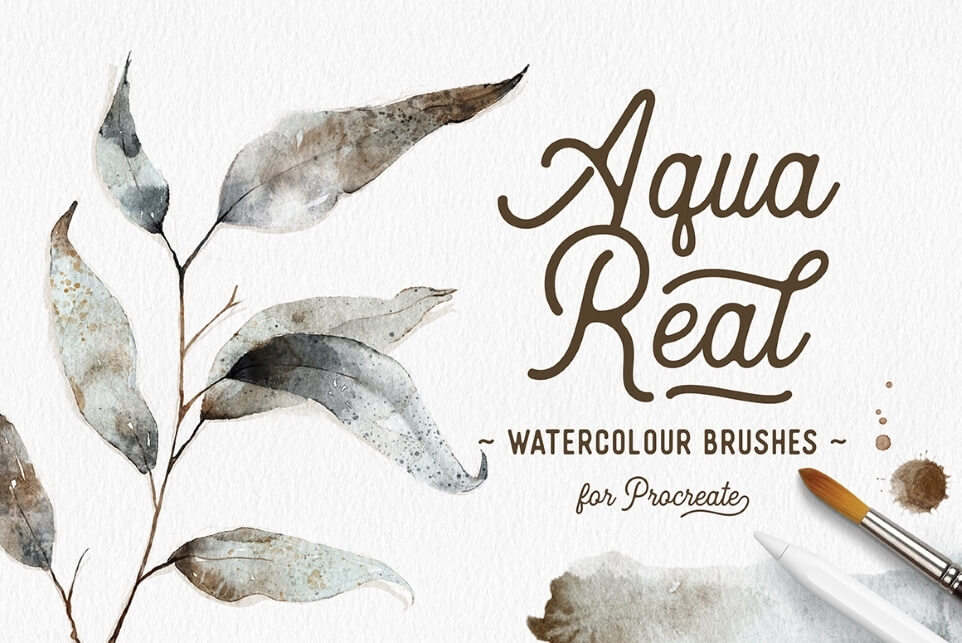 The artist has provided a detailed breakdown of how each brush and stamp will react with your canvas alongside a series of beautiful and creative examples of their amazing work. This really is the all-in-one palette as it has every single option you could ever imagine.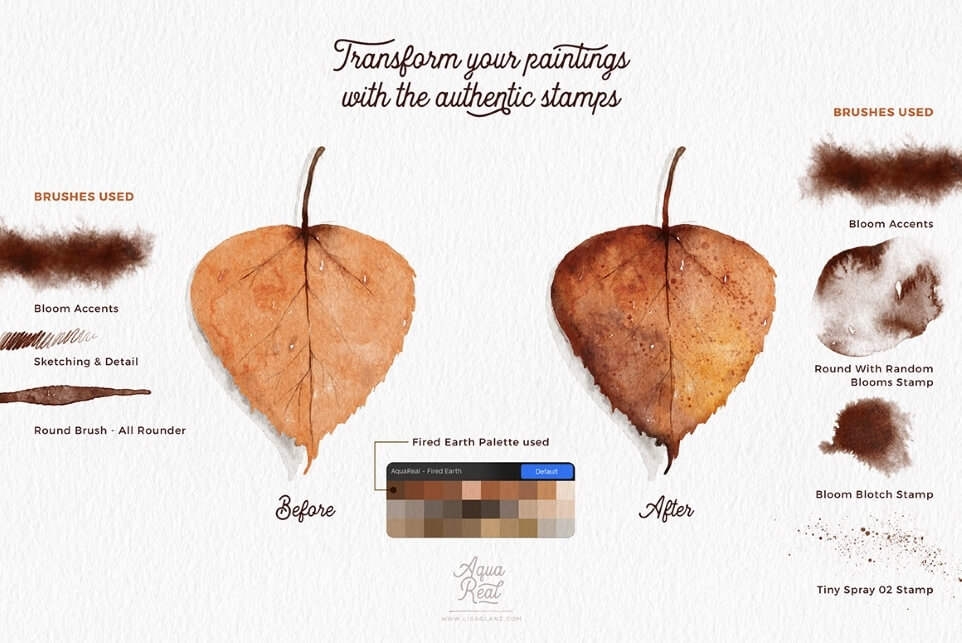 The selection of textures, stamps, and pigment-staining brushes gives you all the tools you need to create even the most intricate watercolor paintings. And it even includes color palettes and paper canvases to create a real watercolor effect.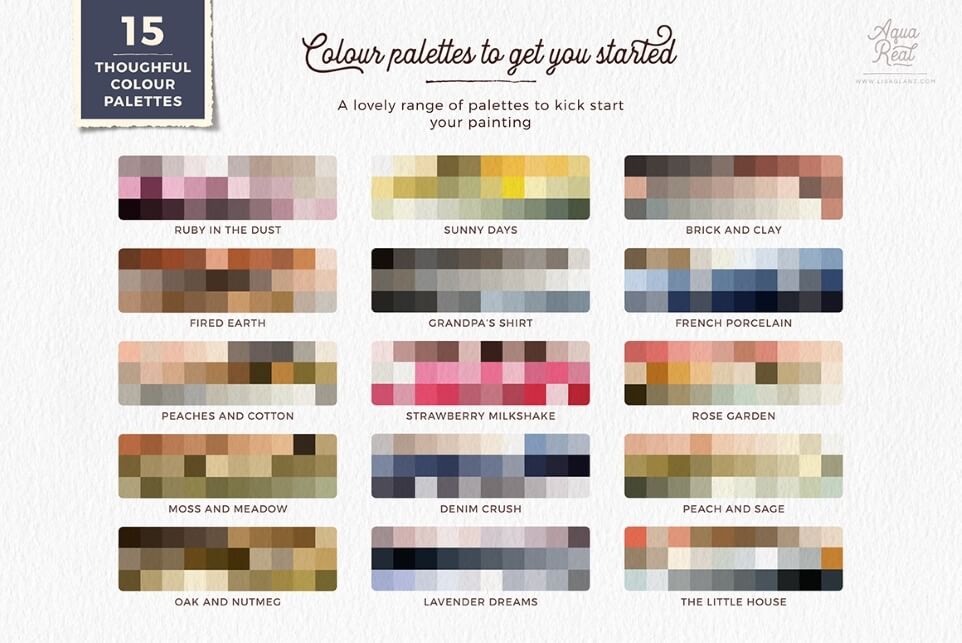 You can watch the tutorial and get a taste of the options available here.
Master Watercolor Brushes – By Nathan Brown
Artist and teacher Nathan Brown created a brush set that includes brushes, stamps, palettes, and multiple tutorials so that users can make the most of every component available. The clear and precise tutorials make it easy for the user to navigate their way around the set.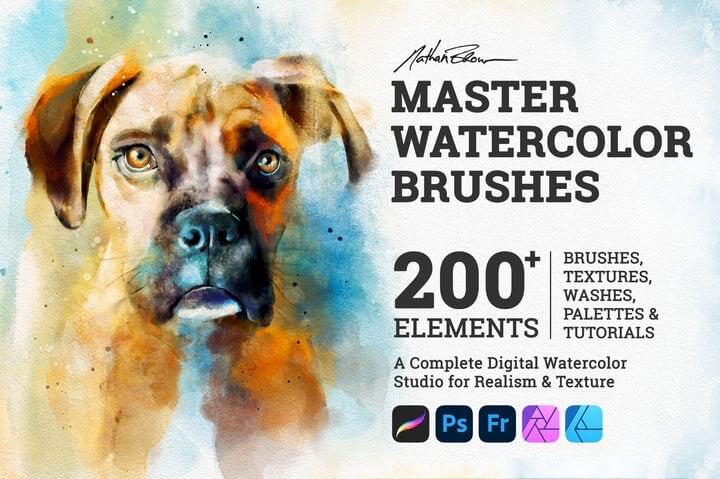 My favorite part of this set is the ample PDF tutorials. I find it easier to follow the written word than a video so if you're like me and prefer to read your way through a step-by-step process, this is the brush set for you.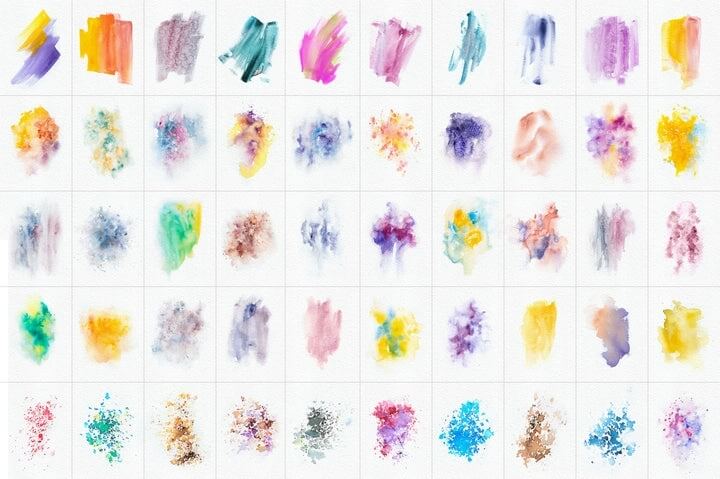 This brush set is excellent value and includes everything you need to get started on your watercolor practice today.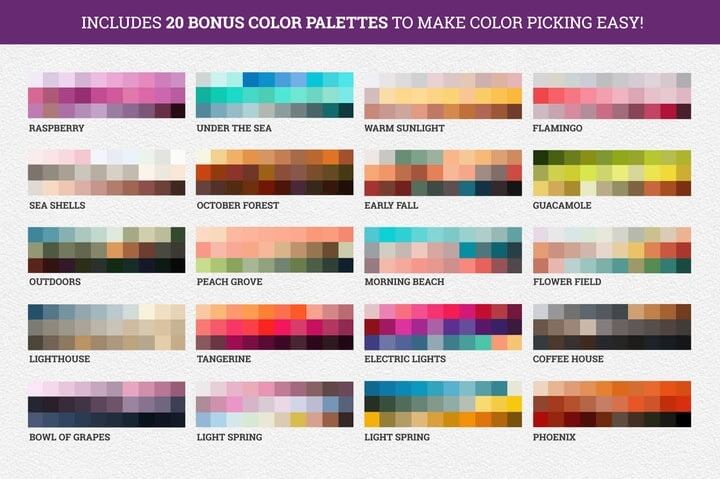 Here is a link to one of Nathan's video tutorials if you want a sneak peek of what this set has to offer.
FAQs
Below is a selection of your frequently asked questions about how to do watercolor in Procreate.
Does Procreate have watercolor palettes?
Procreate does not come with a preloaded watercolor brush palette. Procreate provides users with a small selection of brushes that can be used to recreate a watercolor effect or you purchase and download a watercolor brush set online.
How can I turn a photo into a watercolor?
You can either do this manually by inserting the photo into a canvas and painting over it in a watercolor style, or you can search online for a website that may offer photo transformations and do it that way.
Where can I find free Procreate watercolor brushes?
There is a selection of free watercolor brushes available online but I personally tend to avoid these. I believe you get what you pay for and I'm also very passionate about supporting the artists of the Procreate community.
What is Procreate watercolor paper?
Many watercolor brush sets will come with a selection of paper textures that you can use when creating watercolor artwork. Alternatively, you can create your own by applying a texture brush to a layer or inserting an image of a texture and reducing the layer's opacity.
Conclusion
I am all for purchasing and downloading amazing Procreate brushes from artists online. I think this is the best option for creating watercolor imagery on the app if you can afford it. It's a very unique effect to achieve without the use of a professionally designed brush, in my opinion.
The watercolor results in Procreate are nothing short of breathtaking. If you have any interest in adding this skill to your toolbox, definitely research the best brush set for you and make use of the detailed and helpful tutorials and guidelines that come with each of these brush kits.
Do you do watercolor in Procreate? What brush set do you use? Share your favorite watercolor brush sets in the comments section below.