Writers of long-form content, like novels and screenplays, have unique needs that need to be addressed in the software they use. Their writing projects are measured in months and years rather than days and weeks, and they have more threads, characters and plot twists to keep track of than the average writer.
There is a lot of variety in the writing software genre, and learning a new tool can be a big-time investment, so it's important to consider your options before making a commitment. Scrivener and Storyist are two popular options, how do they compare?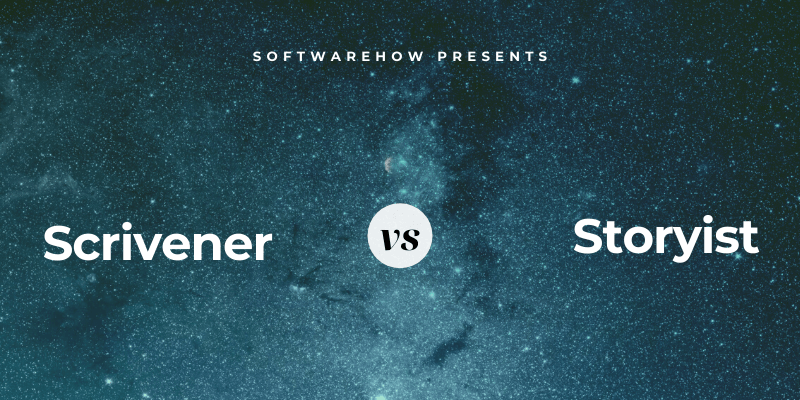 Scrivener is a highly-polished, feature-rich application for professional writers with a focus on long-form projects. It's perfect for novels. It functions like a typewriter, ring-binder, and scrapbook—all at the same time—and includes a useful outliner. This depth can make the app a little difficult to learn. For our closer look, read our full Scrivener review here.
Storyist is a similar tool, but in my experience is not quite as polished as Scrivener. It too can help you write a novel, but also includes additional tools and formatting, like those required for producing screenplays.
Scrivener vs. Storyist: Head-to-Head Comparison
1. User Interface
Programs designed for long-form writing have many features and are designed for people who will spend hundreds or even thousands of hours using and mastering the software. So, whether you choose Scrivener or Storyist, expect there to be a learning curve. You'll become more productive as you spend time with the software, and it's definitely worth investing some time in studying the manual.
Scrivener is a go-to app for writers of all kinds, used every day by best-selling novelists, non-fiction writers, students, academics, lawyers, journalists, translators and more. It won't tell you how to write—it simply provides everything you need to start writing and keep writing.
The Storyist developers have created a similar product, but don't seem to have spent the same time and effort polishing the interface. I enjoy the app's features but sometimes find that additional mouse clicks are required to accomplish a task. Scrivener has a more streamlined and intuitive interface.
Winner: Scrivener. The developers seem to have put more effort into making rough edges smooth and simplifying the steps required to complete some tasks.
2. Productive Writing Environment
For formatting your text, Scrivener provides a familiar toolbar at the top of the window…
…while Storyist places similar formatting tools to the left of the window.
Both apps allow you to format using styles and offer a distraction-free interface for when your priority is getting words on the screen rather than making them look pretty.
A dark mode is supported by both apps.
Winner: Tie. Both apps offer a full writing environment suitable for long-form projects.
3. Producing Screenplays
Storyist is a better tool for scriptwriters. It includes additional features and formatting required for screenplays.
Screenwriting features include quick styles, smart text, export to Final Draft and Fountain, an outliner, and story development tools.
Scrivener can also be used for screenwriting but that functionality needs to be added by making use of special templates and plugins.
So Storyist is the better choice. But to be honest, there are much better tools out there for producing screenplays, like the industry-standard Final Draft. Find out why in our review of the best screenwriting software.
Winner: Storyist. It contains some pretty good screenwriting features built-in, while Scrivener makes use of templates and plugins to add that functionality.
4. Creating Structure
Both apps allow you to break a large document up into many pieces, allowing you to easily rearrange your document, and giving you a sense of progress as you complete each part. Scrivener displays these pieces on the right of the screen in an outline, called the Binder.
You can also display your document as an online in the main editing pane, where you can add additional details, and rearrange things by drag-and-drop.
Finally, the pieces of your document can also be displayed on the Corkboard, along with a synopsis of each piece.
Storyist offers similar features. It too can display your document in an outline.
And its Storyboard is similar to Scrivener's Corkboard.
But the Storyboard has support for both index cards and photos. Photos can be used to put a face to each of your characters, and cards give you a bird's-eye view of your project where you can summarize and easily rearrange your sections or scenes.
Winner: Storyist, but it's close. Both apps can display the pieces of your large document in a full-featured outliner or on moveable index cards. Storyist's Storyboard is a little more versatile.
5. Brainstorming & Research
Scrivener adds a reference area to the outline of each writing project. Here you can brainstorm and keep track of your thoughts and ideas about the project using Scrivener documents, which offer all of the features you have when typing your actual project, including formatting.
You can also attach reference information in the form of web pages, documents, and images.
Storyist doesn't give you a separate section in the outliner for your reference (though you can set one up if you like). Instead, it allows you to intersperse reference pages throughout your document.
A Story Sheet is a dedicated page in your project to keep track of a character in your story, a plot point, a scene or a setting (location).
A character story sheet, for example, includes fields for character summary, physical description, character development points, notes, and a photo that will be displayed on your storyboard…
…while a plot point story sheet includes fields for summary, protagonist, antagonist, conflict, and notes.
Winner: Tie. The best reference tool for you depends on your personal preferences. Scrivener offers a dedicated area in the outline for your reference material, which you can create free-form, or by attaching documents. Storyist provides various Story Sheets, which can be inserted at strategic points of your outline.
6. Tracking Progress
Many writing projects have a word count requirement, and both programs offer a way of tracking your writing progress. Scrivener's Targets allow you to set a word goal and deadline for your project, and individual word goals for each document.
You can set a word target for the entire project…
…and by clicking the Options button, set a deadline too.
By clicking the bullseye icon at the bottom of each document, you can set a word or character count for that sub-document.
Targets can be displayed in the document outline along with a graph of your progress, so you can see how you're going at a glance.
Scrivener also allows you to associate statuses, labels, and icons to each section of a document, allowing you to see your progress at a glance.
Storyist's goal-tracking feature is a little more basic. At the top right of the screen, you'll find a Target icon. After clicking on it you'll be able to define a word count goal for your project, how many words you'd like to write each day and check off the scenes you'd like included in this goal.
You'll be able to view your progress as a calendar, graph or summary. You can change your goals at any time.
While Storyist can't track your deadlines in the same detail that Scrivener can, it does get close. You need to divide the total word count for the project by the number of days left until the deadline, and once you enter that as your daily goal the app will show you if you're on track. You can't, however, define word count goals for each chapter or scene of your project.
Winner: Scrivener allows you to set word count goals both for the entire project, as well as for each smaller piece. Storyist only has project targets.
7. Exporting & Publishing
Like most writing apps, Scrivener allows you to export the document sections you select as a file in a variety of formats.
But Scrivener's real publishing power lies in its Compile feature. This allows you to publish your document to paper or digitally in a number of popular document and ebook formats.
Quite a number of attractive, predefined formats (or templates) are available, or you can create your own.
Storyist gives you the same two options. When you are ready to share your project with the world, quite a number of Export file formats are available, including Rich text, HTML, Text, DOCX, OpenOffice and Scrivener formats. Screenplays can be exported in Final Draft and Fountain Script formats.
And for more professional output, you can use Storyist's Book Editor to create a print-ready PDF. While it isn't as powerful or flexible as Scrivener's Compile feature, lots of options are offered, and it will most likely meet your needs.
You first need to select a template for your book. You then add the text files for your chapters to the book body, along with additional material like a table of contents or copyright page. Then after adjusting the layout settings, you export.
Winner: Scrivener. Both apps allow you to simply export your document to a number of formats, or for highly-controlled professional output, provide powerful publishing features. Scrivener's Compile is more powerful and versatile than Storyist's Book Editor.
8. Supported Platforms
Scrivener is available for Mac, Windows, and iOS, and will sync your work onto each device you own. It was originally only available on the Mac, but a Windows version has been available since 2011. The two versions are similar, but not identical, and the Windows app lags behind. While the Mac version is currently 3.1.1, the current Windows version is just 1.9.9.
Storyist is available for Mac and iOS, but not Windows.
Winner: Scrivener. Storyist is only available for Apple users, while Scrivener also includes a Windows version. Windows users will be happier once the new version is released, but at least it's available.
9. Pricing & Value
The Mac and Windows versions of Scrivener costs $45 (a little cheaper if you're a student or academic), and the iOS version is $19.99. If you're planning to run Scrivener on both Mac and Windows you need to purchase both, but get a $15 cross-grading discount.
The Mac version of Storyist costs $59.99 on the Mac App Store or $59 from the developer's website. The iOS version costs $19.00 on the iOS App Store.
Winner: Scrivener. The desktop version is $15 cheaper than Storyist, while the iOS versions cost about the same.
Final Verdict
For writing novels, books, and articles, I prefer Scrivener. It has a smooth, well-designed interface, and all of the features you'd need. It's a favorite tool for many professional writers. If you write screenplays as well, Storyist may be the better choice. Though if you're serious about becoming a screenwriter, you should ask whether it's better to use a separate, dedicated software tool, like the industry-standard Final Draft.
These are two surprisingly similar writing tools. They can both split up a large document into smaller pieces, and allow you to structure them in an outline and card structure. Both include formatting tools and the ability to set goals. They both handle reference material quite well, but very differently. While I personally prefer Scrivener, Storyist may be a better tool for some writers. A lot of it comes down to personal preference.
So I recommend you take them both for a test drive. Scrivener offers a generous free trial of 30 calendar days of actual use, and Storyist's free trial lasts 15 days. Spend some time in each app to see for yourself which best meets your needs.