Blockbuster movies and binge-worthy TV shows start with the written word. Scriptwriting is a creative process, but the final product requires a very specific type of formatting that directors, actors, and everyone in between can pick up and run with. Mess up the format, and your work won't be taken seriously.
If you're new to screenwriting, you need all the help you can get—a software tool that will guide you through each step and produce a final document with the correct margins, spacing, scenes, dialogue, and headers. And if you already know what you're doing, having a program that takes the pain out of the process is a dream come true. Writing is hard enough already.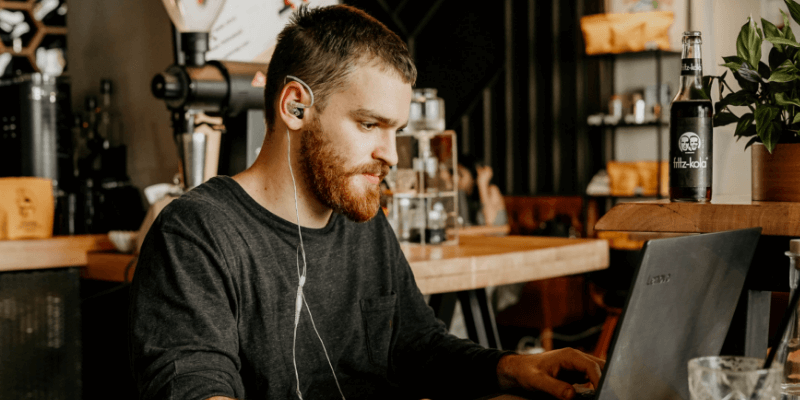 Final Draft has been widely used for screenwriting since 1990 and is used so commonly that it's considered an industry standard. It's not cheap, but if you're a professional—or want to be—it should be at the top of your list of candidates.
But it's not the only software product used in the industry. Fade In is an excellent modern alternative that costs significantly less, introduces new innovative features, and can import and export most popular screenwriting formats, including Final Draft.
WriterDuet and Movie Magic are the two other options you'll find widely used in the industry, and the cloud-based Celtx is feature-rich and highly popular outside of Hollywood. Alternatively, you can go old school and use your favorite typewriter, word processor or text editor like screenwriters have been doing for decades.
If you're serious about your scripts, we strongly recommend you get some specialist software. Read on to discover which one will best meet your needs.
Why Trust Me for This Software Guide?
My name is Adrian Try, and I've been making a living by writing words for the last decade. I know the difference that using the right software can make. Writing is not easy, and the last thing you need is a tool that makes the job harder.
But I'm not a screenwriter. I'm not familiar with stringent formatting a screenplay needs to satisfy, the work of developing plots and keeping track of characters, or what a professional crew would need from me on the day of a shoot.
So to write this article, I've done some thorough research about which screenwriting apps are out there. In fact, I downloaded, installed and tested many of them. I checked which ones are widely used in the industry and which aren't. And I paid attention to what real, working scriptwriters have said about each one.
Who Should Get This?
If you're a professional screenwriter, or want to be, then use professional screenwriting software. You owe it to yourself to invest in the right tool for the job. We recommend you start with an app that already has traction in the industry. If in doubt, choose Final Draft.
Professional screenwriting software will:
save you time by making the task of writing easier,
enable you to collaborate with other writers,
help you develop and keep track of your plot and characters,
give you the big picture of what you're writing,
help you rearrange your scenes,
track changes and edits during the revision process,
output in standard screenplay format,
produce the reports needed to produce your show or movie.
But it's better to "get it written than get it right", so if you're not quite ready to jump, there are alternatives we'll list below. You could use a template for your favorite word processor, or start with a free app.
How We Tested and Picked Screenwriting Software
Here are the criteria we use to evaluate:
Supported Platforms
Do you work on a Mac or PC? Many apps support both platforms (or run in a web browser), but not all. Would you like your app to work on mobile as well, so you can work anywhere, anytime?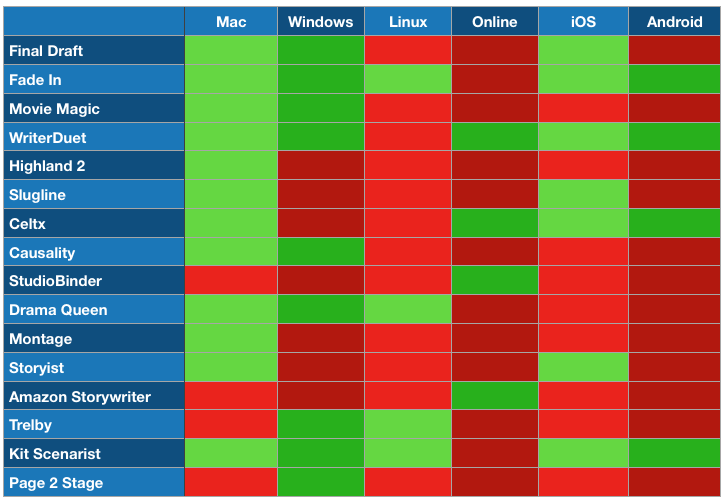 Features Included
Screenwriting apps are multi-faceted, and may offer features that save time, help you keep track of your inspiration and ideas, help you develop your plot ideas and characters, give you a bird's-eye view of your project, let you collaborate with others, output to standard screenplay format, produce reports, and maybe keep track of your production budget and schedule.
Portability
How easy is it to share your script with others who use Final Cut or some other screenwriting program? Can the app import and export Final Cut files? Fountain files? Which other formats? Does the app allow you to collaborate with other writers? How effective are the collaboration features? How effective are the revision tracking features?
Price
Some screenwriting apps are free or very reasonably priced but may miss important features, or not use standard formatting and file formats. The most polished, powerful and commonly-used apps are also relatively expensive, and that expense is justified.
Best Screenwriting Software: The Winners
The Industry Standard: Final Draft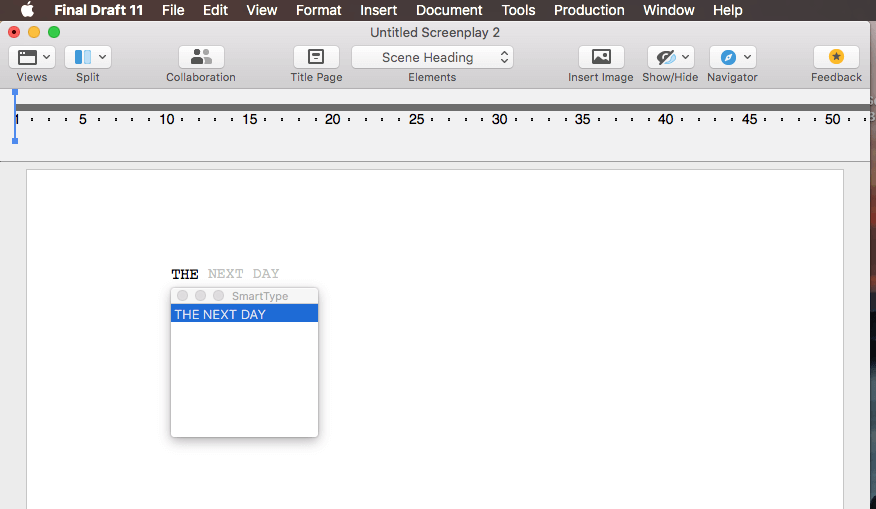 Final Draft has been widely used in the film and television industries since 1990 and is regarded as the industry standard screenwriting application. It's fairly intuitive, includes all the features you need, and allows you to share your screenplays with the people who matter. J.J. Abrams says, "Even if you don't own a computer, I recommend buying Final Draft." If you're serious about becoming a professional screenwriter, start here.
Besides being the industry standard, Final Draft is pretty good software to write a screenplay with. Desktop and mobile versions are available, so you can work anywhere, and a large selection of templates will give you a head start.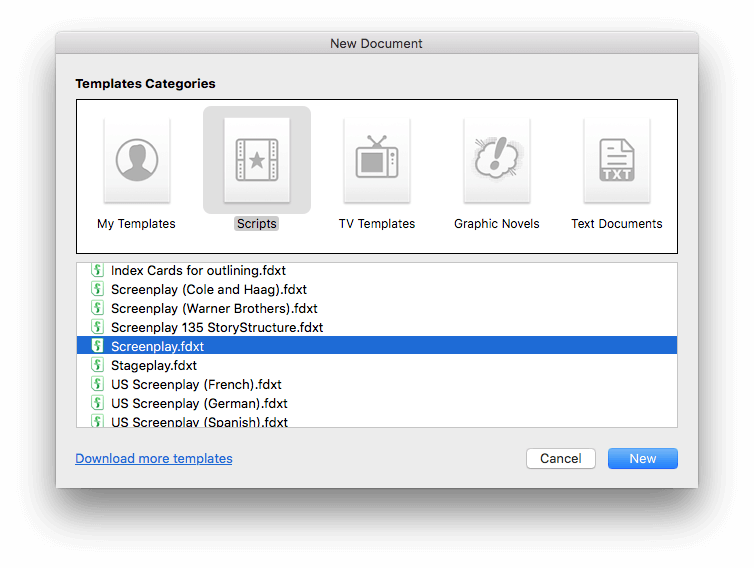 You can flexibly customize your writing environment, including a new night mode, and when you're in the mood you can dictate rather than type. And speaking of typing, Final Draft's SmartType feature will auto-fill commonly used names, locations, and phrases to cut down on your keystrokes. That means that every element in the script, from characters to dialogue to locations, is defined, and fewer spelling errors will creep into the document.
Alternate Dialogue lets you try a number of different lines. The feature allows you to store as many different versions of a line that you can imagine, and plug them in one by one to see which one works best.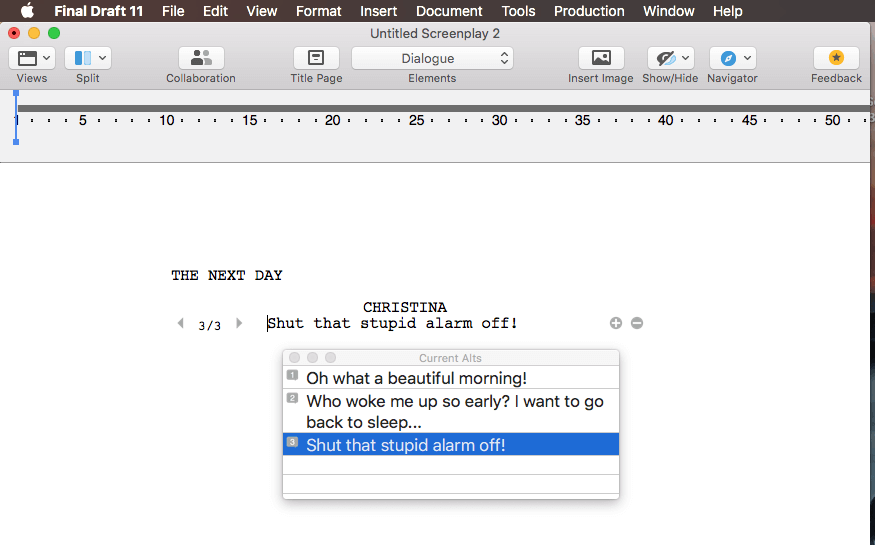 And the program offers autosave, so you won't accidentally lose your masterpiece.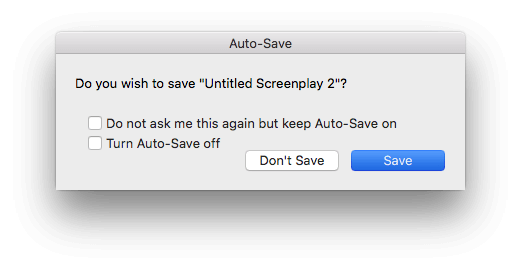 I've mentioned the importance of using standard screenplay format, and Final Draft makes this a breeze, beginning with a standard title page that's easy to customize.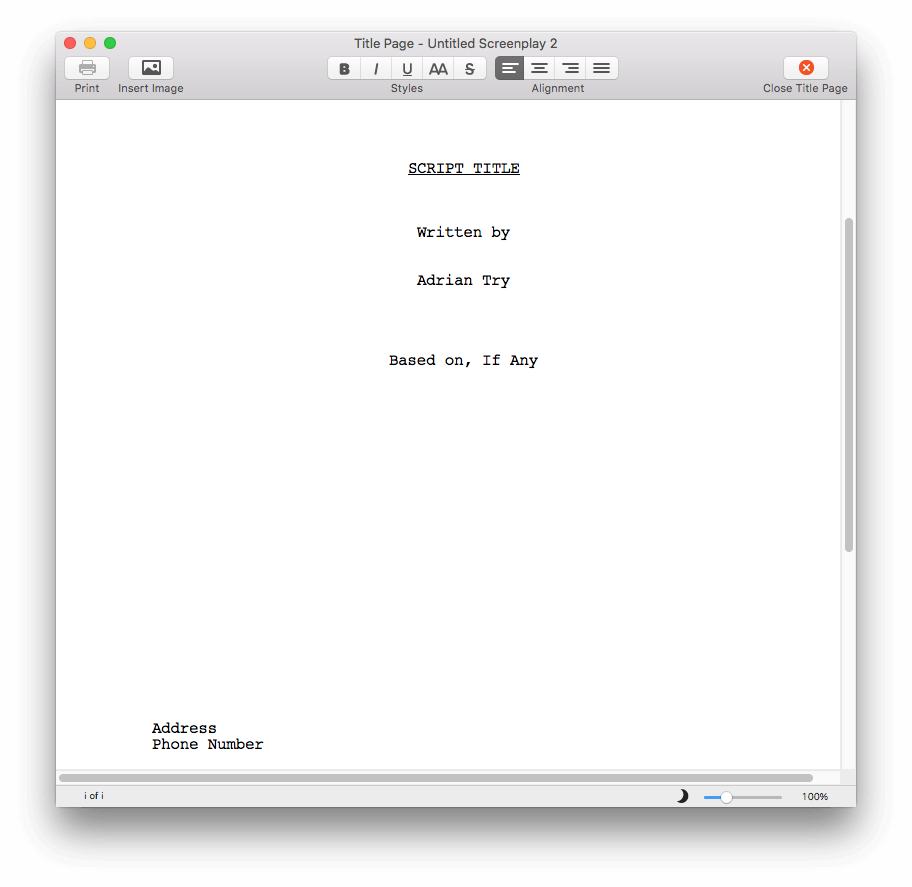 While you type, pressing Tab then Enter will let you choose what comes next. Character names are properly located and capitalized automatically, according to the standard screenplay format.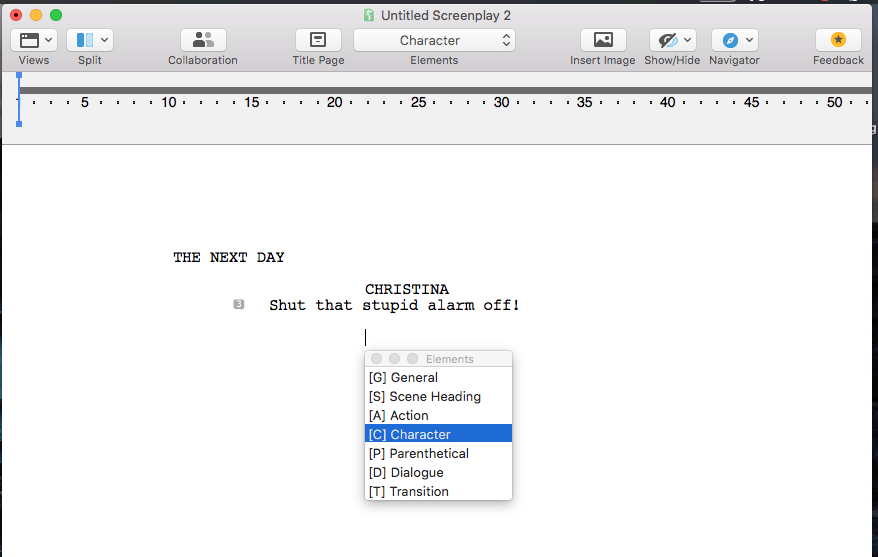 Once you've finished, a Format Assistant will check your script for formatting errors so you can have confidence when it comes time to email or print it.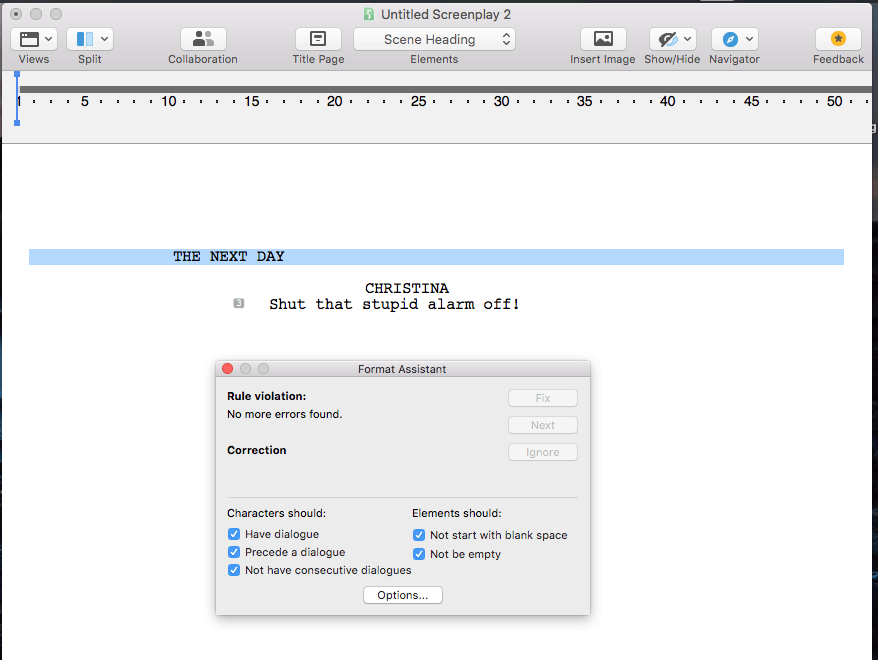 You can get an overview of your script by using Final Draft's Beat Board and Story Map. The Beat Board is a place to brainstorm your ideas without holding back. Text and images go on little cards that can be moved around. They can contain ideas for the plot, character development, research, location ideas, anything.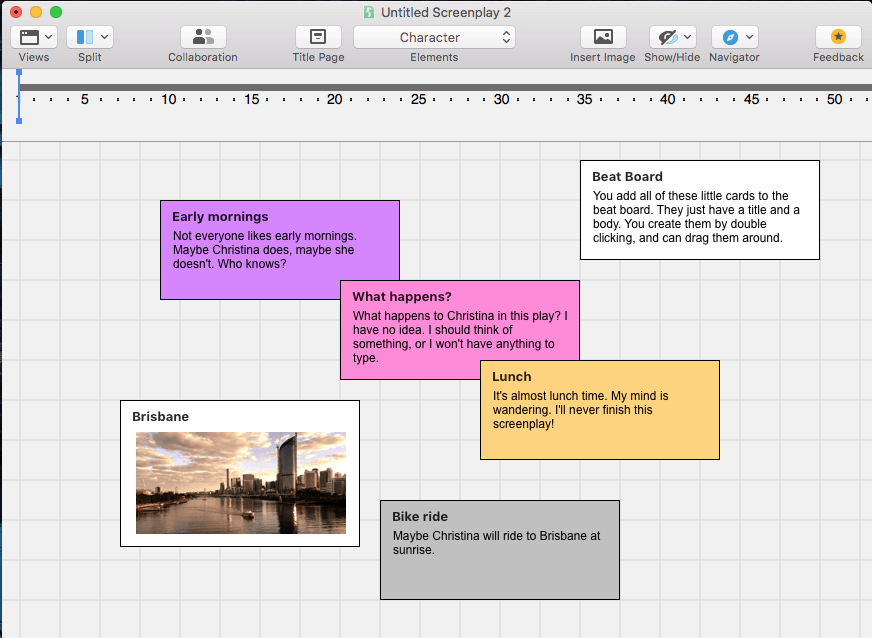 The Story Map is where you connect your Beat Board ideas with your script, adding structure. Each card can have a writing goal, measured in the number of pages. You can easily refer back to your Story Map while writing, and use it to plan milestones and plot points. You can even use it as a quick way to navigate your script.
Both the desktop and mobile versions allow you to collaborate in real-time with other writers and share files via iCloud or Dropbox. Writers in different locations can work together on the document at the same time. Final Draft will track any revisions.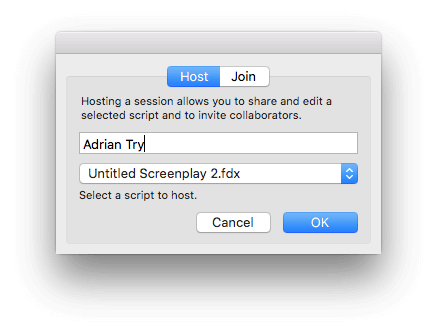 Finally, once the script is written, Final Draft will help with production. While your script is being revised, the app will allow you to mark and review all changes. You can lock pages so the revisions don't affect the all-important page numbers, and omit a scene so that production is not disrupted while you edit it.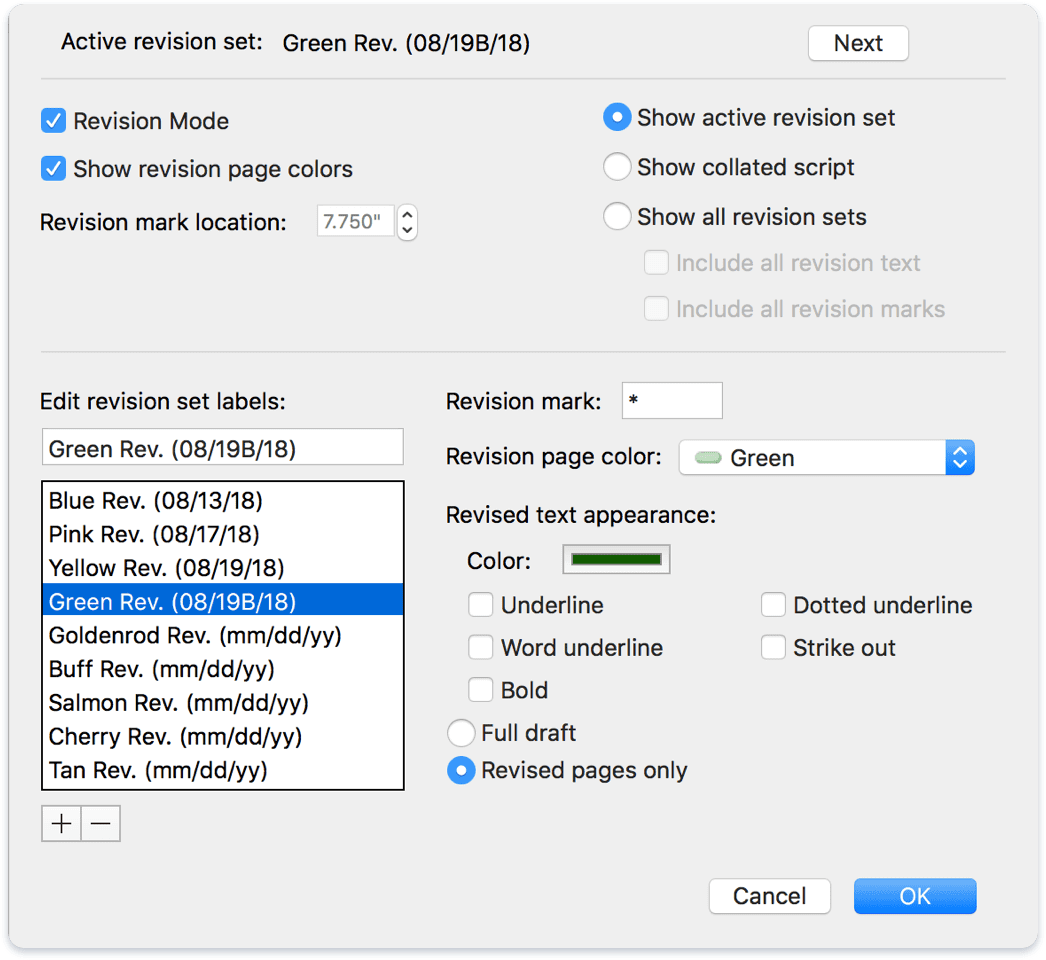 Production requires a lot of reports, and Final Draft can produce them all. You can break your script down for budgeting and scheduling, and get ready for production by tagging costumes, props, and locations.
The Modern Alternative: Fade In Professional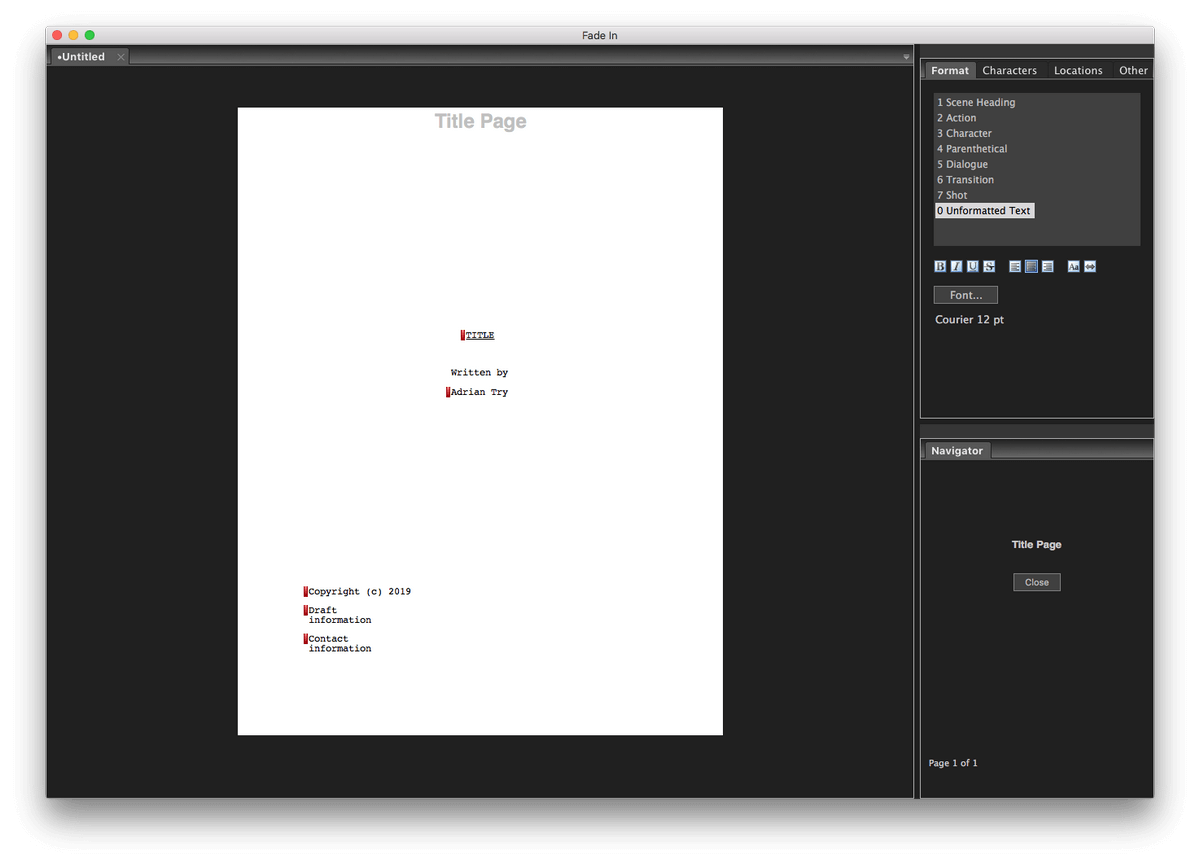 Arguably, Fade In and WriterDuet are both good candidates for second place. I chose Fade In for a number of reasons. It's stable, functional, and can import every major screenwriting format including Final Cut. It's widely used in the industry. It runs on every major desktop and mobile operating system. It's significantly cheaper than the other pro apps. And it's developers are bold enough to label the app "The New Industry Standard".
$79.95 (Mac, Windows, Linux) from the developer's website (one-time fee). A free, fully-functional demo version is available. Fade In Mobile is $4.99 from the iOS App Store or Google Play.
Fade In was developed by writer/director Kent Tessman, and was first distributed in 2011, two decades after Final Draft saw the light of day. He added new features he felt were needed to make scriptwriters even more productive, like a dialogue tuner and alternate versions of all elements, not just dialogue. The software is stable, and updates are regular and free.
The software keeps track of character names and locations and will offer these as auto-completion suggestions as you type.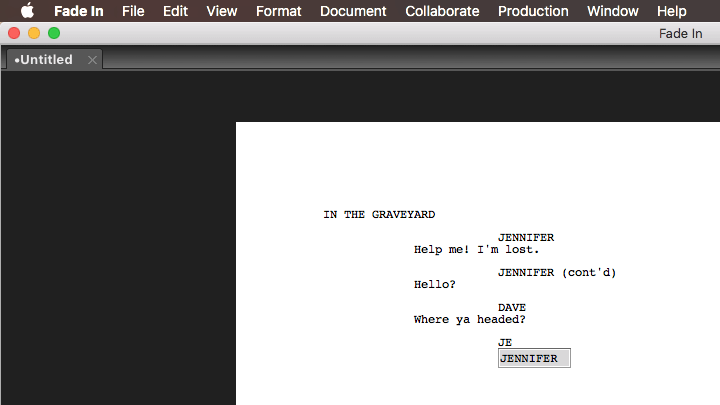 Images can be inserted and a distraction-free, full-screen mode will keep you focused on your writing. Fade In can import and export to many popular formats, including Final Draft, Fountain, Adobe Store, Celtx, Adobe Story, Rich Text Format, text and more. The app natively saves in Open Screenplay Format, further avoiding lock-in.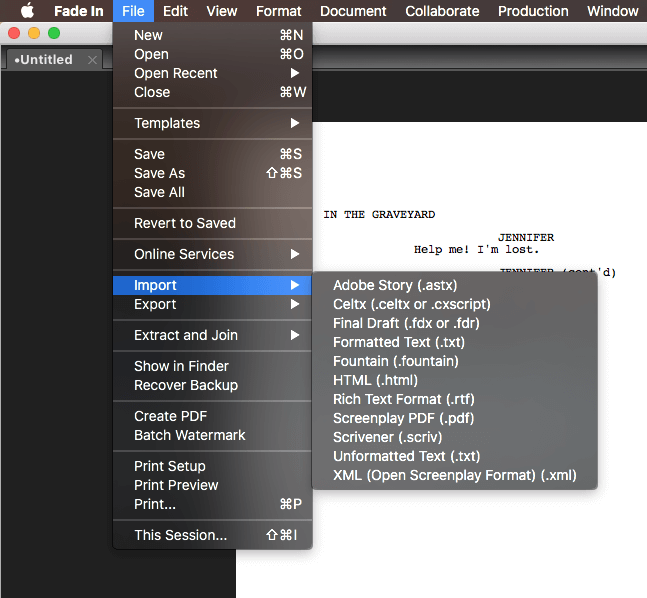 Fade In also offers real-time collaboration so you can write with others. Multiple users are able to make edits at the same time. This feature isn't included in the free trial, so I was unable to test it.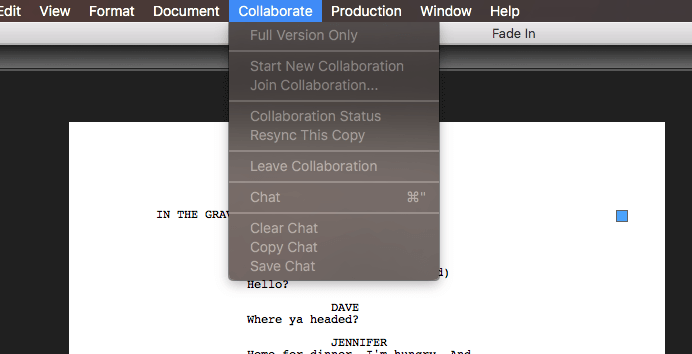 The software automatically formats your screenplay, transitioning between dialogue, action and scene headings as you type. A range of customizable templates and screenplay styles are included.
You're offered a number of ways to organize your script, including:
scenes,
index cards with synopses,
color coding,
marking significant plot points, themes, and characters.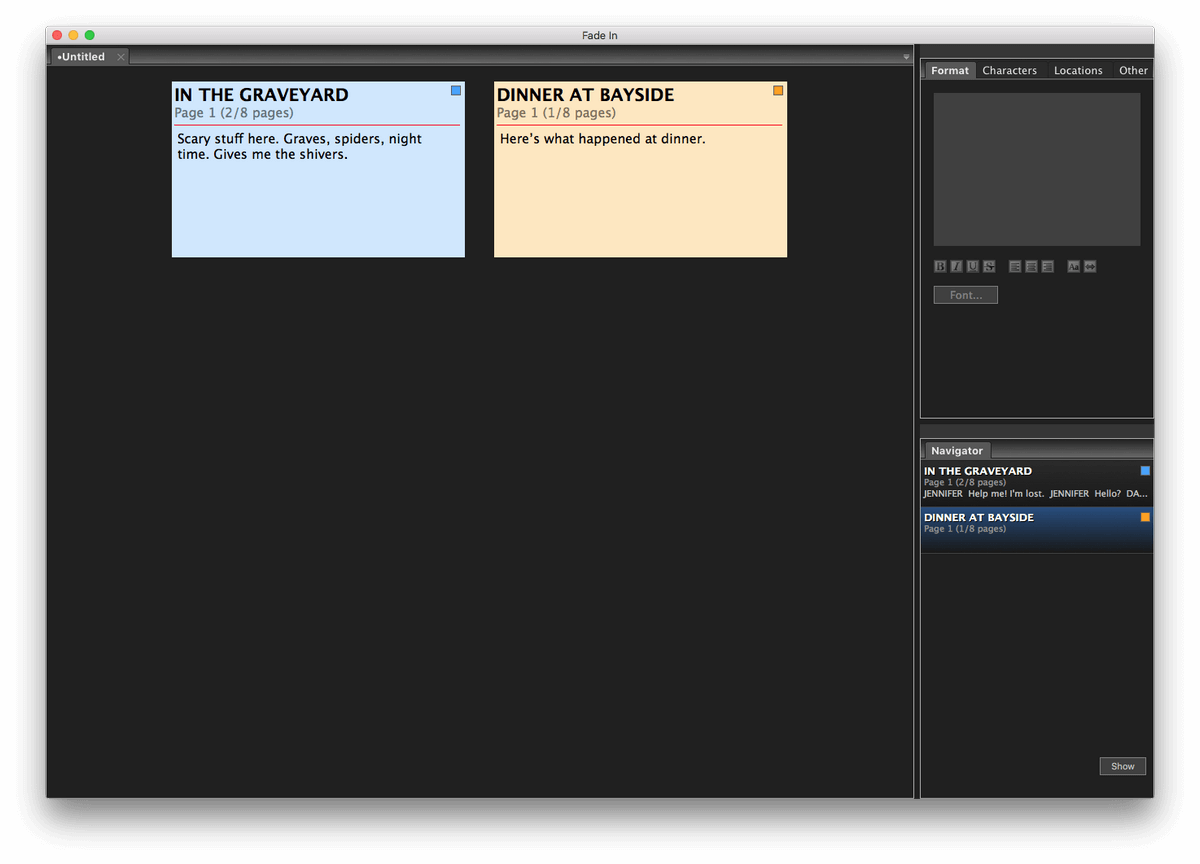 A navigator is always visible in the bottom right of the screen. This constantly displays an overview of the script and offers a convenient way to navigate to the different sections.
The Dialogue Tuner allows you to see all of the dialogue from a specific character in one place. That allows you to check for consistency, find overused words and adjust line lengths.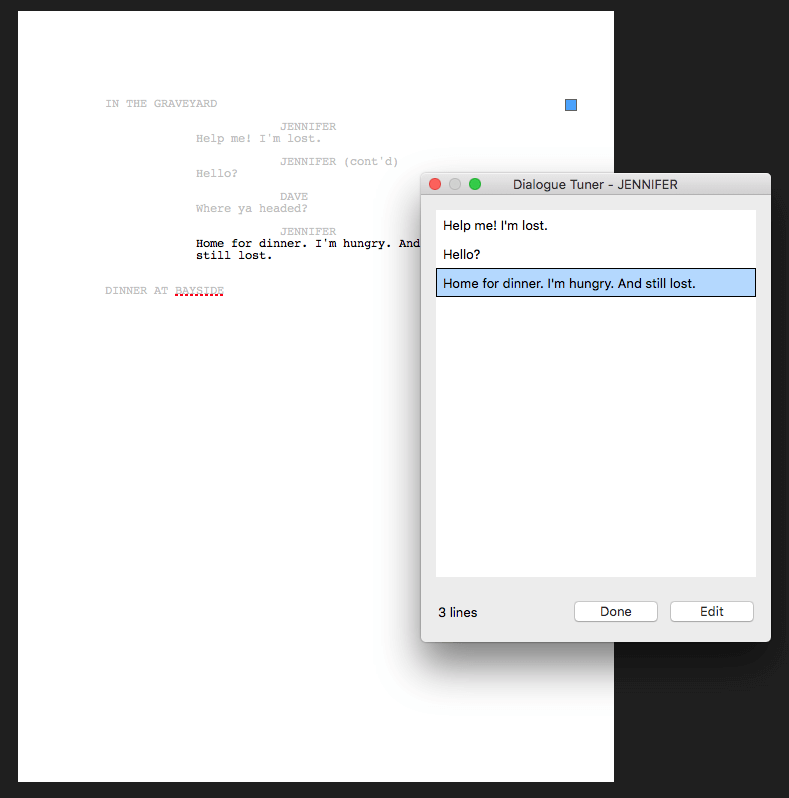 During the revision process, Fade In offers change tracking, page locking, scene locking, and omitted scenes.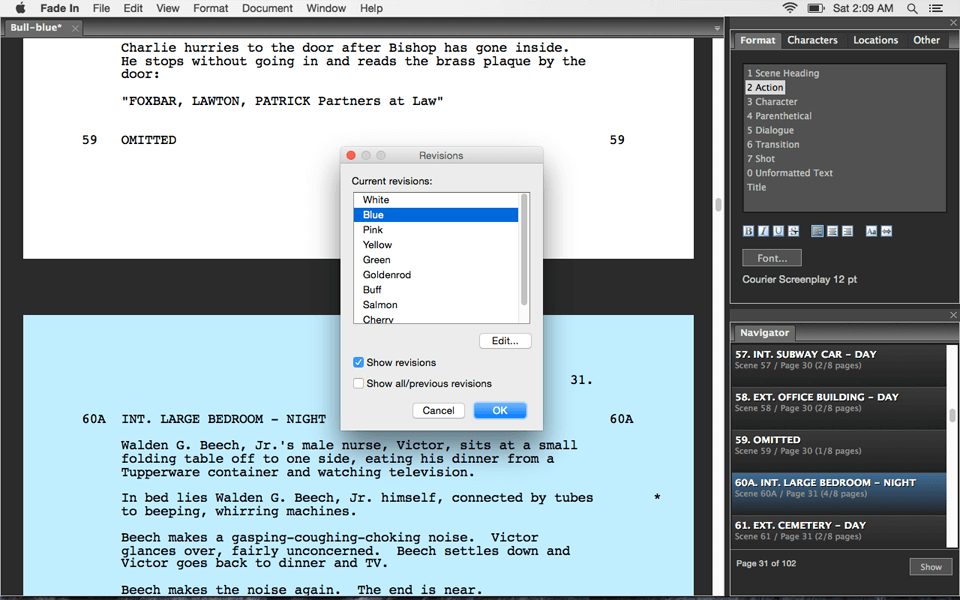 For production, standard reports are offered, including scenes, cast, and locations.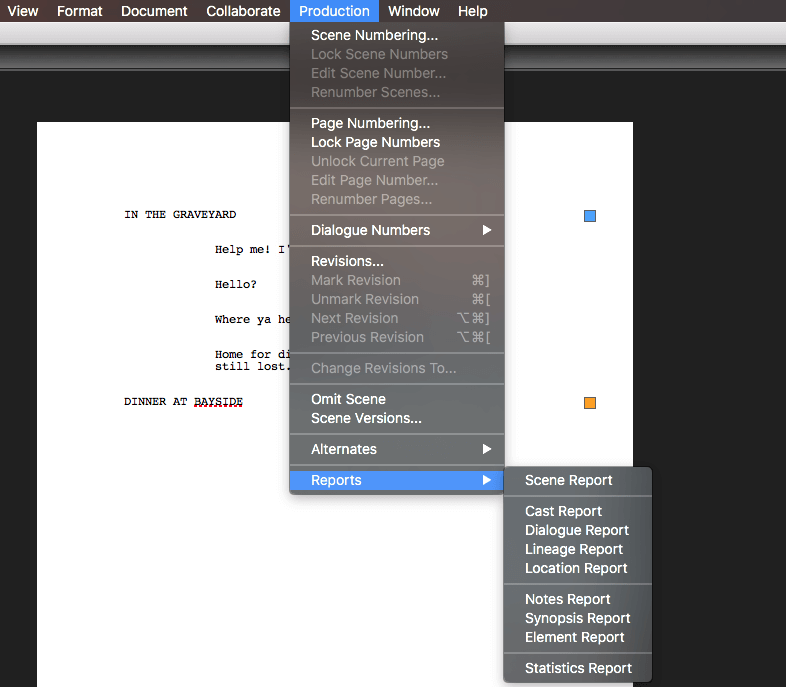 Best Screenwriting Software: The Competition
Other Screenwriting Software for Professionals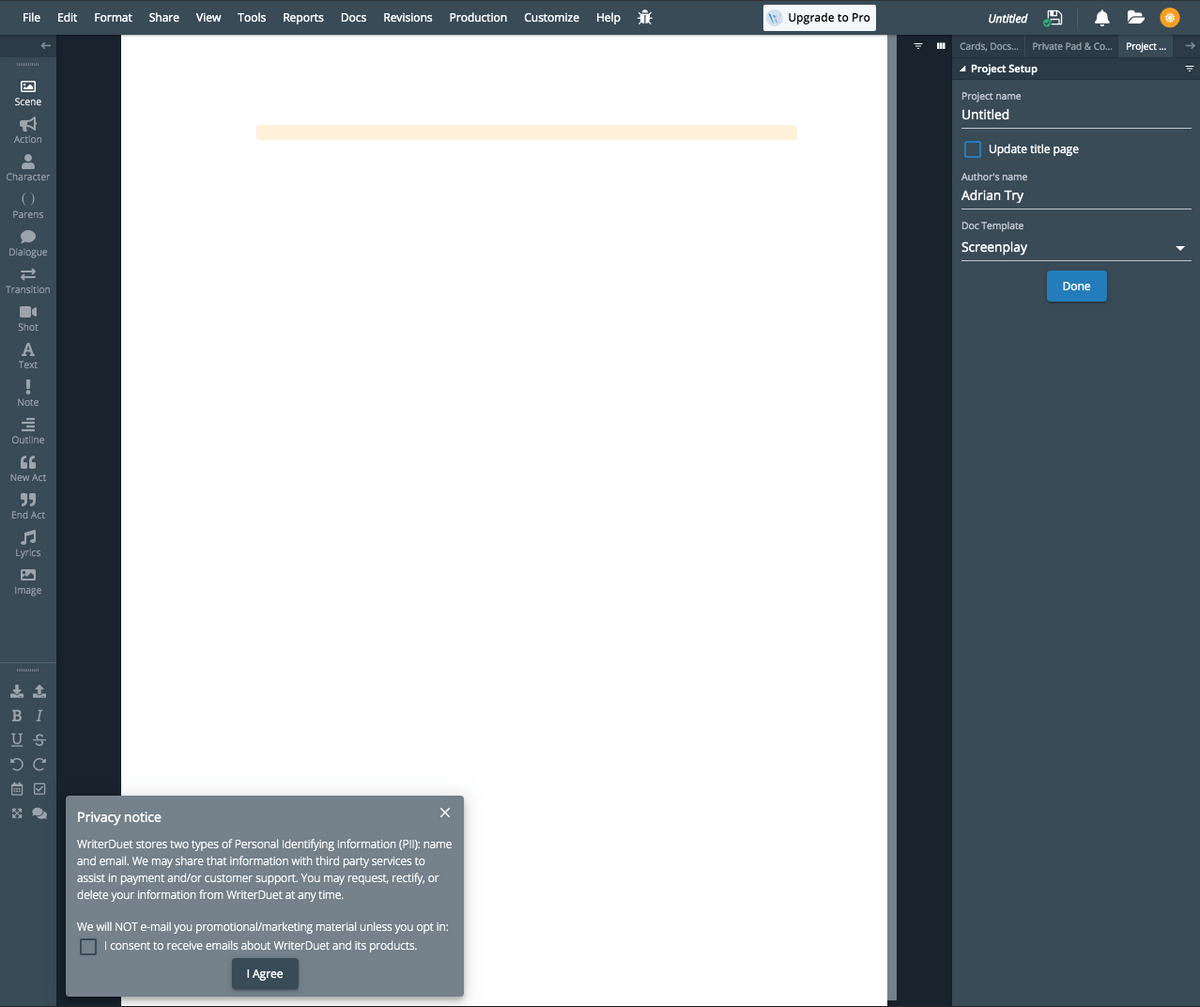 WriterDuet Pro (Mac, Windows, iOS, Android, online, $11.99/month, $79/year, $199 lifetime) is a cloud-based screenwriting application with an offline mode. You don't need to pay right away—in fact, you can write three complete scripts for free. Desktop apps are available once you subscribe, and WriterSolo, an offline app, is available separately.
The WriterDuet website is attractive and modern. It's obvious the developers want you to sign up as soon as possible, and to encourage this, you can write your first three screenplays for free. Write now, pay later (or never).

Once you sign in, you find yourself in a blank document in your browser where you can start typing your first script. Users often describe the app as intuitive and user-friendly, and if you want to work from anywhere, or collaborate frequently, the cloud-and-mobile-based nature of WriterDuet may make it your best option.
A detailed tutorial is available to help you get to know the program.

Like other screenwriting programs, when typing a script you use frequent use of the Tab and Enter keys to navigate between different line types, including action, character, and dialogue, or these can be selected from the left toolbar or with a shortcut key. I found the app very responsive, even on a ten-year-old Mac. WriterDuet can import and export Final Draft, Celtx, Fountain, Word, Adobe Story and PDF.
Alternate lines can be created—as many as you like. These can be hidden, and a different version selected with a shortcut. And content that's cut away from its current location is added to The Graveyard, where it's available to add back in once you find a place where it fits. Your script is backed up automatically, and the Time Machine allows you to see previous versions.
Formatting is basically the same as Final Draft, following standard screenplay format. In most cases, even the page count for a given script will be the same as Final Draft—including when using a mobile device or exporting to PDF. A format checking tool will make sure everything is standard before submitting your script.
A card view allows you to see an overview of the script and rearrange the big pieces. Cards can be displayed permanently in the right pane.

With a name like "WriterDuet", you'd assume that this cloud-based tool is perfect for collaboration, and it it—once you subscribe. Unfortunately, collaboration isn't available when using the free version of WriterDuet so I couldn't test it, but users say that it's a "joy" to use.
Collaborators can work on different parts of the script independently, or follow one another as they make edits. Communication is aided by a chat feature in the right pane of the app. There's a Ghost Mode that lets you turn invisible until you're ready to share your edits.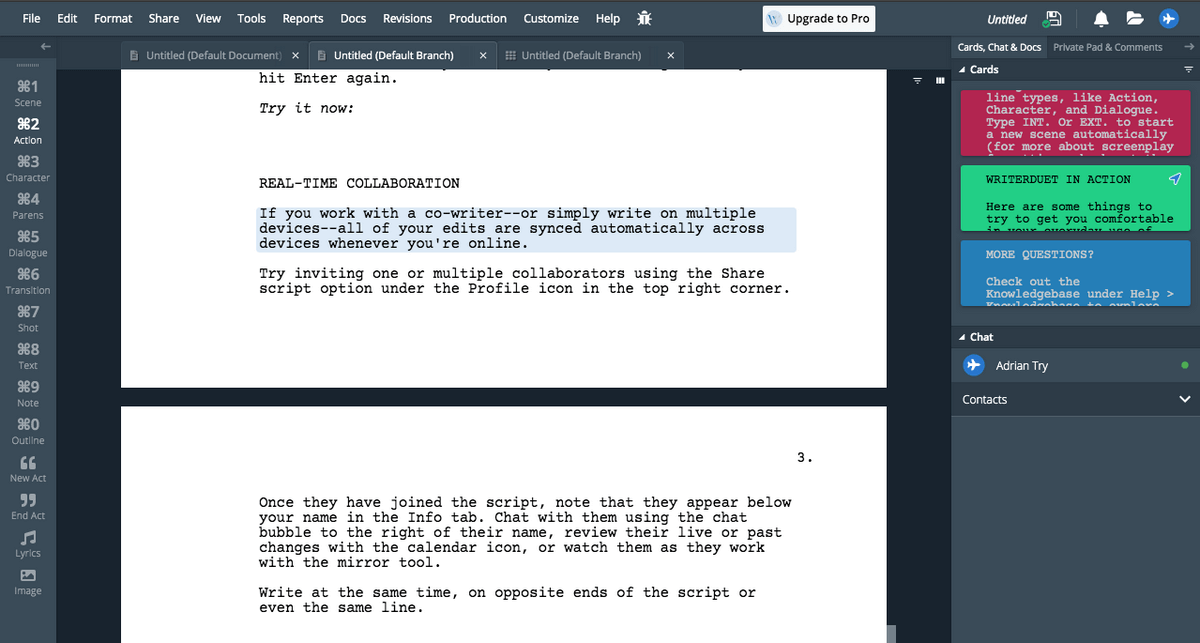 During production, pages can be locked, revisions are tracked, and Final Cut formatted documents are supported. Every edit is logged, including who made it. You can view changes filtered by date, writer and line.
Movie Magic Screenwriter (Windows, Mac) is used widely in the film and television industries and has a strong and loyal following. While WriterDuet is a good, modern alternative to our winners, Movie Magic is the opposite. It has a long and esteemed history, but for me, the age of the application didn't lead to a positive outcome.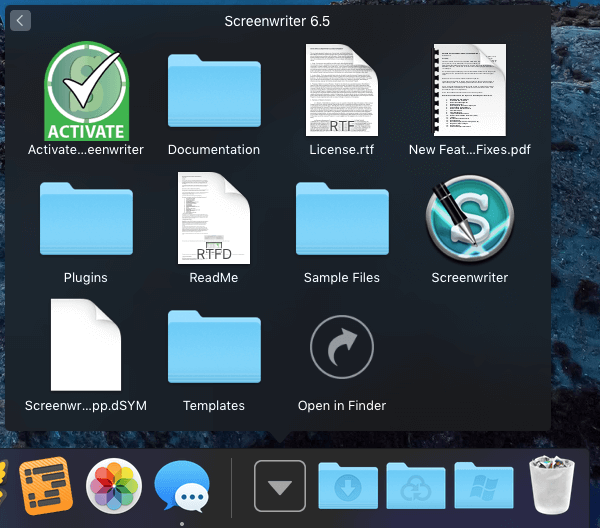 For over 30 years, Write Brothers has created the best writing software for stage and screen.
I didn't get off to a good start with Movie Magic. The website looks dated and is hard to navigate. When clicking on the link to download the demo, the page I was directed to said: "This page is outdated. Please visit our new support site to download the latest version of Mac Movie Magic Screenwriter 6.5," leading me to another download page.
After installation, you'll find the application in a Screenwriter 6 folder. I expected it would be called Movie Magic Screenwriter, so it took a while to locate.
It's a 32-bit application and needs to be updated before it will work with the next version of macOS. That's concerning and indicates that the program is not being actively worked on.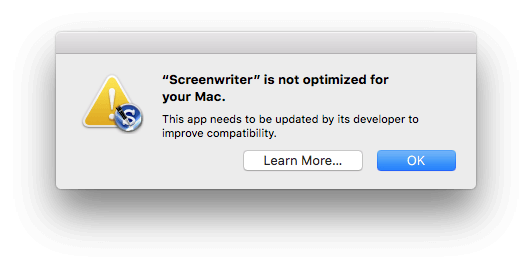 Finally, I was unable to run the software because I couldn't activate it.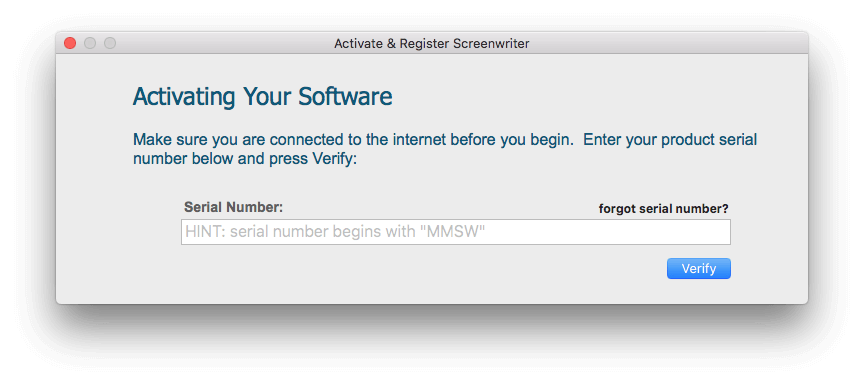 According to the website, I should have been given the opportunity to create a new registration. I wasn't, possibly because I had previously installed an incorrect, older demo (which, incidentally, I found on the official site's "Demo Downloads" page). I located four different download pages on the site in total, all different.
None of this gave a good impression. The Mac version won a MacWorld Editor's Choice Award in 2000, but maybe Movie Magic's best days are over. The app still seems to have a lot of fans, but I found some inconsistencies between the versions. For example, the Mac version can import and export Final Draft files while the Windows version can't.
So I wasn't able to test the program, and the website doesn't offer any tutorials or screenshots. But I'll pass on what I can. Quotes from professional screenwriters who use Movie Magic often use the word "intuitive". The app uses a WYSIWYG interface so there are no surprises when you print, and character names and locations are automatically filled in, like the apps we covered above.
The app supports standard screenplay format but does it in a flexible way. Users find the app quite customizable.
One unique feature I'd enjoy is full-featured outlining. Outlines up to 30 levels deep are supported, and the navigation sidebar can hide, edit and move outline elements.
Production features seem to be comprehensive, and revision control is built in. The program is compatible with Movie Magic Scheduling and Budgeting.
Highland 2 (free download from the Mac App Store, professional package is a $49.99 in-app purchase) is another screenwriting app used by names you've probably heard of. The free version allows you to write complete screenplays, and various in-app purchases allow you to add special tools and features.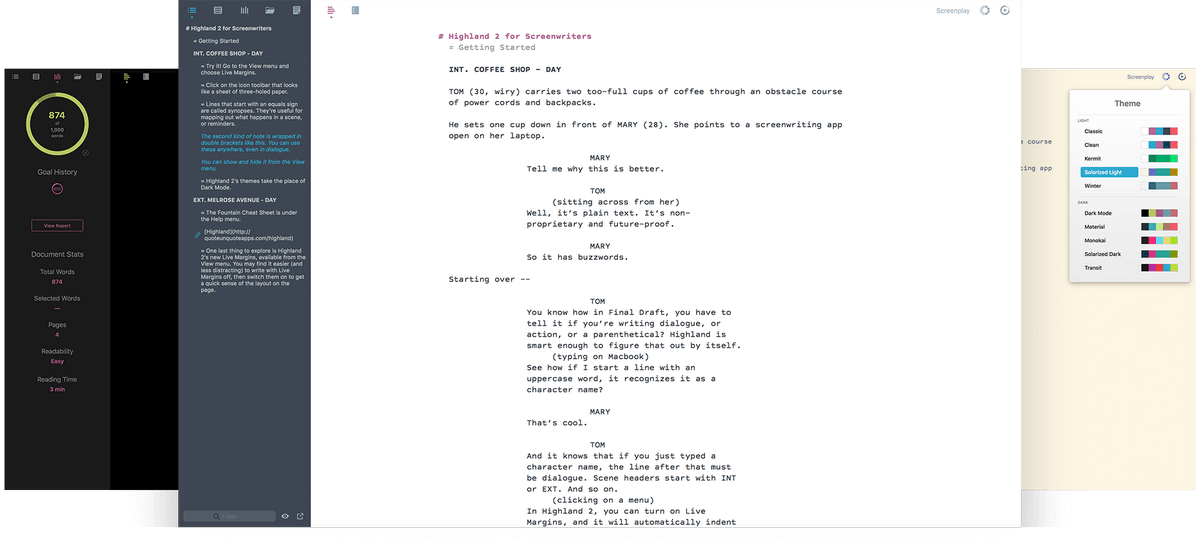 The program includes most of the functionality you'd expect and includes a Sprint feature where you can set and track focused writing sessions. Highland stores scripts as Fountain files, but you can also export as a PDF and Final Draft.
You'll find testimonials of the app on the website by professionals like Phil Lord, writer/director of The Lego Movies and 21 & 22 Jump Street, and David Wain, writer/director/EP of Childrens Hospital. Wain claims to use the program every day.
Slugline (Mac $39.99, iOS $19.99) is the Mac App Store's best-reviewed screenwriting app. The developers claim that this app offers the simplest way to write a movie.
It features templates, dark mode and use of the tab key for frequently typed elements. You can sync your screenplays between your devices using either iCloud or Dropbox.
The app's website contains testimonials by professional screenwriters, including Neil Cross, writer of Mama and Luther, and Scott Stewart, writer/director of Dark Skies.
Screenwriting Software for Beginners and Amateurs
Celtx (online, from $20/month) is a full-featured cloud service for collaborative screenwriters, making it a close competitor of WriterDuet. It doesn't seem to be used by many big-name professionals, but the website boasts it's used by "over 6 million creatives in 190 countries."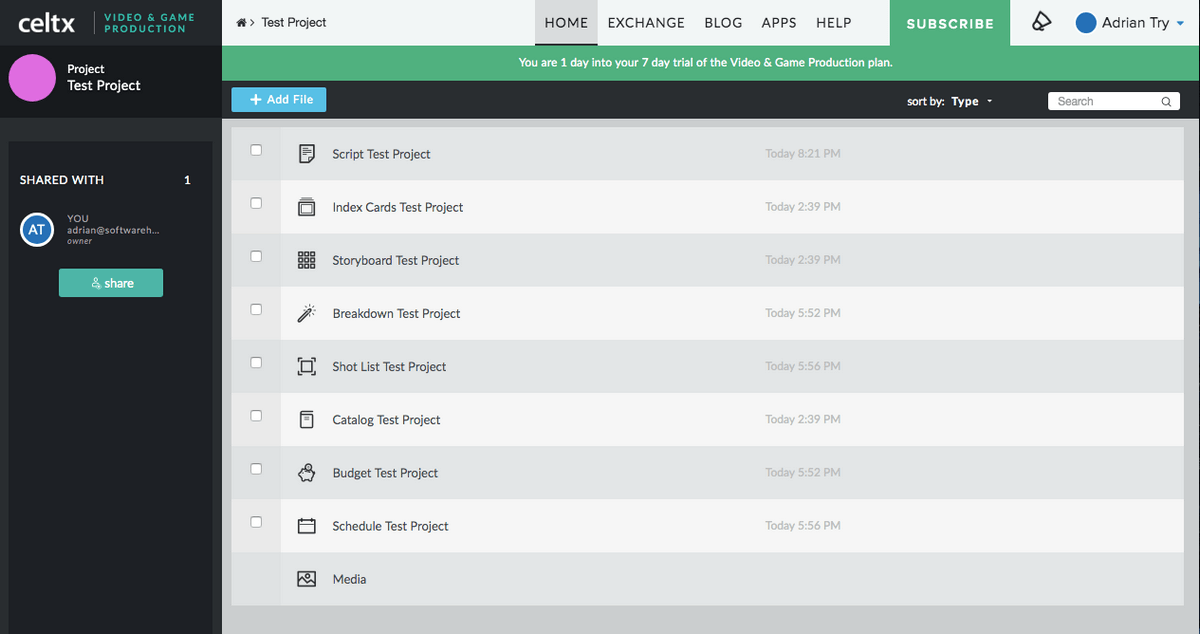 The app can't export to Final Draft format—which may partly explain the lack of professionals using it—but it is full-featured in every other way. It combines screenwriting, pre-production, production management, and team-based collaboration in an online environment.
Besides the online experience, some Mac and mobile apps are available. Scriptwriting is available from the Mac App Store ($19.99), iOS App Store (free), and Google Play (free). Storyboarding is available for free from the Mac App Store or iOS App Store. Other free mobile apps include Index Cards (iOS, Android), Call Sheets (iOS, Android), and Sides (iOS, Android).
When creating a new project, you can select from Film & TV, Game & VR, Two-Column AV, and Stageplay.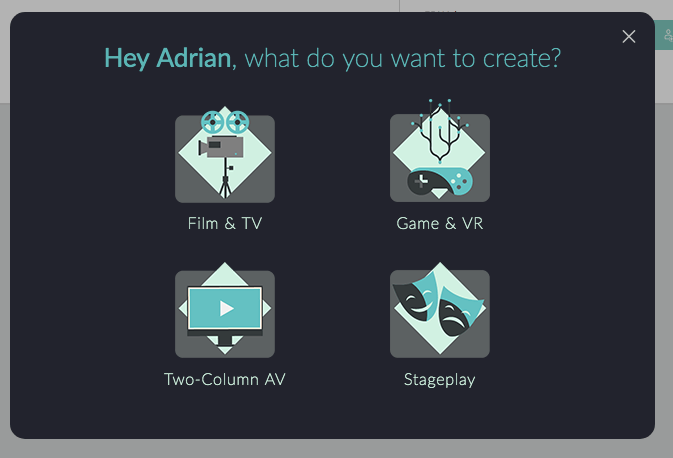 Plans go by the types of content you plan on creating. They are flexible, but not cheap.
Scriptwriting ($20/month, $180/year): script editor, screenplay format, stageplay format, two-column AV format, index cards, storyboard.
Video Production ($30/month, $240/year): Scriptwriting plan plus breakdown, shot list, budgeting, scheduling, cost reports.
Game Production ($30/month, $240/year): game script editor, interactive storymap, interactive dialogue, conditional assets, narrative reports.
Video & Game Production Bundle ($50/month, $420/year).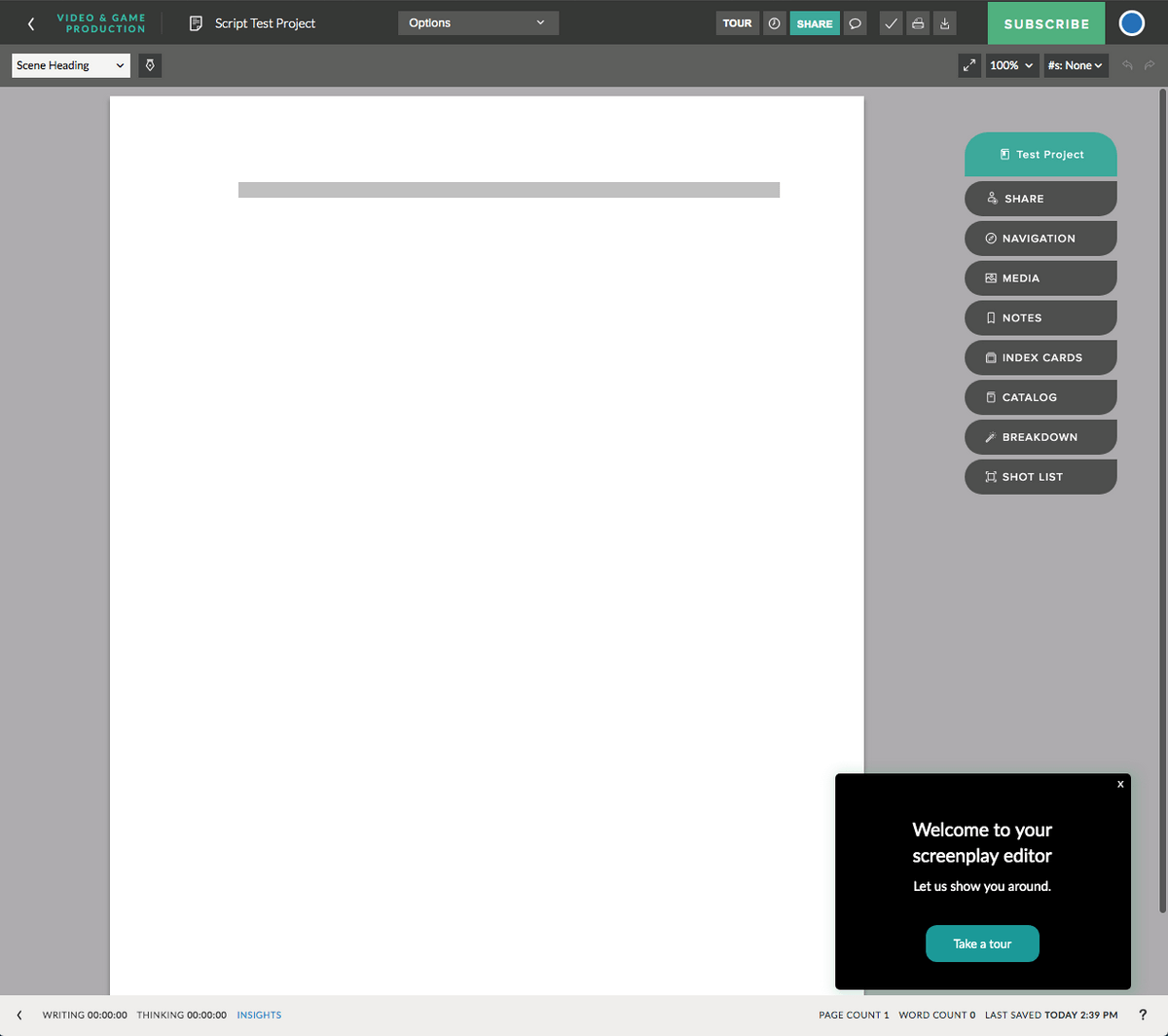 After signing in, your first writing project is open, and looks a little like WriterDuet. You don't need to subscribe until your seven-day trial has finished. A brief tour takes you through the main elements of the interface.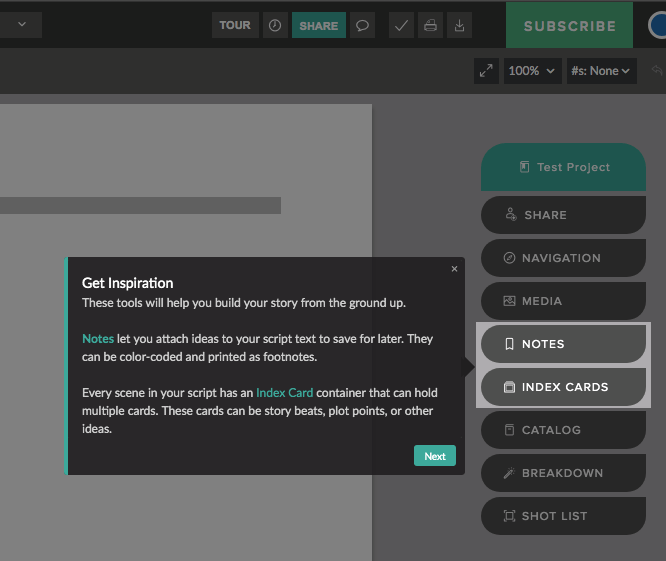 When typing, Celtx is quite good at guessing which element you're entering, and Tab and Enter work as the other screenwriting apps. Alternatively, you can select them from a list at the top left of the screen.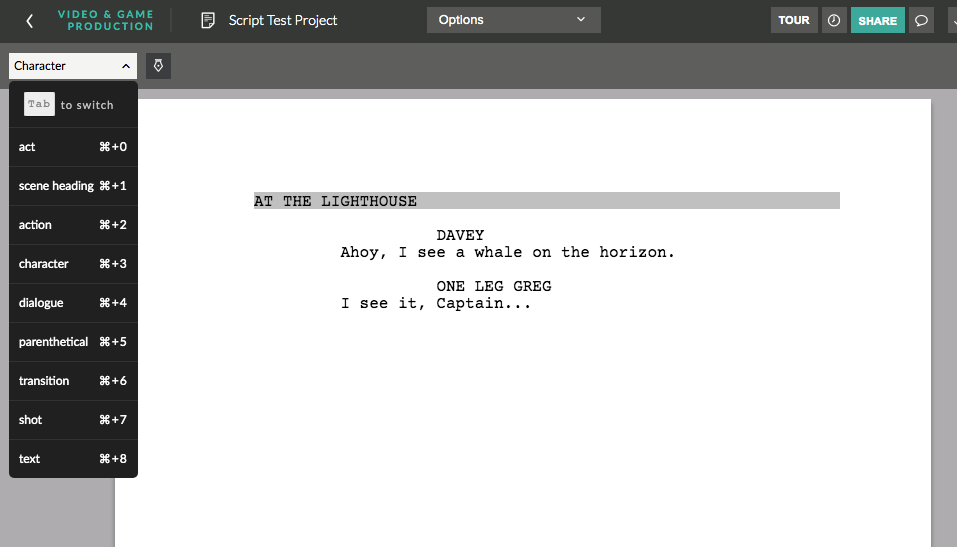 As you type, your text is formatted automatically, and you can add notes and comments, view previous versions of the document. Script Insights allow you to set and track writing goals, analyze your writing performance, and view graphical breakdowns of your script.
Index cards will give you an overview of the project. They'll also remind you of important points and character attributes.

You can create a storyboard to communicate your creative vision.

Celtx is designed to facilitate real-time collaboration. Everyone works off one master file, and multiple writers can work together simultaneously.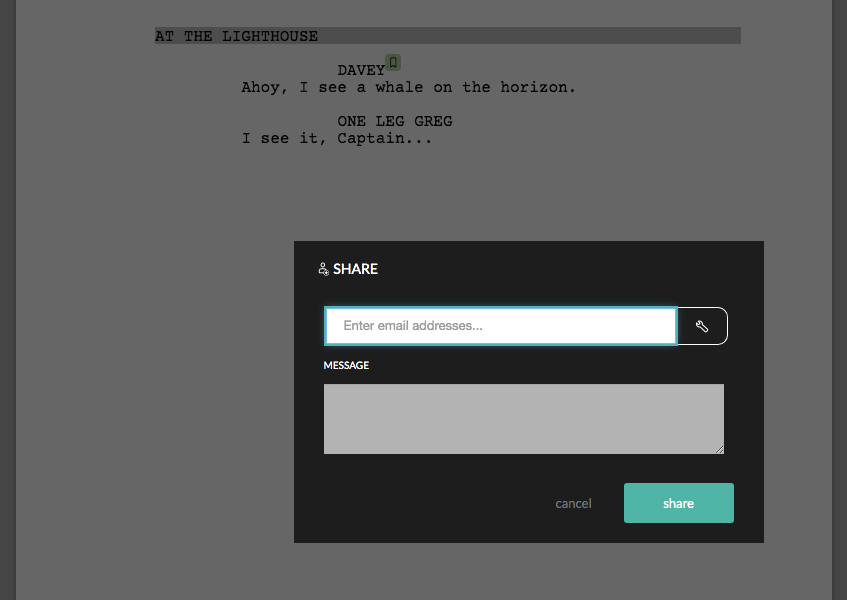 You can also connect with other writers through the Celtx Exchange.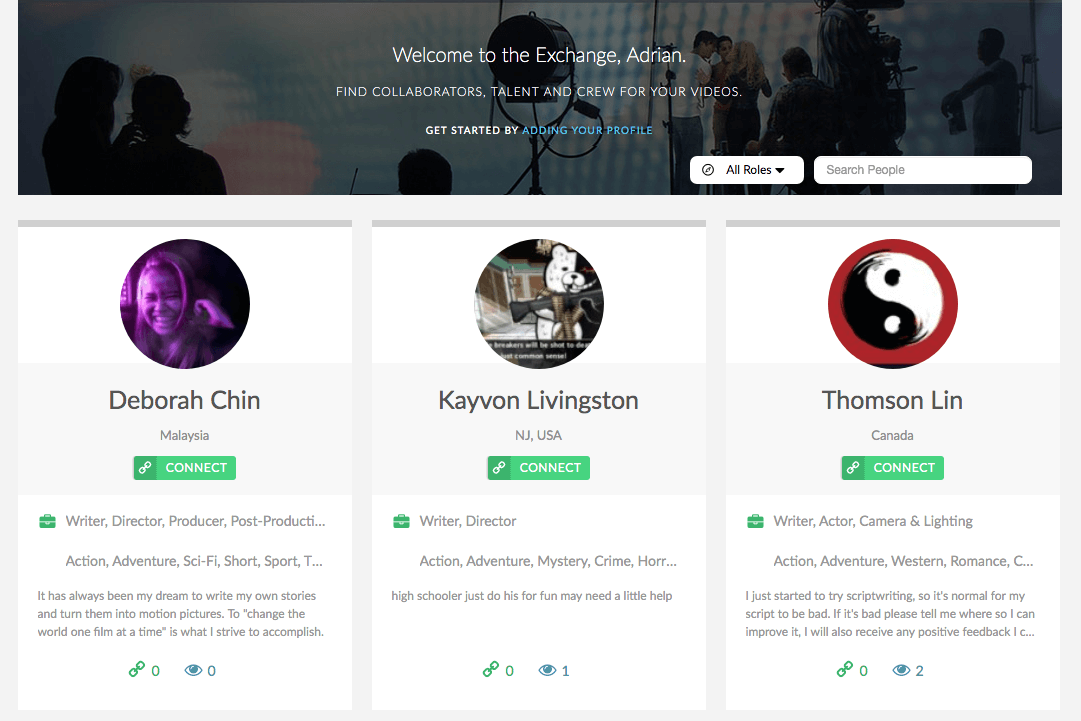 Celtx is an acronym for Crew, Equipment, Location, Talent and XML, and at production time it will breakdown the script to make sure all talent, props, wardrobe, equipment, locations, and crew are ready and waiting for the shoot. The app will schedule shoot dates and locations to keep costs in check.
Causality Story Sequencer (Mac, Windows, $7.99/month) is a visual story development outliner where you can "build your stories like Legos." The free version allows for unlimited story development and outlining, but limited writing of text. For unlimited writing, printing, and export you'll need to pay a Pro subscription.
If the idea of developing a story visually appeals to you, then Causality may be a good option. There's nothing else like it. The free version should give a clear indication if it's a good fit.
Montage (Mac, $29.95) looks a little basic and quite dated. It's inexpensive and may suit beginners, but honestly, there are better options.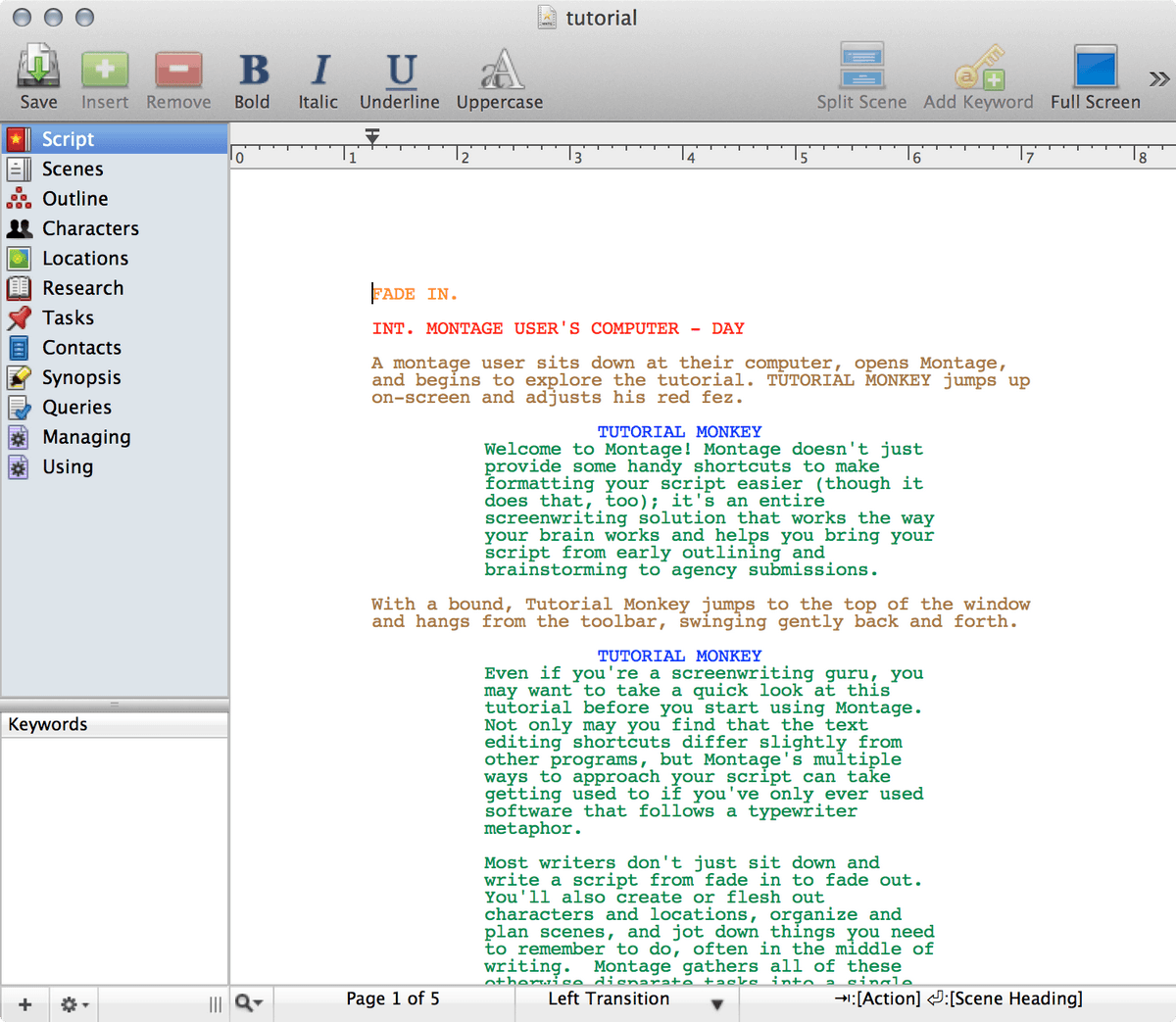 Apps Suitable for Both Novels and Screenplays
Storyist (Mac $59, iOS free download with $19.99 in-app purchase) is a full-featured writing app for both scriptwriters and novelists. We gave it a full review and were quite impressed.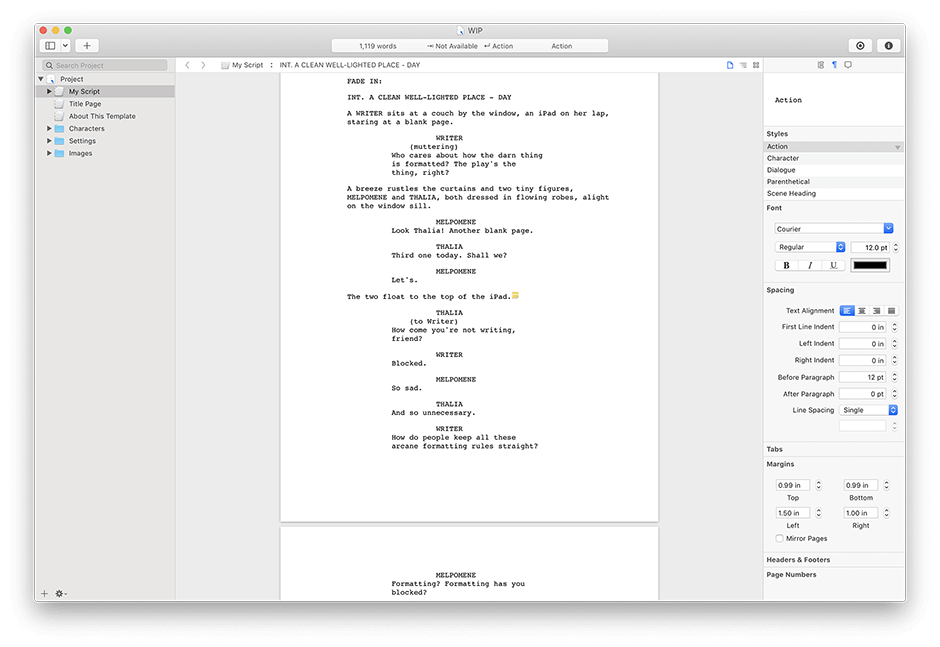 Screenwriting features include quick styles, smart text, export to Final Draft and Fountain, an outliner, and story development tools.
DramaQueen 2 (Mac, Windows, Linux, various plans) is another app designed for both scriptwriters and novelists. It includes features for writing, developing, visualizing, analyzing, and rewriting scripts.
Three plans are offered:
DramaQueen FREE (free): unlimited time, writing, formatting, outlining, Smart-Import, open export, linked text notes.
DramaQueen PLUS ($99): entry level version.
DramaQueen PRO ($297): full version.
Free Screenwriting Software
You get what you pay for. When a professional plumber looked under our bathroom sink recently, he said, "Whoever worked on this drain is not a plumber." He could tell that they hadn't used the right tools. If you're serious about screenwriting, we recommend you invest in professional screenwriting software. But if you're getting started on a budget, these alternatives help you dip your toes in the water.
Free Screenwriting Software
Amazon Storywriter (online, free) will automatically format your screenplay and allow you to share your drafts with trusted readers. It's a browser-based solution with an offline mode that will let you access your screenplays anywhere. It can import and export from popular formats like Final Draft and Fountain.
Trelby (Windows, Linux, free and open source) includes most of the features you need and is highly configurable. It's fast and designed to make screenwriting simple. It enforces correct script format, creates the reports necessary for production, and can import and export a range of formats including Final Draft and Fountain.
Kit Scenarist (Windows, Mac, Linux, Android, iOS, free and open source) is a screenwriting app aimed at satisfying film production standards. It contains most of the features you'd expect, including research, index cards, a script editor and statistics. Mobile apps are available, and an optional subscription-based cloud service allows you to collaborate with others, starting at $4.99/month.
Page 2 Stage (Windows, free) is a discontinued screenwriting program for Windows that is now being offered free of charge. You still need to enter a username and password after installation. You can find these on the developer's website, and little else.
Paid Apps with Generous Free Trials/Versions
Three of the screenwriting applications we reviewed above come with generous free trials or free plans:
WriterDuet (online) lets you write your first three scripts for free. It's a professional, cloud-based screenwriting app and will take you a long way, but you won't be able to use the native apps or collaboration features without paying a subscription.
Highland 2 (Mac only) is a free download from the Mac App Store with in-app purchases. You can actually write complete screenplays with just the free version, but it's limited to fewer templates and themes, and watermarks printed documents and PDFs.
DramaQueen's (Mac, Windows, Linux) free plan offers standard formatting, projects of unlimited length and number, export to popular file formats, outlining, and linked text notes. It lacks a number of panels included in the paid versions, including storytelling animations, characters, and locations. Compare the versions here.
The Word Processor or Text Editor You Already Own
If you love your favorite word processor, you can probably customize it for screenwriting by the use of specialized templates, styles, macros and more.
If you prefer to use a text editor, then check out Fountain. It's a simple markup syntax like Markdown, but designed for screenwriting. You can find the full list of apps that support Fountain (include text editors) here.
The Writing Software You Already Own
If you're already a writer and want to get into screenwriting, you may be able to adapt your current writing software to produce screenplays by use of templates, themes, and more.
Ulysses (Mac, $4.99/month) is a more general writing app that can be used for short or long-form writing. Themes for screenwriting (like Pulp Fiction) are available.
Quick Facts about Screenwriting
Scriptwriting is a specialized job that needs a specialized tool
Writing a screenplay is a creative pursuit that takes more perspiration than inspiration. It can be tedious: character names need to be typed repeatedly, you need to keep track of locations and plots, you need a place to jot down new ideas, and it can be helpful to get an overview of the script so you don't lose the forest in the trees. Good screenwriting software can help with all of this.
Then your script will be edited and revised, and once you're finished, everyone from directors to actors to camera operators will need a document in standard screenplay format. Reports will need to be printed, like which characters appear in a certain scene, or which need to be shot at night. Try doing all of that without decent screenwriting software!
Standard Screenplay Format
There can be some variation in the way screenplays are set out, but in general, screenplays follow strict formatting rules. Screenwriting.io summarizes some of these rules:
12-point Courier font,
1.5-inch left margin,
Roughly 1-inch right margin, ragged,
1-inch top and bottom margins,
Around 55 lines per page,
Dialogue speaker names in all caps, 3.7 inches from the left side of the page,
Dialogue 2.5 inches from the left side of the page,
Page numbers in the top right corner flush to the right margin, half an inch from the top.
Using standard formatting is crucial for all sorts of reasons. For example, one page of a script in the standard format is equal to roughly one minute of screen-time. Films are scheduled in pages per day and if the standard format is not used, it will throw the schedule out. Most screenwriting software will produce a document in standard screenplay format with no setup required from you.
Should you use the industry standard?
Final Draft is a powerful piece of software that's been in use for almost thirty years and has a major market share in the industry. The program's website boasts that it's "used by 95% of film and television productions." It's used by giants like James Cameron, J.J. Abrams and many more.
Final Draft is the industry standard, and in a relatively small, specialized industry, that won't be changing any time soon. Think of Microsoft Word and Photoshop. Despite many alternatives (many of which are inexpensive or free), they remain the de facto standards in their respective industries.
Do you need to use the industry standard? Probably. If you see yourself becoming a professional working in the industry, it's worth spending the extra money now and becoming familiar with it. During production, most scheduling programs rely on the script being in Final Cut format. Many projects insist you use it.
But not all professionals do, and amateurs are less constrained to use a particular piece of software. Other programs may be easier to use or allow for better collaboration. If you can't afford Final Draft now, you may like to choose a program that can import and export that file format, so you can submit your work in a way that those who use the app can open.
Which Screenwriting Software is Widely Used in the Industry?
It turns out that not all movies and TV episodes are written by Final Draft. There's quite a bit of variety out there. How would you like to use the same screenwriting software used by the writers of your favorite TV show or movie?
Four major screenwriting programs are widely used by the big names in the film and television industry. We'll start with the obvious one.
Final Draft has been used by:
James Cameron: Avatar, Titanic, T2, Aliens, Terminator.
Matthew Weiner: Mad Men, The Sopranos, Becker.
Robert Zemeckis: Fight, Mars Needs Mom, Beowulf, The Polar Express, Forrest Gump, Back to the Future.
J.J. Abrams: Star Trek Into Darkness, Super 8, Undercovers, Fringe, Lost.
Sofia Coppola: Somewhere, Marie Antoinette, Lost in Translation, The Virgin Suicides.
Ben Stiller: Megamind, Night at the Museum: Battle at the Smithsonian, Zoolander, Tropic Thunder, The Ben Stiller Show.
Lawrence Kasdan: Raiders of the Lost Ark, Star Wars Episode VII: The Force Awakens.
Nancy Meyers: The Holiday, Something's Gotta Give.
Fade In has been used by:
Rian Johnson: Looper, Star Wars: Episode VIII: The Last Jedi.
Craig Mazin: Identity Thief, The Huntsman: Winter's War.
Kelly Marcel: Venom.
Rawson Marshall Thurber: Dodgeball, Skyscraper.
Gary Whitta: Rogue One: A Star Wars Story.
F. Scott Frazier: xXx: Return of Xander Cage.
Ken Levine: The Bioshock Series.
WriterDuet has been used by:
Christopher Ford: Spider-Man: Homecoming.
Andy Bobrow: Community, Malcolm in the Middle, Last Man On Earth.
Jim Uhls: Fight Club.
Movie Magic Screenwriter has been used by:
Evan Katz: 24 and JAG.
Manny Coto: 24, Enterprise and The Outer Limits.
Paul Haggis: Letters from Iwo Jima, Flags of our Fathers, Crash, Million Dollar Baby.
Ted Elliott & Terry Rossio: Pirates of the Caribbean 1, 2 & 3, Shrek, Aladdin, Mask of Zorro.
Guillermo Arriaga: Babel, The Three Burials of Melquiades, Estrada, 21 Grams, Amores Perros.
Michael Goldenberg: Harry Potter and the Order of the Phoenix, Contact, Bed Of Roses.
Scott Frank: Logan, Minority Report.
Shonda Rhimes: Grey's Anatomy, Scandal.
Several other screenwriting programs list big names among their users, but these seem to be the main ones. If you're aiming to work in the industry, consider these apps first.