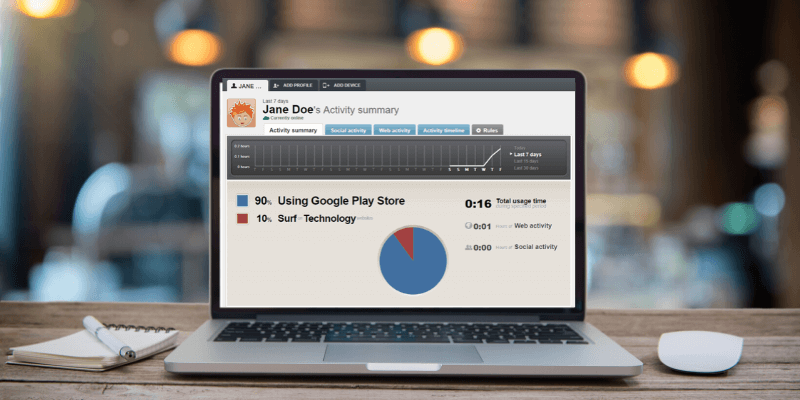 Qustodio
Effectiveness: Great filtering & usage controls
Price: Affordable plans & a decent free option
Ease of Use: Simple configuration tool makes setup easy
Support: Support team seems responsive to issues
Summary
Qustodio is one of the most popular parental control software available for good reason. Available in both free and Premium plans, Qustodio offers comprehensive monitoring and control options across a wide range of devices. The free version is a good solution for small families who only want to protect a single device for a single child, allowing you to monitor activity, limit screen time, and block adult content.

If you have more kids or more devices to protect, the Premium model keeps things simple while adding a range of extra features such as call and SMS tracking, device location tracking, and an SOS button for alerting family members of trouble. Both free and premium models offer a convenient online dashboard for configuration and monitoring all this data, accessible from any web browser or mobile device.

Qustodio is a bit more expensive than some of the competition (depending on the number of devices you need to protect) but even the most expensive plan is less than the cost of a monthly Netflix subscription. Your kids are worth more than binge-watching!

What I Like: Easy to configure. Convenient monitoring dashboard. Available for a wide range of devices.

What I Don't Like: Social media monitoring has limits. Dashboard UI needs a refresh. Some users have issues with tracking quotas.
Why Trust Me for This Review
Hi, my name is Thomas Boldt, and like many of you, I have a young child who is eager to explore what the online world has to offer. The internet is full of incredible opportunities for learning and for fun, but there's also a darker side to the Wild West Web that we need to guard against.
While it's always a good idea to spend as much time as possible with your child when they're online, I know that it's not always possible or practical to monitor every second of their usage. With a bit of time and attention (and a good parental control app!), you can ensure that your kids will stay safe online.
It's worth noting that many groups have been interested in testing Qustodio to the limits, even to the point of running experiments to see if kids can get around its content blocks. The ABC News program Good Morning America ran such a test, and one child was able to use a proxy site to access blocked content.
While Qustodio responded immediately and fixed the issue, it's important to remember that no matter how good your parental control software is, it's no replacement for taking the time to teach your kids how to be safe online. It's impossible to protect them every second of every day, whether they're using school computers or unprotected devices at a friend's house – but teaching them WHY it's important to be safe online can help.
To learn more, there are lots of organizations with good online safety tips:
Make sure you take the time to review these and other sites for additional tips and go over them with your kids regularly to ensure they understand WHY these rules are important.
Note: For the purposes of this review, I've created a fake profile to help display all the features and options, so there's no need to be worried about my family's security!
Detailed Review of Qustodio
During our review process, Qustodio has (finally) begun to roll out an updated version of the dashboard with a redesigned, modern layout. It appears that this launch is still in its beta stages though, and may not be available to all users on signup. We'll update this review with screenshots of the new layout as soon as it becomes widely available.
The first step in working with Qustodio is to set up a profile for each child that you want to protect. This allows you to keep track of individual usage habits and patterns, as well as to set different restrictions for each child as you see fit. Your 16-year-old is probably safe to use their device a bit longer than your 8-year-old, and is also capable of handling slightly more mature content.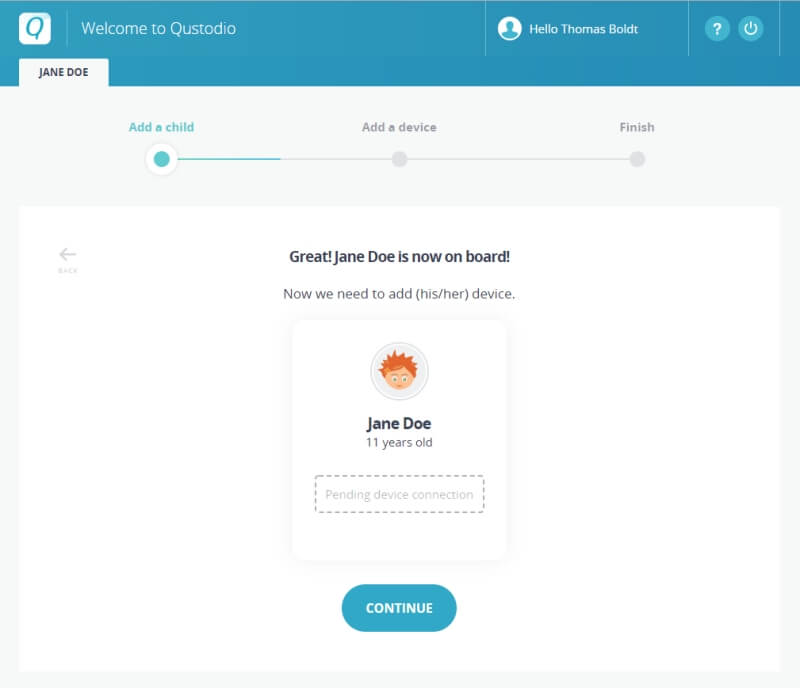 This initial setup process is handled entirely through your browser, and Qustodio walks you through the simple process of setting up profiles and then connecting them to the individual devices your kids use.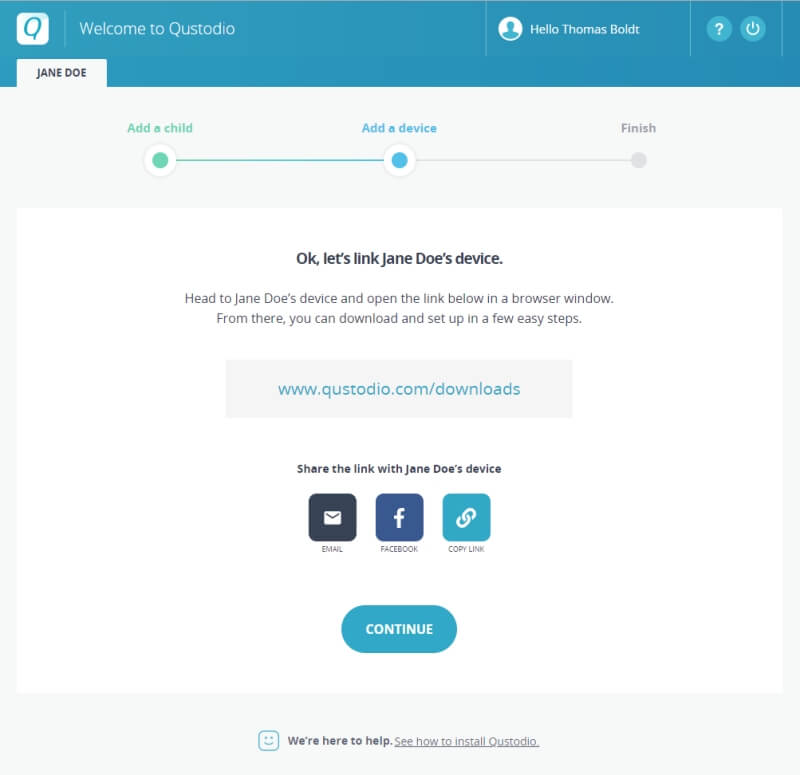 Adding a new device is a fairly simple process, although it will require enabling a number of permissions on the device you want to protect. I don't have access to any iOS devices, but I've tested it on a number of different Android devices from different manufacturers with different versions of Android installed, and they've all been quite straightforward to configure and monitor.
Things get a bit more complex when it comes time to actually configure what they're allowed to do with their devices, but it's still easily manageable by anyone capable of browsing the web.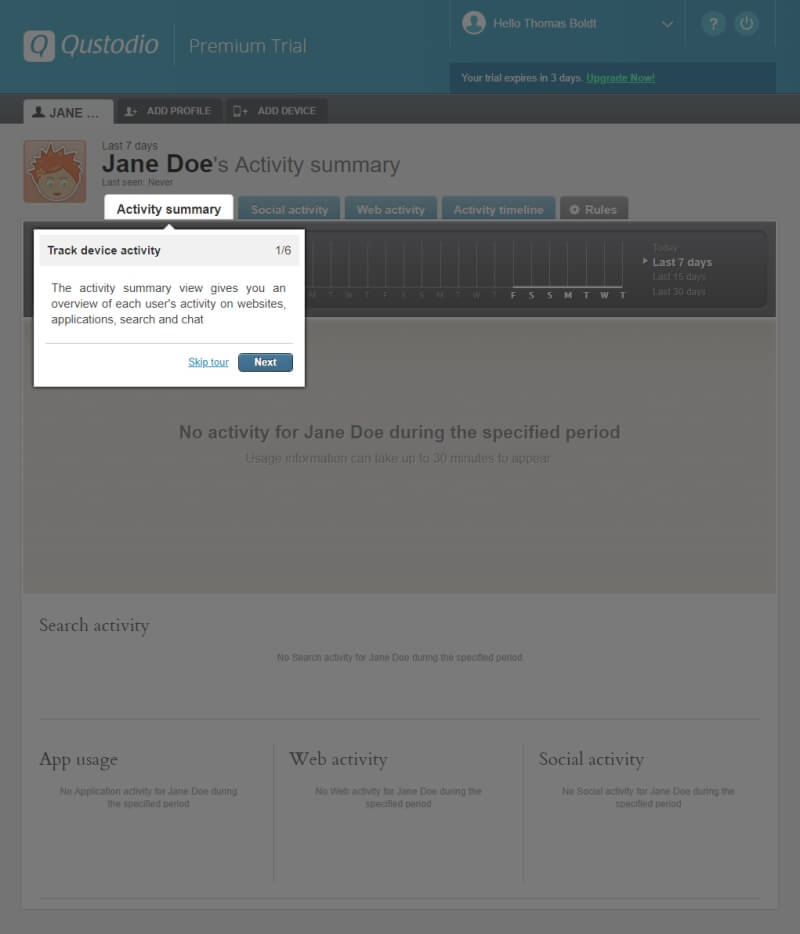 Navigating to the 'Rules' section gives you access to everything you need to monitor and protect your child's access, whether it's online or offline. Web browsing rules, time limits, application restrictions, and more are managed here using simple switches and checkboxes.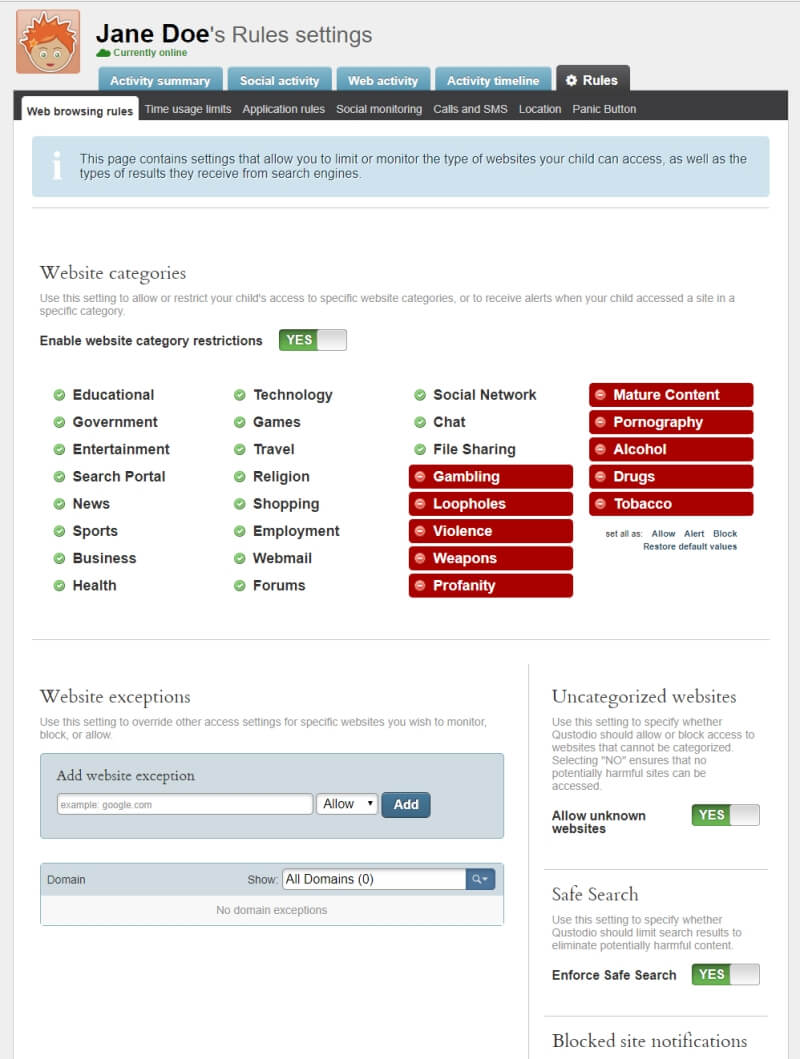 Most kids don't have their own computer until they are in their mid-to-late teens, which is probably a good thing even for non-safety reasons like social development. It's also more difficult to completely protect a computer than it is to protect a mobile device, which coincides nicely with the added maturity most parents expect before being willing to purchase a dedicated computer for their child. Both macOS and Windows offer a great deal of flexibility in how they're used, which makes them powerful – but also makes it easier to circumvent any protections that you put in place. Mobile devices are usually more limited in scope, which makes them easier to protect.
App Restrictions
I'm old enough that I missed the Fortnite craze, but many of you will have kids who want to play it obsessively instead of doing chores, homework or playing outside. Despite the fact that I don't love Fortnite, I do love gaming – so for this test, I selected the updated version of the old-school puzzle classic Myst that is finally available on mobile devices, named realMyst.
After configuring an hour's worth of allowed time on the realMyst app, Qustodio displays the message 'The app realMyst will end in less than 5 minutes on the target device when nearing the end of the available time. Once that last bit of time ticks away, Qustodio overrides the screen completely and displays a message informing the user that their time is up.
It's still possible to switch back to the supposedly disabled app, but I believe this is simply an artifact of the Android operating system that prevents one program from closing another ( probably in an effort to combat malware). In this legitimate use case, it might be nice to have the option, but it's probably better to be safe than sorry from a system security perspective. This precaution also prevents an untrustworthy developer from creating an app that could close the Qustodio monitoring app, so it's worth the slight confusion.
Switching back to the restricted app doesn't grant more than a couple of seconds of access before Qustodio takes over again, which effectively prohibits usage. As a result of my testing this aspect, realMyst shows 1:05 minutes of usage instead of the allowed 1:00, but I wasn't able to do anything other than try to load the restricted app repeatedly.
Monitoring Activity Your Protected Devices
There are two ways to access the data that Qustodio collects: by logging into the website from any web browser, or by using the app on your mobile device. In my experience, the website is easier to use to manage all your initial setup and configuration, while the app offers easy access to monitoring data in real-time once you've finished setting parameters for each device.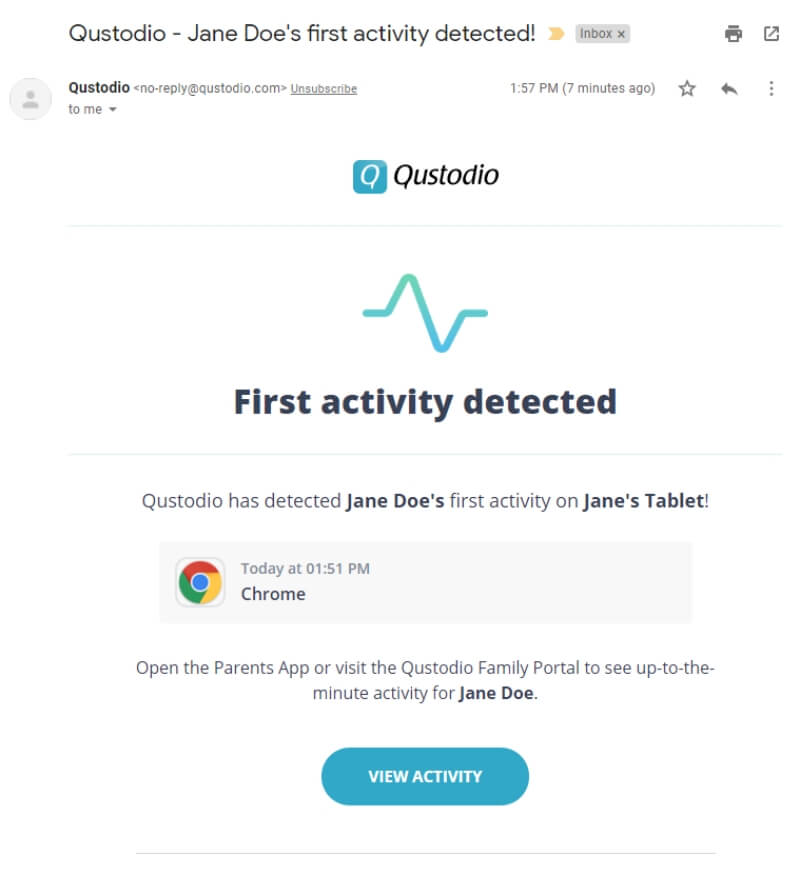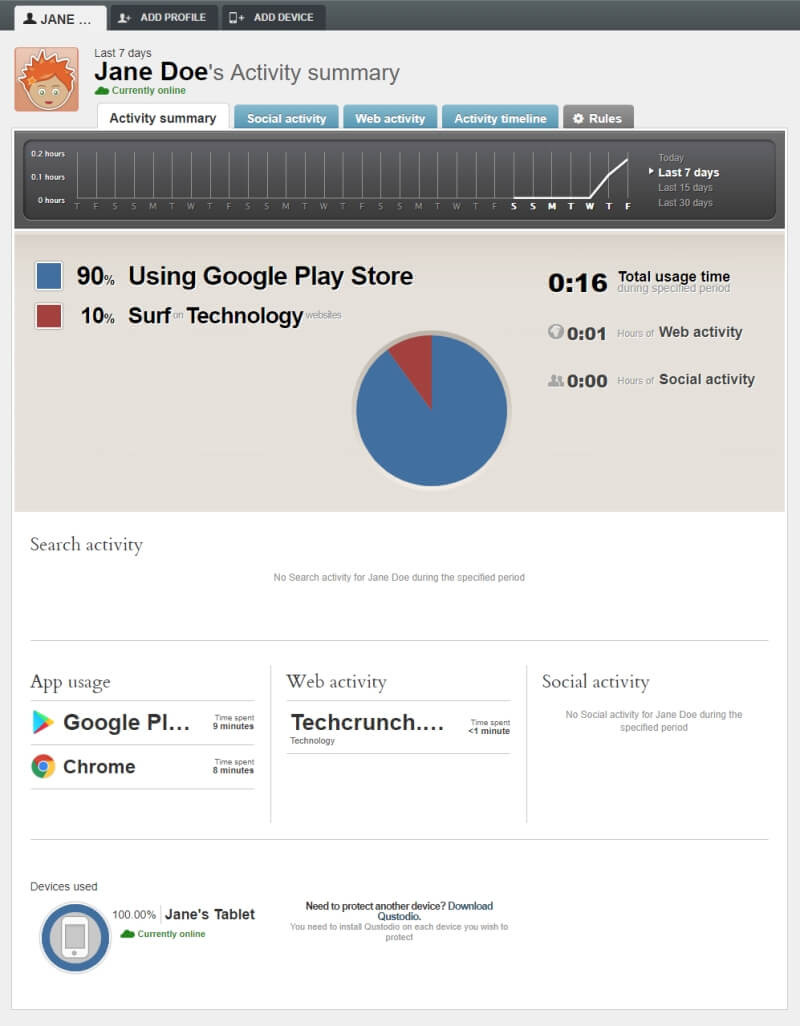 I really don't understand why Qustodio hasn't updated the UI of the dashboard to match the modern style of the initial configuration, but it still provides an excellent summary of what your child is up to online. If you want to drill down deeper into the data to examine what your kids are up to, you can easily do so using the tabs at the top.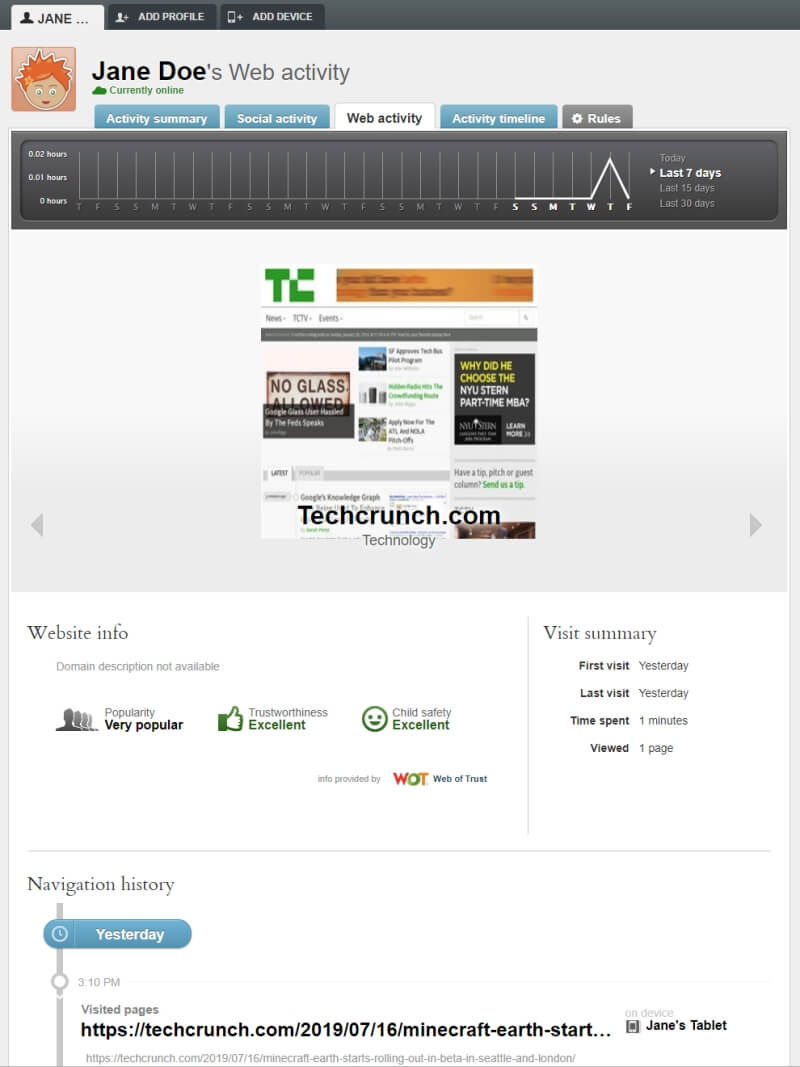 One of the most important things that parents want to monitor is children's social media usage, and with good reason: cyberbullying, inappropriate content, and stranger danger are just a few of the more obvious ones. Most parental control solutions claim to offer some kind of social media monitoring, but accurate monitoring is also one of the hardest things to accomplish. Not only are there new social media networks appearing every day, but the existing big players like Facebook also aren't usually too happy about other developers trying to provide tracking options on their proprietary platforms.
As a result, social media monitoring tools fail more often than not – or even worse, they appear to be working when they're actually not. This is one of the areas where the importance of talking to your children about the risks and dangers cannot be overstated. It's probably best practice to keep your kids off social media until they're older, although it may be more practical to simply check in with them regularly to make sure they're safe and responsible. If you're not sure how to go about this, you can refer to the guides published by online safety experts that we mentioned at the beginning of this Qustodio review.
Qustodio Alternatives
1. NetNanny
NetNanny may want to consider patenting the name NetGranny, as they've been around since the very earliest days of the internet – they may even be the oldest online monitoring tool still in existence. They've significantly improved their product since those early days, and they provide more or less the same level of security as Qustodio.
Their latest offering promises that they're using artificial intelligence to monitor and protect your kids, although they're a bit vague about how exactly AI is used. Many companies try to capitalize on the buzzword popularity that AI is currently enjoying, but it's still worth a look if Qustodio isn't to your taste.
If Netnanny and Qustodio aren't what you're looking for, Kaspersky Safe Kids is another excellent option at a far more affordable price point of $14.99 per year. They provide a comprehensive range of monitoring and usage limitations, and they also offer a limited free option to complement their paid plans.
In fact, in my roundup review of the best parental control software, they nearly won first place, but there was a concern at the time that Kaspersky was alleged to have ties to the Russian government – allegations that they have denied in the strongest possible terms. I'm not sure what's true in this case, and it's not likely that your child's internet usage would be of interest to any government, so try not to be too concerned about it.
If you want to shield your kids from some of the nastier parts of the web but you're not worried about monitoring their app usage or screen time, OpenDNS FamilyShield might be a good fit for your situation. It covers all the devices on your home network all at once by changing something known as DNS.
DNS stands for domain name servers, and the system used by computers to turn 'www.google.com' into an IP address that uniquely identifies Google's servers. By telling your network to use the FamilyShield DNS server, you can prevent your kids from accessing any website that OpenDNS considers to be 'mature content'. It doesn't offer the same kind of customization options as the rest of the options we mentioned here, and it doesn't have any monitoring options – but it's totally free, and you don't have to worry about your kids circumventing it.
Reasons Behind My Qustodio Ratings
Effectiveness: 4/5
Qustodio offers a comprehensive set of tools for managing every aspect of your child's digital life. Whether you want to limit access to specific apps, total screen time or just monitor online activities, Qustodio makes it easy to install, configure and track activities. The mobile versions of the apps are a bit simpler to use than the desktop versions, and some of the issues with social media tracking prevent them from getting a full 5 stars, but I'm not aware of any competitor that is doing a better job on these aspects.
Price: 5/5
Qustodio offers an affordable set of protection plans, from 5 devices for $55 per year up to 15 devices for $138 per month, which breaks down to less than $12 a month for even the most expensive plan. If you only want to protect a single device for a single child, you can sign up for free and gain access to the most useful core features like filtering and screen time limits. If you want more control over specific app usage, location tracking or the highest reporting detail, you'll have to sign up for one of the paid plans.
Ease of Use: 4.5/5
The initial setup process is quite simple, and Qustodio does a good job of walking you through the process. You'll need to be familiar with downloading and installing apps, but otherwise, the rest of the configuration is handled through a web interface that is quite easy to navigate. The setup on a desktop computer isn't quite as streamlined as it could be, which keeps them from getting a full 5 stars.
Support: 4/5
For the most part, on-screen support is excellent and makes it quite clear how to install and use the system. However, Qustodio also offers hands-on support for parents who aren't comfortable with the technical side of their parental monitoring system. The support team seems responsive to issues, although the online knowledgebase could use a few more articles.
The Final Word
The digital world is an awesome place, in the truest sense of the word. The scope of what it offers should inspire a sense of awe – but the true breadth and depth of that scope mean it's not the safest place either. With a bit of careful attention and a good parental control app, you can ensure that your kids get the best of what the digital world has to offer without worrying about them exploring the darker corners before they're old enough to handle it safely.
So, do you find this Qustodio review helpful? Any other thoughts about this parent control software? Leave a comment and let us know.