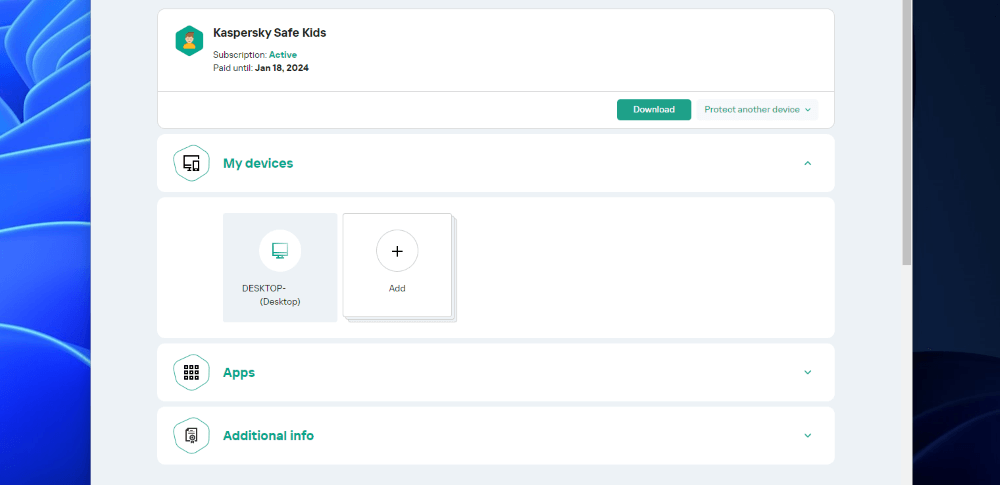 Kaspersky Safe Kids
Features: Solid feature set with most features working well
Pricing: Transparent pricing with clear delineation between free and premium features
Ease of Use: Simple and straightforward use with interesting extras
Support: Robust support options to meet any support need
Summary
Kaspersky Safe Kids is an endpoint management solution allowing parents to monitor and curate the internet content to which their children will be exposed. It also provides additional management and tracking functionality.

I like Kaspersky's functionality and features. It helps that they're also provided in an easy-to-use package. This is a good solution for any parent wanting to keep their kids safe online. It's backed by Kaspersky's great operational reputation and provenance.

It would be disingenuous not to mention that Kaspersky is a Russian company. It functions and is improved by reviewing user telemetry data. Much of that data is processed remotely and, as highlighted by the Kaspersky privacy policy users approve multiple times on installation, in other countries subject to those countries' laws.

While Kaspersky products are highly regarded, Russia's respect for the rule of law and data privacy is not. So far that hasn't seemed to be an issue for their products.

What I Like: Easy-to-use software with great features and a competitive pricing model.

What I Don't Like: Not all features seemed to work well and I didn't like that some features I expected were missing.
Can Kaspersky Safe Kids see Messages?
Yes! Kaspersky Safe Kids can be used to see call and messaging statistics.
Can Kaspersky Safe Kids see Incognito History?
No. Per Kaspersky's Online Help internet browser usage cannot be monitored while in incognito mode.
Should I be Worried About Kaspersky?
Maybe! Some world governments, including the U.S. and some of its states, have banned the use of Kaspersky for their organizations. World governments have also added Kaspersky to security threat lists because of its ties to Russia.
Does Kaspersky Monitor Snapchat?
No. Safe Kids monitors for public social media posts but doesn't monitor for private content, including messages.
Why Trust Me for This Review
Hi! I'm Aaron. I'm a security expert by trade and have been working in and around information security for the better part of a decade. I've been working with and around technology for longer!
I'm also a parent. While I grew up with the internet, the internet of my youth was qualitatively different. Graphic and disturbing audiovisual or interactive content was tougher to access–certainly to access inadvertently.
Like many parents, I'm concerned about my kids' online safety and I'm always on the lookout for ways to improve that. Let's see how Kaspersky Safe Kids meets the task.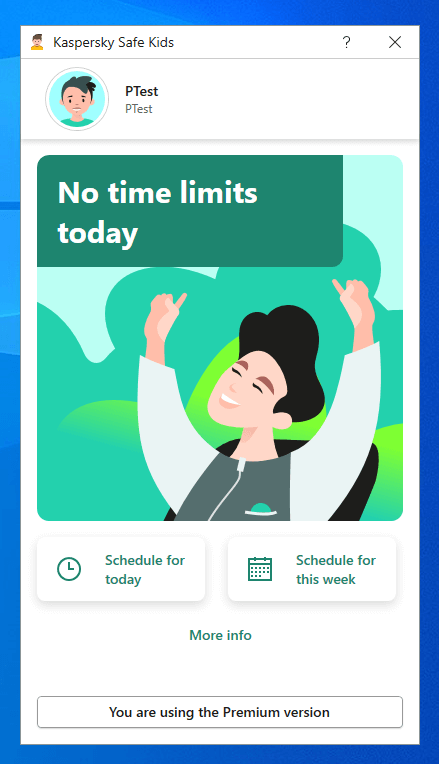 Detailed Review of Kaspersky Safe Kids
Kaspersky Safe Kids is software that tracks and monitors what children do online. It also provides some level of parental control on the child's device. Let's dive into some of Safe Kids' key features and how they perform. I'll also share my impressions of each.
How To and Communication Assistance
When you install Kaspersky Safe Kids on a desktop, the application walks through a wizard to help with the installation process. One step in that wizard is how to communicate what the software is and what it does with your children.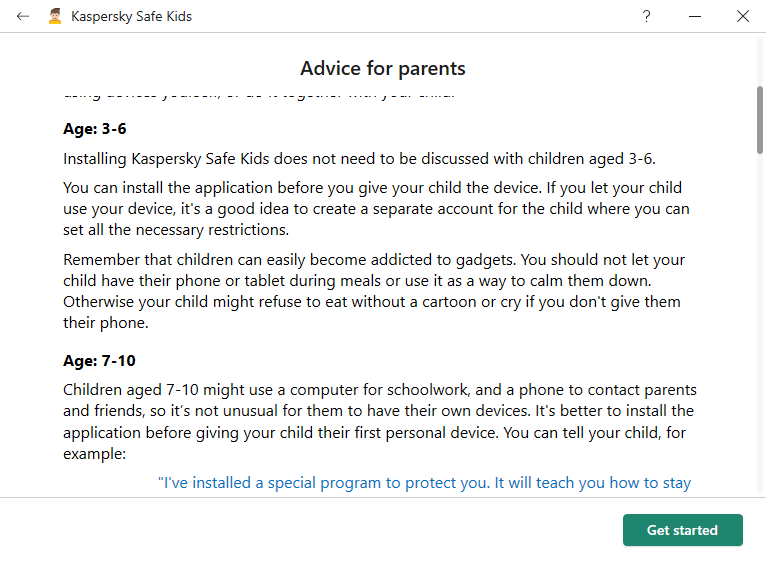 It's an interesting take on deploying software that impacts end users. It's a level of thoughtfulness to which I've become accustomed in a corporate environment, but not with personal consumer-grade software.
It makes sense in the personal space for the same reasons it makes sense in the corporate space. Installing software like Safe Kids changes computer behavior from an experiential baseline.
For younger kids, the message map is simple: dissociate the device from negative reinforcement. For older children, it becomes more elaborate and explains Safe Kids' function and potential benefits. It's a sophisticated and thoughtful approach to deploying software like Safe Kids.
My personal take: Safe Kids takes a thoughtful approach to manage end-user expectations. I think that's a great thing and a total necessity where this is being used on older children's computers.
Monitoring
One of Safe Kids' primary functions is to monitor what a child does online. Parents can access that information on an easy-to-use web console and mobile application. I like the relative flexibility of being able to use both.
Both the web view and the mobile app have an easy-to-navigate layout with a straightforward dashboard. The dashboard provides all collected telemetry in one place.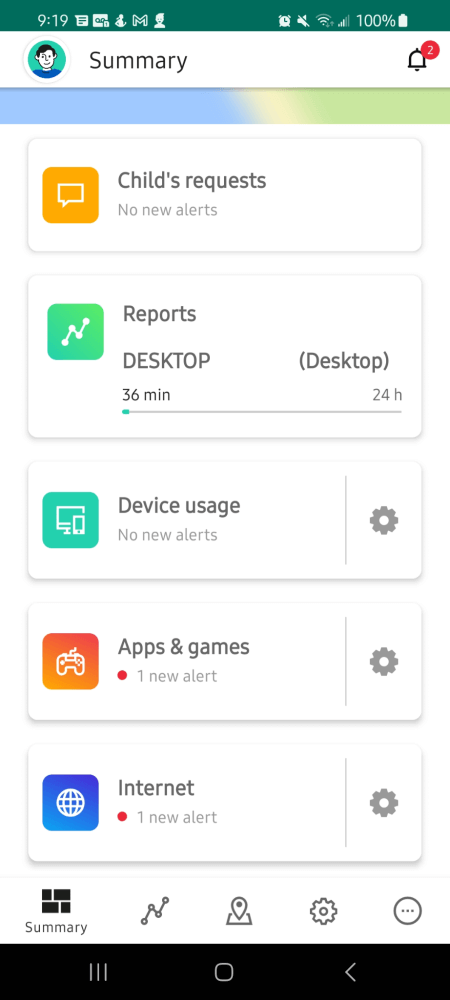 Honing in on Reports highlights computer usage. That use is total computer use time and apps used. The report isn't perfect. Safe Kids picked up the use of the Windows Store, which was entirely a background process on the computer and not something I did. It also seems to lag in reporting browser use time.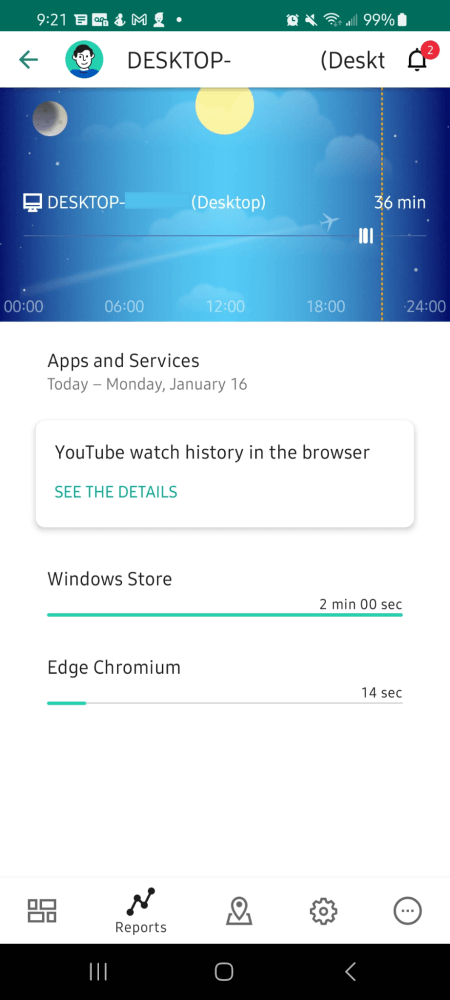 My personal take: Kaspersky Safe Kids provided good information about computer use. Almost too good. There's not a ton of information on what information to discount or not and why Safe Kids picked up some background processes or not. Also, the data isn't live and is collected and processed on a significant delay. As long as you're not using this for real-time monitoring, it seems to work well.
Blocking
The other major Safe Kids feature is website filtering and blocking. Safe Kids performs well and provides a semi-automated mechanism for requesting and provisioning access.
I configured my Safe Kids installation for a 3-6-year-old. So when I navigated to YouTube to test some of the advanced features marketed for that, I was greeted with a message informing me that youtube.com was not allowed and immediate corresponding alerts in the app.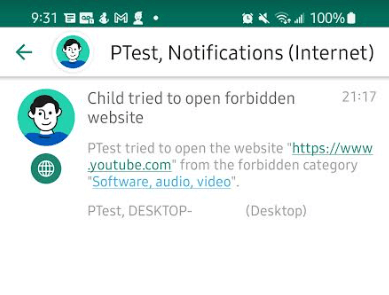 In the browser, there was a convenient button to Ask for permission.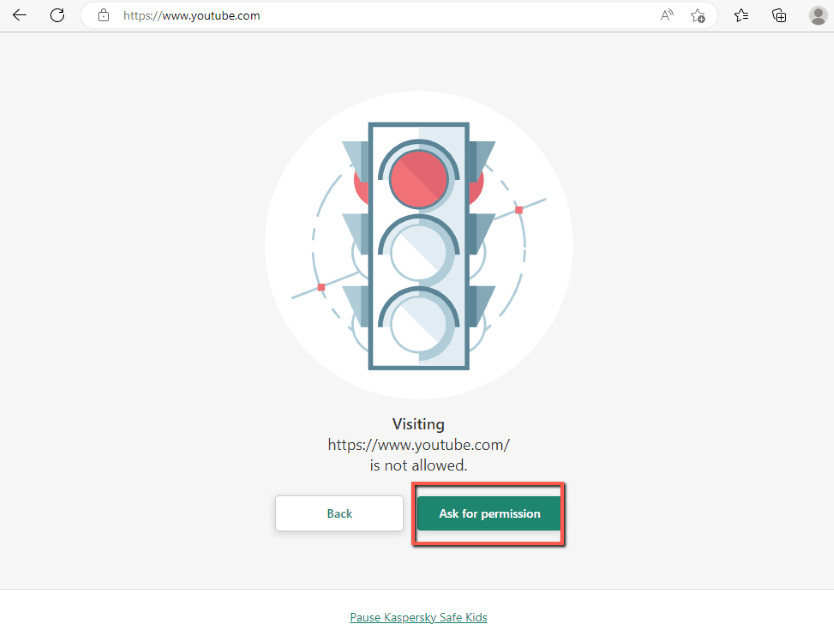 Doing so sent a request to my parents. Almost immediately the app notified me of the request and I could approve it with a tap. Almost immediately after that, I was notified on my desktop that I could visit youtube.com. The entire exchange took mere seconds.
My personal take: I haven't performed extensive tests of Kaspersky Safe Kids' blocking features. What I did test worked well and was monitored to the date and time of access. Additionally, requesting and approving access was a breeze and happened as quickly as I could click and tap buttons.
YouTube Safeguards
I was surprised to see that Safe Kids only offered YouTube protections and not similar content protections for other social media and content hosting sites (Twitch and TikTok come to mind). Not only was that lack of features disappointing but so too was the actual YouTube Safe Search.
Safe Kids Safe search in YouTube purports to block adult content in YouTube searches. I searched for and viewed:
firearms-related content, including a video about what gun to purchase for concealed carry,
Animal attack videos, including graphic content showing the gory aftermath of an attack, and
Racy and sexually suggestive social media content rehosted on YouTube.
In fact, it wasn't until I included "naked" as a search term in my search that Safe Kids blocked the search altogether.
Remember, I configured an account for a 6-year-old. When I think of adult content I think of content that requires some level of critical thought and processing to consume or content that is emotionally and psychologically impactful without a robust personal frame of reference.
Everything I searched for I would squarely consider adult content. Whether or not you think it's appropriate for a 6-year-old, something purported to provide safe search functionality should block that and leave it up to parents to decide to release that content.
My personal take: I'm not sure how Kaspersky has built its adult content list, but it completely failed at its basic function. Fortunately, that functionality is part of both the free and paid versions, so it's not like it's wasted money in licensing.
I appreciate when commercial software offers a full-featured free version and a clearly-priced premium version delineated on premium features. It's an increasingly rare pricing model with the rise in popularity of monthly licensing.
Safe Kids provides a very transparent pricing model, highlighting the features procured with the annual $14.99 per-user license. While protecting a computer, tablet, or smartphone is totally possible with the free version, the paid license adds additional real-time tracking features.
That includes GPS tracking and battery level tracking. The idea behind the latter feature is that a phone with a low battery level can shut off at any time, rendering GPS tracking useless. If a battery is low, a parent can call their child and ask them to charge the device or return home.
My personal take: As highlighted above, some of the software tracking tools are not, at least in my testing, real-time. However, assuming all the paid premium features work, I think they are truly premium and offer a good set of differentiating features to justify the license fees.
Reasons Behind My Ratings
Features: 3.5/5
I think Kaspersky Safe Kids provides good features in both the free and premium versions of the software. Many of those features work well and provide seamless use of the tool.
Some of those features don't appear to work well, however. I can't tell how they're defined or configured. I'm also surprised at the lack of broader application support.
Pricing: 4/5
Safe Kids provides solid value for the money, in my opinion. The premium features do seem to be premium and offer a good differentiation from the free software version.
The premium features are also competitively priced with other web and location tracking software. I like the addition of the battery tracking feature in that pricing model. It's not particularly useful alone but provides a good supplement to the GPS tracking features and supports the license fees, in my opinion.
Ease of Use: 4/5
I thought Safe Kids was very straightforward to use. It presented the information very straightforwardly in a central dashboard and in drill-down reporting.
I also appreciated the alerting and approval workflow. It was very simple and really seemed to be a one-click solution, which is ideal for children and parents alike. That simplicity and end-user thoughtfulness seem to be an end-to-end consideration with the messaging recommendations Kaspersky provides. 
Support: 5/5
Kaspersky provides a FAQ, help page, user forum, guides, email support, live chat, and live tech support. I'm a huge fan of the different forms of support and think that they're all necessary for troubleshooting what can be a complex and difficult-to-manage product.
I think all of those support avenues are a must with modern software. Kaspersky doesn't disappoint with that.
Final Verdict
Is Kaspersky Safe Kids worth it? Absolutely. I think it's a solid child-monitoring product with decent features that is easy to use and provides robust reporting. Not all of the features work as expected, but your usage may differ. I think all parents could benefit from the protections offered by Safe Kids.
As with most security practitioners, I would voice caution about using Kaspersky products given their ties to Russia and Russia's questionable stance on respect for the rule of law and data privacy. I haven't read of impacts yet–and hope they never come to fruition given the high general quality of Kaspersky's products–but it's a definite worry.
What's your feedback on this Kaspersky Safe Kids review? Share your thoughts below.