Apple's Magic Mouse is included with every iMac, iMac Pro, and Mac Pro, and you can purchase one separately for $79.
It's Apple's answer to what a mouse should be, and it's the only mouse they make, sell, and include with desktop Macs. It's different—even revolutionary—but doesn't suit everyone.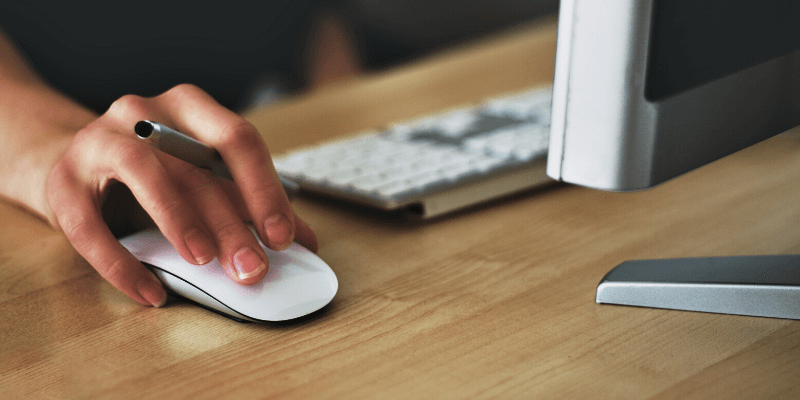 Fortunately, if you're not a fan you don't need to use it. An endless number of alternative mice and other pointing devices will work with your Mac. Read our Mac mouse review for more.
Whether you're looking for one that's more "normal" and affordable, something cool and high-tech, or an ergonomic mouse that will save your tendons, there are a number of quality alternatives that will suit.
What's So Different About the Magic Mouse?
Why doesn't everyone love the Magic Mouse? The features that make some people—including myself—absolutely love Apple's mouse, also leave some people cold or even annoyed.
What's so different? In typical Apple fashion, it's incredibly minimalistic. There's not a single button or scroll wheel to be seen, and some people miss that.
Instead, it features a mini touchpad where those controls normally are. You tap the left or right side of that surface as if there were buttons there, and the mouse will respond as if you pressed a button.
You move your finger as if you're rotating a scroll wheel, and the mouse will scroll the page you're on. And there's more!
You can also slide your finger from left to right (or vice versa), and the mouse will scroll horizontally or turn pages, depending on which app you're in.
You can double-tap to zoom in and out, swipe horizontally with two fingers to switch between Spaces and full-screen apps, and lightly double-tap with two fingers to open Mission Control.
That's a lot of functionality from a mouse with no buttons or wheels and shows the versatility of macOS's gestures.
Despite all of that, these mice don't make everyone happy. In fact, I prefer a different pointing device myself. After I became so sold on using gestures on a Magic Mouse, I switched to a Magic Trackpad where I could use them even more.
Other people have different preferences. Some love being able to customize a large number of mouse buttons to perform common functions, and one mouse even allows you to customize those buttons on an app-by-app basis.
Other users prefer the sense of momentum you get from a high-quality scroll wheel, and while the Magic Mouse can scroll both horizontally and vertically, a number of creatives prefer to do that using a trackball.
It almost seems like there are as many pointing device preferences as there are users. Which one is best for you? Let me help you find out.
Best Alternatives to Apple Magic Mouse
Here are five quality alternatives to the Apple Magic Mouse and why you should choose them.
1. Maximize Your Gestures: Magic Trackpad
Apple Magic Trackpad is even more minimalistic than their mouse. It's just a flat surface with absolutely no moving parts. It feels like there are buttons under the surface, but that's the illusion of haptic feedback.
Apple estimates that you'll get a month or use out of one battery charge, but I get more. You can continue to use the device while it charges.
The trackpad surface is obviously much larger than the Magic Mouse's, and I find scrolling in either direction much easier on it. The extra space also offers room for more fingers, which opens up a whole range of gestures that the mouse can't perform:
Select text by dragging three fingers,
Zoom in and out by pinching two fingers,
Rotate by moving two fingers around each other,
Open Notification Center by swiping left from the right edge with two fingers,
Drag items using three fingers,
And there are even more gestures that can show the desktop, Launchpad, or Expose and look up data detectors.
You can explore these further in your Trackpad Settings, and even create your own gestures using a third-party software tool, BetterTouchTool.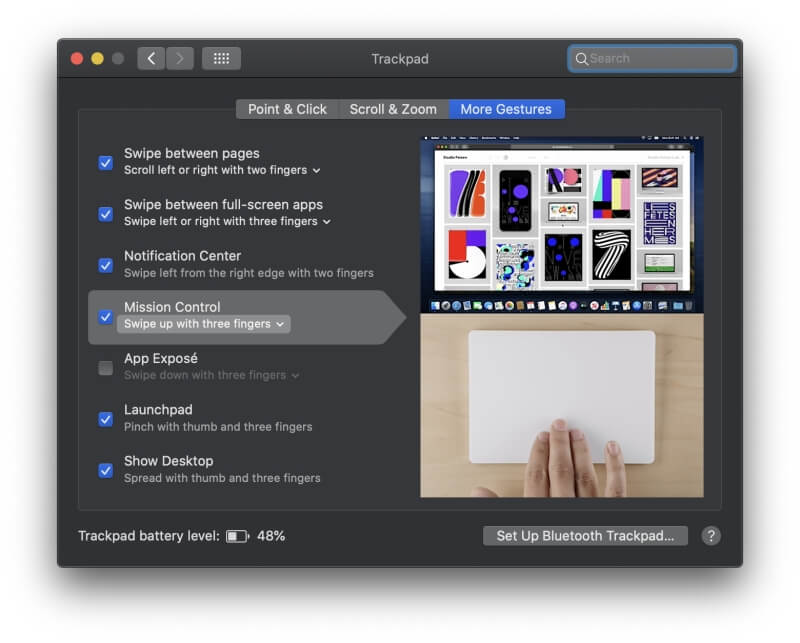 A trackpad is a little less precise than a mouse, so it may not be the ideal tool if you do a lot of detailed graphics work, but it's much more convenient if you're on the go or don't have access to a desk.
For further discussion about the strengths and weaknesses of trackpads and mice, see our article Magic Mouse vs Magic Trackpad.
The Logitech MX Master 3 is a premium mouse with very different strengths to Apple's Magic Mouse. It includes seven very tactile buttons, and these can be customized on an app-by-app basis using the Logitech Options software, or you can use predefined configurations for major apps provided by Logitech.
You also have access to two scroll wheels, one under your index finger, the other under your thumb. These are most commonly used for vertical and horizontal scrolling but are also customizable. Many users find the device's ergonomic shape more comfortable than the Magic Mouse.
This mouse certainly has a lot of powerful features.
First, you can pair it with up to three computers or devices so that you don't have to purchase multiple mice. You can even use it with more than one computer at a time, dragging files or copying text from one computer to another.
The scroll wheels have a satisfying sense of momentum. Logitech's Magspeed technology uses the speed of your scrolling to determine whether to advance line-by-line or scroll freely through pages at a time. The mouse is sturdy and durable and its USB-C rechargeable battery should last around 70 days between charges.
Although the MX Master 3 doesn't have a trackpad like Apple's mouse, it is still capable of doing gestures. One of the buttons is a dedicated "Gestures" button. Just hold it down and perform the gesture by moving the mouse.
Alternatives:
The Logitech M720 Triathlon is an 8-button mouse that gets two years out of a single AA battery and pairs with up to three computers or devices.
The Logitech M510 is a less expensive alternative. It requires a dongle to connect to your computer and gets two years out of a single AA battery, but lacks some of the Master 3's advanced features.
3. Maximize Your Portability: Logitech MX Anywhere 2S
Some mice are large and bulky. If you want one that fits more easily into your bag, the Logitech MX Anywhere 2S is the one you need.
It's a premium mouse with a focus on portability: it's smaller in size but still quite comfortable, and works effectively on a wide variety of surfaces, including glass.
This mouse slides smoothly and gracefully over almost any surface and has a rechargeable battery that lasts as long as the MX Master 3.
Apparently, it can work for a full day in just three minutes of charge. Its seven buttons are customizable, but only the Master 3 allows you to do this app-by-app. It is able to work with up to three computers as the Master can.
Its single scroll wheel can whiz through your documents like the Master's, but to change the mode to line-by-line, you'll need to press a button. It's not automatic.
4. Scroll with a Trackball: Logitech MX Ergo
The Logitech MX Ergo has a highly ergonomic design and a trackball. It's an excellent choice for those who spend long hours using a mouse each day and want to avoid strain on their wrists and muscles.
And trackballs are a hit with computer users who need to do a lot of horizontal and/or vertical scrolling, say a videographer or music producer moving through their timelines and tracks while editing.
Like the other premium mice we list here, the Ergo has a rechargeable battery, and this one is meant to last four months between charges, but some users report getting a much shorter battery life.
Its eight buttons are completely customizable using the Logitech Options software and can be paired with two computers. My memory of trackballs is that they need regular cleaning to stay responsive, and judging by the consumer reviews I read, that hasn't changed.
Ergonomics are an important factor in the design of this mouse, and one unique feature is an adjustable hinge that allows you to find the most comfortable angle for your wrist.
Many users find that this makes a helpful difference to their comfort, and some carpal tunnel sufferers have found relief by using the Ergo.
Alternatives:
The Logitech M570 Wireless Trackball is a more affordable alternative, but requires a wireless dongle and lacks a rechargeable battery.
5. Protect Your Tendons: Logitech MX Vertical
What if you want the comfort of an ergonomic mouse but don't need a trackball? The Logitech MX Vertical is a good choice.
It places your hand in a natural "handshake" position that's designed to relieve strain on your wrists, and has a sensor that requires your hand to only move one quarter the distance of other mice, reducing fatigue.
While this is a simpler mouse for those who prioritize comfort and only offers four buttons and a scroll wheel, it's not short of features. You can pair it with up to three computers and completely customize its controls using the Logitech Options software.
The mouse is a good size and weight for most users, but may not be ideal if your hands are very large or very small. If possible, test it for comfort before making a purchase.
So Which Should You Choose?
Many people love Apple's Magic Mouse. It looks modern and minimalistic and works differently from any other mouse out there. You could think of it as the mouse from the future. But it doesn't suit everyone.
Which mouse should you choose?
It seems there really is a mouse for every person and every preference. Which one did you choose?