Clip Studio Paint is available for a 3-month trial period without any charge. But after that, you'll need to decide if you want to buy the software by paying a subscription or as a one-time purchase.
Hi, I'm Zoe, and I work as an illustrator and graphic designer. When I was in art school, I could use creative tools for free. Yet, once I graduated, the cost factor became a significant consideration in my choice of creative software.
I get that buying a program can feel like a big step, especially if you're just starting out. That's why I'm here to talk about how much Clip Studio Paint costs and help you figure out ways to get it without breaking the bank.
In this article, we'll look at Clip Studio's free trial period, ways to save money, why it's a good idea to use it legally, and why this benefits both you and the creators of the software.
By the time you finish reading, you'll have all the information you need to get Clip Studio Paint at a fantastic price, even though it's not for free.
Let's dive in!
Key Takeaways
Try Clip Studio Paint free for 3 months during its trial period.
Choose between two versions (PRO and EX) with subscription or one-time purchase options.
Look out for sales a few times a year for big discounts.
Contests offer chances to win free access to Clip Studio Paint.
Note: All screenshots from this tutorial are taken from the CSP Mac and iPad versions.
Keep reading to get all the information you need about whether Clip Studio Paint is free.
Using Clip Studio for Free with the Trial Period
To clear up any confusion, Clip Studio Paint is not a free program. However, Clip Studio does offer a 3-month free trial period.
This comes in handy when you're either testing the program or have a specific project in mind. Having all that time to explore its features can be great, especially if you're looking for a quality program for a one-shot artistic venture.
To begin your free trial, just follow these steps:
Step 1: Download the program from the official website onto your desktop.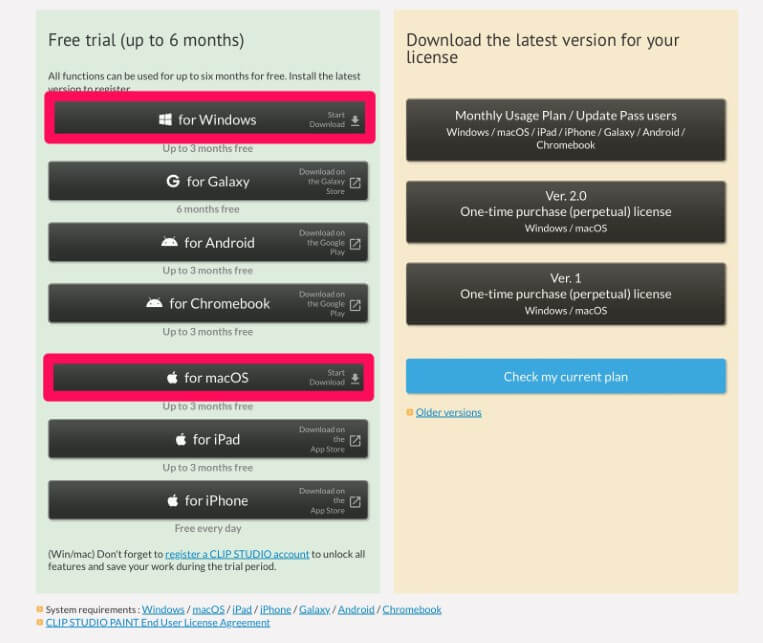 If you're using an iPad, you can easily grab it from the App Store.

Step 2: Once the software is downloaded, double-click the icon to get the installation process started. This step is for those using a computer.
Step 3: With the installation done, go ahead and launch Clip Studio.
On the desktop, head to License Options.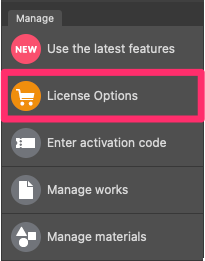 On iPad, simply tap on Sign up.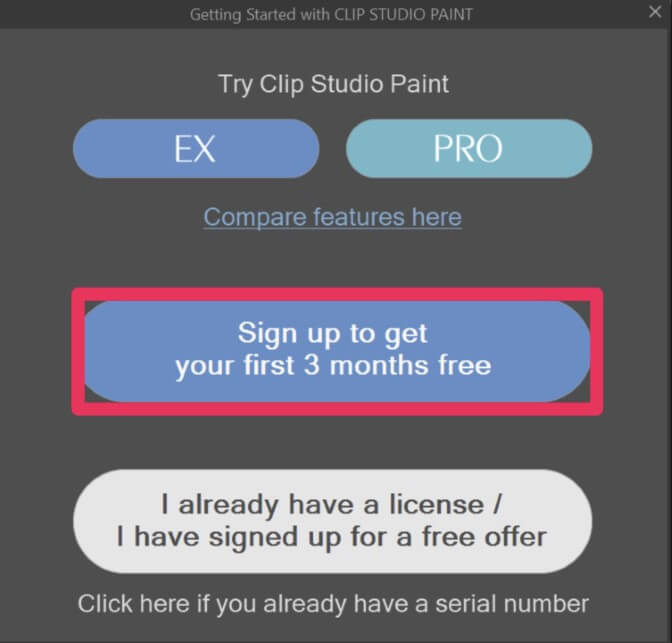 Step 4: Log in to your Clip Studio account or create a new one.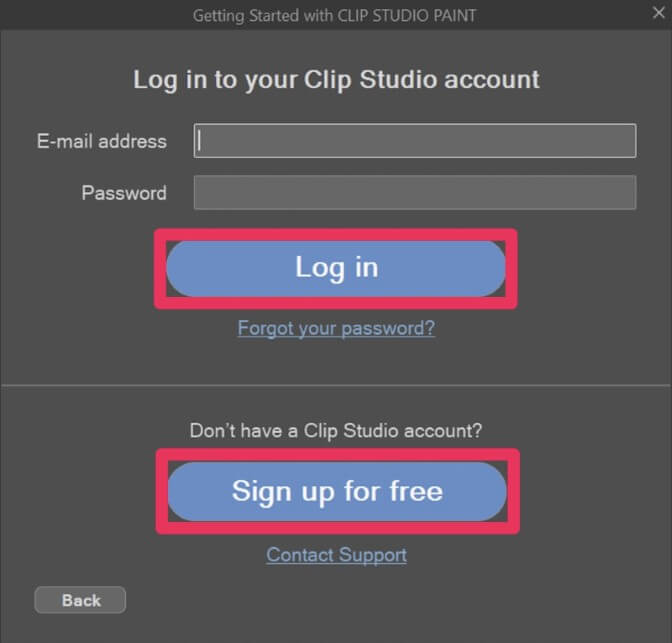 Having a Clip Studio account is important for various things, like saving the drawings you create in the program. So, make sure you have one.
Step 5: On the desktop, pick the First 3 months free under Monthly Usage Plans.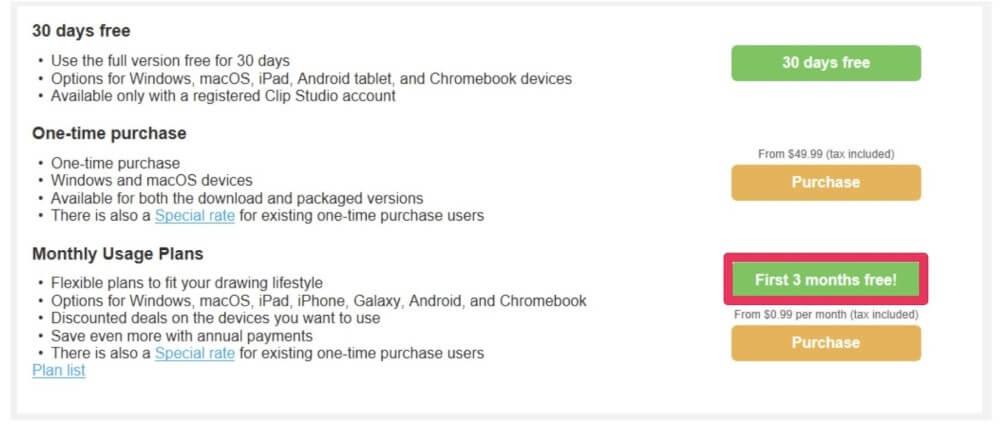 From there, you can choose from different plans, like how many devices you need, which version you want (PRO or EX), and how you want to pay once the trial ends (monthly or annually).
On iPad, explore any plan that catches your interest. You'll notice they all give new users the first 3 months for free.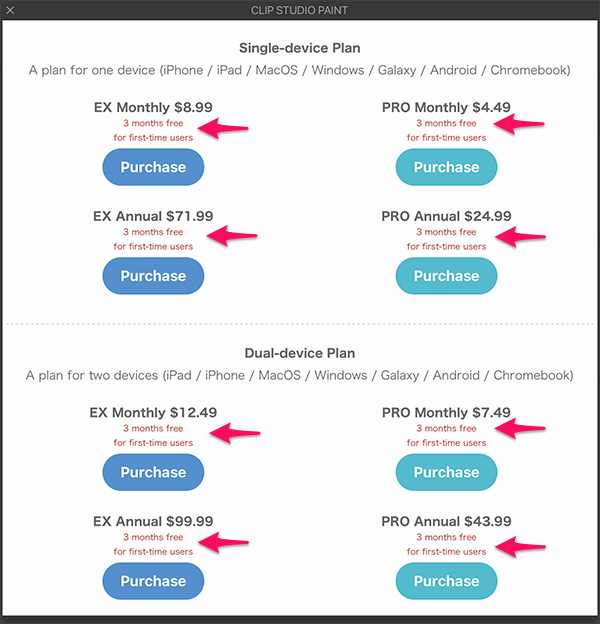 Step 6: Fill in your payment info. Remember, you won't be charged until the 3-month free offer ends. After that, the usage fee you opted for will kick in.
You can cancel up to 1 day before your trial period ends. So, don't forget to set a reminder for yourself.
Step 7: Now you should be all set to launch the software and start using Clip Studio Paint for free!
Getting a Discounted Version of Clip Studio Paint
While Clip Studio Paint isn't entirely free, there are cost-effective options that allow you to take advantage of substantial discounts.
Over the last four years, CSP has consistently rolled out sales during specific months – March, June, September, and November – generally spanning six days. The timing of these sales, often coinciding with events like Black Friday, makes it easier for users to access the program at a significantly reduced price.
For instance, during these sales events, the price of the PRO edition has been slashed from $49.99 to a range of $19.99 – $29.99. Similarly, the EX edition has witnessed price reductions from $219 to $109 – $129.
While it's not completely free, getting a premium program like Clip Studio Paint PRO for less than $30 is an incredible deal that provides excellent value for your investment.
You can stay tuned to these sales by following Clip Studio's official Twitter account.
Why Clip Studio Paint Can't Be Free
The truth is, good software comes at a cost. Clip Studio Paint is continually evolving with new features and updates.
These developments are made possible through investment, and that's where your purchase plays a role. Your support helps maintain innovation, bug fixes, and overall software upkeep.
Why Legal Is Better: Reliability and Security
Choosing a legitimate CSP version isn't just about moral high ground. It's about practicality too.
Legal copies offer stability and security that illegitimate ones can't guarantee. Unofficial versions can lead to crashes and unexpected surprises that you don't want to face mid-creation.
By investing in an official version, you're ensuring a consistent and hassle-free creative journey.
How to Get Free Access to Clip Studio Paint
Although Clip Studio Paint isn't designed to be free, there are exceptions, such as contests. Winning can earn you a free activation or even a perpetual license.
Clip Studio Paint frequently holds contests where you can win free access to the software, always announced on their Twitter account. Additionally, platforms like Webtoons have also given away Clip Studio Paint to winners of their contests.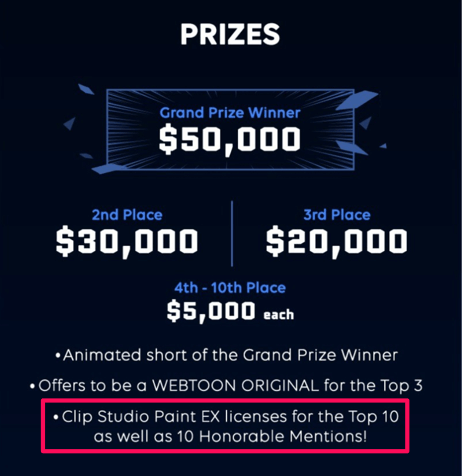 However, it's important to note that these opportunities are challenging and rare. They demand skill, dedication, and a fair dose of luck.
So, while the possibility exists, don't count on it as your primary strategy.
Final Thoughts
Clip Studio Paint is not free, but there are ways to make it more affordable for you. Keep in mind, there's a trial period that lets you explore without paying, and they often have big sales that make the price much lower.
Feel free to share your opinions about Clip Studio Paint's pricing or any tips for getting better deals in the comments section below!