Clip Studio Paint offers a range of pricing plans based on the version, payment method, and the number of devices you require. Prices begin at $4.49 per month or $49.99 for a perpetual license.
Hi, I'm Zoe, an illustrator and graphic designer. Switching over from Photoshop, what really caught my eye about Clip Studio Paint was its wallet-friendly pricing. To make sure I wasn't sacrificing quality for cost, I gave the free trial a shot. When the trial period ended, it was clear Clip Studio Paint was the right fit for me.
Navigating the various plans and options can be a bit tricky, though. That's why I'm here to walk you through all your choices.
In this article, we'll explore Clip Studio's free trial, compare Clip Studio PRO and EX, break down the monthly subscription vs one-time purchase options, see if it's worth your investment, and share tips on how to get the software at an even better price.
So, let's jump right in!
Key Takeaways
Try Clip Studio Paint PRO and EX versions for free for 3 months.
Clip Studio Paint PRO costs $4.49/month on one device or $49.99 one-time.
Get Clip Studio Paint EX for $8.99/month on one device or $219.00 perpetual license.
Perpetual licenses for Clip Studio Paint are available only for desktop users.
Update Passes are available for perpetual license owners.
Look out for sales throughout the year to get Clip Studio Paint at half-price or less.
Note: All screenshots from this tutorial are taken from the CSP Mac version.
Here is a comprehensive guide to all the pricing options available for Clip Studio Paint.
Exploring Clip Studio Paint with a 3-Month Free Trial
Clip Studio Paint offers a free trial that lasts up to 3 months, which is longer than what many other software companies provide. This is great because it gives you plenty of time to immerse yourself in the software and see if it naturally becomes a staple in your creative life.
During these 3 months, you can explore all the features, play around with different art styles, and get a good grip on what the software can do. By the end of the trial, you'll have a solid idea of whether Clip Studio Paint fits your artistic needs and workflow.
If you've been using it regularly and feeling inspired, then it's definitely worth the investment. But if it's just gathering dust on your computer, well, maybe it's not the one for you.
You can get the software from the official downloads page (Windows, Mac) or on the App Store (iPad, iPhone) to start your free trial.
Clip Studio Paint PRO vs Clip Studio Paint EX
Clip Studio Paint comes in two editions: PRO and EX. You might be wondering what sets them apart and whether it's worth considering the EX edition over the PRO.
Clip Studio PRO Features
The PRO version of Clip Studio Paint practically includes everything that EX has to offer, so you won't miss out on any of the features that have made Clip Studio Paint a favorite among digital artists.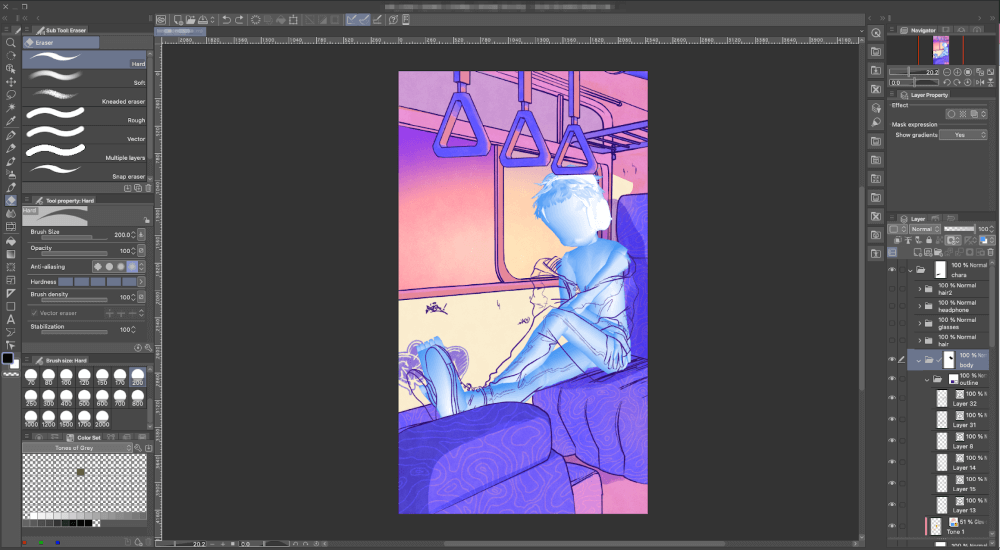 With PRO, you get access to an impressive collection of well-designed brushes, precise and versatile tools, 3D models, and a vibrant community of fellow artists sharing their creations and resources on Assets.
Clip Studio EX Features
The EX edition comes with a few minor yet significant details that can make a big difference for certain professionals, comic artists, and animators.
For instance, it provides the ability to create multi-page comics and illustrations and export them as multi-page files. While this feature is cool, it's not indispensable since saving each page separately is doable. However, it can be useful for dedicated Webtoon creators.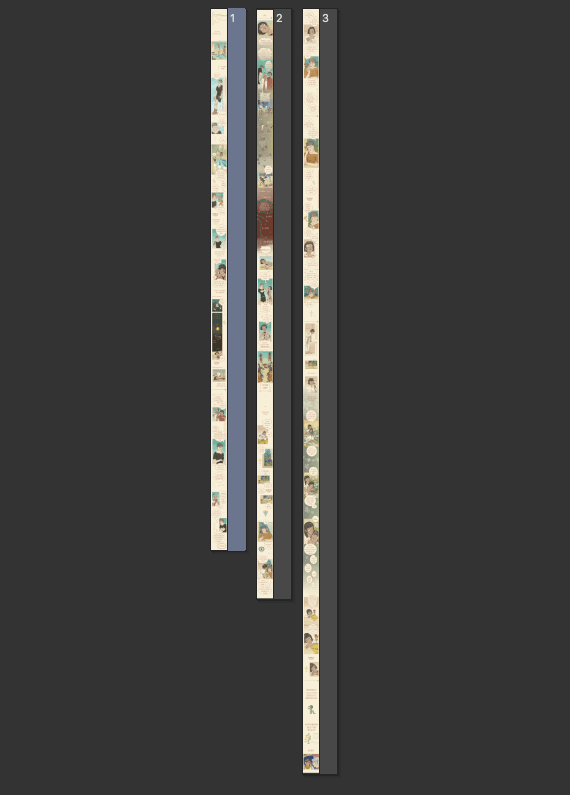 Another highlight of EX is the unlimited frames for animation. If you use Clip Studio Paint for animation, then you can't pass on the EX version, especially if you deal with lengthy animations.

Also, EX lets you convert images and 3D models into lines and dot shading. This feature is a real-time-saver, especially for manga artists who need to quickly add backgrounds from different angles in multiple frames.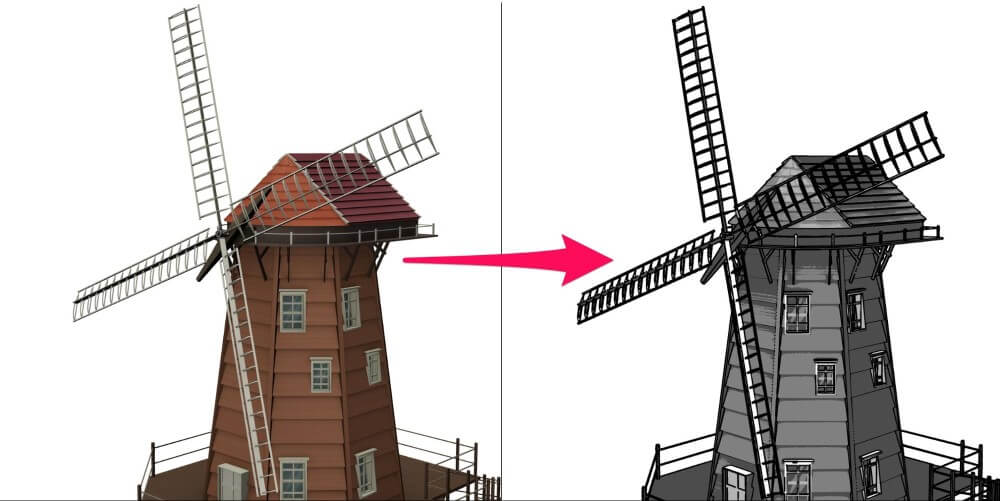 Choosing between PRO and EX comes down to what you need. If you're a hobbyist or a pro seeking great illustration tools, PRO might be all you need. But if you're into serious comic or animation work, EX's advanced features might be worth it.
Flexible Plans: Clip Studio Paint's Monthly Subscriptions
Clip Studio Paint offers monthly plans for those who prefer a more flexible approach. These plans are available on various platforms like Windows, MacOS, Chromebook, iPhone, iPad, and Android.
Let's focus on the basic single-device plan:
For the PRO edition, it costs $4.49 per month or $24.99 per year.
For the EX edition, it costs $8.99 per month or $71.99 per year.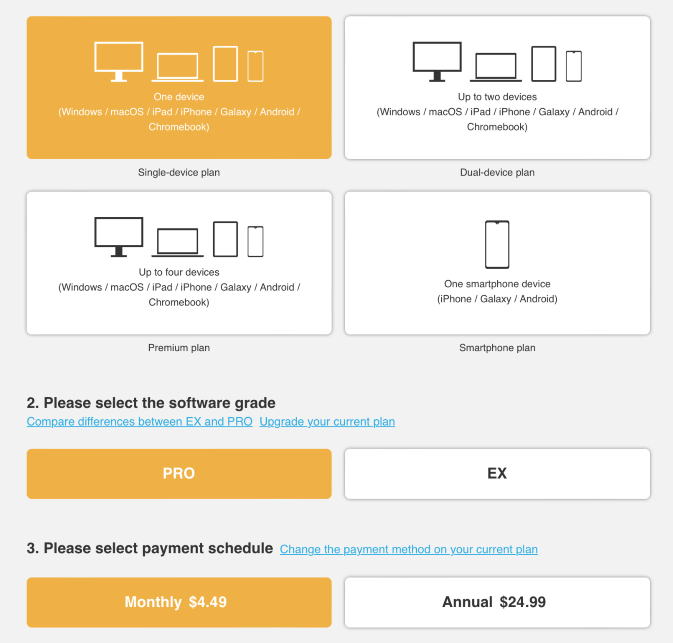 Subscriptions have different prices based on your number of devices, from one to four. This lets you use the software on multiple devices, like starting on your computer and continuing on your tablet.
One important advantage of the subscription plans is that subscribers get access to new features, including Version 3.0, as well as regular updates throughout the year. This is something you won't get with one-time purchases.
So, if staying in the loop with the latest enhancements and improvements is important to you, the monthly plans are definitely worth considering.
Owning Clip Studio Paint: One-Time Purchase and Update Pass
First off, remember that perpetual licenses aren't available for tablets or mobiles. If you fall into that category, you'll need to go for a monthly subscription.
But if you're on a desktop and prefer owning your software outright, Clip Studio Paint has you covered with one-time purchases. When you make a one-time purchase, you'll get a license for a specific version that you can use forever without any subscription fees.
Clip Studio Paint PRO is priced at $49.99
Clip Studio Paint EX is priced at $219.00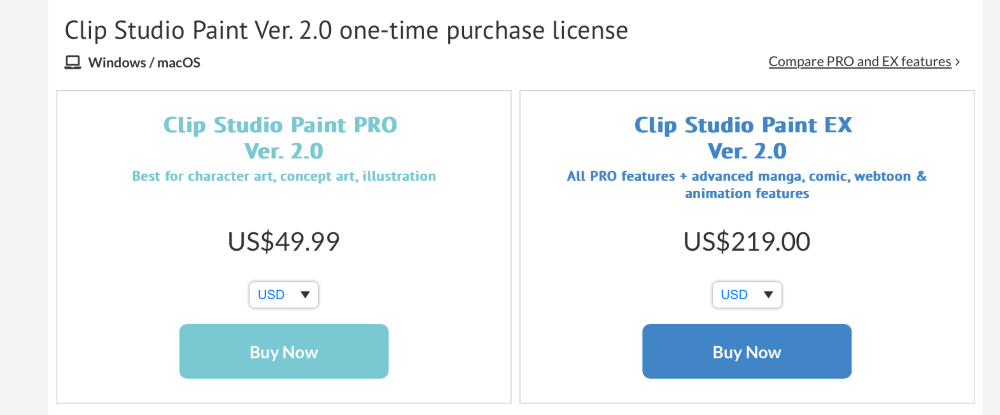 Your license can be used on up to two devices at once. To activate it on a new computer, you can just deactivate it from the current one without needing to return to the previous device.
Just keep in mind that if you buy a one-time license, you won't have access to updates beyond that version. For example, if you choose Version 2.0, you won't be able to get newer versions with improvements that Clip Studio regularly releases.
But don't worry; there's a solution!
Updating Your One-Time Purchase with the Update Pass
If you want to keep up with the latest features and updates that Clip Studio Paint regularly rolls out every few months (like from 2.0 to 2.1) or make sure you get access to Version 3.0 when it finally comes out, then the Update Pass is what you need.
With the Update Pass, you'll always get your hands on new tools and enhancements as soon as they are released.
For Clip Studio Paint PRO, it costs $9.99 for a year
For Clip Studio Paint EX, it costs $28.99 for a year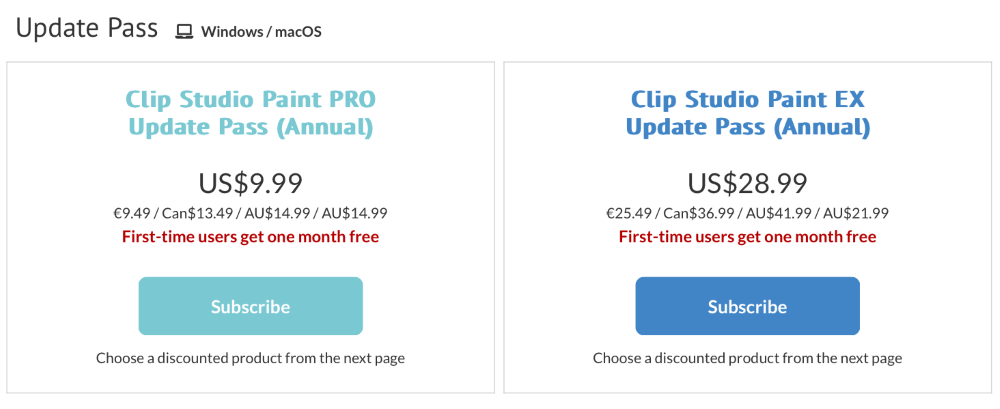 First-time users get one month free with the Update Pass. It's a fantastic way to stay up-to-date hassle-free since the pass automatically renews every year.
Remember that you can only access updates while the Update Pass is active. Once it expires, you'll revert to the version you initially purchased.
Is Clip Studio Paint Worth It?
Now, you might be wondering whether investing in Clip Studio Paint is the right move for you.
Naturally, that decision comes down to personal preference, and fortunately, you have that 3-month trial to help you figure it out.
But from an objective standpoint, Clip Studio Paint is a robust drawing software that suits both beginners and professionals. You can buy it once and own it forever, or go for a monthly plan. Either way, you're getting a professional drawing program without breaking the bank.
Comparing Costs: Clip Studio Paint vs Adobe Photoshop
Let's do a quick comparison to put things in perspective. Take Adobe Photoshop, for example. It demands a subscription that can really add up. You're looking at about $20.99 per month or a hefty $239.88 annually – and that's without the option to own it for good.
In contrast, Clip Studio Paint's pricing model offers a more budget-friendly approach.
Clip Studio Paint Discounts and Promotions
Clip Studio Paint often rolls out sales and promotions, allowing you to grab the software at impressive discounts. Typically, they happen around 3 to 4 times a year. During these limited periods, you could see prices slashed by 50% to 60%.
So, it's a good idea to keep an eye out regularly; you never know when the next deal might pop up. For updates on these sales, you can also follow their Twitter account.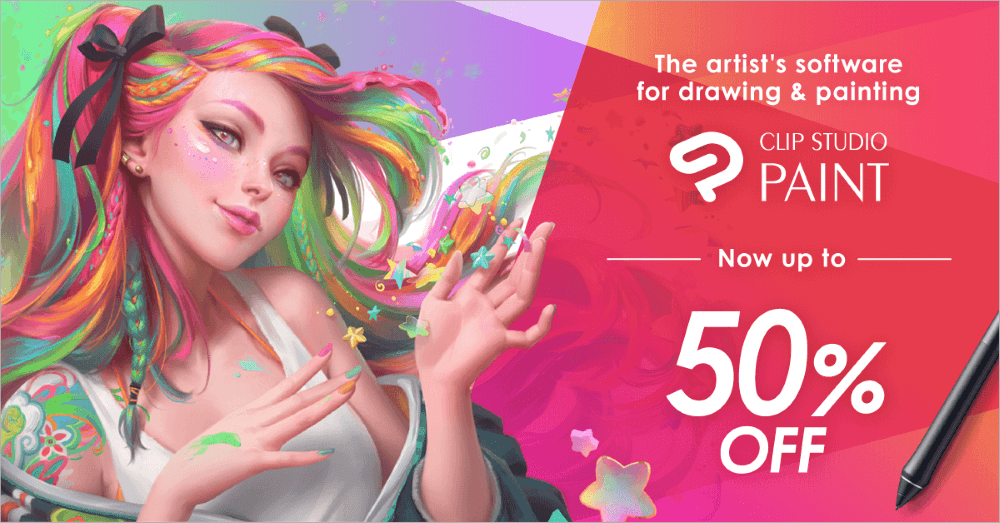 Final Thoughts
Clip Studio Paint offers various options to fit different budgets. If you prefer not to pay a lot upfront, if you use a tablet, or if you like staying current, then the monthly or annual subscriptions are perfect for you.
For those who don't want ongoing charges, a one-time purchase is available. Until Version 3.0 (with no confirmed date yet), there won't be major updates, so you can feel confident about your purchase. And if you're after new features, there's always the Update Pass.
Prices are reasonable for software of this quality. Deciding if it's worth your money is up to you, and you have 3 months to figure that out!
Feel free to share your thoughts or experiences with Clip Studio Paint's pricing in the comments below!