Choosing between 256GB and 512GB boils down to your usage and how much cash you're willing to shell out. If you're a moderate user, 256GB should suffice. But if you're a digital packrat or a content creator, go for the 512GB and never look back.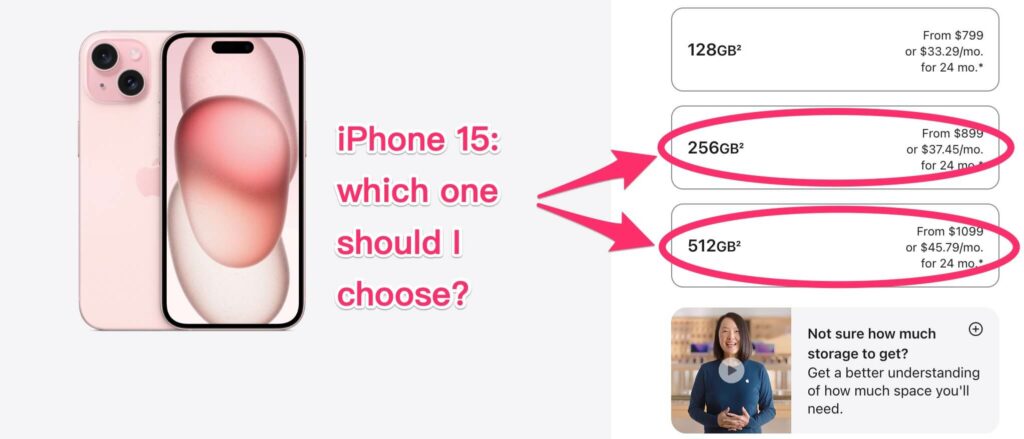 As someone who follows Apple's releases closely, I was a little disappointed to learn that the storage options are the same as last year's. And I have given up hope of Apple ever including options for expandable storage such as a Micro SD card. Still, the options you do get are pretty generous.
If you're considering upgrading to the iPhone 15 and don't want to get the smallest capacity, should you get the 256GB or the 512GB? Let's look at the pros and cons of each and figure out the best option.
Key Takeaways
The iPhone 15 offers generous storage options, but remember, it's a one-time decision—no expandable storage here.
iCloud can be a workaround for storage woes, but it comes at a monthly cost.
Your current storage usage can be a good indicator of what you'll need. Check your current phone's storage to guide your decision.
256GB is a safe bet for moderate users, but if you're a content creator or a digital hoarder, 512GB will give you peace of mind.
What's on the Table: 256GB or 512GB?
The iPhone 15 gives you a range of storage options: 128GB, 256GB, and 512GB. But let's be real—Apple still hasn't given us aftermarket options for upgradeable storage. So, the choice you make now is the one you're stuck with.
Price Difference Between 256GB and 512GB
Choosing between 256GB and 512GB isn't just about storage—it's also about your wallet. Each jump in storage size comes with a price bump. Both the iPhone 15 and the iPhone 15 Plus have the same options to pick from:
| | | |
| --- | --- | --- |
| | iPhone 15 | iPhone 15 Plus |
| 128GB | $799 | $899 |
| 256GB | $899 | $999 |
| 512GB | $1,099 | $1,199 |
If 512GB isn't enough, you can always look at the iPhone 15 Pro and Pro Max, which come in up to 1TB storage capacities. But the standard iPhone 15 is cut off from these lofty capacities.
Alternatively, you can always turn to iCloud for your storage needs. Even if you manage to fill up your iPhone's storage, you can sign up for iCloud to free up some space and save extra pictures and files. The subscription prices aren't too bad, but it is still a monthly cost:
iCloud+ 50GB – $0.99/month
iCloud+ 200GB – $2.99/month
iCloud+ 2TB – $9.99/month
How to Gauge Your Storage Needs
Your decision will be a little easier if you already own an iPhone. You'll know your usage habits, and you'll be able to check out how much storage you're already using.
Seeing how much space you're taking up on your current iPhone is a straightforward process. Go to Settings > General > iPhone Storage.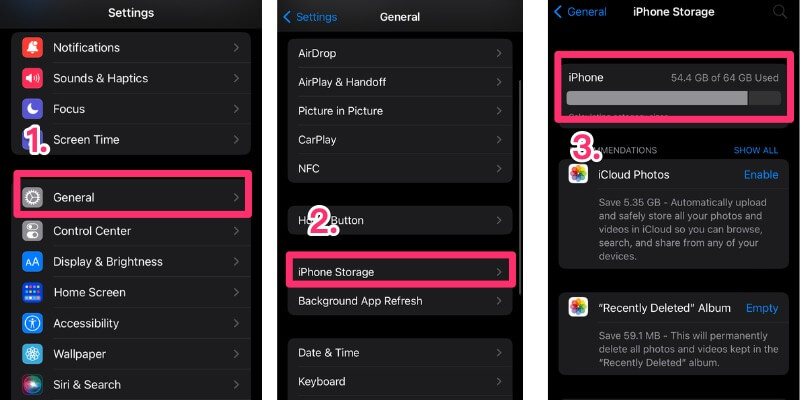 You'll be able to see a breakdown of your space usage based on different categories like pictures, videos, music, apps, and system files.
The iPhone 15 can now shoot 4K video at 60fps, which is a noticeable upgrade over the iPhone 14's 4K at 30fps capabilities. But along with this awesome video quality, comes a higher demand for storage space. Those higher-quality videos eat up more space than they did in the previous generation.
One underrated feature of this generation is that you can use the USB-C port to record to an external device. But there is a catch: this is only available on the Pro and Pro Max models. The regular old iPhone 15 is still confined to recording to internal storage. So, you'll need to keep that in mind if you like to record a lot of videos.
Who is the 256GB for?
If you're a moderate user who enjoys a good balance of photos, apps, and some video content, 256GB is a solid choice. It gives you enough room to breathe without constantly worrying about running out of space.
The 256GB comes with double the capacity of the 128GB for just an extra $100. So it's worth it in the short term if your old phone is close to maxing out its storage capacity.
Who is the 512GB for?
Now, if you're the kind of person who wants to shoot 4K videos like there's no tomorrow or keep entire seasons of TV shows on your phone, 512GB is your playground. It's the go-big-or-go-home option.
You'll be able to whip out your phone to take a picture of just about anything at any time, without worrying about getting the dreaded "insufficient storage space" message. This might just make you into an amateur photographer—or even a pro photographer, given the high quality of the iPhone's camera.
But the obvious drawback is that you're going to pay a few hundred dollars more upfront. If you've always felt confined by how much storage your old iPhone had, then it might just pay off to go all out and get the maximum size.
Final Thoughts
The iPhone 15 dropped recently, and among the new features are an improved camera and a brighter screen—plus something we've all been waiting for: USB-C. But storage options remain similar to the previous generations.
So, which size are you thinking of? Are you playing it safe with 256GB, or are you going all out with 512GB? Share your thoughts in the comments below!