To share iCloud storage with family or friends, tap Subscriptions from the Family screen in the Setting app, then choose iCloud+. Tap Share iCloud+ With Family.
Hi, I'm Andrew, a former Mac administrator, and in this article, I'll give you all the details for sharing your iCloud+ storage with family members and friends. Before wrapping up, we'll also review some frequently asked questions about iCloud storage.
Let's dive in.
How to Set up Family Sharing
Before sharing iCloud+ storage with anyone, you must set up Family Sharing. Don't be thrown off by the word "family"; you can invite anyone into your Family Sharing plan with a limit of six people (yourself plus five others).
If you've already created a family group, skip to the next section.
If not, here's how to do so. From an iPhone or iPad:
Open the Settings app and tap on your name at the top of the screen.
Tap Family Sharing, then Set Up Your Family.
You can invite family members or friends who already have Apple IDs or create new Apple IDs for children in your family. If you need to add members later, you can invite them via Messages, Mail, or AirDrop if their device is nearby.
From a Mac:
Open the System Settings application and click Family.
Click Set Up Family.
Follow the onscreen instructions to add and invite members.
With your Family Sharing plan set up, you're ready to share your iCloud+ storage with members of your family group.
Open the Settings app and tap Family.
Swipe down and tap Subscriptions.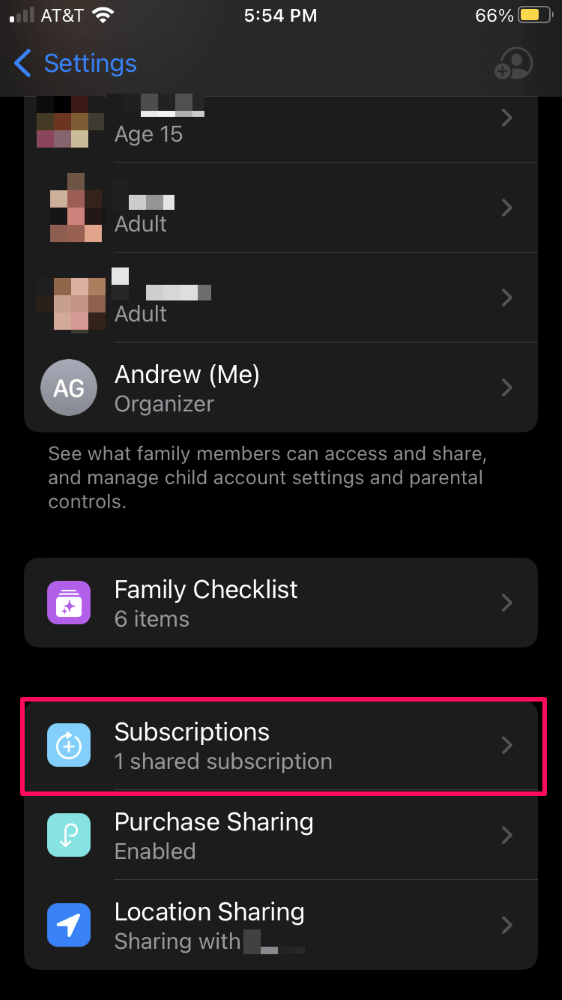 Tap iCloud+ and choose Share iCloud+ With Family.
From the System Settings app, click Family.
Click on Subscriptions.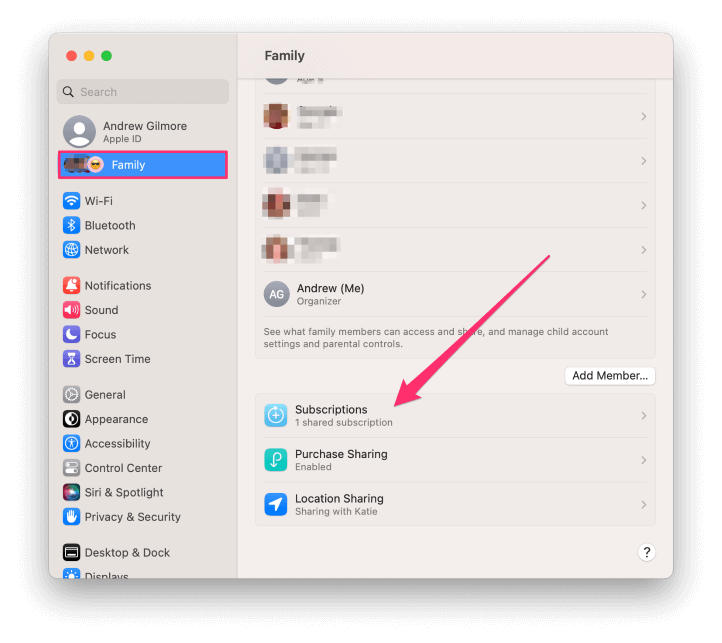 Click on iCloud+.
Click Share.
FAQs
Here are some frequently asked questions regarding sharing iCloud storage with family and friends.
No, family members cannot see each other's photos unless they move them to a shared photo album. Otherwise, all data remains private.
At this time, iCloud+ storage-sharing is an all-or-nothing proposition–either you share the storage plan with all members of your family group or none of them.
Why is my iCloud storage not sharing with family?
Having an iCloud+ plan in place and creating a family group isn't enough. You must also enable iCloud+ subscription sharing, as detailed above. If you've done that already, make sure family members have accepted your invitation to join your Family Sharing plan.
If all of that is in place, try Stop Sharing with Family from the Subscriptions screen in the Settings app, and then re-share your iCloud+ plan with your family members.
If some family members can see the new storage plan, have the family member who cannot access the storage plan sign out of iCloud, restart the device, and then sign back in.
If none of this works, contact Apple support.
iCloud Storage for All
Once you have a Family Sharing group set up and an iCloud+ subscription in place, it is easy to share that extra storage with your family members.
Be aware that you can only initiate sharing from an Apple device; there's no process for sharing the storage plan from a PC or from iCloud.com. Nevertheless, family members can utilize iCloud+ storage sharing on iCloud for Windows once set up.
While I wish there was an option to set quotas on how much storage individual users can consume, still the feature is useful for sharing cloud storage.
Do you use iCloud+? Were you able to share your storage with your family members?